for london design festival 2017, london-based australian designer flynn talbot illuminates the victoria & albert musuem's prince consort gallery with an immersive colored light installation, called the 'reflection room'. at either end of the 35 meter length hall, contemporary blue and orange lights brighten the vaulted ceiling space and its tiles. large black reflective barrisol panels, which line both widths, expand the gallery and further helps create a fragmented experience of shifting hues, faceted reflections and light.

image © edmund sumner
(main video courtesy of zetteler)
'I conceived the idea standing in the gallery, and wanted to add my story on top of the beautiful architecture but not take it over,' explains flynn talbot. 'with all of my work, I want to create new experiences using light that build a connection between people and place.'
 
image © designboom
as the first london design festival installation ever housed within the prince consort gallery of the V&A museum, flynn talbot ensures his design references the history of the room itself, which once displayed over 30,000 textile samples. the 'reflection room' enhances 56 custom-made stretch membrane barrisol panels in gloss black. these are woven with tryka LED profiles that emit the vivid blue and orange hues. as visitors walk down the expansive hall, they become more and more immersed and actually embraced within the installation. their silhouettes and their movement create dramatic, fragmented views for other guests, offering a unique spectacle at every glance.

image © edmund sumner

image © designboom

image © edmund sumner

image © edmund sumner

image © edmund sumner

image © edmund sumner
may 05, 2016
may 05, 2016
oct 18, 2017
oct 18, 2017
oct 15, 2017
oct 15, 2017
oct 08, 2017
oct 08, 2017
oct 31, 2017
oct 31, 2017
oct 31, 2017
oct 31, 2017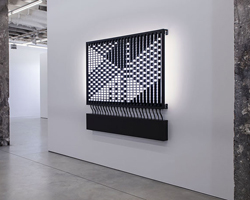 oct 28, 2017
oct 28, 2017