FORMAFANTASMA JOINS NATUZZI ITALIA'S CIRCLE OF HARMONY
natuzzi italia continues with its search for balance and perfection with its new iteration of the circle of harmony — this year aptly titled — live the transition. in a world that continues to adapt to a new normal, PJ natuzzi, the brand's chief creative officer, invited eight designers to translate our changing needs into new furniture. joining sabine marcelis, elena salmistraro, lorenza bozzoli, marco piva, massimo iosa ghini, studio marcel wanders, and patrick norguet, is italian duo formafantasma.
the milan and rotterdam-based studio considered the new challenges of contemporary living by developing apulo, a sofa that meets the need for home office spaces in small dwellings.
during a recent trip to puglia, designboom met with formafantasma who confessed they are the masters of uncomfortable sofas in their own lives. read the full interview below.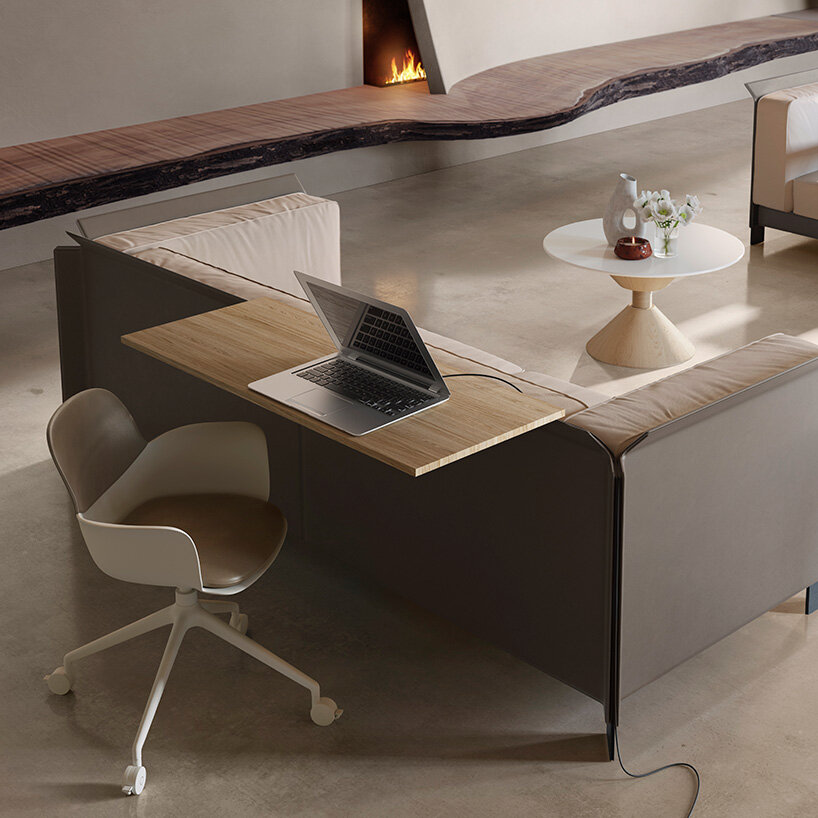 APULO IS A HOME/OFFICE SOFA
following a careful reflection on the changing requirements of contemporary living, formafantasma (simone farresin and andrea trimarchi) presents apulo, their new sofa for natuzzi italia's the circle of harmony — live the transition. nowadays, the places where we work and where we enjoy our free time have merged, and in this sense, apulo becomes a home/office sofa.
the sofa becomes more than a sofa as it takes on new functions by accommodating small objects. a wooden desk can be attached to the back frame, resulting in a work surface, while a height-adjustable side table provides additional functionality by offering an extra surface. the design research is also underlined by the presence of a raceway built into the structure of the sofa, making it possible to seamlessly integrate cables.
available in a linear three-seater version or in a configuration that includes a chaise lounge, the apulo sofa by formafantasma for natuzzi italia aims towards becoming a timeless piece. the saddle leather shell, combined with the metal feet which emphasize lightness, result in the perfect addition today and hopefully forever.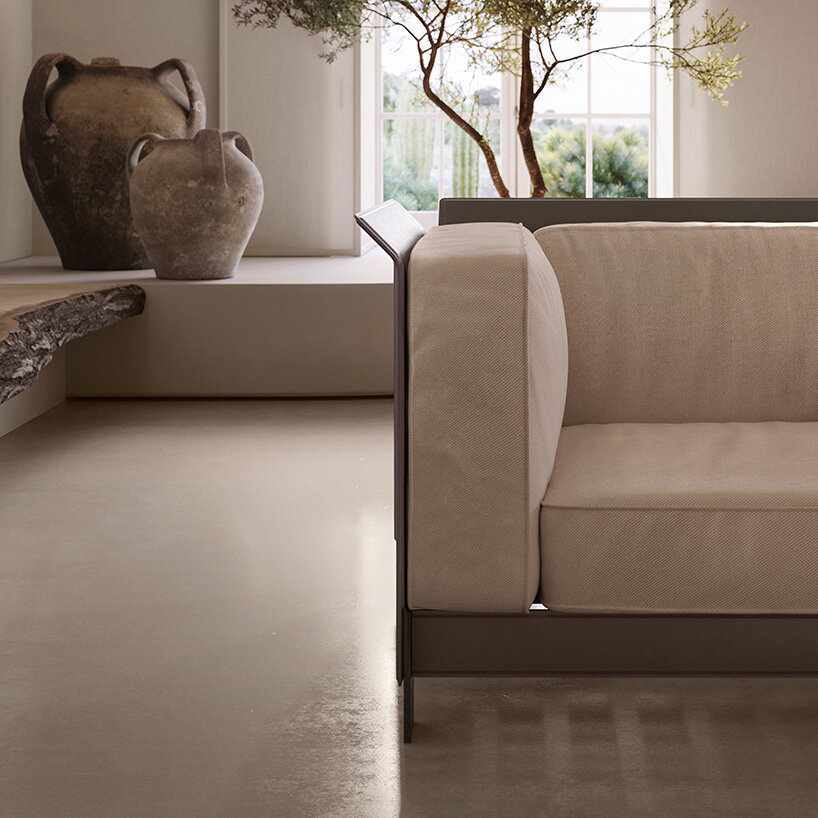 INTERVIEW WITH FORMAFANTASMA
DESIGNBOOM (DB): how did you meet PJ, and what was your first impression?
FORMAFANTASMA (FF): due to the pandemic, we met PJ on zoom. it took us some time to physically meet, so most of our encounters were mediated by digital media. when we finally got a chance to meet him, things were very natural. because, of course, we are from the same generation — it was a very nice and dynamic conversation we had with him.
DB: your new sofa is called apulo with a direct reference to apuglia. could you walk us through this project?
FF: PJ asked us to engage with what they do, and together we decided to work on a specific subject: working from home. again, this was during the lockdown. so it was, obviously, a cliché conversation to have. we wanted a sofa which could adapt to remote working work, but on the other hand, we really did not want to have any embedded high-tech like USB plugs or things that nobody needs. and we started instead to think about very simple changes we could do to the sofa to allow working from home on it. so for instance, there is a small detail on the sofa, it has a raceway where you can pass through the electric cable.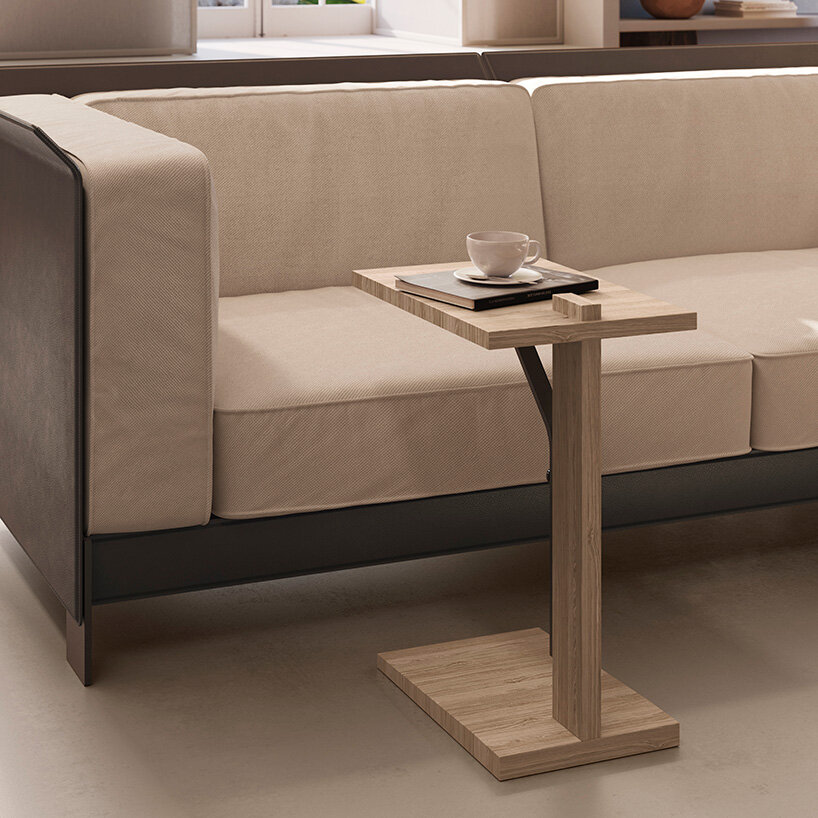 (continues) we like the idea of apps. therefore, we added tables to work from where you're sitting. there's also a table on the back of the sofa where you can also sit down, creating a desk. it was the idea of adaptability what we really wanted to build on. and something that for us was also very important was the idea of the archetypical. that's also probably the part that refers the most to puglia. the sofa is very simple, it's like when you draw a sofa, it's almost in its purest form. but we added this iconic detail, which are the folded flaps.
but overall, we really wanted to do something timeless. many companies approach us with the idea of what we do in the limited edition, which is very authorial in a way. but when we design for industry, what we care is to design something that is timeless. because durability is one of the things that belong to the idea of sustainability and ecology. and this was a way for us to design something which is timeless, which can enter the houses of people now as much as in 20 years. that's also why we didn't want the sofa to become sort of weirdly representing the time we live in now, but that it can last over time.
when we design for industry, we will design tools for life. we can do more radical things when we work independently, but for industry what is important is to design timelessness.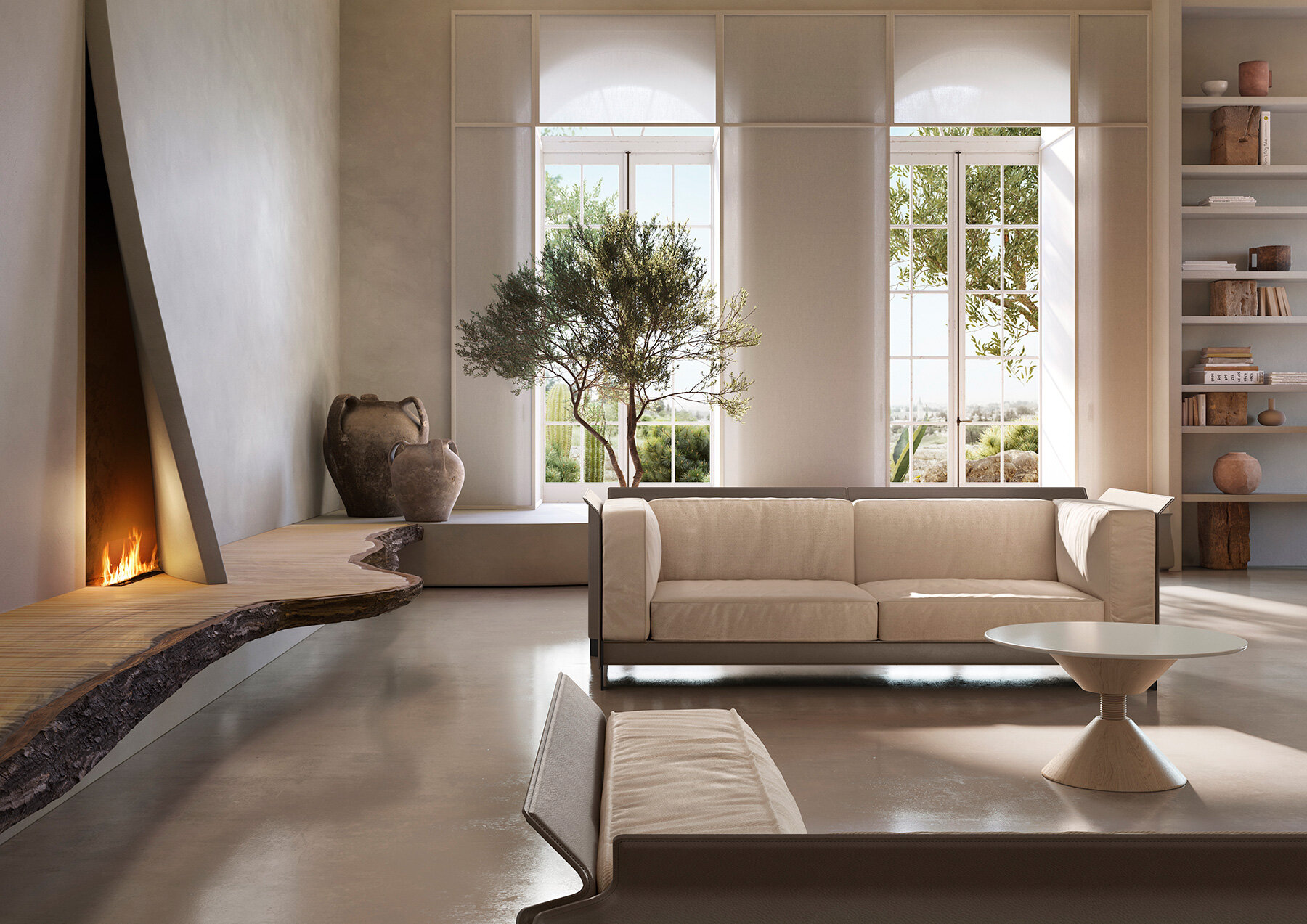 DB: apulo has different fixtures which help the user live the sofa in different ways — what is your take on multifunctional furniture?
FF: we are not lovers of multifunctional furniture, but we ended up doing one. which leads us to something we already knew: there's always potential in an idea you think is bad. we prefer to do something specific and not multifunctional. on the other hand, you realize that on the sofa, specifically, you end up doing many, many things. it's not something new, and many people have explored this idea, but it is still relevant.
something that was very important for us regarding multi-functionality was that if you miss a part, it doesn't look incomplete. if you miss the app, the sofa works perfectly. we would say that we designed a sofa with apps more than a multifunctional sofa.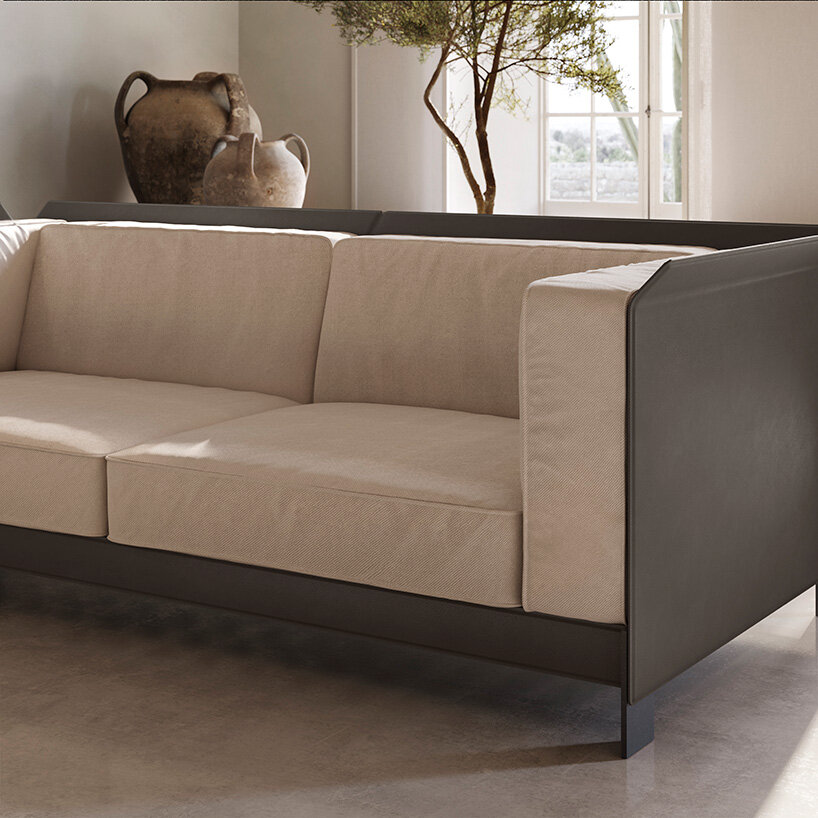 DB: your practice is very much linked to a rigorous approach, and it is always very coherent. how do you manage to enter the brand's DNA and design a product which merges both worlds?
FF: natuzzi is a brand focusing on comfort, and we are the masters — at least in our own life — of uncomfortable sofas. we don't, and PJ would disagree with this, like the idea of people watching TV on a super deep sofa that looks almost like you're in your own bedroom. in the end, I think we got to a point where we found a comfortable object, but that's still rigorous. it's not just a sofa where you sit down and watch TV, but it's also a sofa that can work for conversation, which is what we care the most about.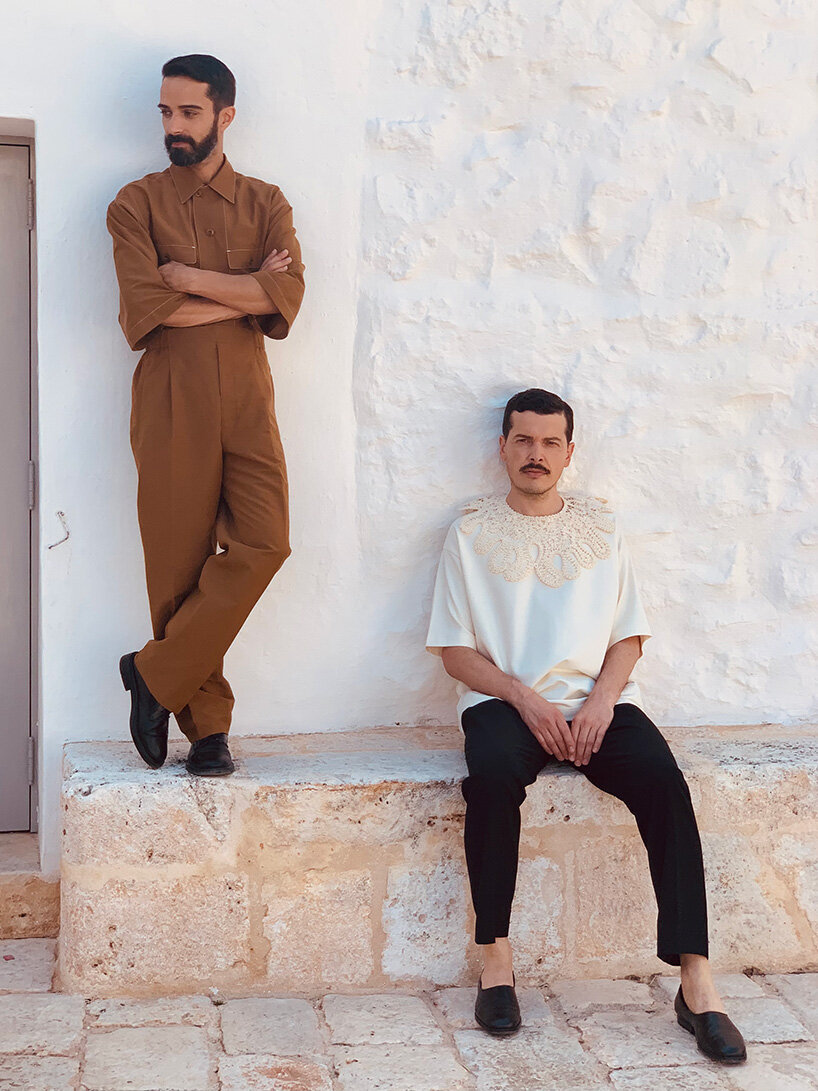 portrait © designboom
DB: how do you combine the more artistic work with the more industrial aspect of your creativity?
FF: we were trained as industrial designers in italy for a few years, then we started in holland, and we totally believe we are designers. we have an independent practice that allows us to explore more radical ideas. nevertheless, we also still love to engage with industry partners that can allow us to do things that otherwise we would not be capable of doing. so in this case, when you work with a company that has been developing sofas for ages, they have an expertise we don't have. now, that is allowing us to take our work to a different level. and I think the merging of our expertise with the experience of a company is really a fantastic opportunity for us.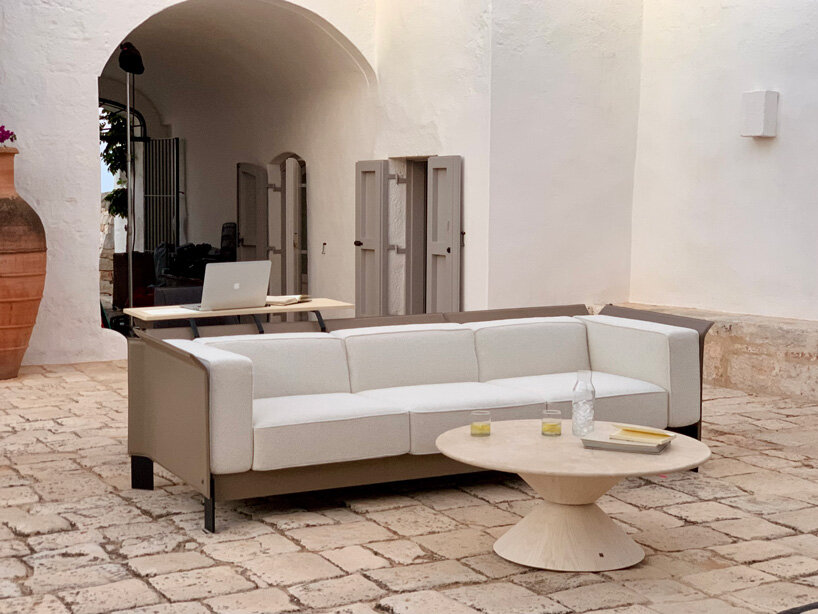 image © designboom
DB: sustainability is also a big part of your research. how sustainable is the design world? how can we improve this aspect?
FF: this is a very complex question. there's plenty to do in the design world, in the furniture world. we can not always be as radical as we would like to be, and same with our partners. for instance, in this particular case, we really wanted to work on timelessness, even if often when people approach us they are searching for maybe artisticity. but again, this is not what we were looking to do here. we wanted to design a well-crafted sofa with timeless materials. for instance, we use a material that is considered maybe unsustainable, which is leather, but it's extremely timeless and extremely durable. which also comes as discarded from the food industry. we strive for timelessness, and we hope that this will prove to be something that will last over time.
project info:
name: apulo sofa
designer: formafantasma
company: natuzzi italia
juliana neira
I designboom
nov 02, 2021
a diverse digital database that acts as a valuable guide in gaining insight and information about a product directly from the manufacturer, and serves as a rich reference point in developing a project or scheme.
designboom will always be there for you
milan, new york, beijing, tokyo

,
since 1999