from march 4 through may 17, 2020, formafantasma presents an ongoing investigation into the governance of the timber industry at london's serpentine galleries. 'cambio' demonstrates the evolution of this form of commerce over time, and its eventual expansion across the globe. the multidisciplinary exhibition highlights the crucial role that design can play in our environment, and its responsibility to look beyond the edges of its borders. formafantasma posits that the future of design can and must attempt to translate the current environmental awareness into a renewed understanding of the philosophy and politics of trees.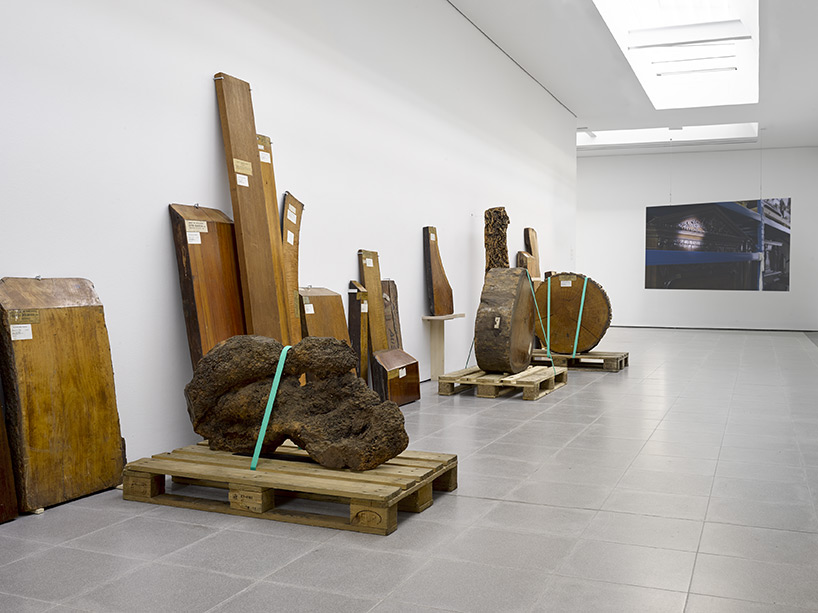 image by george darrell
the central spaces of the exhibition at serpentine galleries present data and research. this study takes the form of interviews, reference materials and two films made by formafantasma in response to their investigative work. meanwhile, the perimeter spaces offer a series of case studies that provide insight into the way wood is sourced and used. each of these examinations represents a collaboration between andrea trimarchi and simone farresin of formafantasma, and experts from the fields of science, conservation, engineering, policymaking and philosophy.
accompanying the exhibition, all archival material, videos and interviews are available on a dedicated website, here.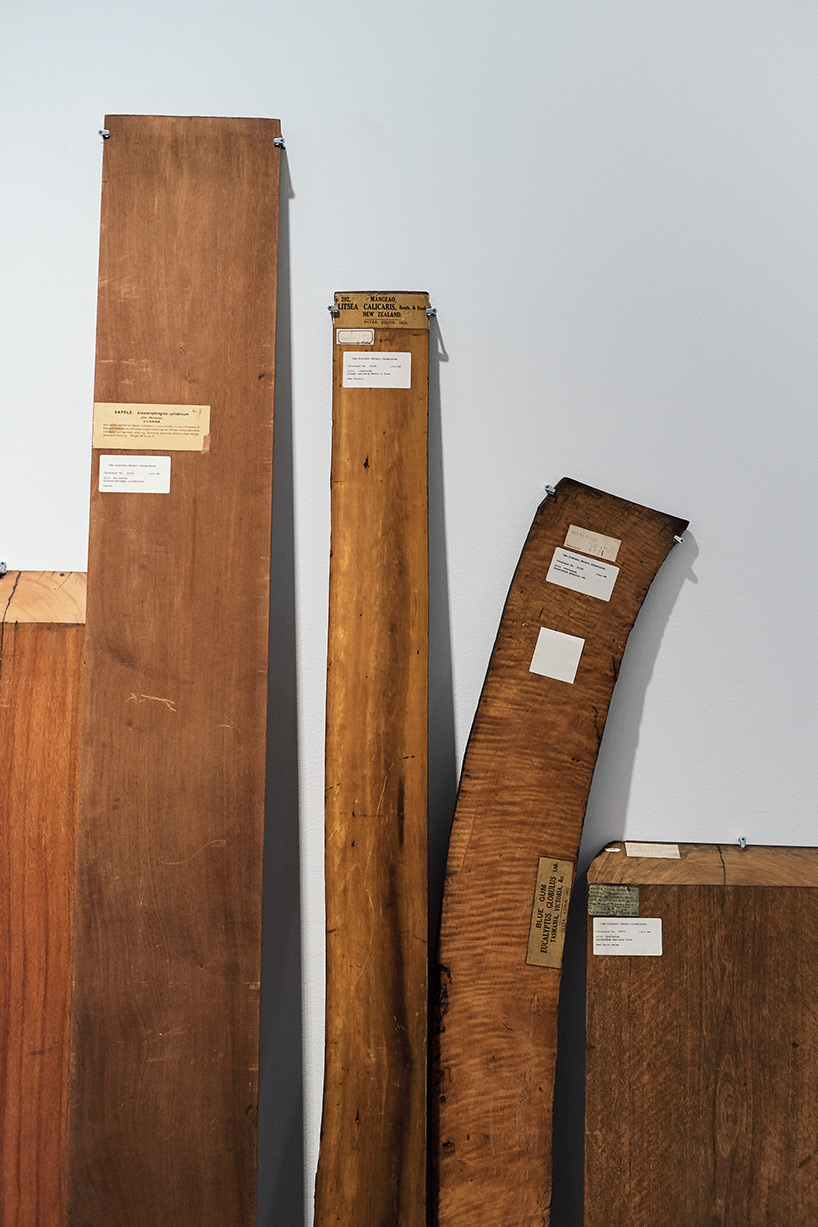 image by gregorio gonella
in the north gallery, the objects and images on display have been sourced from the economic botany collection in kew gardens and the storage spaces of the V&A. the wood samples from kew were first displayed in the great exhibition of 1851 and the international exhibition of 1862, and were intended to be used as a catalogue of the british empire's timber resources.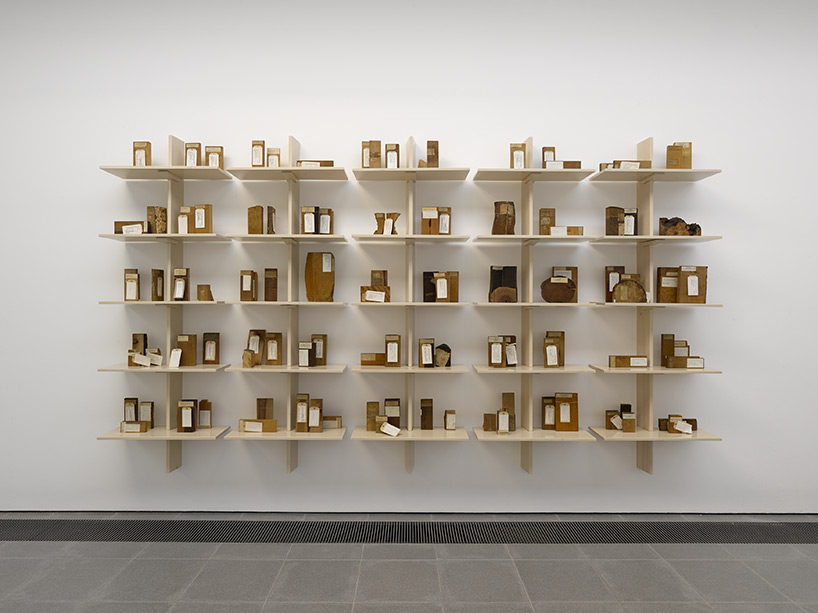 image by george darrell
while the V&A can also trace its roots to these exhibitions, the institution has amassed a collection of furniture and objects — rather than raw materials — that catalog the application of many of these species of wood by designers and makers. real and virtual images are overlaid in the film at the end of the space, connecting an object with its place of origin, and highlighting contemporary design's ongoing appetite for an endless library of materials.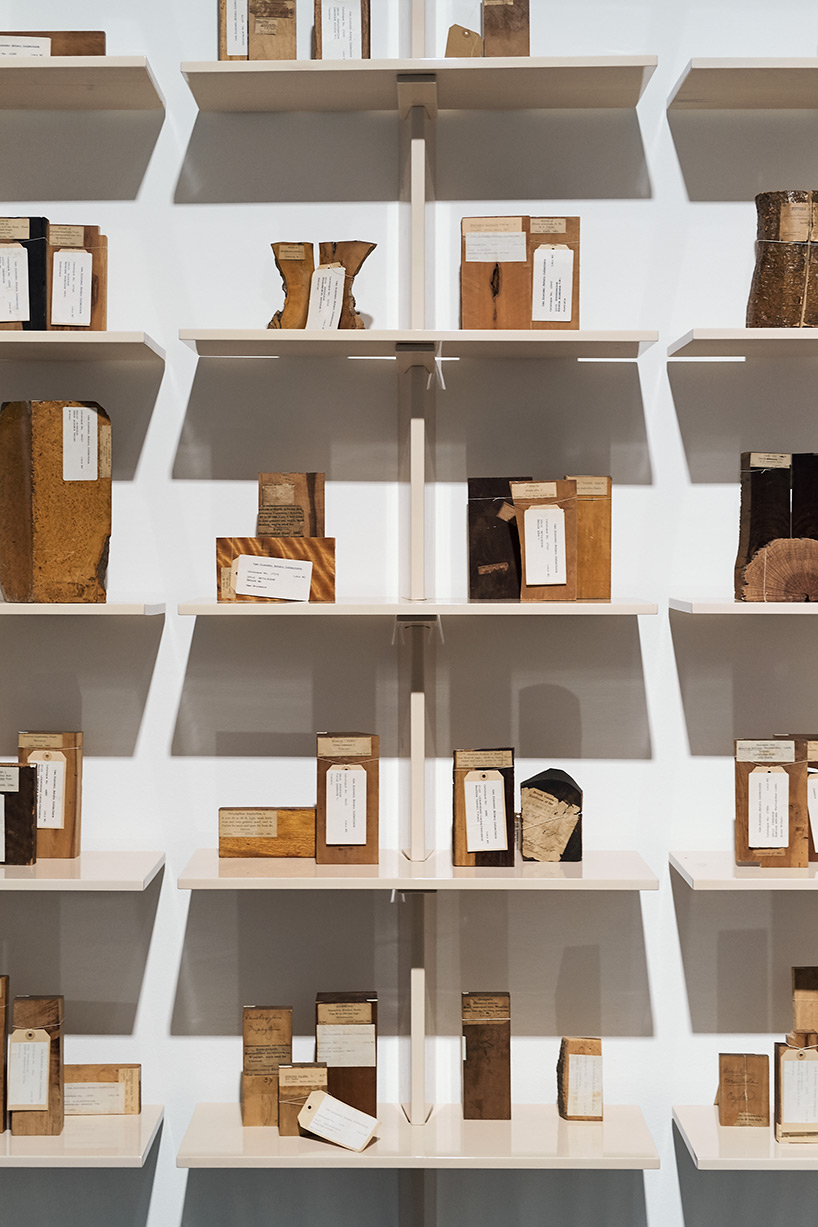 image by gregorio gonella
the furniture pieces in the V&A museum's storage (shown in the film below) are examples of exceptional craftsmanship and industrial production, and showcase the properties of different woods and the skill of designers and makers. the most contemporary collection included in the film is the virtual wood library offered by popular 3D rendering software keyshot, which includes rare and endangered species for designers to apply to the surfaces of their forms. while these digital tools can be used to simulate finished objects, and without a critical intervention into context or sustainability, they appear to perpetuate the myth of an endless supply of materials.
the archive of lost forests (9:46", 2020)
courtesy of formafantasma | production by C41
meanwhile, in the south gallery, the exhibition reveals two pieces that introduce the physical matter of wood and its properties: a two-screen projection, and two sections of a tree trunk. together, they offer a re-evaluation of trees — as sources of information, constantly recording global climate change — and as a warning against over-management and monocultured forests that are more vulnerable to intense weather events.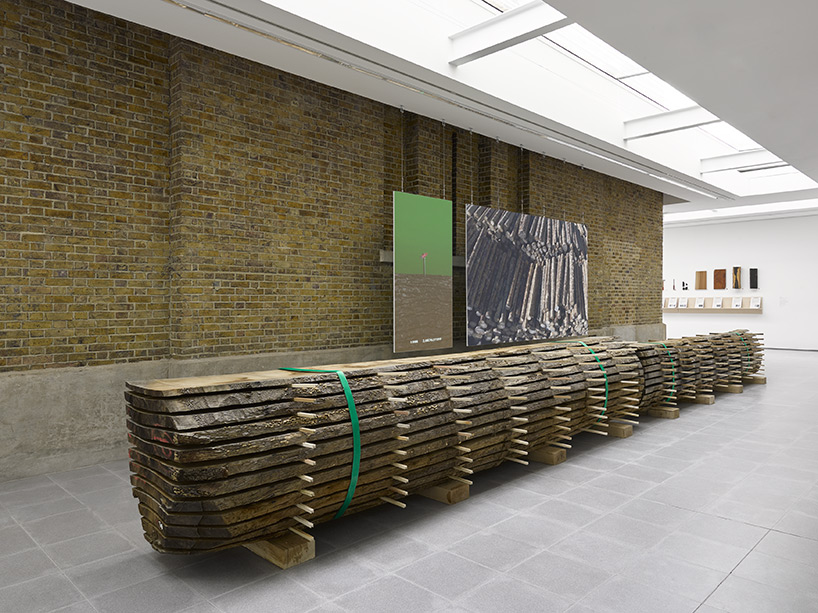 image by george darrell
a scent — developed by smell researcher and artist sissel tolaas — evokes the wet earth and flora of a forest, offering an immersive reminder of what is at stake when we lose this environment.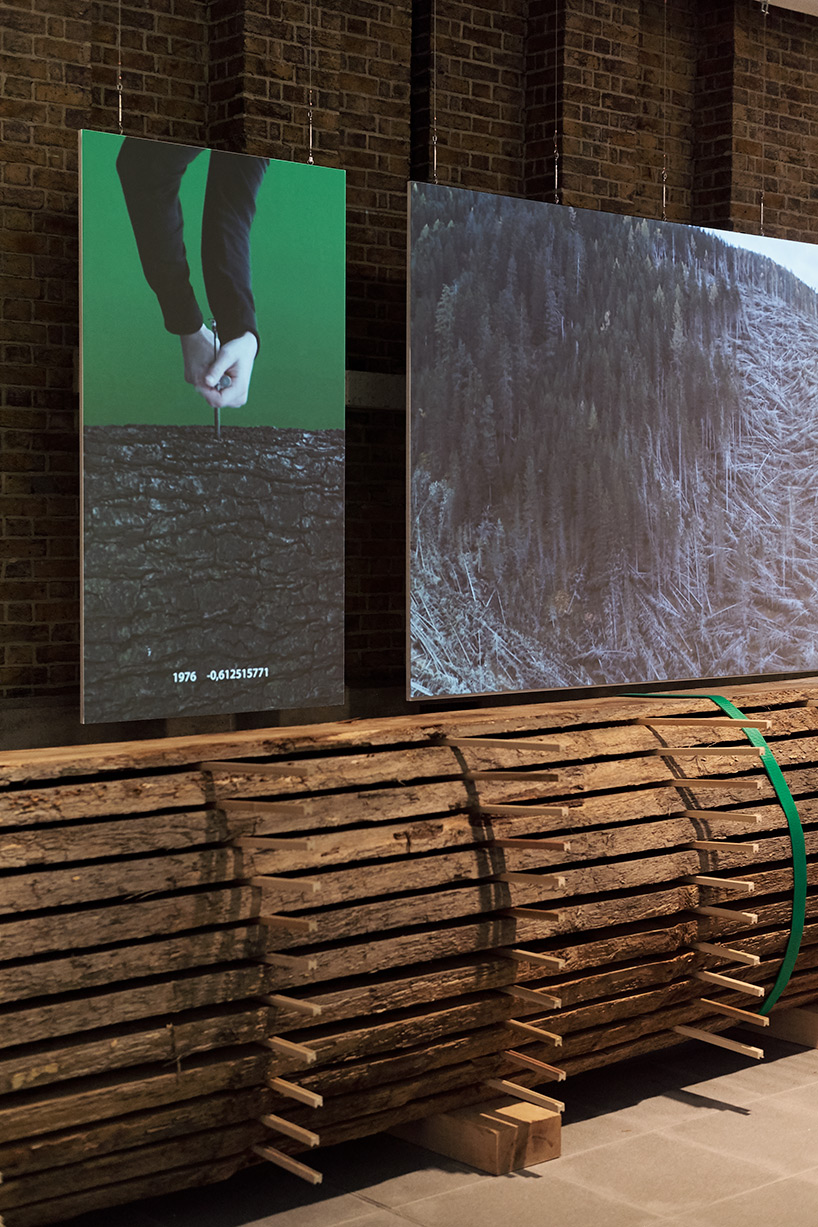 image by gregorio gonella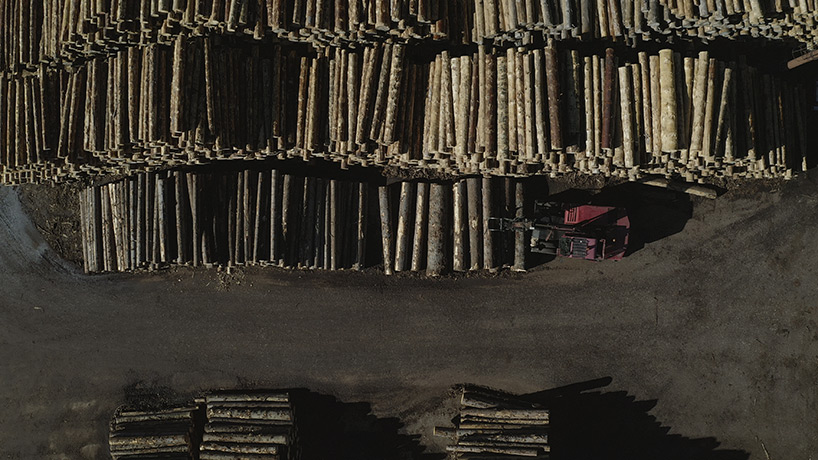 storage and lavoration of the trees felled by storm vaia, ziano, italy
photo by C41, courtesy formafantasma
1858, 2020 (5:56", 2020)
video courtesy of formafantasma | production by C41
constructed in the format of a visual essay, a film located in the south powder room investigates how the industry of timber has evolved over time. it asks how a networked understanding of materials can be applied to a more holistic approach to design, and draws connections between timber's physical materiality and the conditions of exploitation, colonialism, and consumerism.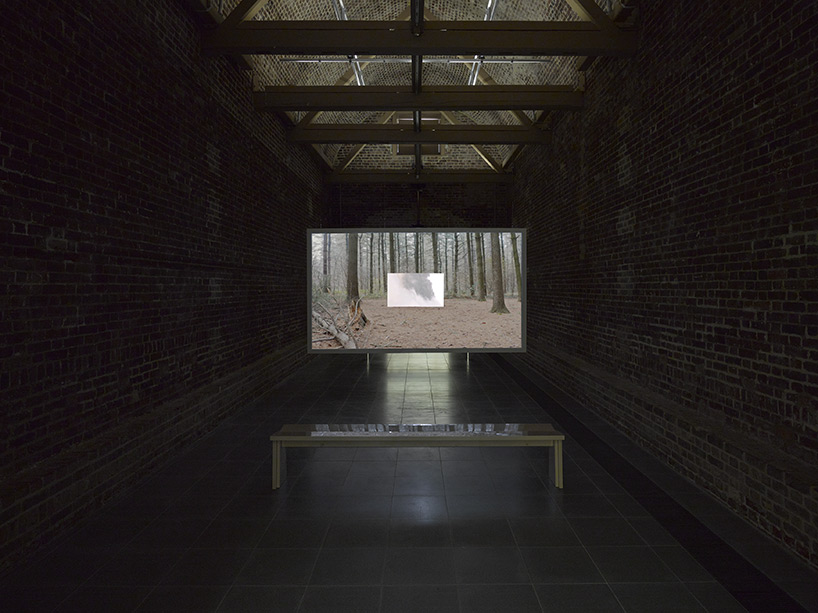 image by george darrell
the film begins with the appearance of primordial plants on earth, their evolution into trees, and the flourishing of human life across the planet. it continues with the global expansion of the timber industry in conjunction with the european imperialist agenda, and its later shift towards the development of sustainable forestry practices and environmental conservation.
shot in a former italian plantation for paper production, the film makes use of 'chroma key' compositing – a process of 'layering' images over existing footage by introducing green screens into the frame while shooting, and collaging other images or footage in later. here, the forest is never a background – it is the subject matter and focus of the film.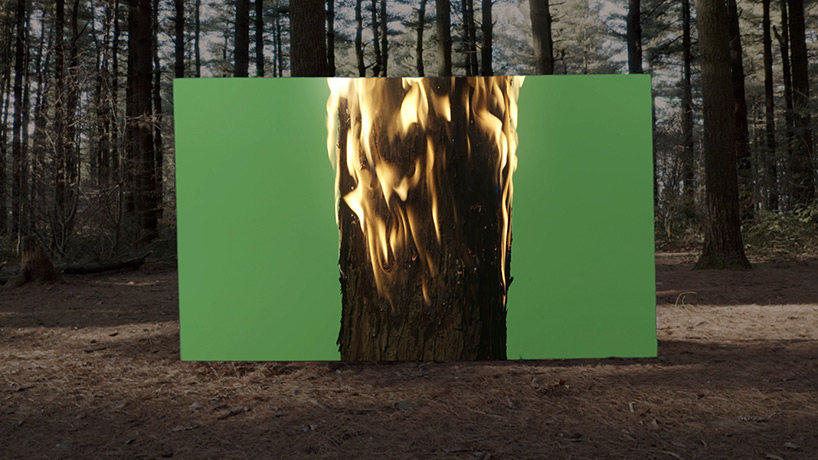 still from cambio: visual essay, 2020
green screen in bosco del chignolo, montemerlo, italy
photo by C41, courtesy formafantasma
in the north powder room, one side of the space is dedicated to a film titled 'seeing the wood for the trees' that focuses on the governance and structure of the timber industry. on the other side, four reading points have been designed by formafantasma to offer direct access to a website that holds reference materials collected by the design studio over the past eighteen months.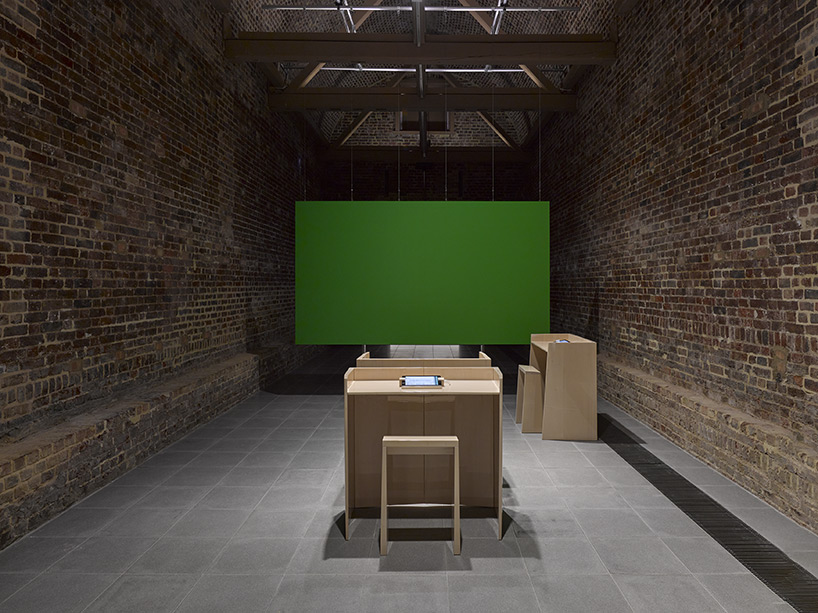 image by george darrell
these materials include filmed interviews with specialist collaborators that informed the projects on display, reference images and links from a living archive of the designers' research-led practice. together, the resources in aim to offer a greater level of transparency, both in the research and thinking of design practice, and in the structure of a global industry.
seeing the wood for the trees addresses the current state of the timber industry, showing images and documents set against the forest floor and also using 'chroma key' compositing technique. the text of the voiceover was conceived in conversation with formafantasma and written by vanessa richardson of the european investigation agency. the viewpoint of the camera, pointing straight down, echoes the film's discussion of forest governance 'from above'.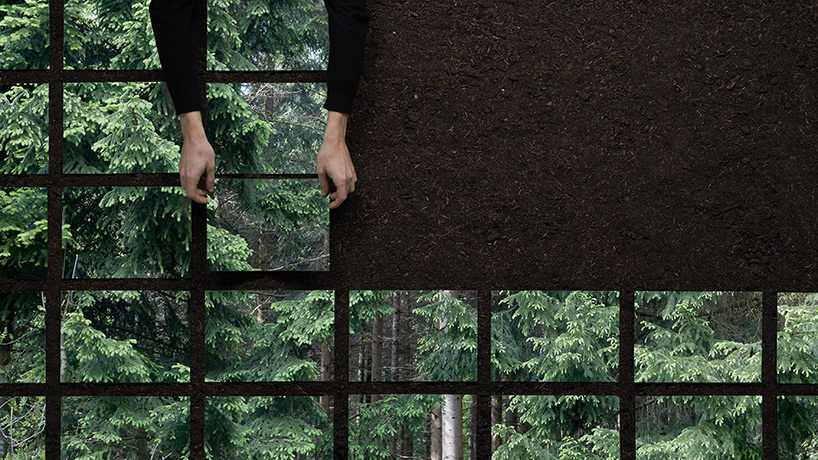 still from seeing the wood for the trees, 2020
photo by C41, courtesy formafantasma
in the east galley, a section of the exhibition presents forensic research undertaken by the studio with a number of different scientific institutions into the data that can be found in wood. wood products are investigated as holders of carbon dioxide, as records of their origins even while they undergo carving, pulping (for paper) or fire (for charcoal). the analysis of these objects can help to regulate logging practices around the world, and offer manufacturers, designers and users deeper insight into the impact of their material choices.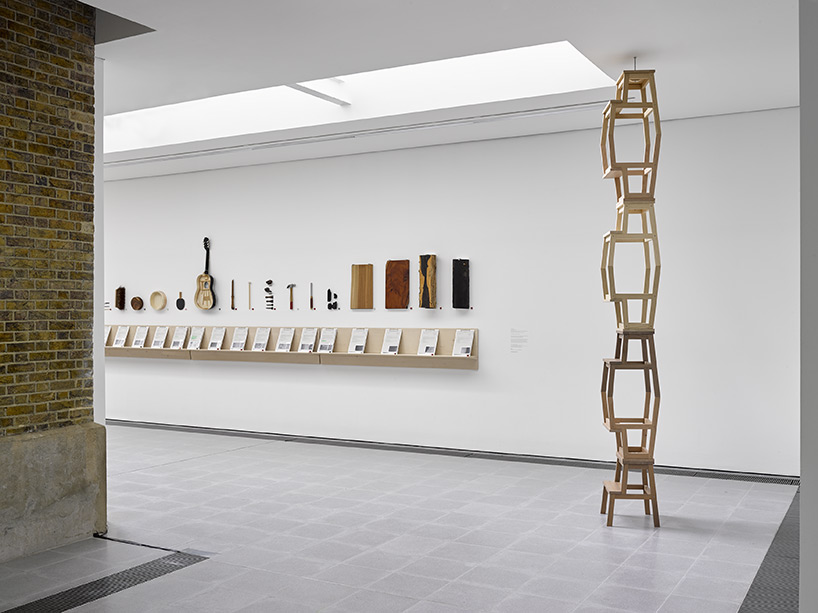 image by george darrell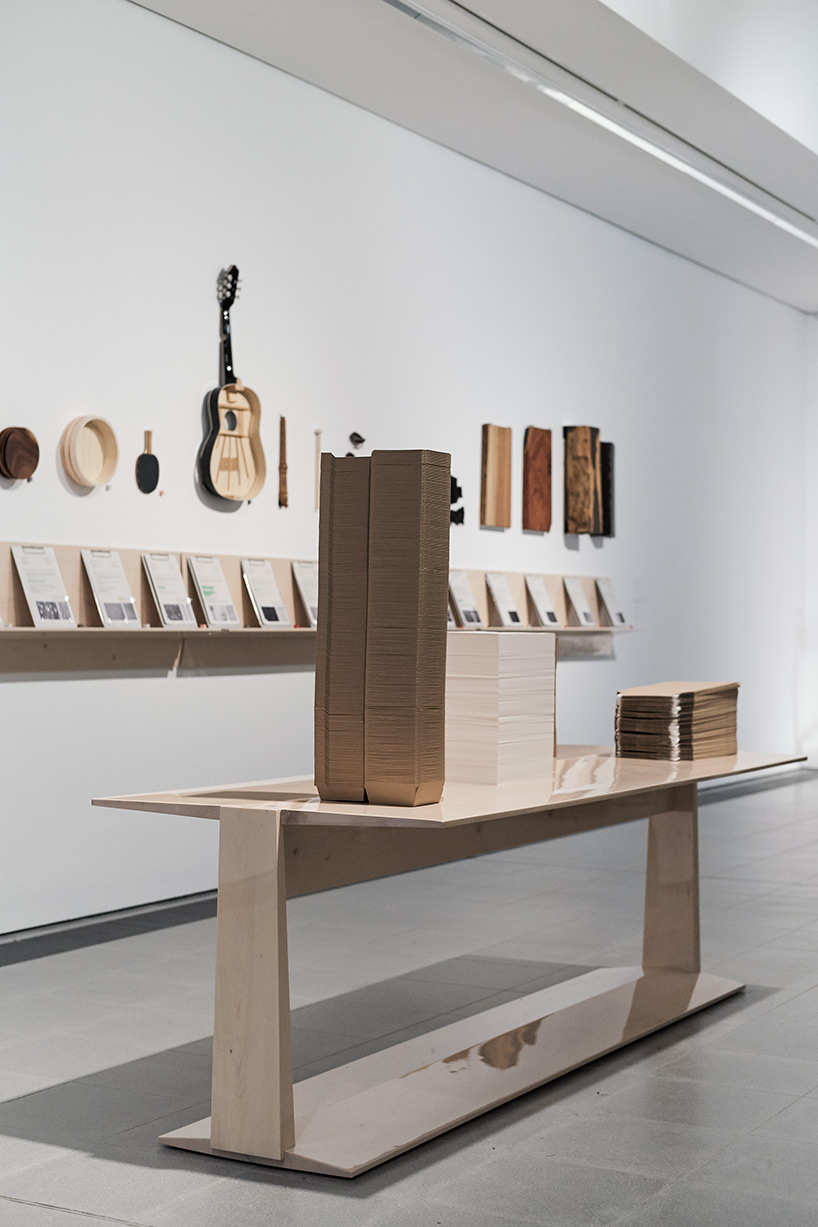 image by gregorio gonella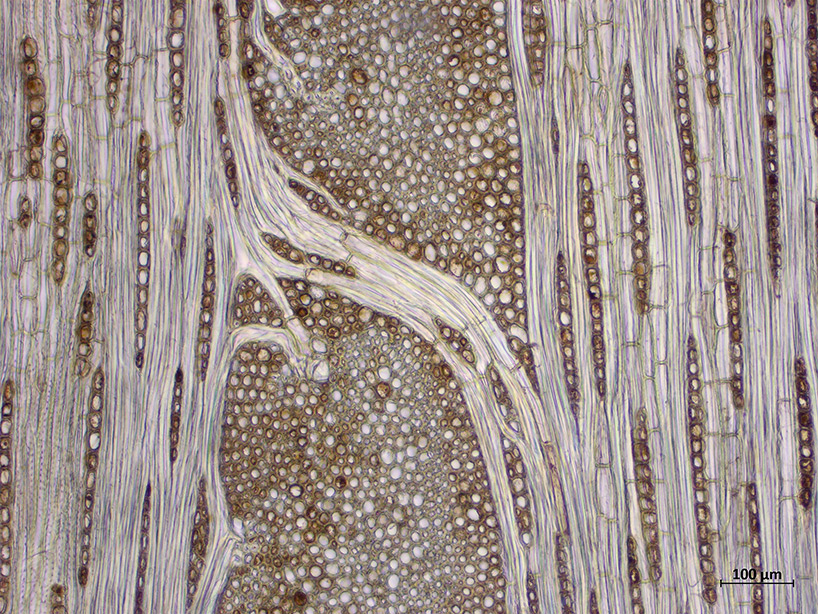 microscopic tangential (A) and transverse (B) wood sections
commissioned sample analysis, 2019
thünen centre of competence on the origin of timber, hamburg, germany
typical anatomical characters of quercus spp. (red oak)
200/500μm (10:20", 2020)
video courtesy of formafantasma | production by formafantasma
collaboration: thünen institute, hamburg
finally, in the west gallery, the combination of images, text and film takes a view of forestry that moves beyond the extraction of resources, and attempts to understand the complex ecosystems that forested regions contain. the section brings together approaches to the governance and management of both european and amazonian forests, and compares changes in these attitudes over time from different geopolitical perspectives.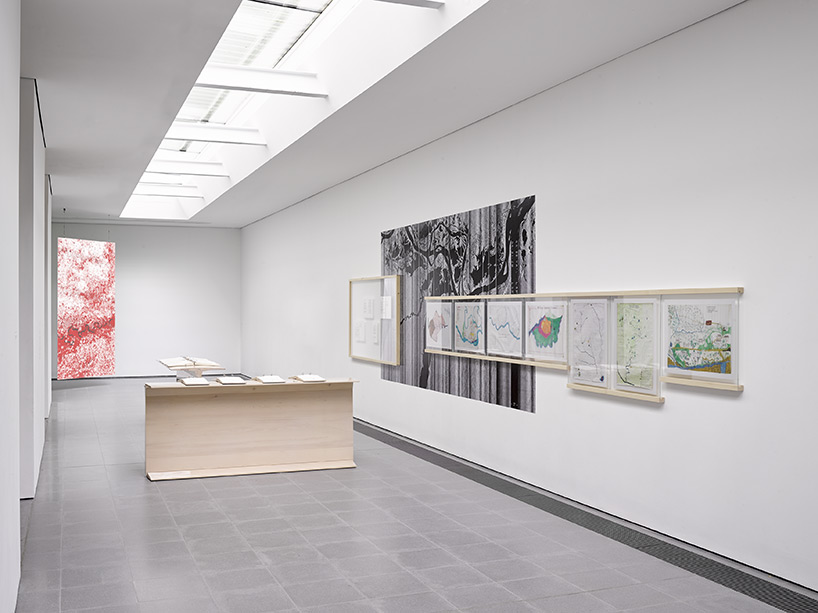 image by george darrell
presented as part of the section is a film produced by manipulating a lidar scan of an oak forest in virginia. lidar technology — often used in cartography and archaeology — uses lasers to scan and record large surface areas. more recently, it has been adopted by the timber industry in order to selectively log trees. like the radam maps nearby, it could be repurposed – here, it provides an opportunity to consider humans from the point of view of the trees, with a voiceover written by philosopher and botanist emanuele coccia.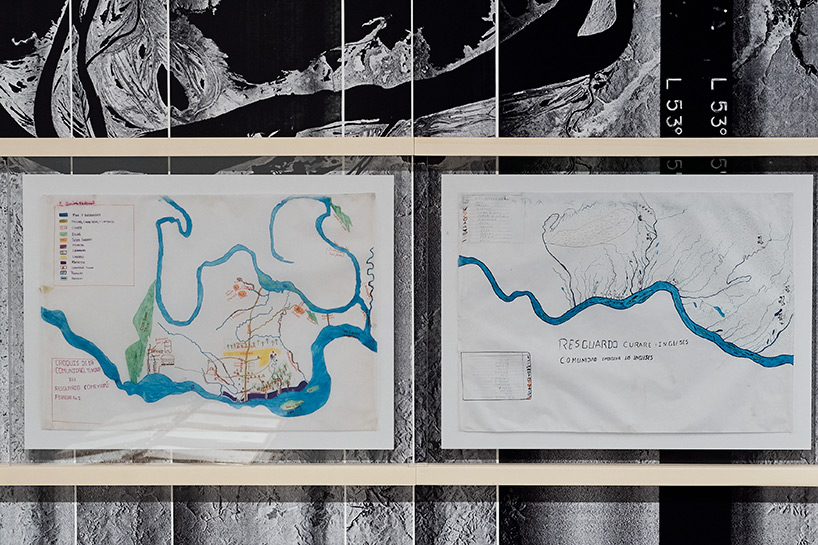 image by gregorio gonella
from the perspective of an imagined forest, coccia's text questions our own sense of dominance, observing the degree to which humanity is dependent upon the physicality of trees. it suggests a crucial shift in perspective if we are to find more radical ways of living with and protecting these ecosystems – one that stems from the understanding that humans and trees are inextricably interlinked.
quercus (13:06", 2020)
video courtesy of formafantasma | production by formafantasma
collaboration: emanuele coccia
project info:
formafantasma team:
riccardo badano, simón ballen botero, gregorio gonella, jeroen van de gruiter, johanna seelemann, peter sorg
exhibition curated by:
rebecca lewin, curator, exhibitions and design natalia grabowska, assistant curator
with:
marco carrer, university of padua, padua
emanuele coccia, école des hautes études en sciences sociales, paris
vanessa richardson, environmental investigative agency, london
gaia amazonas, bogotá
het nieuwe instituut, rotterdam
magnifica comunita di fiemme, cavalese naturalis biodiversity centre, leiden
philipp pattberg vrije universiteit, amsterdam royal botanic gardens, kew, london
royal museum of central africa, tervuren thünen institute, hamburg
sissel tolaas, smell researcher and artis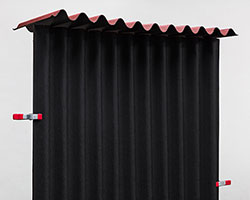 aug 02, 2020
aug 02, 2020
jul 27, 2020
jul 27, 2020
jul 26, 2020
jul 26, 2020
jul 24, 2020
jul 24, 2020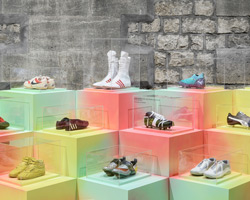 jul 08, 2020
jul 08, 2020
jun 12, 2020
jun 12, 2020
feb 14, 2020
feb 14, 2020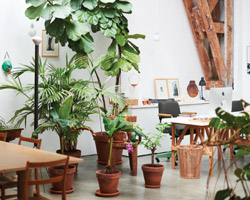 nov 04, 2019
nov 04, 2019
apr 10, 2019
apr 10, 2019
aug 11, 2020
aug 11, 2020
aug 11, 2020
aug 11, 2020
aug 09, 2020
aug 09, 2020
a diverse digital database that acts as a valuable guide in gaining insight and information about a product directly from the manufacturer, and serves as a rich reference point in developing a project or scheme.