forpeople on designing the keyn chair's almost limitless variations for herman miller
where people work: herman miller has partnered with UK design studio forpeople to create a range of meeting and side chairs that offer responsive movement and comfort for collaborative environments for both office and domestic spaces. the 'keyn' chair builds upon herman miller's deep knowledge of workplace environments, and brings the company's expertise in to a new category.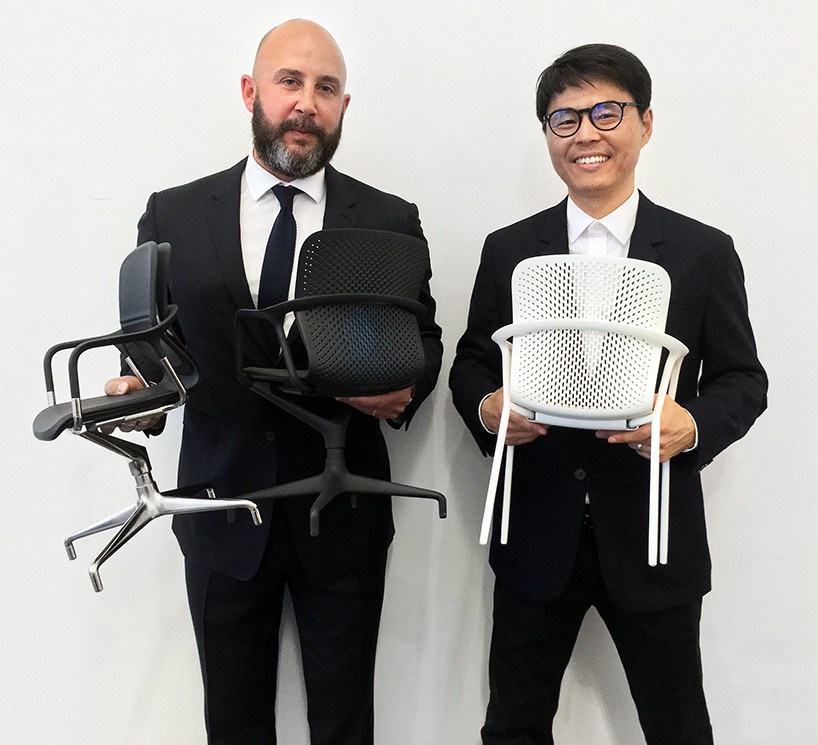 richard stevens and joohee lee of forpeople holding detailed scale models of the 'keyn' chair
portrait © designboom
forpeople were given a design brief that seemed almost impossible: 'we were asked to create a group of chairs that consist of a four-leg, cantilever and pedestal base each with or without the option of arms. our challenge was how to resolve the design of each of these types without compromising aesthetic appeal or continuity across the group. at the same time, herman miller wanted us to maximize the opportunity for shared componentry. it really wasn't an easy problem to solve.' says richard stevens, founder and creative director of forpeople.
forpeople's lead designer joohee lee continues, 'very few chair systems look good across four-leg, cantilever and pedestal base variants. there's usually at least one version that simply doesn't work.'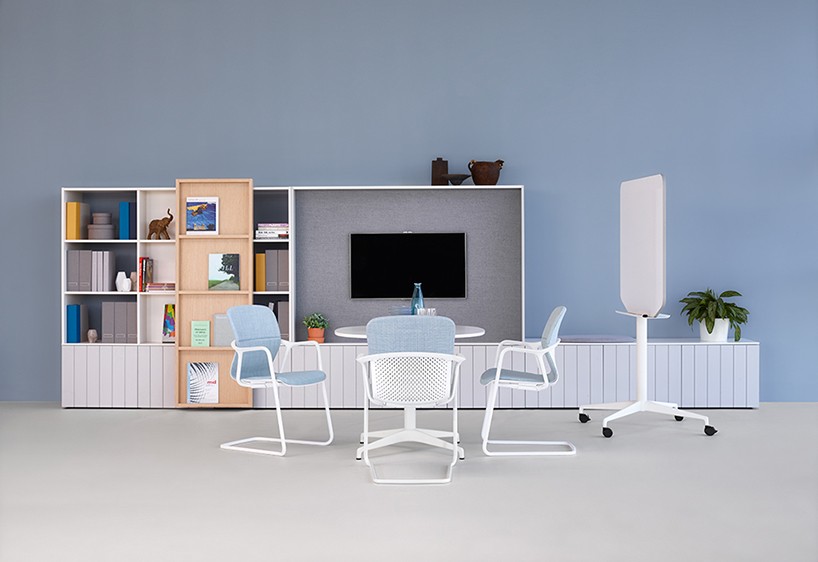 the 'keyn' chair fits into herman miller's 'living office' concept
at the launch of the 'keyn' chair in milan, designboom spoke with richard stevens (founder and creative director) and joohee lee (lead designer) about the conceptual and technical design development of the office seating system.
designboom: could you talk about the early stages of development for this project with herman miller?
richard stevens: we've been working with herman miller since 2009. we did a big project that fed into their 'living office' concept, so it's a piece of system furniture that we had never designed for that market before; and it is our first bit of design for herman miller, or in this sector. we have been working for seven years on seating. but basically we said: 'how do we share our knowledge of seating, because we are working in the aviation and automotive industries, with companies that don't have seats that move'. so we set up a meeting with herman miller, but they told us that they couldn't see us being very relevant because we weren't furniture designers. walking away from that meeting, we were a bit upset. what they really liked was the way we approach design, and the way we take time to consider and observe the way people act. that's an understated and under-recognized trait in design. our ability to see things that others don't see. herman miller asked us to look at an exploration project and that turned into the system furniture project. then they saw our commitment and gave us a go at a chair.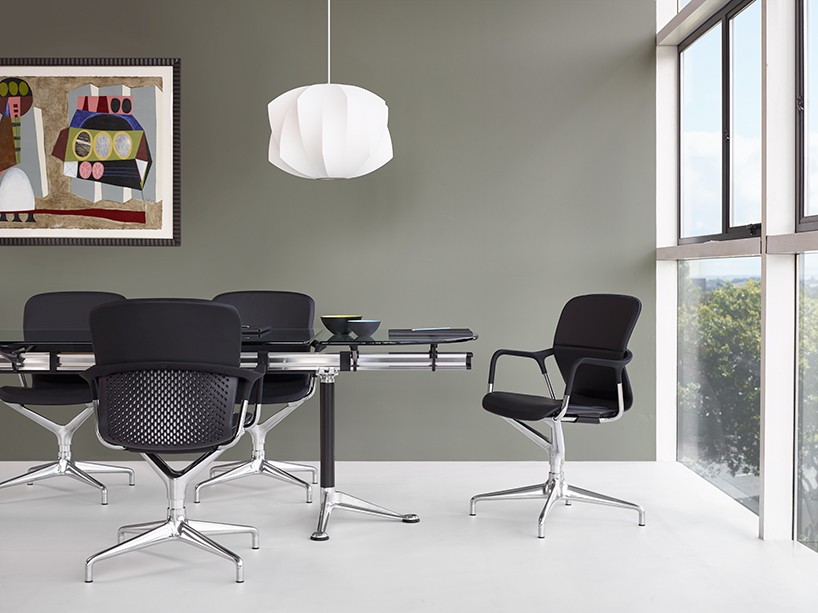 'keyn' chair in an office setting
DB: at that point, did you realize: 'oh, now we have to make a chair for herman miller!'?
RS: yes of course! but the thing is, once you're in herman miller, you get fed so much knowledge. we started the project in may 2011, and went out to michigan to meet the teams that come up with all the crazy ideas about how a chair should move. they pumped us full of information. it was a learning experience, but we brought a lot in terms of understanding how to manufacturer quality and getting the aesthetics right. then they taught us, how to design a chair.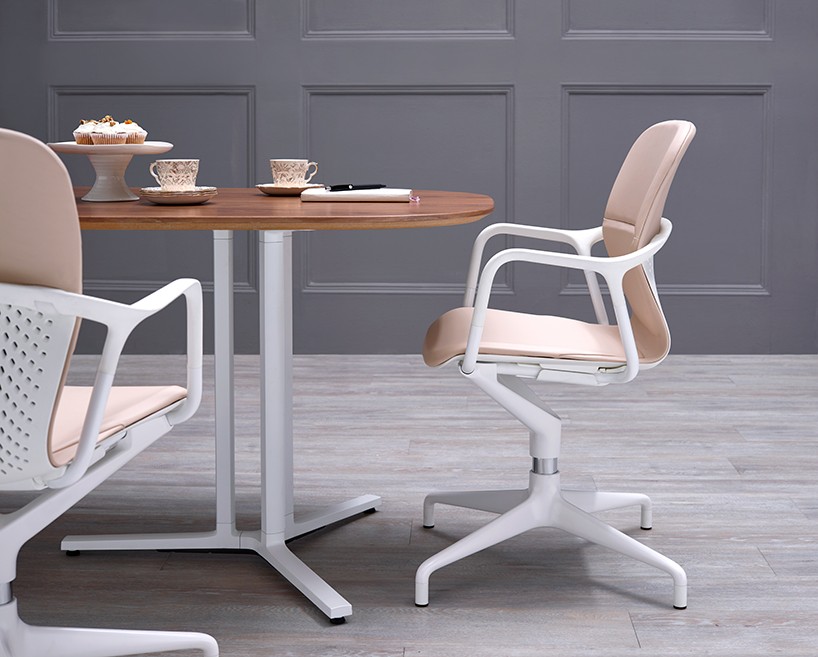 forpeople designed the chair as a one-piece shell
DB: what did you bring from your expertise in designing for the transport sector to the realization of the 'keyn' chair?
RS: there was a huge amount of knowledge that's come from the aviation and automotive area—particularly with the pads. we went back to our contacts at aston martin, jaguar, land rover and others while we were doing this, and they worked with us. at the same time we were collaborating with british airways, so all the projects were simultaneously fueling each other—sharing ideas and concepts across the table.
joohee lee: the pads were the biggest challenge because we've never done it in the furniture industry. there are so many different kinds of pads that need to deliver functionality. so we brought in a UK supplier who worked with us on british airways, as well as doug allen, the trim specialist at herman miller based in the US. he flew over a couple of times and we all sat together, and brought our different ways of thinking to the table to shape the pads for this chair.
RS: I think that's been the big thing, is that we are partnering with a lot of big companies—from coca cola to british airways. when you're working on a project where you have a singular goal of getting where you want to be, it's often not the same as what the people in those companies want. but with herman miller, you always get the sense that everyone in every department—and I'm not just saying this, but genuinely, and this is probably why this is the most emotional project that we've ever worked—is always looking after your back. so, if you say 'we need to do this', even the engineers, anyone you might normally think won't support you, or help you make it happen… they were behind us all the way. that's a testament to how this got to this stage.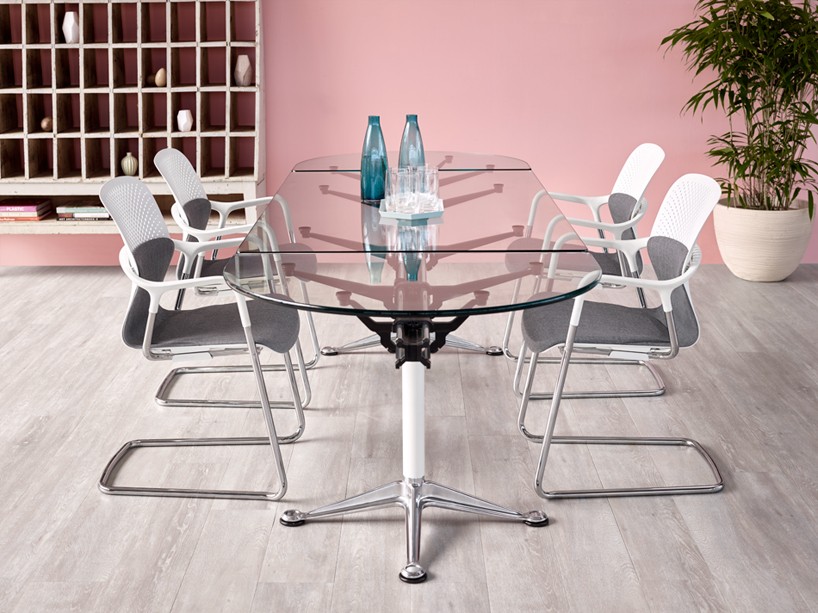 'keyn' chair with its catilevered base
DB: so, do you think herman miller allowed you to be more experimental and riskier during the process?
RS: from a task chair perspective, herman miller is the pioneer. when you look back at their heritage you've obviously got this great, big charles and ray eames and george nelson collection, and all those guys, that you've got to live up too. for us it was about leveraging the incredible innovation that has come through before us like studio 7.5's 'setu' chair, but also paying reference. so you're kind of looking back and being inspired by the task chair market. I think herman miller needs to take more advantage of that in other areas of the business, and not just task chairs.
JL: these days I think a lot of things are designed to live on the market for one to two years, with a constant push for newer ideas. we knew from the start that with the 'keyn' chair, when we introduced it to the market, it would stay there for 20-25 years. for us, that was a huge responsibility. we and herman miller wanted to make it right in every single way.
RS: the interesting thing is, and we didn't really anticipate this, is that we're all already a year into our next chair project. I'm not going to tell you what it is! but what's interesting, and I've never appreciated it before, is that the engineering team at herman miller that has worked on 'keyn', is so motivated now to make something even more progressive. that's one of the biggest drivers of this upcoming project—to push even further the pioneering aspects of injection molding, since the shell on this chair is one of the most complex injection molds herman miller has ever designed. there's a real kind of sense of momentum behind the R&D team. when we launched the product, we were commissioned by the VP of R&D to produce handmade books to celebrate and gift to everyone who worked on the project. so that's kind of the herman miller may. we gave it to the chief engineer, and he cried. we design a lot of stuff, and there's something about a chair and herman miller that is magical… and in some tiny way, we are now part of that [herman miller] story.
JL: on the launch day, we checked the website where there's the designers list name and we're just below charles and ray eames. that really made us happy.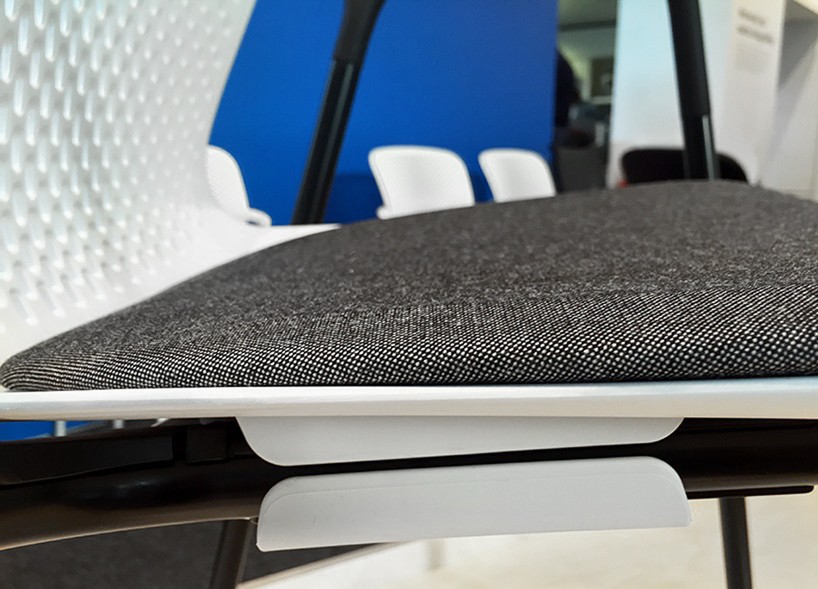 a detailed look at the padding for the 'keyn' chair and the seat's sliding mechanism
image © designboom
DB: did herman miller emphasize the importance of heritage at the first meeting?
RS: we had three principles that drove us based on what's gone on before at herman miller—basically the 'aeron' and what stupmf and chadwick created in that 'never ever compromise on comfort and deliver great ergonomics', so that was sort of the first thing. then there was a lot of talk about the studio 7.5's 'setu' chair who are a similar agency to us, in a sense that they don't like talking about themselves, but have delivered some great products. and 'setu' and this whole idea of silent innovation, you know, it is such an advanced piece of chair design, but clearly referencing 'aluminum group' (charles and ray eames' office chair) as an influence. and then you've got the iconic vocabulary of the 'aluminium group' which we can't market in europe. so one of the biggest drivers for the project was 'give us a polished metal and black leather chair' that can in some way compete with 'aluminium group' in the european market. for a third of the price, we've created something that kind of does that. so those were the sort of principles and products from the heritage that we looked at.
JL: for every product with every client, we always look back at their heritage because today with technology, anyone can have anything. something that can be different is the heritage because it's something that you can't buy or create. but when we were looking at herman miller, there is so much, it's so rich…
RS: there are elements of the brand that are not being used in a way in a way that they could. I think there's a confidence in the US that herman miller has because of its association with great designers. I think the european and asian market have got less so. but I think europe is just grasping the idea of utilizing what the herman miller brand could stand for. I think products like this, and there are products by other designers coming through, will really start to see that growing. it's definitely happening, but it's a slow process. it's easy to launch a product in 18 months that you wouldn't know it from any other product, but to get something that does all of the things that herman miller products are expected to do take a long time.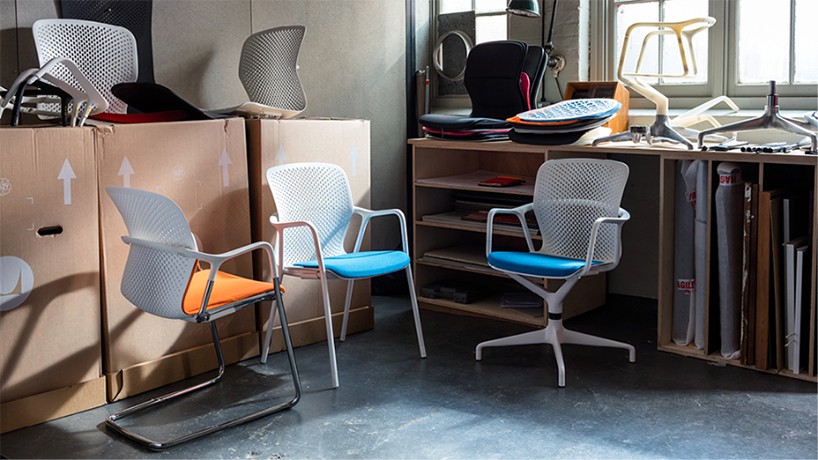 the design comes in three base styles including a four-leg, cantilever and four-star base
DB: at any point did herman miller draw attention for the product to be environmentally conscious?
RS: it's almost an unspoken aspect of the project. so we did an immersion week at the herman miller headquarters in michigan, and we went to all of their supply chains in the detroit area to learn the issues their suppliers have, and how we can work within those constraints. our biggest inspiration was the 'aeron' line. a chair comes off the line every 19 seconds. the operators just literally pick a base, put the tilt back in… and it's just very systematic. and we were like, 'that is the way we are going to build this chair'. we were amazed, and told ourselves, that's the way we're going to build this chair. we removed as many parts as we could, so the cradle and the base is pressed together with no mechanical fixings. then you have four component parts that make up the whole product.
JL: there's a lovely story I think when one of the guys from the factory line came up to richard and asked 'are you the designer'…
RS: and that's always a dangerous thing! it's like… 'no, I'm just loading a truck!'. but, I said 'yes, I am.' and he put his arms around me and said 'this is the most efficient chair we have ever developed.' so that was pretty cool. so, from a sustainability perspective, they don't even talk about it. they demand that you focus on it. even things like the pad aren't glued, and that was a massive challenge. with a shell that moves and a pad that moves, we asked ourselves a lot of questions how to make it work.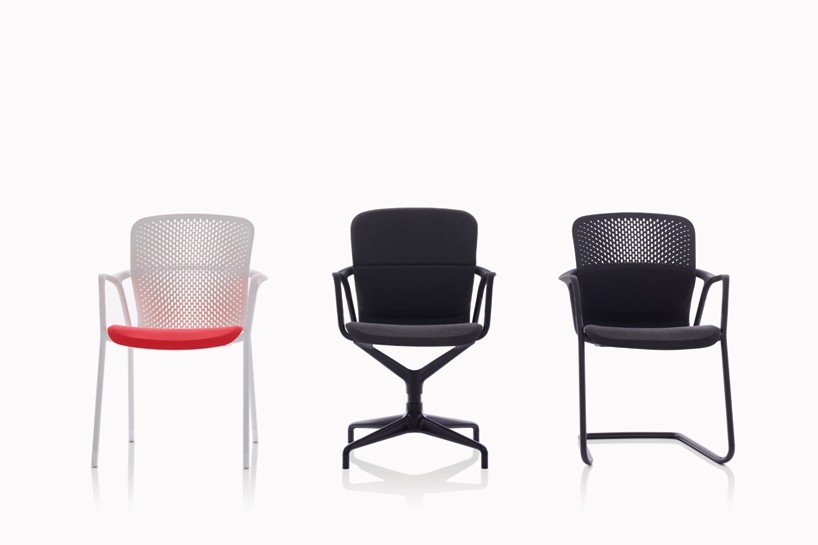 the chair's detailed pattern not only contributes to its lightweight aesthetic, but enables air flow through the back
what defines 'keyn' is its ability to respond to a user's movement, supporting their body as they move in their seat. using a one-piece shell design, and the patented cradleflex system, users are able to adjust their position smoothly up to ten degrees while simultaneously moving it forward in their chair. the design is composed of four key components: the common cradle and one piece seat and back shell, combined with a series of base options and upholstery variants.
'keyn' has three base styles including a four-leg, cantilever and four-star base, with a painted, trivalent chrome or polished aluminum finish. the seat shell comes in graphite, studio white or black. a choice of five reverse contrast colors can be specified separately on semi- and fully-upholstered chairs. with these options, plus an almost infinite range of color, material and finish choices, the herman miller 'keyn' chair offers versatility with a consistent style, united with flexible comfort to meet the needs of any workplace. the design makes its north american at NEOCON 2016 in chicago.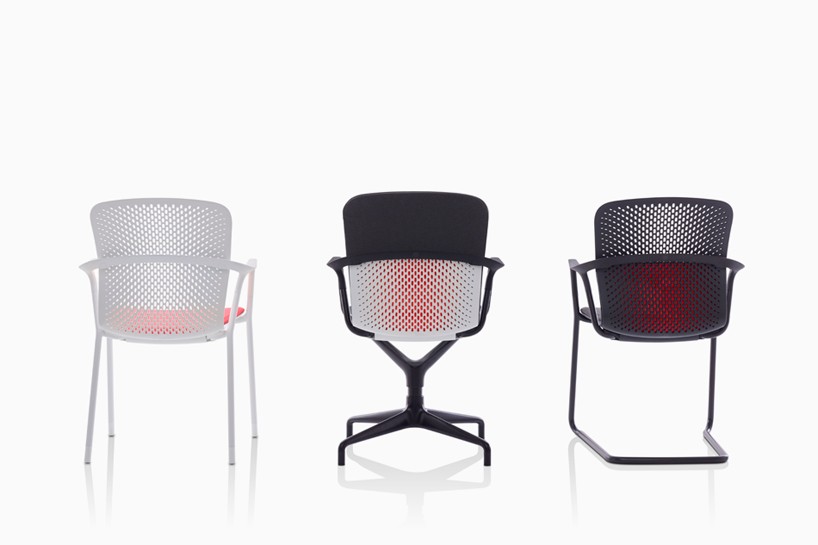 'keyn' comes to life through human-centered design, contemporary engineering and responsible manufacturing
forpeople and herman miller were driven by a continuous search for creative perspectives and insights, brought to life through human-centered design, contemporary engineering and responsible manufacturing.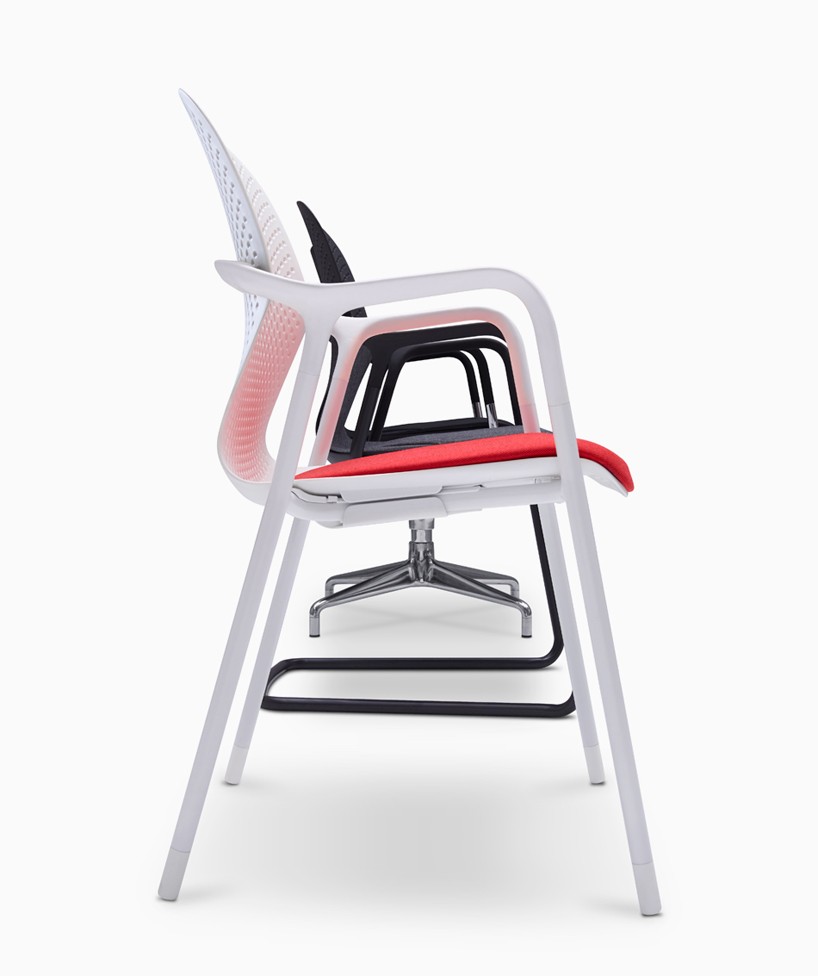 each variation matches the height necessary for every user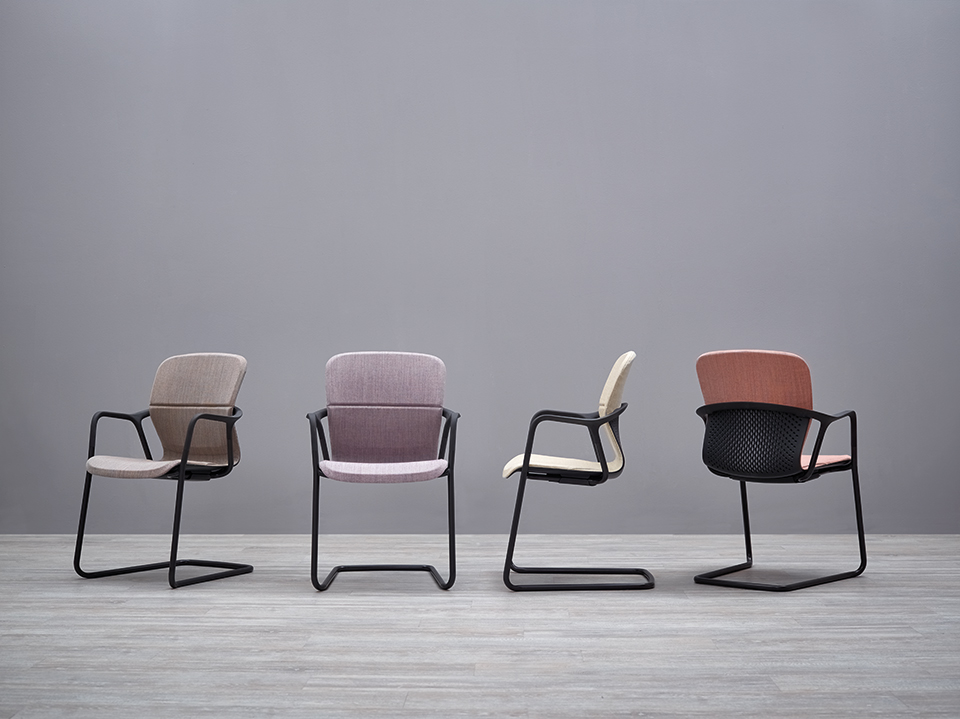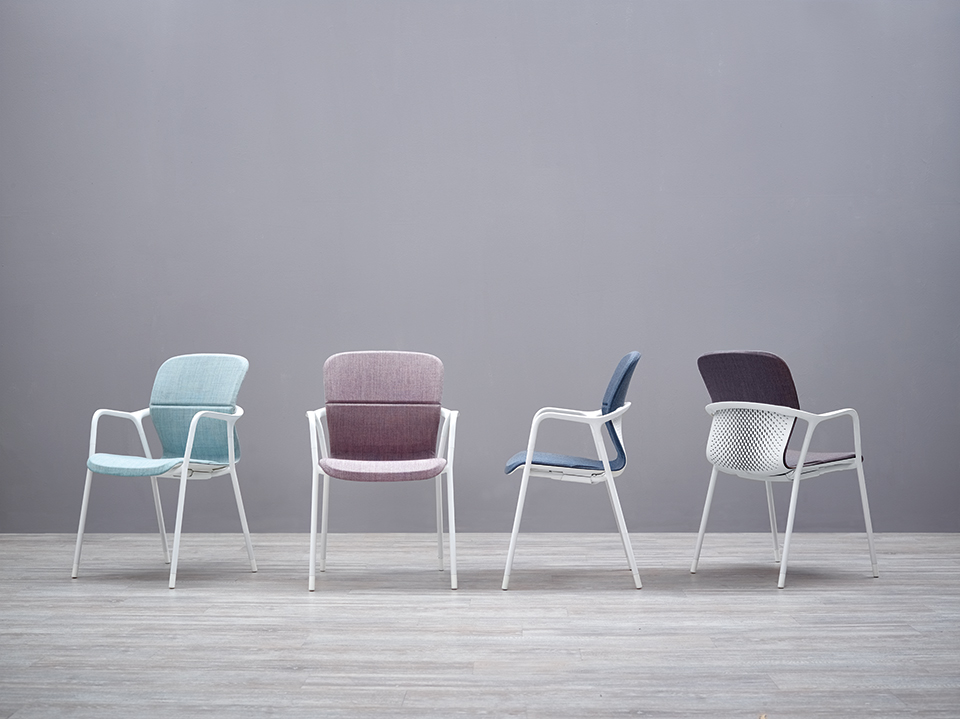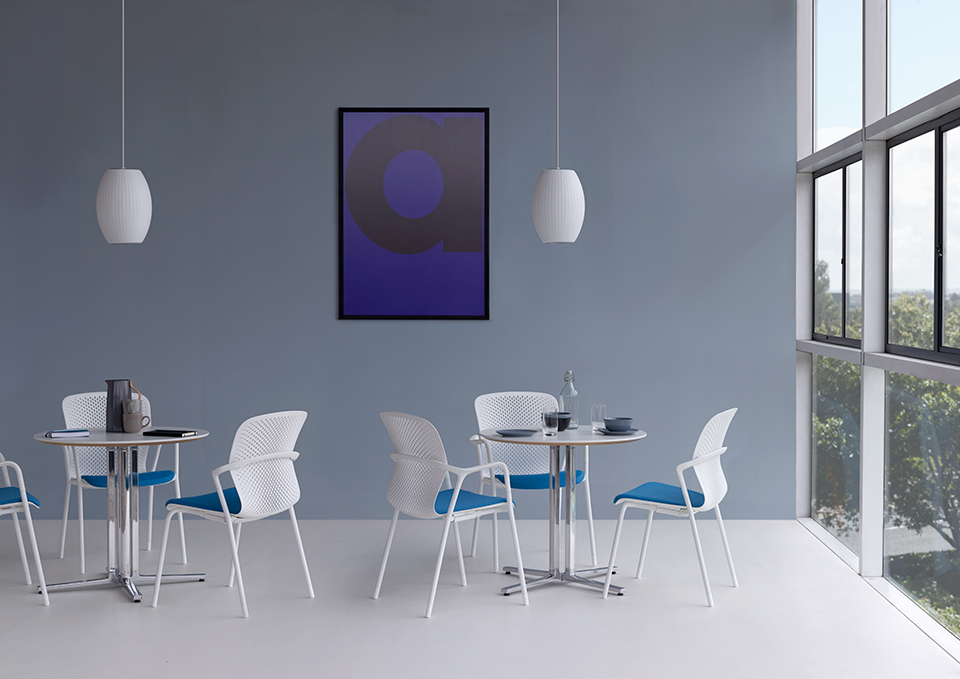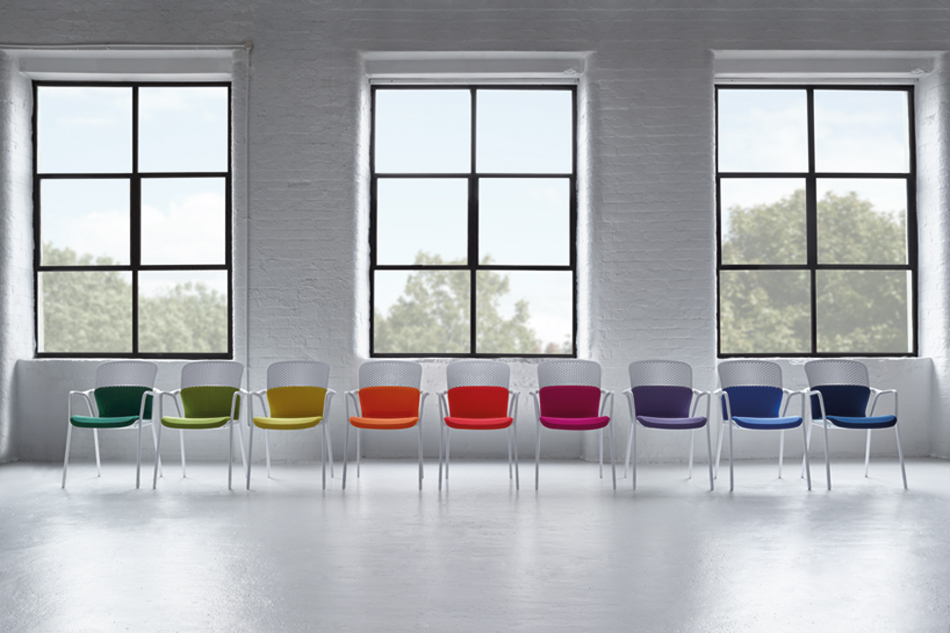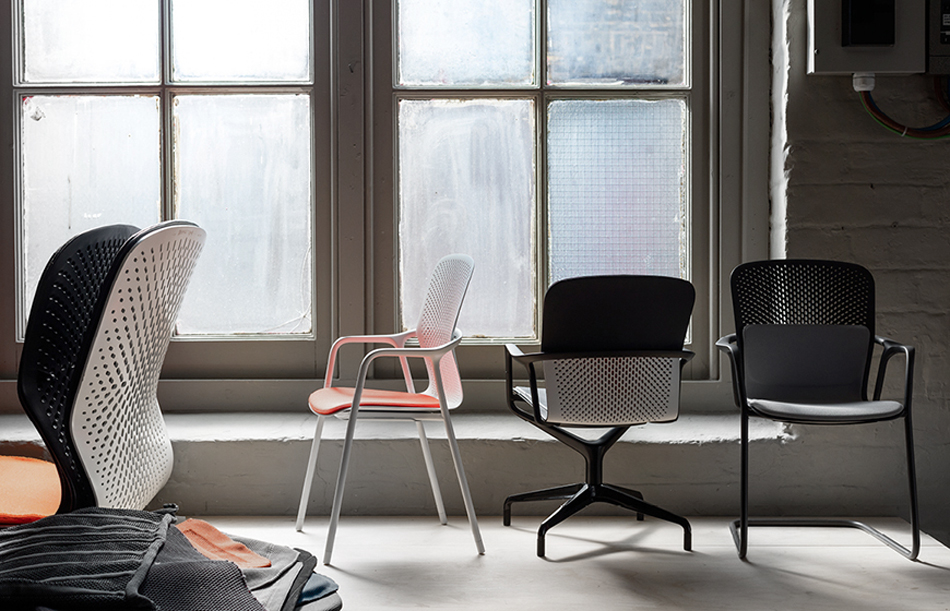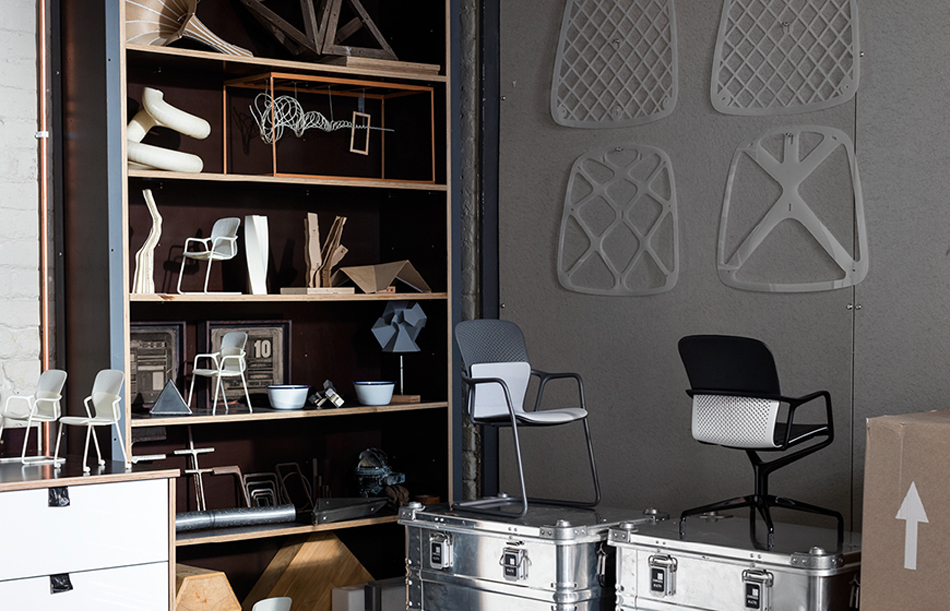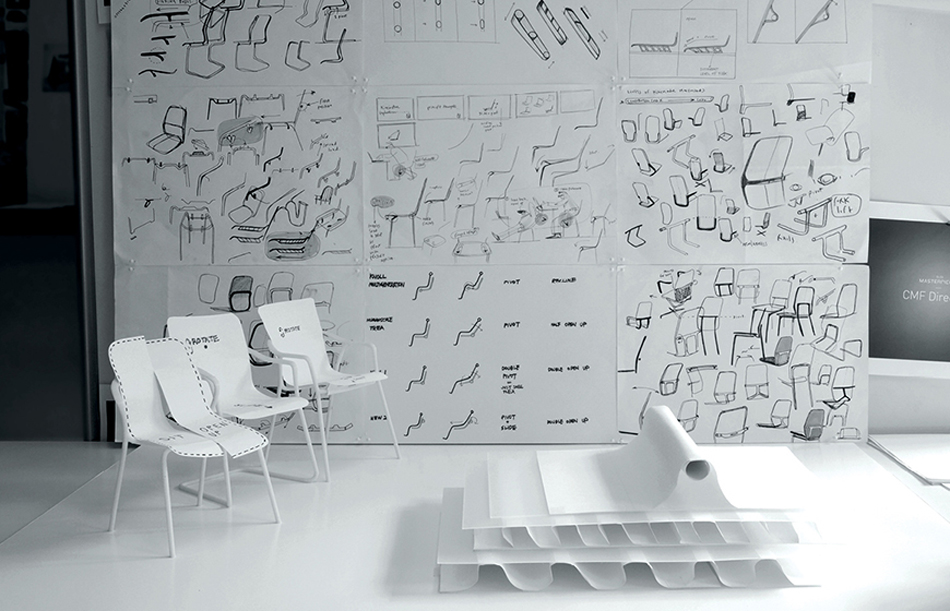 Save
Save
Save
Save
Save
Save
Save
Save
piotr boruslawski
I designboom
jun 15, 2016
KEEP UP WITH OUR DAILY AND WEEKLY NEWSLETTERS
a diverse digital database that acts as a valuable guide in gaining insight and information about a product directly from the manufacturer, and serves as a rich reference point in developing a project or scheme.
designboom will always be there for you
milan, new york, beijing, tokyo

,
since 1999