francesca sarti / arabeschi di latte serves up an exotic veneto for fabrica
image courtesy of fabrica
located in treviso, italy is fabrica — a research center that offers young creatives from around the globe the opportunity to participate in a year-long program in which they engage with one another on real projects; based on the conviction that communication, in all of its applications, must stand as a vehicle of conscious social change. throughout their time at fabrica, the residents are involved in a number of cross-disciplinary studios lead by international art directors, artists, designers, historians and sociologists which investigate different themes and issues selected by the host creative.
for july 2015, designboom was invited to attend a workshop held by francesca sarti of arabeschi di latte, a food design studio that has been creating many food concepts and pop-up cafés around the world. sarti's experience with food and her use of it as a communication tool, saw her propose to fabrica residents the theme of 'exotic' and what it could mean in the context of culinary matters.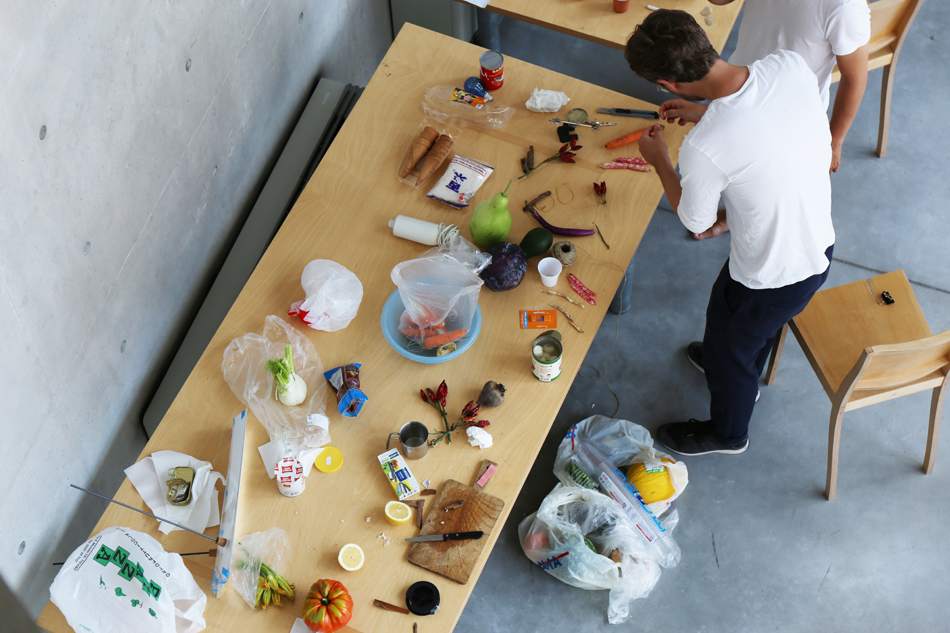 'exotic veneto' workshop in session
image © designboom
'the workshop started from the idea of 'exotic' and what this could mean nowadays, in veneto or in general. what does exotic mean? what is exotic food? is food that is thought to be exotic to one person or culture, necessarily exotic in another? when does something top being exotic? how does food change when it is taken out of its native habitat? what could these things mean in relation to veneto, and the more immediate identity of treviso? I was invited by fabrica to think about what 'exotic veneto' could be,' sarti tells designboom.
sam baron, the director of fabrica elaborated on sarti's proposal: 'I think it makes sense to think about exoticism in this context because there are a lot of different nationalities represented in the fabrica team, so the idea is also to have them confront themselves and their cultures in relation to their daily life here in treviso — looking at different cultures coming together, sometimes working with one another very well, and sometimes with difficulties. food was used for the main conversation about the 'exotic' because it is also something that has positive associations, and forms a community particularly when you share a meal together.'
'the idea for the the workshop really came from a few provocations that luca zaia, the governor of veneto, made,' continued sarti. 'one was the 'pineapple strike' and the other one was 'eat polenta not couscous' — both campaigns encouraging italians to boycott imports and eat locally grown and produced foods. at the very base of the workshop I wanted people to think about what is defined as 'italian food'. is polenta really more italian than couscous? the idea was to start asking questions about these issues,' she concluded.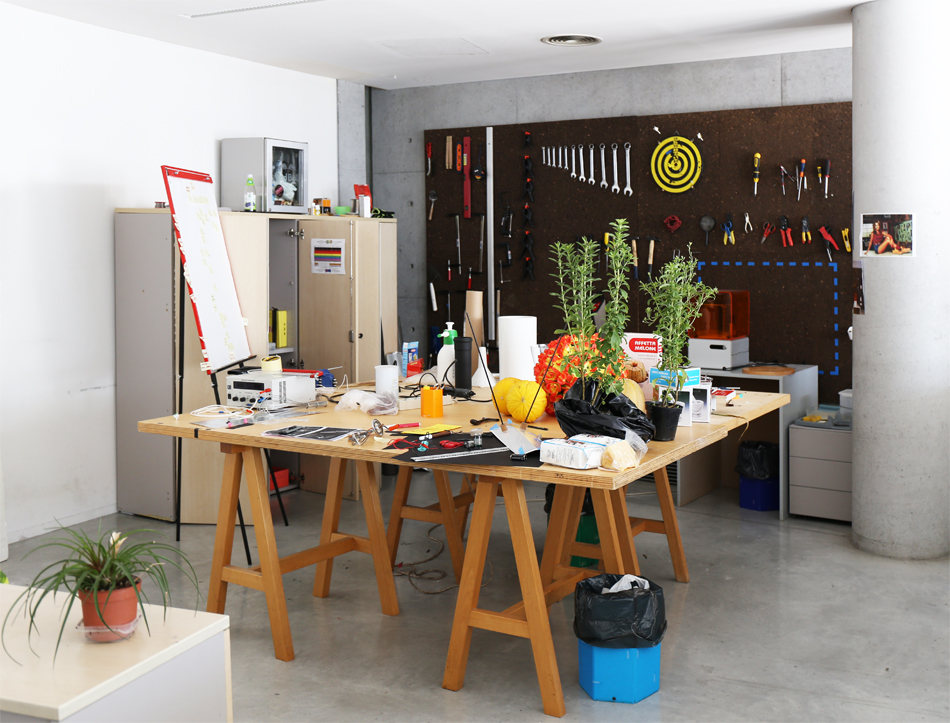 raw materials (food and plants) waiting to be transformed into an exotic tasting menu
image © designboom
divided into four different groups, the fabrica residents worked with sarti, brainstorming provocative answers using food as their medium. in the workshop, food became an angle in which to investigate cultural conditions, as well as old traditions and rituals, communicated through captivating imagery and visual statements.'
here is a look at the results:
—
group 1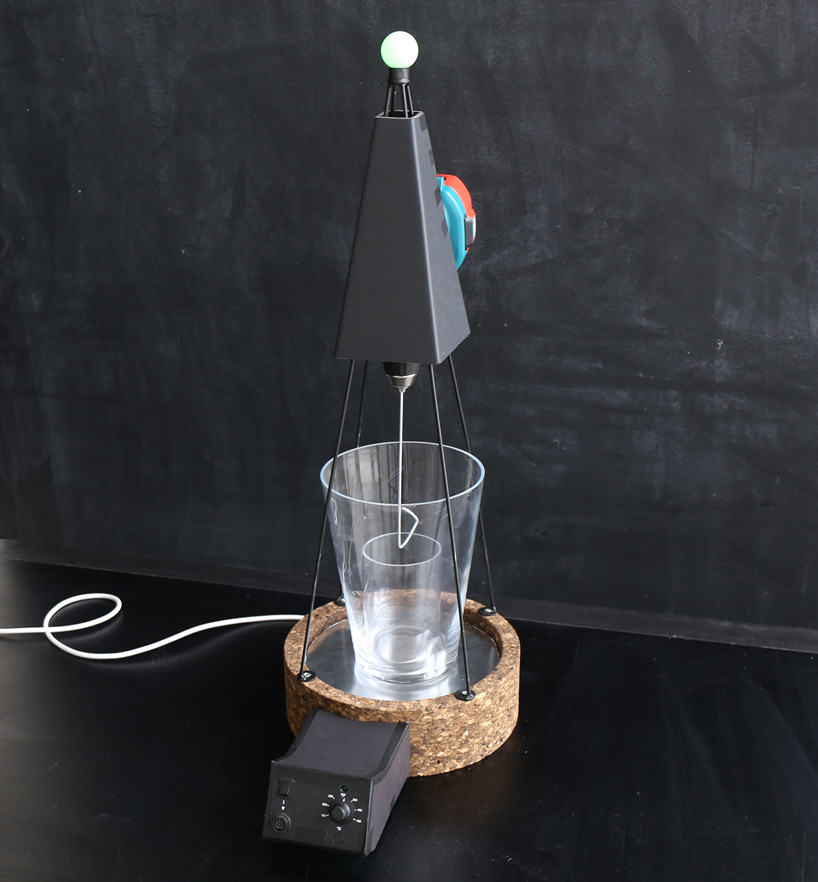 'macchina exotica 3000 – exotic forever, exotic for all'
image © designboom
the first group comprised of elise santangelo (australia), shek po kwan (hong kong), pascal hien (germany) and giorgio gasco (italy), looked at imagining what exotic could mean for us all in the future as exoticism becomes increasingly more relative, more tangible and more fleeting. they asked 'what if we could manufacture surprise, exaggerate it and reinvent it forever?'. their proposal 'macchina exotica 3000 — exotic forever, exotic for all' explored something truly italian — gelato — and elaborated on their idea using DIY materials to create an 'exotic gelato machine', serving 'flavors of the day' driven by user input. it presents tastes that are always relative and exotic, even if just for a moment.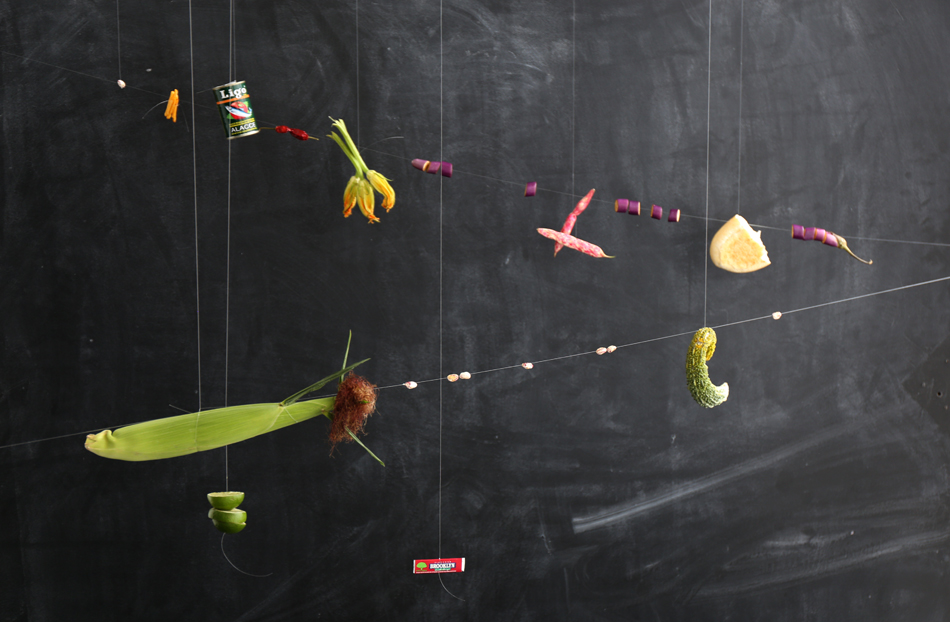 stringing together potential flavours for gelato
image © designboom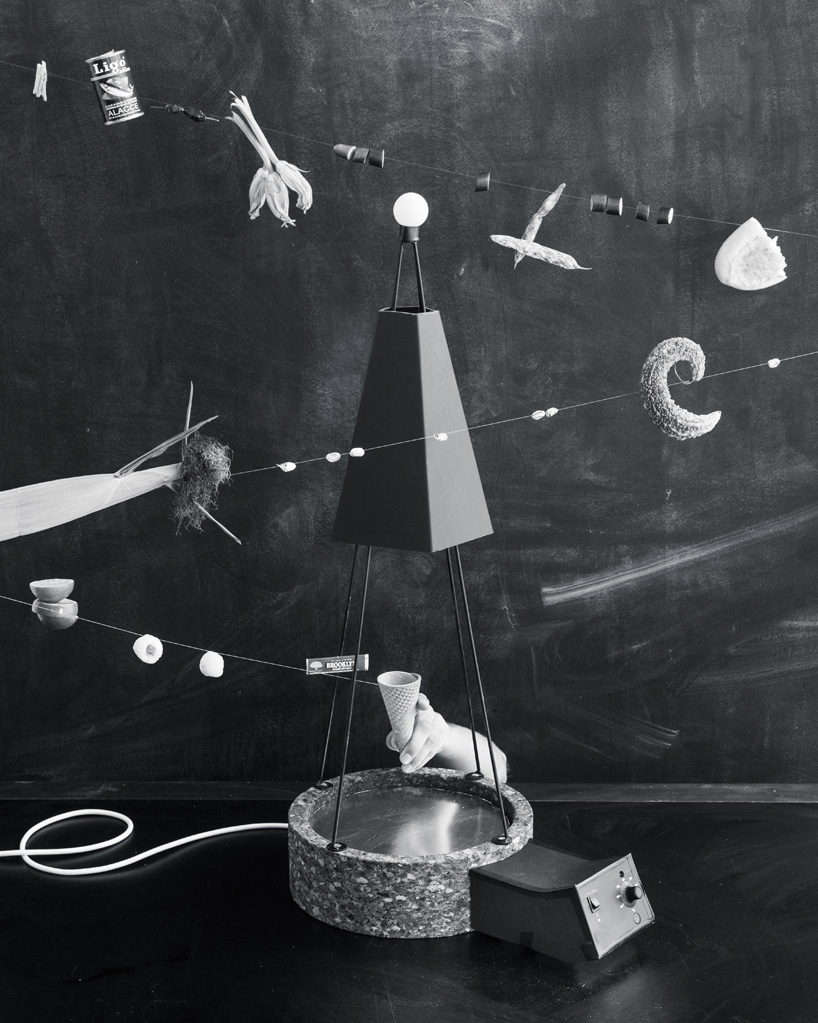 final communication for 'macchina exotica 3000 – exotic forever, exotic for all'
image courtesy of fabrica
—
group 2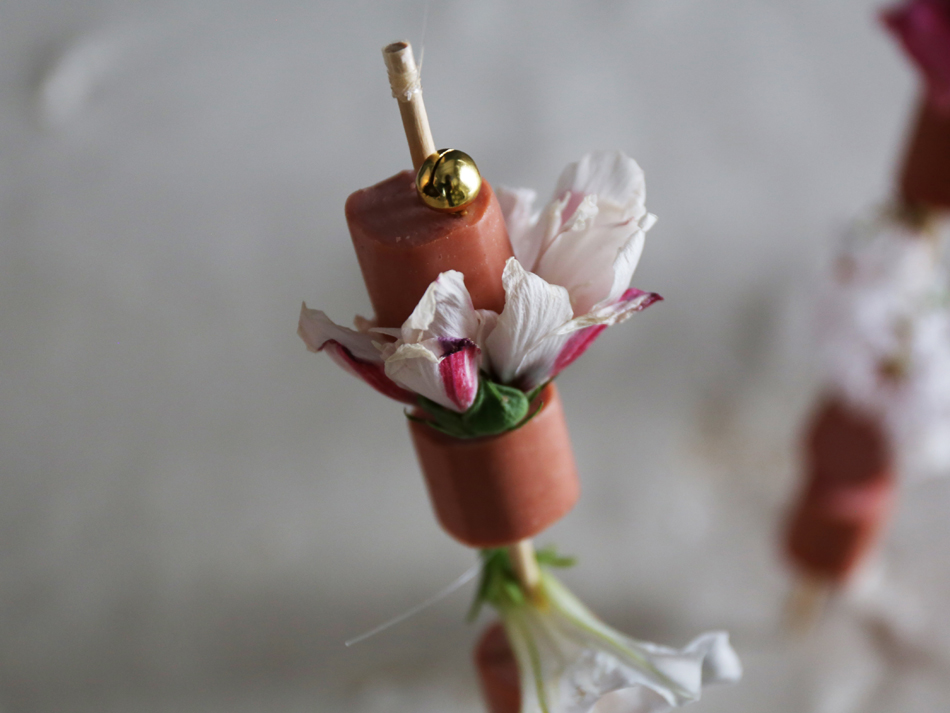 'sacra-exotica'
image © designboom
group two made-up of thomas fethers (australia), nikita bhate (india) and sophie rzepecky (new zealand), sought to answer the question: 'does food that has a spiritual significance, contain a higher value? and if so, how could this be marketed?'. investigating topics of spirituality, rituals and food, they hypothesized what the new exotic could be. in a tongue-in-cheek approach, 'sacra-exotica' is a range of possibilities that includes: smoked babylon fish – infused with blessings and a light woody, sweet aroma; lourdes wax cheese – a sharp vintage cheese, air sealed with a prayer and lourdes candle wax; and, holy cow – premium beef sourced from hustling centres of cow worship.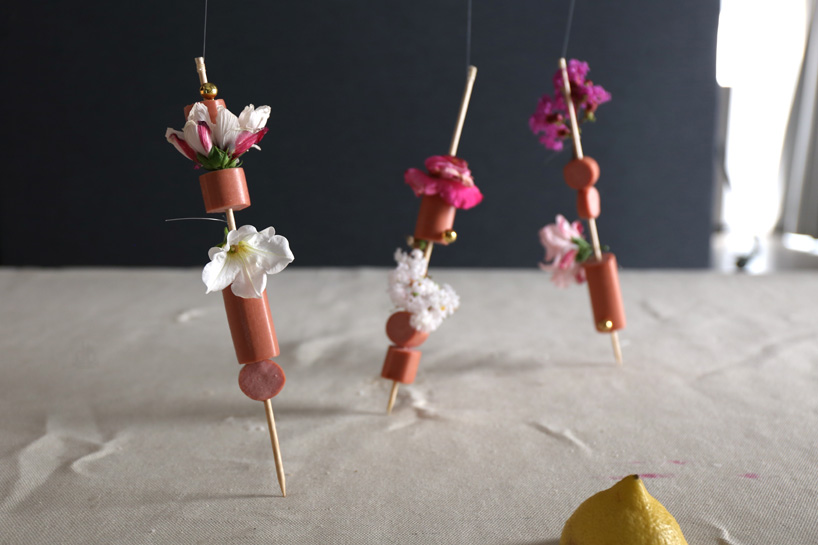 holy cow – premium beef sourced from hustling centres of cow worship
image © designboom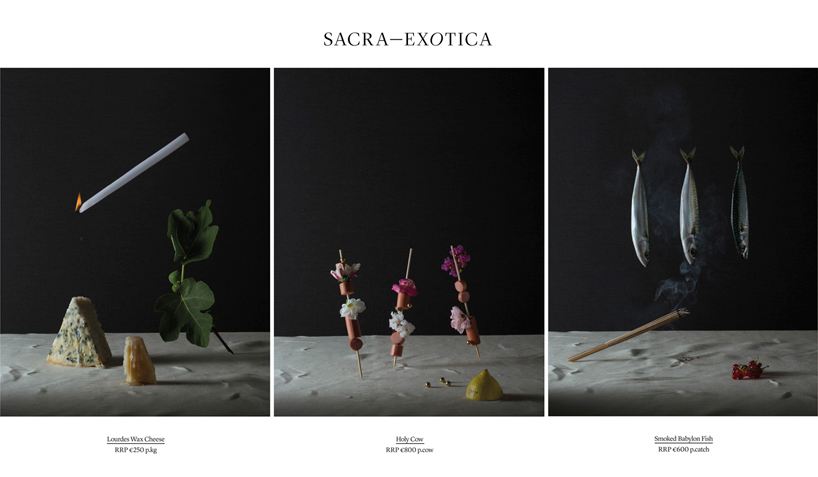 final communication for 'sacra-exotica'
images courtesy fabrica
—
group 3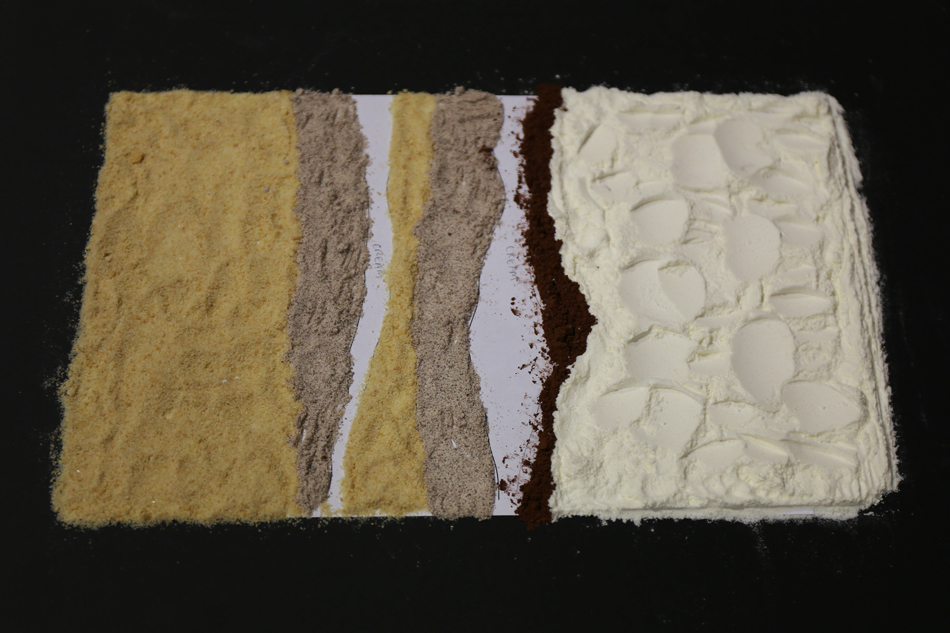 'exotic tiramisu'
image © designboom
the third group of livia albeck-ripka (australia), coralie gourguechon (france), wai yee chung (china), mariana fernandes (portugal) and chiara codognotto capuzzo (italy) responded to the theme of 'exotic veneto' by exploring the origins of a processed tiramisu — a proudly trevsian dish. taking 'exotic' to mean the 'unknown', they looked at how a simple, local dish has been bastardized by the food industry into three packets of powder, to be mixed with ladyfingers and cream. their dissection saw that powders included 'exotic' ingredients like E34oii from US phosphate, brazilian annatto, E407 from filipino seaweed and inorganic (NH4)HCo3 — brought to us by the brilliant food industry. despite disclosing this information, the tiramisu was still eaten. more disturbingly, people said it tasted good. we are hardwired to love sweet things, and food science is advanced enough to trick us. (the brazilian annatto is a red berry converted into a colouring agent which magically makes the white powder turn mascarpone-yellow when mixed with cream).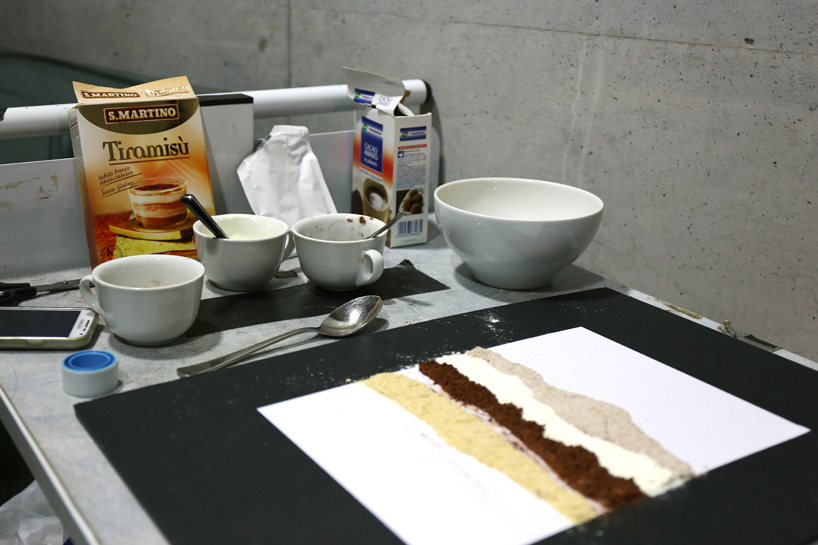 dissecting packet tiramusi into its individual chemical-filled powders
image © designboom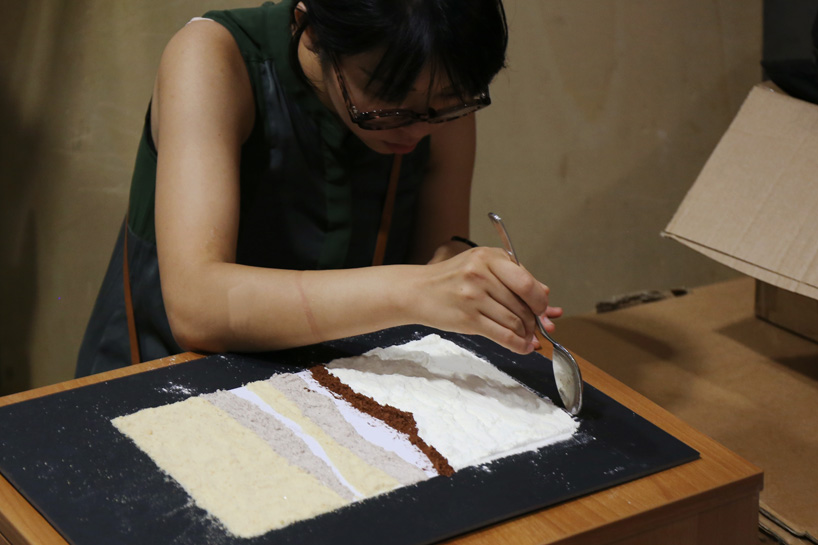 laying out the 'ingredients' of an 'exotic tiramisu'
image © designboom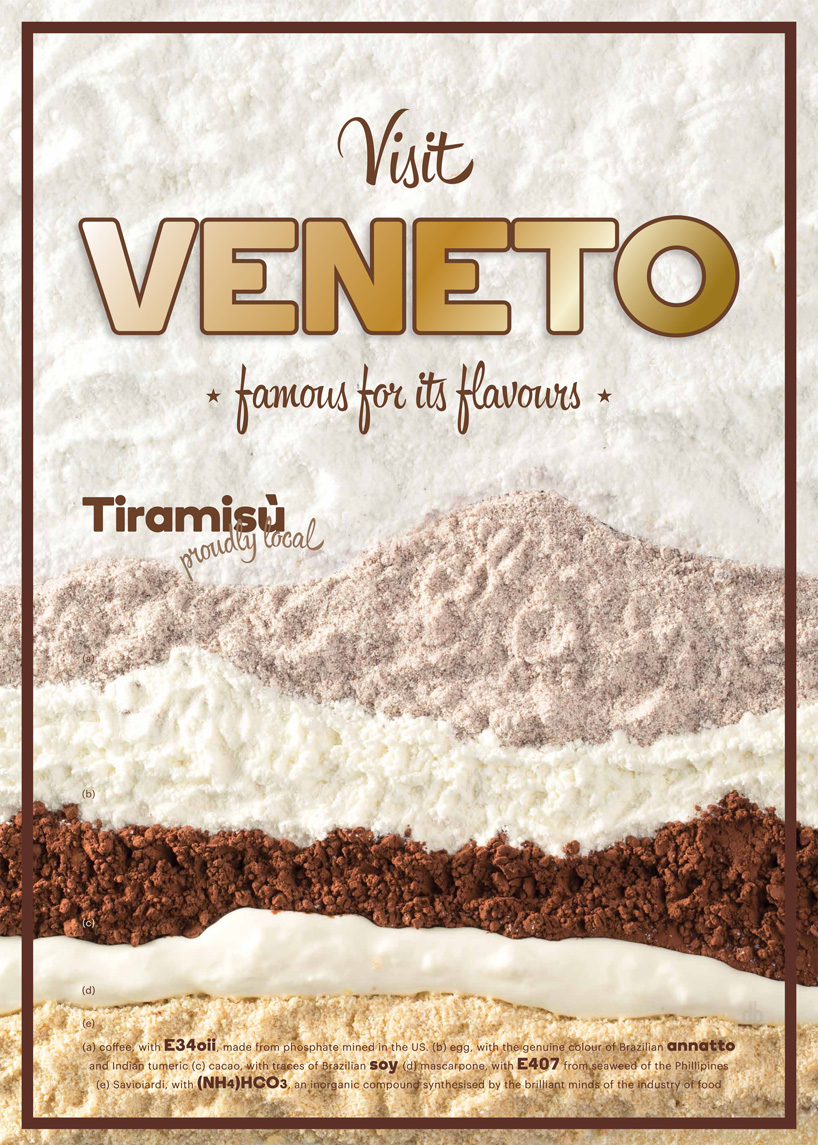 final communication for 'exotic tiramisu'
image courtesy of fabrica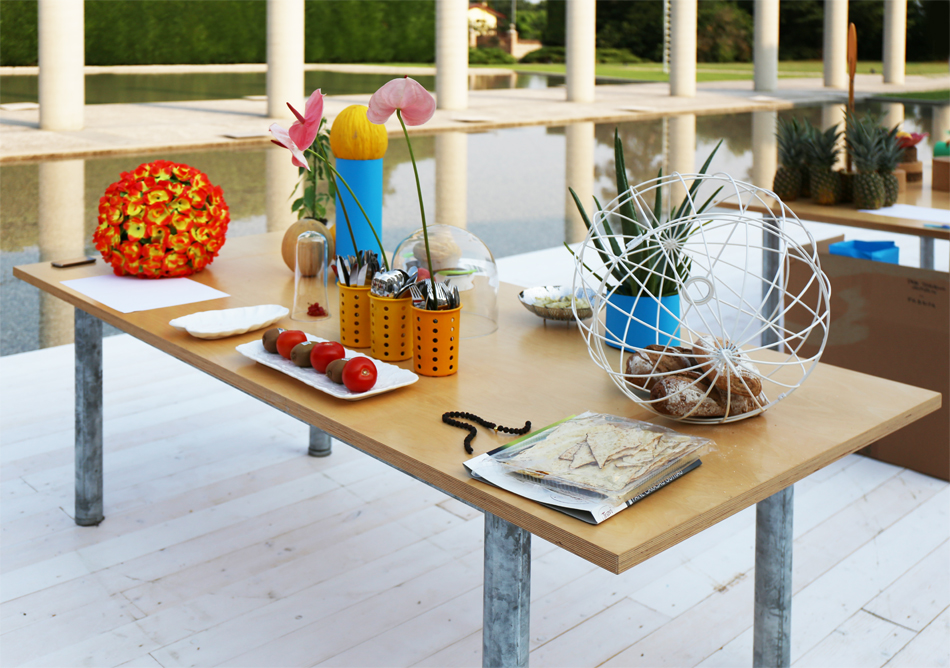 'exotic'
image © designboom
group four of karen oetling (mexico), chandni kabra (india), furio magliani (italy) and angelo semeraro (italy) looked at what the definition of 'exotic' means, using two supposedly 'iconically italian' produce items as their muse.

ex·ot·ic
(ĭg-zŏt′ĭk) adj.
1. from another part of the world; foreign.
the tomato is considered an italian icon, but it's not. the number one producer in the world is china. kiwi, on the other hand, originates from china and is considered exotic in italy, yet italy is actually is actually the number one producer, with veneto being is main agricultural hub. despite italy being its number one harvester, italians rarely use kiwi in their cooking. it is 'local', yet it is not part of the cuisine. the notion of 'the exotic' is all relative. why do we associate the tomato with italianess? why is it that in italy, the kiwi is so unused?

'jus soli' (latin: right of the soil) is the right to nationality or citizenship based on birth territory. in italy 'jus soli' is denied. do tomatoes have the right to be italian? our borders are getting tighter every day, but identity is fluid. who has the right to belong?
the group expressed their findings into two campaign graphics that can be likened to the style of chinese propaganda posters.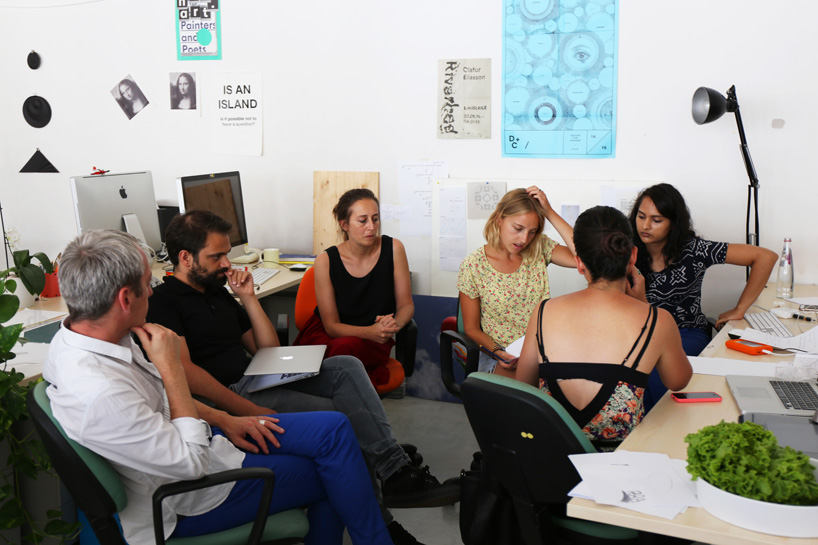 group 4 meeting with sam baron (head of fabrica design) and workshop leader francesca sarti (arabeschi di latte)
image © designboom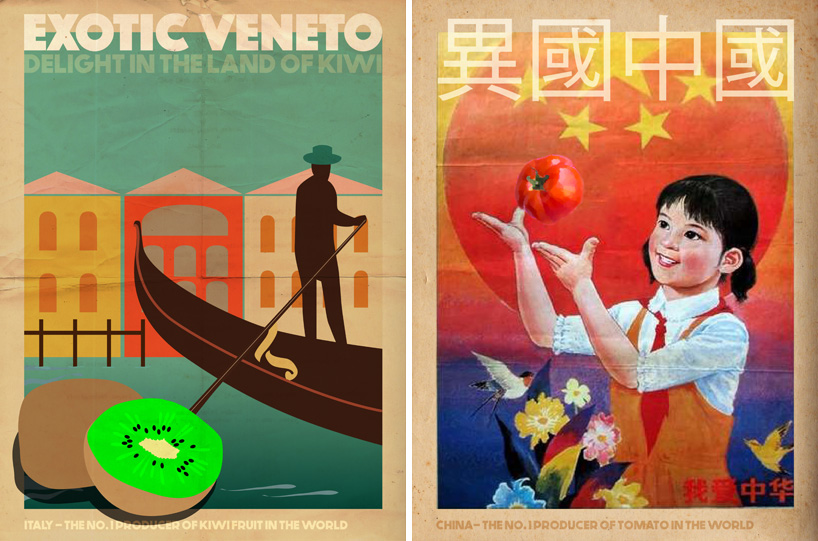 final communication for 'exotic'
image courtesy of fabrica
francesca sarti's conclusions on the 'exotic veneto' workshop:
'I think the answers are each quite different, and I like that because it shows how the word 'exotic' or 'exoticism' is quite a relevant. the groups interpreted the theme in different ways resulting in some quite sophisticated answers. I think 'group 4′ had quite an interesting approach in wanting to invent a new form of exoticism, so they created a sort of new company promoting different exotic fruit. we have seen many kinds of tropical fruit, and nowadays you can find fruit coming from china even here in treviso. likewise in china, you probably find pizza, pasta…'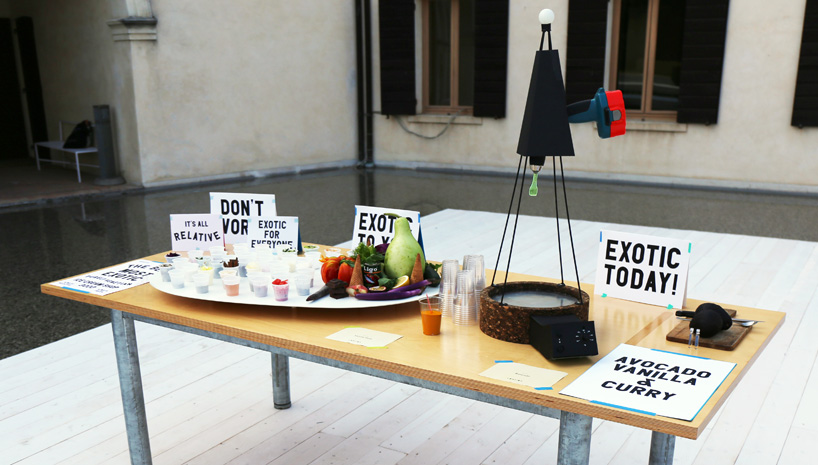 'macchina exotica 3000 – exotic forever, exotic for all' at the final aperitivo
image © designboom
sam baron on the success of the workshop:
'I think another interesting part of the results is that the different skills of the fabrica people resonates with each proposal. some of them are interactive designers, some of them are product designers, some of them are graphic designers, some of them are photographers, and the groups were made of mixed talents so it's interesting also to understand how even with different artistic backgrounds the food drove people in the same direction. the participants started to have a mini conversation in a group of four people, and then very quickly they seemed to reach a direction; and then thanks to their capacity they developed a shape to make their answer available and understandable by other people. it's something which sends you back to the time where people were discovering the world, and where they were traveling and bringing back items for the cabinet of wonders such as little fruits and insects — weird stuff from very far away.'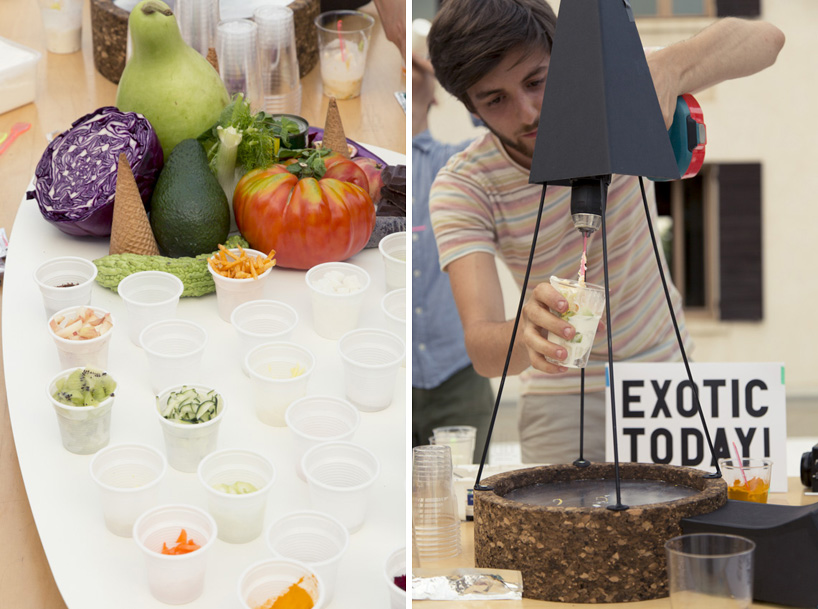 the machine being used to test out different flavour combinations
images courtesy of fabrica
the workshop concluded with an aperitivo showcasing each of the group's developments, serving up new flavors that played off of the traditional foods of veneto.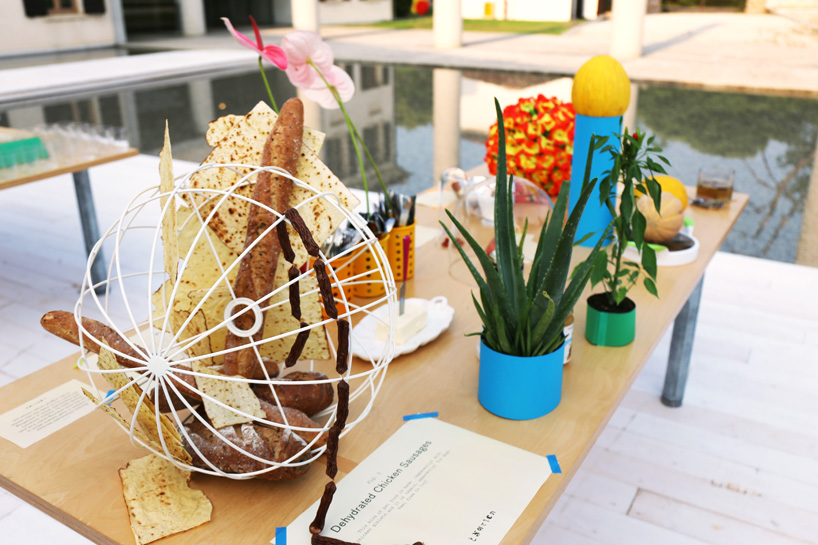 'exotic veneto' aperitivo spread
image © designboom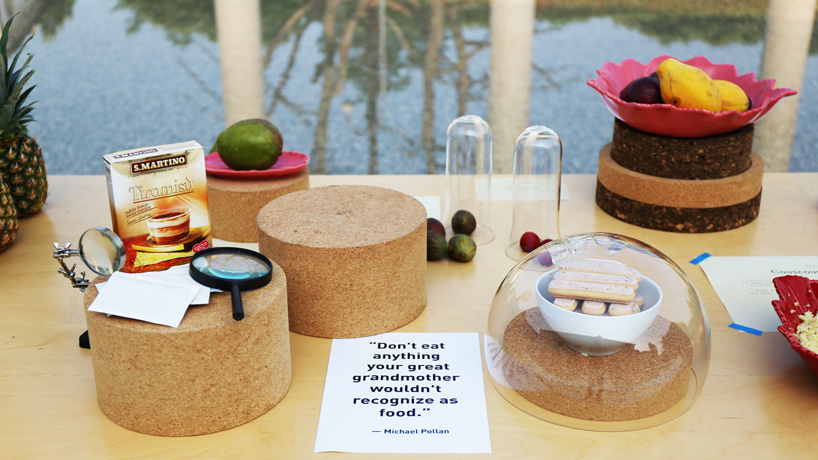 'exotic veneto' tiramisu display
image © designboom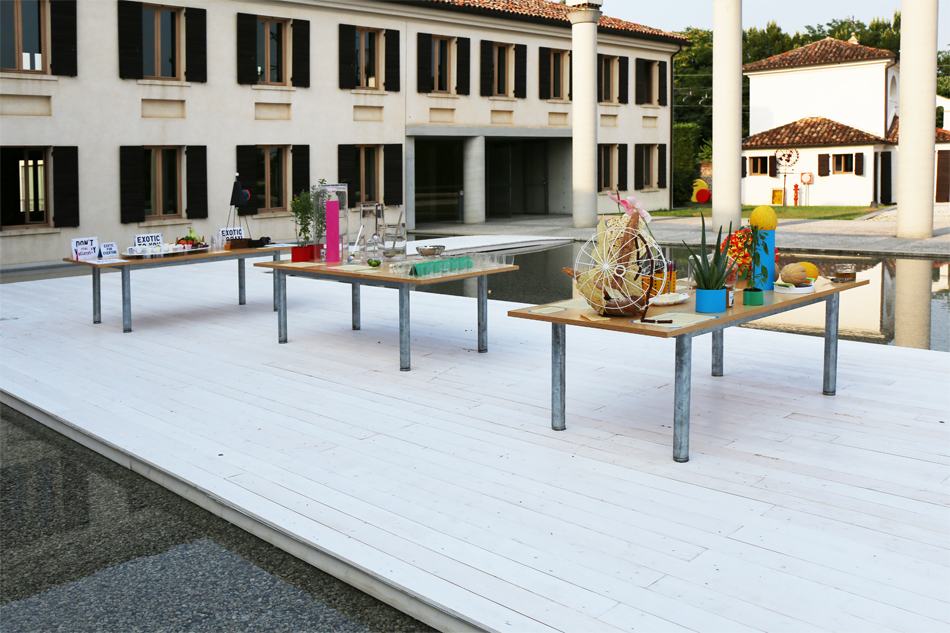 image © designboom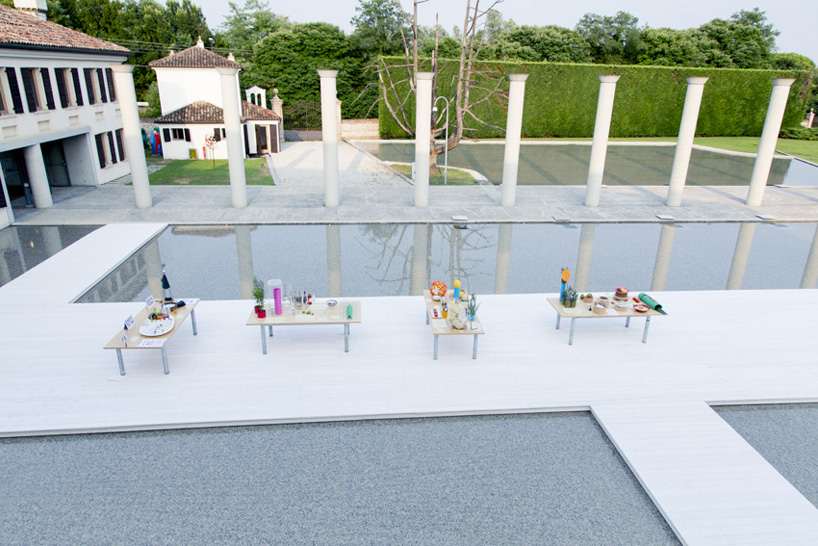 closing final 'exotic veneto' aperitivo showcasing each result
image courtesy of fabrica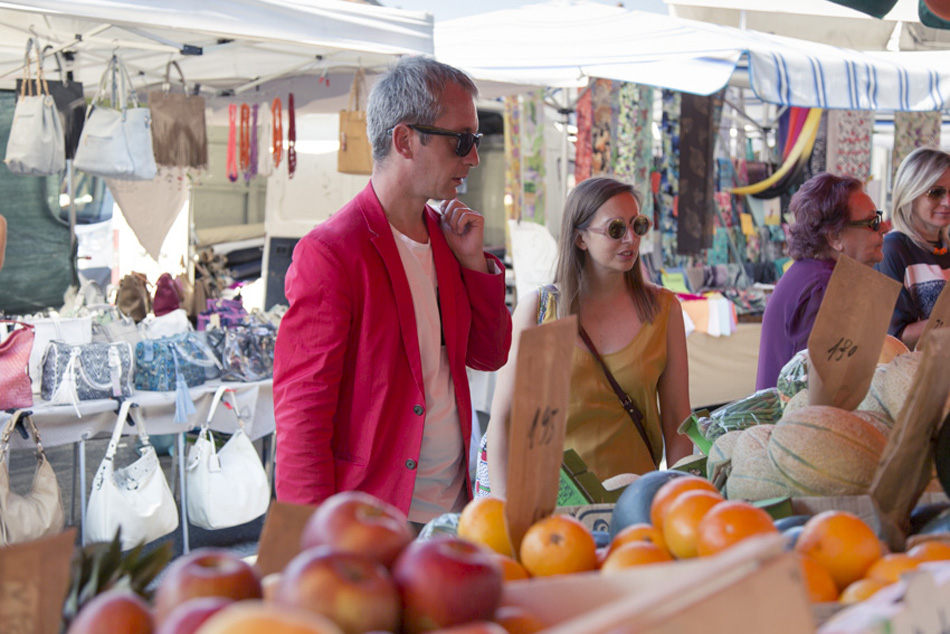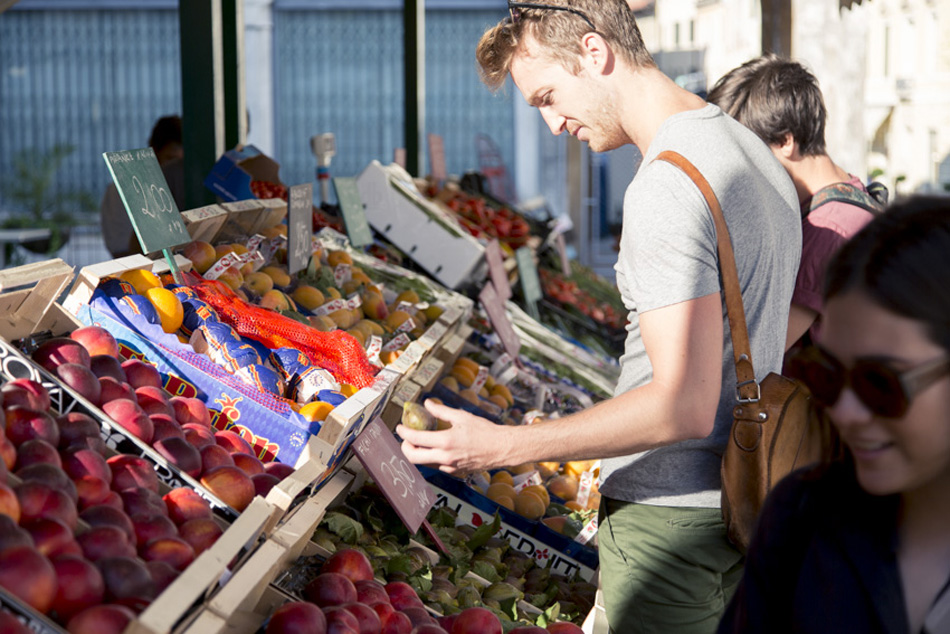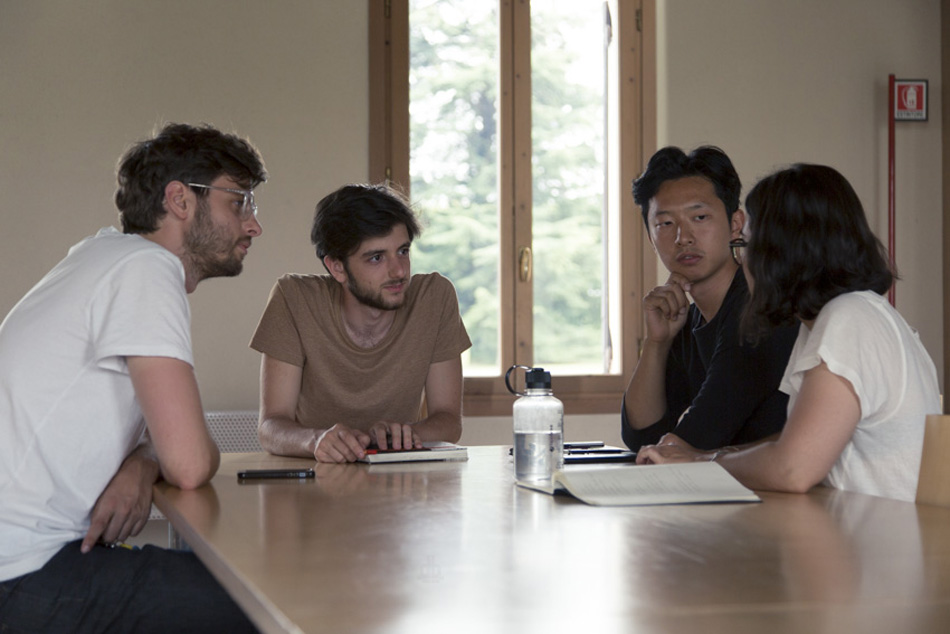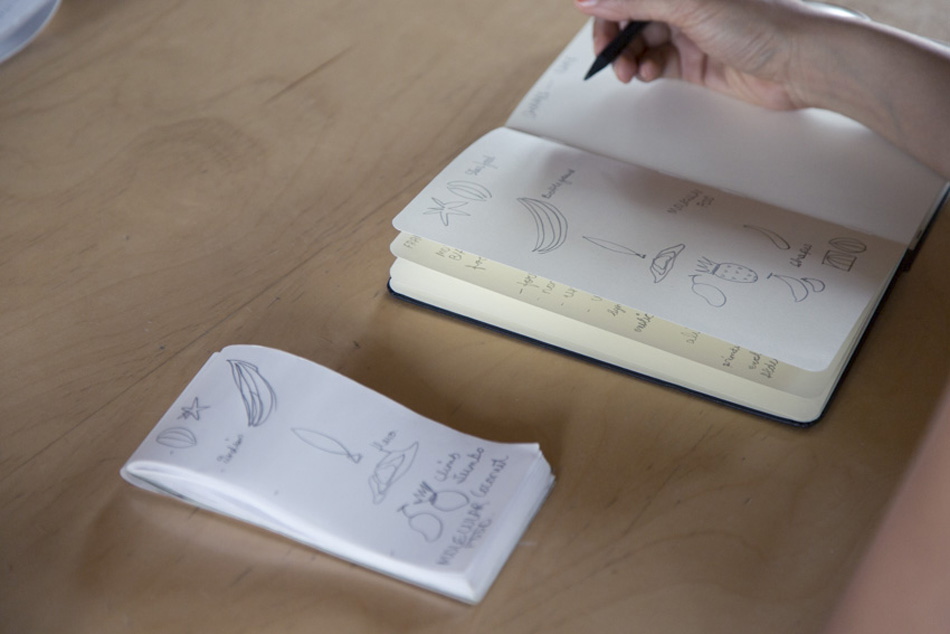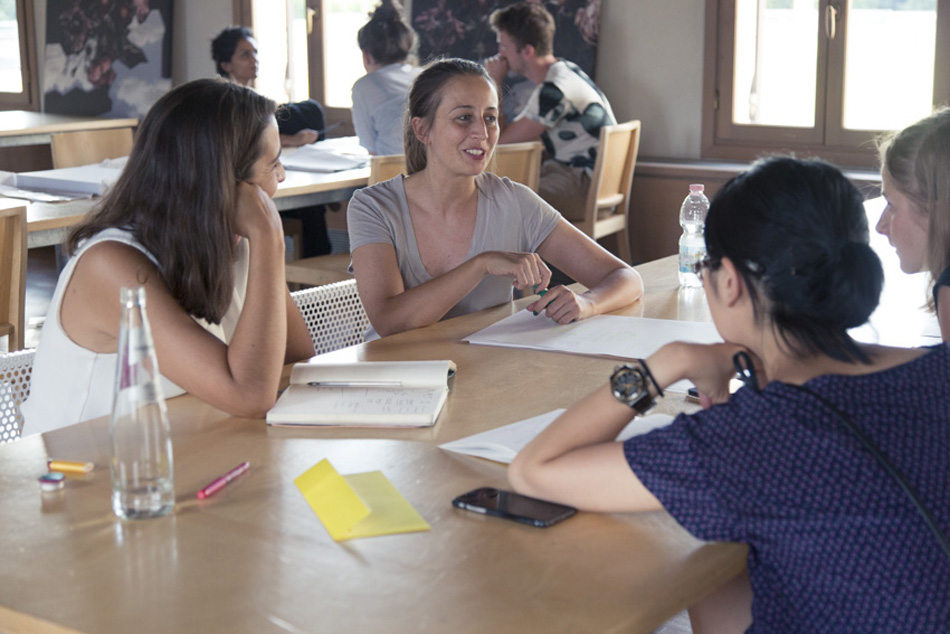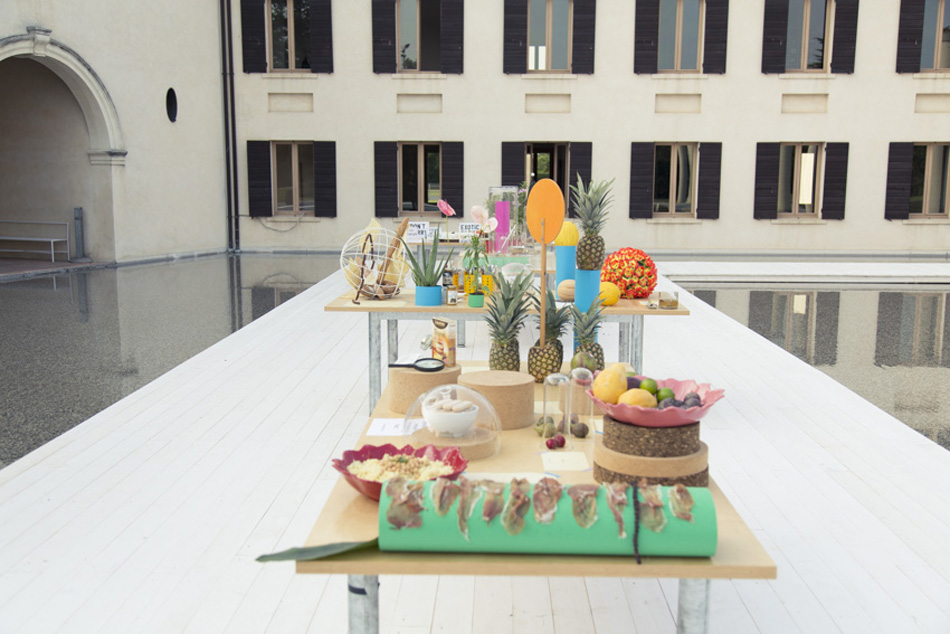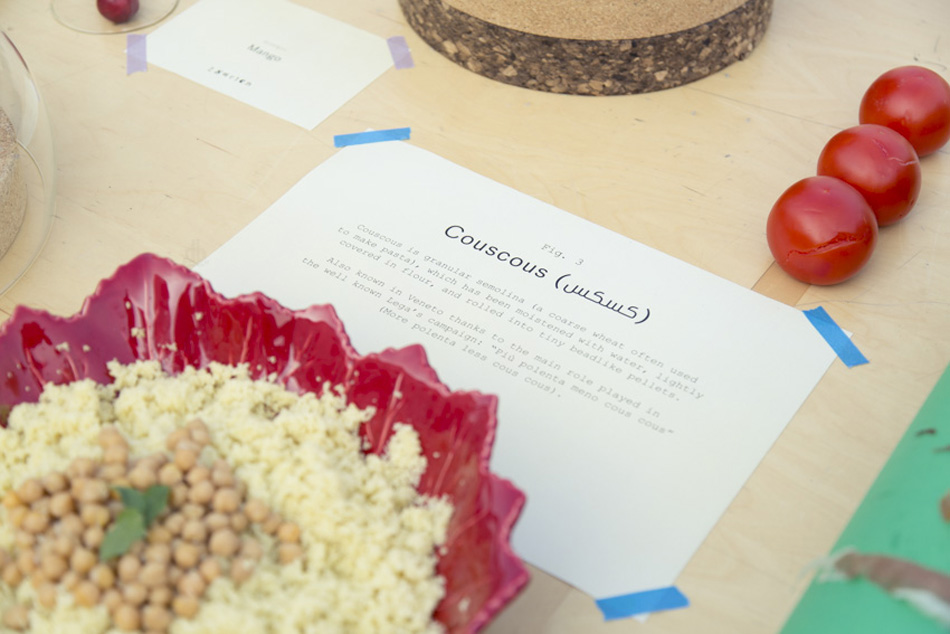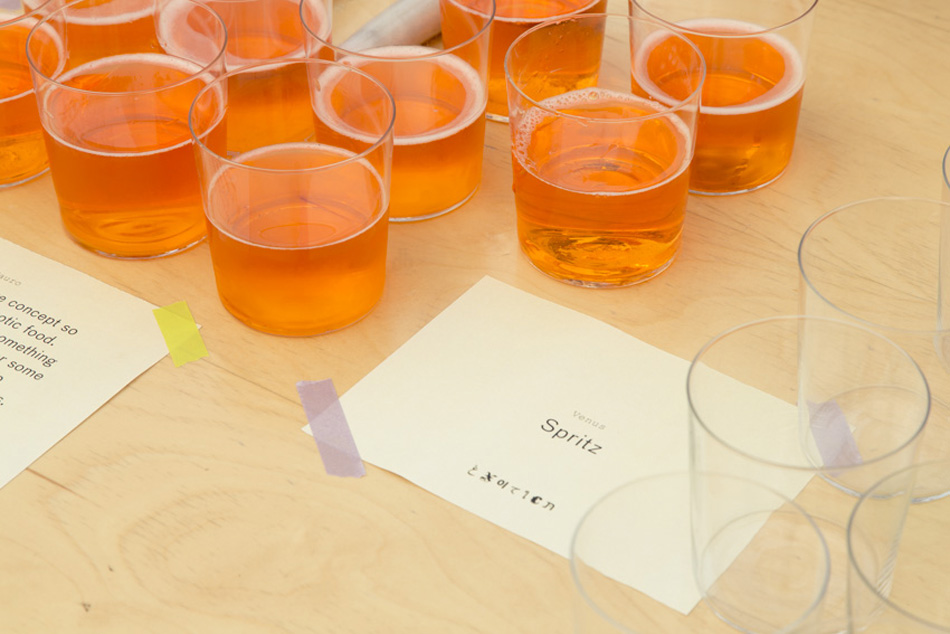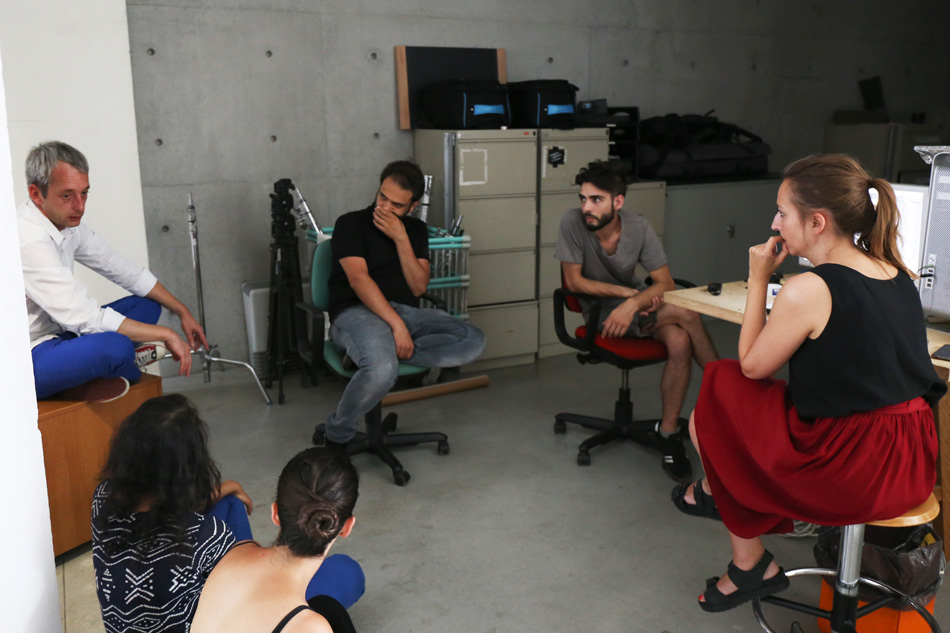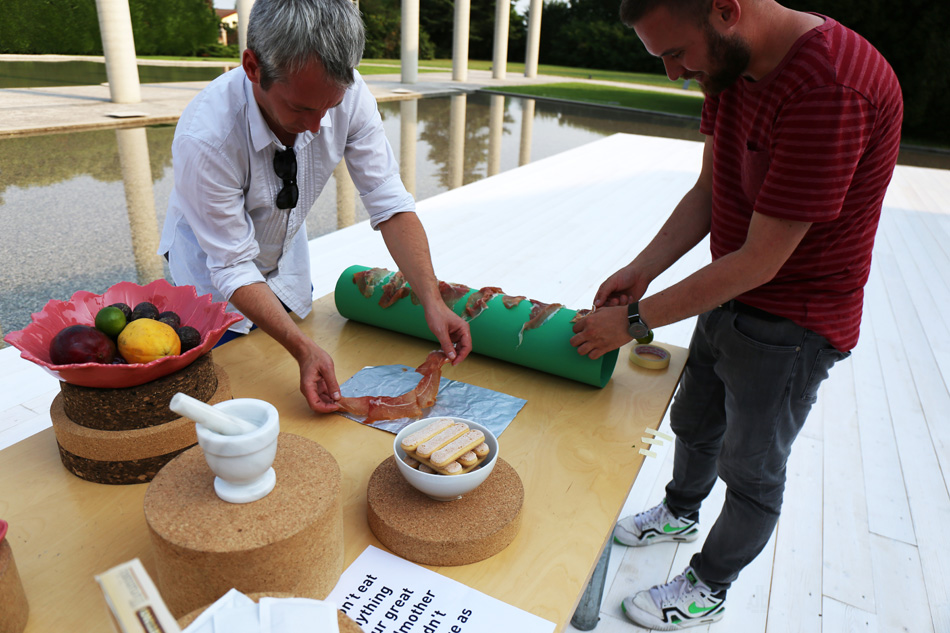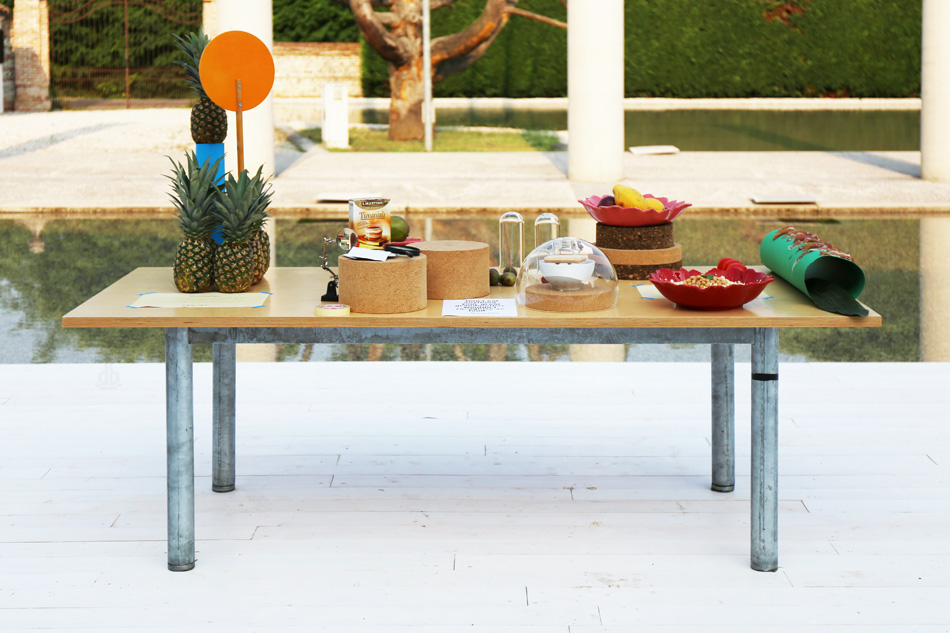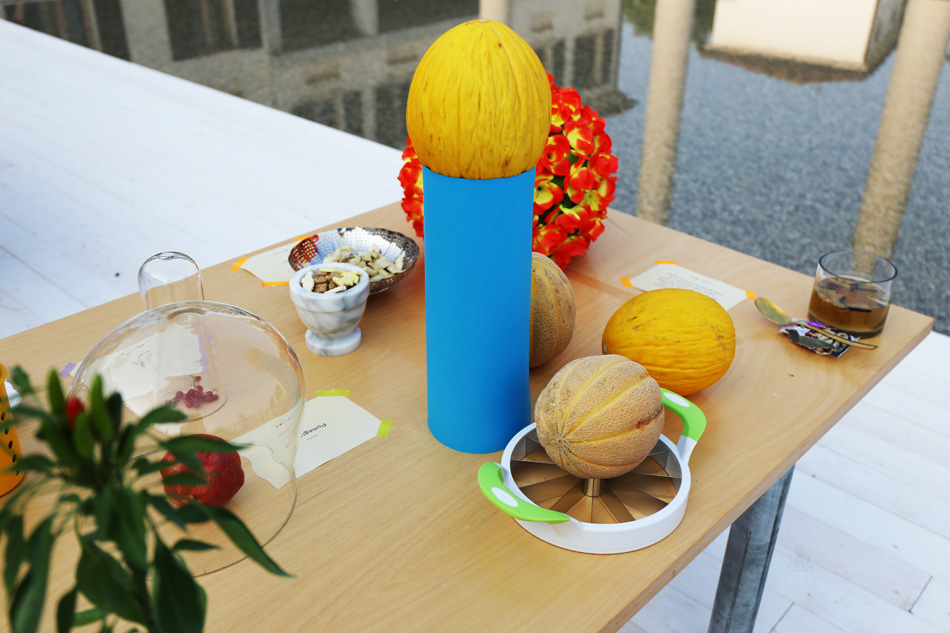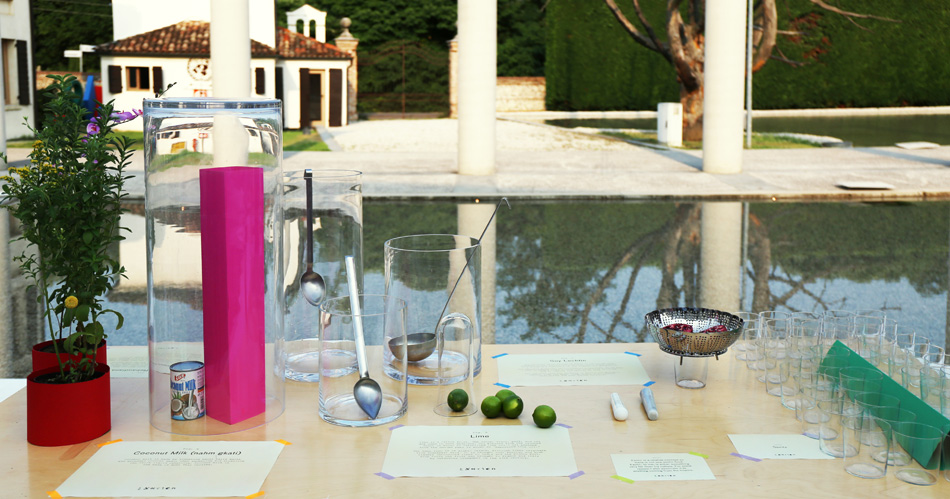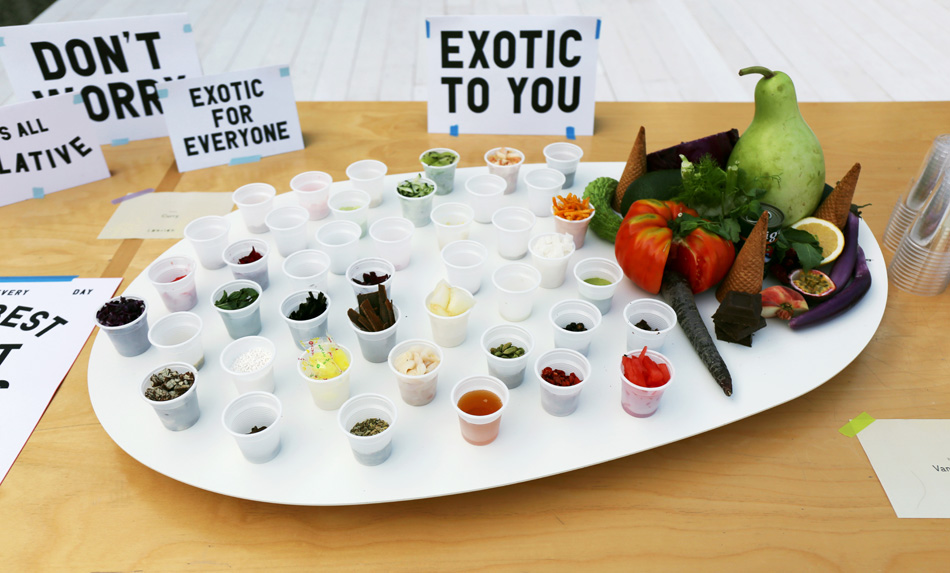 shuhei senda
I designboom
aug 10, 2015
KEEP UP WITH OUR DAILY AND WEEKLY NEWSLETTERS
a diverse digital database that acts as a valuable guide in gaining insight and information about a product directly from the manufacturer, and serves as a rich reference point in developing a project or scheme.
designboom will always be there for you
milan, new york, beijing, tokyo

,
since 1999