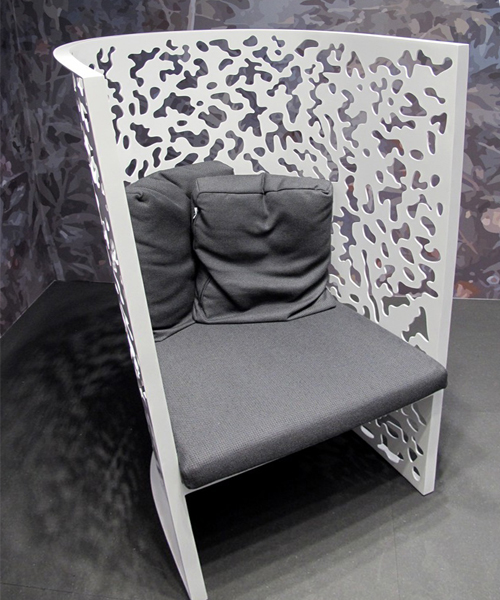 apr 24, 2016
fredrikson stallard designs an all-year-round outdoor collection for driade
fredrikson stallard designs an all-year-round outdoor collection for driade
image © driade
founded in 1995 by patrick fredrikson and ian stallard, and internationally recognized as one of the leading exponents of british avant-garde design, fredrikson stallard stands out thanks to their cutting edge and conceptually rigorous pieces. this year, during salone del mobile they are presenting 'camouflage', an outdoor collection that includes a high and low armchair for the italian manufacturer driade.
we had the opportunity to talk with ian stallard about the motivation behind the project, the challenges they faced, the technologies used and the selection of the camouflage pattern used in their latest outdoor collection.
video interview with ian stallard from fredrikson stallard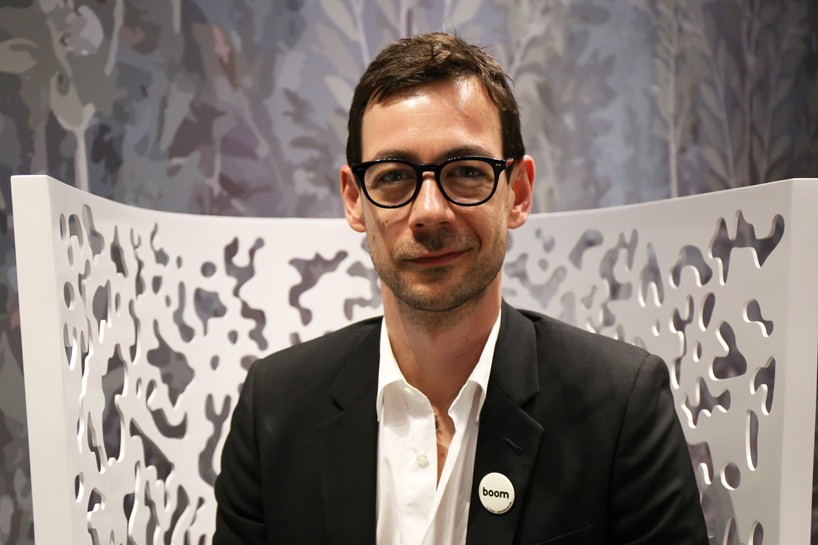 image © designboom
designboom: what was the motivation behind the 'camouflage' collection?
ian stallard: I love outdoor spaces, landscapes, gardens… I have always loved working with them. and the thing is when we think about outdoor furniture we think about it in its moment of use, on a warm summer day, people sitting on it, enjoying it, eating outside, but that's only part of the story. from where I'm from, london, I look out on my garden, and most of the year is not a sunny beautiful day, and most of the year we're not eating out there. I want the garden to always be a place which is beautiful throughout the year, which changes and works with the seasons.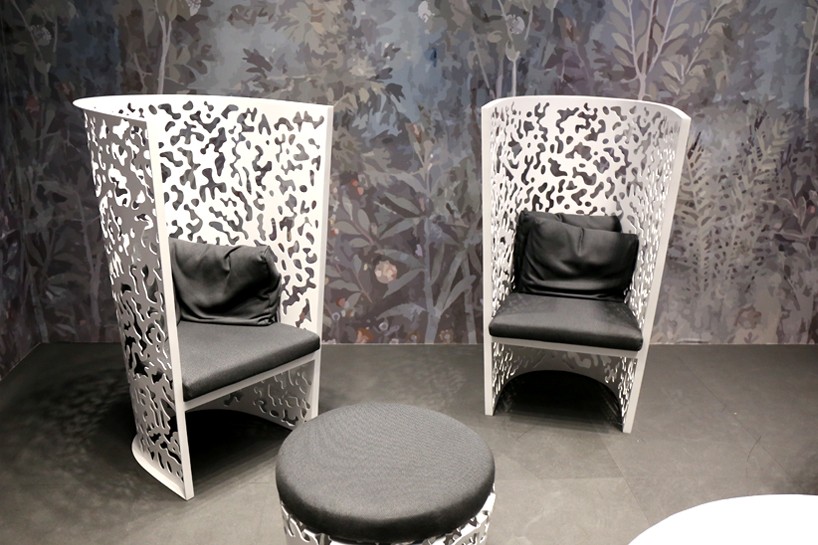 image © designboom
db: so the idea behind the collection is for it to be outdoors all year long?
IA: yes, we want a collection of furniture that's comfortable, beautiful and sculptural in the summer while it's being used and enjoyed when you have social gatherings. But then, when the autumn comes, we don't want to have to stack the furniture and find a place to put away and then have nothing, we still want those pieces to exist. by just taking away the cushions you have something that still looks sculptural, so this would look beautiful when the garden is covered in leafs, and in the winter, with the rusty finishes, all covered in snow it's going to look beautiful, it's like having a sculpture in your garden. and then in the spring, when the grass starts to grow up through it, again it's beautiful in a different way. changing with the light, with the different weather, with the cloudy days, sunny days.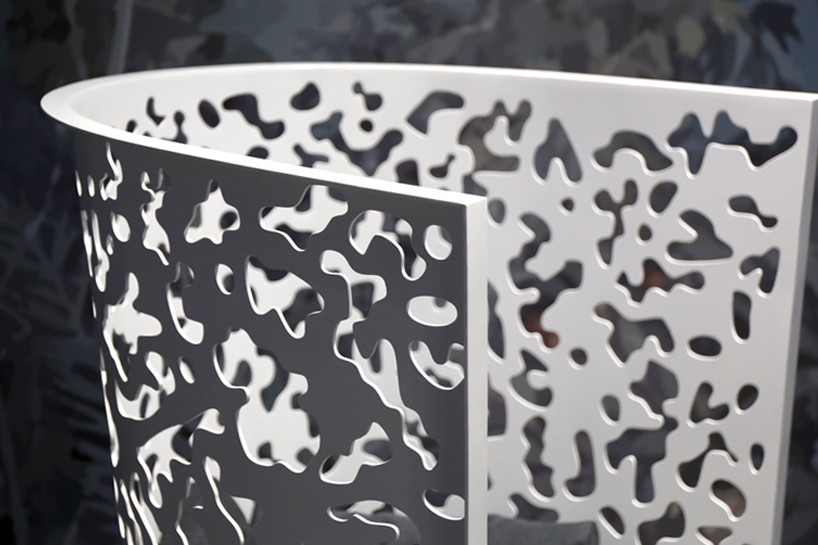 image © designboom
(…) I think most of us do live in temporal climates and for that you want something that's going to work all year round, and be a part of the landscape permanently, changing the way you perceive it and the way that you use it throughout the year.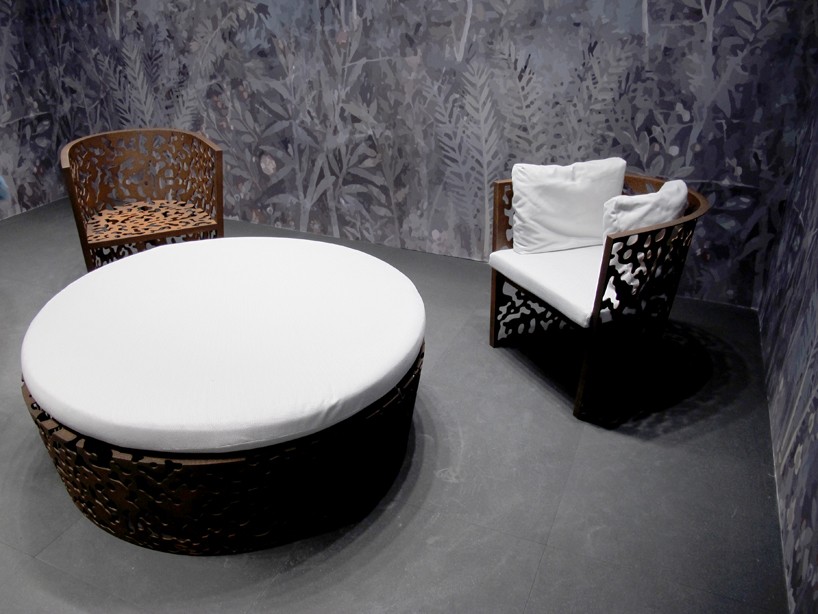 image © designboom
db: what were the challenges you faced designing and producing the collection?
IA: the challenges that we always face when working with production furniture companies is that we have a very clear sculptural and contextural aesthetic, and at fredfrikson stallard we work a lot with one-off pieces and limited edition furniture, where we can use a greater variety of materials, technical processes, and there can be more of a budget for it. but we love to do things which are more accessible and more affordable too, so it is, of course, a challenge to still keep the same levels but make it more affordable, but we've done that with these pieces.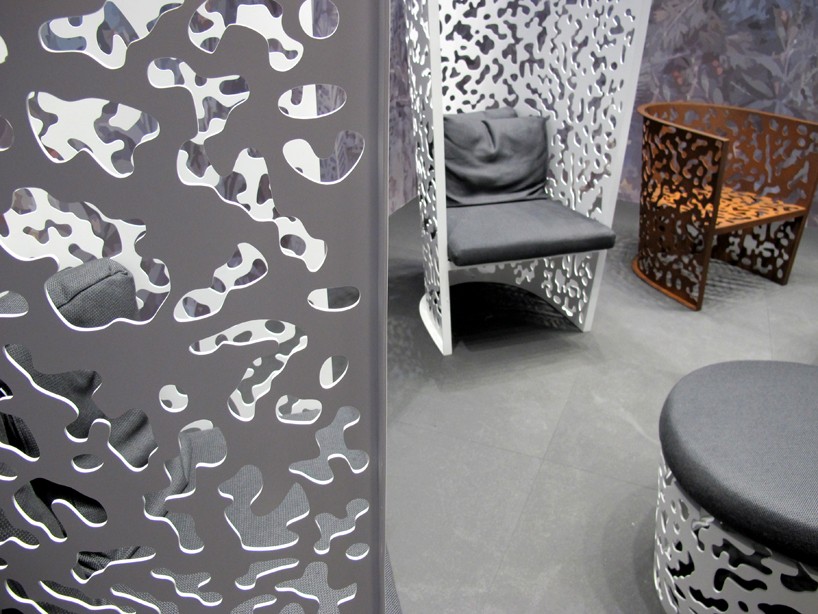 image © designboom
db: what would you have done different?
IA: if I was making it as a one-off for my garden, I might have made it from steel. but we used aluminum because it's much lighter to move around, and it's easier to work with, and it's more affordable. but we haven't lost anything because by having the beautiful very pure white finish or by having the rusty effect, we still have that industrial, very sculptural feel of a metal like steel, but it still has the practicalities of aluminum. so I guess that's it, I think this has worked. from fredrikson stallard's sculptural side it fits perfectly with what we do, but also as a commercial piece of production furniture, it still does everything it should do for that as well, so, we're really happy.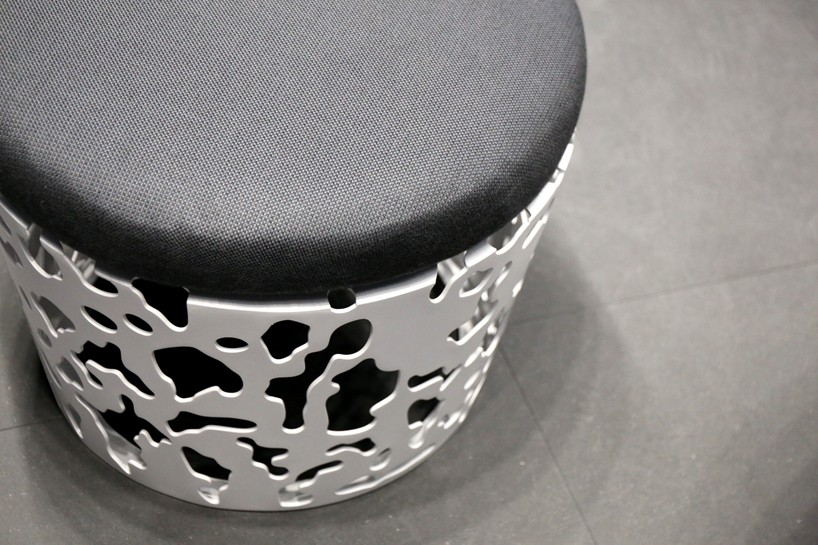 image © designboom
db: what were the main technologies you used to create the 'camouflage' collection?
IA: the main technology in producing the chairs was laser cutting the aluminum sheets. we took the camouflage pattern as our base and worked with that and then it creates a very beautiful play of light through the piece and the casting of shadows.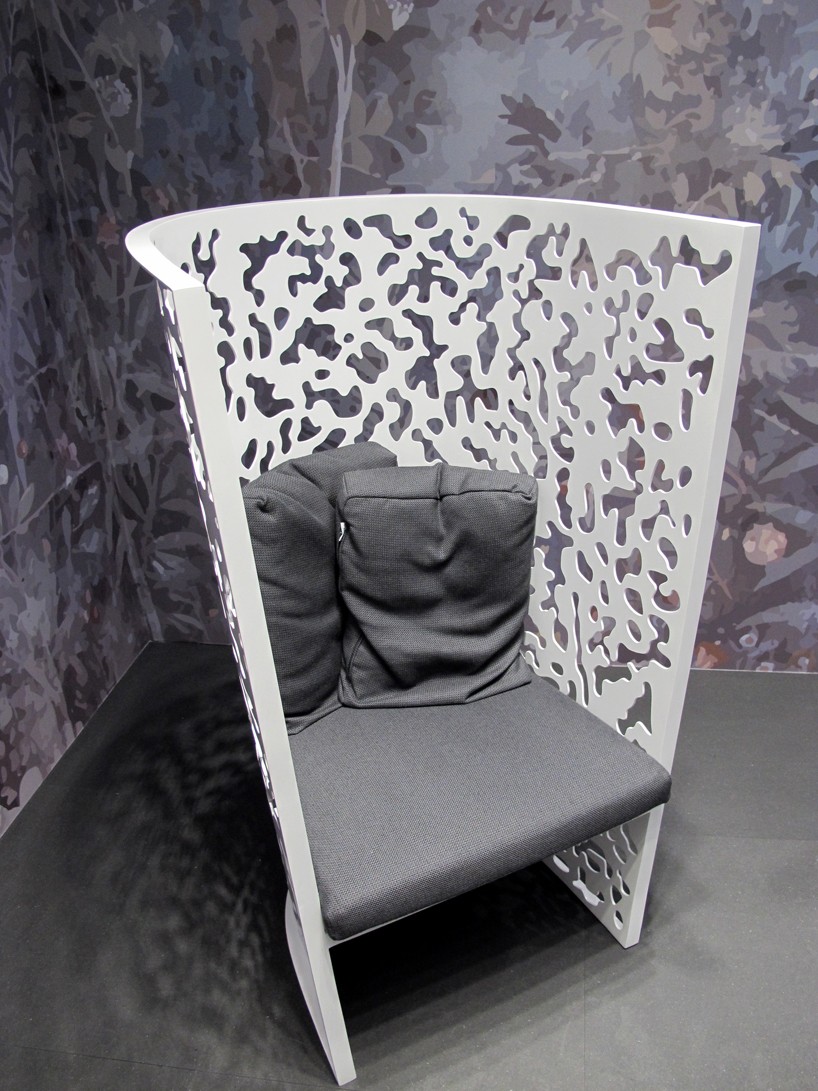 image © designboom
db: why the camouflage pattern?
IA: the thing with the camouflage pattern is that although it is a very utilitarian pattern, at the same time is very sculptural and very decorative. when you think about what a camouflage pattern is intended to do, it's about blending with nature, so although we haven't used the colors of camouflage, it still has that sense that it belongs to the environment in which it's seating.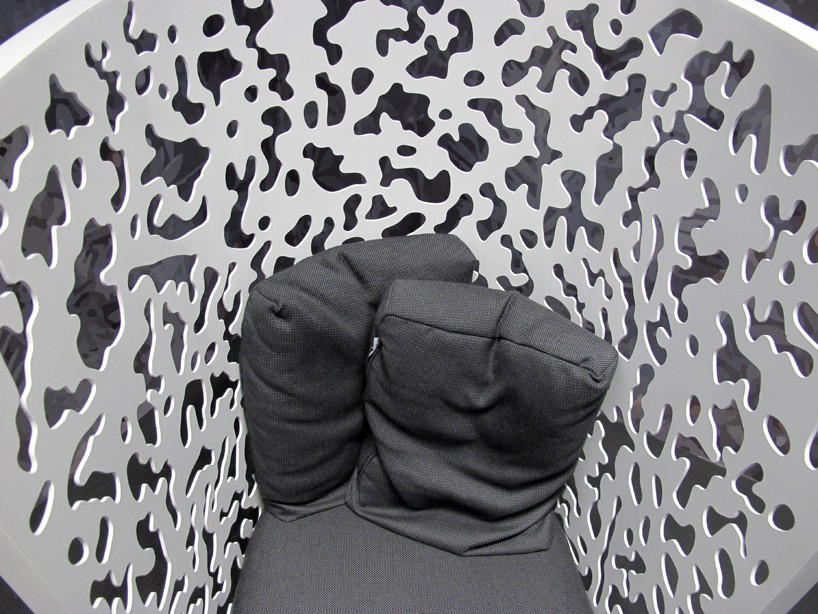 image © designboom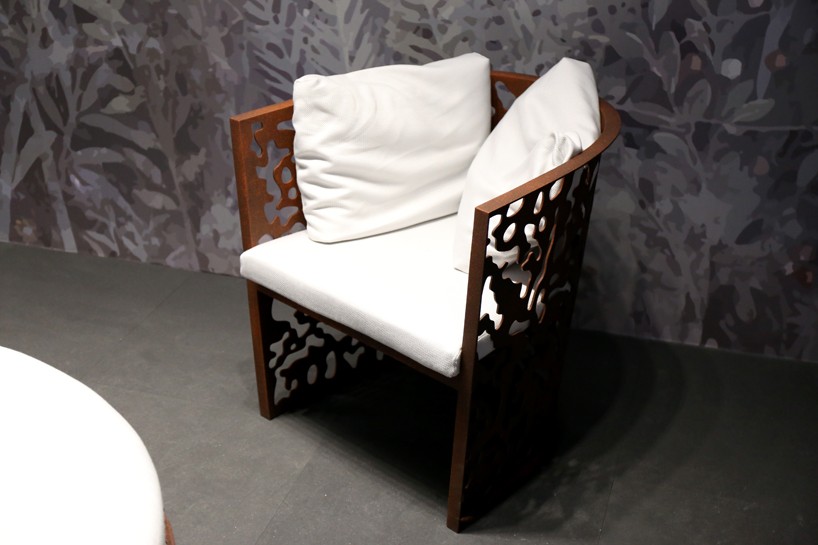 image © designboom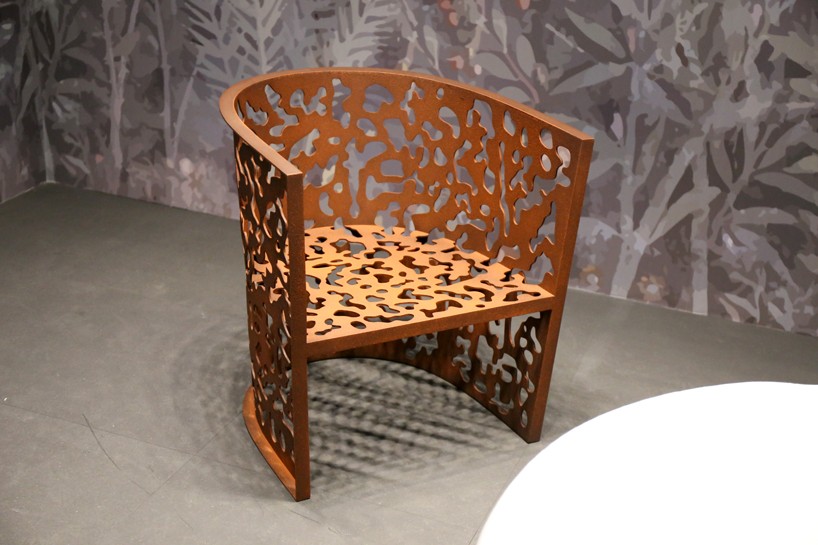 image © designboom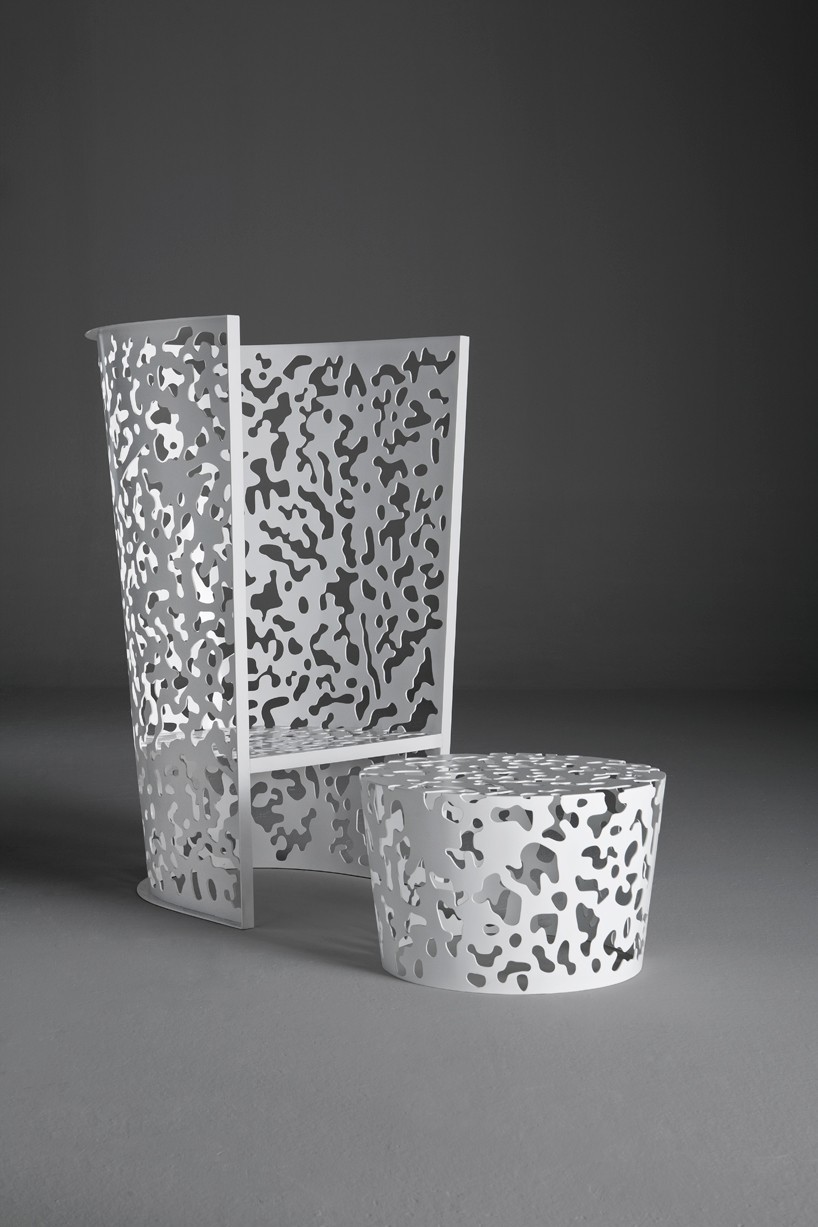 image courtesy of driade
see designboom's instagram coverage @milan.design.week
sep 26, 2016
sep 26, 2016
sep 22, 2016
sep 22, 2016
jul 02, 2016
jul 02, 2016
mar 05, 2016
mar 05, 2016
sep 23, 2015
sep 23, 2015
may 17, 2014
may 17, 2014
jul 27, 2016
jul 27, 2016
jul 05, 2016
jul 05, 2016
jul 02, 2016
jul 02, 2016
feb 14, 2017
feb 14, 2017
jun 26, 2016
jun 26, 2016
jun 21, 2016
jun 21, 2016
a diverse digital database that acts as a valuable guide in gaining insight and information about a product directly from the manufacturer, and serves as a rich reference point in developing a project or scheme.