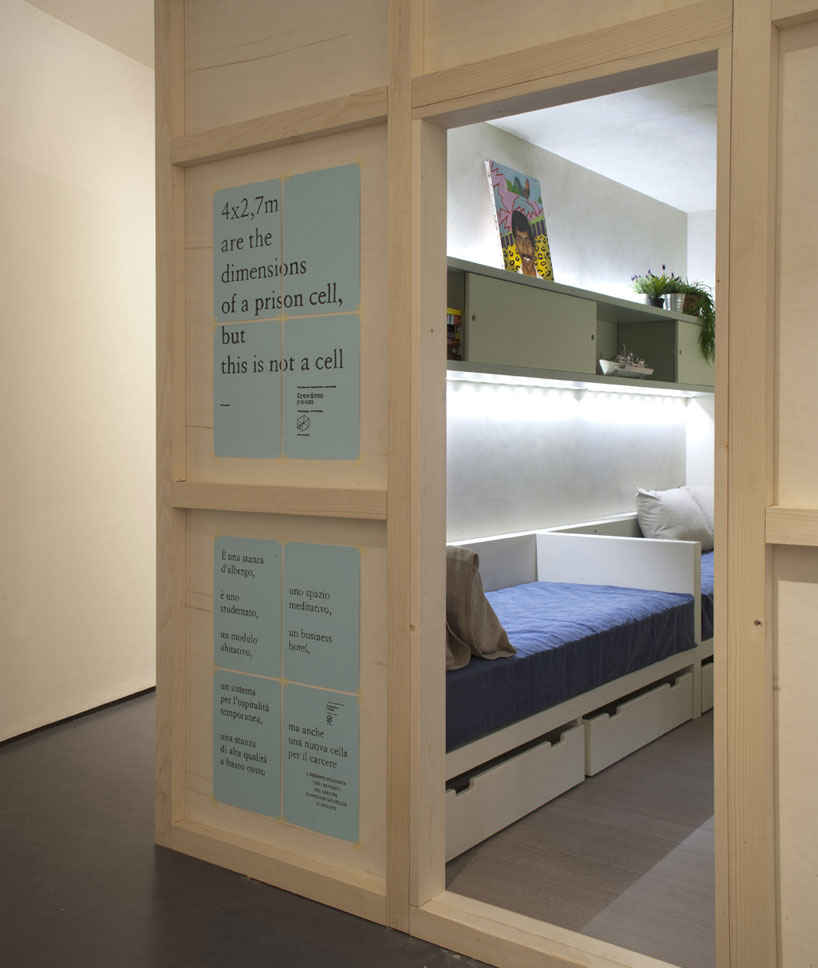 apr 19, 2013
freedom room: new hospitality concept made and conceived in jail
freedom room is a brand new hospitality concept. a low cost, essential housing module, made and conceived in jail with inmates. a proposal, a product, an exhibition featuring an idea for temporary and social housing, spread hotels, hostels.
can design be a mean for social innovation? can it provide answers to new emerging needs? in other words, can it be a freedom tool?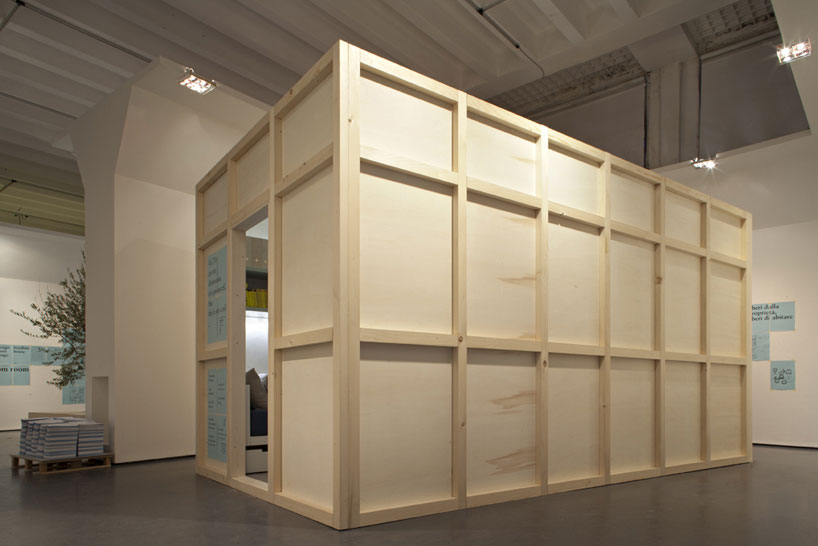 image © cibic workshop
freedom room is a project developed by aldo cibic, tommaso corà, marco tortoioli ricci in collaboration with one of italy's high security prisons –spoleto's correctional facility – and comodo, a cooperative- has started since 2003 its education activities in that prison, dedicated to inmates' professional training in design, grapichs and publishing.
comodo and cibic workshop started to work together in 2009 in order to identify and analyze the opportunities provided by design to improve work inside prisons.
working with a group of inmates they came up with new ideas about 'low cost living'; about objects that have to be necessarily multifunctional; about spaces that must be flexible and adaptable.  
image © cibic workshop
a cell is a closed shell, defined as a spatial module.  for its inhabitants such space has to be a kitchen, a room, an office, a playroom, a closet, a gym, a library, and much more all at the same time. a place that is continuously reinvented by those who live inside it.  a 'module' where a stool becomes an oven, a bed becomes a closet, a can becomes an antenna, a table becomes a gym. inside the cell, one finds out that space necessarily has a flexible dimension that changes according to how it is experienced by each individual.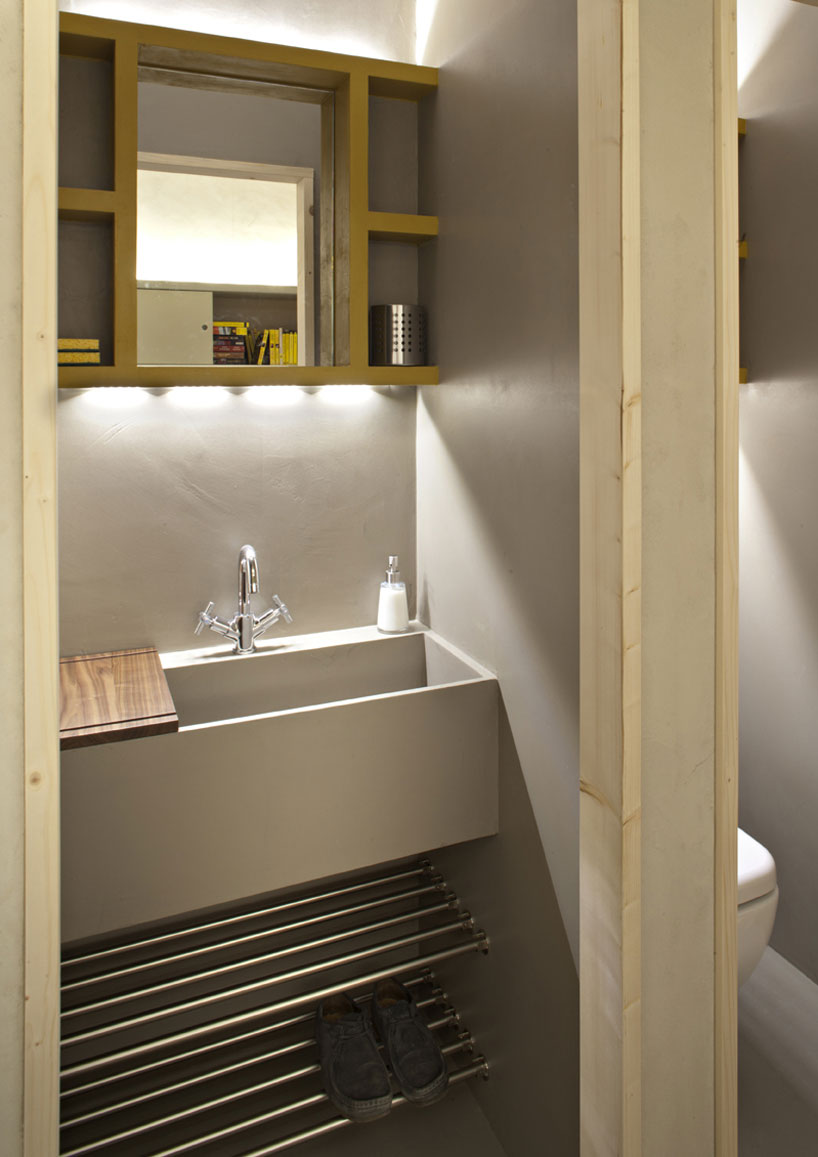 image © cibic workshop
many of the furniture found in the italian prisons come from a big carpentry located inside spoleto's correctional facility. working together with the prison's inmates, aldo cibic, tommaso corà and marco tortoioli ricci have discovered that most of the items produced there become something else inside a prison cell. space itself becomes something else. living under restraint has led many inmates in italian prison, out of necessity, to reinvent the space in their cells as well as the way they use many of the items inside. that's how freedom room project was born. the inmates working in spoleto's carpentry have become the project's consultants. their contribution has led to the idea of a more liveable space, conceived to be compact and functional, able to meet new needs while keeping the original cell's size (4 x 2.7 meters).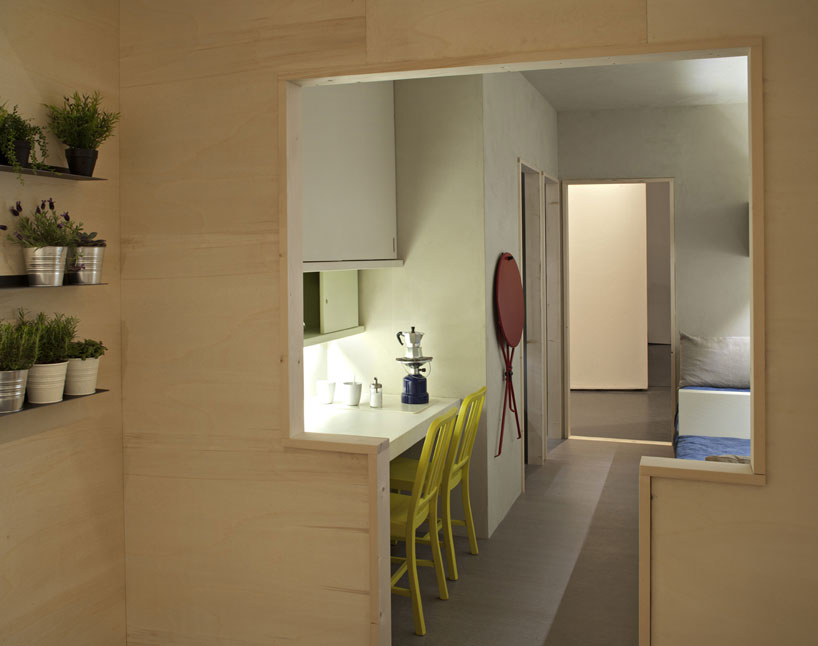 image © cibic workshop
a brand new essential and economic housing module has aroused from this work, a proposal/product for innovative temporary or  permanent solutions, spread hotels, student facilities, hostels. a room that becomes a place designed to use the space at its best, for working, studying, living, enjoying. but also a room that becomes a tool for urban renovation in abandoned areas. freedom room modules can be used inside industrial, commercial, non-commercial and urban areas fallen in disuse, pushing new social dynamics and re-shaping communities and neighbourhoods.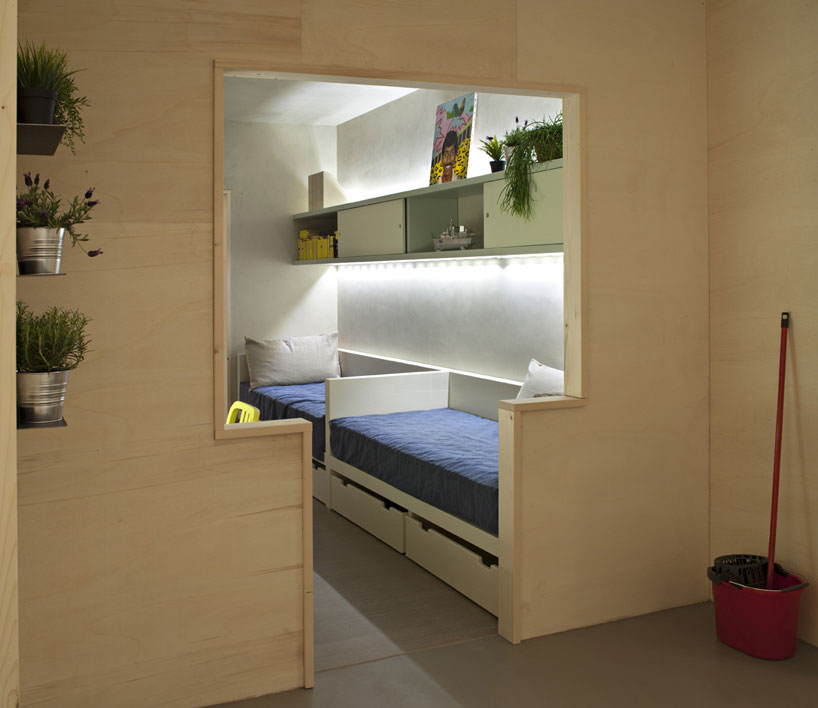 image © cibic workshop
freedom room could be imagined also as a starting point to imagine new italian prisons' cells, or as a low cost hotel room or a spread youth hostel, or even as the answer to new low cost housing demands. freedom room could also be a new local social network idea, a new way of accessing, booking, or otherwise relating to find out by whom and how the modules are occupied, letting you know your module's neighbour and its habits, building up a virtual and a real community. facing the actual crisis, prisons can be intended as a potential for new ideas and examples for innovation, social cohesion and renovation.
the first freedom room prototype has been shown inside the triennale during milan design week and a conference was held with the project's testimonials.
image © cibic workshop
present discussions concerning the amount of space available to detainees in prisons inevitably revolve around the issue of overcrowding, which makes the prisons of our countries' unworthy of a civilized society.
'any reflection on the amount of space available to the inmates of prisons must start from a preliminary observation: there is no existing concept of design that differentiates the distribution or 'construction' of spaces according to the subjects that will use them. today's prisons are all quite dramatically identical.
the message conveyed by the administrative bodies that govern penitentiaries is quite clear: we have no particular concept of design relating to the organization of prison life based on the type of people that live in prisons. these are the spaces available for the inmates, and they are all the same, regardless of whether they will be used by men, women, minors, leaders of criminal gangs or the perpetrators of petty crimes and 'white-collar' criminals whom we expect to eventually rehabilitate.'says lucia castellano.she holds a degree in law and is a qualified attorney, has been a prison director since 1991.
image © cibic workshop
'even in situations not characterized by overcrowding, which will naturally impede any minimal form of organization of basic day-to-day activities, prison cells are subject to very rigid rules concerning furniture and possible internal furnishings and accessories. everything is seen as an instrument for self-harm. I think that a project such as the 'freedom room' should be hailed as a breath of fresh air of great importance in terms of a possible cultural advancement within the prison setting. inmates can become the proponents of a new 'culture' in their day-to-day living environment, starting with the difficult situation they experience on a permanent basis and transforming it into a resource. the depersonalization typical of such institutions can be effectively addressed and the fear of critical events and liability may thus be abated. I sincerely hope that prison administrations will consider and adopt this project to promote a 'culture' of prison life which, for the first time, may be determined to a certain extent by the inmates themselves.' continues lucia castellano
image © cibic workshop
'inside the high security prison in spoleto, in the hearth of umbria, there is a large carpentry that produces furnitures for many other italian correctional facilities.many of these objects become something else inside the prison cell.there, the space itself undergoes transformation, reinvented by the people who live in it.we asked the inmates to work with us as our consultants. together we came up with the idea of a more liveable cell. a compact and functional module able to meet new needs.freedom room is our achievement. a low cost hotel room. freedom room is the answer to temporary housing, 'spread' hostels, social housing.freedom room is the starting point to rethink italian prisons' cells as well'.says aldo cibic
image © cibic workshop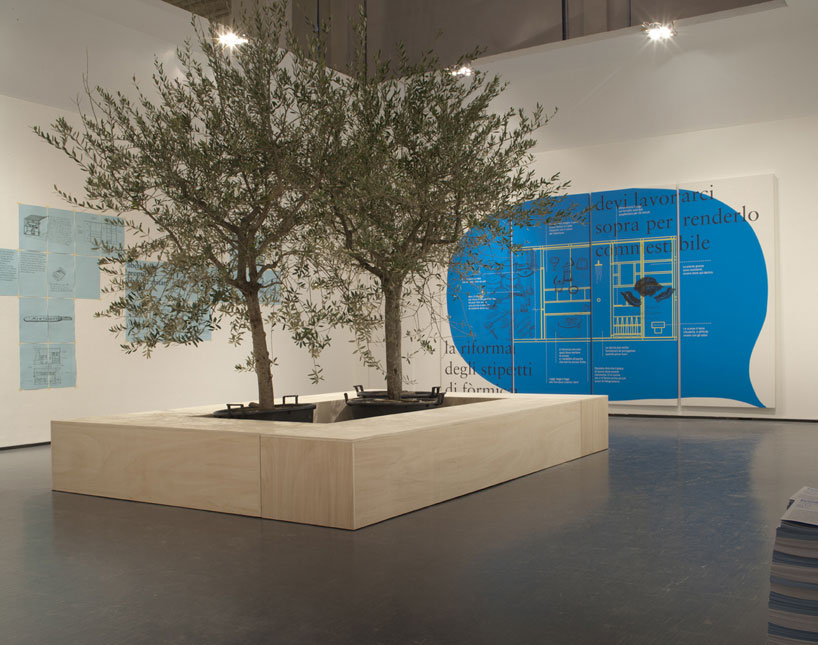 image © cibic workshop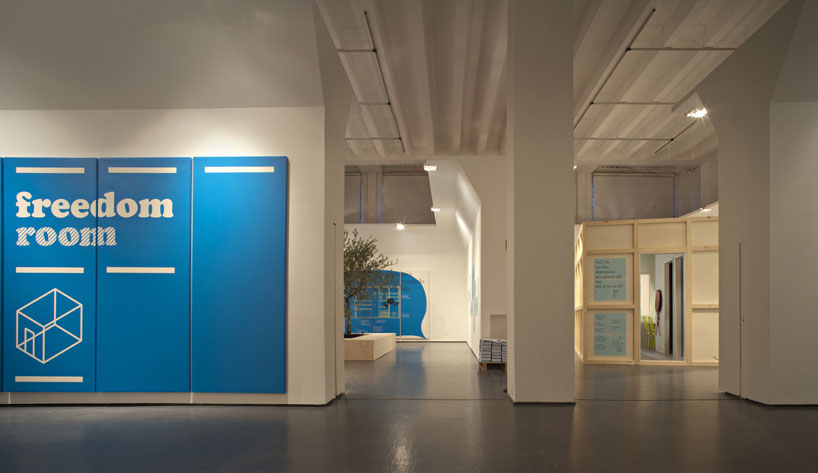 image © cibic workshop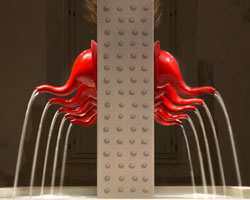 oct 10, 2013
oct 10, 2013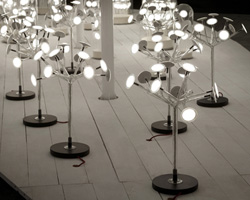 apr 28, 2013
apr 28, 2013
apr 29, 2012
apr 29, 2012
sep 08, 2010
sep 08, 2010
sep 07, 2010
sep 07, 2010
sep 06, 2010
sep 06, 2010
dec 01, 2013
dec 01, 2013
aug 02, 2013
aug 02, 2013
jul 11, 2013
jul 11, 2013