seating specialist FREIFRAU's range of chairs offer unique style and comfort but also encourage you to rock out a little, and let out your inner swinger.
when we are in a state of flow, it's possible to forget even time and space. whether in the middle of some creative process, in the midst of an intensive conversation, or while making music perhaps, this flow state in which we find ourselves, this merging of action and consciousness, triggers demonstrable feelings of happiness within us. a state reminiscent of those days of weightless, carefree hours spent on that childhood swing. out in the fresh air, high, far away, free. or that old rocking chair of your grandparents. warm, cosy, safe. emotional, happy moments that designer FREIFRAU has made possible to experience once again with the rocking and swinging motions of its successful leya collection.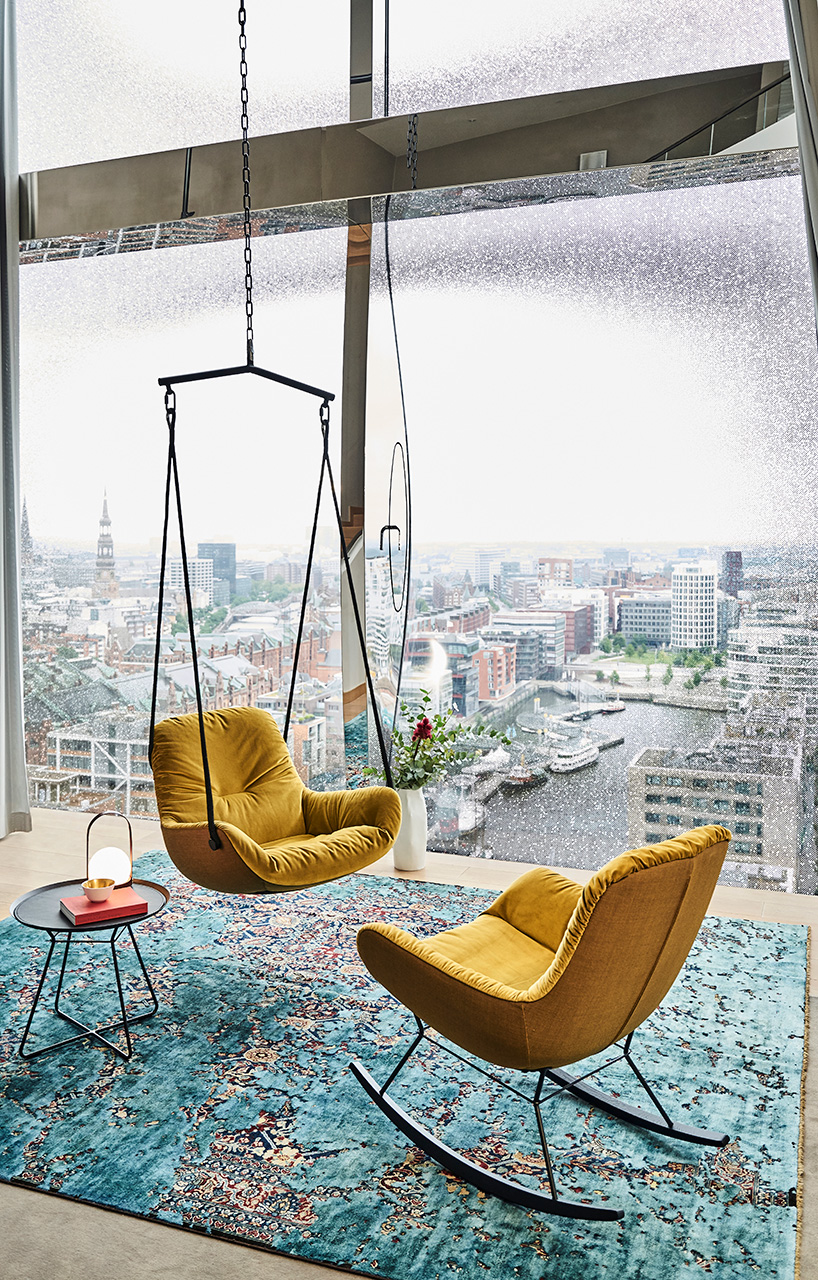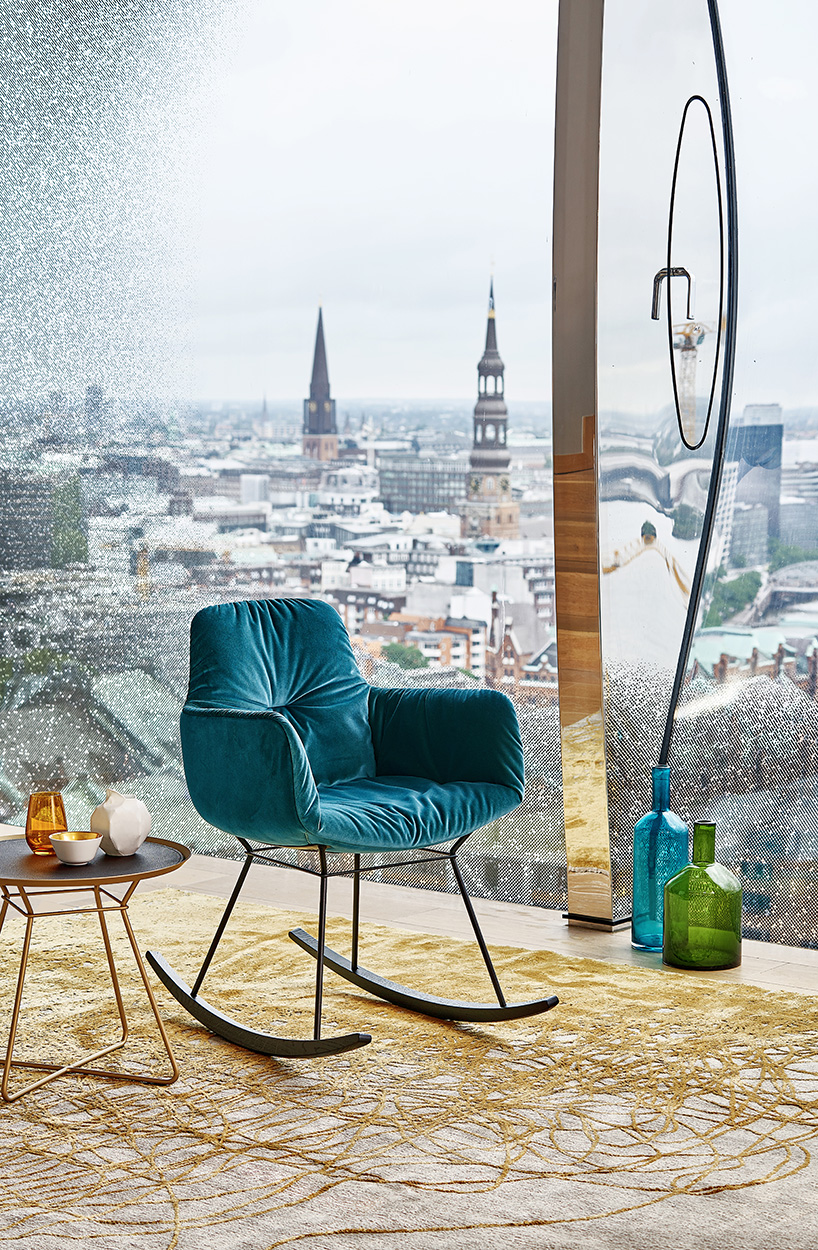 dare to be different: the leya collection also gives new verve to hotel furnishings (top). the leya rocking chair small's outer shell and filigree frame are stylish, but its rockers also show off its more daring side (above)
with hygge exerting an ever increasing influence on interior furnishings, this concept of flow has found itself swept under, if not the rug, then the blanket at least, recently. with the leya swing seat and both the leya rocking wingback and lounge rocking chairs, however, the long-time house and yard designers birgit hoffmann and christoph kahleyss are putting some swing back into cosy again.
even in its most basic form, leya, with its tightly upholstered outer shell resting on a filigree frame, combines stylishness and clarity with sensual cosiness. perfectly shaped, perfectly comfortable, and with the highest of aesthetic as well as functional standards, it is equally at home in the living room, the conference room, the hotel or restaurant.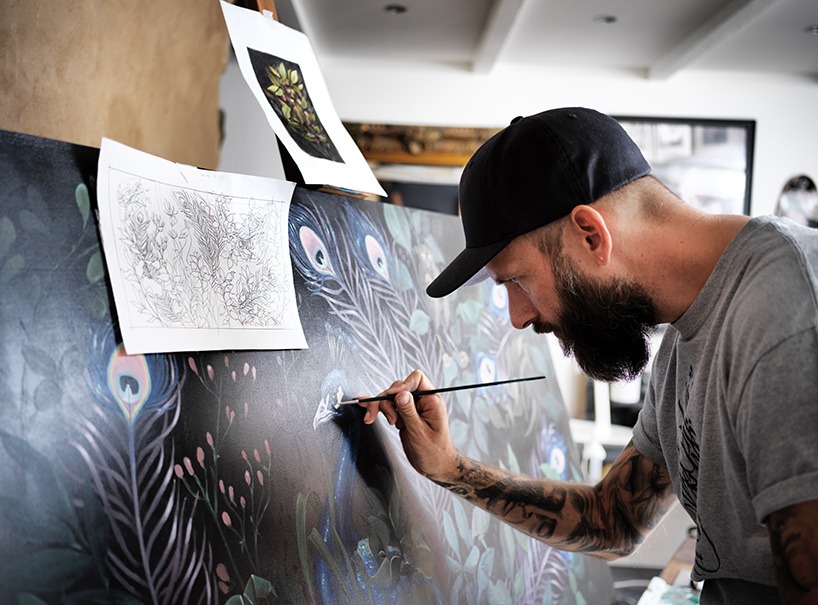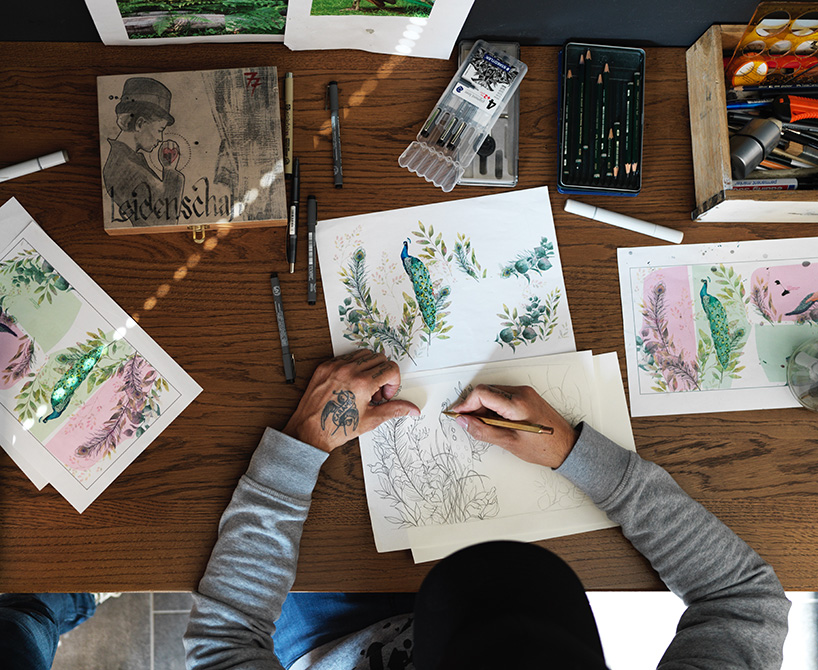 sensual coolness: with his design for oasis gobelin, tattoo artist christian trzaska, who is known for his work on skateboard decks, has created a fantasy world that you will want to sink into
a number of years ago, as a further step in its evolution, the leya chair was given rockers, and with that, the leya wingback and lounge rocking chairs were born. and why not, after all? rocking back and forth on a rocking chair not only puts one in a good mood, it encourages the generation of ideas and, of course, helps with relaxation. in order to create that perfect rocking motion on parquet floor or carpet, the designers devoted a lot of time and worked meticulously on developing the ideal curvature for the chair's all-important rockers.
and those looking for even further detachment from terra firma can take to the air in FREIFRAU's swing seat: a swing with the comfort of a leya chair but which floats gracefully in space on two ropes attached to the ceiling from either one or two fixed points. this s a chair that offers heavenly moments under your very own roof or in public areas too – a casually light armchair that provides some inner balance in the hustle and bustle of life.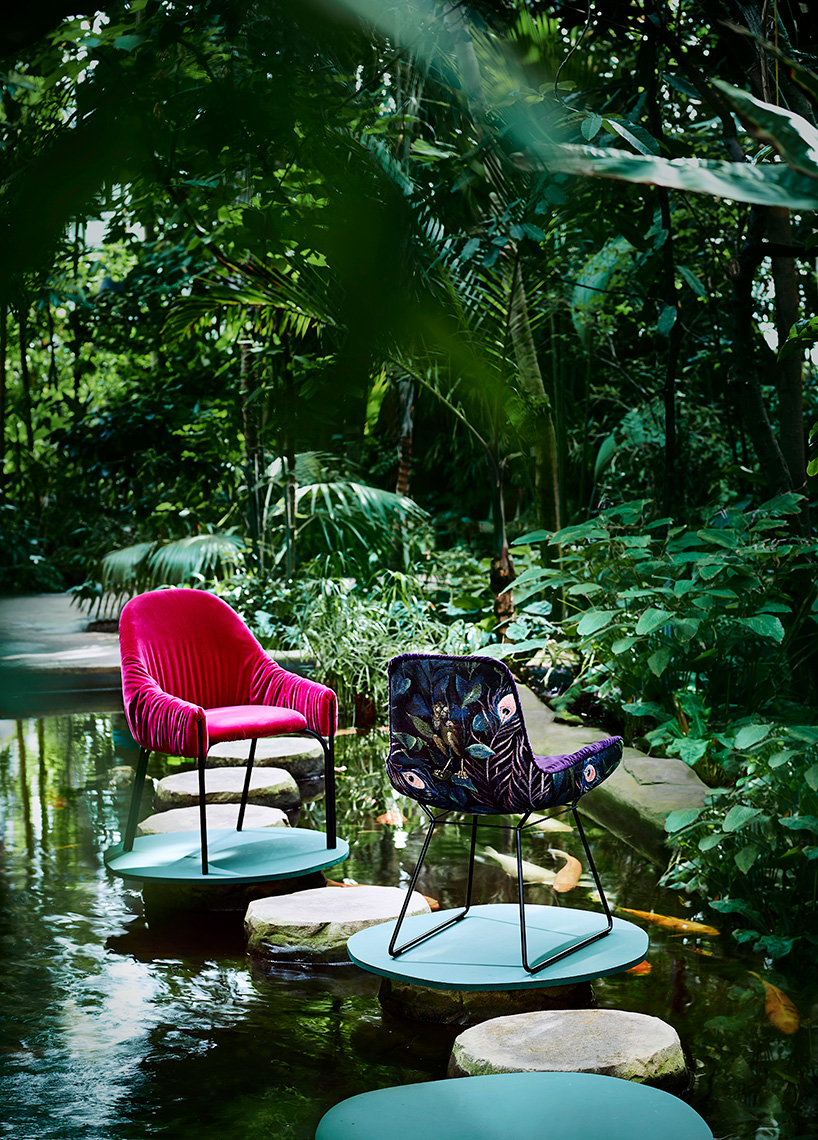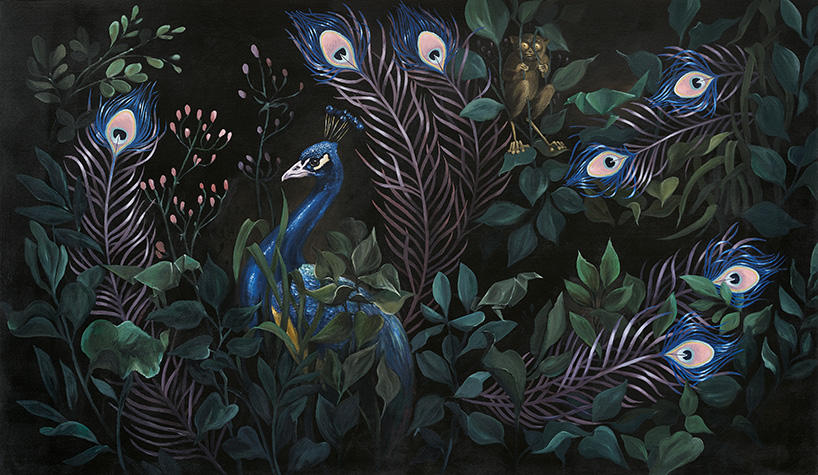 like sitting in the woods: enchanted, dense green, glowing peacock feathers, hiding hobgoblins – with the oasis gobelin cover, FREIFRAU has given its fine sense of materiality a new look and touch
upholstered in the artfully designed 'oasis-gobelin' fabric, it takes on what could be described as paradisiacal traits – with the shapes and colours of a fairytale-like forest where plants entwine, goblins hide and a peacock presents its striking plumage. together with belgian company meisterwerke and the tattoo artist christian trzaska, lemgo-based FREIFRAU has created a velvety upholstery fabric for the swing seat that both stimulates the imagination and transports one to other worlds.
this love for detail and uniqueness is part of the philosophy of the brand. founded by hansjörg helweg in 2012, FREIFRAU has since produced timeless, sensuously elegant seating furniture with the highest standards of design, aesthetics and sustainability. all FREIFRAU products are truly unique, based around traditional craftsmanship, use durable, high-quality materials, and are manufactured in north rhine-westphalia by specialists from the region.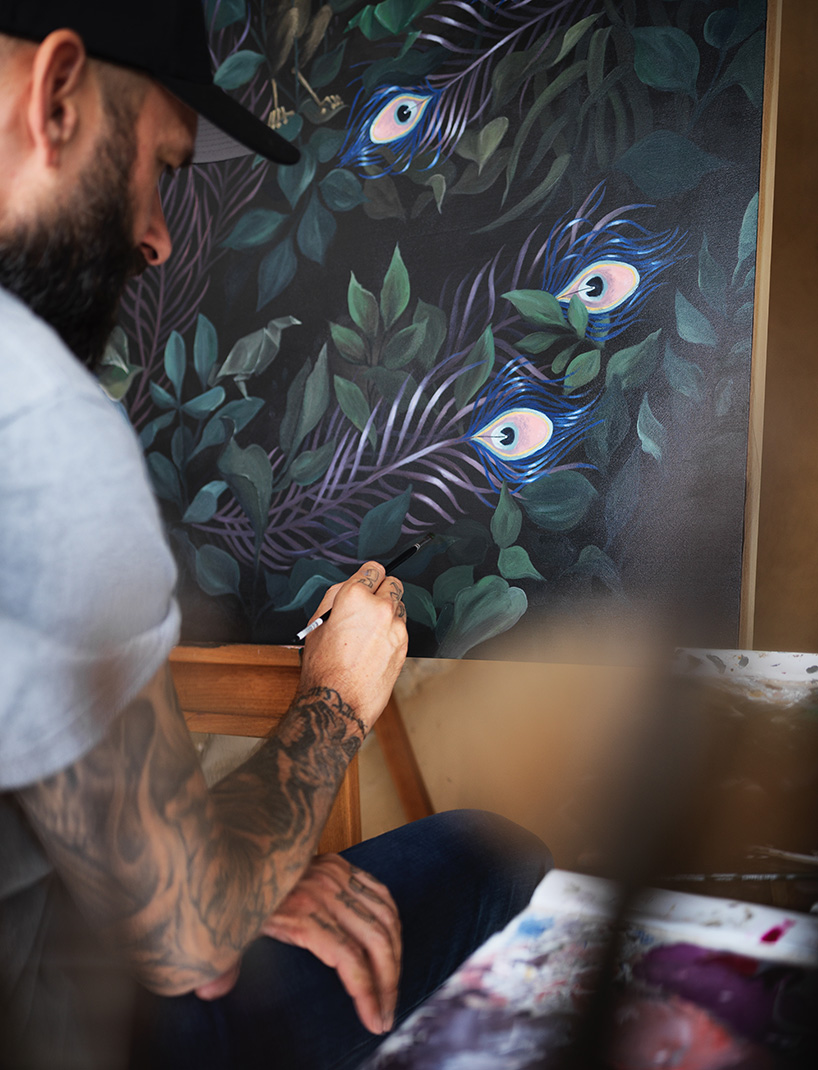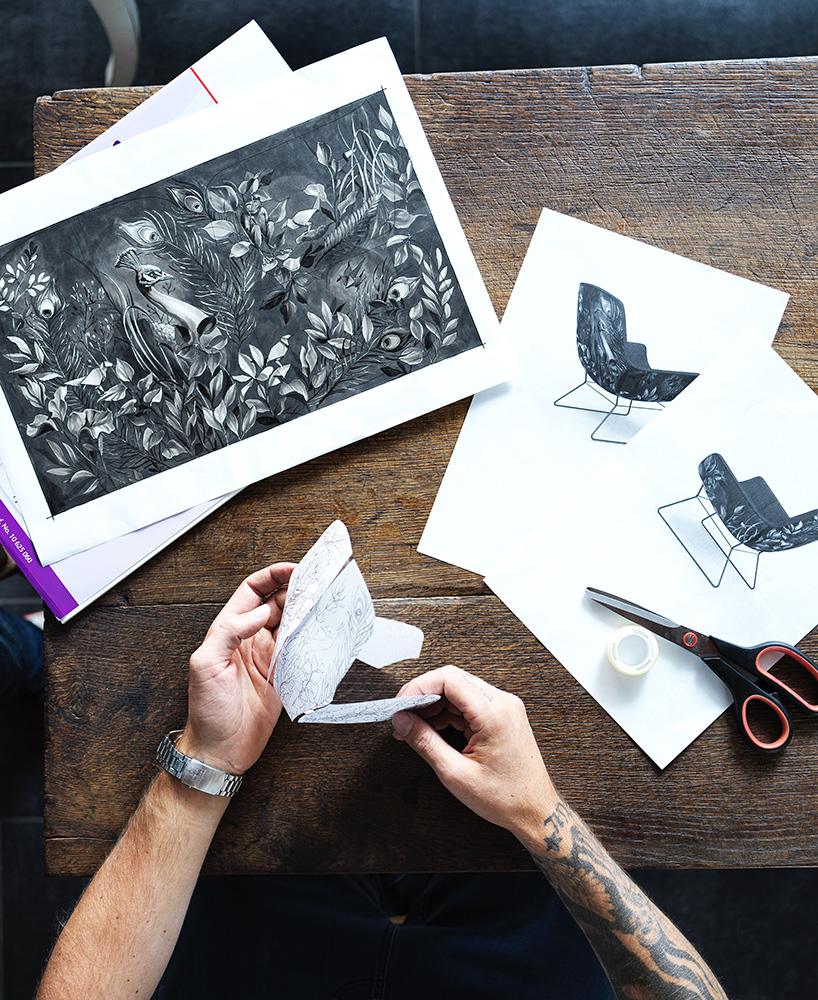 the art of breaking new ground: the motif woven on the tapestry is the blueprint of christian trzaska's oil painting (top) – a design where the incredible level of detail is both visible and tangible (above)
this is manufacturing which is not only ecological but which can also respond flexibly to customer wishes, allowing for maximum individuality. the upholsterer, for example, works only a few kilometers away. each product is first planned with the customer before it is implemented. the choice is broad – from the shape and coating of their versatile frames to the favoured fabric in various textures. even the front and back of the leya armchairs can be upholstered differently. and the re-upholstering of old chairs is also part of their comprehensive service.
this feeling of well-being in all dimensions, and above all with regard to all of the senses, is particularly important to the manufacturer. after all, the things that differentiate any person's individual idea of relaxation are subtle. it could be seeing colours and shapes, feeling fabrics, smelling natural materials, finding your own rhythm again with those swinging motions, just letting everything flow – even in the middle of a hotel lobby.
guest feature by julia hauch / architonic
jun 29, 2020
jun 29, 2020
jun 23, 2020
jun 23, 2020
jun 08, 2020
jun 08, 2020
jun 08, 2020
jun 08, 2020
jun 05, 2020
jun 05, 2020
may 27, 2020
may 27, 2020
a diverse digital database that acts as a valuable guide in gaining insight and information about a product directly from the manufacturer, and serves as a rich reference point in developing a project or scheme.