may 10, 2012
from yuhang design by pinwu
'ning' lamp dimensions: 50×50×52 cm material: bamboo, porcelain powder, epoxy resin image © designboom
from yuhang to milan.
designers zhang lei of china, christoph john of germany and jovana bogdanovic of serbia form  studio pinwu. together, they spent two years extensively researching natural and traditional materials used in the yuhang region of china. through their fieldwork, the they have produced a collection of furniture pieces which focus on the original local crafts of bamboo, water silk floss, porcelain and paper.
'ning' lamp bamboo waving detail image © designboom
the 'ning' lamp uses a material mix of bamboo, porcelain powder and epoxy resin. this approach creates a suspenseful combination of traditional and new materials, whereby ancient handcraft meets a contemporary design language.
the lamp is composed of bamboo fibers which are adhered together by porcelain powder and epoxy resin on its bottom edge
'chuán' lamp dimensions: 75×75×85 cm material: bamboo, beech wood
'chuán' is characterized by very thin bamboo strings made by yuhang craftsmen. after a while the pieces are becoming brown due drying, the form of the lamp naturally following the given shape of the bamboo.
production of the traditional paper umbrella
the pingyao town of yuhang has a long history of making paper umbrellas, although it is not the first or only place where its production can be sited. the process includes more than 70 steps to make one of the parasols, which requires a high level of skill and technique which are of valuable use in today's age of product design.
'tié'  by from yuhang dimensions: 83×60×55 cm material: bamboo paper, beech wood
'tié' represents the second edition of pinwu's exploration of the paper chair. this furniture pieces describes in more depth, how a weightless material like paper can be transformed into a stable and organic solid form. the process is related to the yuhang paper umbrella handcraft. the shell is made from irregular shaped rice paper sheets. the shape of the chair resembles a classical chinese horseshoe-back armchair.
top view
detail of the layered sheets of rice paper which are molded to form the seating shell
'gù'  chair dimension: 80×50×60 cm material: bamboo paper, beech wood
around yuhang there are still a few chinese historical bamboo paper villages which are producing their product only from natural fibers which pinwu uses to create the shells for their 'gù' and 'tié' chairs. the idea is to take the material out of its original context and introduce it into the current living situation.
profile
'shān' lamp hanging lamp: 100×35×12.5 cm Led 20W table lamp: 32×15×5.2 cm Led 10W material: bamboo paper, beech wood
the 'shān' lamp is made of the same traditional paper as used by chinese artists and painters, manufactured in the ancient chinese handmade paper production method. mountains which are pictured in traditional local paintings are the influences for the organic shape of 'shān' which is framed by solid wood. through switching on the lamp, the landscape will be painted with light. the user does not stand in front of the painting anymore, but is already a part of it.
up close look at the textured bamboo paper which forms a 'mountainous landscape'
table version
'luò' lamp dimensions: 55×55×28 cm material: bamboo paper, beech wood
the 'luò' lamp is base on the inherited methods to create bamboo paper but now, this process is transformed into a third dimension. the simplicity in design and natural finish makes every lamp a unique piece.
production process of breaking down bamboo fibers to a pulp which is molded to create some of the collection's pieces
paper making is one of the four great inventions of ancient china. yuhang's abundance of bamboo famous because it uses the natural fibers to make paper, most of which is simply used for writing and painting. it is pinwu's intention to bring bamboo paper into a new light, producing contemporary products from the humble material.
'wo' porcelain coffee tables bar table: 39×39×110 cm coffee table: 61×41×41 cm low coffee table: 61×31×19 cm material: porcelain, beech wood
'wo' porcelain coffee tables offer a durability and solidness, properly fulfilling the requirements on a table surface. at the same time, porcelain is generating a warm and comfortable living atmosphere.
the table top is a cool ceramic surface paired with the warmth of beech wood legs
from yuhang to milan material research
'from yuhang' collection including the 'tie chair', 'luò lamp' and 'lù tables'
see designboom's previous article on pinwu, when they still were part of a group called innovo — at salone satellite 2011. at salone satellite in 2010, and at salone satellite in 2009. designboom brought studio pinwu to LA in 2010, they took part in our curated 'asia now' exhibition.
mar 08, 2013
mar 08, 2013
jul 18, 2012
jul 18, 2012
jul 17, 2012
jul 17, 2012
jun 30, 2012
jun 30, 2012
jun 29, 2012
jun 29, 2012
jun 28, 2012
jun 28, 2012
pinwu
(6 articles)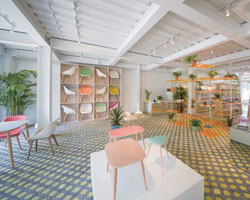 sep 01, 2015
sep 01, 2015
dec 09, 2013
dec 09, 2013
apr 15, 2011
apr 15, 2011
a diverse digital database that acts as a valuable guide in gaining insight and information about a product directly from the manufacturer, and serves as a rich reference point in developing a project or scheme.