fulvio ferrari AWARDED THE GOLDEN MADONNINA OF THE DESIGN PRIZE 2021
fulvio ferrari receives the golden madonnina trophy of milan's THE DESIGN PRIZE 2021 in the category 'best curator' for 'museo casa mollino', the turin apartment-turn-museum of italian architect, designer, and photographer carlo mollino (1905-1973). the riverside apartment, which mollino designed for himself on the first floor of the 1888 'villa avondo', dates to between 1960 and 1968 and was not intended to be his home, but a private project imagined with a strong symbolism. after mollino's death in 1973, the apartment was saved by the engineer aldo vandoni and served as his studio until 1999, when fulvio ferrari and his son, napoleone ferrari, stepped in and established the museum.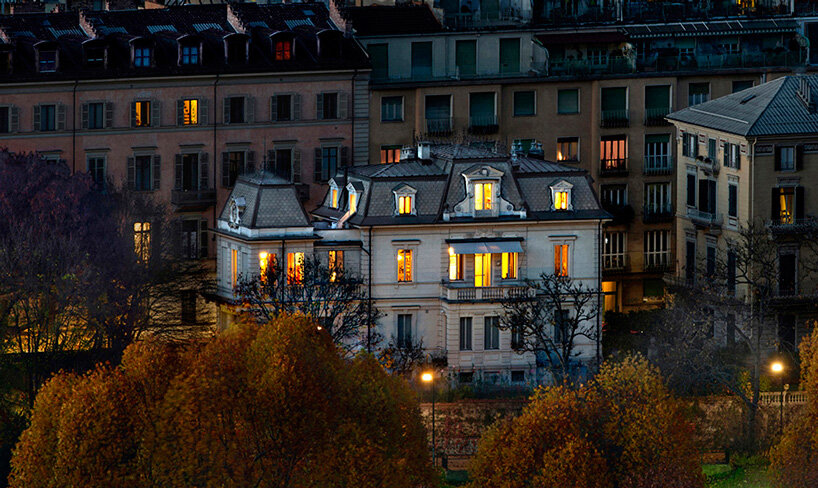 image by enzo isaia, courtesy of casa mollino
header image: fulvio ferrari receives THE DESIGN PRIZE 2021 golden madonnina | image © designboom
'mollino's apartment is a very big mystery – he kept it secret!' fulvio ferrari tells designboom during our visit to museo casa mollino. 'he spent a long time redesigning the interior, even modifying the ceiling. it is unheard of for an architect to be working so intensely on a project without documenting, photographing or even using the space once completed. mollino never lived in this interior. he was positive that after his death the space should be destroyed, dismantled, and, in fact, this almost did happen. it was 'discovered' after his death and it is only thanks to a couple of miracles that, today, this unique interior by mollino still exists in torino.'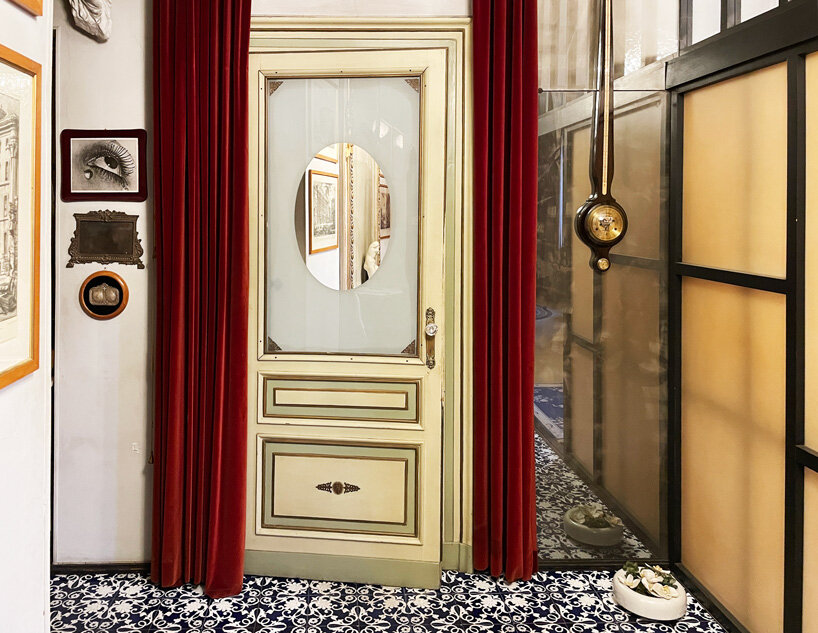 image © designboom
in the video above, fulvio ferrari receives THE DESIGN PRIZE 2021 golden madonnina, and gives us a tour of museo casa mollino, uncovering some of the secrets of this magical 'egyptian book of the dead'.
DESIGNBOOM VISITS MUSEO CASA MOLLINO IN TURIN
overlooking the river po in the center of turin, museo casa mollino contains almost all the original furnishings chosen by carlo mollino and precisely arranged in the overall setting. with much attentive research and restoration, fulvio and napoleone ferrari have brought the shrine-like apartment back to its original condition as much as possible, offering a unique chance to comprehend the complexity of the character and work of one of italy's most influential 20th-century protagonists. today, the museum is complemented by archives of documents, publications and photographs concerning every aspect and period of mollino's work.
'mollino composed the interior using his furniture as well as designs from other architects, such as the table by vico magistretti and lamps by sarfatti and arteluce. doors taken from a theater were transformed into big important mirrors – yes, totally fake but everything is only symbolic here!' continues fulvio ferrari, who has made it his life's work to conserve and protect every element of this unique project. 'the apartment was put together not in an aesthetic composition but in a kind of philosophical composition. this interior can be seen like the egyptian book of the dead, the papyrus. a guide book to the afterlife. to earn the promise of eternal life. an integral part of the world's spiritual heritage. carlo mollino was writing – without any words – his own book to be back in life again. he was an engineer and I think the interior was a self-demonstration of his own ability and understanding of life. a last chapter, a final thesis, his last will and testament.'
suddenly, at the age of 68, the existence of one of the most eccentric figures of the last century ended. his afterlife began, the one for which he had long tried to be equipped.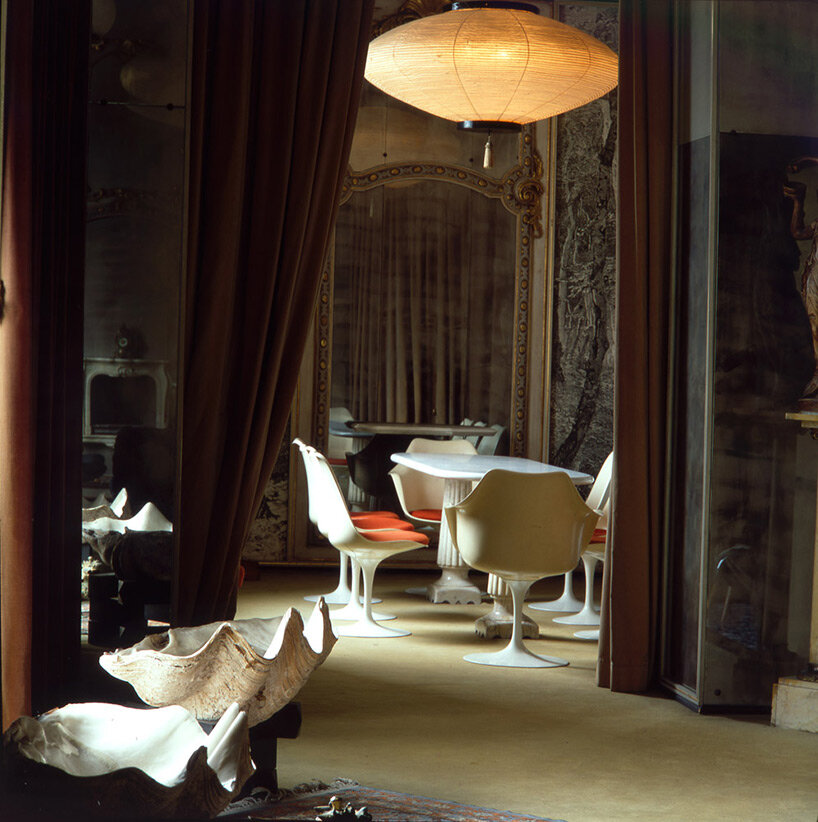 image courtesy casa mollino
CARLO MOLLINO (1905-1973)
born in turin in 1905, carlo mollino embodied the figure of the italian renaissance polymath in a modern context. besides designing buildings, interiors, and furniture, he was a photographer, a writer, a skier, an aerobatic pilot, an engineer, a designer, and a professor at the polytechnic of turin. in the 1930s he was among the very few architects, internationally speaking, to introduce elements of surrealist art and culture into the modern movement. free from any rigid ideological position, he went on to define a synthetic form of eclecticism that prefigured the contemporary. among the buildings that mollino is remembered for are the horse riding club of turin(1937-40), the casa del sole apartment building in cervinia (1945-54), and turin's regio opera house (1965-73).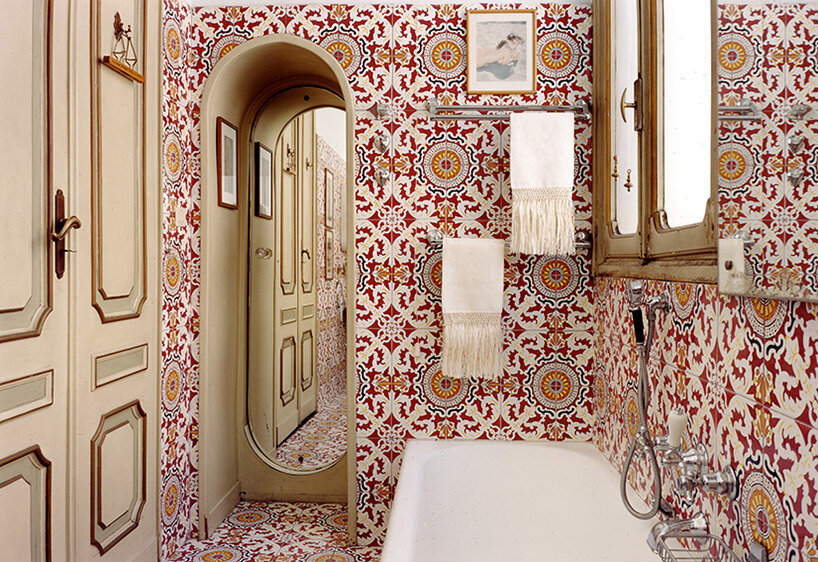 image by adam bartos, courtesy casa mollino
most of our readers know of his fame as a dandy, as a 'whorehouse architect', because they have seen some of the famous polaroids … mollino was rich, enormously rich thanks to the fortune accumulated by his father, a widely known engineer. throughout his life he had no economic worries and this allowed him to devote himself totally to his passions: skiing, acrobatic flights, motor racing… a genius that at the age of 28 wrote his own [fictionalized] autobiography ('vita di oberon', published as a monthly series on the italian magazine casabella).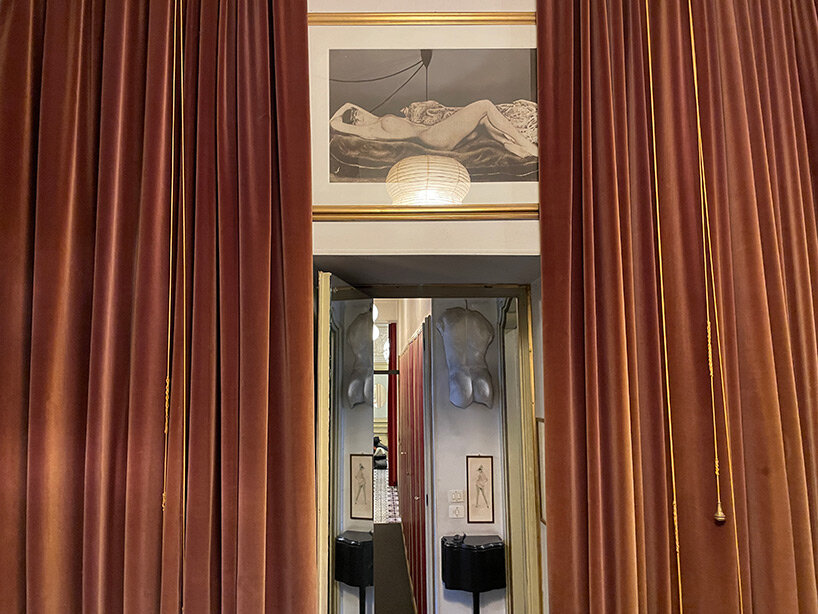 image © designboom
an apartment in which carlo mollino never lived and of which almost nobody was aware of its existence. the painter carol rama, a friend of the architect who lived in via napione at number 15 – practically across the street – was completely unaware that mollino had somehow become her neighbor.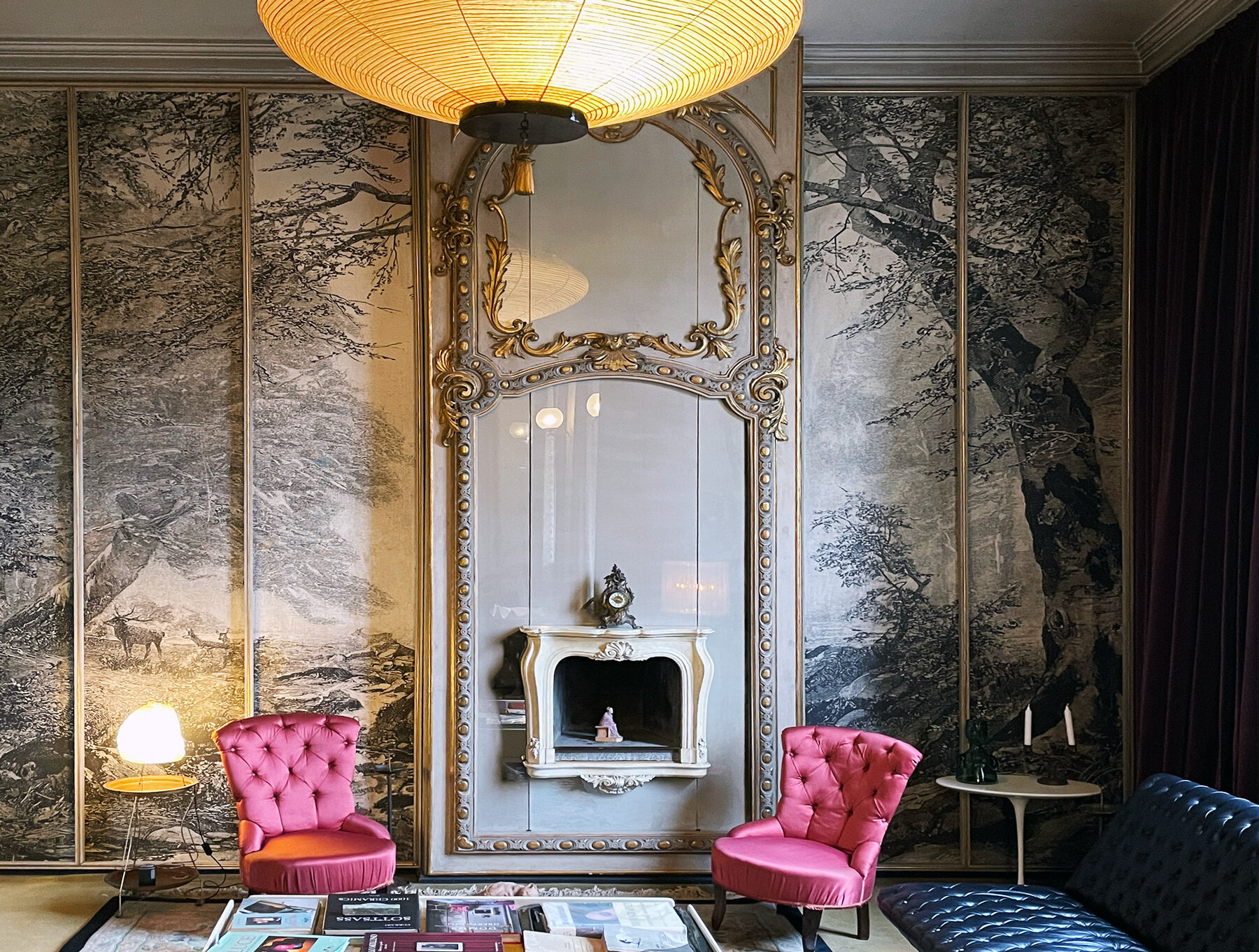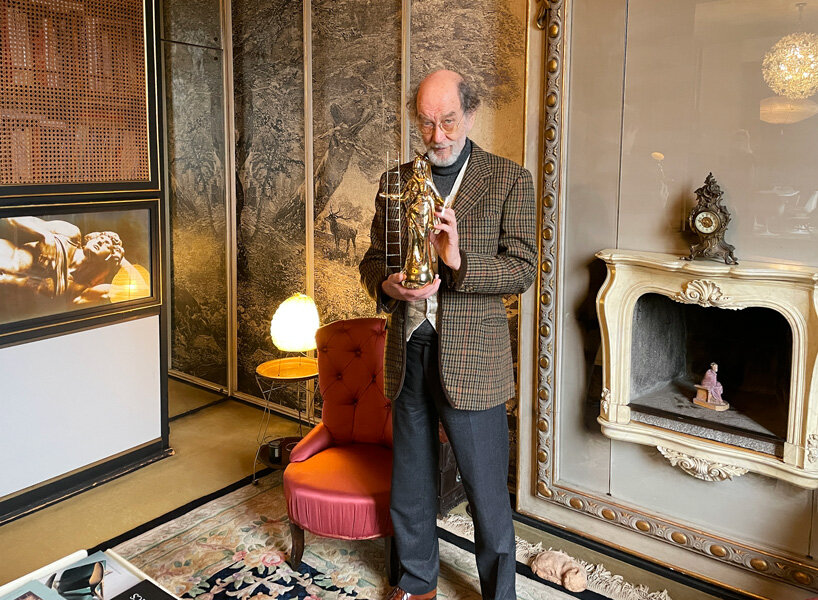 fulvio ferrari with the 2021 golden madonnina | image © designboom
fulvio ferrari 'met' carlo mollino in the early 1980s, when he was commissioned by architect toni cordero to look for the very rare furniture mollino designed. at the time, less than 10 years after his death, carlo mollino was a character forgotten by most. one of the tracks led ferrari to via napione, 2 – today's casa mollino museum.

plan of the apartment's interior | image © designboom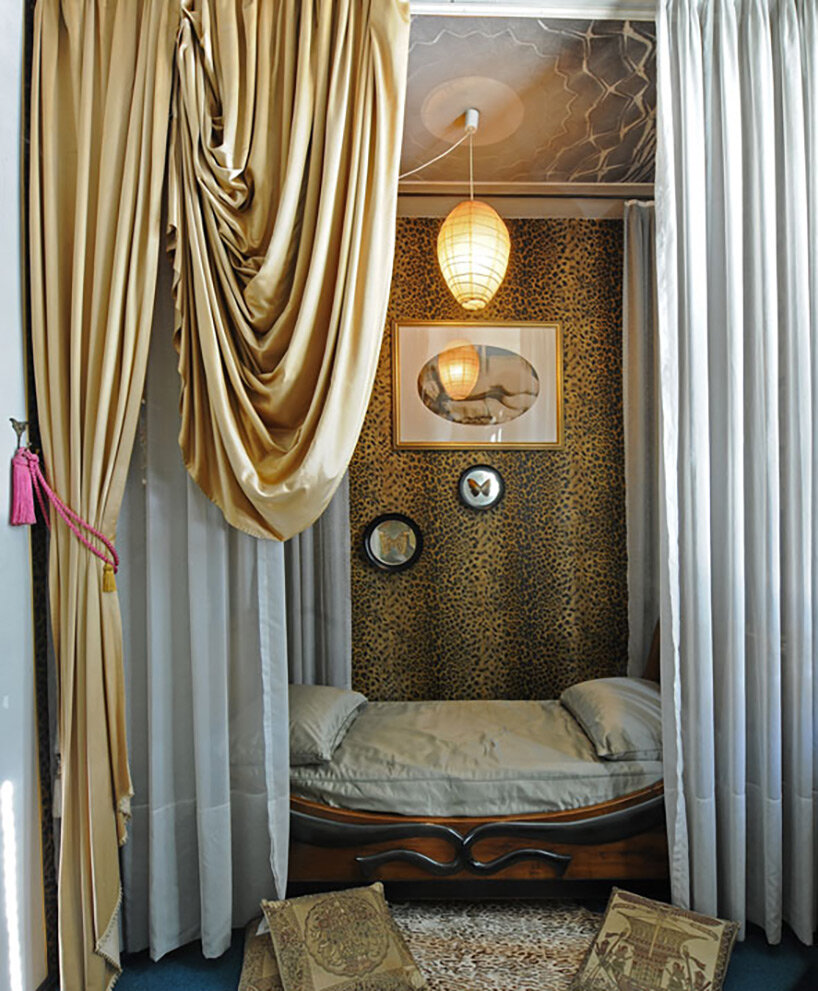 image by enzo isaia, courtesy casa mollino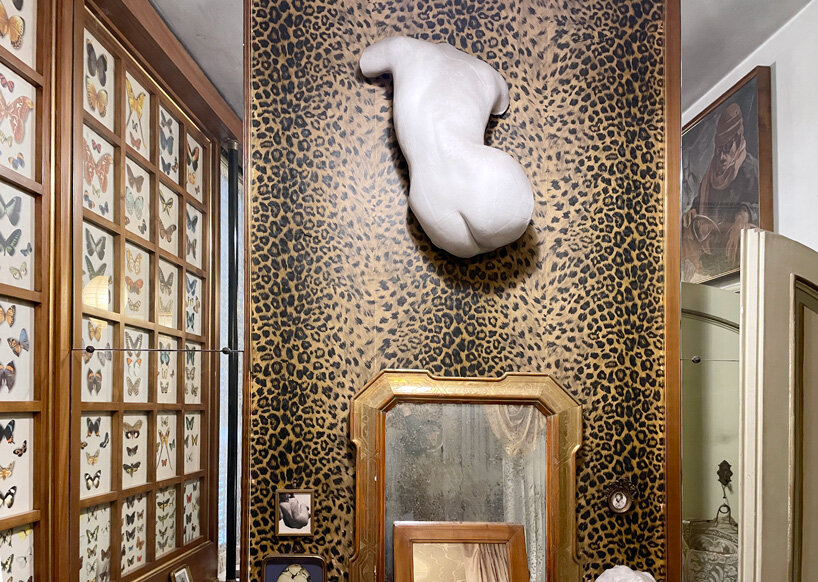 image © designboom
fulvio ferrari's mission is to find the meaning of this singular place. the first trace was found in the title page of a book published by carlo mollino in 1949 (written six years earlier): 'the message from the dark room'. it is the first and only book in which carlo mollino tackles the subject of photography, after which he will never write a single line on the subject again, but he captured images all his life, first with a leica and then with an early polaroid camera.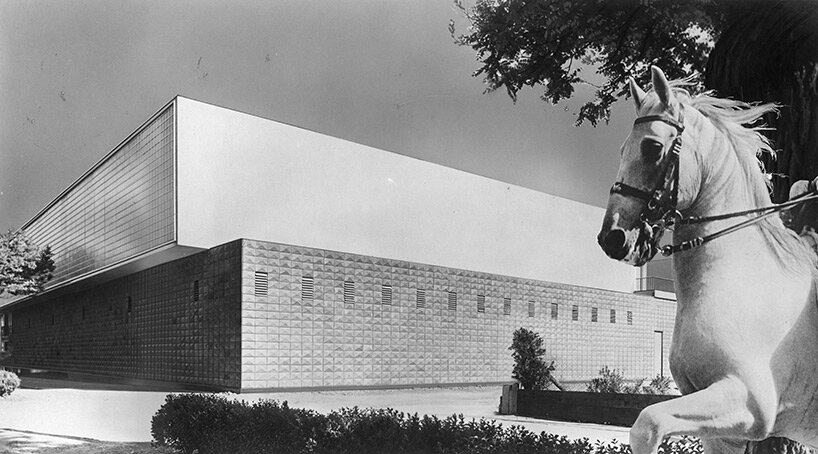 società ippica torinese, photomontage by carlo mollino, 1941
image courtesy politecnico di torino, sezione archivi biblioteca roberto gabetti, fondo carlo mollino
for mollino, photography was instrumental to his interests: interior images in the 1930s and 1940s, illustrations in his book dedicated to downhill skiing; photomontages and collages in which white horses gallop in front of his buildings; finally the countless polaroids with hundreds of women, dressed and posed by mollino himself.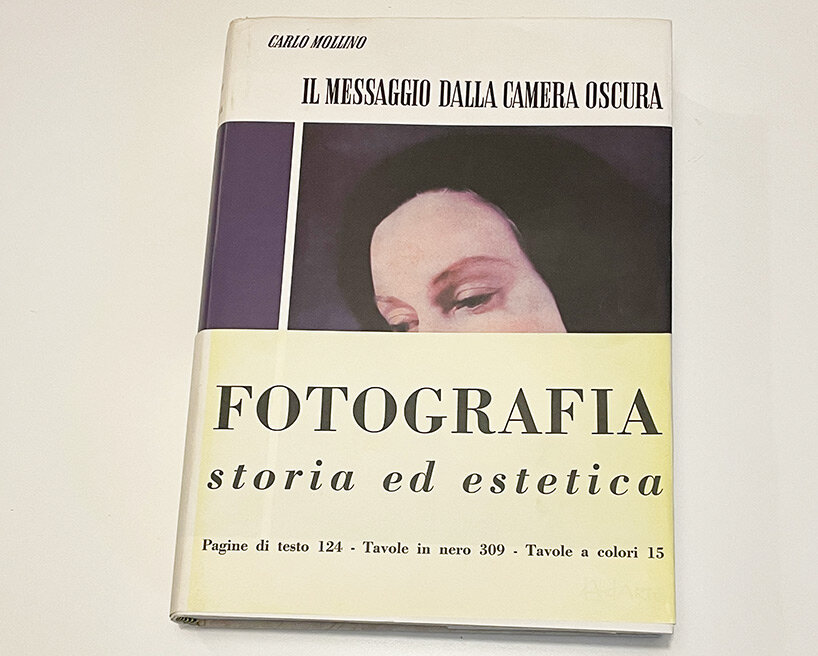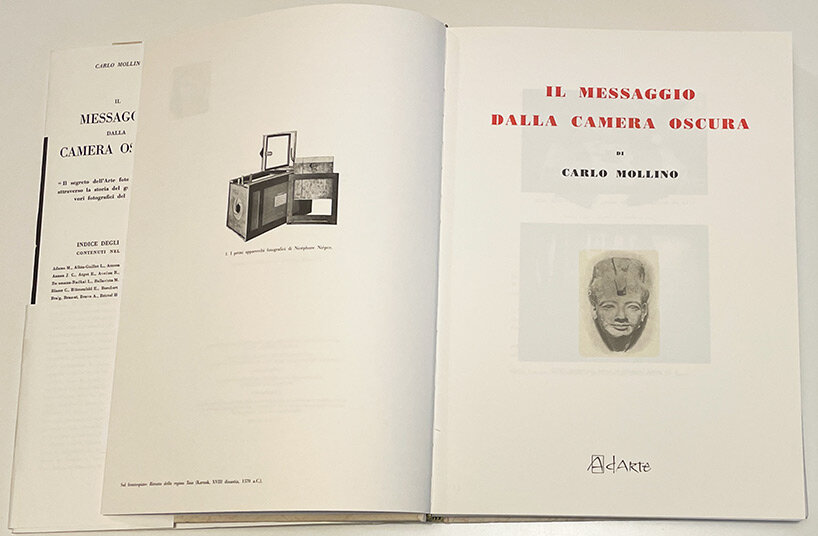 book 'il messaggio della camera oscura' by carlo mollino, first edition giovanni chiantore, 1949
2nd edition adarte 2006. designboom's own | images by designboom
in the title page of 'the message from the dark room', apparently unrelated to the rest of the book, there is a small image of the head of the egyptian queen 'taja', wife of the pharaoh 'amenophis III'. the camera obscura of the title is intended here not only as the one in which the photographic image is born. it is rather the crypt of the pyramid in which the pharaoh will be buried at the end of his days.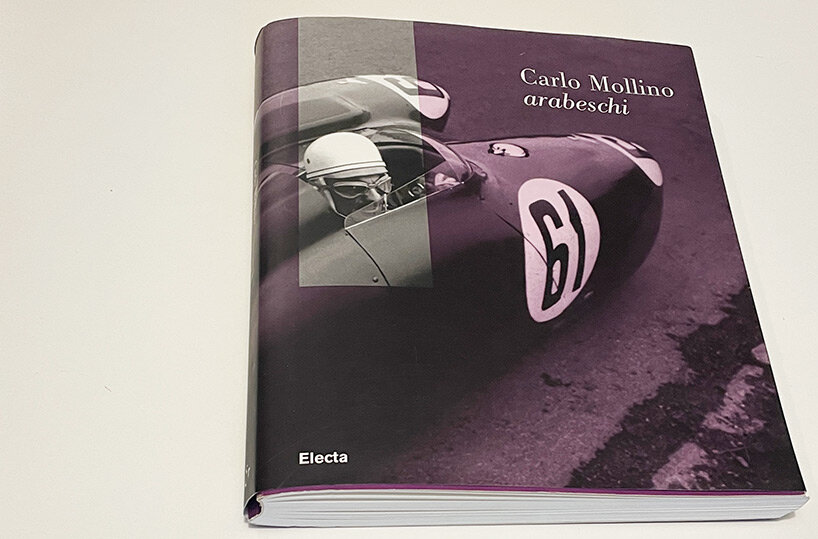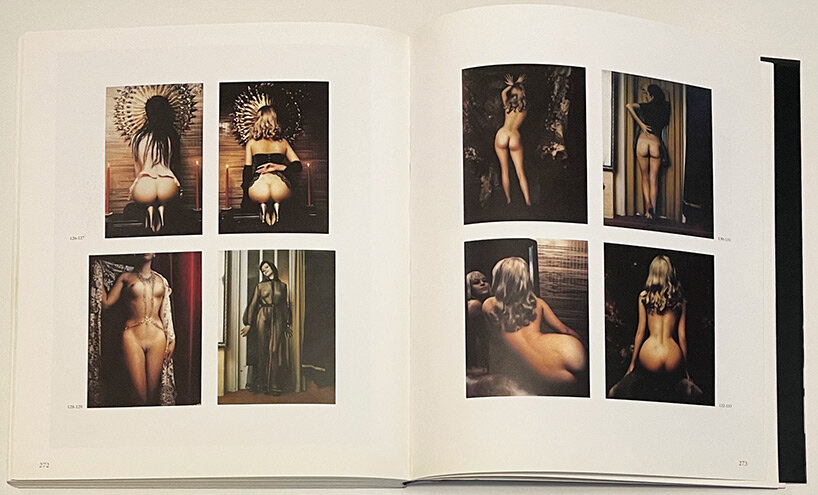 polaroids by carlo mollino, book 'carlo mollino: arabeschi', curated by fulvio and napoleone ferrari, electa 2006
designboom's own | images by designboom
in the video above, you can see a wall covered with colorful butterflies, a symbol of rebirth after death. mollino's polaroids – their seriality, the fact that they were never shown to anyone – definitively close the circle: the women he photographed were the attempt to complete the vision of himself, they provided him with the missing part, his female part, needed to get ready for the final judgment. like so many carefully chosen and prepared butterflies, carlo mollino collected women, all different but devoid of own personality. he captured them with the polaroid viewfinder, dressed in the clothes he himself bought: he was intrigued by the taxonomic aspect of this hunt.
over 2000 female portraits, with a high erotic content. taken with a polaroid between 1960 and 1973. the most intimate soul is contained in these shots, all kept secret, kept inside simple white envelopes in an antique piece of furniture. the photos brought to light by fulvio and napoleone ferrari, in a book 'polaroids', published by damiani, 2014.
CARLO MOLLINO'S POLAROIDS MADE AN APPEARANCE
the haunting, mysterious polaroids by carlo mollino of anonymous semi-nude women had been transferred onto silk crepe looks and outerwear by jeremy scott for moschino. for this private THE DESIGN PRIZE golden madonnina ceremony designbom's editor-in-chief is wearing one of the looks here (fall/winter 2018-19 women's pre-collection).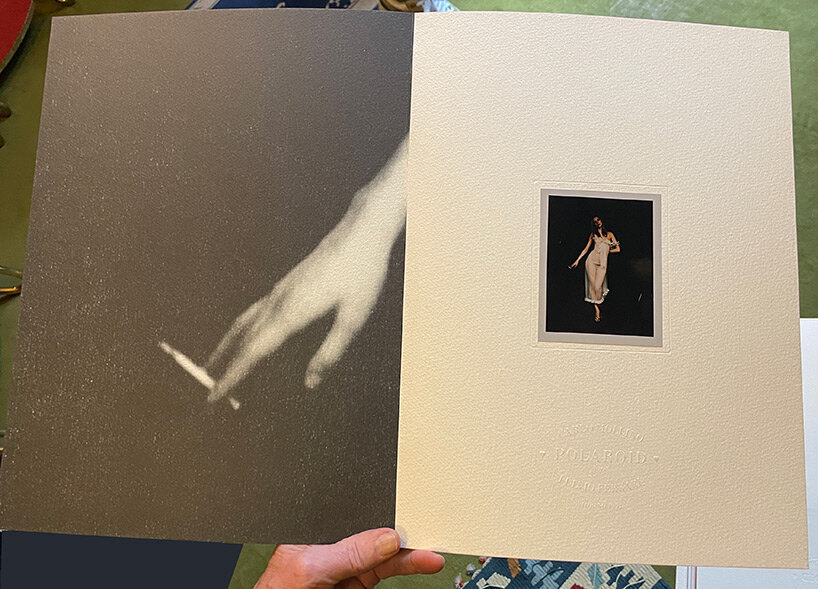 a detail of one of carlo mollino's polaroids shows the long preparations for each shot
limited edition print by casa mollino / fulvio ferrari | image by designboom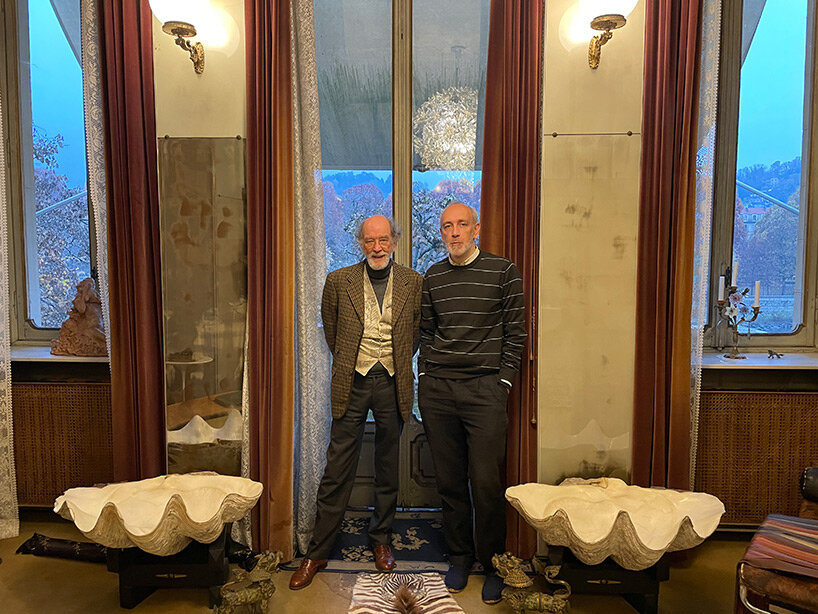 fulvio ferrari and son napoleone ferrari | image © designboom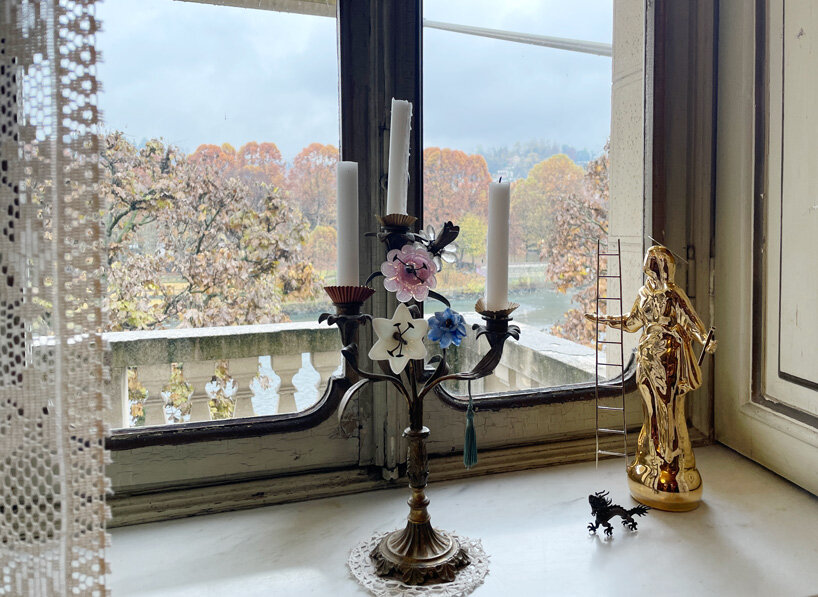 the golden madonnina 2021 for BEST CURATOR overlooks the po river | image © designboom
project info:
name: museo casa mollino
architect: carlo mollino
curators: fulvio ferrari and napoleone ferrari
born in 1945, charismatic man, chemist lent to design (founder in the early 1970s of 'solka B', a small company that created experimental lamps) but also restaurateur, gallery owner and collector of modern antiques (modernariato). fulvio ferrari is undoubtedly the greatest connoisseur in the world of carlo mollino's life and works.
the museo casa mollino can be visited only by appointment by writing to [email protected] in a two hour visit in italian, english or french, the visitor is led through the story of mollino's life and the interpretation of the apartment. a 30-minute video by the artist yuri ancarani titled 'seance' can be watched after the visit.
THE DESIGN PRIZE is an annual award program that celebrates excellence on a global scale. initiated in 2017 and curated by designboom, with patronage by the city of milan, THE DESIGN PRIZE recognizes both the extraordinary achievements and little sparks of beauty and delight that have emerged over the past 12 months.
sofia lekka angelopoulou
I designboom
dec 10, 2021
a diverse digital database that acts as a valuable guide in gaining insight and information about a product directly from the manufacturer, and serves as a rich reference point in developing a project or scheme.
designboom will always be there for you
milan, new york, beijing, tokyo

,
since 1999