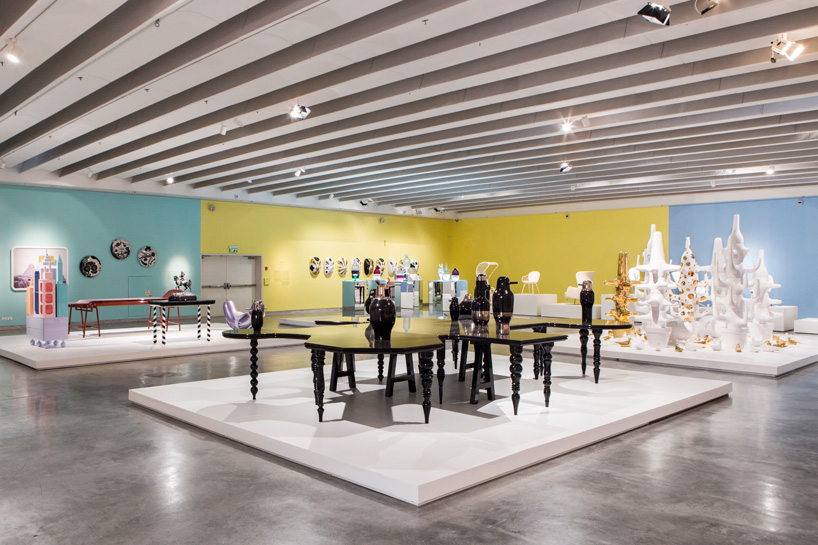 jan 16, 2016
funtastico: jaime hayon's surrealist, baroque work at design museum holon
funtastico: jaime hayon's baroque, eclectic + surrealistic work at design museum holon
photo by itay benit
jaime hayon: funtastico
design museum holon, holon
on until march 26, 2016
jaime hayon is known for creating fantastical worlds in a style that is often referred to as being 'baroque', 'eclectic' or 'surrealistic' — his furniture, products and interior spaces as a result, express a sense of humour and playfulness. 'funtastico' brings together the last 10 years of the spanish creative's practice that hovers between design and art, offering an overview of hayon's portfolio. the exhibition highlights many of his early works with which he took the world of design by storm — from dreamlike scenes comprised of ceramic cactuses and strange animals, to complex and intricate paintings and drawings that characterize him; as well as special collaborations he has engaged in with companies such as baccarat, lladró and magis.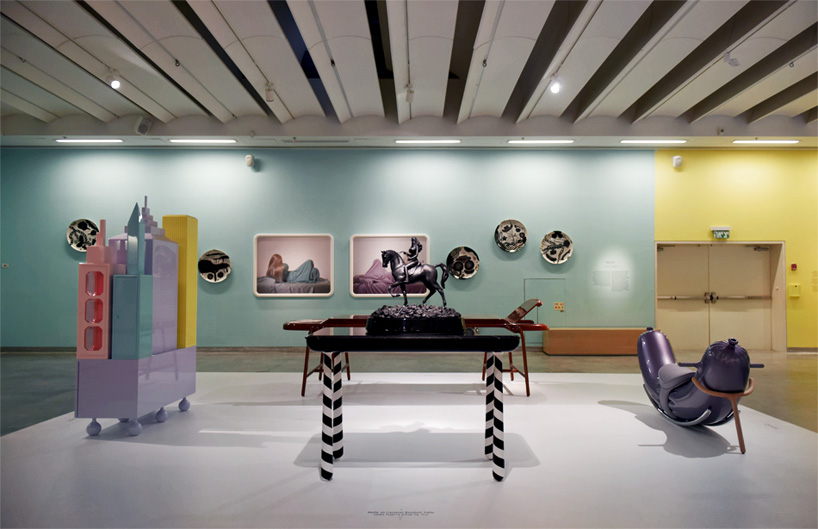 installation view of 'american chateau – room one' by jaime hayon, in collaboration with nienke klunder
image by ben kelmer
originally curated by mark wilson and sue-an van de zijpp for the groninger museum collection (see designboom's coverage of the show here), 'funtastico' makes its second stop at the design museum holon (DMH). among the pieces on display are hayon's iconic 'green chicken' – a work conceived for the shanghai show 'contrasts and contradictions: chapter 1' (2006) which raised the design vs. art dispute of creativity being limited by functionality; 'the tournament' – a larger-than-life ceramic chess set handcrafted and painted by hayon that was influenced by the battle of trafalgar, and built for the london design festival (2009); as well as 'american chateau – room one' (2009) – his collaborative work with nienke klunder presented by spring projects; and smaller production pieces like his 'afghan folklore' and 'japanese folklore' rugs for nodus, and 'testa mecanica' – handblown glass sculptures for glasstress.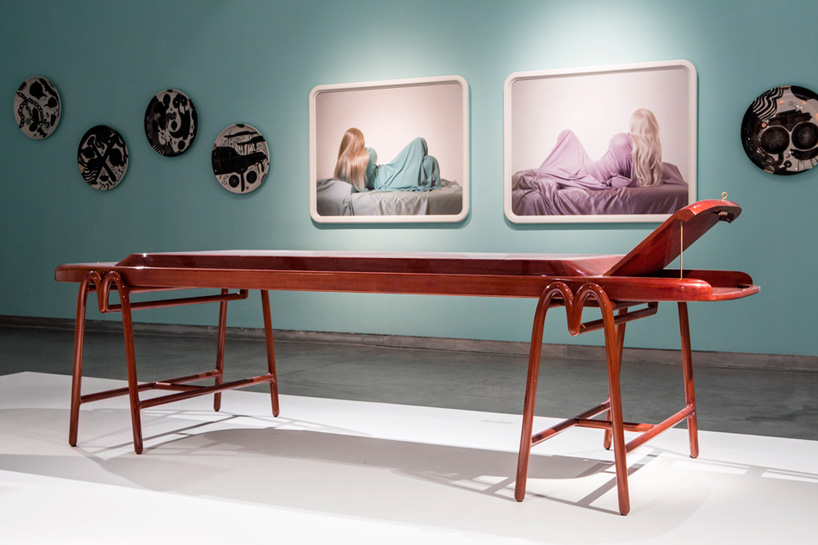 'limousine table' from the 'american chateau – room one' series by jaime hayon and nienke klunder, 2009
hand-carved solid mahogany wood with high-glass finish and brass
2750 x 830 x 895mm
photo by itay benit
on the occasion of 'funtastico' taking over the galleries of the DMH, jaime hayon has designed an exclusive work as a donation to the museum's permanent collection in the form of a colossal hanging wall mirror. the piece references giant primitive masks and is constructed of caesarstone — a developer and manufacturer of premium quartz surface — marquetry.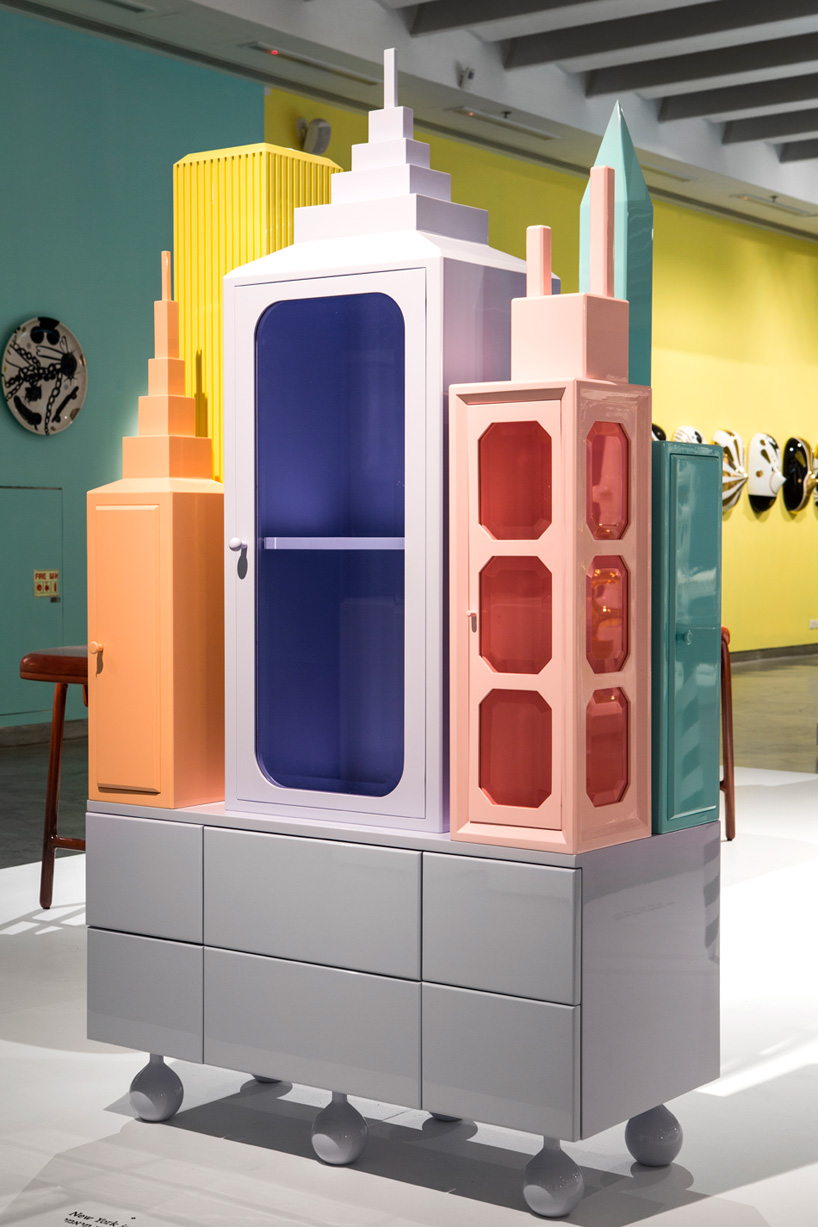 'new york is miami' from the 'american chateau – room one' series by jaime hayon, 2009
highly lacquered pine wood and beveled glass
1000 x 450 x 1820mm
photo by itay benit
'we are very privileged to have jaime hayon's exhibition at design museum holon – we have been waiting for his show for five years. jaime was a speaker at the museum's opening in 2010 and now he is coming to israel again for the exhibition's opening. the unique design piece which he has created for the museum will become a very important part of our collection. I discussed this piece over a wonderful lunch with jaime in milan and after our inspiring meeting jaime came up with the idea to design a mask. this was magical as just prior to our meeting the israel museum showcased an exhibition titled face to face, presenting the oldest masks in the world made 9,000 years ago in the land of israel. with jaime's new mask in the same land, we are creating a dialog across 9000 years of art and design.' – galit gaon, design museum holon chief curator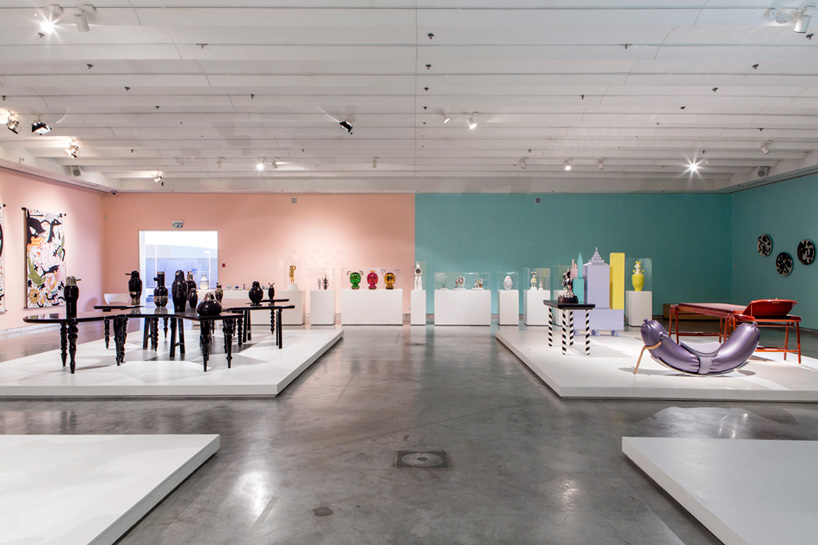 the scenography of 'funtastico' expresses the whimsical nature of jaime hayon's design approach
photo by itay benit
'I see masks as a storyteller, or a mirror if you will, of history. every civilization, from the ancient peoples of the middle east to the aztecs in the americas, has utilized masks, and each mask tells a story. I became keen to create a mask representing characters from my own cosmos, one which combines fantasy, a certain playfulness, together with craft and quality. I decided to use mirror together with stone to create different textures and feelings, as if the mask were an old mosaic. some parts have stone, while other parts show a reflection onto ourselves. together, the two characters create an imaginary composition. they become mysterious objects, masks that tell a story from my own fantasy civilization.' – jaime hayon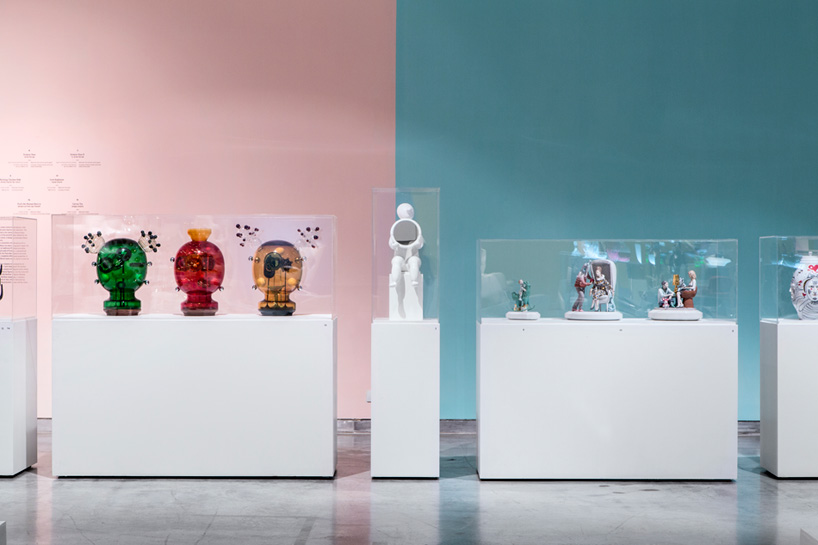 on show are pieces that jaime hayon has developed for companies such as glasstress and lladró
photo by itay benit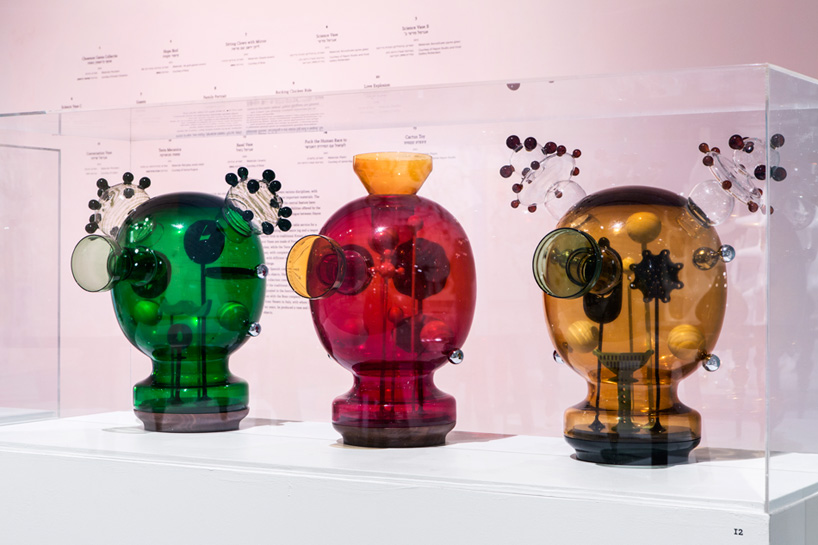 'testa mecanica' handblown glass sculptures by jaime hayon for glasstress
photo by itay benit
see more about this project on designboom here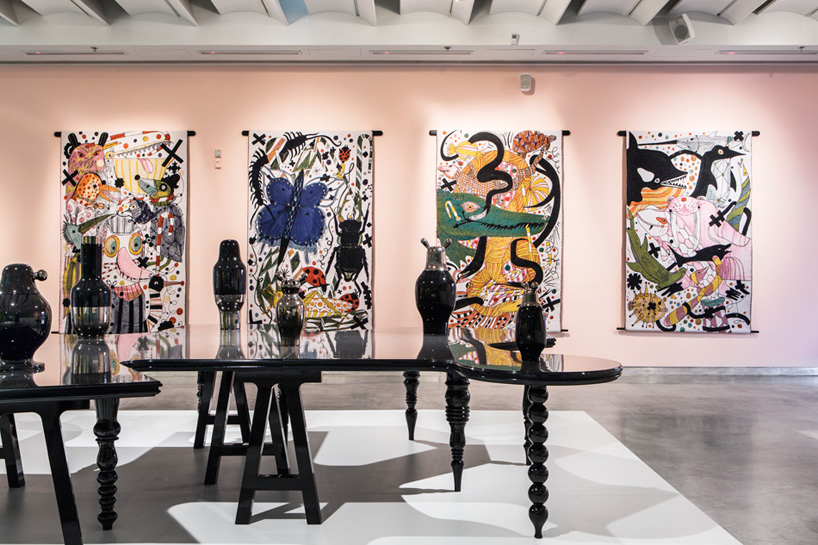 jaime hayon is known for creating fantastical worlds in a style that is often referred to as being eclectic
photo by itay benit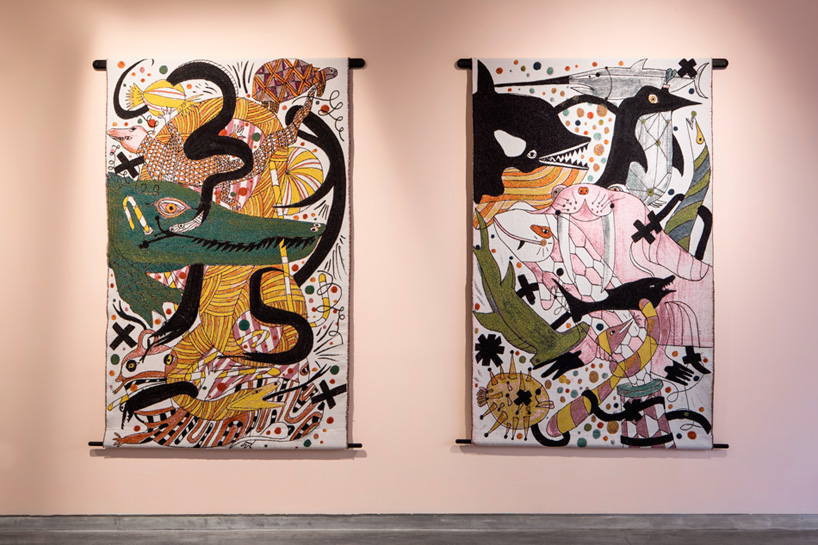 jaime hayon's 'afghan folklore' and 'japanese folklore' rugs for nodus
photo by itay benit
see more about this project on designboom here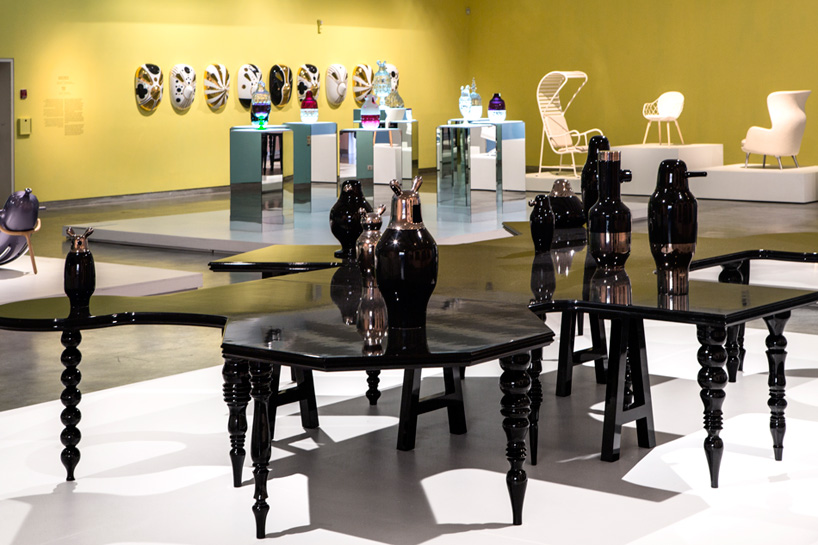 installation view of 'funtastico' at the design museum holon
photo by itay benit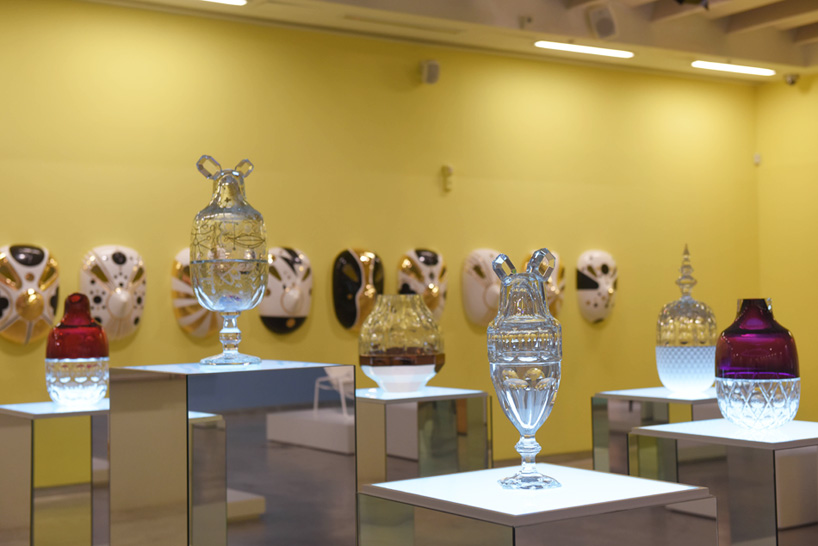 'crystal candy set' by jaime hayon for baccarat
photo by ben kelmer
see more about this project on designboom here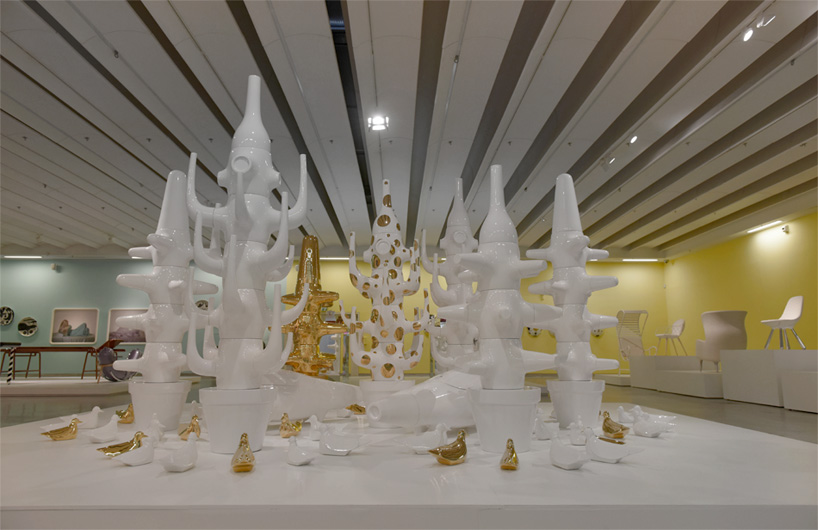 'mediterranean digital baroque'
photo by ben kelmer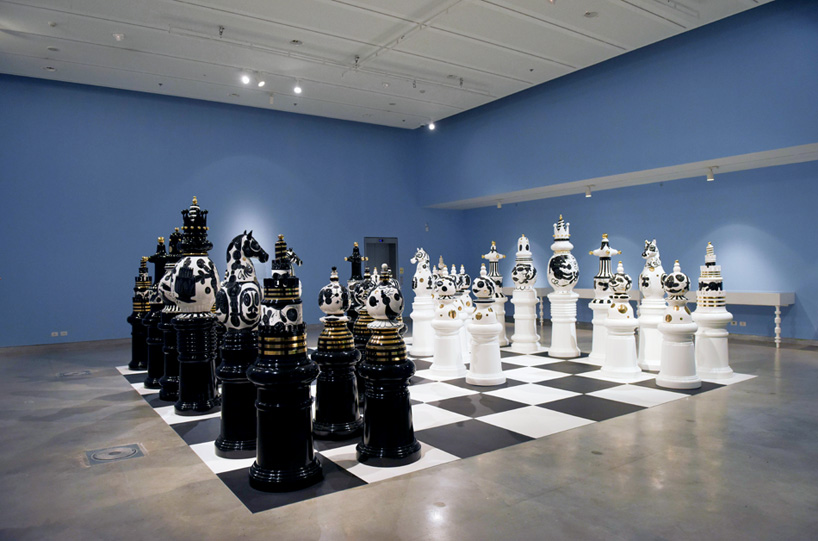 'the tournament'
photo by ben kelmer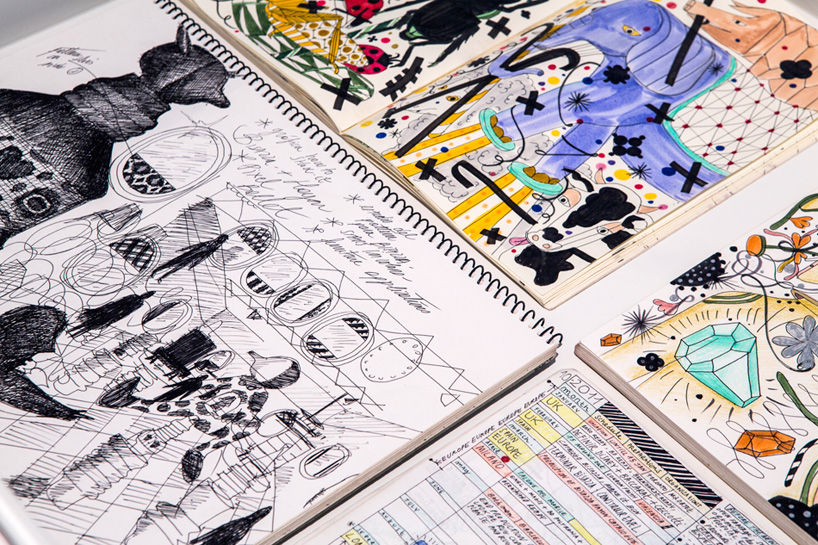 a look inside jaime hayon's sketch books
photo by itay benit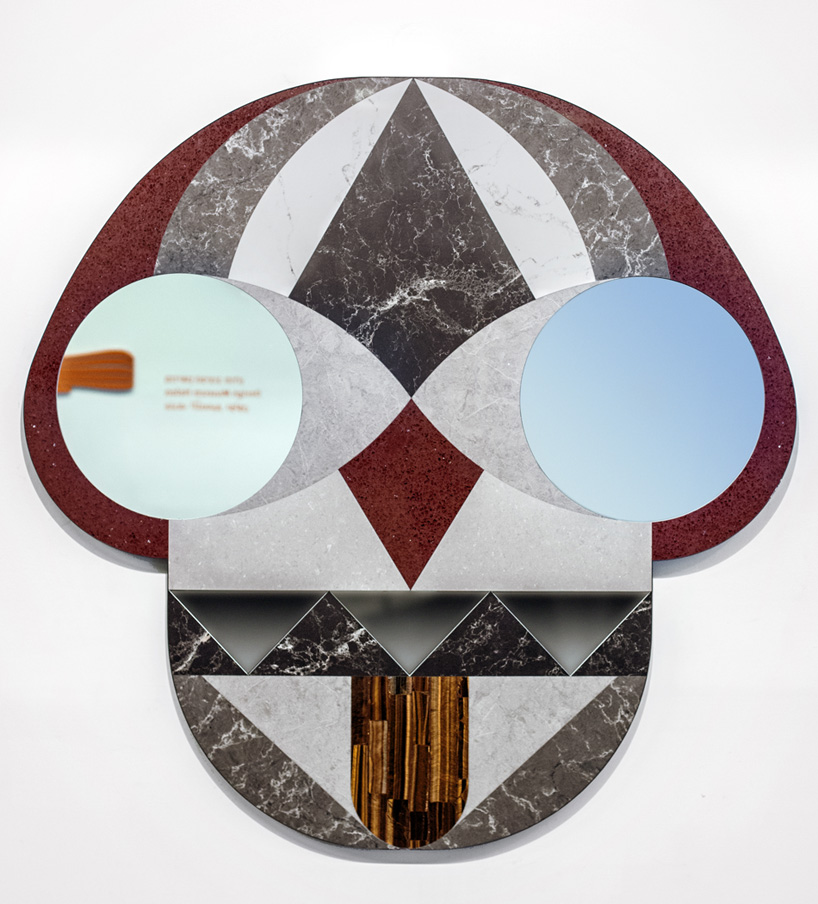 'face mirror' by jaime hayon is made from caesarstone, especially for the exhibition at design museum holon
photo by liah chesnokov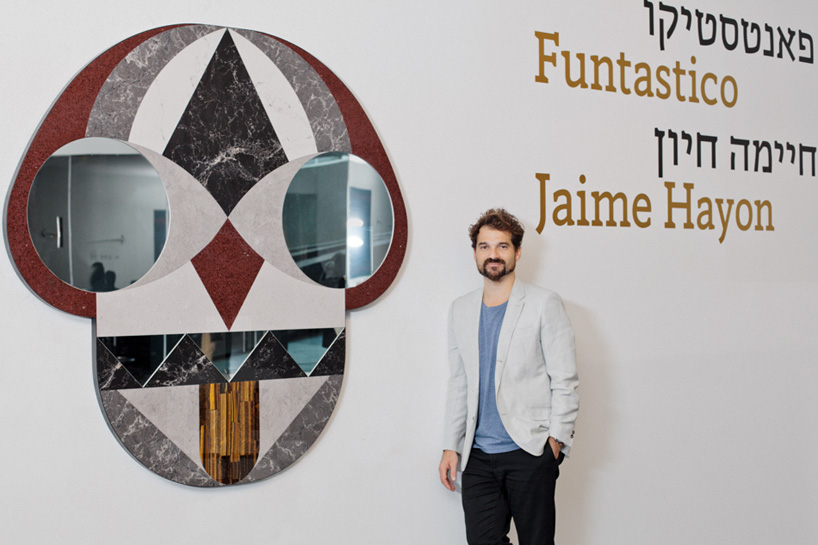 jaime hayon with his 'face mirror' at design museum holon
photo by liah chesnokov
jun 08, 2016
jun 08, 2016
apr 29, 2016
apr 29, 2016
nov 23, 2009
nov 23, 2009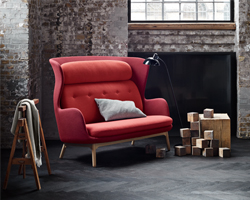 jul 09, 2017
jul 09, 2017
jun 16, 2017
jun 16, 2017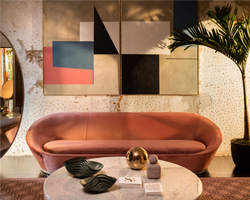 apr 14, 2017
apr 14, 2017