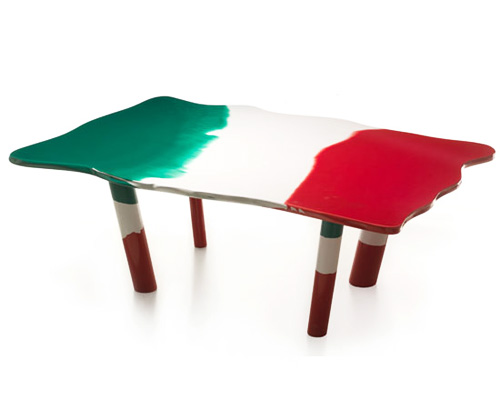 jun 30, 2010
gaetano pesce: sessantuna table italia for cassina
gaetano pesce: sessantuna table italia for cassina – 'map' of the 61 tables image courtesy of studio 12
with an idea that celebrates the 150th anniversary of the unification of italy, italian designer gaetano pesce and cassina have joined together to develop a new project 'sessantuna', an art work consisting of sixty-one tables representing the year 1861 when the italian unification was completed. each of them resemble one another, but remain in essence completely different. placing the tables side by side, in the right formation would perfectly recreate the shape of the italian peninsula, 25 by 20 metres, with its irregular land and sea borders, its numerous islands and its inimitable profile: a poetic homage to the native land of creativity and art.
the project is a revisitation of the famous red, white and green sansone table by gaetano pesce for cassina in 1980, which is no longer in production. modern technology has allowed for a significant reduction in weight, eliminating all structural supports. each table is made from a series of resins which are cast as the three colors of the italian national flag, through a process which allows for random and intriguing blends that make each table an original work. 'sessantuna' goes beyond the concept of design as a beautiful replication of the same. it represents an industry that surprises us with infinite variations, both random and refined; objects created are both similar and different, as each individual is similar to and yet different from all other people.
'map' of the 61 tables and their red, white and green tricolore colorations image courtesy of studio 12
all of the tables are signed by gaetano pesce and are numbered, according to the sequence of events in which each single territory became part of the new state. each table holds its own historical relevance, including the country's small islands: caprera, elba, ischia, lampedusa, montecristo and ventotene, which are represented out of scale, but still underlying their equally important contribution to the concept of unification. a label / certificate, applied on the underside, carries the table's number along with an illustration of the project as a whole. included is a short description explaining when and how the relevant region became part of the italian state.
'sessantuna is a celebration of the femininity of italy, but also of the creative process. I see the future as feminine. the masculine has made history and created many beautiful and important things, but now it risks repetition. to embark on a new chapter, history must become feminine…' – gaetano pesce
3D rendering of the tables arranged in the shape of italy
the tables are sold through an exclusive auction mechanism at the best cassina stores. a special edition of five tables, represent the most relevant places in the risorgimento history (turin, the first capital of the kingdom of italy – milan, the five days, a major event in which the population rebelled against forces – genoa, mameli composes the italian national anthem – marsala, the expedition of the thousand military campaign – teano, the meeting between giuseppe garibaldi and vittorio emanuele II), will be be personalized by maestro pesce with famous phrases and historical quotes. the first went under the hammer at the phillips de pury auction house in london in its italian themed auction this past month. the others will be offered in subsequent auctions in new york and london through june 2011.
on the sessantuna cassina web-site, individuals are able to view all sixty-one tables and can read their historical relevance by clicking on the one your are interested. also indicated is the sales status of each table. here is a look at some of the variations:
'sessantuna' table no. 36 (profile) image courtesy of studio 12
'sessantuna' table no. 36 (detail) image courtesy of studio 12
'sessantuna' table no. 36 (table top view) image courtesy of studio 12
also of note, are that the table legs are independent and can be affixed to the grooves under the surface and positioned according to taste.
view how the rotating and independent legs work here
gaetano pesce's experimental work in progress image courtesy of studio 12
gaetano pesce's experimental work in progress image courtesy of studio 12
gaetano pesce's experimental work in progress image courtesy of studio 12
drawing by gaetano pesce
gaetano pesce portrait © designboom
presentation of 'sessantuna' image courtesy of studio 12
luca cordero di montezemolo consigning table # 40 to giorgio napolitano, president of the republic of italy (far left) image courtesy of studio 12
gaetano pesce discussing the concept behind 'sessantuna'
apr 04, 2019
apr 04, 2019
jun 11, 2018
jun 11, 2018
apr 25, 2018
apr 25, 2018
apr 24, 2016
apr 24, 2016
mar 18, 2016
mar 18, 2016
feb 05, 2016
feb 05, 2016
apr 08, 2019
apr 08, 2019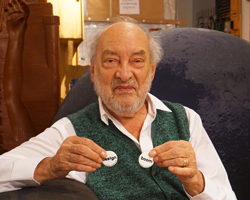 jun 13, 2017
jun 13, 2017
jun 02, 2017
jun 02, 2017
a diverse digital database that acts as a valuable guide in gaining insight and information about a product directly from the manufacturer, and serves as a rich reference point in developing a project or scheme.