renovo hardwood bicycles and glenmorangie, creators of highland single malt scotch whiskies presents the first bicycle made from whisky casks, the 'glenmorangie original'. this innovative collaboration creates a one-of-a-kind bicycle with a rich history that is as unique as glenmorangie's wood management policy.

the bicycles are a rolling testament to the versatility of wood, exceeding expectations on an array of surfaces
both glenmorangie and renovo are renown for their refined expertise in wood. the casks from glenmorangie are shipped from the distillery in scotland to renovo's workshop in oregon where each bicycle frame utilizes about 15 staves. the bicycles emply the finest materials and cost around $7,000 USD each.

the fast and responsive road machine is shod with the stock 700 x 28 millimeter tires
the design of the bike is informed by the trapezoidal shape of each stave, as well as the curve of the cask in the frame's down and top tubes. these shapes are integrated into a frame with the same smooth-riding hollow frame technology pioneered by renovo.

unlike most distilleries where casks are filled five or six times, glenmorangie's are only used twice
glenmorangie's collaboration with renovo is the second partnership in the distillery's 'beyond the cask' series, which repurposes staves in innovative ways. renovo 'is dedicated to honoring wood in the creation of our bicycles, engineered to perfection for a smoother ride,' explains founder ken wheeler. 'these beautiful machines, uniquely fashioned from glenmorangie's staves, will inspire anyone with a taste for innovation'.

features include powerful disc brakes and a 22-speed drivetrain

the refined wood of the casks is carefully crafted for each bike


larger tires of up to 40 millimeters wide can be inserted to tame the roughest of unpaved roads

renovo 'longbow' seatstays are engineered to further tame rough roads

the downtube and top tube echo the trapezoidal shape of the stave and the arcing curve of the cask

'these beautiful machines, uniquely fashioned from glenmorangie's staves, will inspire anyone with a taste for innovation'
oct 28, 2017
oct 28, 2017
oct 20, 2017
oct 20, 2017
oct 20, 2017
oct 20, 2017
oct 12, 2017
oct 12, 2017
oct 05, 2017
oct 05, 2017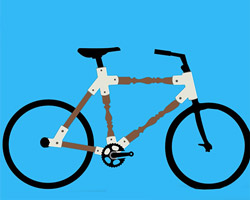 sep 22, 2017
sep 22, 2017