grand-hornu images celebrates living objects made for india
(above) installation view at the exhibition
image © designboom
india is a complex and diverse country with many different cultural realities. it is diverse not only in terms of religion and language, but also class, caste and economic ability. it is a land where fine craftsmanship is still an economically viable method of production, where the human hand is everywhere, from humble objects to painted signs, posters and services, and where these items are valued for their integrity and historical context.
grand-hornu images in belgium has celebrated the plurality of indian culture and material environment in the exhibition 'living objects made for india'. designers nipa doshi and jonathan levien, who curated the show, selected a series of colloquial indian objects from marketplaces, shops and family homes from new delhi to trivandrum. the chosen items are varied in their material and aesthetic, demonstrating the inherent adaptability of the contemporary indian lifestyle. while some are ostentatious and austere, others remind of the secular and scared roots deeply embedded in the historic and cultural context. industrially produced objects sit beside those intricately handcrafted, some with celebratory connections and others showing a utilitarian side. although mixed and eclectic, the selection steers away from the is 'kitsch' and exotic characteristics typically associated with indian things, and instead comprises honest, humble objects found in the everyday. the real value of these objects lies in their use in one of many daily rituals for religious offerings, making things, writing, bathing, dressing, cleaning, cooking or sharing meals.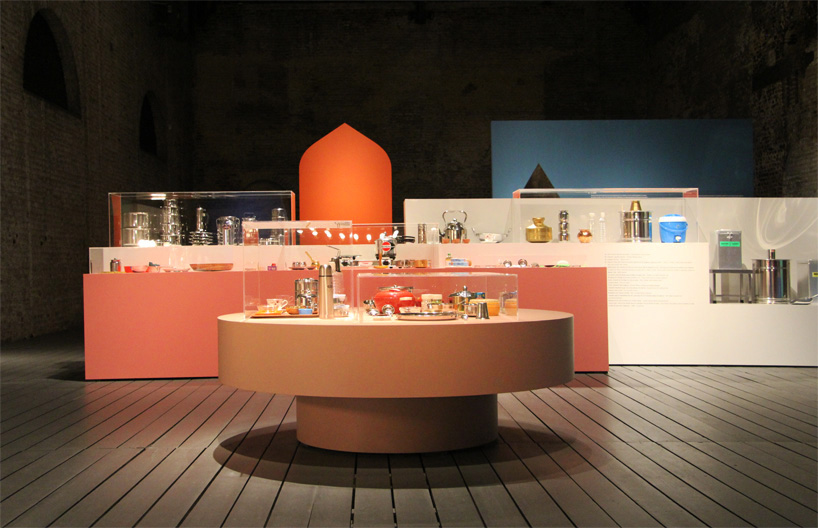 installation view at the grand-hornu brussels
image © designboom
the exhibition comprises individual installations set on vibrantly colored tables, each delving into a different section of the indian culture and lifestyle. the shrine and sacred offering collection displays objects that are used in the rituals of daily devotion in both domestic and small commercial spaces. within the home, the shrine highlights the important worship of indian gods and goddesses; many people begin each day with a prayer in these quarters. these shrines are different from the larger places of worship — like temples, mosques, and churches — because they are most personal, often housing the icons of several gods and saints, and can sometimes be multi-faith.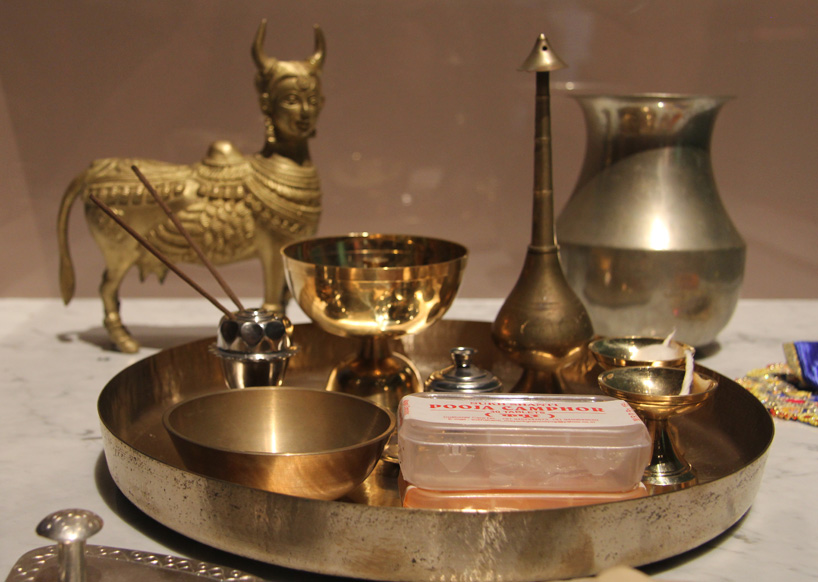 view of small objects exhibited in the 'shrine and sacred offering' part of the installation
image © designboom
india is known for its numerous and varied customs that are deeply rooted in cultural traditions and religious beliefs. daily tasks are usually performed with a rhythmic reverence that transforms everyday, seemingly mundane activities into poetic rituals. according to the hindu philosophy, there is a wisdom that can be achieved in actions executed with care and selflessness; therefore, every task can be completed as an offering to a divine entity. this underlying philosophy is the basis of many daily rituals and explains the relationship indian people have with the specific objects used to perform humble tasks.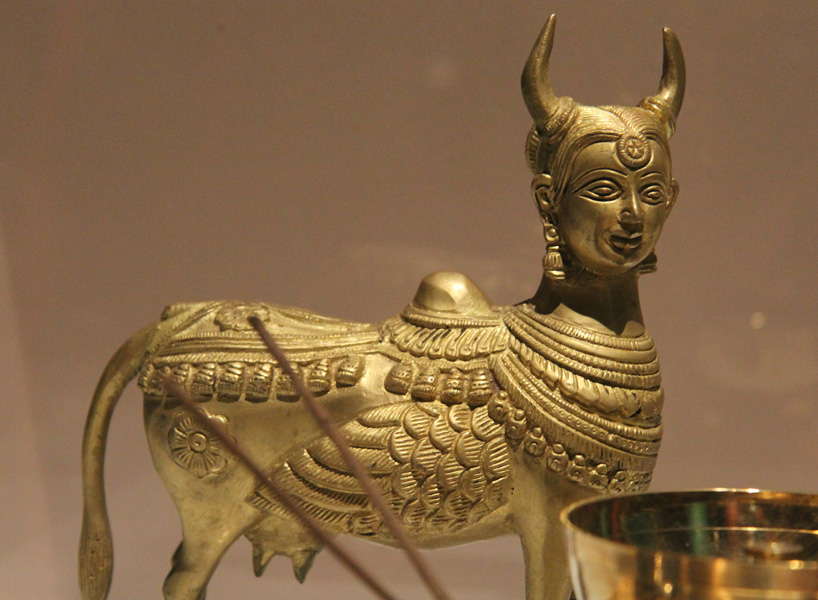 detail of an idol of lord kamadhenu in brass, the divine bovine goddess
image © designboom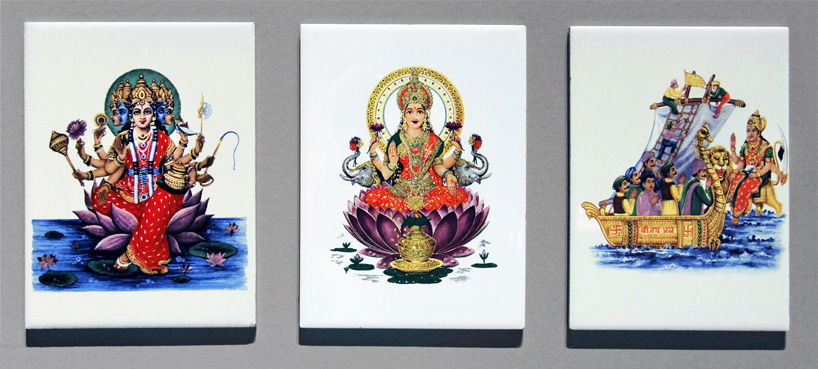 ceramic tiles with sacred images
image © designboom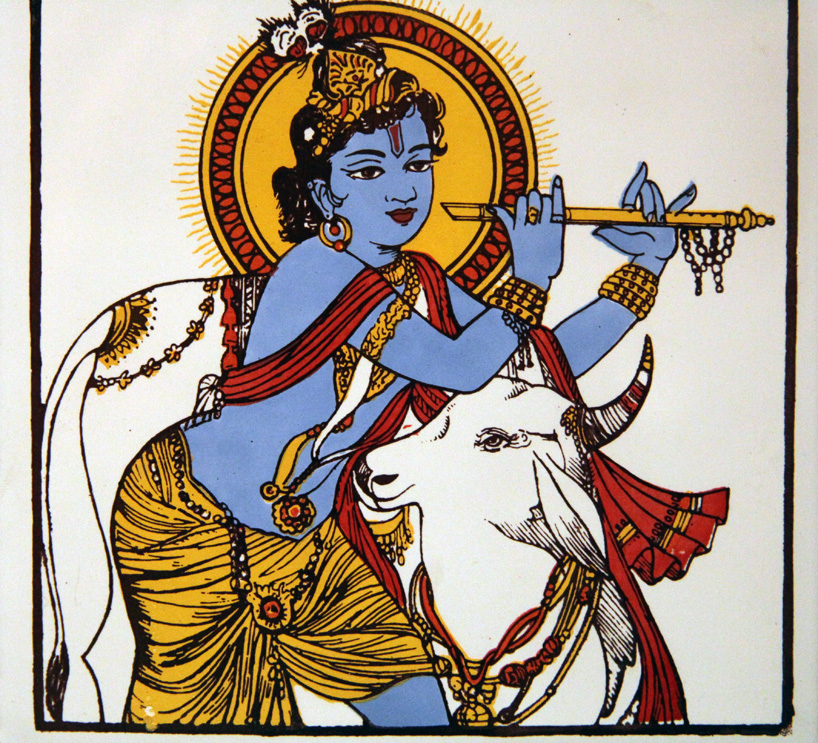 detail of a ceramic tile bearing a sacred image
image © designboom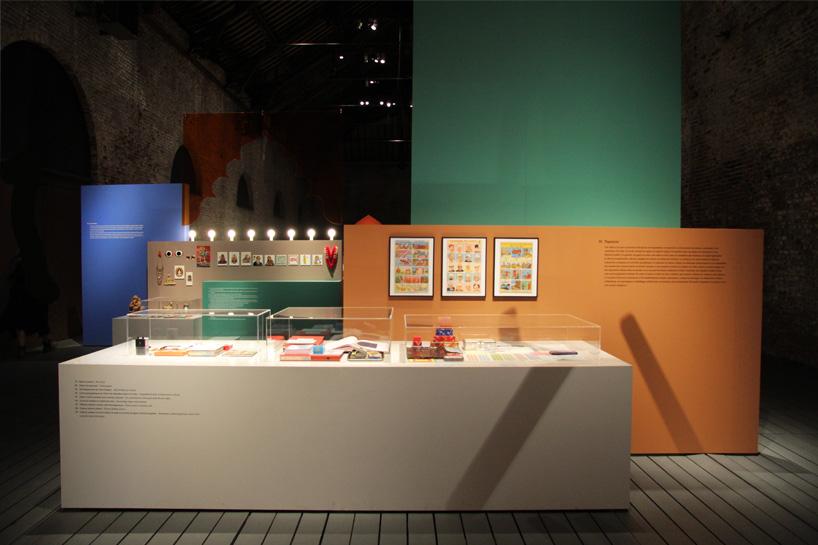 installation view of the postal and stationary objects exhibition
image © designboom
'ephemera: postal and other stationary' comprises a long white table filled with various paper goods, desktop accessories and school supplies. an important aspect of the culture encompasses the making and keeping of handwritten records, writing letters, studying and giving money gifts. some of the paper objects have similar equivalents throughout the world, while others might not have necessarily originated in india; however, the overall visual identity and vibrantly colored design style are recognizably indian.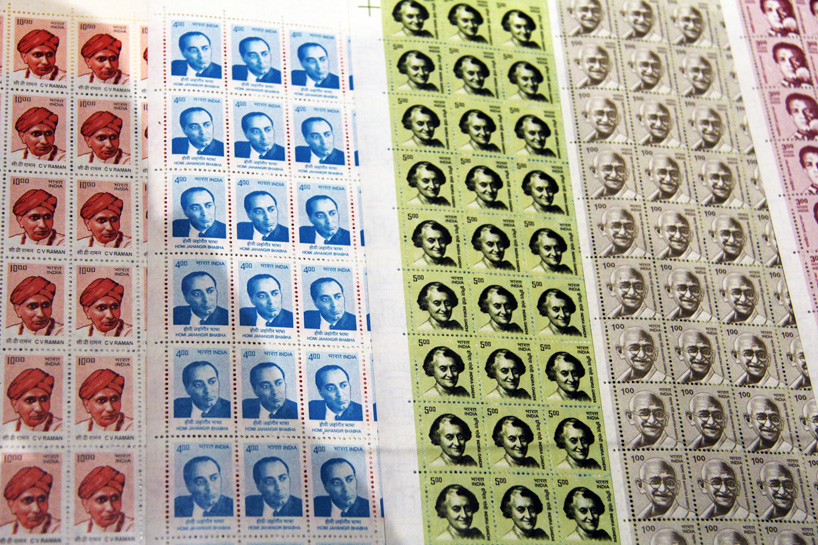 indian stamps
image © designboom
letter writing is still a major daily ritual and postal stationary is an important paper good in india. although many people use email, people in rural areas who do not have access to internet and use post as their primary method of communication. prepaid envelopes and postcards are an iconic part of the object landscape of everyday objects in the indian lifestyle.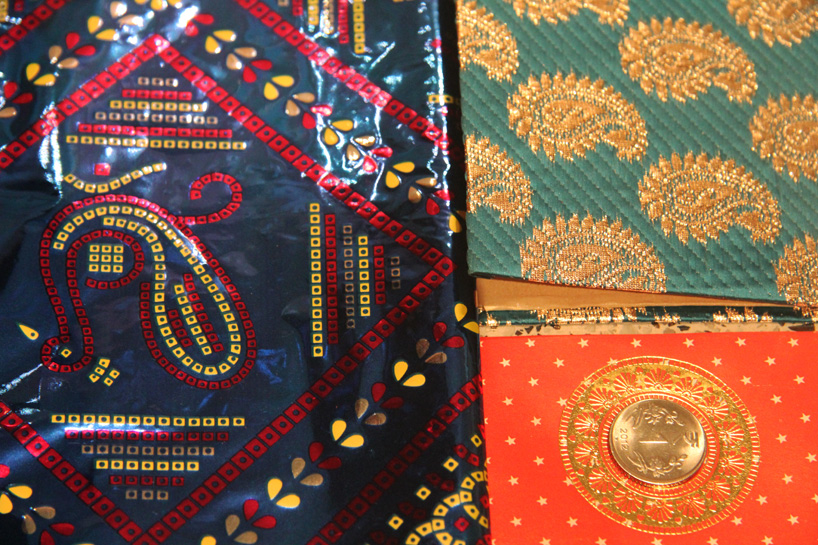 detail of gift wrapping for money and handmade gift boxes
image © designboom
a strong tradition of giving money for marriages, births and other festivals comprise a vast array of gift-giving ephemera. envelopes are highly decorative and come in bright colors and are lined with intricate patterns. the money envelope, for example, is an important part of the gift; some are fit with one rupee coin attached to the front. one of the indian customs says that when someone gives money, the amount should always be one rupee more than a rounded number — the extra coin is a sign of good luck and symbolic of more wealth and prosperity in the future. these shining coins grace the special occasion envelope's exterior.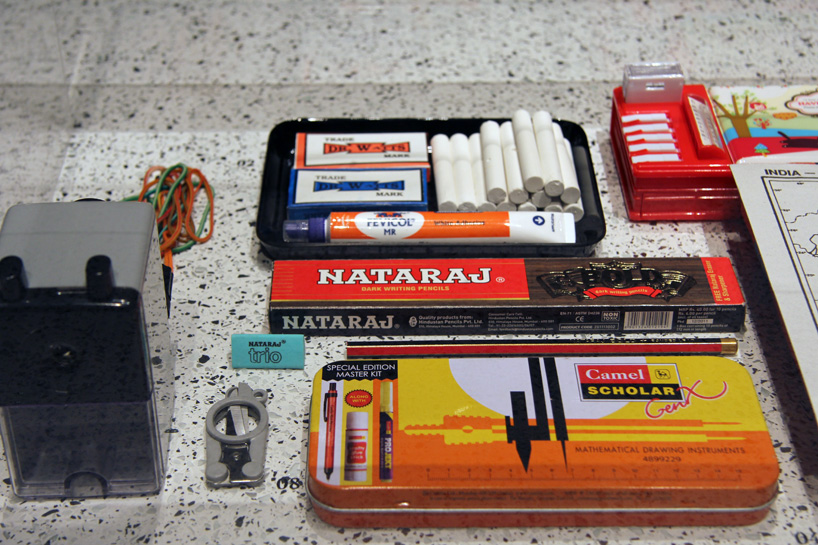 school items: pencil box, erasers and chalk
image © designboom
most middle class indian households have many objects for writing and studying such as stationary and paper goods. with basic education inaccessible to many indians, and with illiteracy as a major social problem, education has become a very important tool for social and economic mobility. items that reflect this within the exhibit include: a map for indian rivers and neighboring countries, various education supplies and stationary brands like came, nataraj, apsara — household names steeped in every school.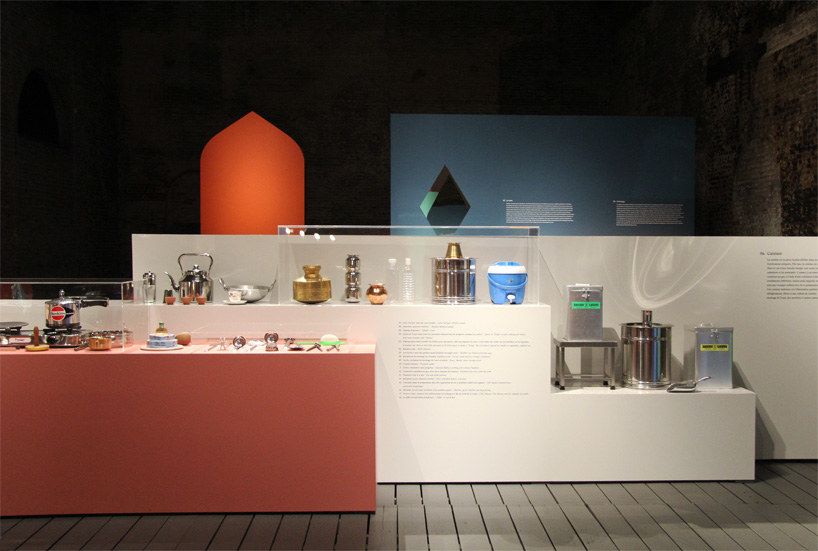 installation view of the objects on display in the cooking installation
image © designboom
indian cuisine is heavily influenced by religious and cultural choices. given the range of diversity in soil type, climate, and occupations, these culinary items vary significantly from each other, using locally sources spices, herbs and vegetables. eating three freshly cooked meals is a very important part of everyday life in india. in most urban middle class income families, food is serves on the table in thermal containers made of plastic or stainless steel. in rural areas and lower income families, the tradition of eating a meal sitting cross legged on the floor still continues. vegetables, meat, lentils, rice, and bread are main components, while the main meal is served on one 'thali' — a large round plate.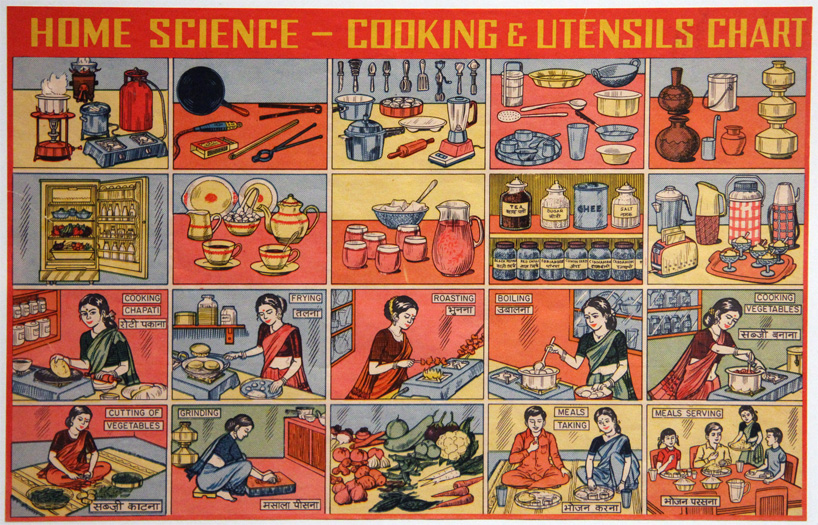 indian illustration of 'home science: cooking and utensils'
image © designboom
although cuisine and eating habits vary from region to region, the objects used for eating typically vary in aesthetic rather function. the indian table is very eclectic in terms of materials and typology of objects. for example, a bowl 'katoris' and melamine containers can be found made from stainelss streel, brass or ceramic.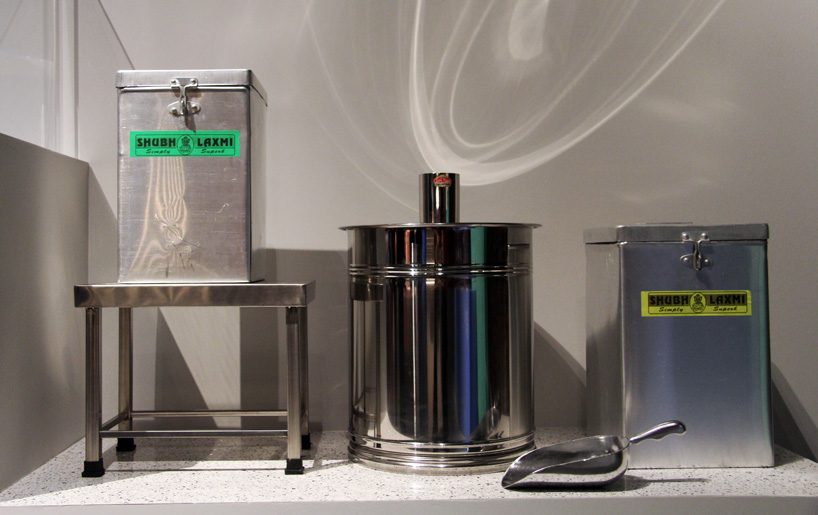 cereal, lentil and rice storage containers
image © designboom
since the tradition of eating freshly prepared hot meals is an important part of a daily diet, the kitchen is the perhaps most intensely used place in an indian home. most cooking is done on a gas flame, kerosene stove or a coal fire. since an indian meal involves several different dishes and condiments, there are many tools, vessels and cooking pots present in the kitchen. it is a prime example of a traditional indian home, where use of modern technology and electric appliances — refrigerators, water filters, food processors — sit together with the ubiquitous hand turned terra cotta water storage vessels and grinding stones and tools that have survived centuries.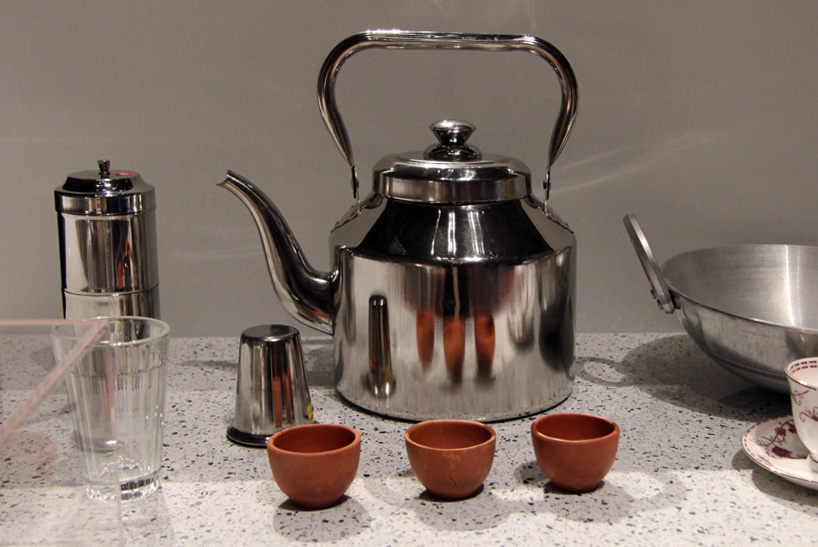 'kulhar' baked terracotta cups and stainless steel tea pot
image © designboom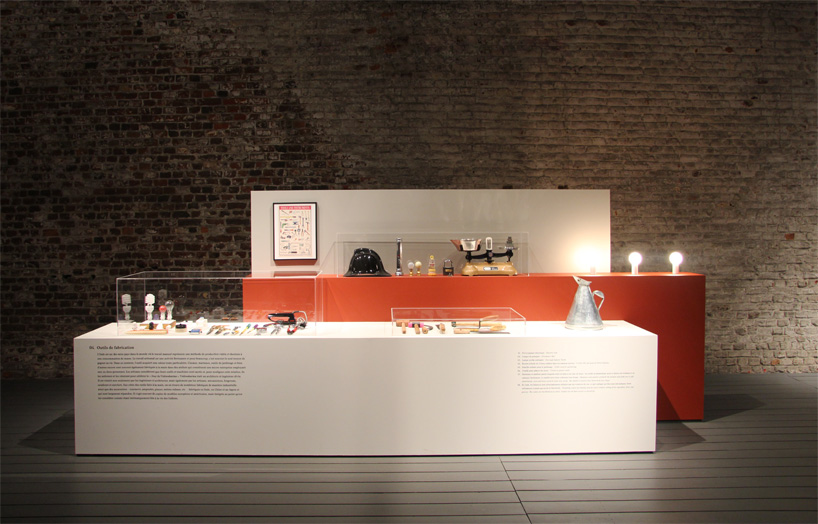 installation view of the objects on display of tools and machinery
image © designboom
india is one of the very few countries in the world where hand work is a viable method of volume production for mass consumption. tools for making — scissors, hammers, gardening tools — are colloquial parts of the indian home. many indian makers have a loyal customer base and equally people have their favorite, trusted workshops. buying and commissioning objects is as much human and social transaction as it is a commercial one — there is strong evidence of the human hand and spirit present in these tools and objects.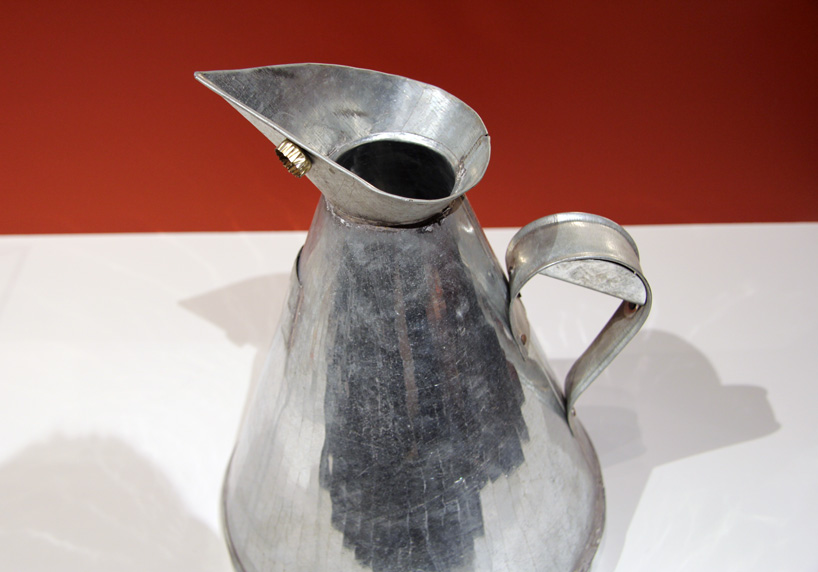 5 liter oil can used in petrol stations
image © designboom
the makers consider their tools and machines to be sacred and to mark their relationship, they celebrate 'vishwakarma day' when they worship them. 'vishwakarma' was a divine architect and engineer, now praised by artisans, craftsmen, mechanics, metal smiths, welders, and factory workers. they pray to him for a better future, for safe working conditions. they make offerings to their machines, and it is also a day they wash them.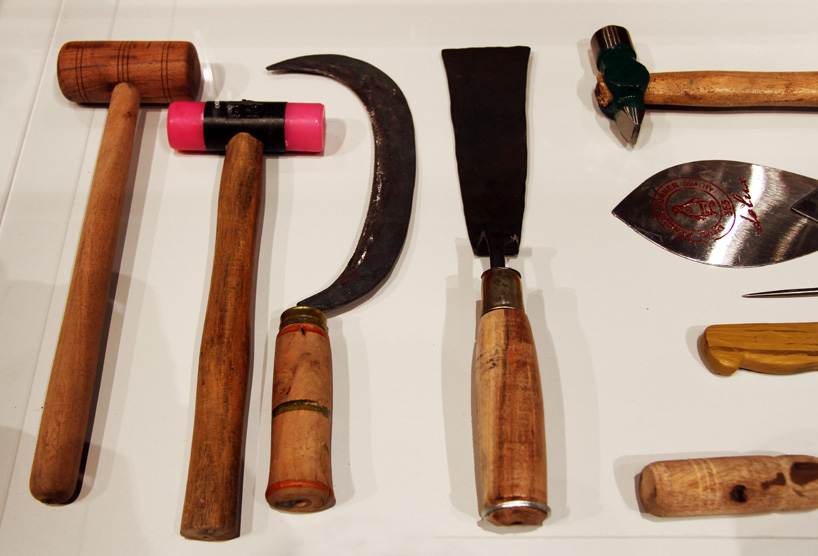 tools for gardening, hammer and mallets
image © designboom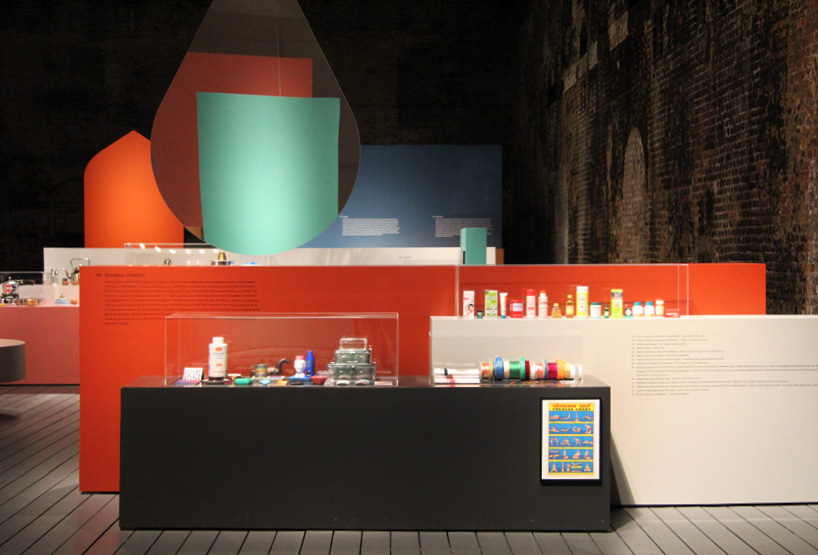 installation view of the beauty items on exhibit
image © designboom
traditionally in indian culture, women follow 16 different stops to get ready for the day, in a process is called 'shringara', which means adorning and decorating oneself. most indian women no longer follow all the different levels, however most still follow basics like wearing earrings, a 'bindi' on the forehead, 'sindoor' for married women, and kohl for the eyes and lipstick. dressing up and caring for ones outer appearance is an important part of daily life. included in the exhibition are are 'bindid', handkerchiefs, plastic and wooden combs, cones containing liquid henna that women use for embellishing their hands and feet, talcum powder to combat perspiration in hot weather and bangles.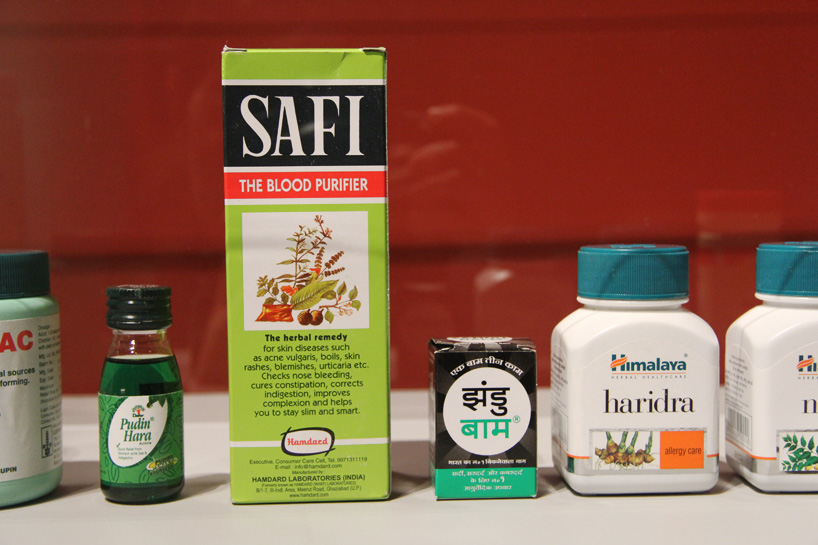 'safi' blood purifier
image © designboom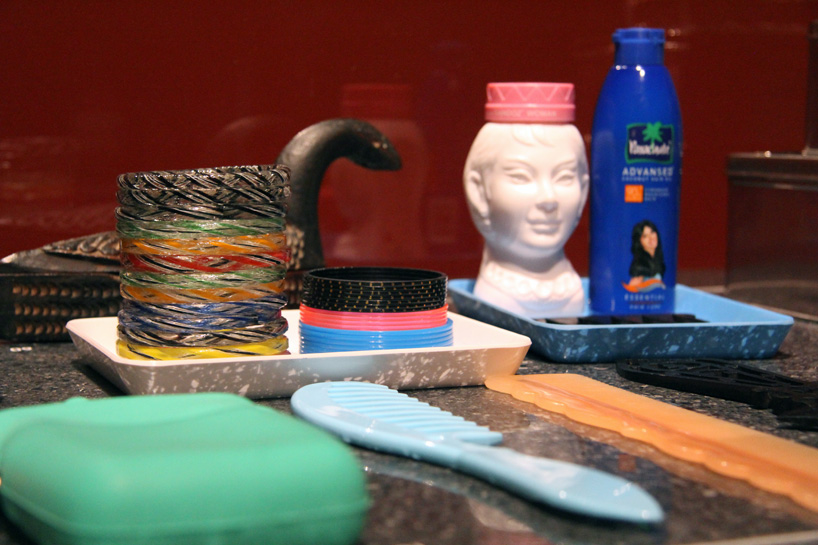 plastic combs and hair pins
image © designboom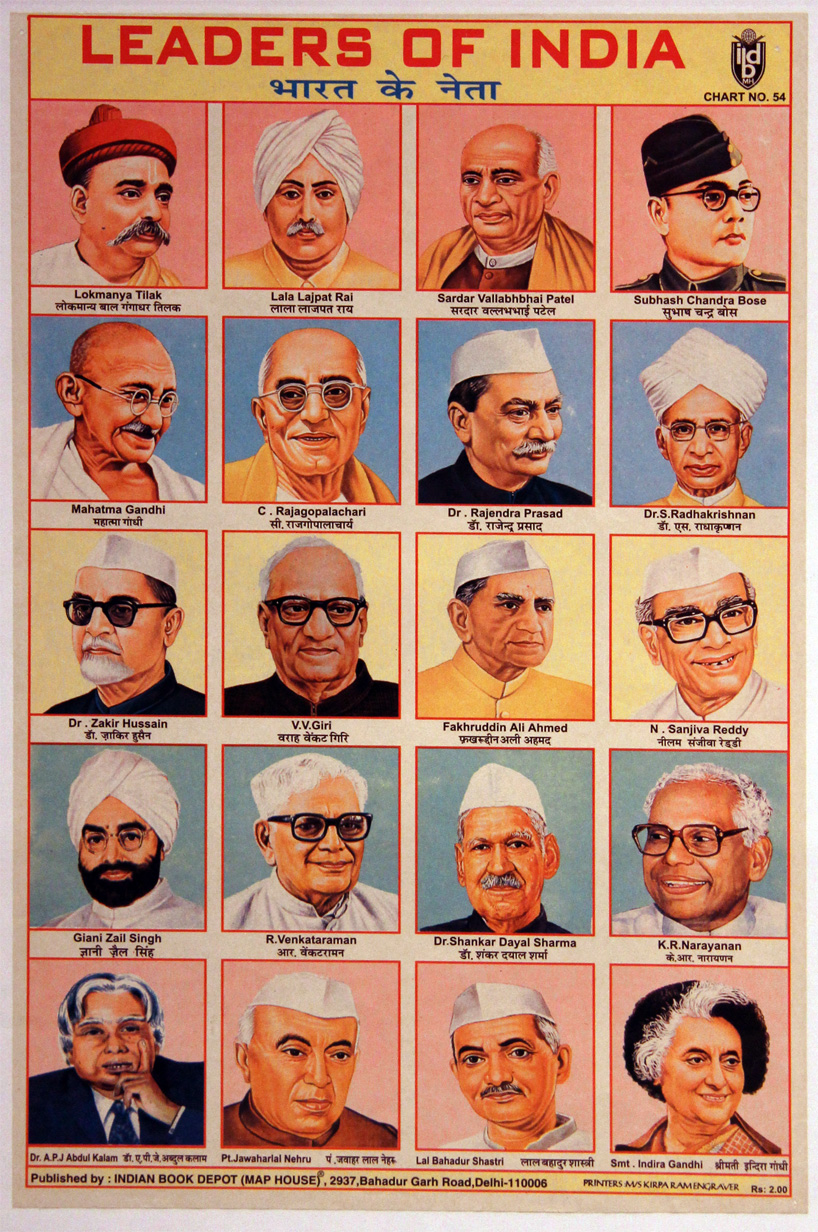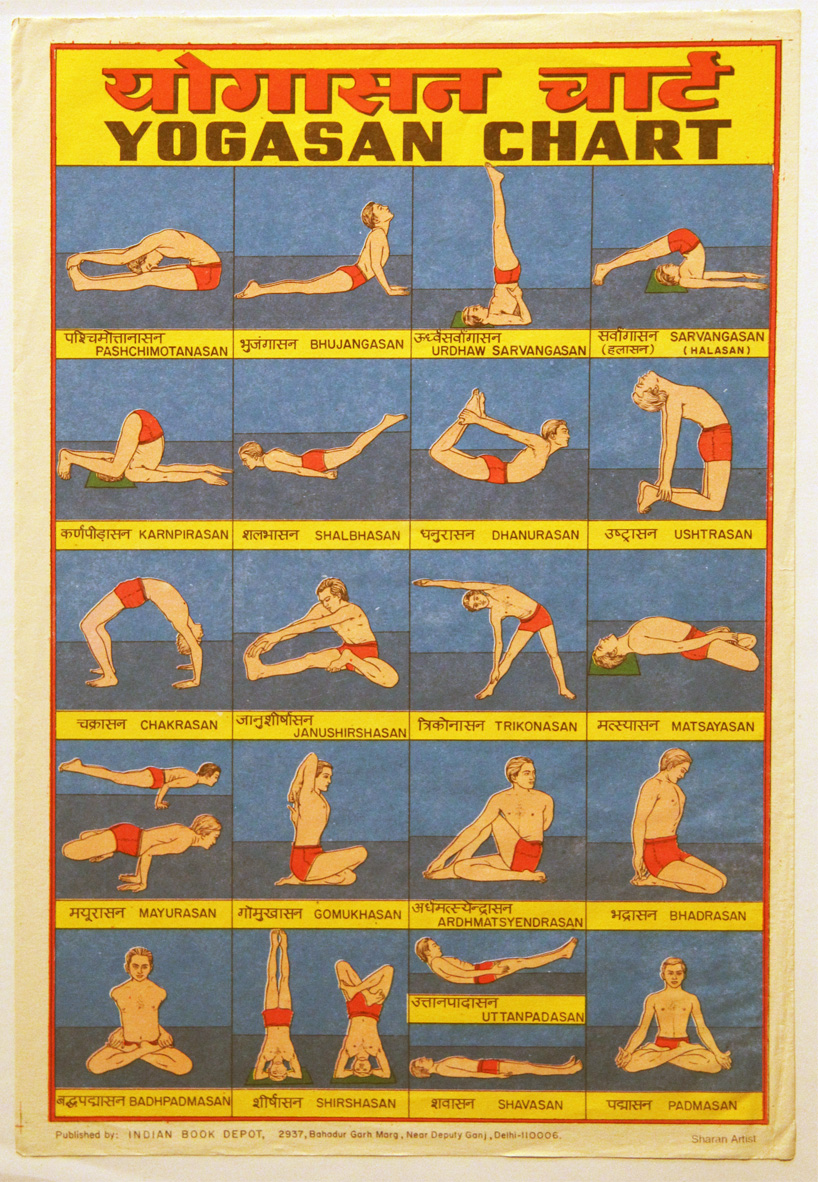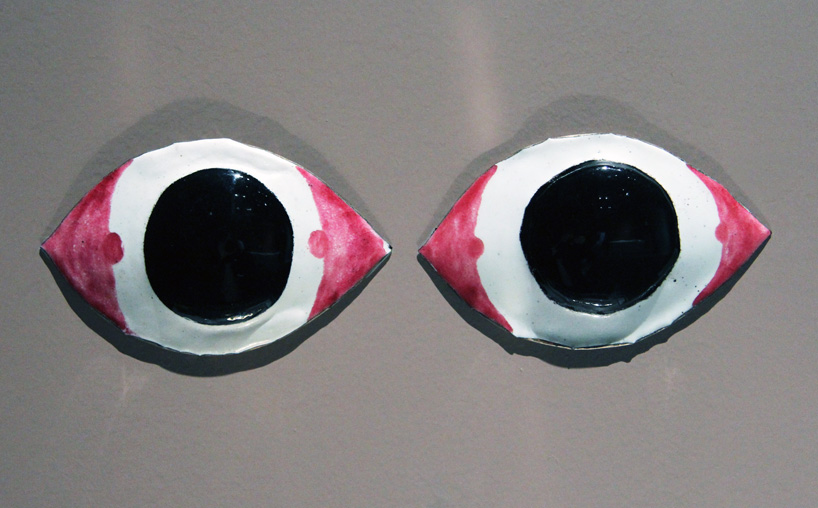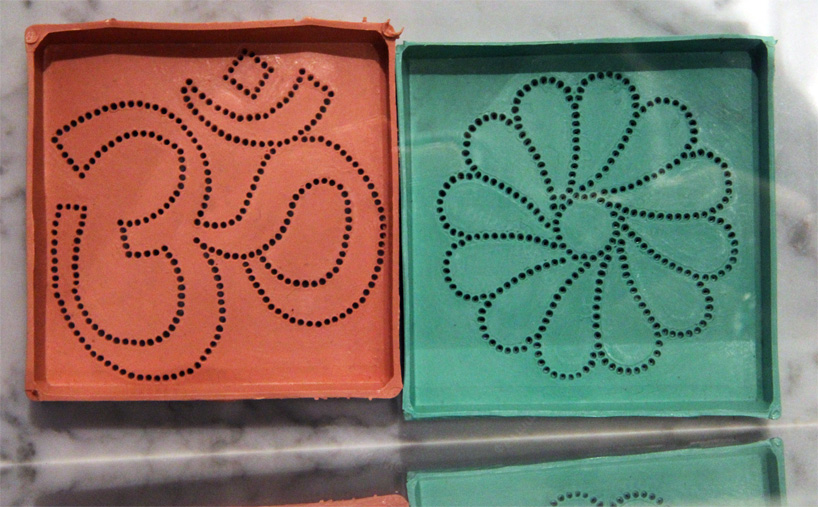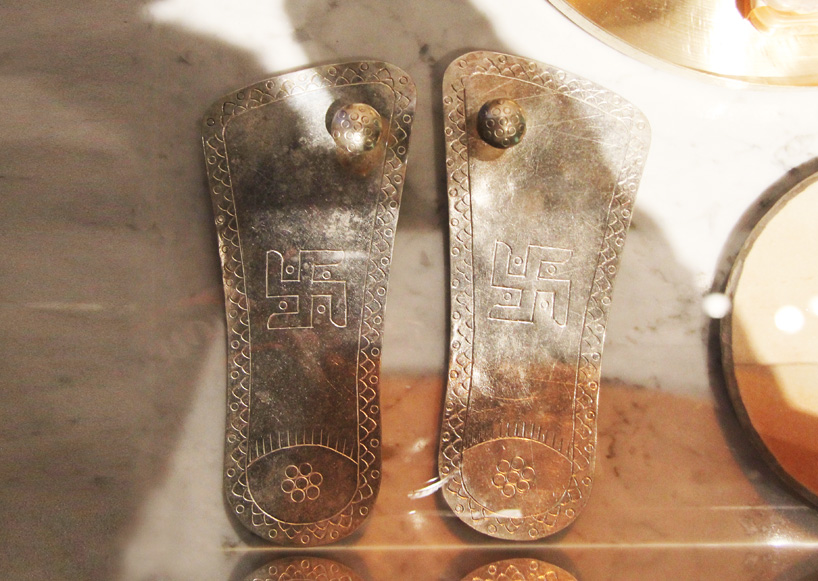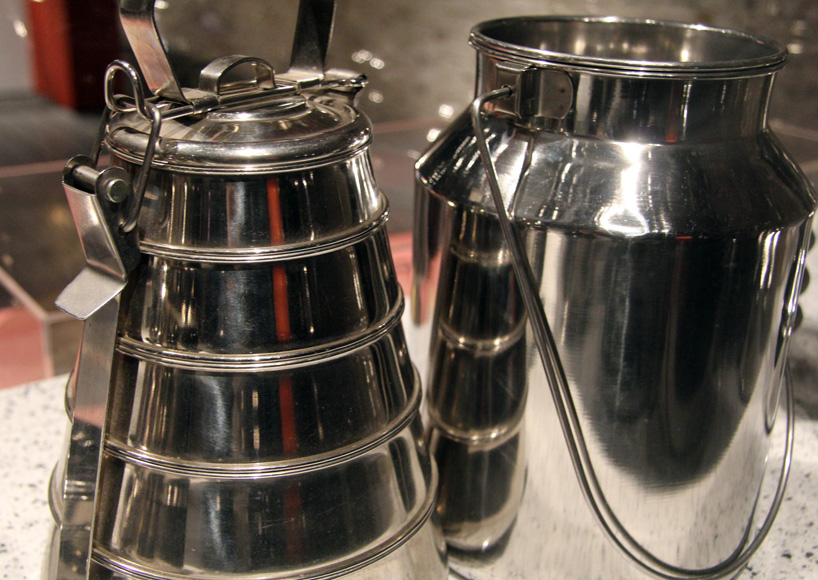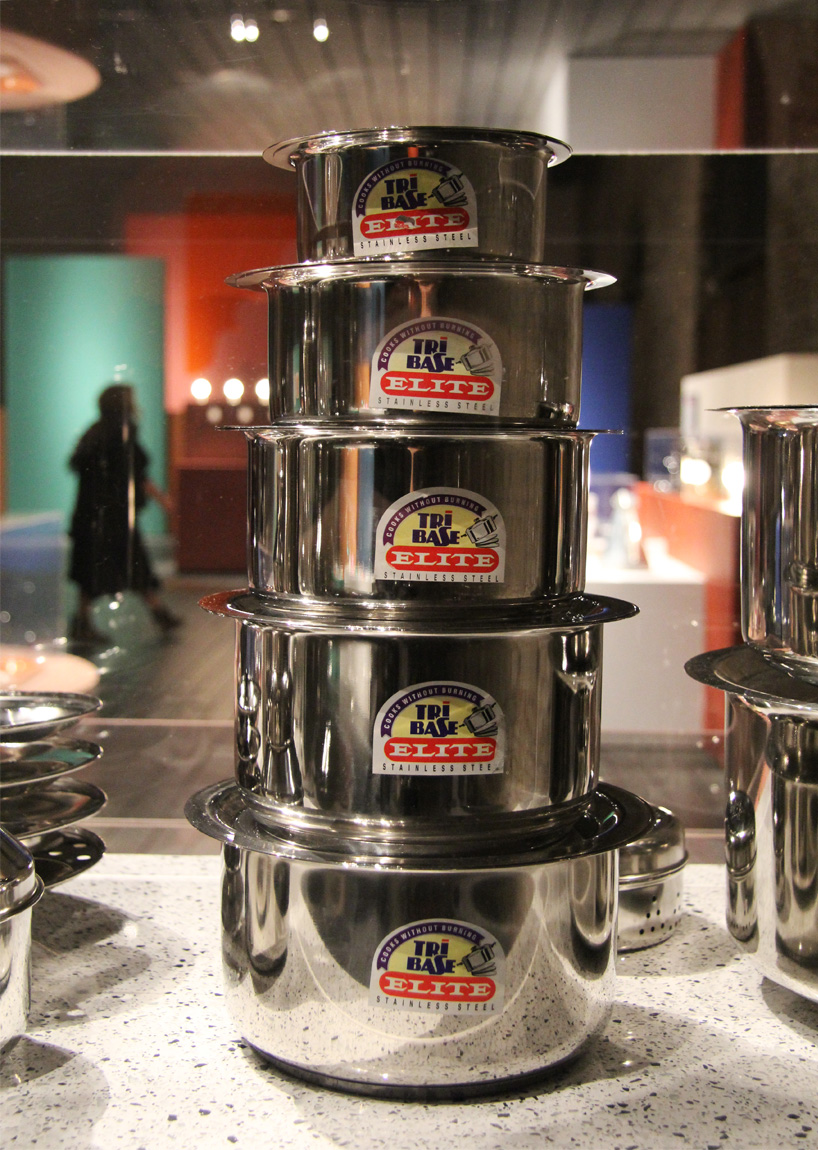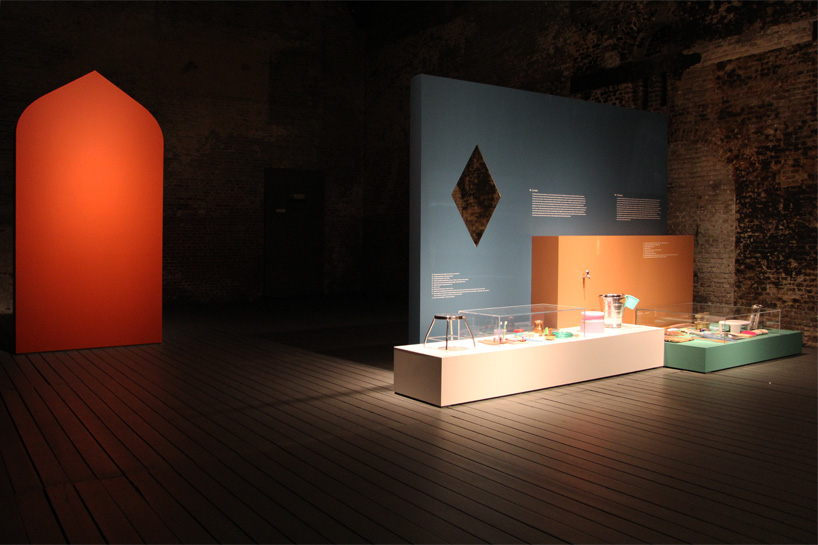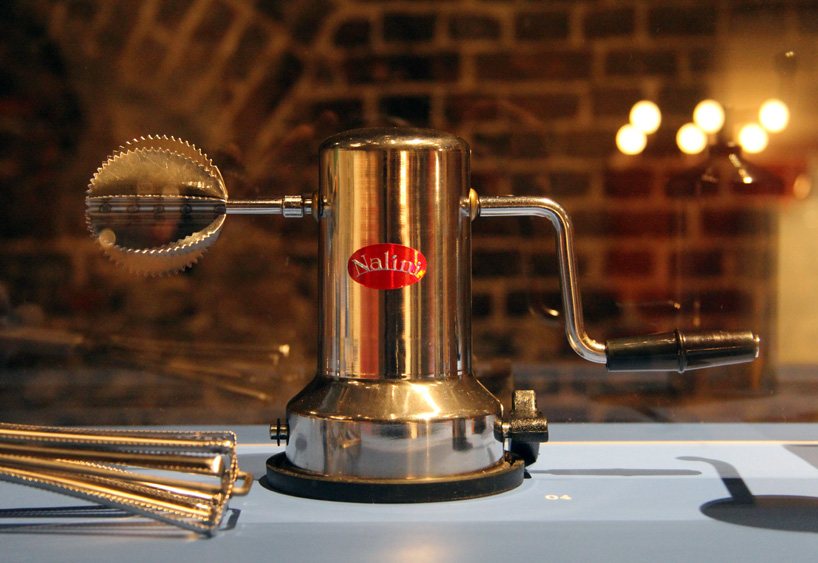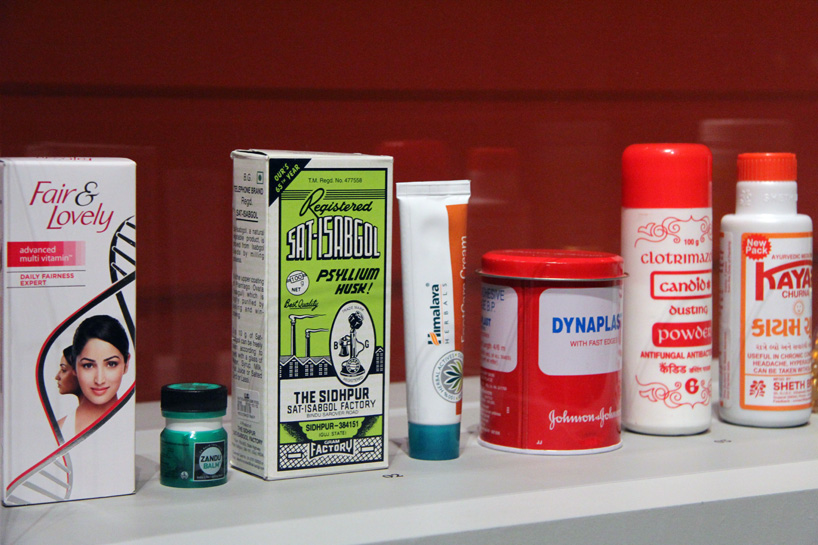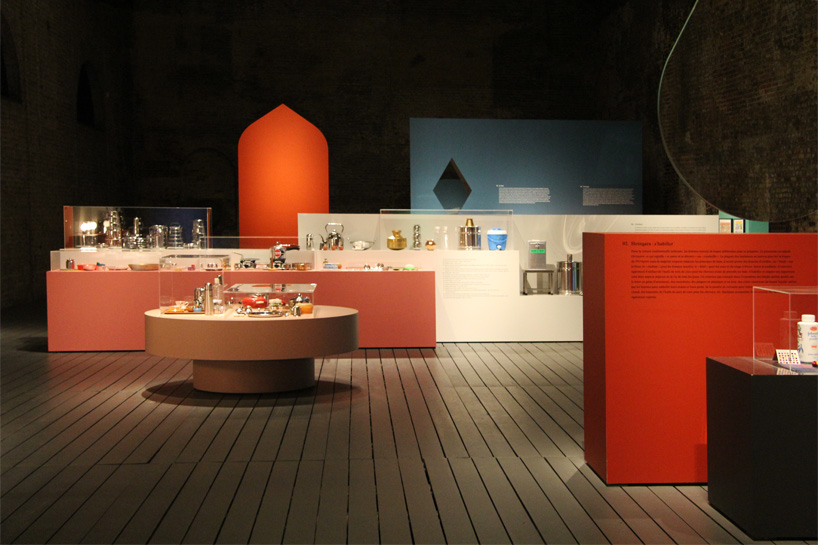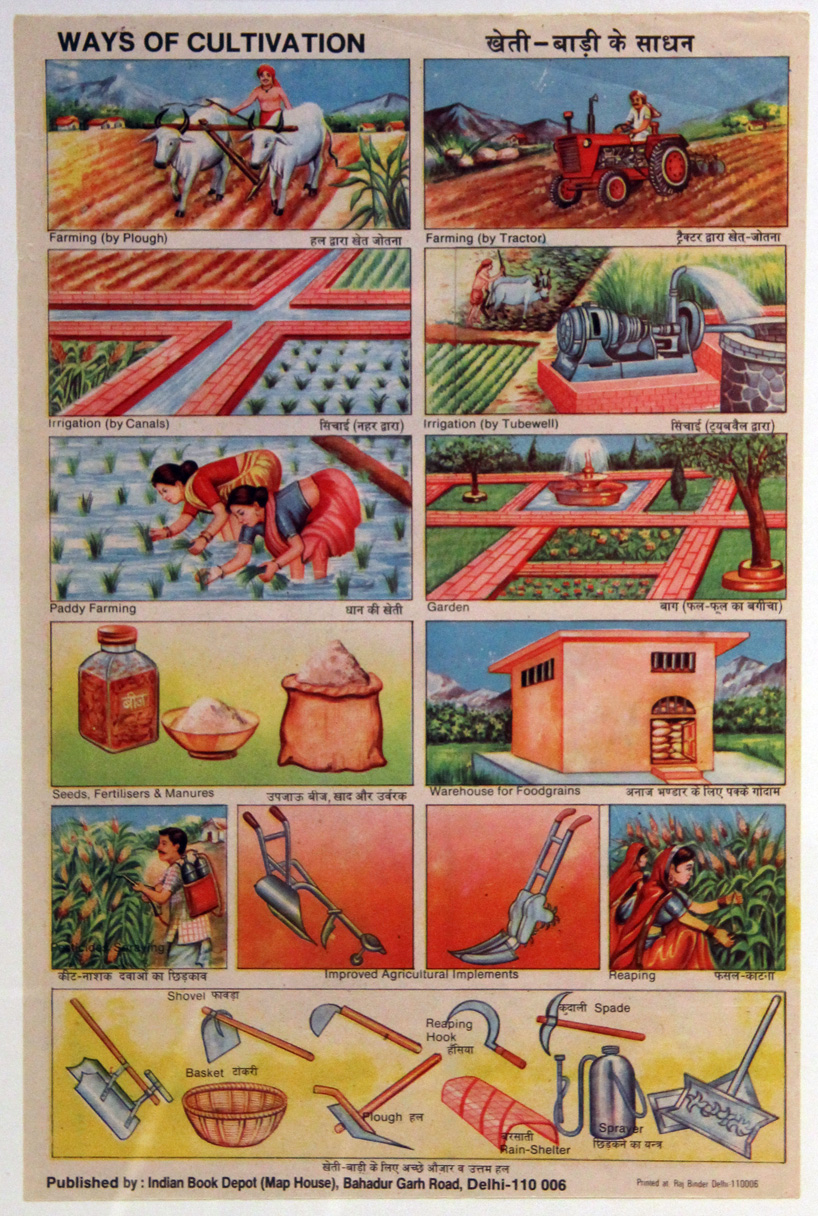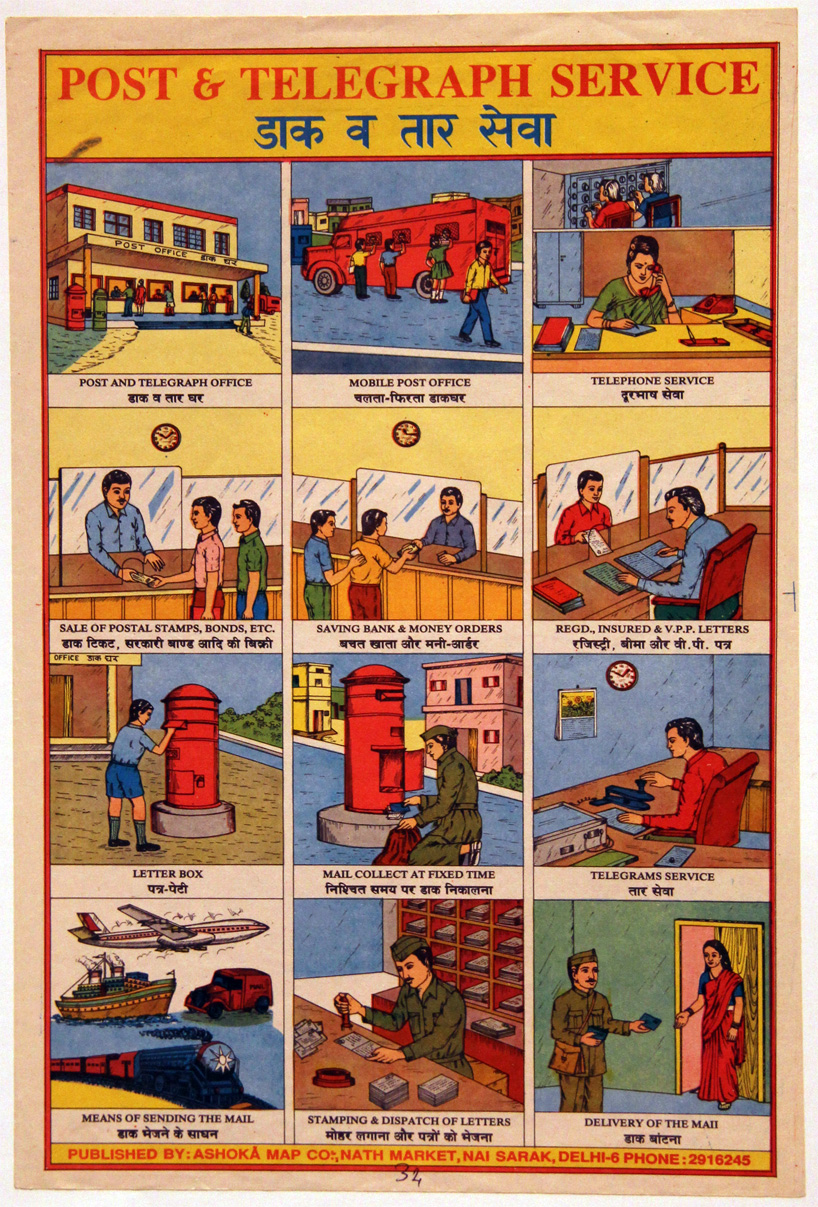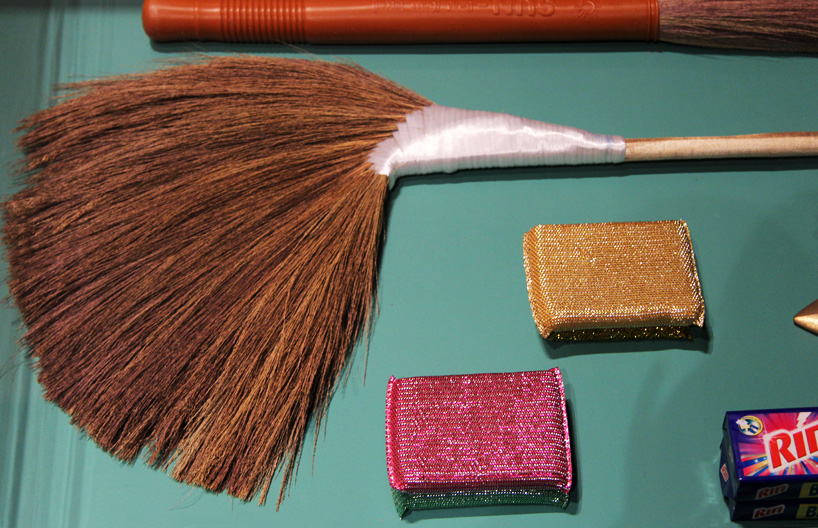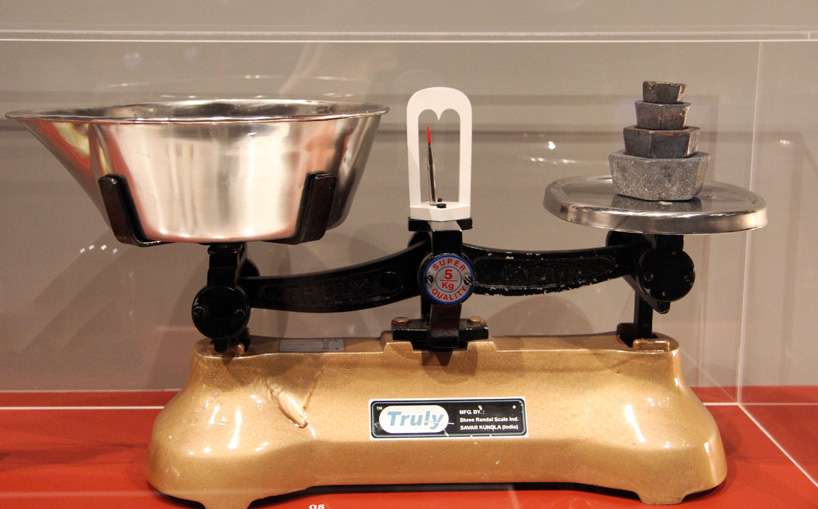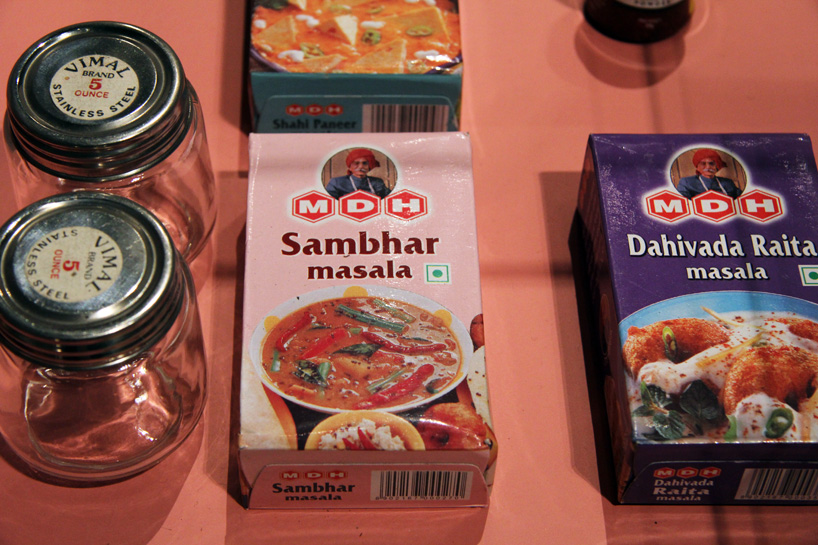 nina azzarello
I designboom
feb 19, 2014
a diverse digital database that acts as a valuable guide in gaining insight and information about a product directly from the manufacturer, and serves as a rich reference point in developing a project or scheme.
designboom will always be there for you
milan, new york, beijing, tokyo

,
since 1999