nov 12, 2009
greg lynn: installation for swarovski crystal palace at design miami 09
a rendering of the installation
greg lynn will create a hi-tech installation for the swarovski crystal palace for this year's design miami.
located at the entrance of the designer's lounge, the structure will extend over 80 square metres and reach over 7 metres in height. using technology from the sailing and shipbuilding/nautical industry in which carbon and aramid fibres are compressed between transparent sheets of mylar to make strong, lightweight and transparent sails less than 1mm thick, lynn has created swarovski crystal-encrusted suspended sails that are moulded and curved into billowing shapes which overlap and intersect.
the panels will feature three different colored fibres: black carbon fibre and aramid both in its 'natural' gold and a crimson-dyed version. woven together, they will create nuanced colors. incorporated into the fibres will be thousands of tiny clear and colored crystals in hues of aquamarine, pink, red, peach and blue, contributing to the reflection and highlights of color.
the construction of the installation incorporates more than 1,500,000 crystals and using 117,00 meters of carbon and aramid fibres which have been assembled by computer-guided robots and formed using molds at the north sails 3DL factory. each sail component varies in size, some as long as 14 m and 8 m wide. because the technology results in such a thin material, the panels which have a surface area of over 50 square metres can easily be folded and packed into a trunk of a passenger car and weights less than 350 kg, including the crystals.
'…when swarovski contacted me, I immediately thought of the translucent laminate sails as a way of getting the crystals suspended in the air – not as an object but as a sheet or surface through which light could pass and be reflected. like the chandeliers the array would be diaphanous but with their curved surfaces these 'fabrics' could also define spaces and make enclosures in the form of suspended ceilings, room partitions or even walls.' – GL
jan 06, 2010
jan 06, 2010
jan 04, 2010
jan 04, 2010
jan 04, 2010
jan 04, 2010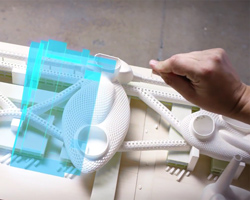 may 29, 2016
may 29, 2016
nov 19, 2012
nov 19, 2012
nov 17, 2012
nov 17, 2012