interview with GUFRAM owner and art director charley vezza
(above) charley vezza, photo by pieropaolo ferrari
in 1966, GUFRAM made its foray into the italian design world, quickly making a name for itself as the brand popularizing radical design with their pop art aesthetic. through technological experiments and material research, the company carved out a particular furniture niche – one that encompasses playful, subversive and irreverent products with a touch of irony – establishing itself as an artisanal enterprise where furniture met with international artistic vanguards of the time. all this with the intention of giving birth to a new way of imagining modern furnishings.
in 2012, GUFRAM saw sandra and charley vezza take ownership of the company who had the desire to preserve much of its original design philosophies and conceptual methods. while still maintaining the bold pop art vision that GUFRAM had from the start, they have translated the brand's values into a selection of new products and collaborations with international designers and artists, bringing a renewed life and particular sense of amusement to the collection.
designboom spoke with GUFRAM global creative orchestrator charley vezza about the challenges of taking over such an iconic company and what vision he has in store for the brand's future.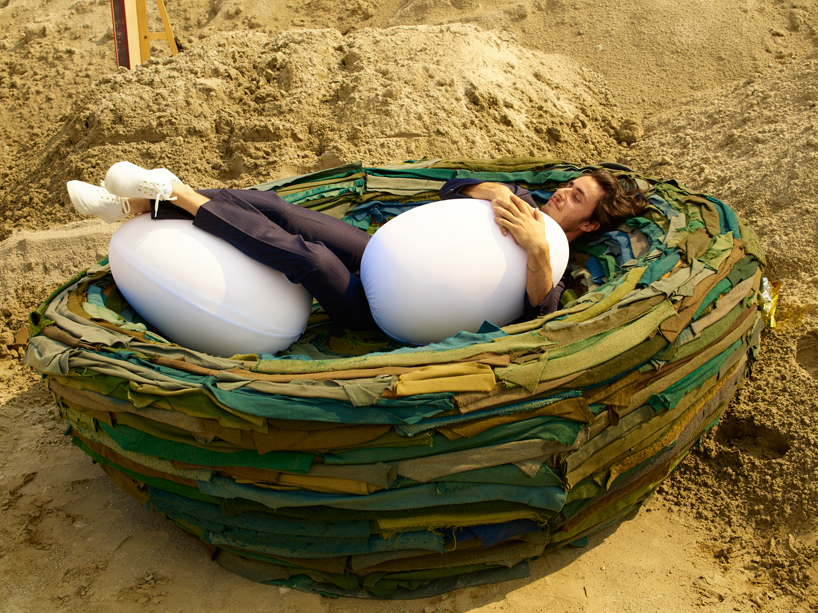 charley vezza, GUFRAM's global creative orchestrator enjoying the comforts of 'la cova' by gianni ruffi
designboom: GUFRAM is such a radical design icon. in taking over, you must feel a huge responsibility to maintain its history, while also needing to bring something fresh to the table. what course do you want the company to move in artistically?
charley vezza: oh, come on! I don't feel any responsibility at all! my erotic dreams have been populated by couch-shaped lips and soft huge cacti for the last 4 years…
all kidding aside, when we began working on GUFRAM we did not want to subvert the past; rather to actualize what the brand has represented for the international design stage in the past 50 years. to do so we have analyzed its history to the core, understood its importance, and we even marvelled a little at how even today its icons influence the way we imagine the domestic landscape. at which point we have taken the iconic products away from the political, social and popular culture they were born into: the student protests in '68 as well as pop art movement. in this way we came to define the brand's founding values, which are absolute and timeless – irony, desecration, the unexpected.
these are the values we pass on today through our new editions and new products, which can thus survive and integrate themselves with those of the past.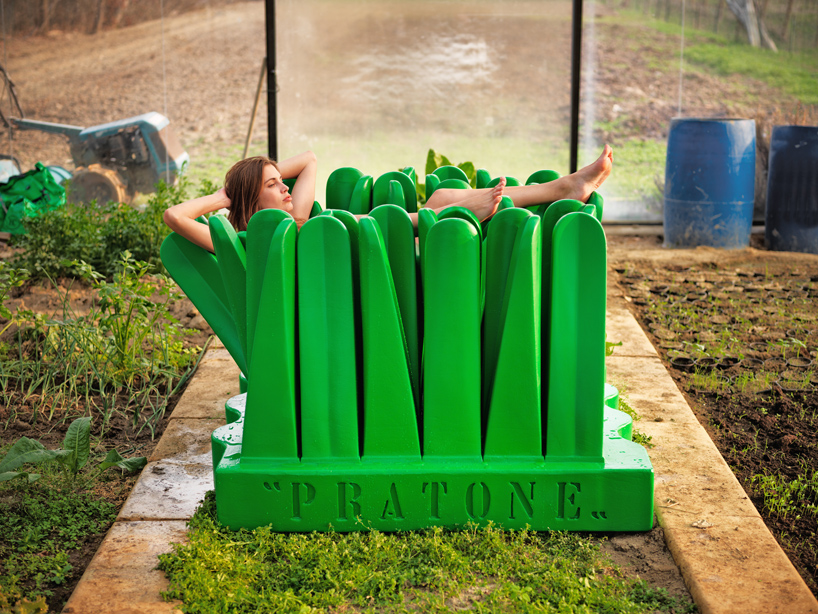 'pratone' by ceretti / derossi/ rosso, 1971
DB: throughout the 60s and 70s, studio65 along with other italian creatives like giuseppe raimondi and piero gilardi, were fundamental in defining GUFRAM's oeuvre, and establishing the brand's story. since your direction, you've extended collaboration to a new generation of international designers including karim rashid, fabio novembre, marcel wanders, ross lovegrove, studio job, to name a few. what was the decision making process in working with these particular designers? how do you feel they have stimulated GUFRAM's new direction?
CV: since its beginnings, GUFRAM has been a laboratory where artists and designers could express themselves by experimenting with new languages and new materials. it thus created a stimulating environment for any ground breaking product. and today we still like to be so – a playground where both parties bring their own strong identities, which measure themselves and – why not – even clash. to start a collaboration we can thus have elective affinities like with fabio, with whom I share a great passion for feminine beauty. then again it may be destiny that combines the two things, like with maurizio cattelan and pierpaolo ferrari. they thought we'd sue them for having transformed our cactus into a phallic object on the cover of their magazine toiletpaper, whereas we contacted them so that the impertinence be transformed into a product. at times, instead – as is the case of studio job – it's a matter of looking for a dialogue with those designers I believe use a language that is in common with GUFRAM, even if they have expressed it so far in different ways.
and then there are those who have been predestined! karim, for instance, confessed to me of having seen our pieces in a 1972 exhibit at MoMA and decided at that moment what job he would do when he grew up. good for him that he could make his dream come true – for my part, I don't think I have any real hope of playing for real madrid anymore.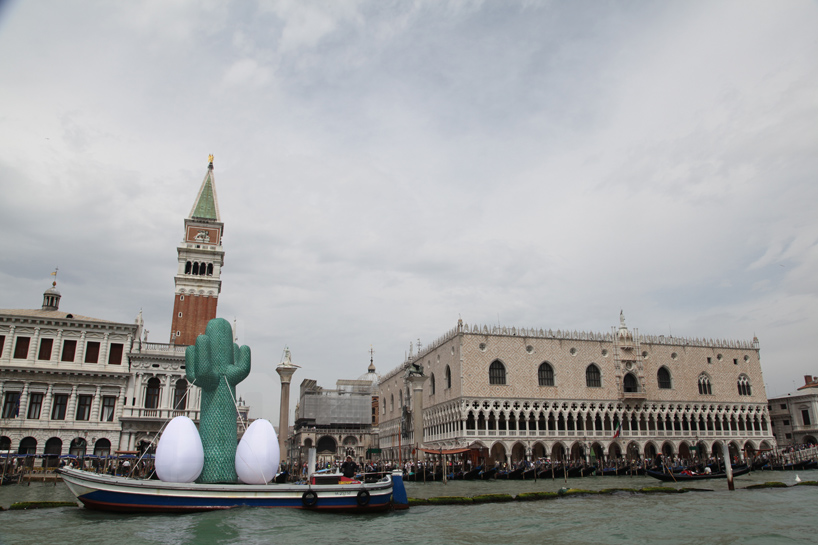 'GOD' by drocco / mello + TOILETPAPER, 2013 – presentation at 2015 venice art biennale
DB: could you elaborate on GUFRAM's major technological and material breakthroughs, and how these developments have helped shape the brand's aesthetic design approach and philosophy? which products do you feel best showcase GUFRAM's expertise in these areas?
CV: it may seem a paradox, but the biggest innovation in GUFRAM was the one introduced by piero gilardi in the sixties: guflac. this particular coating, which is continually evolving technically, can preserve the polyurethane foam from deterioration while keeping its softness and resilience; we can thus create shapes and colours that could not be otherwise realized. just think of 'pratone', with its soft stems you can sink into: it's a wonderfully tactile, as well as aesthetic short-circuit that requires three weeks to be hand-made.
DB: more specifically, could you talk about a few of the new GUFRAM products and their particular technical and creative innovations?
CV: GUFRAM is well-known in the world of design also for its work that utilizes soft and flexible foam materials; thanks to research on the innovation of polymers we have developed this aspect by introducing products with a more industrial matrix, which are appropriate to new and different market segments. 'bounce' is the best example of this new course: it is realized with a new generation foam that totally marries with the brand's DNA and fully represents the 'functional pop' philosophy.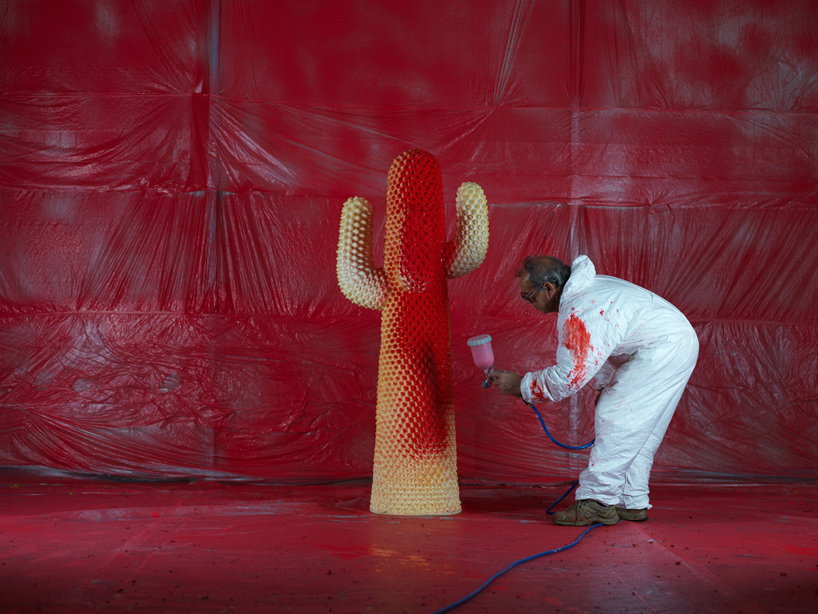 each piece is hand-coated with guflac that preserves polyurethane foam, while keeping its softness and resilience
DB: it is an important year for GUFRAM. the company is celebrating its 50th anniversary, what can we expect from you during this anniversary year?
CV: we've just begun the celebrations on the occasion of the retrospective on studio 65 fifty years at GAM in turin, curated by my very good friend maria cristina didero. to celebrate this common accomplishment we have presented a new special gold edition of the 'bocca' couch in only 50 pieces.
later at miami art week, we introduced a new soft 'true-false' carrara marble version of 'THE END', the epitaph-seat created by maurizio cattelan and pierpaolo ferrari. there will then be other special limited editions we will be presenting over the course of 2016 in the most important events connected to art and design all over the world: paris, milan, new york, basel, london, tokyo, dubai.
parallel to this, our historical products will as always be the protagonists of big cultural events, such as the opening of ADAM in brussels, the exhibit pop art design in chicago, as well as the exposition zones de comfort organised by CNAP in nancy.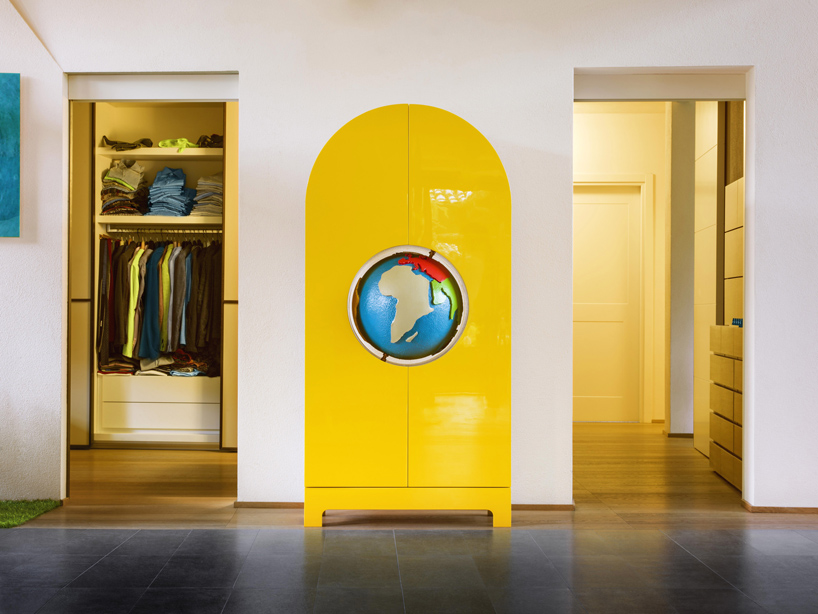 'globe' by studio job, 2014
DB: in the last five years, what have been some of your biggest challenges as the global creative director of GUFRAM?
CV: my biggest challenge was to achieve my creative dreams and objectives without offending GUFRAM's fans. it's always hard to touch a design icon without creating controversial comments from the industry. firstly, we had to understand what GUFRAM was and what it represented, and how to place new products and timeless icons side by side. it has been and it still is difficult, but such a thing had to be done to face contemporaneity.
I might not have satisfied everybody, but I assure you that just satisfying myself has been a helluva work.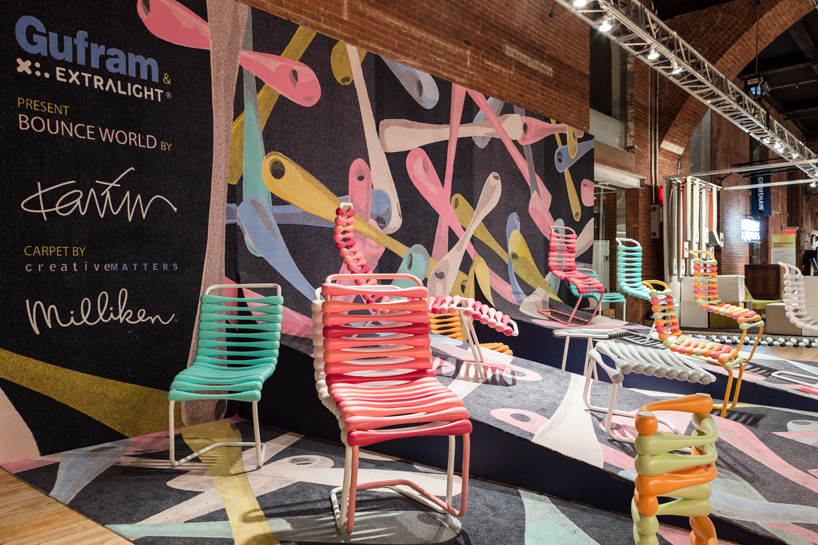 'bounce' by karim rashid, 2014 – presentation at GUFRAM's booth at wanted design 2015 in new york
photo by ikon photo – nude design studio
DB: how would you say media and communication is impacting the field of design? how does it influence your work at GUFRAM?
CV: with an overabundance of products and the speed with which they are presented, I believe the media's attention has shifted from the individual objects to the tale of the stories and people behind them. this way of communicating comes natural to us, because it is what GUFRAM as always done: we start from what we want to tell even before thinking of the type of product we want to develop. and it is maybe because of this that the myth of our products is self-sustaining and passes by word-of-mouth like any folk legend.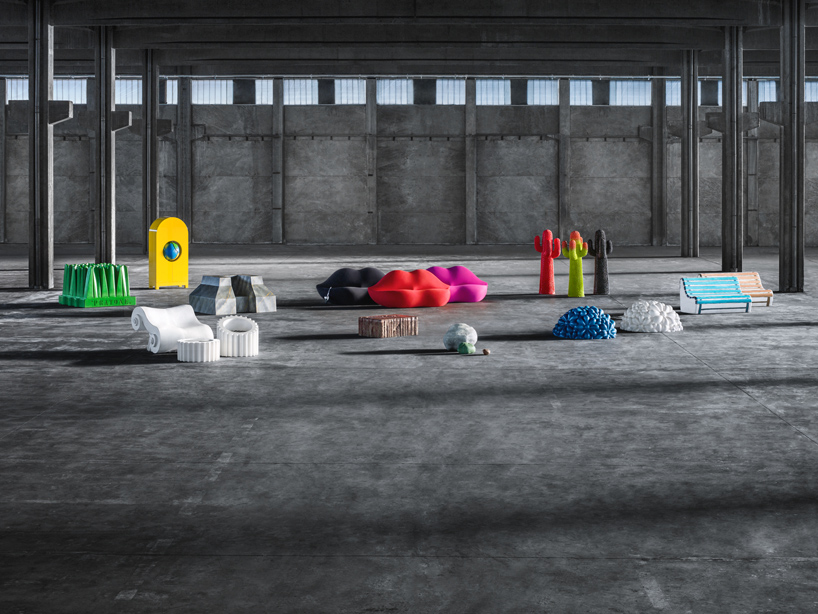 GUFRAM's limited edition collection
DB: what do you consider to be the most interesting developments in the field of design today, and why?
CV: I am very interested in the developments of virtual reality. for years everything has been designed in 3D – furniture, skyscrapers, windows, cars – but we are still used to visualizing things on a two-dimensional screen. now, on the other hand, thanks to new devices that are relatively cheap and easy to use, like the 'OCULUS', we have the opportunity to visualize and move into virtual spaces in an immersive way and in real scale. to be able to 'walk' inside the project of a new house or around a 3D virtual model of a car fascinates me very much. I believe VR will change not only the way we design but the way we live.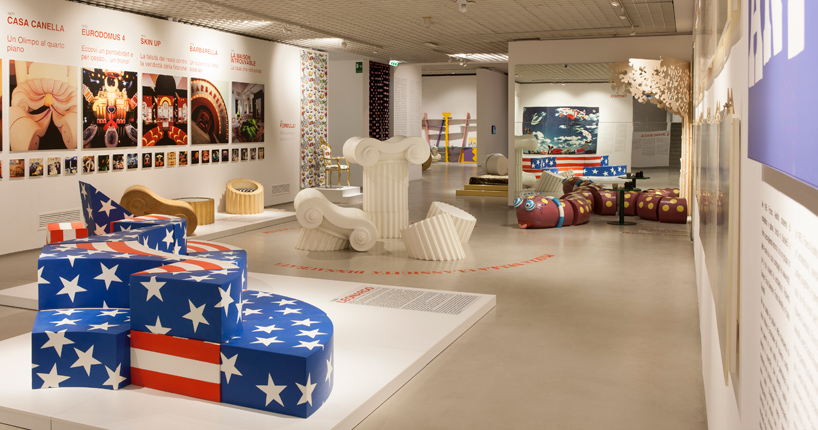 exhibition view of 'il mercante di nuvole' at GAM turin, curated by maria cristina didero
photo by stefano ferroni
DB: what direction do you think design will take into the future? and where do you see GUFRAM fitting in?
CV: I believe design has become too much a simple question of trend and it risks flattening the offer of interior design, by making it boring and repetitive. for example, it is evident that the present trend is the scandinavian one which many designers and producers are pursuing, their history and nationality notwithstanding. please allow me to make an appeal on this subject: enough with wooden pastel coloured stools! I believe there is enough of them around. luckily our products are born poles apart from the idea of being thought out following the current fashion, rather than being timeless, and this is precisely their key strength. in the future I see GUFRAM between art and design exactly where it has always been: against the tide!

'bocca oro' special edition for GUFRAM's 50th anniversary by studio 65, 2015
DB: what is your motto?
CV: I have many, and I make up new ones every day. particularly if I've drunk a glass of barolo too many. in the beginning they look to me as great aphorisms, then I realize they are just bullshit, and so I won't tell them to you.
stefano seletti has a diary in which he keeps all he collected over the years we've spent together. if you want, you can ask him!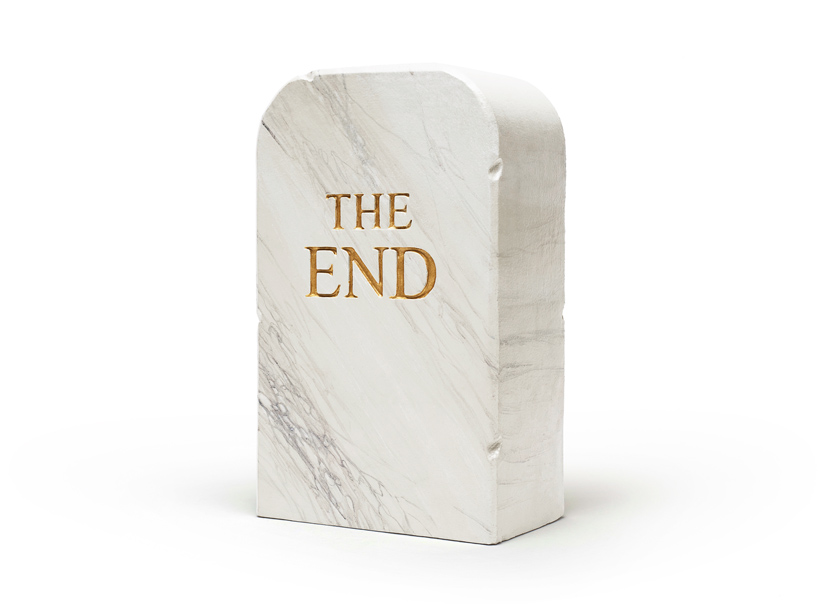 'the end' special edition in real-faux carrara marble by TOILETPAPER (maurizio cattelan and pieropaolo ferrari), 2015
KEEP UP WITH OUR DAILY AND WEEKLY NEWSLETTERS
a diverse digital database that acts as a valuable guide in gaining insight and information about a product directly from the manufacturer, and serves as a rich reference point in developing a project or scheme.
designboom will always be there for you
milan, new york, beijing, tokyo

,
since 1999