the los angeles county museum of art (LACMA) hosts 'guillermo del toro: at home with monsters' – the first retrospective of the mexican filmmaker's work. the exhibition explores del toro's creative process by bringing together elements from his films, objects from his vast personal collections and drawings from his notebooks. the diverse range of media—including sculpture, paintings, prints, photography, costumes, ancient artifacts, books, maquettes, and film— totals approximately 500 objects and reflects the broad scope of del toro's inspirations.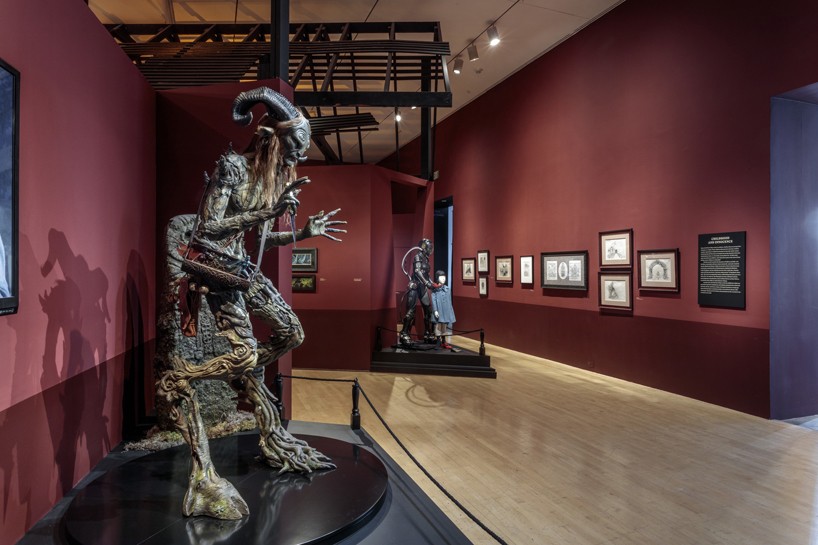 image © joshua white
'to find beauty in the profane. to elevate the banal. to be moved by genre. these things are vital for my storytelling,' said guillermo del toro, who explains the process behind the show. 'this exhibition presents a small fraction of the things that have moved me, inspired me, and consoled me as I transit through life. it's a devotional sampling of the enormous love that is required to create, maintain, and love monsters in our lives.'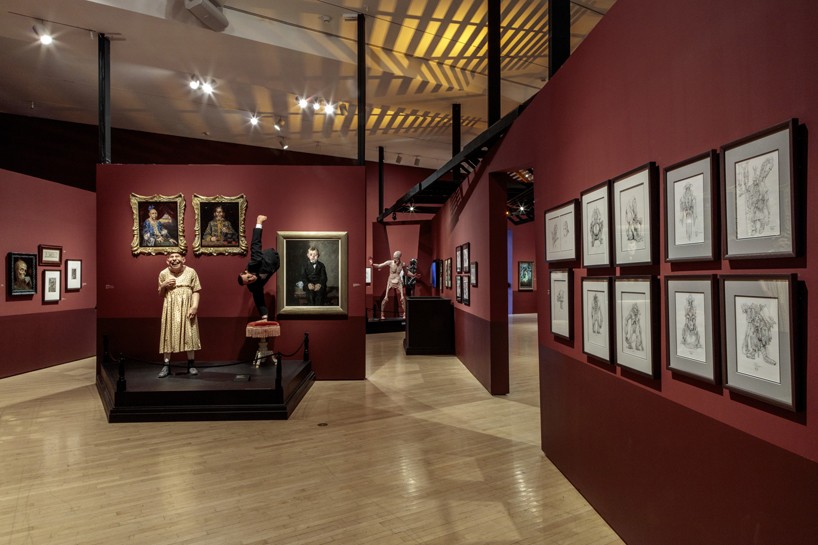 the exhibition explores del toro's creative process by bringing together elements from his films
image © joshua white
the restrospective is organized into eight thematic sections. the exhibition begins with 'childhood and innocence,' exploring the central role children play in many of del toro's films. often, these children can perceive alternate realities and give expression to unfiltered emotions in ways that adults cannot. del toro does not insulate his young protagonists from fear, abandonment, harm, or even death. at some level, del toro's films endlessly revisit his own childhood, which he felt was marred by a strict catholic upbringing and bullying classmates but redeemed by books, movies, and horror comics. he began drawing at a very young age. to this day, del toro maintains his early habit of keeping a notebook at hand to record ideas, phrases, lists, and images. resources for his films, these journals are also essential to his evolution as an artist.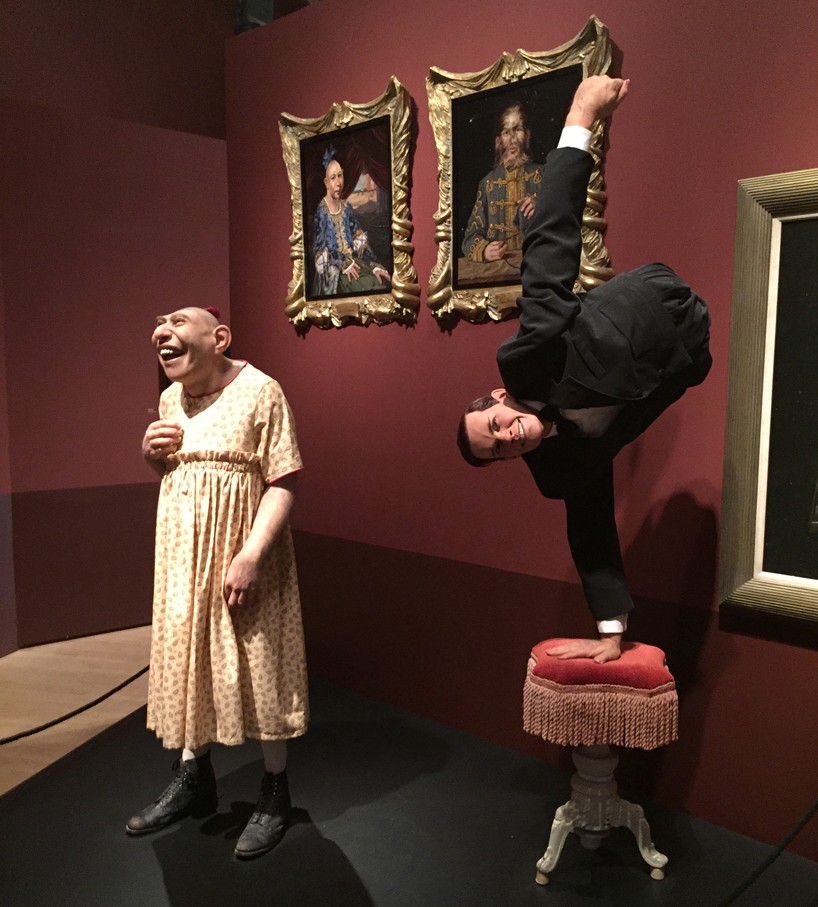 many of del toro's characters explore the boundaries between the holy and unholy
image © designboom
the next section explores del toro's interest in magic, alchemy, and the occult. his films are full of puzzles, talismanic devices, secret keys, and quests for forbidden knowledge. many of del toro's characters are scientists, contemporary successors to the monks and alchemists who explored the boundaries between the holy and unholy.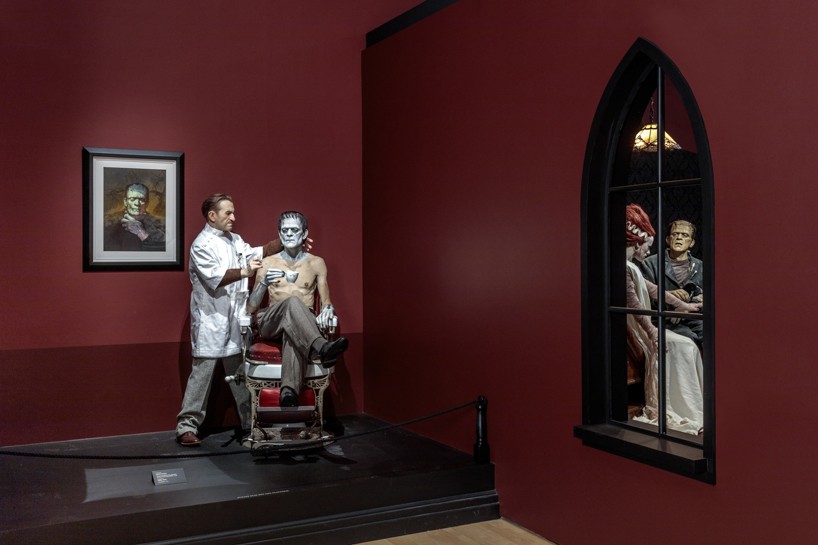 one section reveals del toro's lifelong love affair with the tale of dr. frankenstein and his monster
image © joshua white
del toro's fascination with monsters of all types is showcased in the 'freaks and monsters' section. he sees some monsters as tragic: beautiful and heroic in their vulnerability and individuality, they mirror the hypocrisies of society and bring to light corrosive standards of perfection. though he identifies with the tragic type of monster, del toro is also adept at creating truly terrifying ones. he begins by thinking of a monster as a character, not simply an assembly of parts. it must be visually convincing from all angles, both in motion and at rest. in his notebooks, he constantly records ideas for distinguishing physical features that may come to fruition only years later.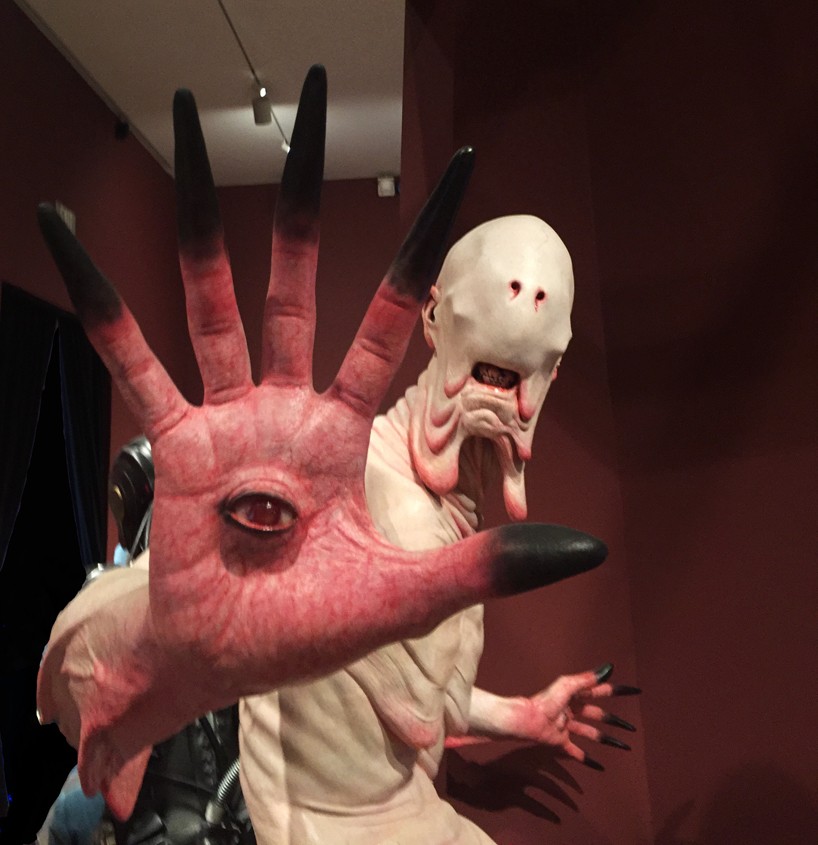 pan's labyrinth, pale man, 2006
image © designboom
the final section is 'death and the afterlife'. growing up in guadalajara, mexico, in the late 1960s and 1970s, del toro had a number of disturbing confrontations with death, seeing corpses in the street, in a morgue, and in the catacombs beneath the church. his strict catholic grandmother instilled in him the notion of original sin and even submitted him to exorcisms in a futile attempt to eradicate his love of monsters and fantasy. the pursuit of immortality—promised in catholic doctrine as the reward for following the church's teachings—is often seen in his work as a misguided, arrogant desire, destined to bring about the downfall of those caught up in it. del toro's films often include characters acting entirely out of self-interest alongside others who are forced to make sacrifices. his flawed or damaged characters frequently find purpose in community: they take responsibility for their own survival and that of the individuals and environments around them.
the exhibition is on display at the los angeles county museum of art (LACMA) until the 27th of november 2016.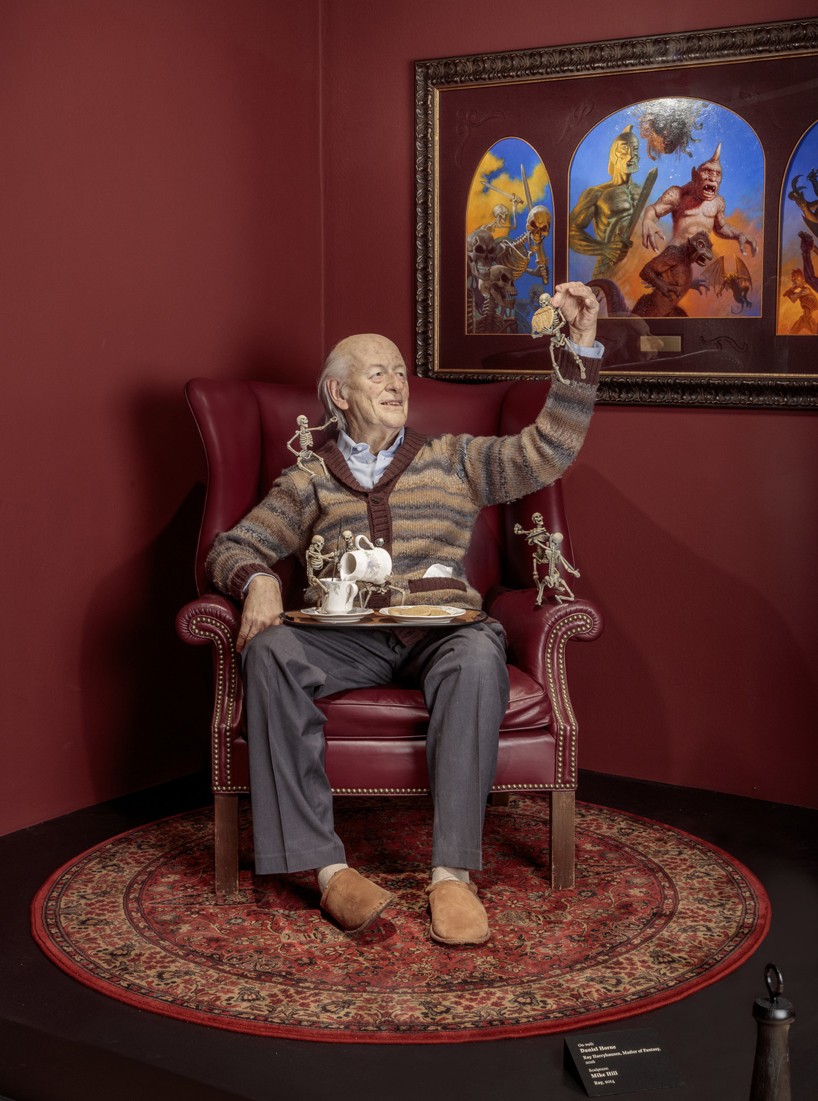 death and the afterlife is a current theme in del toro's work
image © joshua white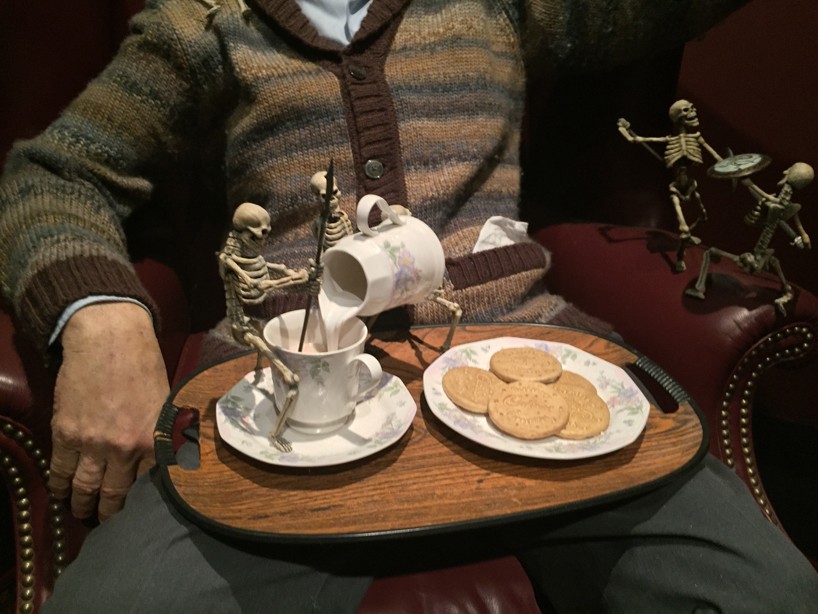 image © designboom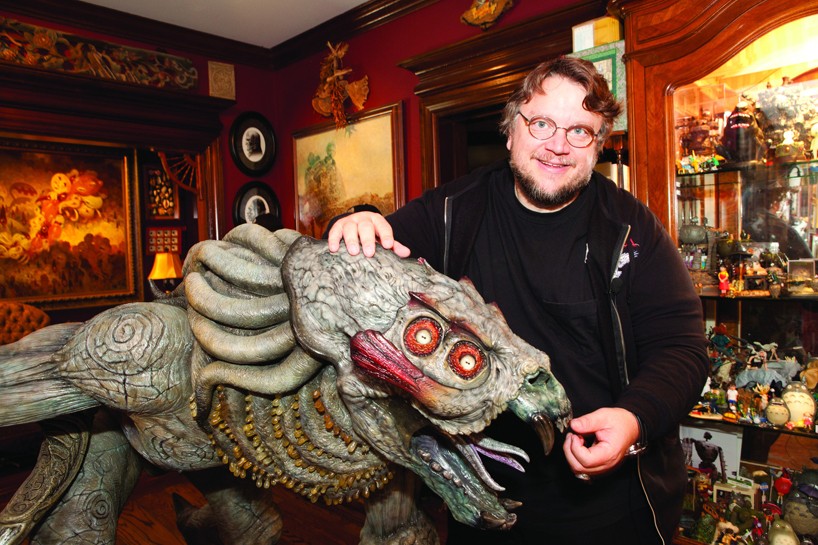 guillermo del toro stands with one of his characters
image © joshua white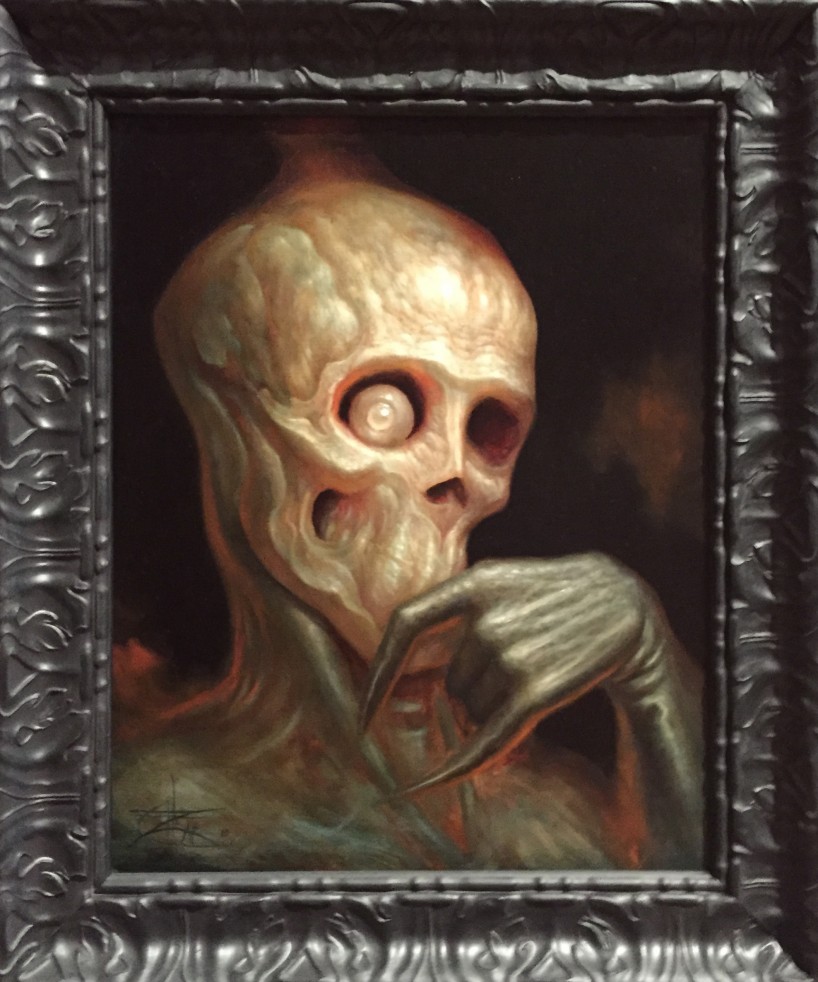 chet zar, the evil eye, 2010
image © designboom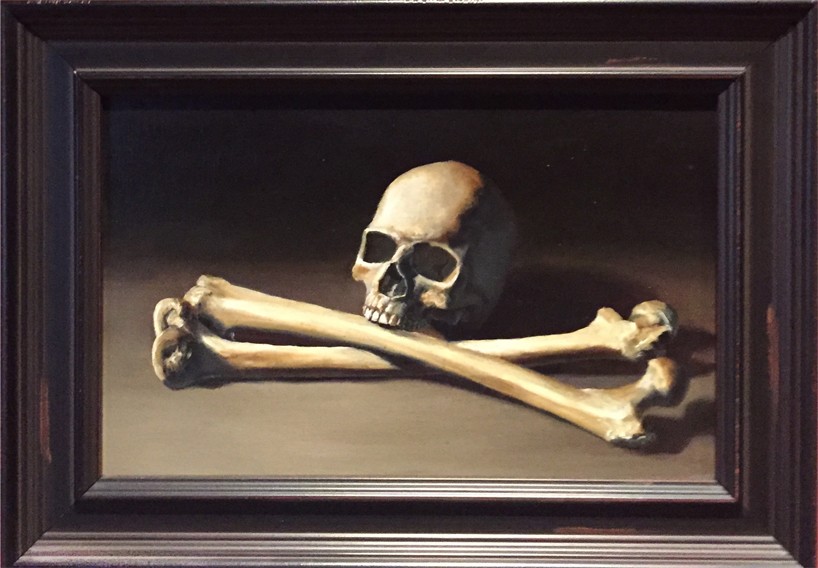 chris peters, table cross, 2011
image © designboom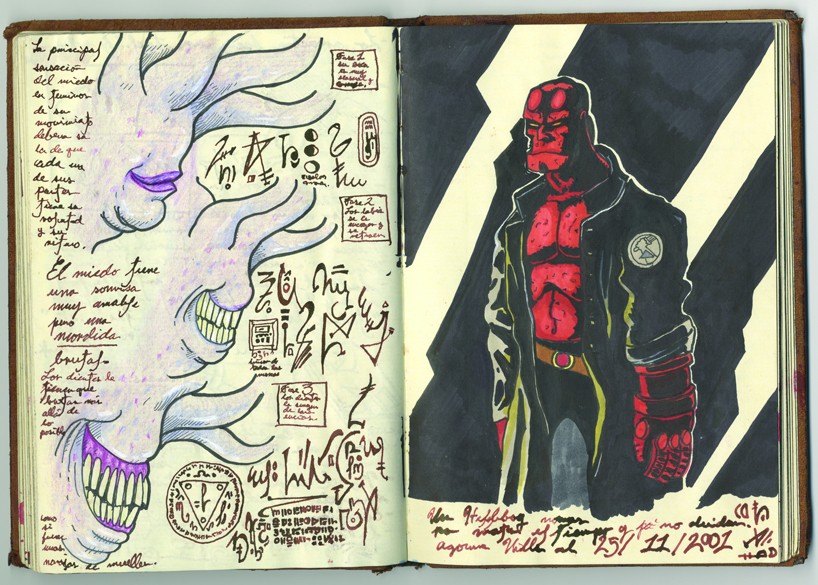 the exhibition includes drawings from the filmmaker's notebooks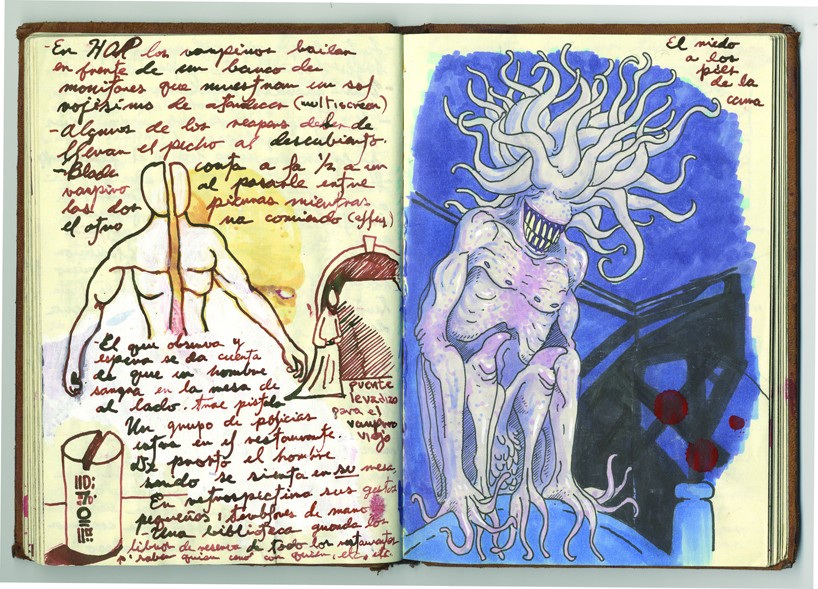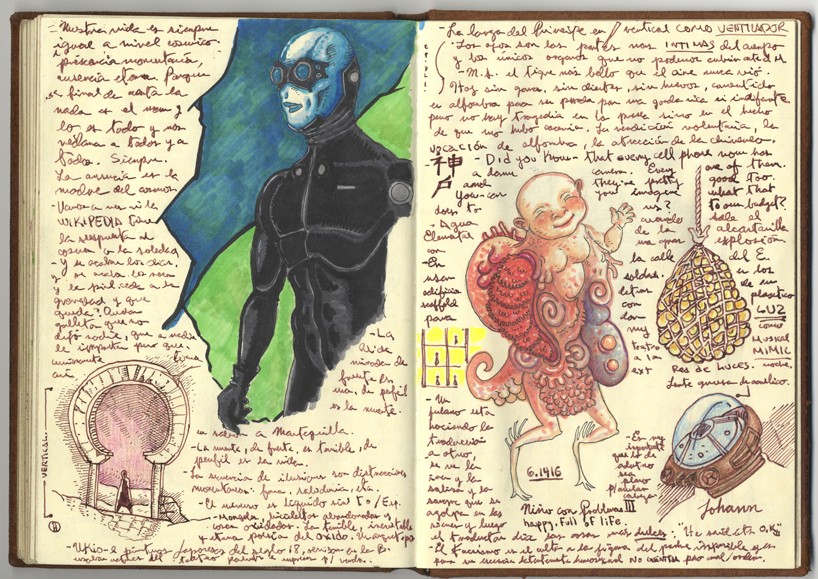 a diverse digital database that acts as a valuable guide in gaining insight and information about a product directly from the manufacturer, and serves as a rich reference point in developing a project or scheme.