beneath the arch of an old railway bridge in the czech republic, H3T architects has built the mysterious and seemingly supernatural 'black flying house'. the small dwelling, completed in a black matte wood, comprises a steeply pitched gable roof and small rectangular windows that look out to the surrounding woodland landscape. suspended by steel cables attached to the underside of the bridge, the installation appears to weightlessly loom above the surface of the earth. a ladder is hidden in the snow nearby, offering passersby the possibility to climb up and discover what lies inside — if they dare. 

all images by boysplaynice
at just over four square meters, 'black flying house' includes a living room with a stove, and a small sleeping loft. a hidden ladder can either be secured to the underside of the dwelling — allowing people to climb up and inside — or removed, and hidden from view — creating the illusion that the house is floating in mid air. H3T architects has designed the dwelling as 'a conundrum that encourages passersby to think'. its location in a densely packed woodland adds to its mysterious and inexplicable quality, with the resulting image almost picturesque amid the snowy surroundings.
project info:
architects: H3T architekti
location: eastern bohemian region, czech republic
area: 4,25 sqm
project year: 2016
photographs: boysplaynice
Save
Save
Save
may 13, 2017
may 13, 2017
apr 27, 2017
apr 27, 2017
apr 12, 2017
apr 12, 2017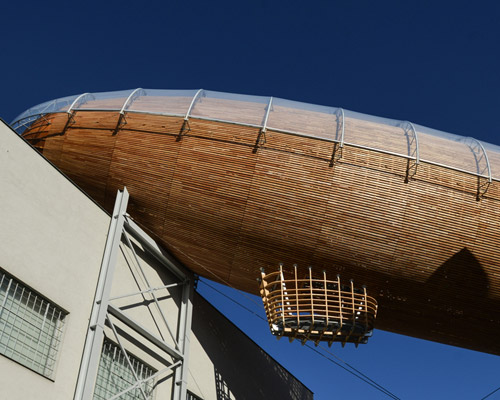 mar 31, 2017
mar 31, 2017
jan 20, 2017
jan 20, 2017
nov 22, 2016
nov 22, 2016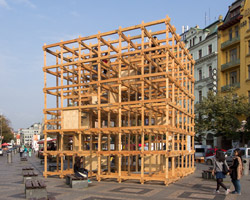 oct 09, 2014
oct 09, 2014
may 29, 2011
may 29, 2011
oct 29, 2017
oct 29, 2017
oct 16, 2017
oct 16, 2017
oct 11, 2017
oct 11, 2017
oct 10, 2017
oct 10, 2017
sep 26, 2017
sep 26, 2017
sep 15, 2017
sep 15, 2017