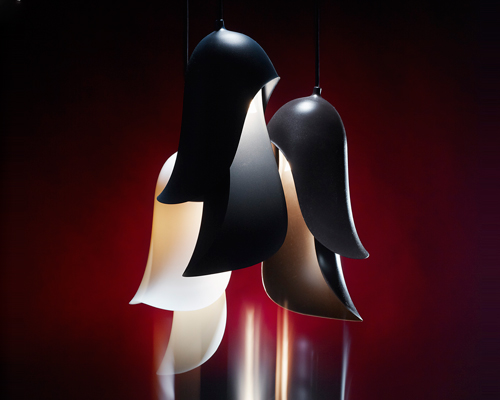 apr 01, 2014
half decade beast exhibition by moustache celebrates 5th anniversary
half decade beast exhibition by moustache celebrates brand's fifth anniversary
all images © charles negre courtesy moustache

on the occasion of the brand's fifth anniversary, moustache presents 'half decade beast' at spazio rossana orlandi during milan design week 2014. the exhibition brings together projects designed by scholten & baijings, formafantasma, bertjan pot, raw-edges, constance guisset, dimitri bähler and jean-baptiste fastrez. 'rather than heading towards a certain technological escalation or trying to satisfy outmoded ideals and standards, these 10 new products shuffle the cards and, each in its own way, argues for a reasoned production consistent with our contemporary ideals,' explains the company. the installation also shows a selection of pieces that inga sempé, françois azambourg, big-game, ionna vautrin, benjamin graindorge, sébastien cordoléani and dylan martorell have designed since the brand's inception in 2009.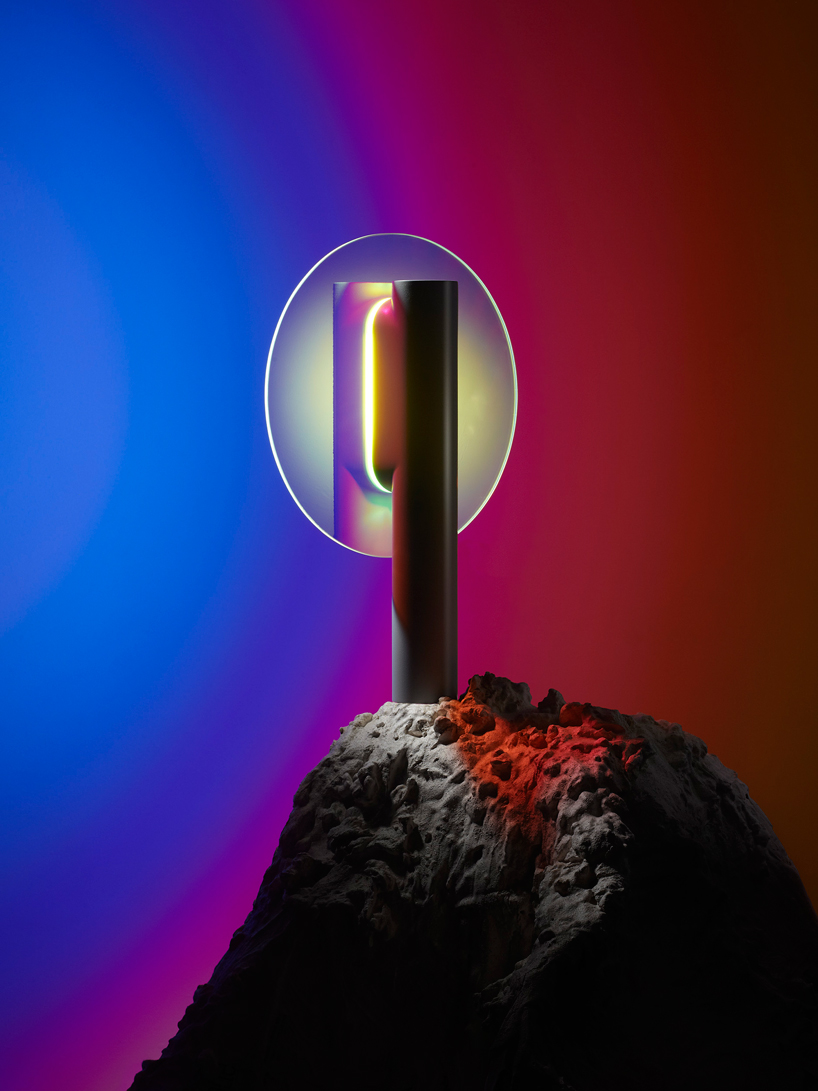 'aurore lamp' by ferréol babin.
black or light grey, lacquered metal base, multi-coloured glass
dimensions: H 43 x L 30 x D 7.5 cm
when turned towards the wall, the aurore lamp by ferréol babin projects more light than it diffuses. thanks to a specially designed filtration system, the luminare produces effects that change depending on the distance of the wall. this mechanical light system produces color combinations similar to those seen at dawn or during rainbow. when switched off, the disk becomes opaque and transforms its surface into a mirror, creating reflections in changing chroma.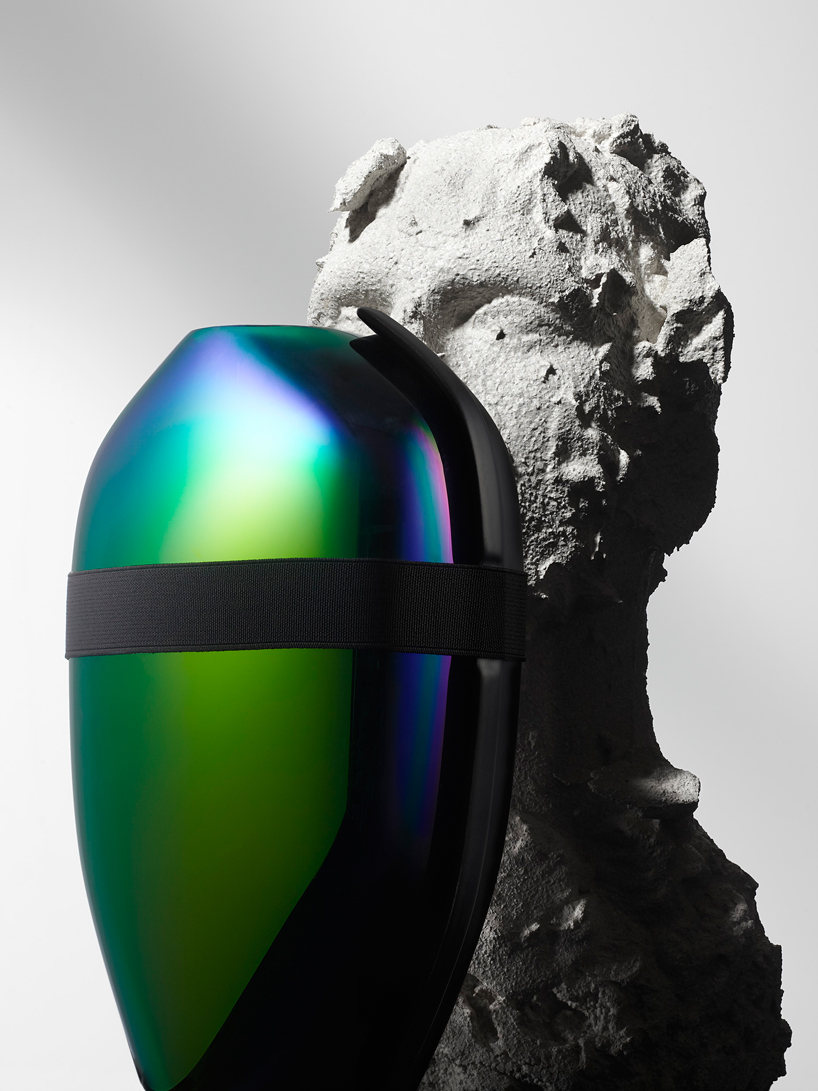 'scarabée vase' by jean-baptiste fastrez
enameled ceramic, PMMA and rubber band
dimensions: L 21 x H 29 x D 14 cm
comprising two shells held together by an elastic connection, the 'scarabée vase' by jean-baptiste fastrez imitates the constructive and aesthetic principles of the insect for which it is named. 
while evoking the scarab's iridescence, it borrows certain elements from the sporting world and motorcycles, contrasting with the enameled ceramic body of the vase.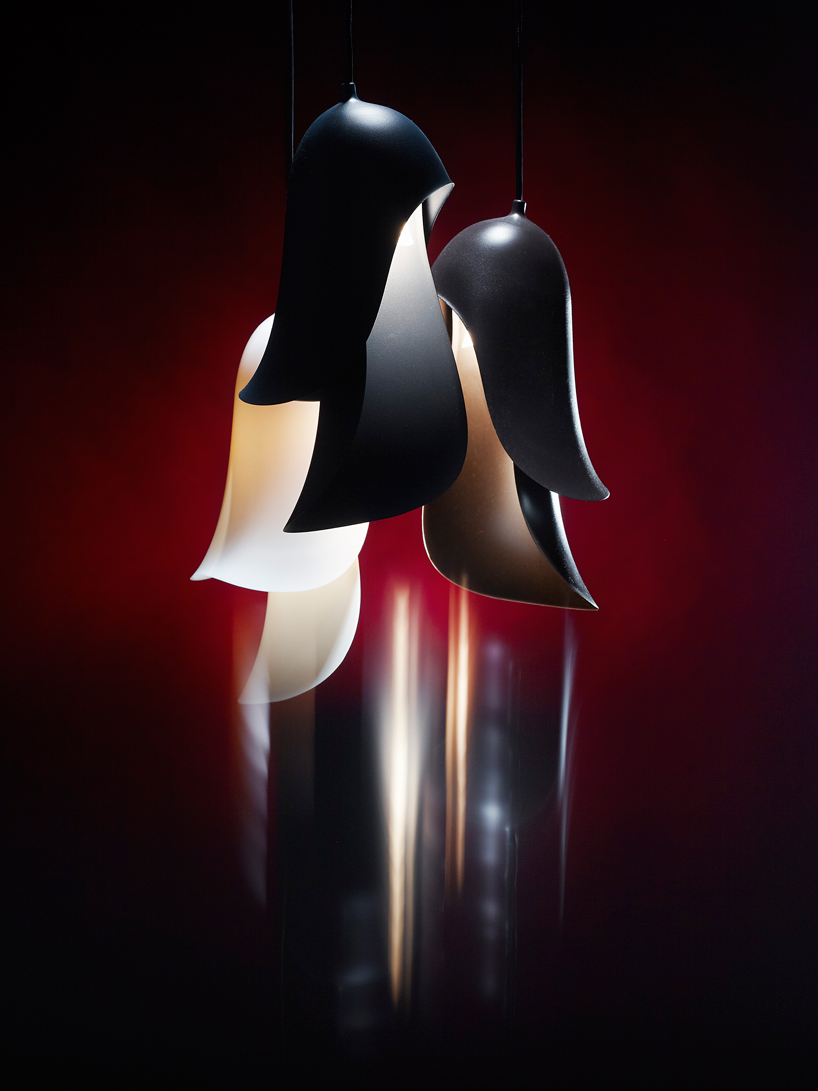 'cape table lamp' and 'cape pendant' by constance guisset
injected recycled polycarbonate
dimensions: L 20 x H 29 x D 16 cm, L 21 x H 44 x D 21 cm, L 21 x H 32 x D 21 cm
resembling half animal, half plant in silhouette, the fluid curves of 'cape' by constance guisset switch between softness and tension, revealing its pale and opalescent colors. two interlinked shapes gracefully reveal a mysterious presence, exposing the fragile construction, which seems to incarnate a deep breath.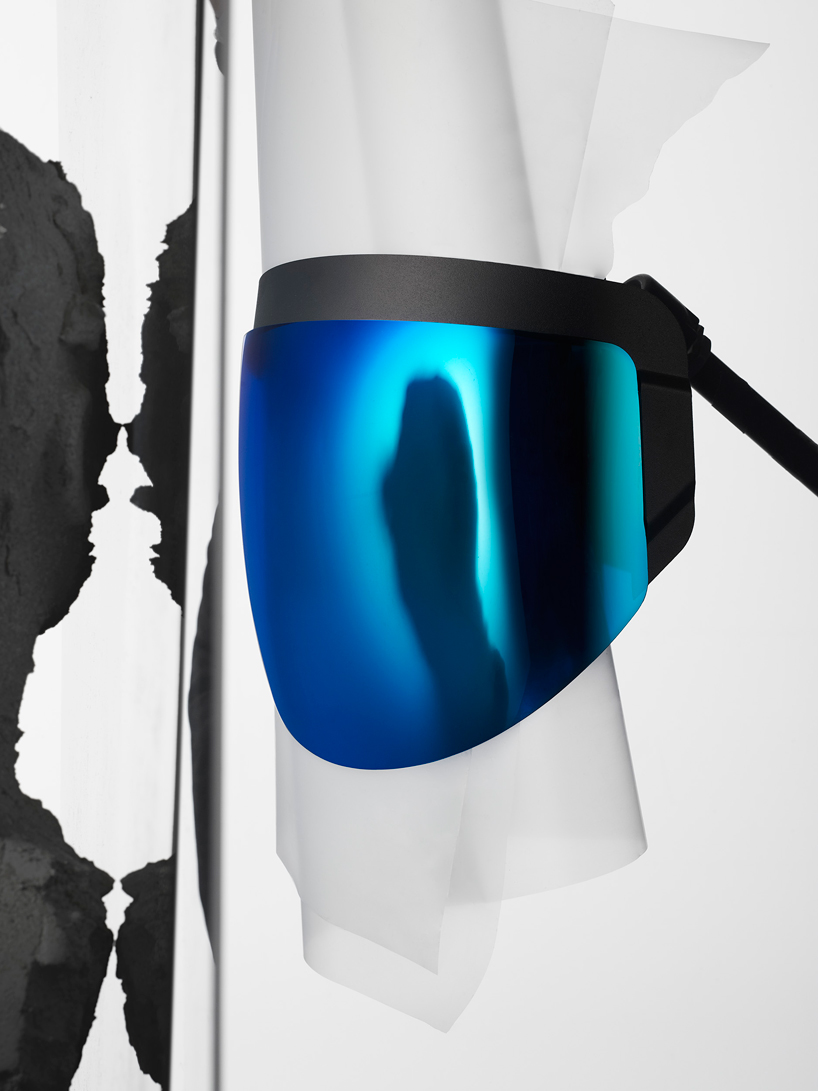 'moto' wall lamp by jean-baptiste fastrez
metal structure, PMMA visor
dimensions: W 15 x L 29 x H 24
the moto wall lamp designed by jean-baptiste fastrez revisits the aesthetic codes of motorcycle equipment vendors. the ultra-reflective luminare produces numerous optical effects when lit, diffusing colored light through its translucent visor.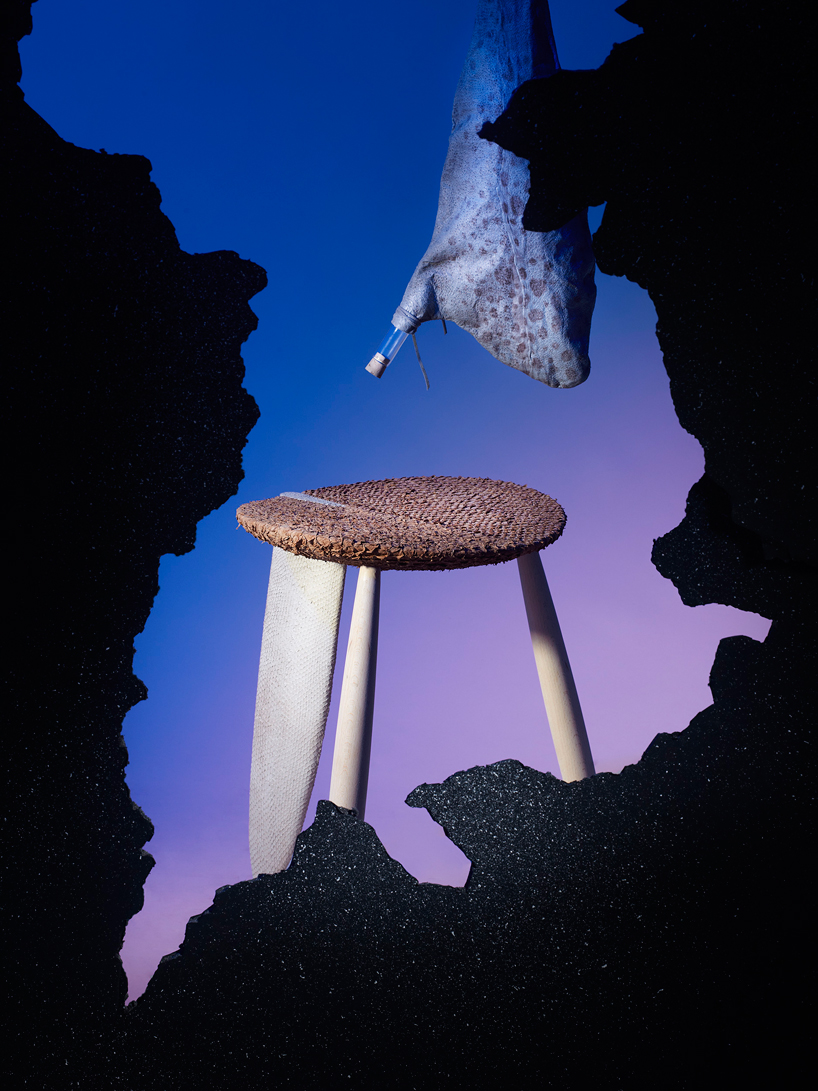 fins, perch and salmon stools by formafantasma
vegetal tanned salmon and perch skins, solid ash
dimensions: H 44.5 x L 44 x D 33 cm
the collection presented by formafantasma puts to use rejected skin from the fishing trade, therefore, examining the waste resources and materials in the furniture industry. these skins, in vegetal-type tanning, are most frequently obtained from salmon or cod. here they cover a stool or form a hot-water bottle. apart from the aesthetic appearance inherent in the use of fish leather, this material commits its user to an unusually direct relation with the animal world. zoomorphe, the formafantasma fins collection for moustache flirts with the world of taxidermy and the symbolism of the wild world.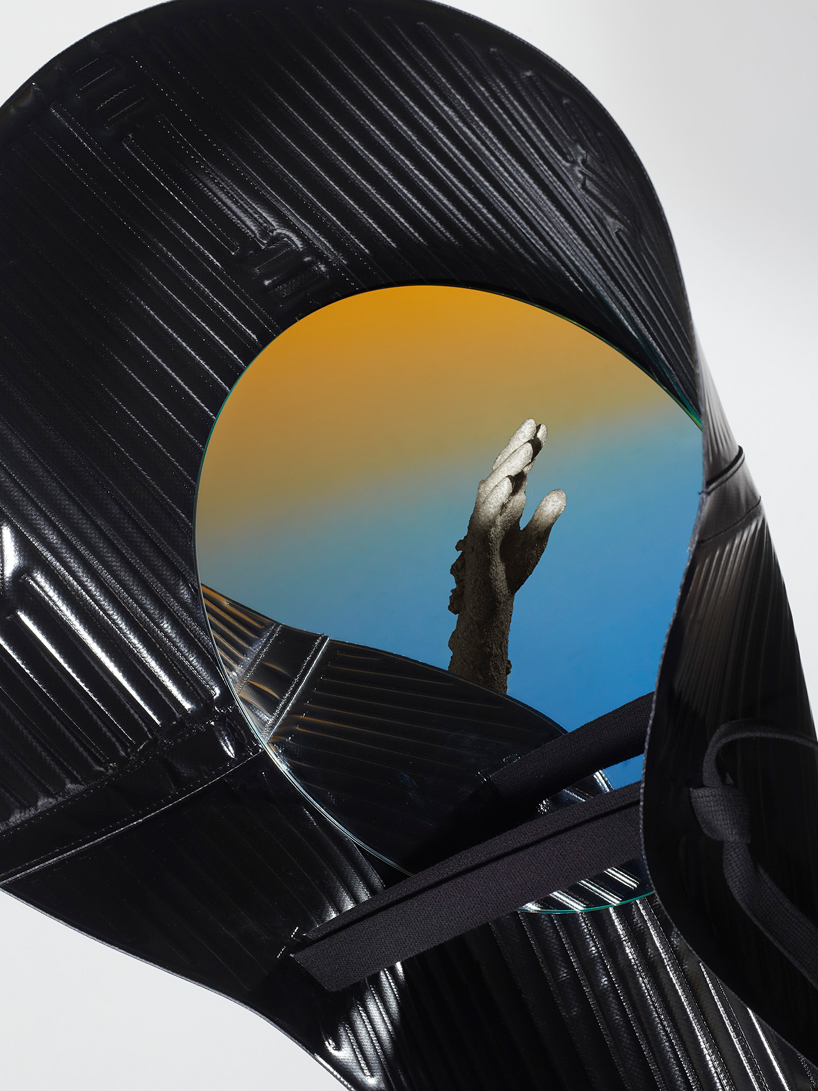 'boat mirror' by jean-baptiste fastrez
lined PVC coated fabric and mirror
dimensions: D 65 (variable) x H 11 cm
dressed in heavy duty waterproof fabric fabric and material typically used for yachts, the 'boat mirrors' by jean-baptiste fastrez pays tribute to the naval traditions of the city of toulon in france. drawing visual reference from the nautical industry, the unusually large-scale framed mirrors receive an extensive glossy and matte PVC wrap along all sides, mimicking the welding construction techniques used for small blow-up boats.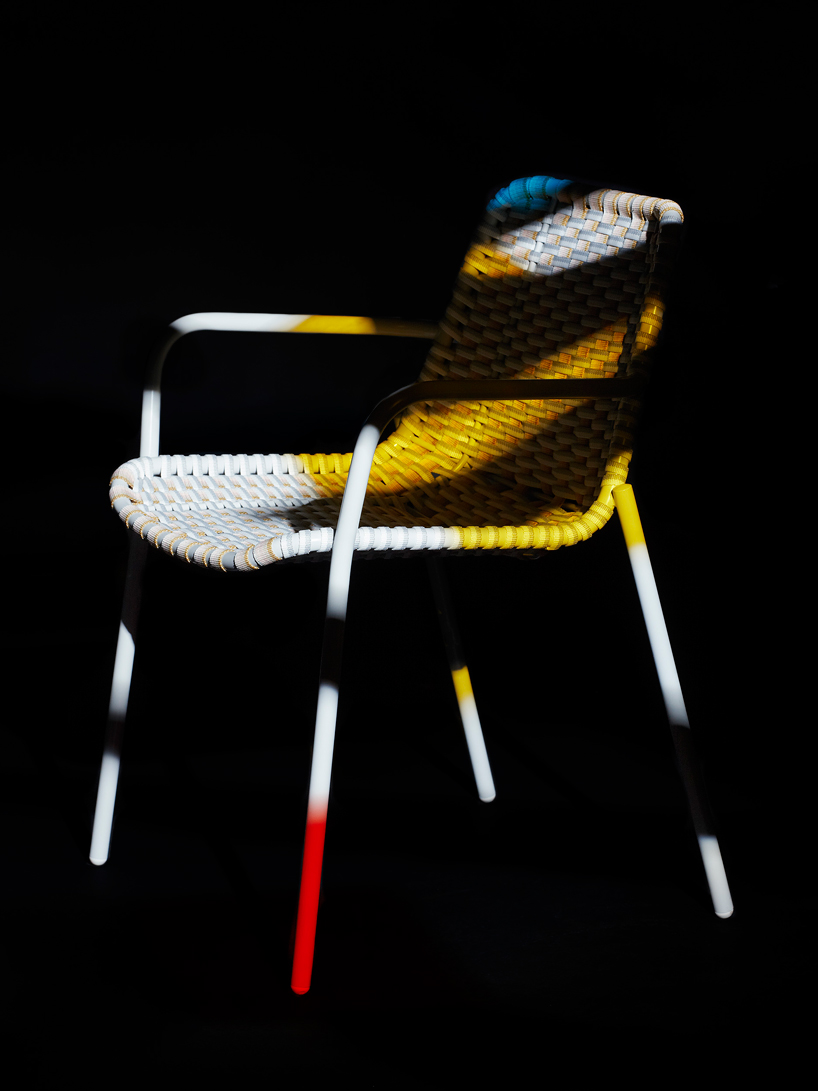 'strap chairs' by scholten & baijings
lacquered metal structure and textile straps
seat height 45 cm, armrest height 65 cm
the scholten & baijings 'strap chair' is a re-interpretation of the traditional cane or woven chair produced in the netherlands for the first time at the start of the 17th century, and in france since the 18th century. going back to the project's origins, it is the color which determines the use of a particular know-how, giving it an unusual material status. the quality of the finishing and the manufacturing details are highly emphasized, making the stackable 'strap chair' an ideal seat for both for outdoors and indoors.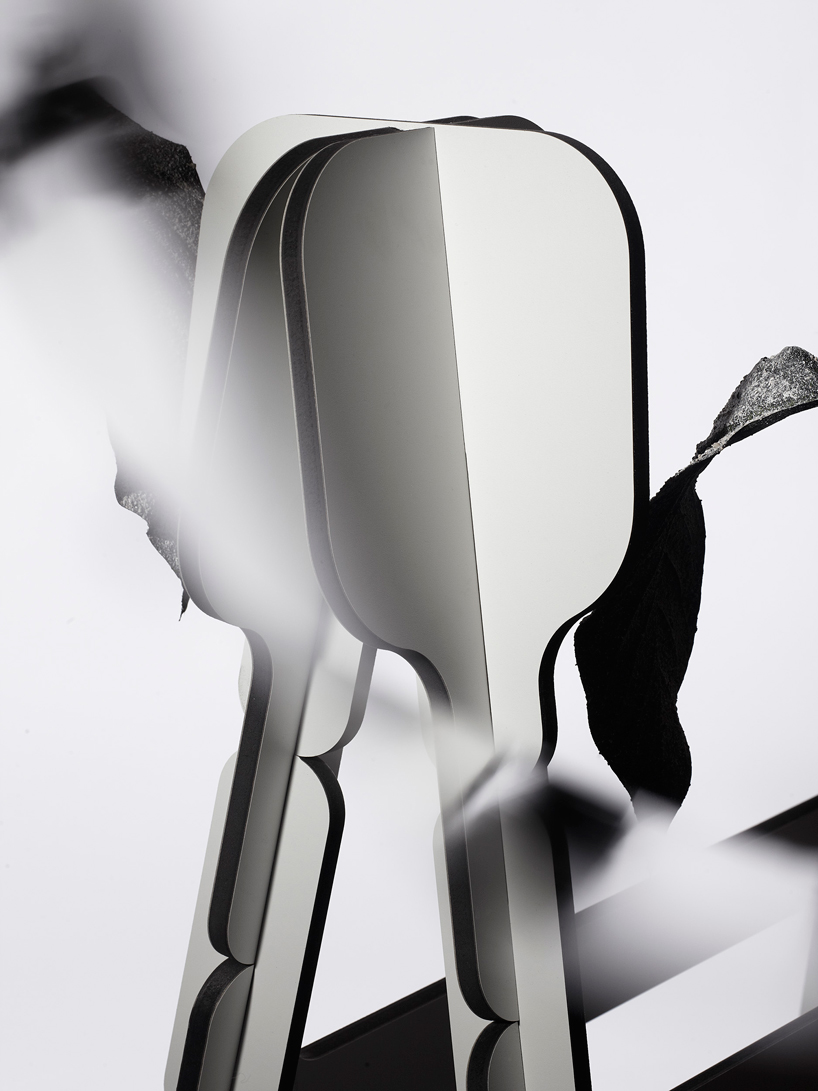 'accolade trestles' by raw-edges
adjustable height. white or light grey laminated black MDF.
dimensions: H 70 x L 23.5 x D 66 cm
similar to the building sets of childhood, the 'accolade trestles' by raw-edges provide a set of elements for the user to self-assemble a pair of size-varying trestle. once built, the trestles' black band displays familiar punctuation marks deriving from typographic typefaces.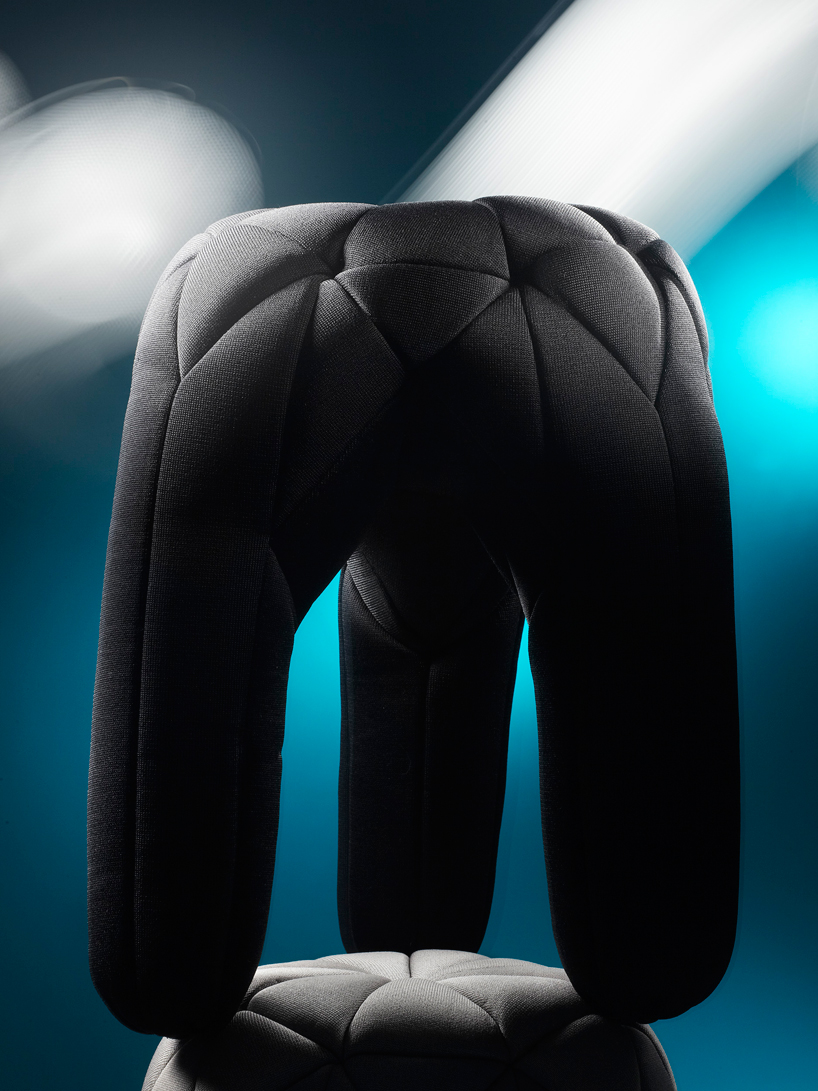 'pad stool' by ECAL/ dimitri bähler
black or light grey 3D textile, expanded foam
dimensions: D 18 cm x H 45 cm
'pad' by ECAL graduate dimitri bähler is the result of a series of experiments with foam injected into a flexible envelope, without using any structure. the stool references the triangulated construction of a large number of objects. its ribs, at first sight, contrast with the use of a flexible and random fabric. these ribs are what structure the envelope and form the article's 'exoskeleton' while giving it a padded and comfortable appearance. in an instant, when the foam is expanded, the ribs become taut, the envelopes swells up the seating surface takes it final form.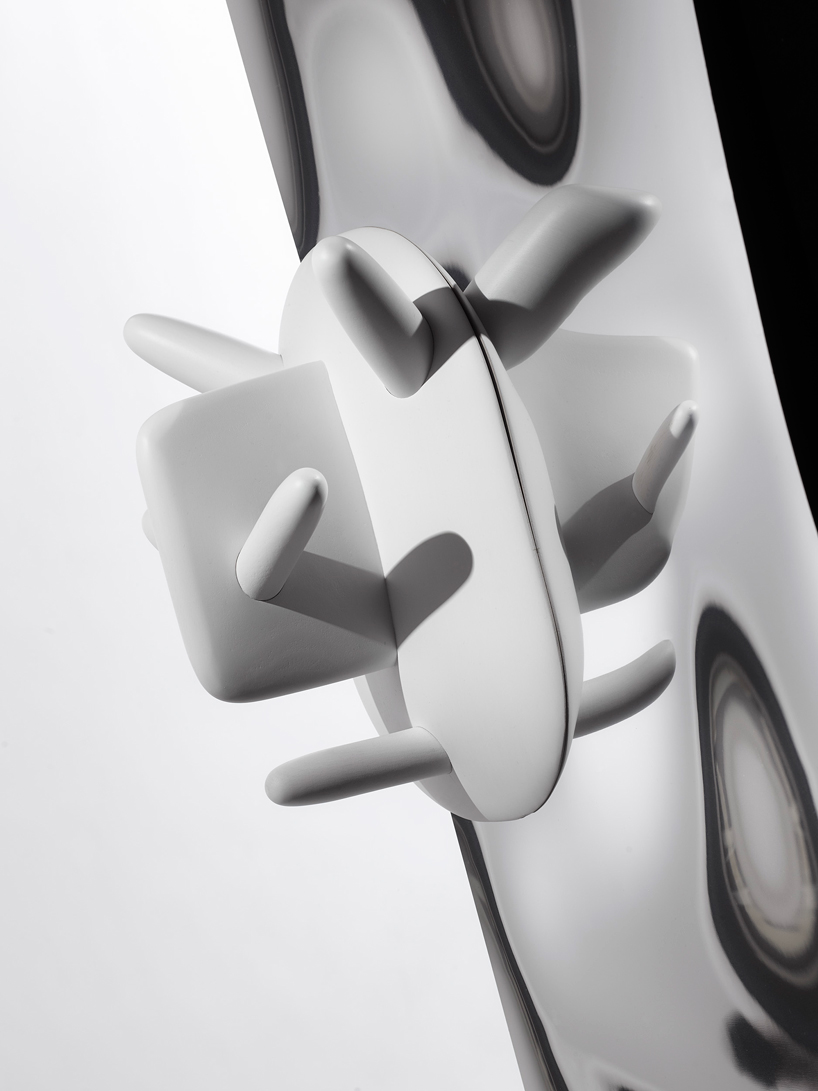 'ooga-booga' by bertjan pot
solid ash
dimensions: W 17 x L 26 x H 36 cm
tribal arts have influenced the creation of 'ooga-booga' mask by bertjan pot, which simply seems to have added the traditional function of coat hanger.
sep 07, 2014
sep 07, 2014
aug 20, 2014
aug 20, 2014
jul 25, 2014
jul 25, 2014
jun 28, 2014
jun 28, 2014
jun 12, 2014
jun 12, 2014
jun 02, 2014
jun 02, 2014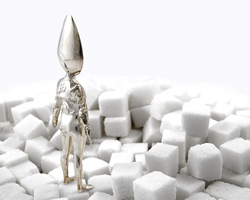 oct 27, 2015
oct 27, 2015
sep 11, 2013
sep 11, 2013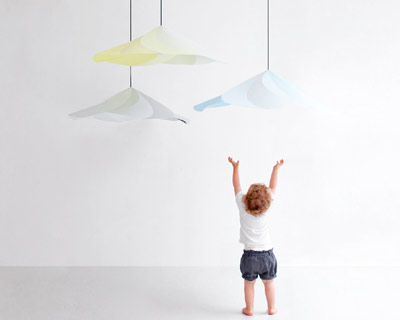 sep 05, 2013
sep 05, 2013
a diverse digital database that acts as a valuable guide in gaining insight and information about a product directly from the manufacturer, and serves as a rich reference point in developing a project or scheme.