HAWORTH presents openest furniture by patricia urquiola at NEOCON
all images courtesy of HAWORTH
HAWORTH-designboom editorial collaboration:
HAWORTH presents openest furniture by patricia urquiola at NEOCON
designboom partners with leading office furniture company HAWORTH on an editorial series that investigates the future of the contemporary office environment and new ways of working. our alliance brings forth insights into the workplace and how it has evolved from something more static, into an active and modular condition.
in this fifth feature, designboom takes a look at HAWORTH's ongoing collaboration with patricia urquiola who is developing a series of pieces that respond to our ever changing contemporary work environment. the first iteration of urquiola's concepts debuted at NEOCON 2013, and we now bring you an update on the collection which has been further refined and presented on the occasion of NEOCON 2014. comprising four furniture designs: 'feather', 'chick', 'plume' and 'sprig', the landscape of furniture is pragmatic and functional, while still remaining playful and poetic.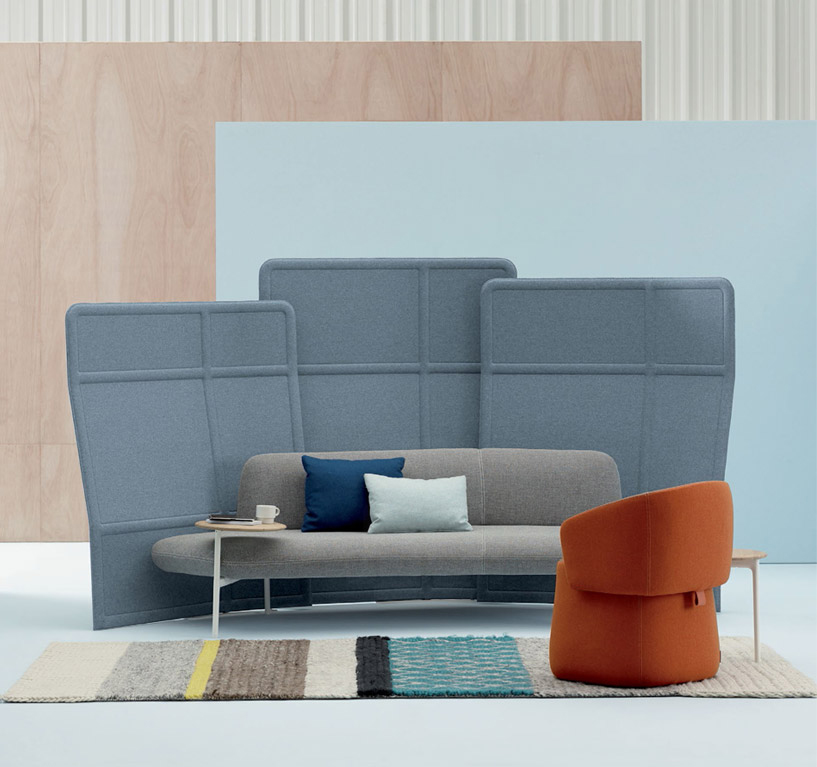 'plume' screens simultaneously offer privacy and openness
giulio cappellini and patricia urquiola meet at NEOCON 2014 at the HAWORTH presentation, where they discuss how the way in which we work is changing, designing for the office environment and collaborating with the american office furniture company:
patricial urquiola (PU): giulio, we've known each other for a long time, and I wanted to have a conversation about what you think of how things have changed in the world—the way we work, the office landscape—all these things.
giulio cappellini (GC): patricia, it's always good to see you. first of all, because we have been friends for a long time, and second, because I think it's very important to stop and think about what's coming next. the global atmosphere around us is changing a lot. being a designer, it's not enough just to make a new product, because there are thousands of nice products on the market already. today, the most important thing is to try designing new landscapes; and I think in the global atmosphere—offices, lounges, and showrooms—there is huge change. sometimes we work everyday, and we don't think that our life, our way of working, or our way of living is really changing so much. we spend more and more time in our office, and it's the idea of the office and house that's really changing. more and more, I think that I like this sort of hybrid situation where you don't understand if you are at home or at the office. I think that the most successful products are these hybrid products that you can use in the offices, lounges and residential places. I think that this is really the heart of these new projects that we are doing with HAWORTH.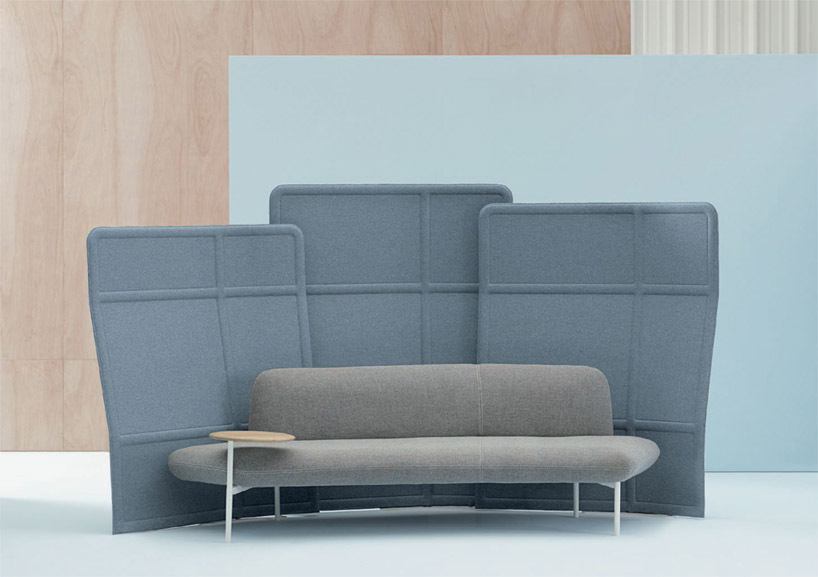 'plume' screens and 'feather' sofa offer a renewed visual landscape for the working environment
PU: I think that the opportunity HAWORTH gave me almost two years ago has been interesting from the beginning for me. I really saw the intention of what they asked me to do. the name of the project, which is 'openest', is a kind of oxymoron. at its heart it is a nest, but it's also open as a system and is a hybrid.
GC: I was impressed by your way of thinking globally: no more plastic laminates, but a very warm atmosphere, a lot of natural wood, a lot of wool, a very nice palette, soft colors. and just looking at your project, I see this idea as a means of creating more intimate places—places where you can speak with very few or more people. I think that the way we meet today is totally different. we have very small technologies and sometimes we just need an iPad. so, it's nice for a long meeting to sit on a very comfortable sofa or chair.
PU: we sit more or less. we decide what is the right place for each meeting, which might just be a conversation at a table, like now.
GC: as a matter of fact, patricia, I don't feel comfortable when I am in an sophisticated, executive conference room with people sitting around the table. frankly, I start to look around and wonder when the meeting will finish.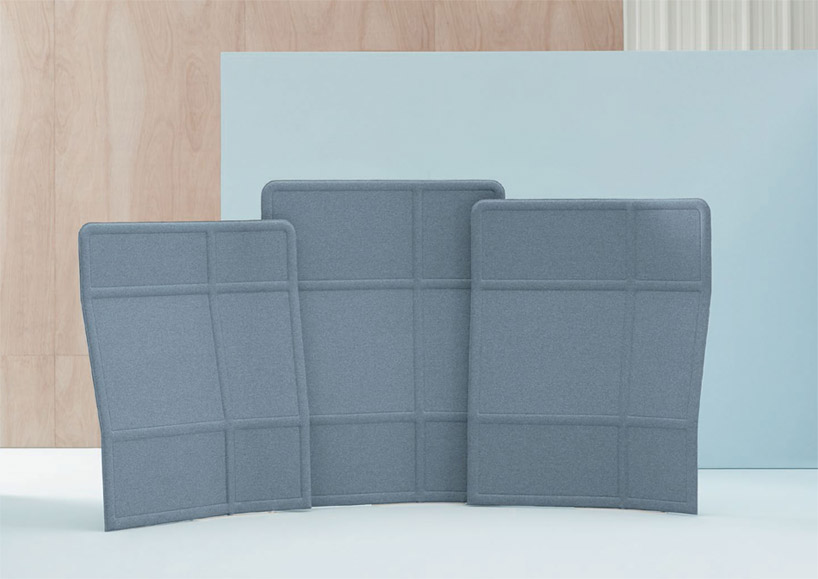 the 'plume' modules can easily be rearranged
PU: many times when I see those rooms, I think of how much better the place would be if it were open to change in a functional way. for example, with 'openest' you configure the modules easily.

GC: yes. before, you spoke about something that is very interesting in the new office landscape: flexibility. sometimes you work alone. sometimes you work with a few people. sometimes you work with many people. so this idea of constant flexibility is very, very important.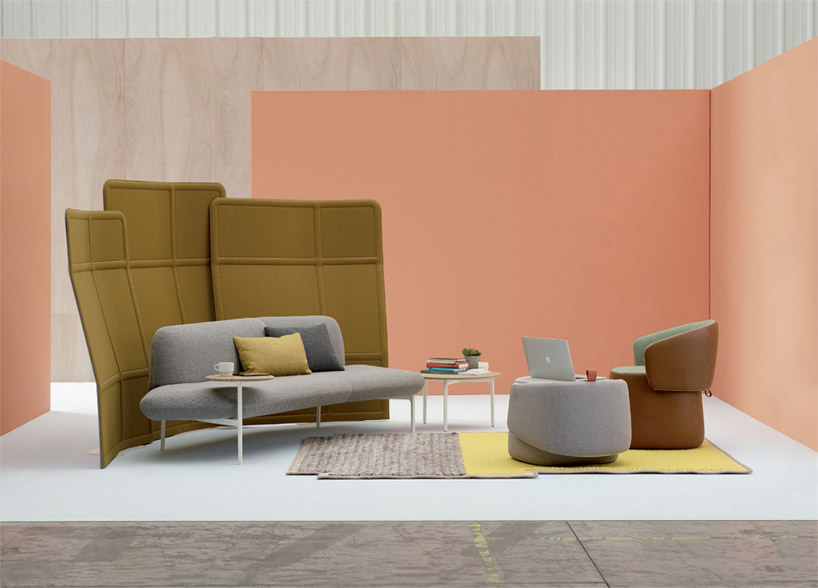 'openest' is an ensemble of lounge furniture for the office
PU: flexibility I think is mixed with the idea of comfort—creating more kinds of comfort zones. people, when they arrive at work, they need to feel well. this idea was the first step to create 'openest'.
GC: you know, we work a lot of time during the day, so it is better to work in a very comfortable situation instead of an uncomfortable situation. I think that is another thing that's changing: the perspective of how to work. because, years ago, we had huge technological equipment. now everything is getting smaller, so if you need just to use your iPad you don't need a huge space. and the seats are becoming lower. the tables are becoming lower, creating more inspiring situations for people.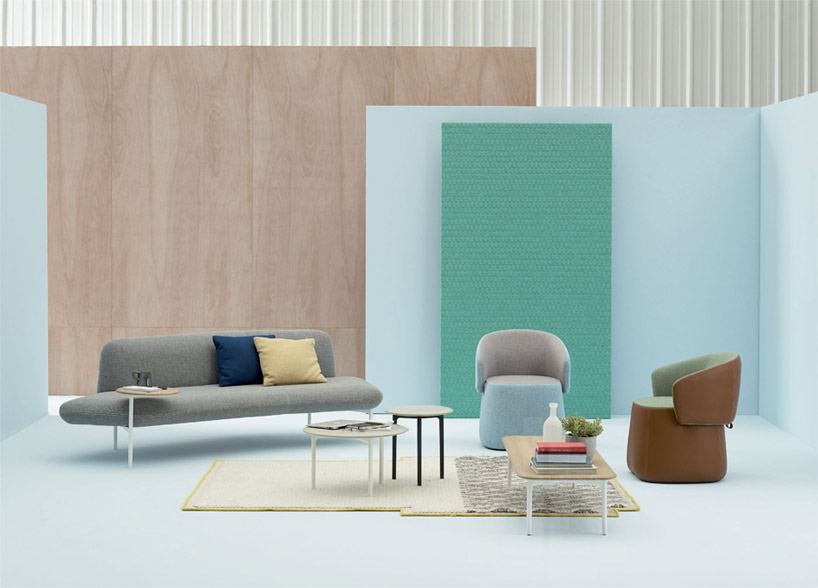 the 'feather' sofas and 'chick' poufs offer a comfortable and approachable seating for the workplace
PU: I think this informal style is not only for people like us that work in design or creative ways.
GC: in the past I used to design just to look at design. now I think the most important thing is sexy design. that means design to touch. the beautiful thing is to touch the design, to use design every day—not just to look at design. this sensibility—the idea of touching the material—is really very important. today, I think that we can take our inspiration from the classic shapes, and offer new interpretation using new materials, new techniques, and new ways of producing.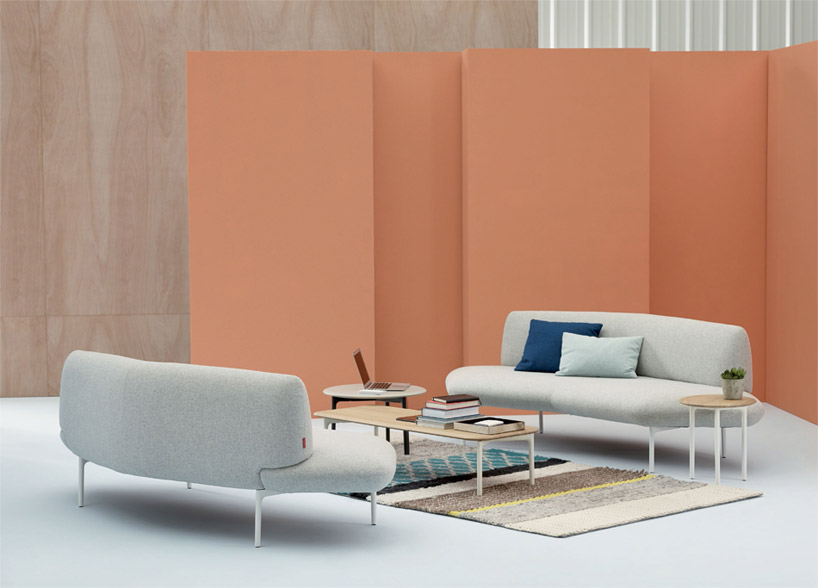 patricia urquiola's designs for HAWORTH are conceived to fit into residential settings as well
PU: you know, giulio, in this room I keep two pieces from the beginning of the 'openest' collection. and one is the first prototype I did with the idea of pressing and molding a kind of polyester.
GC: you are using techniques that you could not use 30 years ago. that's the most important thing. that's the new way to design.
PU: for the 'plume' screens I wanted to have a sandwich from one material. when you need to dismantle the piece, everything is polyester, which is recycled material. and the other screen can have different kinds of fabrics. In the end, they're always just one material.
GC: that's fantastic. I think the most important thing today is to be contemporary and to be competitive.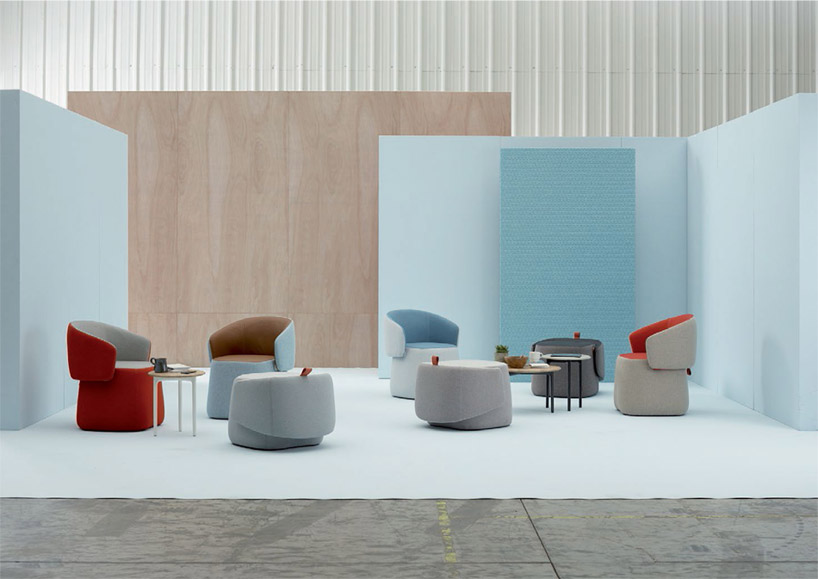 'chick' poufs can be modified from armchairs to stools
PU: I learned a lot from you. you are like a big brother of my generation.
GC: we are not so young like 20 years ago, but we have fantastic things to do for the future. many times they say everything has been done in design.
PU: no, that is a lie.
GC: thousands of new things to do.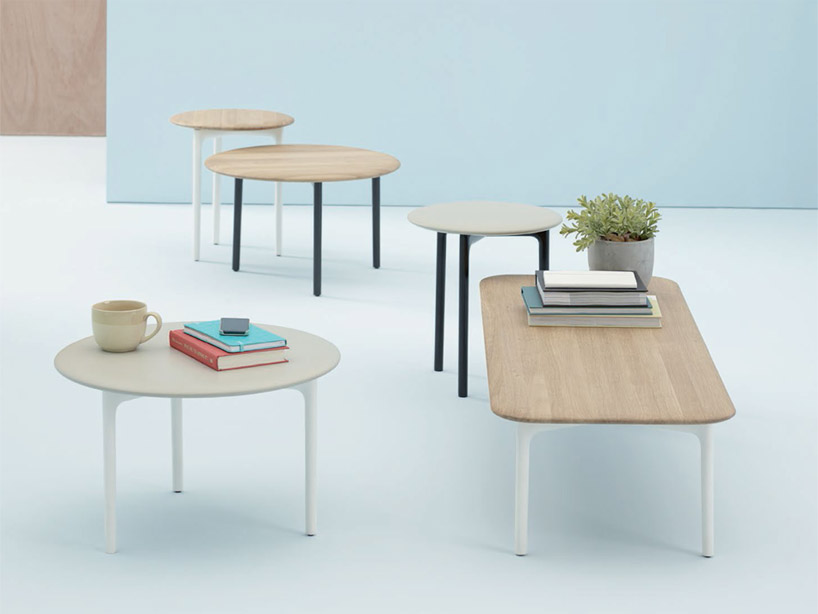 'sprig' tables accompany seating elements where surfaces are needed

PU: you know, the reason is very clear, I think. design is a discipline, which is especially connected with society. and in the moment that society is in evolution or involution, the design follows that. we will have many other ways to sit for work, to speak, to sleep. we will have many new ways to eat. things are going to evolve every day because we are evolving in society.

GC: and the most important thing is to keep focused on the right answers. follow the project just like a baby. as in this project, you have to change many things from the first prototype to the final product.


patricia urquiola on her collaboration with HAWORTH
video courtesy of HAWORTH

Save

Save

Save
a diverse digital database that acts as a valuable guide in gaining insight and information about a product directly from the manufacturer, and serves as a rich reference point in developing a project or scheme.
designboom will always be there for you
milan, new york, beijing, tokyo

,
since 1999