herman miller is a globally recognized provider of furnishings and related technologies. headquartered in michigan, USA, the company has relied on innovative design for over 100 years to solve problems for people wherever they work; live; learn; and heal. recently the american furniture manufacturer announced a collaborative partnership with naughtone. founded ten years ago, naughtone is known for their contemporary, british design and high quality manufacturing, particularly in upholstery.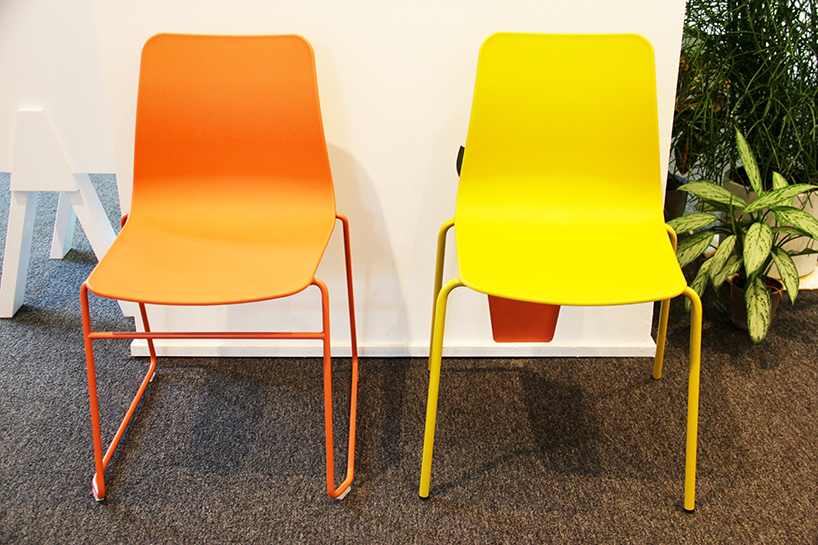 polly chair from naughtone uses a vibrant color palette
image © designboom
as part of herman miller's presentation at its national design center of milan an engaging conference with mark catchlove, director of knowledge and insight, was arranged where he delivered an insightful speech covering current issues in office spaces ranging from the importance of collaboration and how we deal with spaces for impromptu meetings; to how we respond to contemporary privacy expectations and what the human fundamental needs in office environments are.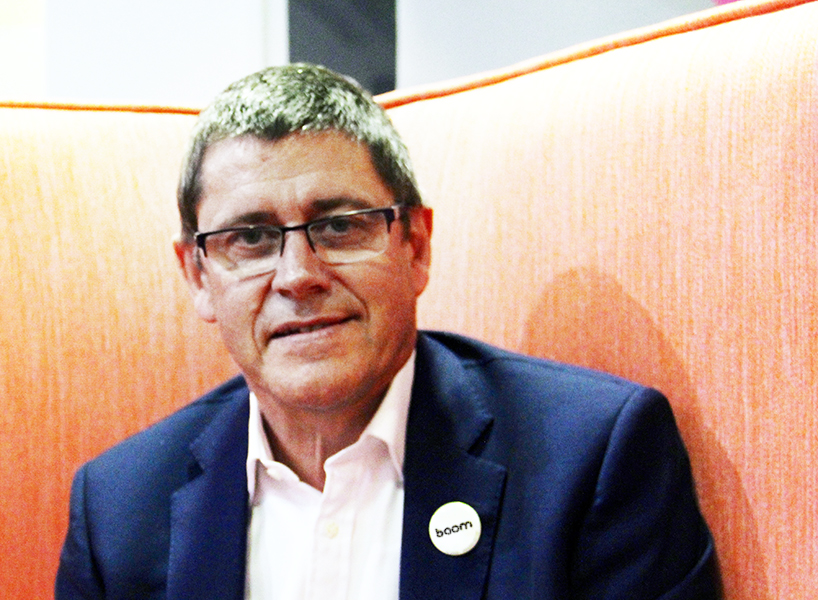 mark catchlove is herman miller's director of knowledge and insight
image © designboom
mark is responsible for sharing herman miller's insights into the latest thinking in workplace design and related issues. the subjects covered include the psychology of collaboration; social capital; the science of happiness; creativity in the workplace; and agile working. he is often invited to speak at leading workplace conferences and has delivered more than 400 seminars around the EMEA region, including france; holland; south africa; russia; saudi arabia; UAE; as well as all across the UK.
to understand more about herman miller's design process to meet this need, designboom spoke with the director who discussed his intentions in further detail. read his answers in full below.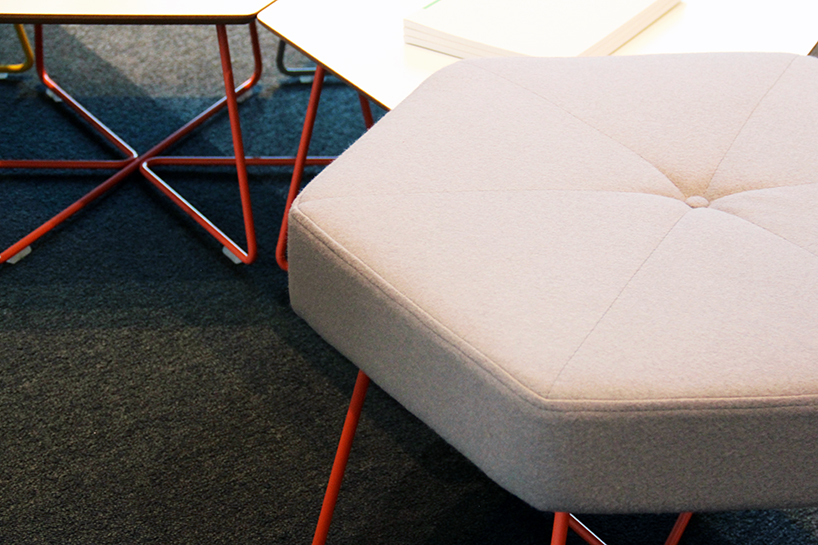 pollen stool + table from naughtone
image © designboom
designboom: do you think there may come a time (when) when employees will have the option to choose when accepting their job to work at the office, or from home?
mr. mark catchlove: I think that is happening already, the challenge is this though: in a world of mobility, why move abroad for work? people probably don't move to foreign countries to sit at home in their flats. so there is this kind of social aspect of why people go abroad. the other challenge is that when students graduate they haven't got lots of money, in some cases they have lots of debt. so they look to live in a property where they can work at home. already some people have that option, but we face other challenges to people working at home and it's the connection with social expectation. we often speak about a 'sense of belonging' in work, how do you get that sense of community when you're not there?

mark catchlove delivers an engaging and insightful conference
image © designboom
DB: looking at herman millar's design language your collection solves the issue of the lack of physical harmony between people and their technology; how can young designers better solve this issue?
MC: so I had mentioned the 'dive event': one of the things that became apparent there was the focus of technology is about people–if you forget that you will design gadgets with no purpose. at the end of the day the whole user experience, whether that's a chair; a pen; or a piece of software, it has to be human-centric. this is something that all young designers should start from: what is the human need and what are the human motivations?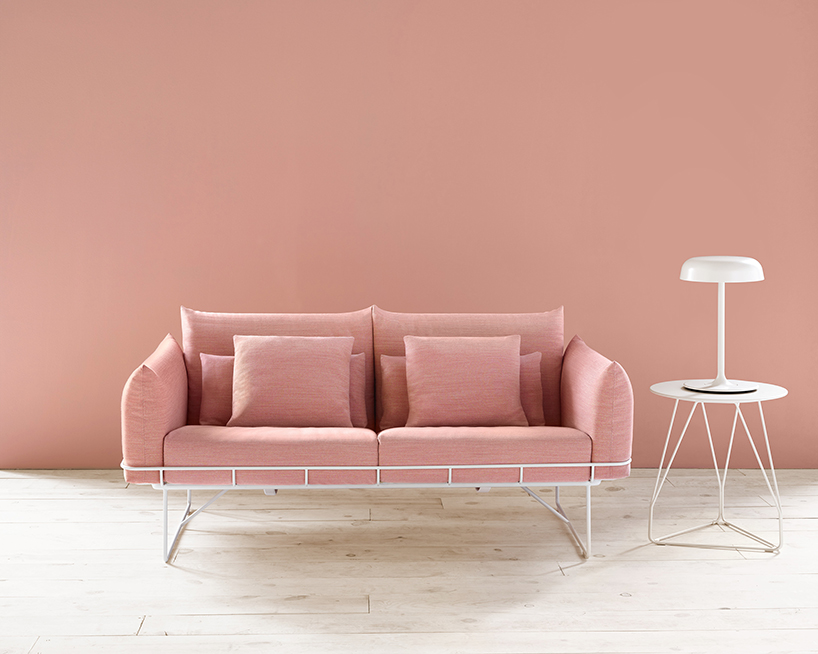 wireframe sofa + polygon wire table by sam hecht + kim colin
DB: when picking a designer to collaborate with on a herman miller product, what stylistic ideas must they possess?
MC: the first thing is we are looking for someone who hasn't already designed for us. one of the reasons we go to external designers is we avoid groupthink. this phenomenon occurs because we know what we can already do; we are limited by the knowledge of, for example, what's in a factory. the idea of bringing another designer onboard is to challenge the way that we think, therefore, one of the things we look for is someone different to who we've already collaborated with, whether that's culturally; stylistically, from propst to eames, right through to yves béhar–they are all very different people.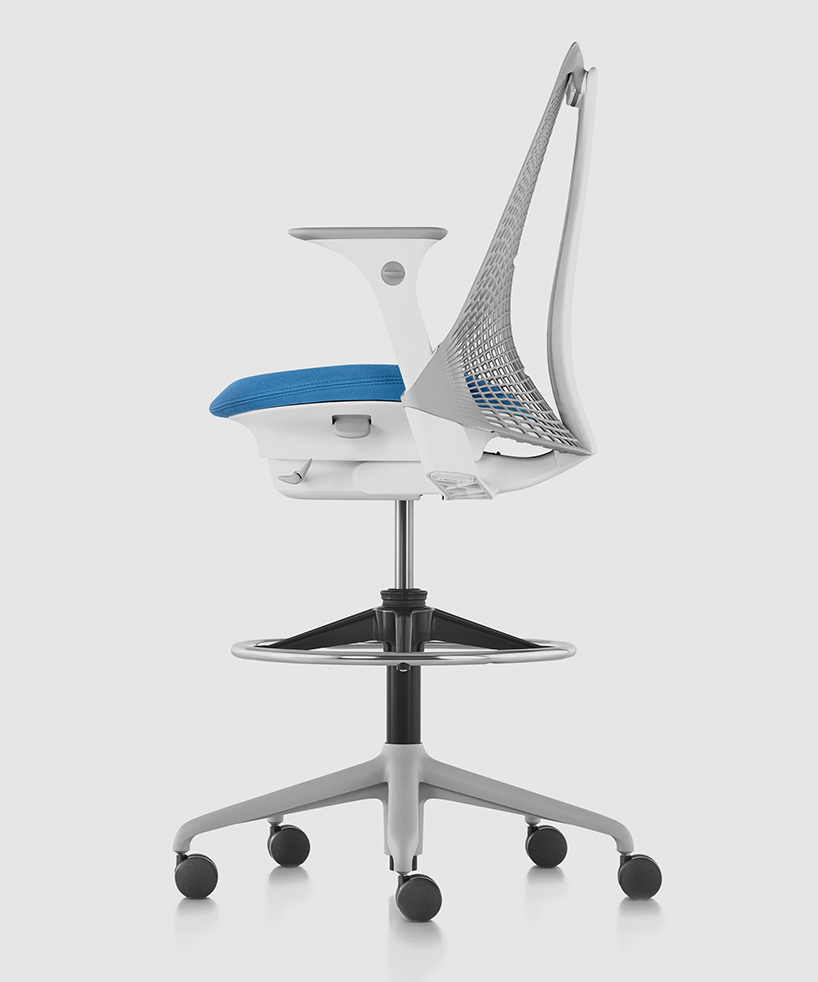 sayl chair from yves béhar draws influence from bridge design
DB: what are your favorite herman miller products past or present, and why?
MC: that's a great question. inevitably, the one that's at the top of the list is 'aeron' just because I was not at herman miller when it was launched. initially, we smiled at it and thought that this would never survive. and now, it's continued to survive–so commercially it has been a huge success. one of the things that I particularly like from the most recent collection is the 'sayl' chair by yves béhar. this is one that I think has challenged peoples' thinking as the designer has been inspired by a bridge to design a chair, and I love these kinds of stories.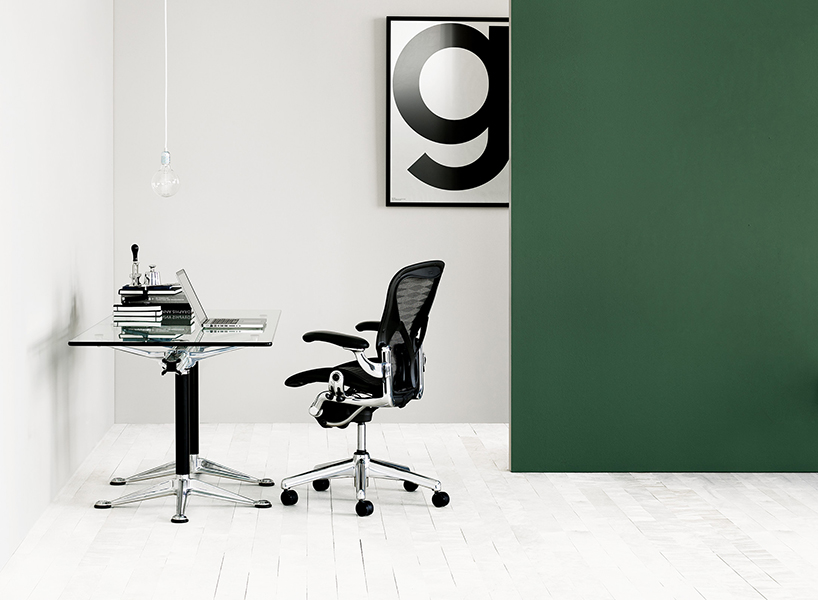 aeron is one of herman miller's most popular products in its portfolio
DB: what is herman miller doing currently to promote sustainability in the creation of it's products?
MC: one of the things at the top of our agenda is to make things that last. being able to give products twelve year warranties means that people won't have to throw them away after a couple of years. one of the things that I think makes a difference to sustainability, which is a common issue in the electronics world, is the short life of products. what herman miller is doing, it is designing for long life. people still have their herman miller furniture from the 1950's, so we pioneer our sustainability in longevity.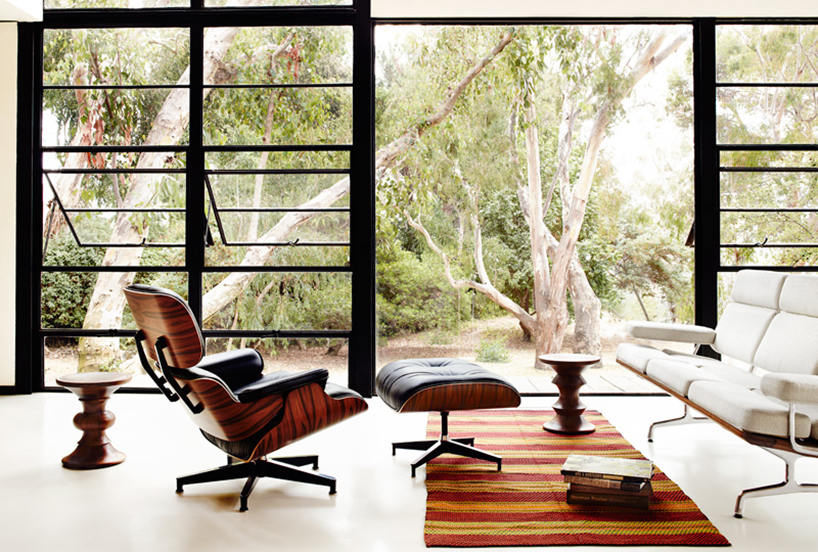 eames lounge chair by charles + ray eames
DB: a possible issue for the future could be the need for people to work much later (growing numbers of students taking on debt), almost 20% of americans aged 65 and older are now working, this could increase. what features must be integrated into the design of office furniture for an ageing population?
MC: that's a great question, particularly for myself as I am toward the latter years of my career. one of the sayings that we have is 'forget technology'. what we mean by this is, we've got to make sure technology in the future just works. I am not an expert, I just want it to work. if you're going to put technology in the office, it has to be like air in the space; it just works and I don't have to think about it. another thing that is interesting for me as you look at the ageing population: sight changes, so light needs to be brighter the older that you are. also, hearing changes. a certain amount of privacy and the ability to be able to 'shut off' is another challenge as you get older. inevitably one of the things whether you're 16 or 64 is ergonomics, which is something we are studying called 'social ergonomics' and 'digital ergonomics' to see how using technology can affect us physically in the long term.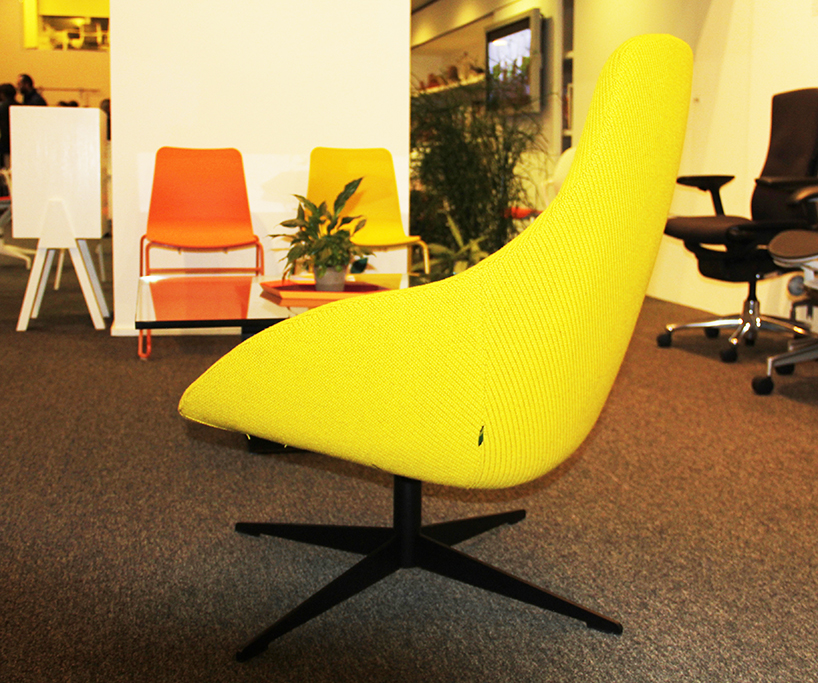 always lounge chair by naughtone
image © designboom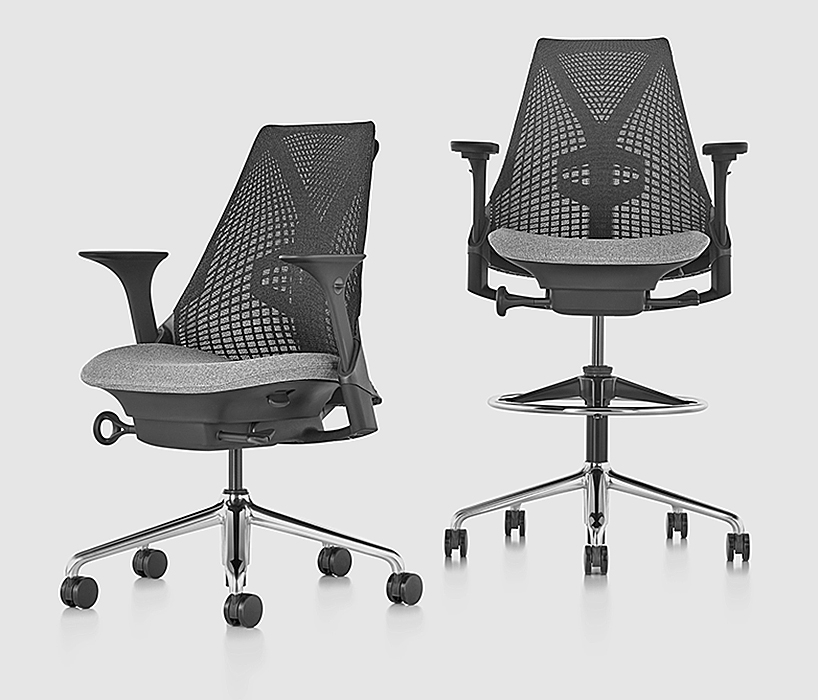 sep 06, 2019
sep 06, 2019
jun 11, 2017
jun 11, 2017
jan 31, 2017
jan 31, 2017
nov 03, 2016
nov 03, 2016
oct 03, 2016
oct 03, 2016
jun 15, 2016
jun 15, 2016
a diverse digital database that acts as a valuable guide in gaining insight and information about a product directly from the manufacturer, and serves as a rich reference point in developing a project or scheme.