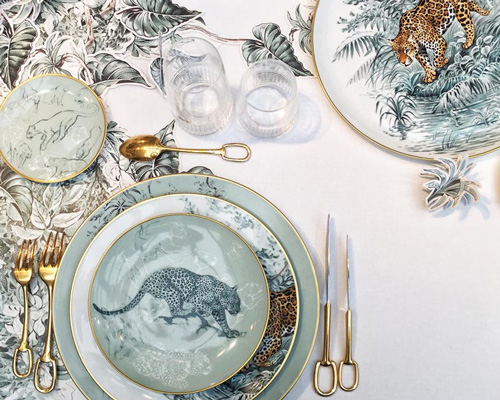 jan 27, 2016
Hermés' carnets d' équateur porcelain collection depicts robert dallet's animal kingdom
Hermés' carnets d' équateur porcelain depict robert dallet's animal kingdom
image © designboom
as well as their signature fashion and accessories recognized around the world, Hermés is known for translating their luxury aesthetic into homeware. recently, they presented their latest porcelain service 'carnets d' équateur ' in paris; an homage to wildlife artist and naturalist robert dallet and his longstanding collaboration with the french brand which began in 1985.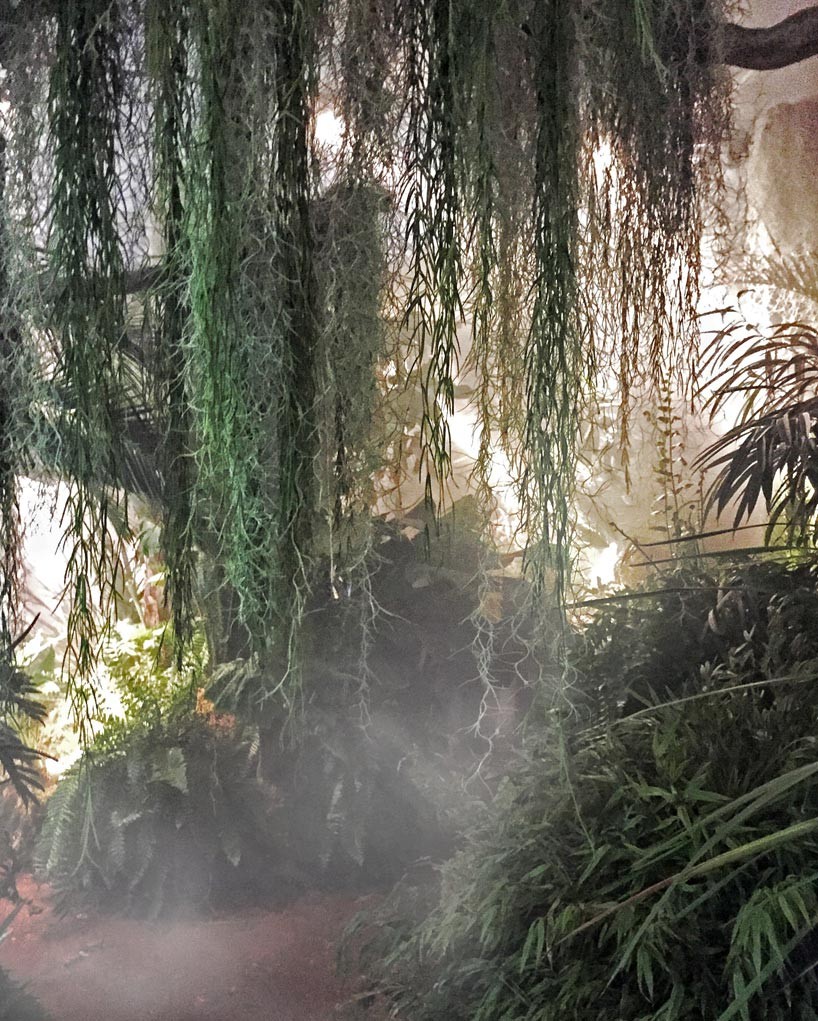 the ground floor space was transformed into a jungle for five hours to present the porcelain pieces
image © designboom
exhibited in the heart of paris, the ground floor of studio des acacias was transformed into an amazonian jungle for only five hours before being dismantled. coupled with draping vines, mist and exotic plants, the jungle took five days to construct to specially unveil the carnets d' équateur collection to invited guests. the array of small plates, tea sets and platters were carefully placed among the lush greenery for visitors to admire and appreciate. following a similar jungle aesthetic, the other levels were decorated paper illustrations of leaves which hung side by side off real vines descending from the walls. the exhibition was finished off with the entire collection displayed on a long table in a dinner setting.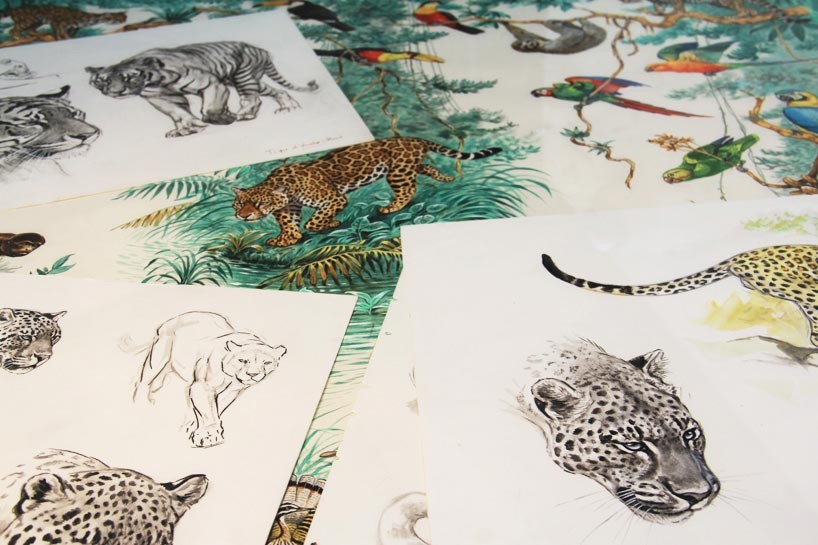 colored and pencil drawings of the wild cats by dallet on show in paris
image © designboom
the palette of teals and golds define the collection of extensive tableware ranging from butter to presentation plates, bowls, tea sets and vases. the meticulous detail of dallet's sketches in charcoal, pencil, or ink wash, coloring in gauche and rendering in paint – have been carefully positioned onto the porcelain surface – dedicated to one of these techniques and together, brings the collection to life in a chromatic concordance.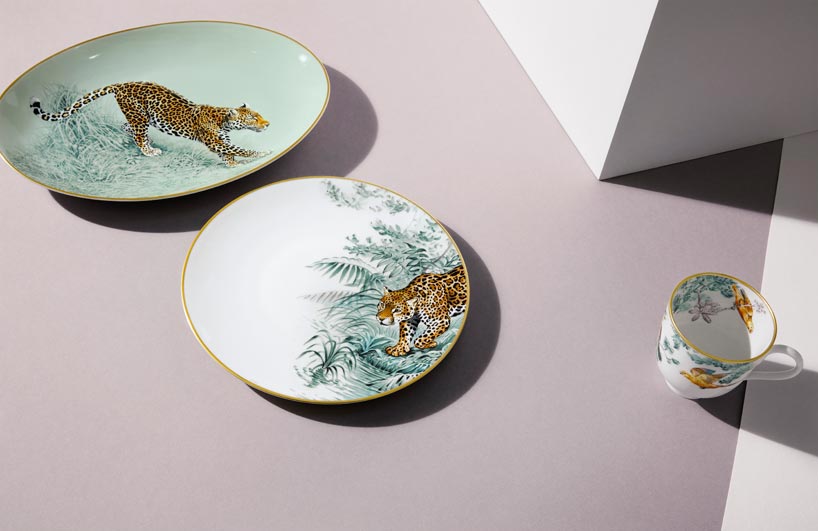 a cheetah stalking its prey appears on the edge of one of the plates
image © mélanie lyon + ramon escobosa
exotic animals mainly from central and south america have been featured. from a spider monkey balancing on a vines, to bounding leopards and colorful macaws. every blade of grass and detail of feather or fur have been translated onto the porcelain canvas to form a warm and cool composition.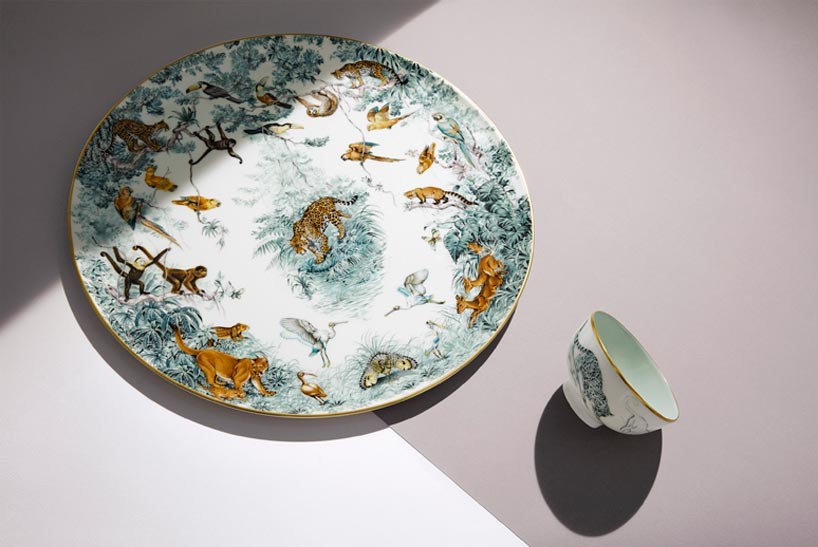 each piece of porcelain is dedicated to robert dallet's precision and work
image © mélanie lyon + ramon escobosa
the warm and cool tones allows the white to find a voice in subtly off-set compositions, while celadon – a symbolic hue linked to porcelain – simultaneously invokes strength and softness. a grey-green with a hint of blue blends with the muted freshness of foliage.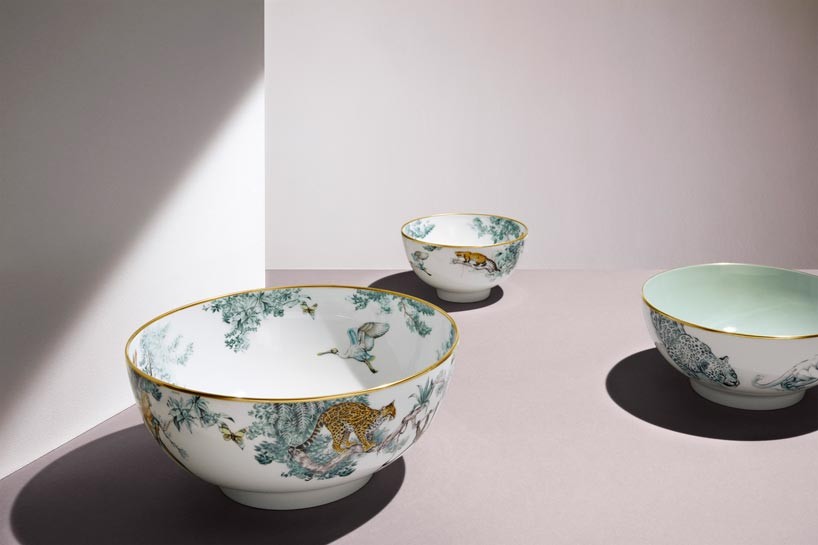 the teals and golds intensifies both drawing and expression at equal measure
image © mélanie lyon + ramon escobosa
Hermés and robert dallet
the collaboration between the two parties began over 30 years ago when jean-louis dumas (Hermés' chairman and artistic director until 2006) was intrigued and absorbed with dallet's depictions of the animal kingdom. the artist went on to create scenes of wildlife for Hermés' iconic silk scarves, beach towels and dresses- these designs are still reproduced today.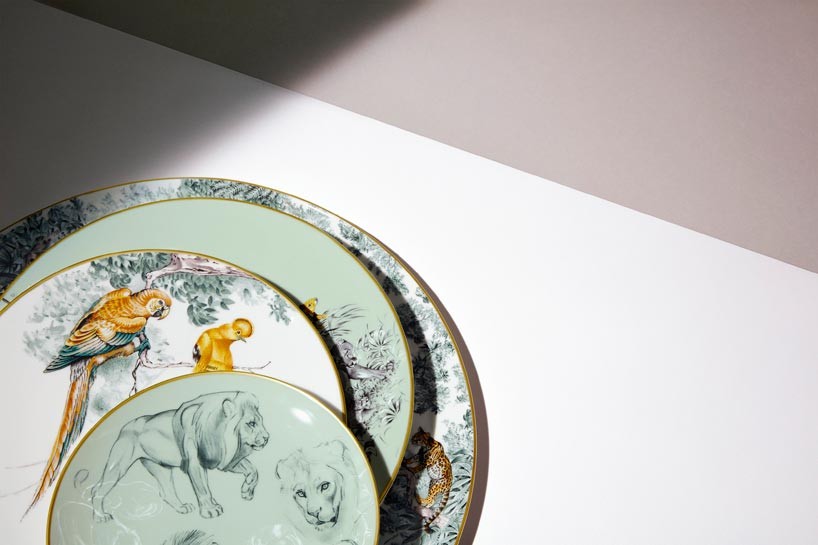 each piece of porcelain is dedicated to robert dallet's precision and work
image © mélanie lyon + ramon escobosa
'this paradise leads us to the discovery of another world, that of the artist… the carnets d'equateur service is a voyage to the core of creation.' – Hermés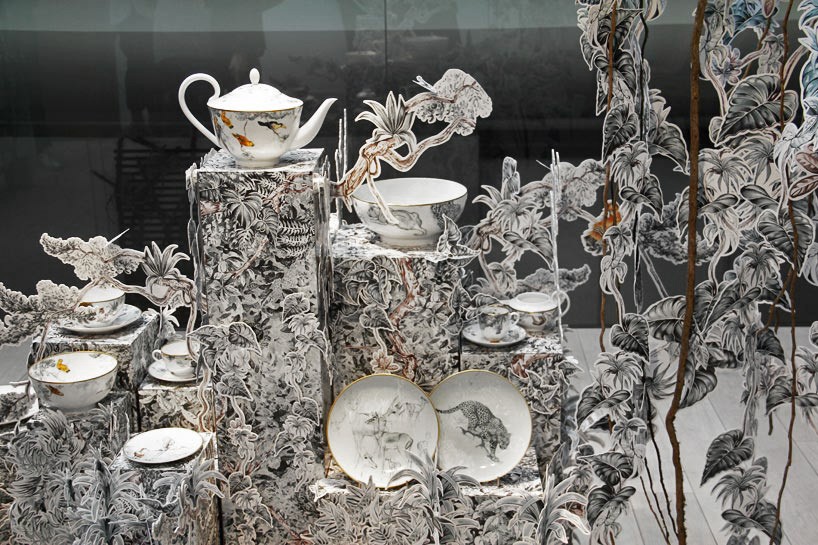 paper illustrations of leaves form a decorative element against the porcelain on show
image © designboom
'nature is so beautiful that adding to it serves no purpose' – robert dallet (1923 – 2006)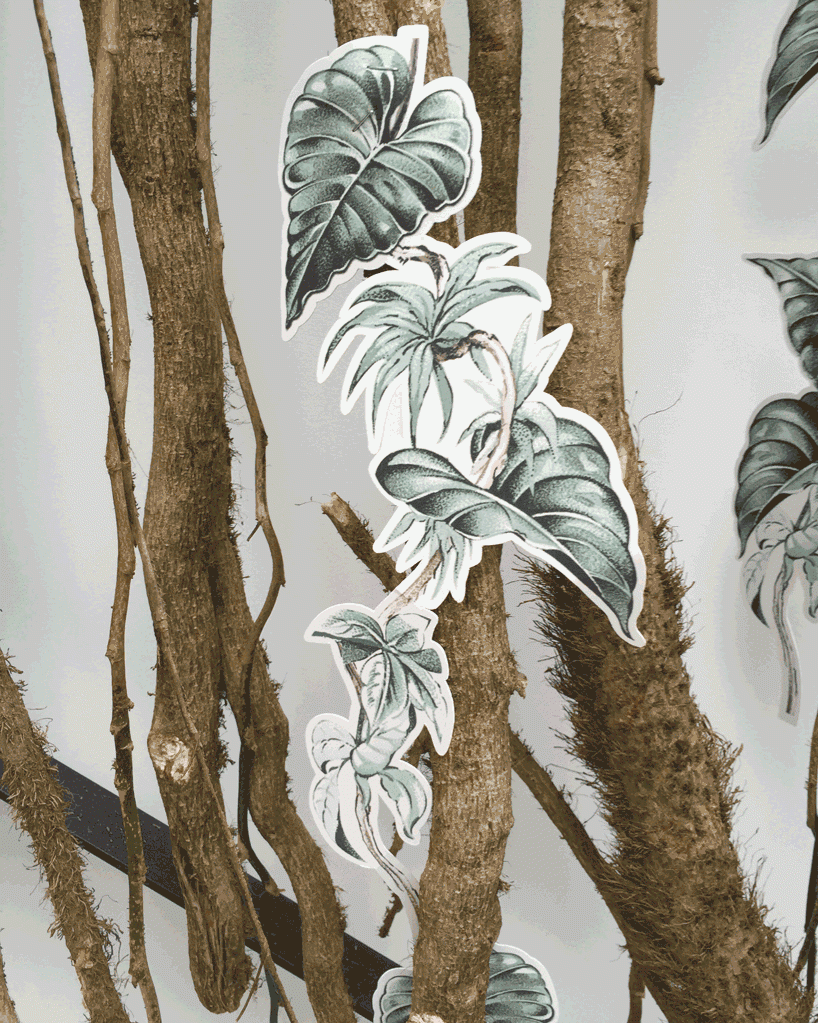 illustration of leaves stuck onto the draped vines
image © designboom
robert dallet spent most his life documenting and observing every element of the natural world- from pumas, elephants to the vegetation and landscapes. his discovery of the margay, a small, graceful felid from south america, led him to reserve a special place fro wild cats in his evolving bestiary, painting a comprehensive inventory of felines that truly represented his boundless admiration for animal beauty.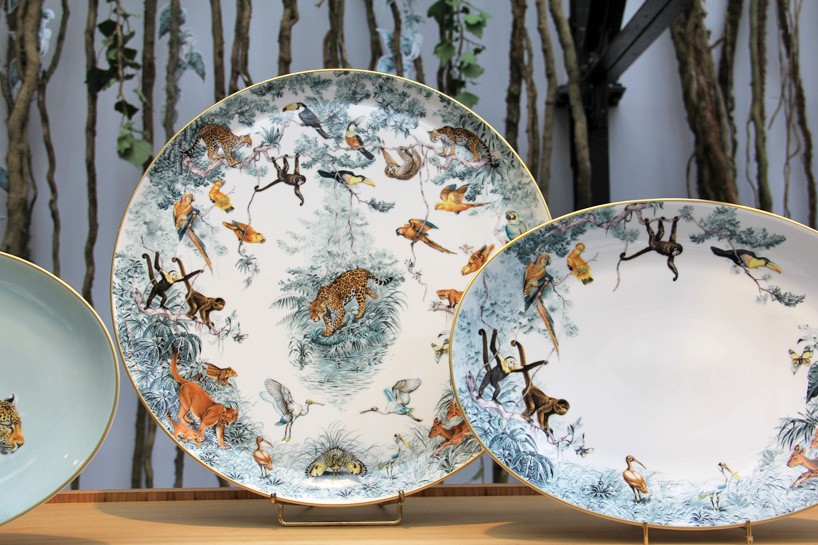 the large round platter (44cm) and medium oval platter (42cm) on display
image © designboom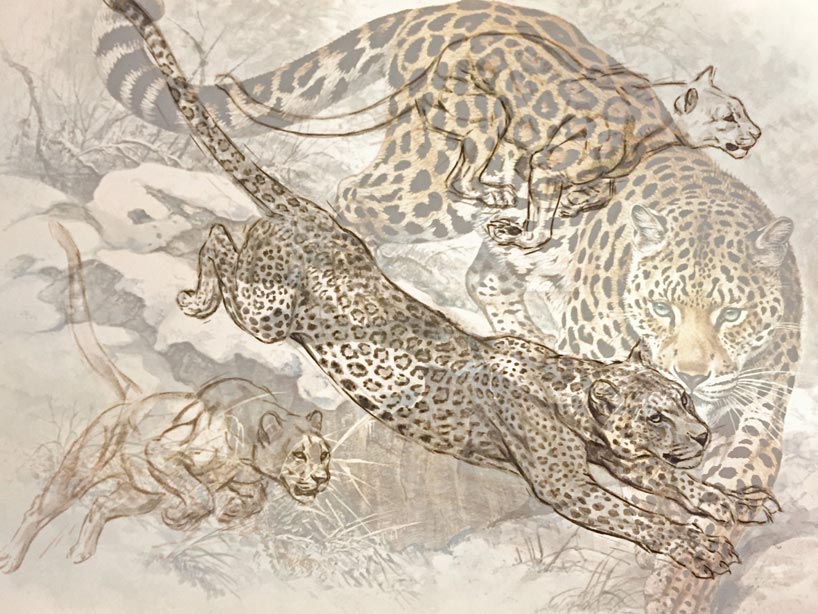 the leopard illustration and painting by robert dallet
image by designboom / courtesy of big cats in the art of robert dallet
the panthera pardus, also known as the leopard, is a feline with a spotted coat. the solitary hunter is seen on the desert plate. one of the wild cats which stand out among dallet' work, they are threatened by habitat loss and hunted for their beautiful skins. even with their adaptability, leopards have vanished from over 40% of their historic range in africa and 50% in asia.
' I hope that, tomorrow, these drawings are not all we have of them, the souvenir of a fabulous world that the blindness and cruelty of man has wiped from the surface of the earth.' – robert dallet
Hermès
(47 articles)
jun 09, 2020
jun 09, 2020
mar 02, 2020
mar 02, 2020
jan 27, 2020
jan 27, 2020
dec 30, 2019
dec 30, 2019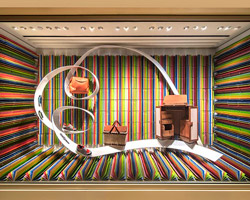 oct 25, 2019
oct 25, 2019
oct 02, 2019
oct 02, 2019
a diverse digital database that acts as a valuable guide in gaining insight and information about a product directly from the manufacturer, and serves as a rich reference point in developing a project or scheme.