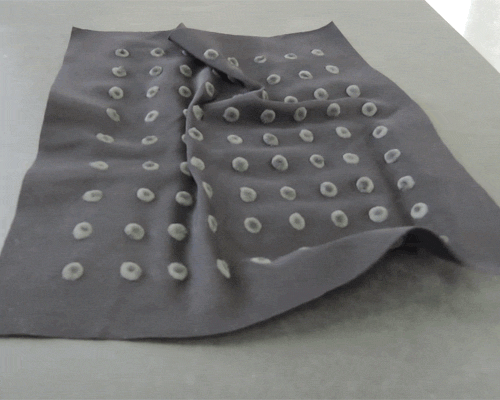 apr 21, 2015
hochschule offenbach exhibits responsive research materials at milan design week

hochschule offenbach exhibits responsive research materials at milan design week
magnetic fabrics by lilian dedio
image © designboom
the institute of materialdesign IMD at the hochschule offenbach university of art and design, exhibited research works during the 2015 milan design week, in the district of ventura lambrate. the exhibition of the world of materials and structures, showcases playful explorations that involved unconventional approaches. there was an emphasis on getting to know materials, structures and systems, as well as on understanding their technical-physical or chemical properties.


magnetic fabrics by lilian dedio in cooperation with BMW AG
the goal of this work was to explore new limits of fabrics, to experimentally further develop familiar features of them through unexpected modifications. to create these changes different aspects of magnetism are incorporated into traditional fabrics. the combination of methodically arranged magnetically active and passive components cause a mechanical accumulation of elements and thus a dynamic rearrangement of the entire medium. over and above the original intention to set the fabric in motion, a surprising set of innovative aesthetics was achieved. the work illustrates the relationship between media and shape by unique motion sequences.

magnetic fabrics by lilian dedio
video © designboom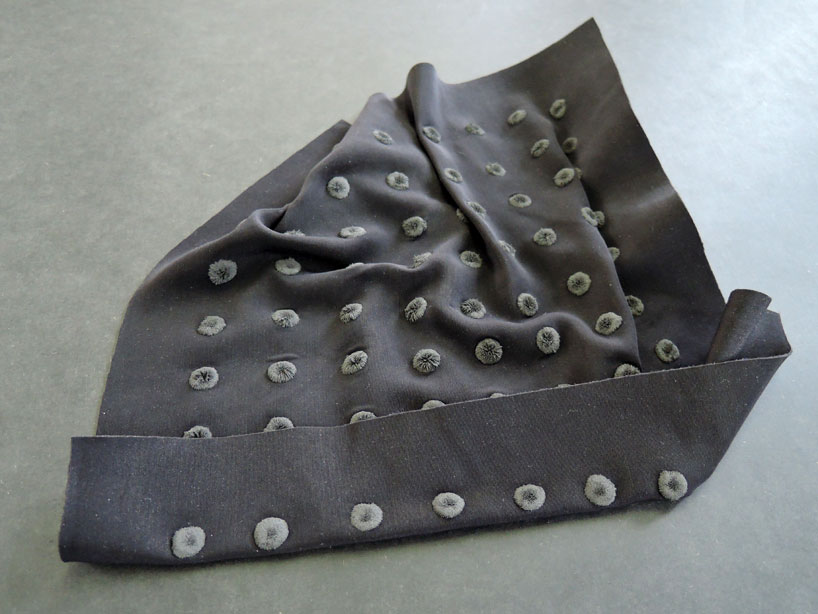 image © designboom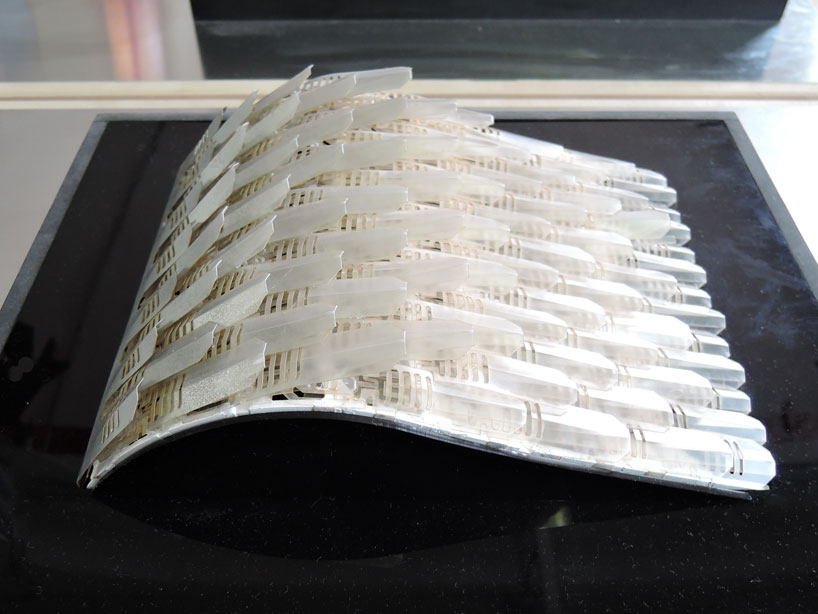 organic interactive skin by frédéric kreutzer in cooperation with BMW AG
image © designboom
the automotive surface concept's goal is to bring the skin of the car to life, and does this by combining elements of technology and communication. an active skin and light is used to transform the outer appearance of the car into a communicating medium. functional elements such as the brake-lights are no longer consciously realized, but are visualized through the material itself. changes of the surface is made possible through a flexible macro-structural matrix containing micro-structural parts. the transformations can be used to create aerodynamic effects and support existing systems such as ESP or control the airflow through the outer surface of the automobile.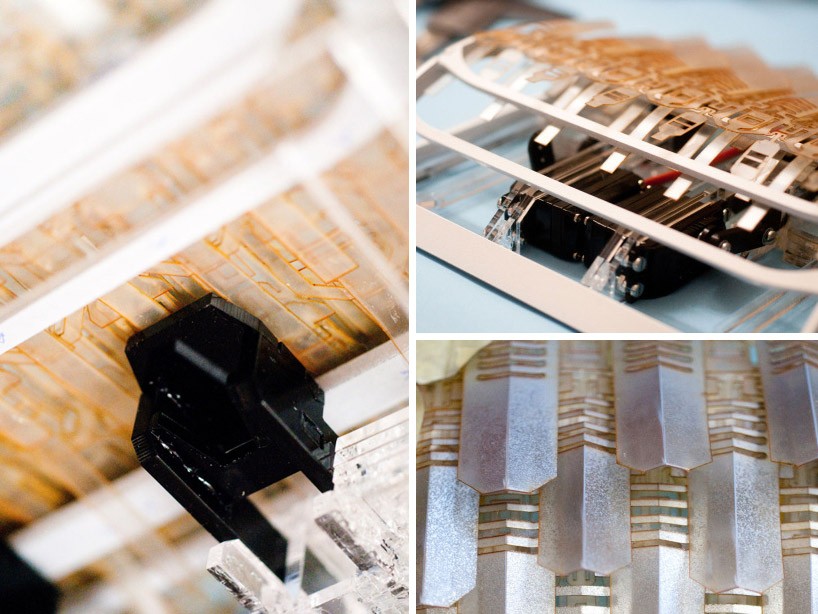 close-ups of the machanics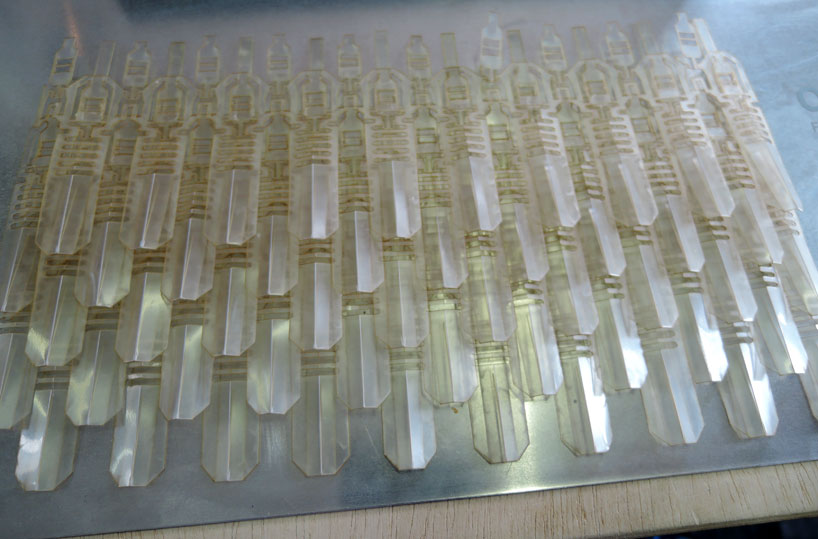 image © designboom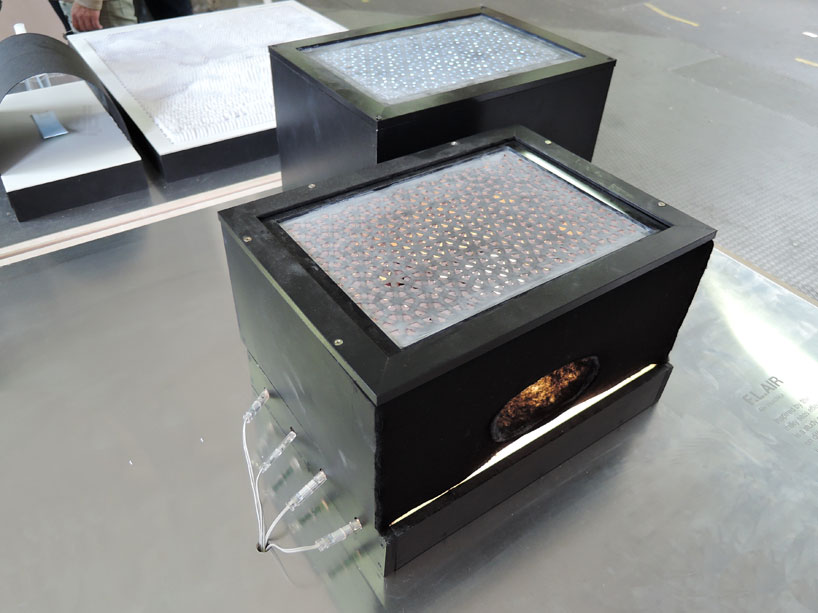 f.l.air by alix huschka in cooperation with BMW AG
image © designboom
inspired by the mimosa podia plant and the milky seas effect f.l.air (flow of light and air) is a study on opening mechanism depending on different materials. with the aim to control lighting and ventilation, different gestures facilitate different functions. the student's intention was to create a structured surface, which is activated by gesture control.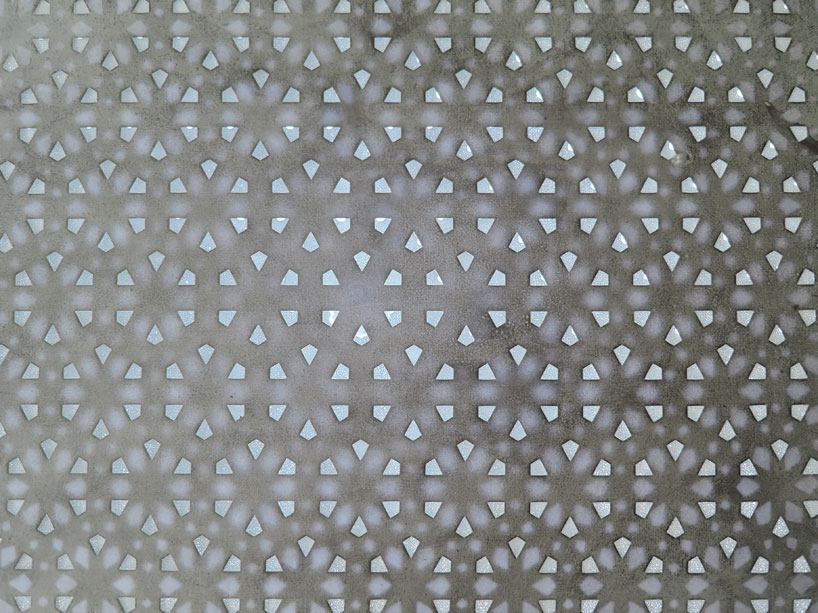 image © designboom
in its passive state the surface is closed and therefore no hidden functions are revealed. when activated through gestural interaction, the material opens at the area of purpose due to distension and enables the desired function. the intensity of the light and of the air flow is adjustable by repeatedly triggering the same area.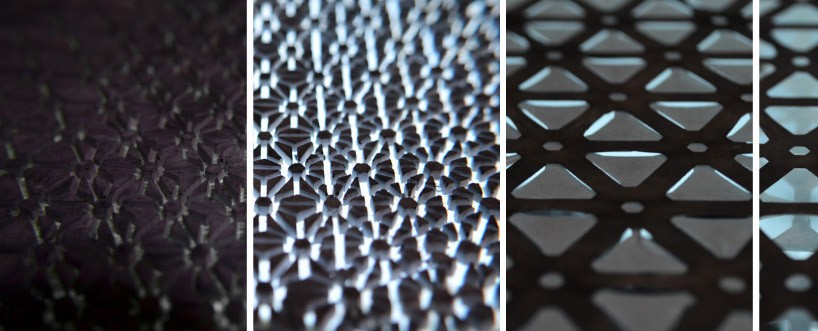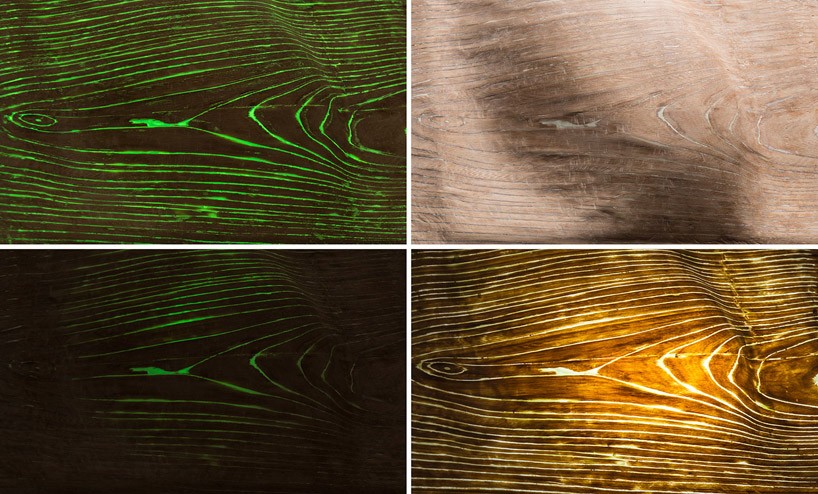 interactive wood by johannes wohrlin in cooperation with BMW AG
examining how every piece of wood is as unique as a finger print. the aesthetic of the surface brings light to the dark interior of the car. the shimmering glow of the timber's grain improves the orientation while driving. by touching it, the light is activated on-spot, creating a gesture-controlled functionality which re-narrates the connection until the glow slightly disappears over time. wood is perceived as a high-quality material and creates a surface with anisotropic properties and individual grain.


transformative paper by florian hundt in cooperation with BMW AG
change a disadvantage into an advantage. the anisotropic material properties of moisture expansion in industrially produced paper and natural wood are similar and are mostly tried to be avoided. combined with other materials though, the expansion of the paper reveals interesting effects, which can be used in rather atypical contexts. this project is a layered structure which reacts to short-term environmental conditions, morphing into various states. thoroughly dry, it creates a tactile and exciting surface by raising the separate segments. however, when exposed to minimal change of humidity, it creates a gesture so subtle it is almost invisible, while it performs a vast transformation when it gets wet. under the influence of rain, the layers shape a closed surface and respond by glowing gently.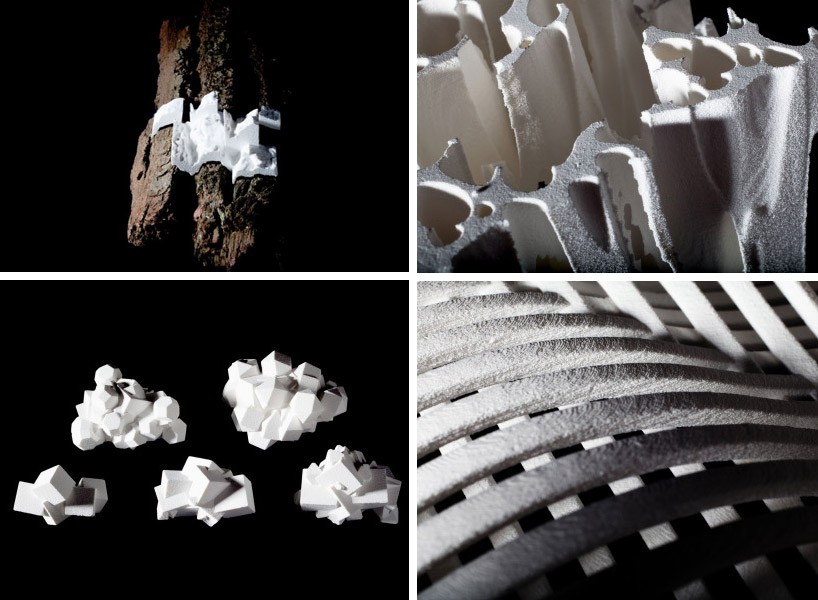 3D- ceramics
lightweight construction is increasingly important especially when resource scarcity is becoming ever more problematic. bionic structures are commonly used to distribute tension in supporting structures and architectural elements. the materials created in this class were developed to minimize material costs. they were produced through innovative production processes such as printed ceramics and multimaterial 3D printing. the scientific aspect, without distinguishing between sciences and aesthetics, was the main focus of the project.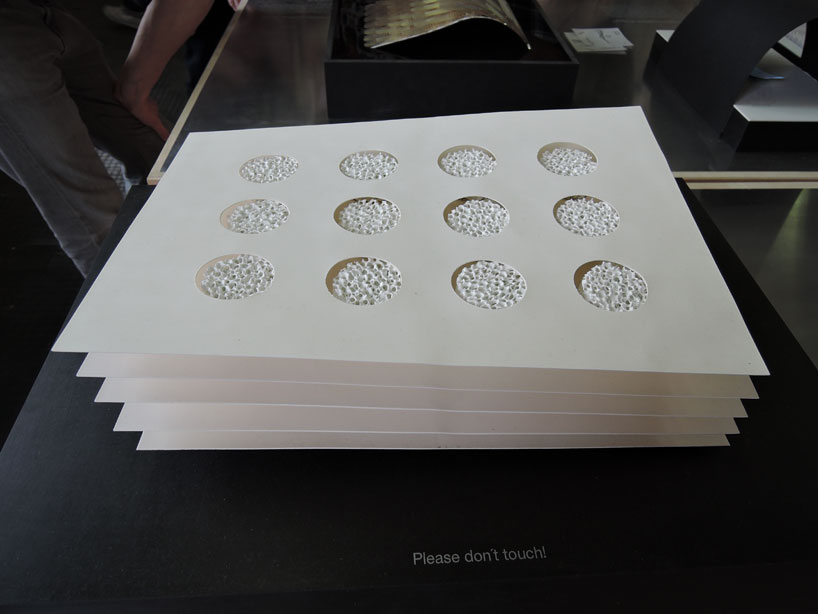 image © designboom
supervision
prof. dr.-ing markus holzbach. imd
dipl. -des steffen reiter .imd
in cooperation with
prof. dr. wolfgang kollenberg,
wzr ceramic solutions gmbh
nov 12, 2015
nov 12, 2015
oct 19, 2015
oct 19, 2015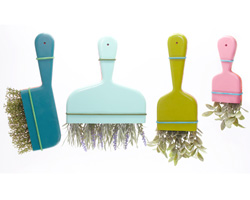 sep 04, 2015
sep 04, 2015
aug 25, 2015
aug 25, 2015
aug 20, 2015
aug 20, 2015
aug 20, 2015
aug 20, 2015
a diverse digital database that acts as a valuable guide in gaining insight and information about a product directly from the manufacturer, and serves as a rich reference point in developing a project or scheme.