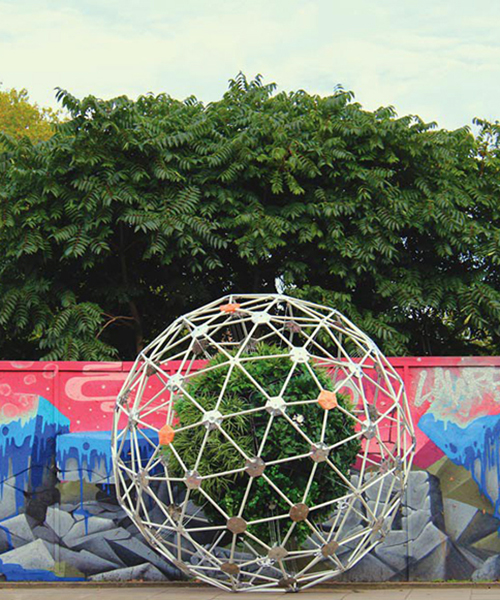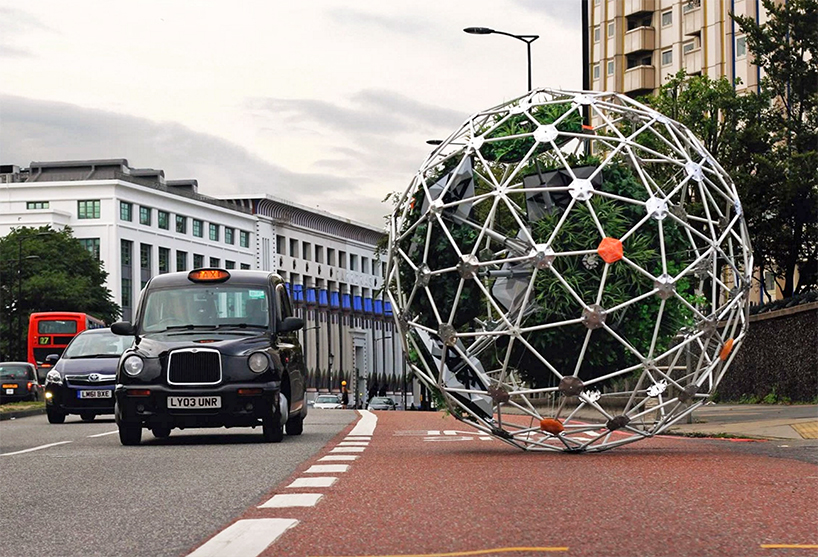 apr 22, 2016
hortum machina B: a kinetic urban cyber-gardener that senses its surroundings
hortum machina B: a kinetic urban cyber-gardener that senses its surroundings
all images courtesy of the interactive architecture lab
probing new ways of interaction between humans and nature, designers and researchers at the interactive architecture lab have conceived the 'reearth' project as a technical investigation, art project, and architectural proposal. william victor camilleri and danilo sampaio, part of a multi-disciplinary research group and masters program at the bartlett school of architecture, UCL have realized 'hortum machina, B' — an intelligent half-garden/half-machine proposed as an 'urban cyber-gardener'.
with an exoskeleton in the form of a geodesic sphere, echoing the architecture of buckminster fuller, 'hortum machina, B' hides twelve garden modules at its core. these components each hold a selection of native british plants on outwardly-extending linear motors, which allow the structure to move by shifting its center of gravity and rolling across the ground. through the study of electro-physiology, the team wired the primitive 'intelligence' of plants into the control-loop of an autonomous robotic ecosystem. while plants lack a nervous system, they can become electro-chemically stimulated by their surrounding environment.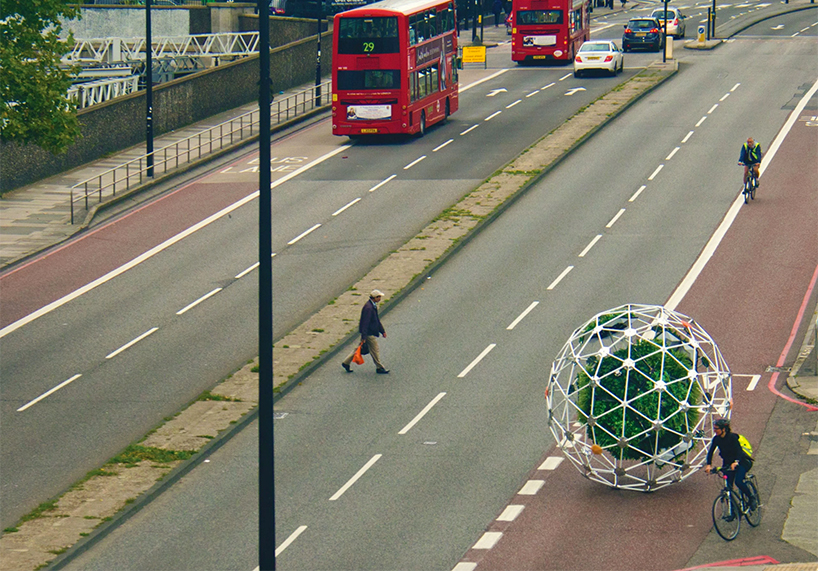 the intelligent half-garden/half-machine is proposed as an 'urban cyber-gardener'
the plants autonomously sense and determine whether the environmental conditions are suitable for habitation. if necessary, the motorized panels will control the orientation of the structure and move it to a new location. 'in the near future context of driverless cars, autonomous flying vehicles, and seemingly endless other forms of intelligent robotics co-habiting our built environment, 'hortum machina B' is a speculative cyber-gardener,' the team describes.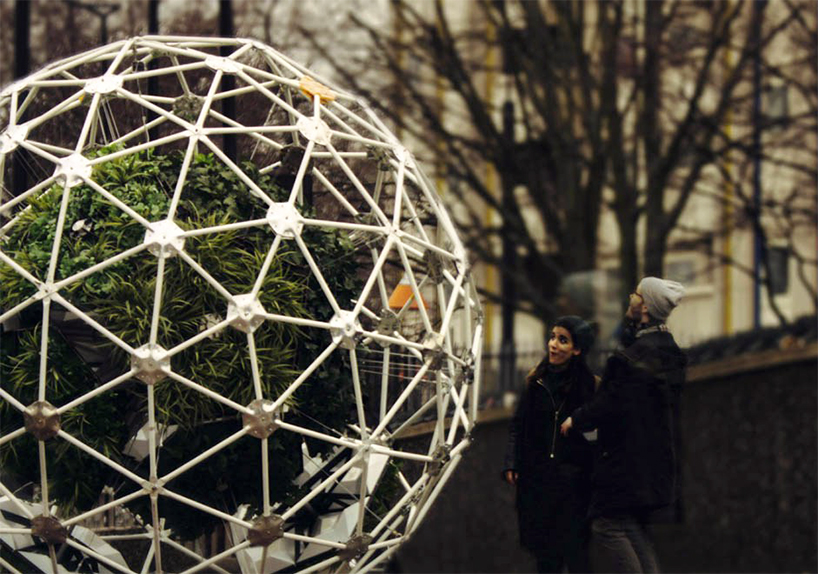 passers-by react to 'hortum machina, B' on the streets of london 
'largely architecture is understood as static. buildings do not conform to nature, its environment and nor to human beings. we as architects feel the need to integrate plants in buildings to the point where people think of them as actual living systems. therefore, our general theme and approach in this set of projects is that plants should become part of our society as well as self-reliant, and be given the ability to autonomously interact and walk with us.'
see a more detailed explanation of the ideas and technology behind the making of 'hortum machina, B' here.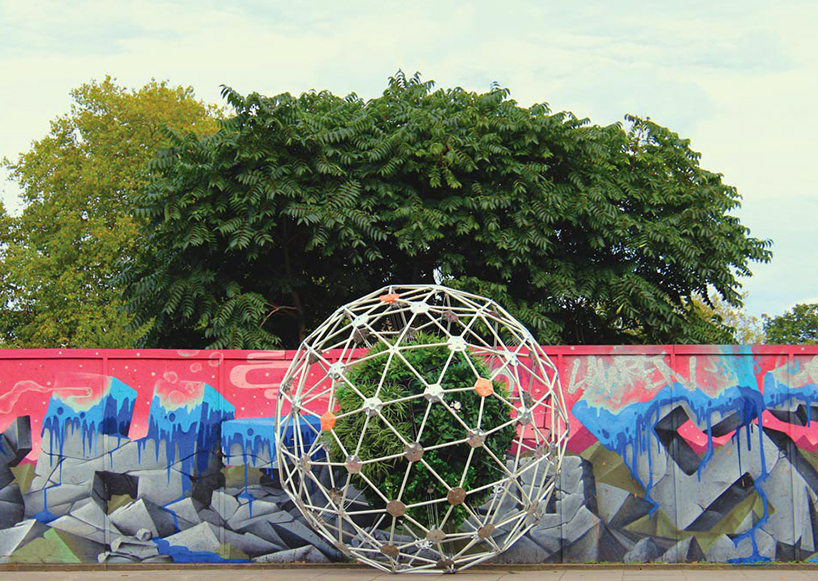 the system's exoskeleton is realized in the form of a geodesic sphere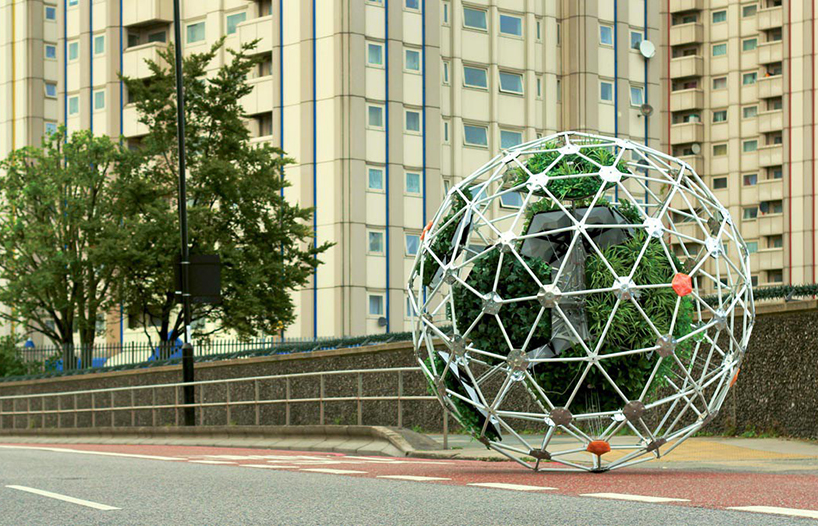 the object probes new ways for humans to interact with nature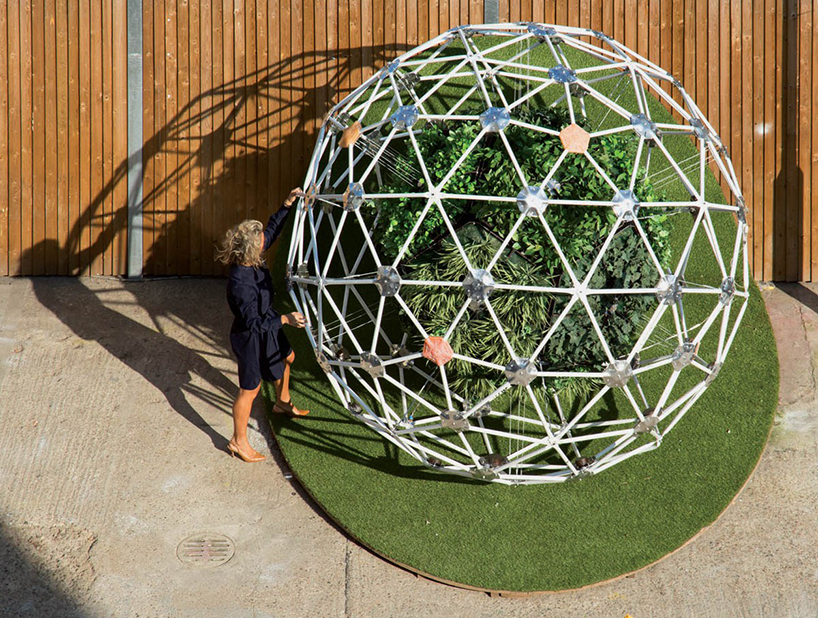 the project is considered as a technical investigation, art project, and architectural proposal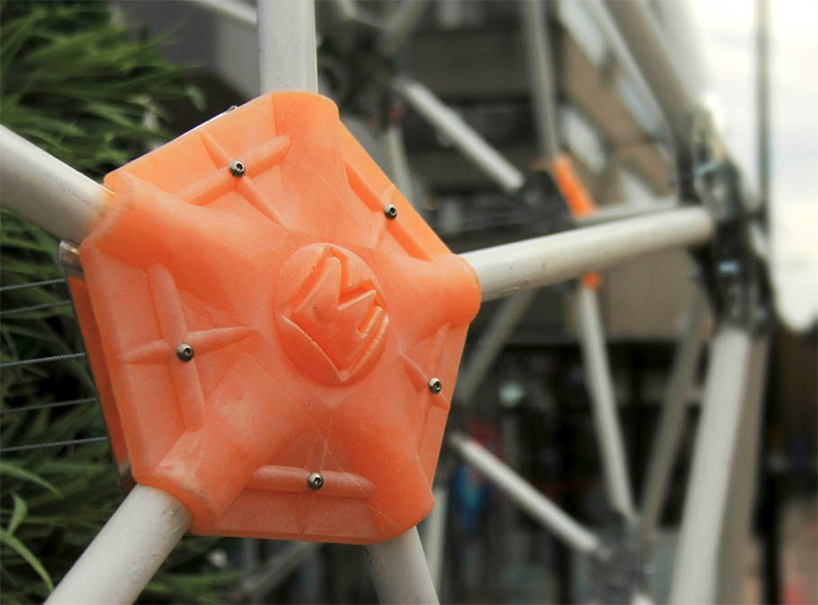 twelve garden modules inside the structure hold a selection of british plants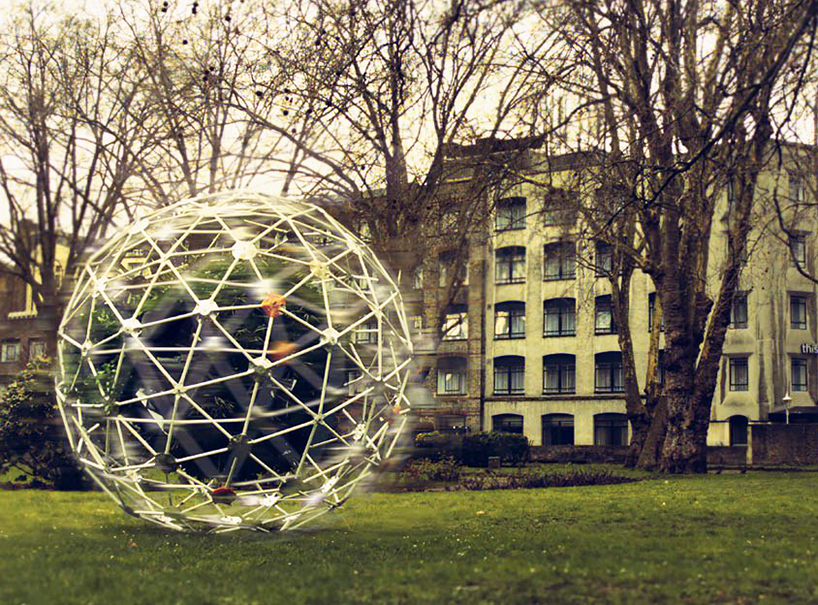 the structure is able to move by shifting its center of gravity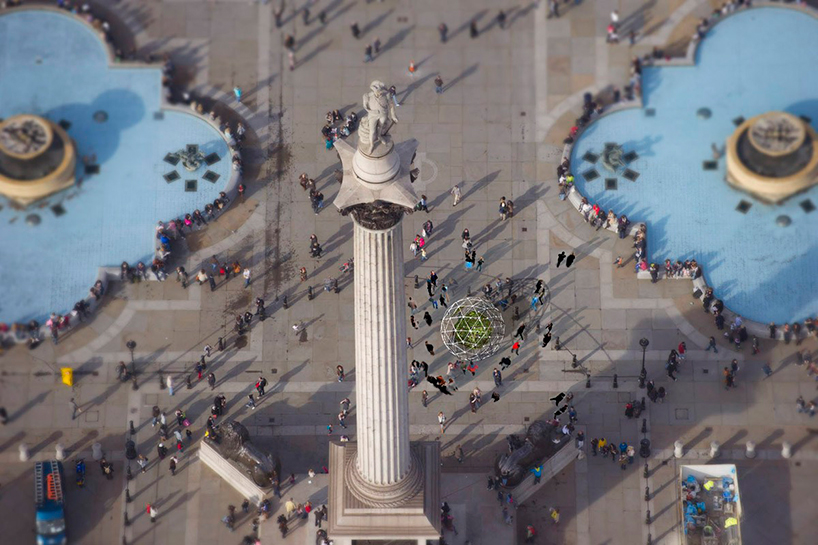 motorized panels will control the orientation of the structure and move it to a new location
the making of 'hortum machina, B'
video courtesy of
interactive architecture lab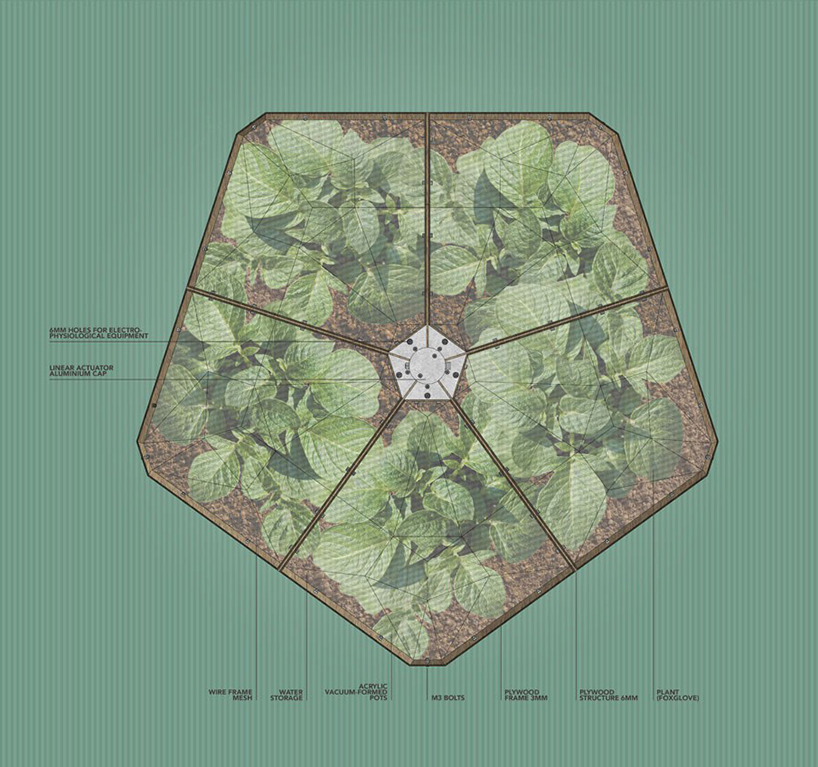 drawing of the internal plant modules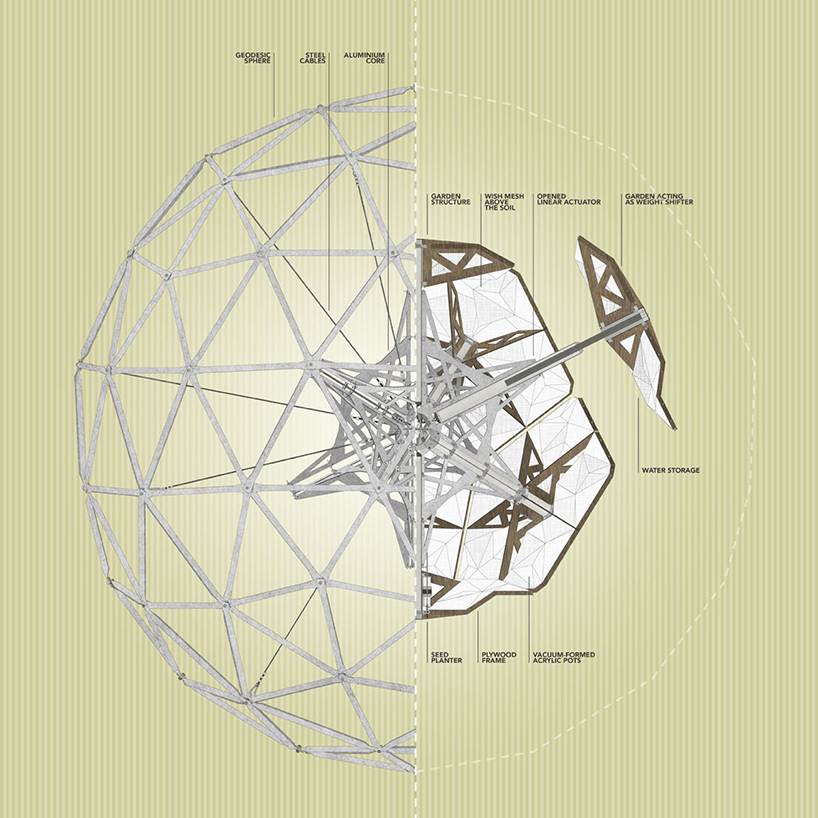 section drawing of the geodesic sphere and its internal components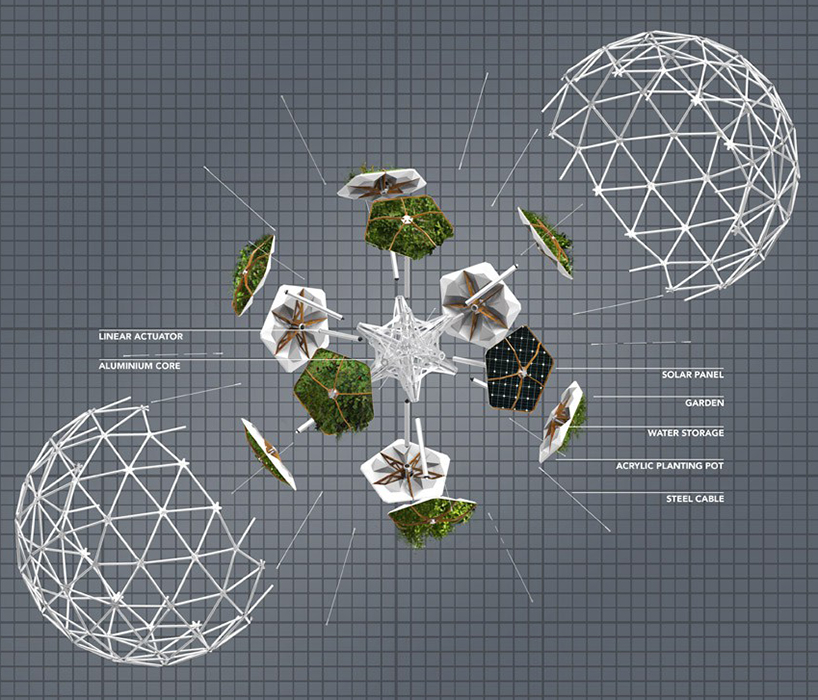 exploded visual diagram of motor and plant parts