it is said that millennials are more interested in experiences than physical products. combine that with being raised in a digital, media-saturated world, and you have the perfect conditions in which a storm like that surrounding FYRE festival can arise. it's now been nearly a month since hulu dropped its documentary about the ill-fated event in the bahamas created by co-founders billy mcfarland and ja rule, who together had a vision of creating a VIP-style, immersive experience, catapulted by a strong identity, social media strategy and the power of FOMO.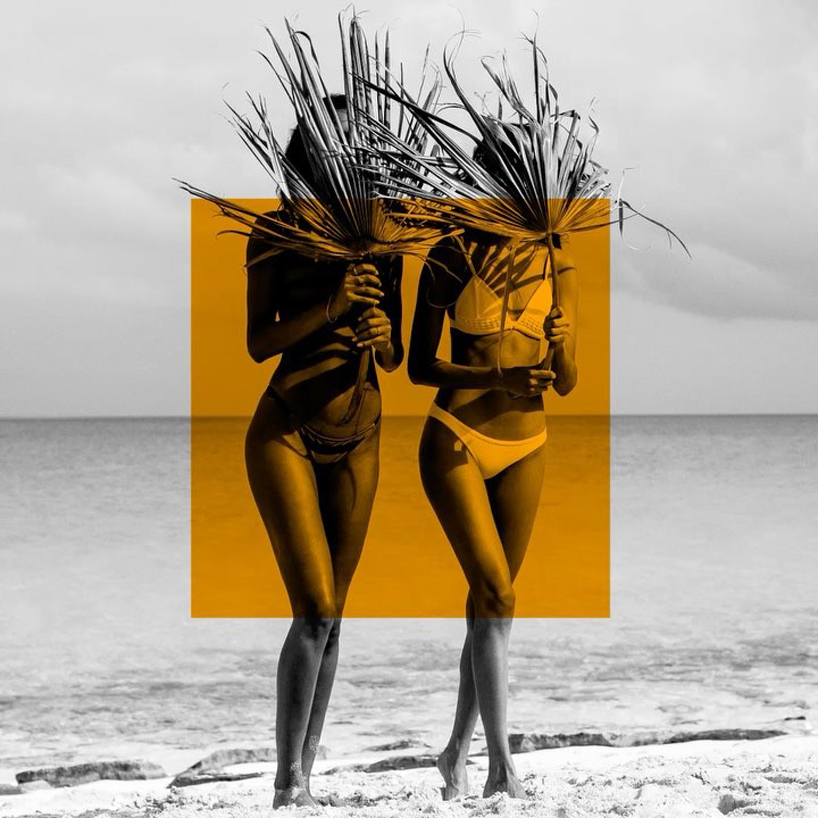 marketing material used for FYRE festival's instagram
images courtesy of oren aks unless stated otherwise
these are the key ingredients to any successful event, but unfortunately, also the undoing of one like FYRE. let's look at coachella, which since its inaugural music festival in 1999, has skyrocketed to success. what people forget however, is that coachella too had a shaky start with less than half of the targeted audience showing up to its premier festival. the difference is, coachella was able to surpass its initial shortcomings and has since then increased its attendance by 500%, grossing a record-breaking $82.4 million in 2015. how? in part because coachella has certified its offering, its identity, and become synonymous with pastels and palm trees to match the vibe of its valley location. branding has been essential.
defined by its iconic logo and brand personality, it lives as an expression of art and music in the middle of the californian desert. attendees embody a dreamy, nomadic vibe, dressed in an eclectic mix of color and material that borrows traditional elements from minority cultures. however rightly criticized, this is what makes coachella distinguishable. it saturates instagram feeds, promoting an almost primordial experience, wrapped up in a contemporary bow that everyone wants to unravel.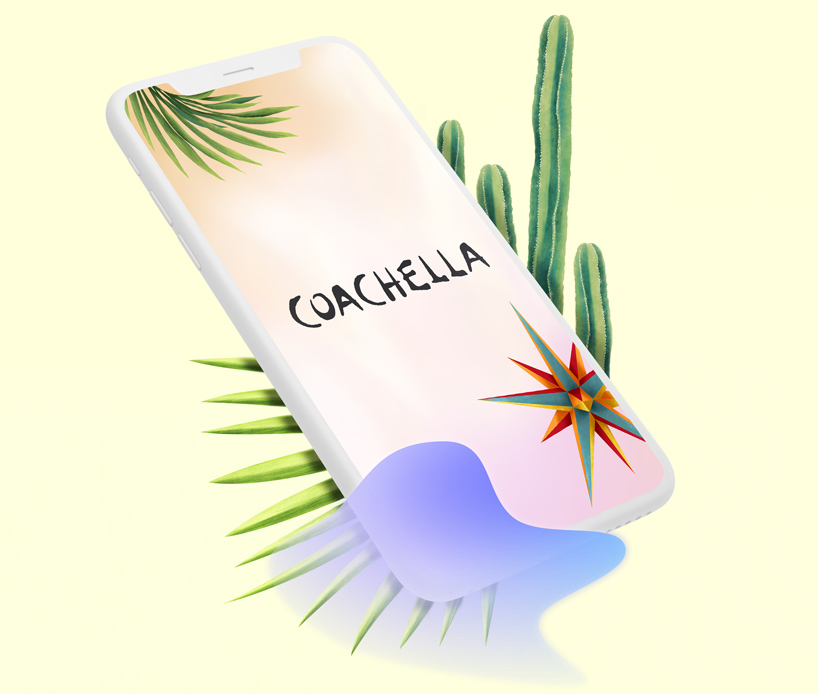 image via coachella
FYRE festival is similar in many ways but one thing it mirrored exactly was its promise of a once-in-a-lifetime experience. a promotional video touting bikini-clad models, 'two transformative weekends' and 'the best in food, art, music and adventure' was enough to sell such an experience. a collage of black and white images overlaid with color showing would-be festival-goers enjoying the cool blue waters and sandy beaches of a private island owned by pablo escobar. it demonstrates the power of imagery – a glitzy representation of something, that in this case was without substance.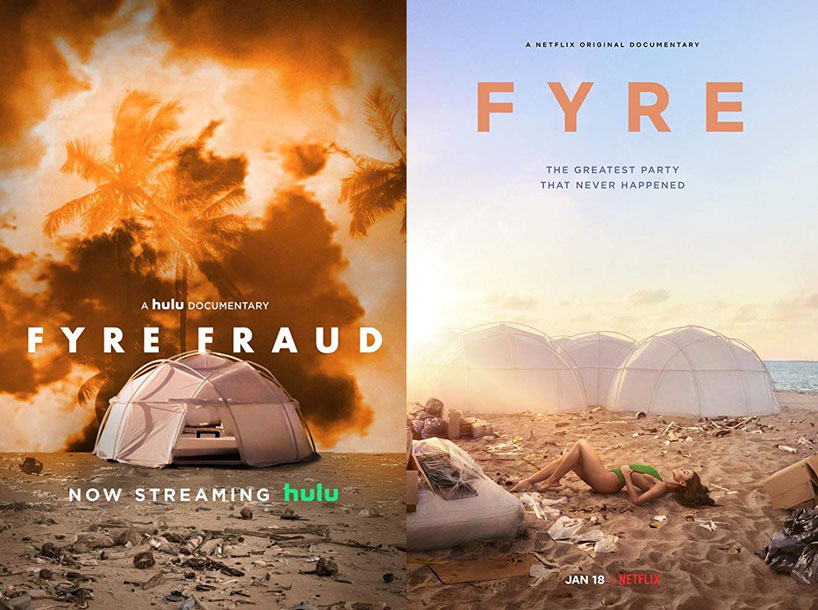 posters for FYRE fraud and FYRE: the greatest party that never happened
images via hulu and netflix
28-year-old oren aks was given the task of promoting the non-existent event. as a graphic designer and social media consultant, he helped roll out FYRE festival's social media campaign and made the event go viral. in the aftermath, these visuals serve as a reminder of what it was supposed to be.
since his appearance on hulu's FYRE fraud, aks has widely caught the attention of online media. you probably know about his attempts to forewarn event organisers, heard what he thinks of jerry media, and read about his special shoutout from chrissy tiegen, but what are his thoughts on the role design, imagery and social media played when it comes to FYRE festival's burnout? we spoke to oren aks about this, his work as a designer and how on earth you put a disaster like this in your portfolio…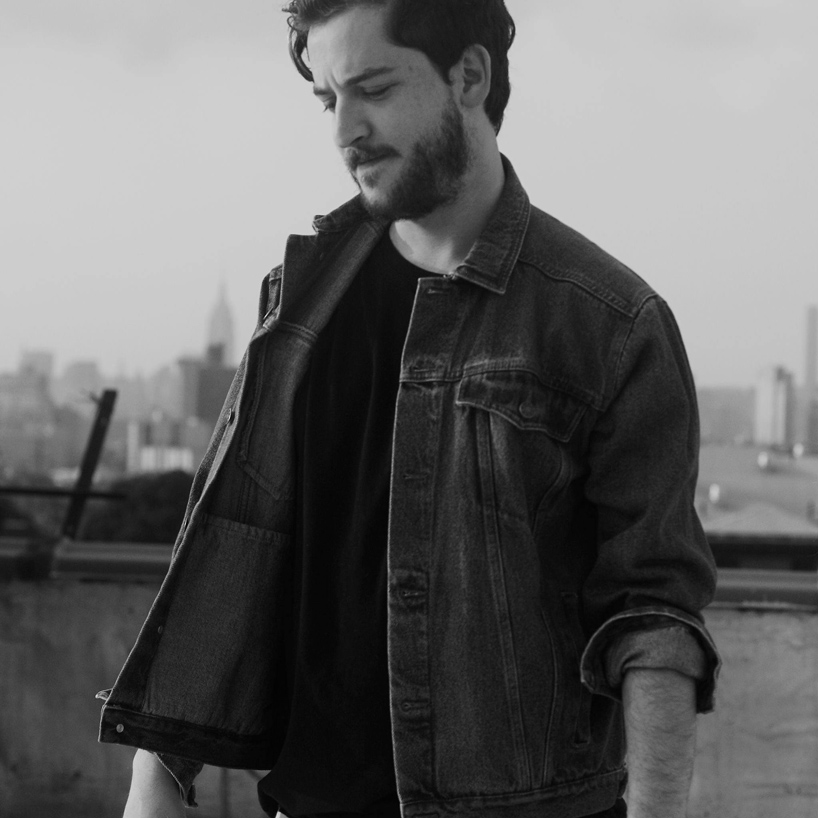 portrait of oren aks
image by thais aquino
designboom (DB): design is a crucial part of any event. take coachella for example or burning man. in the case of FYRE festival, the design has turned into a sort of relic. the only surviving thing that bares any resemblance to what people expected the event to actually be like, along with slick promotional videos showing model's frolicking on a desert island. having spearheaded that, can you explain the impact and the power of design in your own words?
oren aks (OA): we like to think graphic design is just about creating aesthetic logos & movie posters, but we forget that it's a powerful tool to convey a message, before it is art. selling an aspirational lifestyle, a dream vacation, or a sexy red sports car is nothing new from a marketing perspective. the difference now is the amount of people who can share in on a single emotion together, AKA FOMO. a few years ago we didn't share tropical vacation photos with more than a handful of friends if at all. now if you are an influencer you can share to millions of followers, affecting a group of people who invest emotionally, wishing they could be you at all cost in that immediate moment.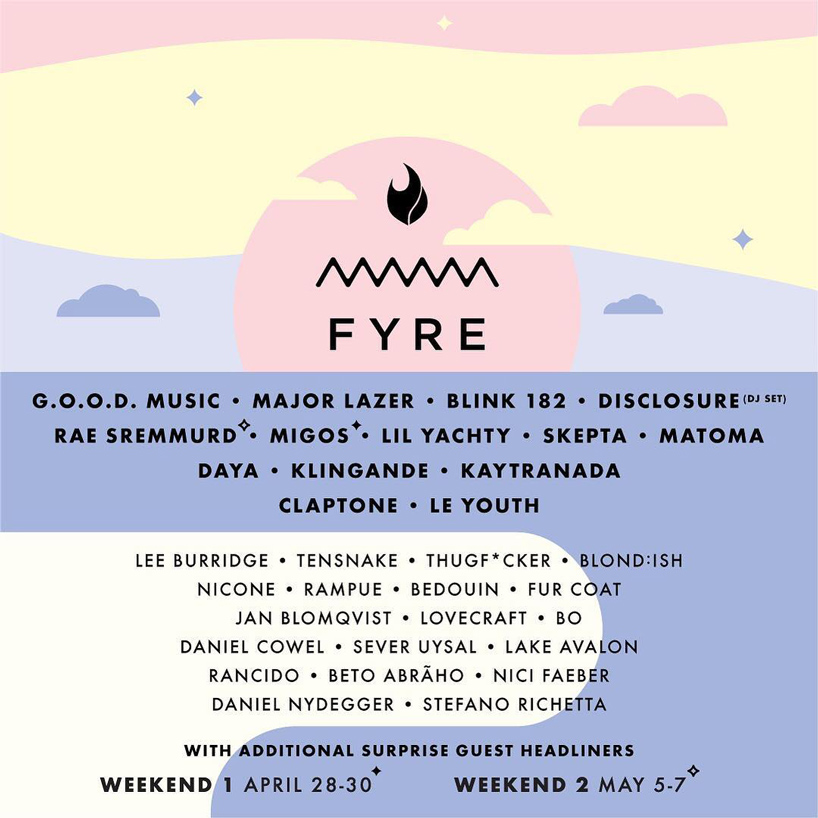 line-up poster created by aks
designboom (DB): can you explain how you were brought in to work on FYRE festival?
oren aks (OA): I was one of two creative leads for jerry media & the first major client that came in the door was FYRE. I got the account by chance. I was quickly pushed to be account manager, influencer outreach, designer, community manager & a slew of other positions because we were so understaffed at jerry media & so was the FYRE management team.
DB: what was the initial brief when it came to the branding/marketing concept/social media strategy and how did you bring your own aesthetic as an illustrator and designer to that brief?
OA: at first the aesthetic looked like the branding for a sandals resort with water color design elements (as seen in the 'accommodation pictures' provided by FYRE later). when I came in on the second meeting I threw out everything immediately. I knew that if kanye west was secretly headlining this festival – and yeezy season 1 had just dropped – that we had to do something very different. the current aesthetic of fashion, hip hop & design didn't match the watercolor look & we had to start over immediately. in the same meeting I came up with the infamous orange tile to compliment the new design strategy. the color palettes of the time were highly influenced by all muted colors or with pops of neon. I decided that we needed to respond accordingly without feeding into temporary styles if we want to be the epicenter of all things pop-culture & dominate the internet every time we push something out. I was asked at 11pm by the FYRE team & my CEO to create an illustration for the lineup. at the time I had to go back to the office & create more options. I worked till 6am, slept on the couch in the office until 8am, and then gave a redesign of a poster I was designing for my friend from anchorage as a sacrificial lamb to the FYRE team by 9am. this is the only illustration I created for the festival, so it was a surprise for me they chose it, but a relief. we just needed to get it out within 24 hours.
an e-vite that looked like this was sent to celebs who live in the bahamas including johnny depp
DB: one word that keeps on coming up is 'experience', which of course started with visuals of the event mediated through social media – what world or personality were you hoping to convey with these?
OA: my goal from day 1 was to make you feel like you were about to do something no other human has ever got the chance to do. I channelled this mindset a lot. I wanted to convey luxury but for a younger generation that isn't interested in a rolex with a cigar on the beach. the luxury experience had to be rewritten, sometimes in a moments notice, by me. I've been fascinated by the cultural shift when it comes to the luxury sector in the past decade. I believe that we are seeing every big brand shift their message & their experience. it's just not as fast or publicly dissected as we see with FYRE.
DB: what is your opinion on the power of social media and influencers selling a 'dream' to people?
OA: the concept is as old as fame. it has a new name and it's on a different platform, but being influenced by the famous is nothing new. instead of MTV like before, it's instagram. the power is very strong as we learned through FYRE. I'm sure people will continue blindly listening to others online, but I hope this will at least grab people's attention & hopefully we can regulate this market like we do with the advertising industry. it's not one post, it's an industry.
View this post on Instagram
DB: the orange squares were very effective – explain why…
OA: the orange was already in their branding, which they got from someone else. they thought it was too loud & cheap but I felt the opposite and convinced them to make it the focal point. the idea was to allow the influencers to post something easy & universal. there were many styles & revisions, but I ultimately pushed for the original. I opposed a christmas version covered in 'snow' and wanted to keep this element of the brand untouchable & extremely dominant, not playful or, like I felt, misused.
it is powerful because nobody posts solid color on instagram. our eyes know whilst scrolling on instragram, how to identify ads, content we like, and content we don't. it works because the orange tile is confusing. if you follow a lot of models, you would have to go through a dozen of the same post and therefore HAVE to investigate. you need to get in on the secret that everyone else on the internet knows about already, except you.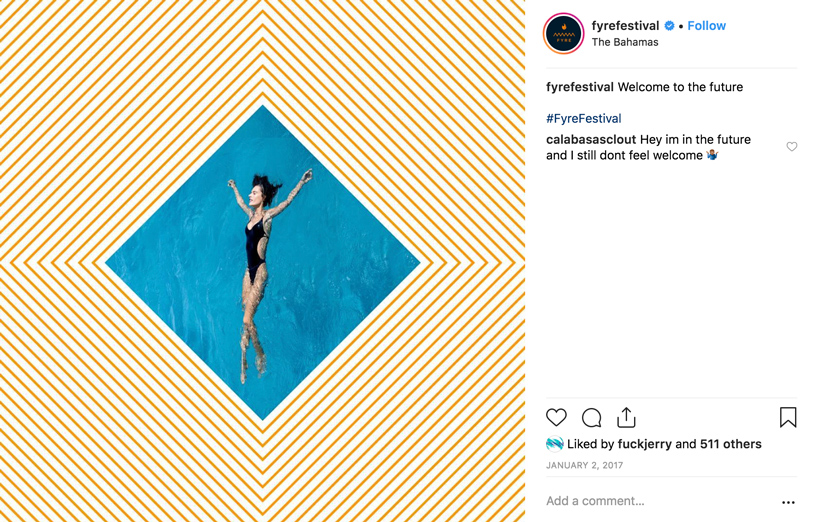 FYRE festival's social media campaign
DB: regardless of its failings in the end, a well-curated, well put together instagram spoke to a culture of aspirational, and sometimes spoilt millennials (or wannabe-spoilt millennials) – why do you think that is?
OA: our culture is constantly looking for new forms of escapism. that's why gossip magazines exist. we have gotten beyond that, beyond reality TV, & now we are hungry for something bigger or unseen. FYRE was a perfect situation even if you couldn't go, because you could tune in, sometimes live, like a TV channel whether that was on instagram, twitter, or youtube. there were tons of others posting so you could join the story too. it was the best drama show ever, and it kept coming out with new episodes. beautifully packaged items & experiences are now the standard, ever since steve jobs showed us the iPod. since then we have not been able to accept anything less curated & beautiful. so when to some people, a festival is a loud, sweaty, human mob from hell, the appeal of the complete opposite is a solution to the problem.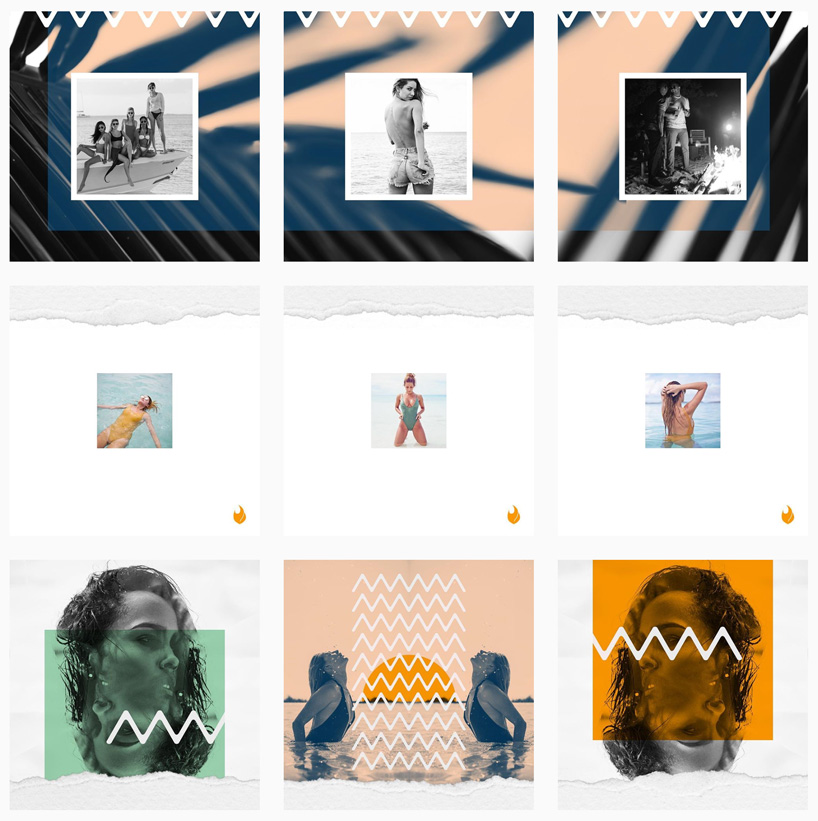 FYRE festival's social media campaign
DB: what was your experience like working with jerry media on this? and how did this impact the design?
OA: at first it was an incredible opportunity & I felt as though I was tasked with creating coachella from scratch. even with all the crazy requests & deadlines I was addicted to working on this project, voluntarily coming in on nights & weekends to make the design better. this was partly because there was nobody else at jerry media who understood design to oversee my work. I got 100% free reign to do whatever I wanted (almost). it was the first project that I was essentially designing for myself (even though I couldn't afford to buy a ticket). I got push backs on certain details, but I could convince the FYRE team and I had a good track record so far with what I made for them, not to mention how many other things they all had on their mind.

a design for a billboard advertising a mini tour that failed to take off before the festival. the tour which was supposed take place at 1OAK across the US
DB: so what's the true menace when it comes to FYRE festival – is it good marketing? great visuals? the subtle menace of social media? rich kids looking for an experience? something entirely different, or all of the above?
I believe billy clearly acted illegally & the courts have decided his fate accordingly. the success of the marketing, design & strategy has nothing to do with his actions. the rich kids were just trying to have fun, nobody deserves to be ripped off for just existing. social media is not a menace, but we need to learn & teach the public to understand how things on the internet can affect millions of people at once, not just a few, which can create a tsunami effect from even the most minor earthquake.
DB: and finally, how on earth do you put something like FYRE into your portfolio?
OA: I used to want to spin the story and reintroduce the project into my portfolio, but I think at this point there is nothing to hide, but to be proud of my hard work. this isn't a project I would show every client, but I will definitely be showing it. I spent so much time on it and I love how it looks. I'm not going to let billy ruin every time I'm looking for a job.
kieron marchese
I designboom
feb 10, 2019
KEEP UP WITH OUR DAILY AND WEEKLY NEWSLETTERS
happening now! antoniolupi extends its expertise beyond the bathroom with the 'living' collection, a series of home furnishings that complement its esteemed collection of bathroom furniture and accessories.
a diverse digital database that acts as a valuable guide in gaining insight and information about a product directly from the manufacturer, and serves as a rich reference point in developing a project or scheme.
designboom will always be there for you
milan, new york, beijing, tokyo

,
since 1999