'rhythm. curve.' by xiao tianyu image © designboomthe 'how to…' group exhibition during beijing design week 2012 explored a new knowledge sharing phenomena. current learning and creative processes rephrased in designer/user relations, both in the real world and online. the show has been curated by israeli-based studio bet – liora rosin and nitsan debbi – and china-based zara arshad.
throughout history, domestic crafts such as knife sharpening, weaving or braiding, and more professional skills such as glass blowing or wood carving, were passed down orally from one generation to the next: from father to son, mother to daughter, from craftsman to apprentice. these skills were considered a professional or community secret whose learning involved an interpersonal encounter. such traditions were slowly replaced by an industrial, machines-based age, whilst the rise of big corporations witnessed information concealing in order to declare ownership over it. more recently, however, a proliferation in the popularity of new media websites, such as youtube, has seen a rapid rise in alternative sharing mechanisms and DIY culture. many platforms focus on and redefine 'the self': comprising of a huge archive of instructional videos, people from all over the world explain how to perform various tasks – simple as well as complex – in a visual way, using their own unique language. through these videos, the secrets of craft are once again revealed.
the project 'how to…' explores this new sharing phenomena. a group of handpicked designers from israel and china have been provided with a curated selection of youtube videos. each designer-participant has been, subsequently, required to create a new, original object in response to that video, but not directly to replicate the project, skill or craft being taught. each participant created a video of their own to document their process. the 'professional' becomes a student of the 'amateur'.
participating designers from israel are tal gur, haim parnas, tehila levi hindman, maya ben david, naama steinbock and idan friedman of reddish studio, tal mor, roi vaspi yanai and ezri tarazi. from china participated wen miao, wu zhuoyang, shan design studio, xiao tianyu, lulu li and been of carrot design.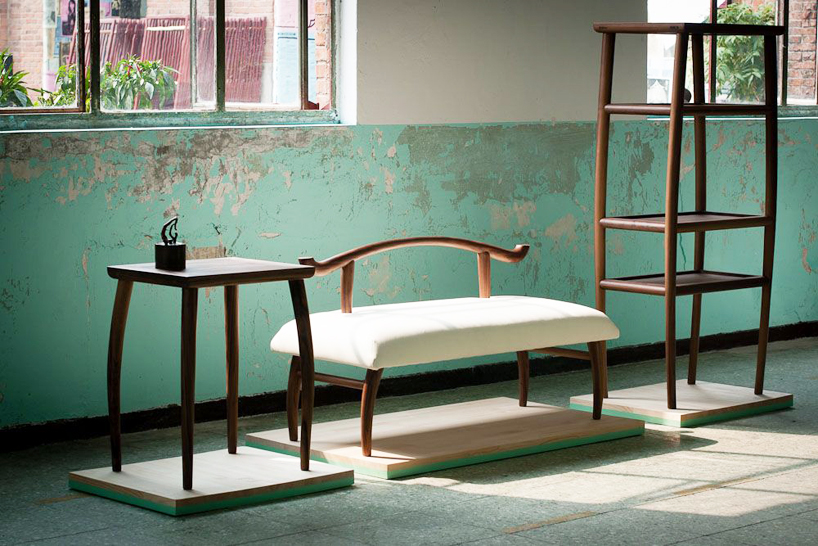 'rhythm. curve.' by xiao tianyu
'rhythm. curve.' by xiao tianyu the designer states that he wanted to rethink furniture elements of the ming dynasty and to redefine their shapes and sizes to create a sense of resonance between their parts. in other words, to create something organic, something that is in a state of morphing, and something that reflects the natural shapes and curves of nature. he believes that modern furniture should not be mass made, (often cheap, disposable, and inorganic) instead employ traditional craftsmanship techniques and skills (to make something that is durable, organic and can, eventually, one day become an heirloom).
xiao tianyu is a beijing-based designer and former graduate of central academy of fine arts (CAFA), beijing. his graduation furniture series 'harmony' combines local chinese culture with a more contemporary design aesthetic. he is a long-term collaborator of renowned furniture designer song tao and of WUHAO curated shop. see the designboom article of WUHAO at beijing design week 2011 here.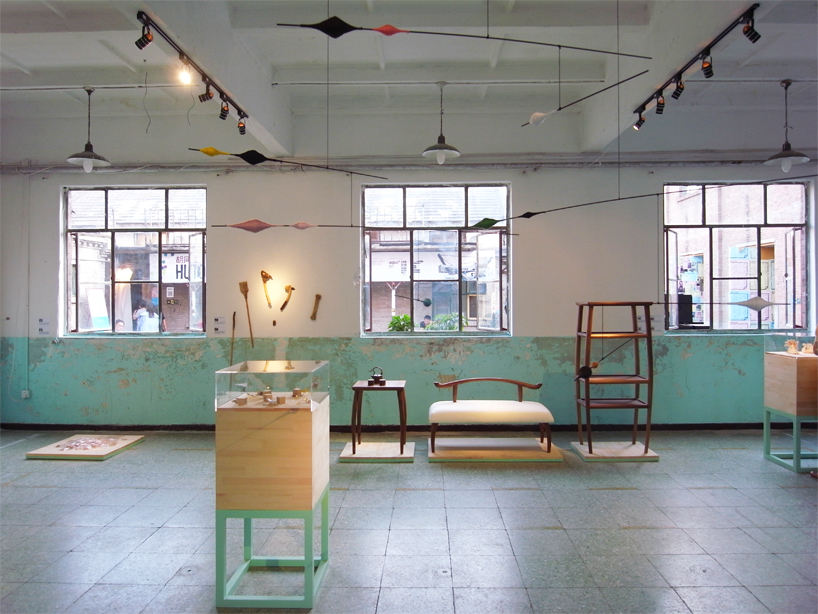 exhibition view image © designboom
'float' (how to make cotton candy) by naama steinbock and idan friedman of reddish studio in the 'how to make cotton candy' video, a women stands in her kitchen and improvises tools and techniques. she shows the fun of making, as she coils sugar threads into colorful fluffy sweets. in our 'float' project we used cotton thread, steel rods and a hand-held drill. an improvised home-industry facility allowed us to make mobiles. our own cotton-candies are balanced sets of weights and colors that hover around and add an optimistic element to a room's skyscape.
reddish studio: together, naama and idan opened reddish studio in 2002, a design studio which produces a range of products from furniture, lighting and home accessories to jewelry. their designs are characterized by clear shapes and simple structures, an approach that enables to keep the products basic ideas approachable and focused. the studio specializes in product design and operates in a number of fields. it gives a wide range of design services to external clients, while initiating productions, in order to express the designers' point of view. in addition, reddish studio constantly takes part in international design exhibitions – felissimo design house in new york, milan's salone del mobile, berlin's designmai, cologne's imm, v&a in london and much more. 'we try to give character to our objects, make them feel better about themselves. we hope people will have a personal connection with them. maybe that way they won't get rid of them as easily as they do with a lot of other things they consume.' both naama and idan were born in 1975, and graduated from the industrial design department of h.i.t were naama is currently a senior lecturer.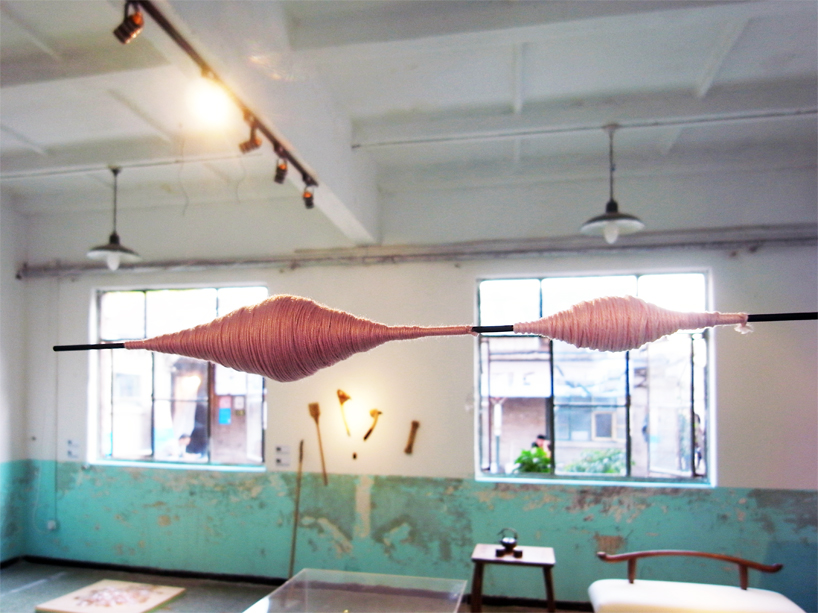 'float' by reddish studio image © designboom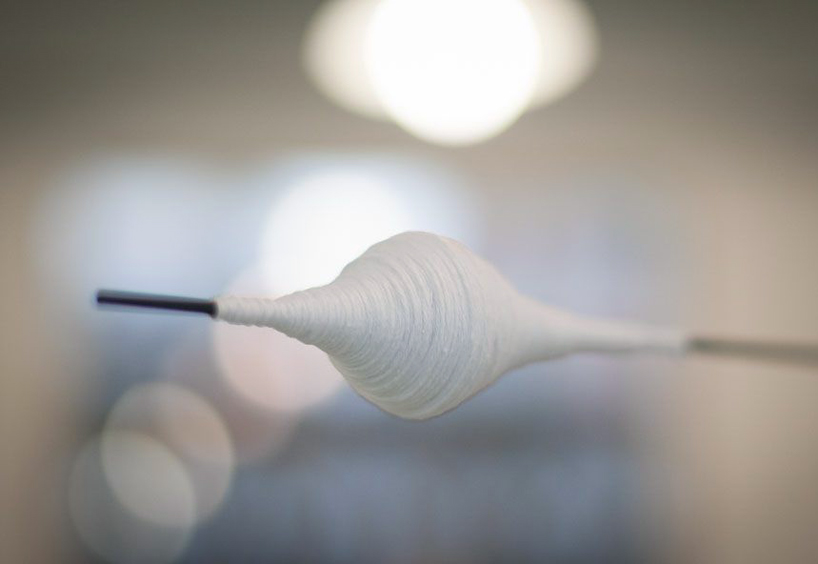 'float' by reddish studio
video by reddish studio
'sweet hair' by been
'sweet hair' by been
'I chose the video concerning homemade candy floss. when I was a child, I loved to bury my face in candy floss to taste the sweetness. I can still remember how the sugar melts between the teeth and tongue; if you eat it too fast, it is easy to get white sugar all over your mouth, resembling the beard of an old man. I also have a personal interest in human hair, which I think is intriguing in terms of how it can change the appearance of a person so drastically. once I realized that candy floss felt like hair, I couldn't help but think: why not extend pleasures of taste to a feast for the eye? therefore, I initiated a series of interesting experiments and came to realize that, by using a candy floss beard and moustache as a prop, we can easily extract common objects, such as seemingly lifeless fruits and vegetables, from their usual existence.'
been is a new media artist based in beijing. she is one of the first and foremost supporters of beijing independent visual art research association, and has devoted four years to teaching design in several chinese universities. the young designer has been practicing as an independent graphic designer since 2005, whilst her signature new media work, rabbit god (created in 2012) has been invited to participate in a number of art festivals and design exhibitions across europe and asia.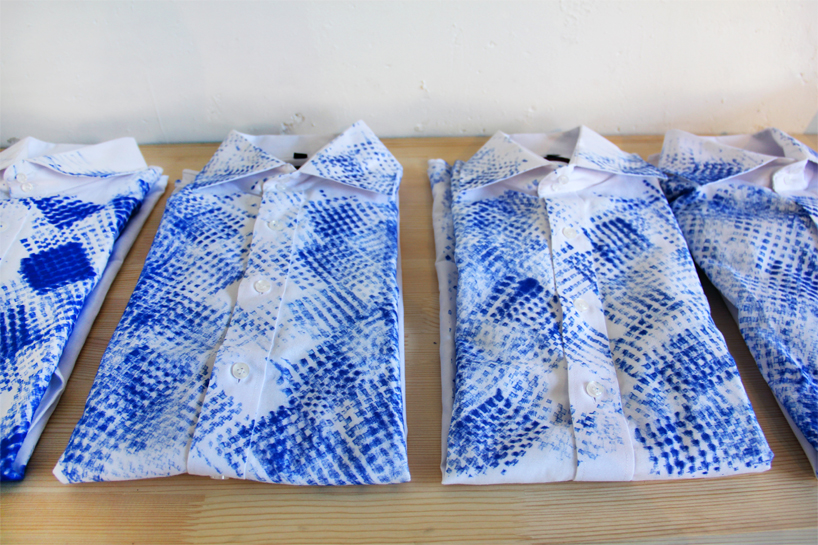 'schnitzel' by tal gur image © designboom
'schnitzel' (how to fold t-shirts japanese way) by tal gur'the generic button down shirt is one of the markers of efficiency in the modern era. the eclectic you-tube channel largely reflects the post – modernist multiplicity, where reference for moments and old habits of the past can be found. these are the 'how to…' clips which teach us how to fold these shirts in an efficient manner. these clips are addressing women, mostly done by women, and women in these clips demonstrate their shirt folding tasks and share their folding techniques with the viewers. tal gur refers to the white shirt as a symbol of an era, of order, of social standing and of place. in his creation, gur exchanges the demonstrating woman and brings together the meat hammer, blue ink and the white shirt – this nearly corresponds to the meeting of an umbrella and a sewing machine on top of an operating table. this action creates a mixture between the worlds and dares to dirty up the white shirt, not just with ink, but also with menial housework. in our corner of the world, the white shirt is also used and symbolizes holidays and the sabbath, therefore the staining process was done on six shirts and the seventh shirt remains pure white.'
tal gur works in kibbutz gilgal, israel. graduated from the industrial design department in the bezalel academy of art and design in 1996. gur became first known by his unique plastic light fixtures shaped via rotation modeling technique in an exclusive process embodied in a post-industrial thought granting each design object with an individual look. later his idea of using drinking straws – ready-mades – as a material for design was a stretch of his use of the plastic material, keeping his colorful palette. gur has experienced in other materials, continuing his affinity to nature by using natural materials or nature-inspired shapes in new developed compounds. his solo exhibition at the tel aviv museum of art in 2007, has marked a beginning of a new path creating a total-design-experience with an installation featuring unique design objects, a video piece enhancing the presented philosophy towards design and life and adorned by a sound piece created especially for these works. gur exhibits his designs widely both at his home country and internationally (in europe, america, the far east and the pacific). his design works were featured in international prestigious publications such as '& fork' by phaidon and 'new talents: state of the art' by avedition, as well as in design magazines and daily media around the world.

'schnitzel' by tal gur
video by tal gur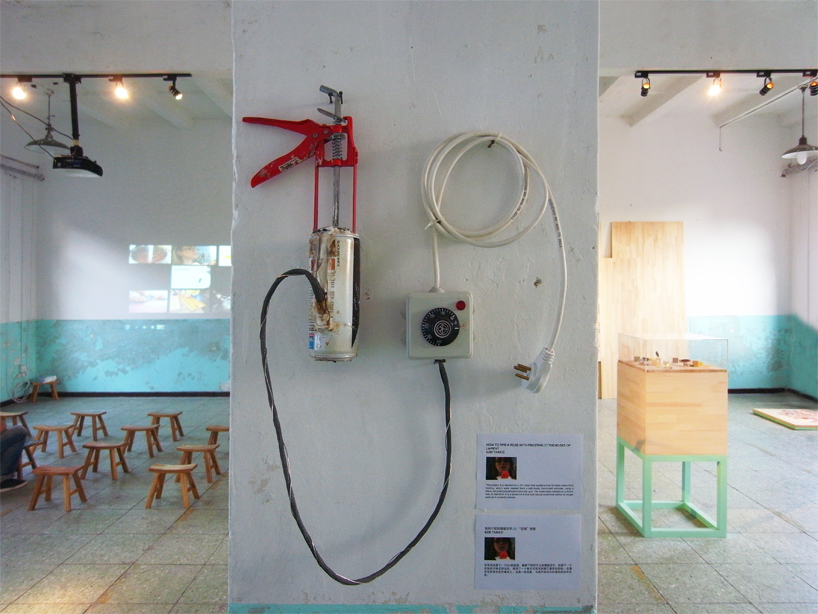 'the roses of lament' by ezri tarazi image © designboom
'the roses of lament' (how to pipe a rose with frosting) by ezri tarazi design assistance: adi kalina and sharon sides
this project is a reaction to a DIY video that explains how to make roses from frosting which were created from a self-made, hand-held extruder, using a black, recycled polyethylene extruder gun. the roses were created on a lemon tree, in real-time. it is a lament of a true and natural world that will be no longer exist as it currently stands. a lament of the simple and the most blunt occupied with corruption of the intention, the clean and the most fragile. materials: recycled polyethylene (black), self-made hand held extruder.
ezri tarazi is a designer, educator and theoretician of design for nearly 20 years. with his team in tarazi studio, he created along the years objects, products and installations of design that has been shown in various museums and galleries around the world. his experimental work is mostly philosophical and political, addressing middle east and global issues.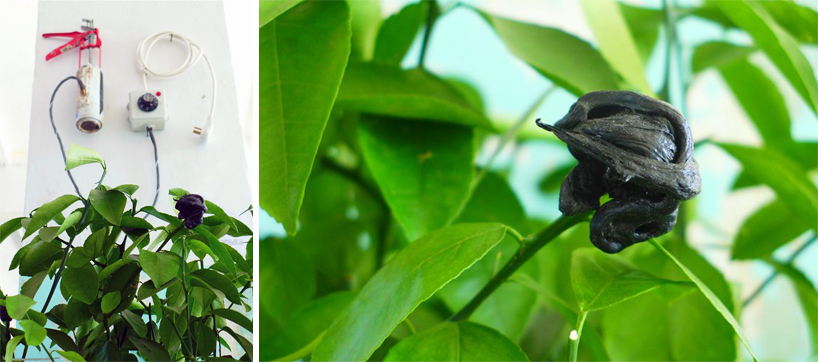 'the roses of lament' by ezri tarazi
video by ezri tarazi

2012 beijing design week (BJDW), held in beijing from 28th september to 6th october, featured seven sections:
opening ceremony, annual design awards, milan guest city, beijing design fair, geo city smart city-international information design exhibition,
the new york times beijing design forum 2012, and design hop.
the ullens center for contemporary art (UCCA) is the exclusive education partner for BJDW.
BJDW and UCCA have co-organized [email protected] talks, inviting important designers and institutes to talk about 'upgrading the city by design'.
the talks were held from sep. 27 to oct. 2 at UCCA auditorium.
anita hackethal
I designboom
oct 13, 2012
a diverse digital database that acts as a valuable guide in gaining insight and information about a product directly from the manufacturer, and serves as a rich reference point in developing a project or scheme.
designboom will always be there for you
milan, new york, beijing, tokyo

,
since 1999