at design week turkey's conference in istanbul, the prominent fashion designer hussein chalayan has presented his work to an international creative audience. on this occasion, designboom sat with the british/cypriot designer to talk about his approach to fashion and technology. technology isn't normally the first thing you think about when it comes to fashion, but chalayan has long experimented with the relationship between his garments and the role technology can play. in his collections dresses embedded with 15,000 LEDs (to recreate a pixelated screen), blow-up garments, looks that changed shape thanks to microchips and animatronics, appeared.
hussein chalayan celebrates 21 years in the fashion business with the opening of his first retail store in september 2015. for designboom hussein chalayan reflects on his most memorable moments.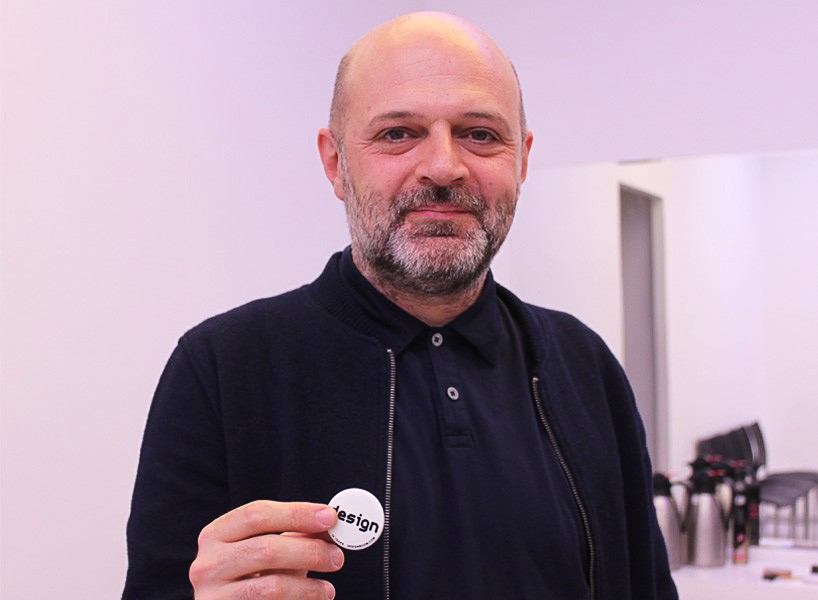 portrait © designboom
designboom: throughout your career, you developed a unique futuristic vision that put you at the forefront of the fashion world. where would you say that originates from?
hussein chalayan: my greatest passion has always been the body and its language, so I began working with this concept in my mind and trying to understand the human organism and its movement — which is a key factor in my creations.
I am considered as one of the fashion world's outsider, as I am delightedly experiment with art, design, film, commerce and everything in between. as an immigrant I embrace dualities in my life and my work – I am an immigrant within various disciplines (laughs).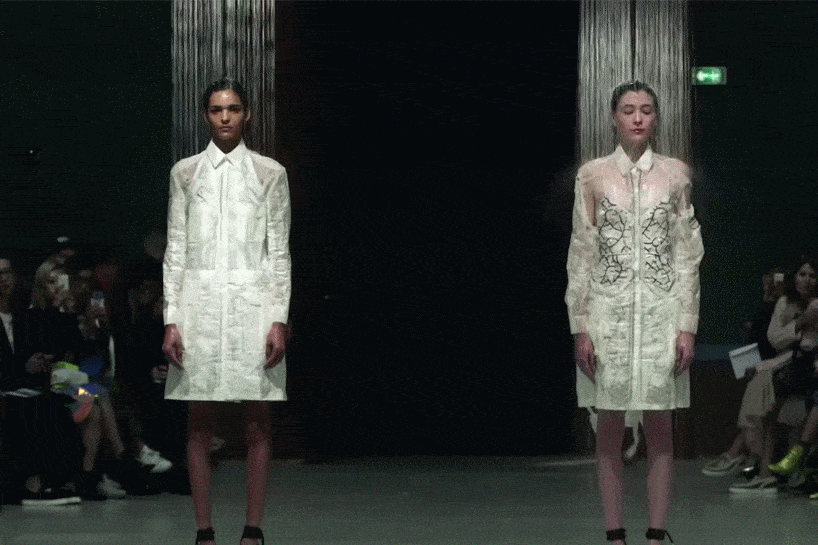 DB: you continually push the boundaries of what is wearable with groundbreaking materials and an innovative mix of technologies, your collections contain moving airplane parts and tyvek garments, robot dresses loaded with swarovski crystals,… in what was one of the most spellbinding moments of SS16 at paris fashion week, you closed your show with two models standing under a shower, their clothes completely dissolving?
HC: it was a spectacle that bordered on performance art, but was actually a scientific experiment. in front of a live audience, these water soluble white garments disintegrated to reveal two different designs, decorated with thick black stitching and white appliqué petals embellished with swarovski crystals.
DB: will we ever see a redefinition of haute couture to incorporate technology?
HC: it goes beyond 'wearable tech', it starts with how fabrics are made, they could be interactive or change characteristics depending on the situation. as the technology advances, especially around soft computing awe will be able to deliver fabric like capabilities, the industries will work more together, and we will see much more adoption in the near future. to create a fabric like this (points at screen) takes hours, and this makes up a big part of my work. I believe fashion and technology are at the heart of modern culture.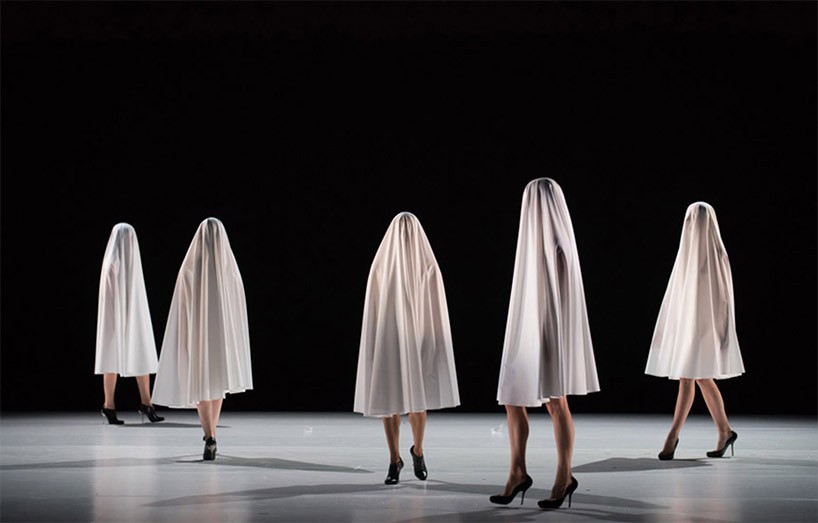 'gravity fatigue' show
image by hugo glendinning
DB: in your first theatrical work, 'gravity fatigue', you combine the visual creativity of your designs and concepts with contemporary dance to bring to life a transformational imaginary world.
HC: yes, one of my most recent 'catwalks' actually have been created in collaboration with the belgian choreographer damien jalet. it is a dance performance, entitled 'gravity fatigue' shown in 2015 at sadler's wells theatre in london.
dancers appear on the stage wearing plain-coloured garments, before unbuttoning them to reveal their second skin sequinned cloths. the production takes its inspiration from themes of 'identity' and 'displacement' and the 'disconnection' we experience in public spaces at moments of 'transition'.
DB: your audiences have witnessed garments that transform before their eyes, and you've created fashion that integrates furniture, can you elaborate why, for example a coffee table transformed into a wooden skirt at your AW00 show?
HC: I entitled it 'displacement', maybe the idea reconnects to my own biography. in times of war my mother kept mainly old photographs and food. I looked into the project of how you could carry your possessions with you 'quickly'…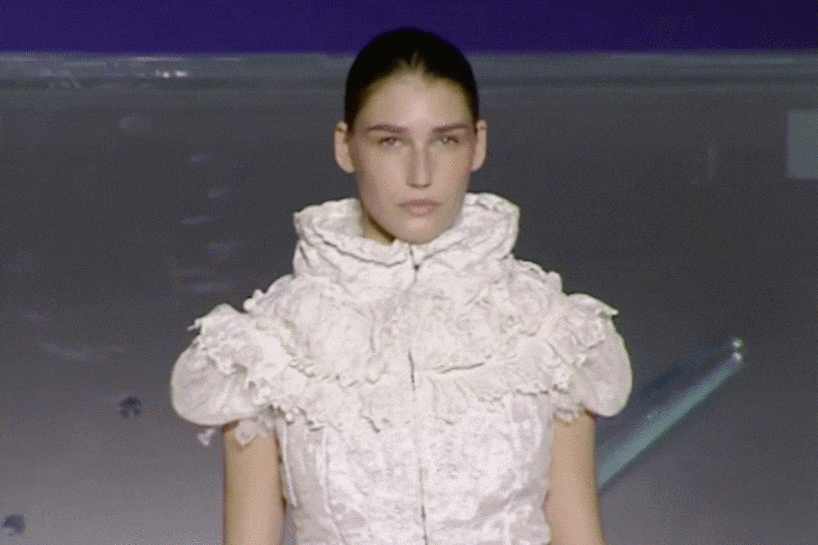 DB: you spend a lot of time in fittings, as a compositional designer, industry-renowned for your masterful pattern cutting and draping, you are far more than just a showman.
HC: well, in order to create really 'inspired' clothes, I create stories. in my stories I am interested in transformation and technology mainly, and I like creating what I call 'bionic dresses'.
for the finale of 'one hundred and eleven' in 2007, I created 6 dresses that moved mechanically to actually mark 'change' symbolically. this 'showmanship' is underpinned by skilled craftsmanship and an ability to translate narrative.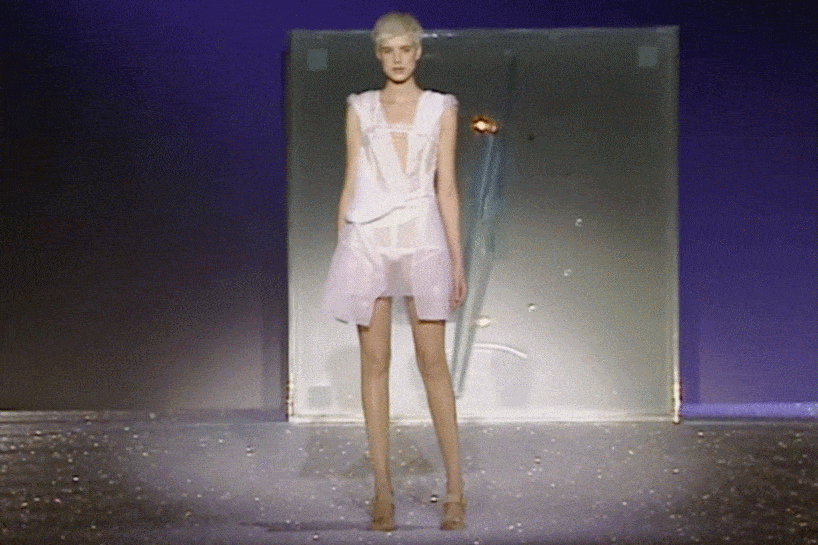 DB: what influences you outside of fashion?
HC: I think it's partly to do with my own innate curiosity and partly to do with the fact that I'm from a multiple cultural background. I'm interested in behavior, in how different people think depending on where they are from. creating a dialogue with people that are different to you. a multitude of cultures are coexisting, and that definitely opens my mind…
and I've directed films before and I've made exhibitions and installations for me it felt very natural to be working within these realms.
DB: body language is important for you?
HC: everything around us is an amplification of the body. I think it's magical how it can renew itself when you cut yourself, or give birth, and then you recover or heal.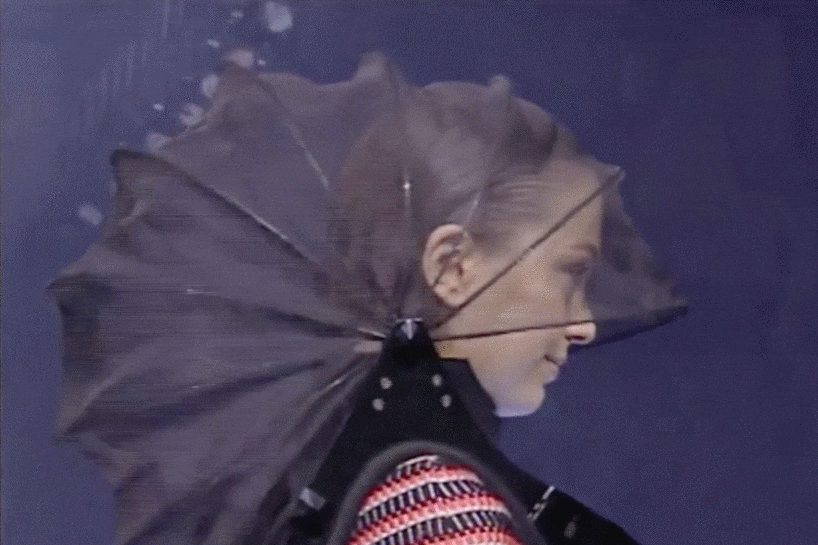 DB: being in the spotlight for so long has caused people to start labeling you in a certain way. is this categorization important for you, professionally?

HC: no not really. for me, the ideas are the most important part — they are what define my work. fashion for example is a wearable idea. so on one side I can design something for a museum collection, and on the other I can create a piece to be sold in stores. these two facets were always connected for me, I never set them apart. I find it to be a natural process. but yes, people do want to categorize me: is he a designer or an artist? if you mix both — your value will be questioned. people don't really understand this concept. but in the end, it is the idea that is important — not the person and whether they are a designer or not. I've been in this field for 21 years and design is the only reason I am able to go on 'sustainably'. the artistic side is more like a support, it influences my designer's side.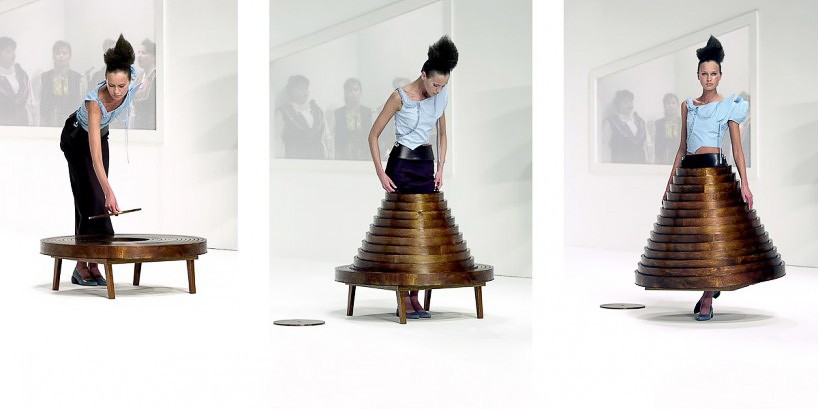 table skirt for the fall/winter 2000 collection of hussein chalayan
image courtesy of hussein chalayan
DB: and how does your approach manifest itself during the creation of a fashion collection?
HC: for my fashion lines, I always try to create different collections with various ideas. in this field, there are pre-collections and main ones. for the pre- collections, continuity is essential: your clients are used to a certain style and look. so you can re-create a previous collection with the same cut but different colors. however at the shows, creativity is crucial; it offers a momentum for your clients to come back to you. in the first ten years, I didn't do pre-collections because I was so focused on creating new things. for example, the table skirt was highly influential for editors — thanks to digital technology which affected the world of fashion. we used to wait six months to get the pictures of the show and now, before we even leave paris, the pictures are already seen by everyone. what I'm trying to say is that, back then, editors could easily define you as an 'avant-gardiste' but now the digital world made everything accessible — so the viewers get to decide for themselves and this completely changes our business. we've been living with this change for over 10-15 years.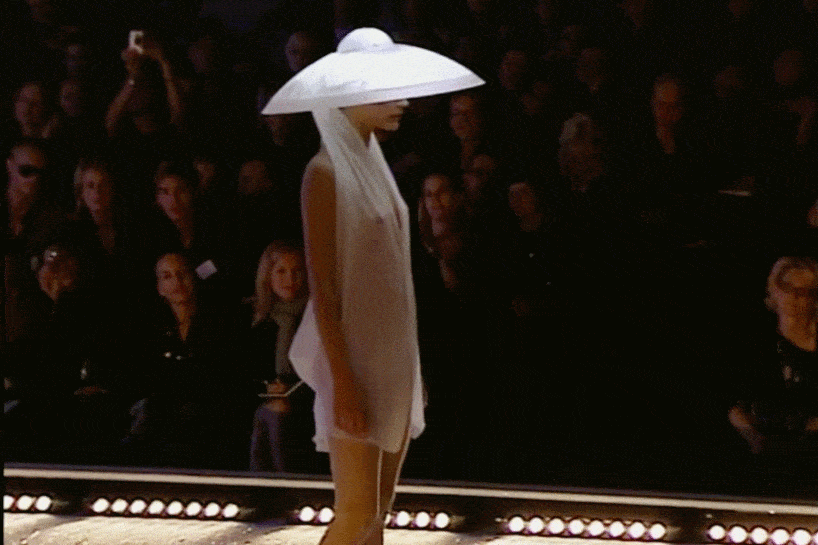 DB: speaking of the digital world, your last collection was in collaboration with INTEL — a multinational technological corporation.
could you explain to us what was the concept behind this fashion show?
HC: basically, there is a chip that intel created and wants to market right now — it channels all data. and personally, I have always been drawn to interactive design. for this show, my goal was to bring mind and image together, so I told myself I wanted the visuals to be modified by brain power — hence the concept of wearable technology. during the runway, the pixels in the background are changing according to the model's pulse — so if she is stressed, the pixels get bigger. this collection took me six months to complete and this duality was actually a coincidence, their product met with my dreams. it usually happens to me this way. from this project we've identified the sensors that are commercially ready and were able to integrate them into other product lines. INTEL's commitment to innovation, and level of perfection has made this project one of the most valuable and exciting collaborations for me in recent years.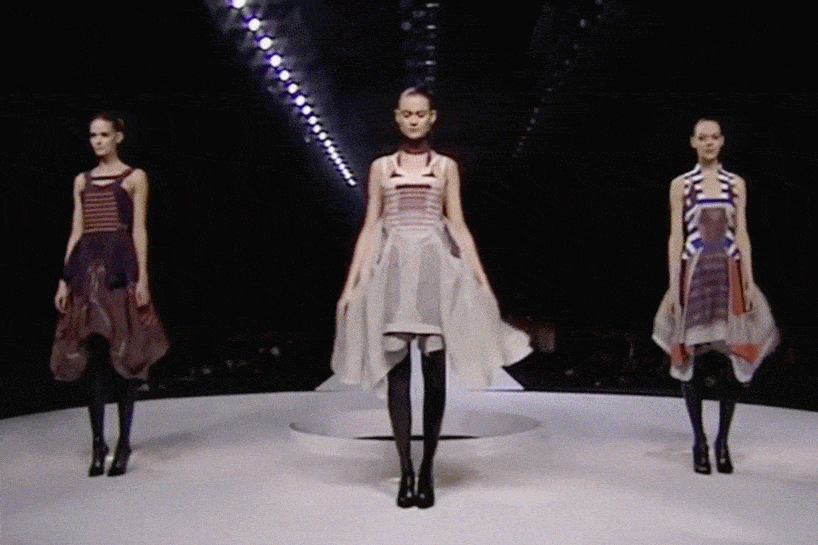 DB: you mentioned earlier that you collaborated with a turkish pop singer, is music also a passion of yours?
HC: if I weren't a fashion designer, I would definitely work in music. what I want to create in my work has to have the same effects as music has on people. if you look at my work and have the same impression as music offers you, then that's a success for me.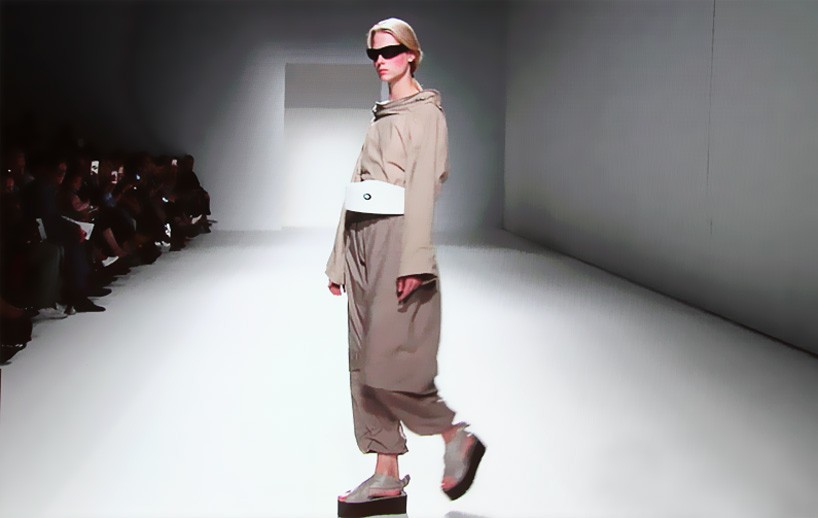 screening of the wearable technology collection
image courtesy of hussein chalayan
DB: … and at this stage of your career, what do you consider to be essential for a successful outcome?
HC: right now, the most important thing for me is to get to know my clients, their needs, their likes etc… it is a great feedback mechanism. in other words, we're sales-oriented and not looking for applause. this has been my approach for over 15 years. also, there's also the importance of technicality and precision — especially in fashion.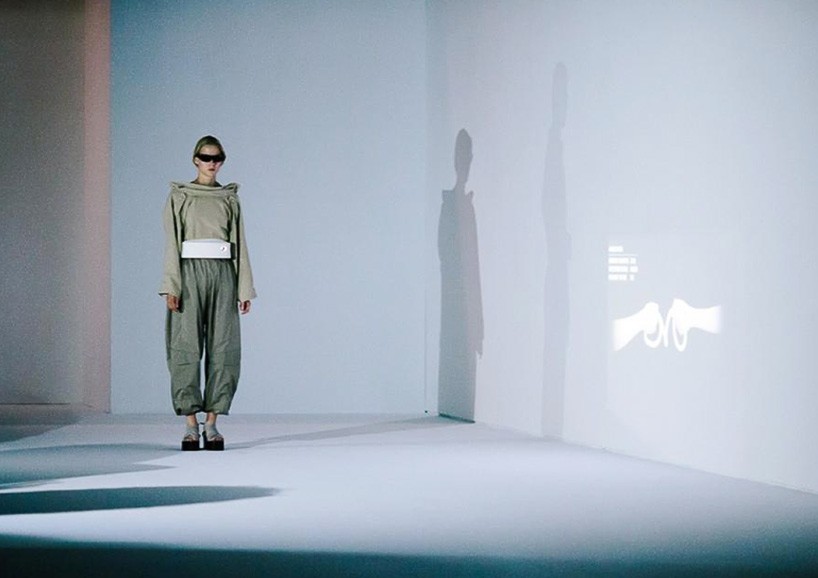 model with INTEL connected accessories on the runway at paris fashion week
image credit INTEL, courtesy of hussein chalayan
DB: so what would you say is the philosophy that best describes you as a creative?
HC: basically at the end we are creating a product that has to be used, something wearable. whatever the idea may be, if it is not practical it has to be thrown away. when I started working, I never pursued fame. I had ideas, I wanted to realize them. I do get the applause, yes, but I do not find it fulfilling. sometimes the hype of fame and expectations are tiring. in other words, I am doing this as an homage to design and art, and not for personal gain.
DB: knowing that your passion got you this far, how does it feel being awarded a number of times as one of the greatest designers ?
HC: of course, awards give you credit and make you more confident — it's humbling to know that your work has had such a big impact on the world and I am very grateful for that. but it was never my goal to pursue them. my first important award was the designer of the year in the UK, which I got two times in a row. this was very important because you don't have to be british to earn one, you can protect your own identity. then came the 2006 venice biennale which was also a big deal (he represented turkey at the 51st venice biennale in 2005). I was also named one of the 20 most influential people, but it all really happened on its own…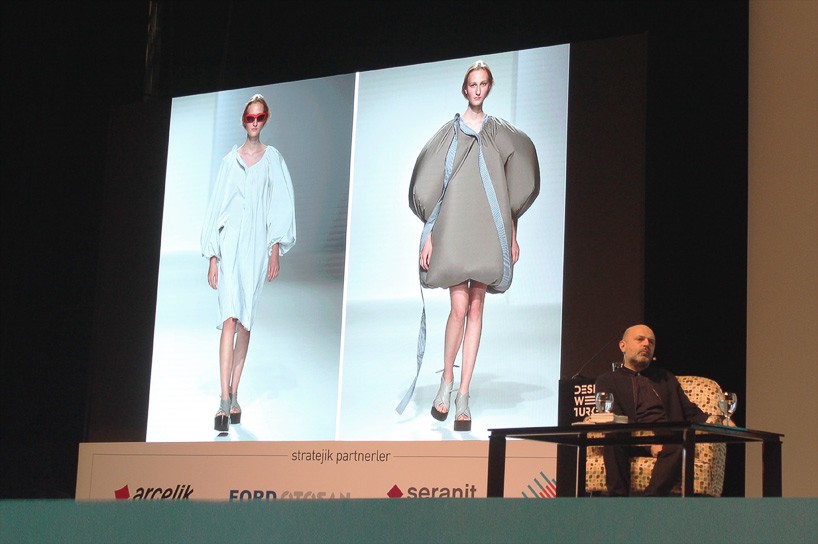 hussein chalayan presented at design week turkey in istanbul
image © designboom
hussein chalayan
is an internationally renowned fashion designer and artist whose collections are known for innovative design, bold use of technology and elegant minimalism. he was born in nicosia, cyprus and was graduated from london's central saint martins school of art and design in 1993. the following year he started his own label. chalayan was named british designer of the year in 1999 and 2000 and has designed costumes for sidi larbi cherkaoui's faun, michael clark's current/SEE and sasha waltz & guests' passion with pascal dusapin. in 1998 chalayan was appointed as creative director of TSE NY with his inaugural sportswear collection for the brand. shortly after the designer was appointed as creative director of jewellery brand asprey. in 2008, he was appointed as creative director of puma AG, having sold a majority share-holding in his label to the sportswear company. in 2010 the designer bought back puma's stake in his label, remaining as creative director of the brand, and reintroducing his namesake brand simply as 'chalayan'. in 2016 chalayan debuted his inaugural collection for french house vionnet. in his practice as a visual artist his work is regularly shown in major galleries including the V&A museum in london, le musée des arts décoratifs at the louvre, the london design museum, the metropolitan museum of art and MoMA in NY and the national museum of modern art in tokyo.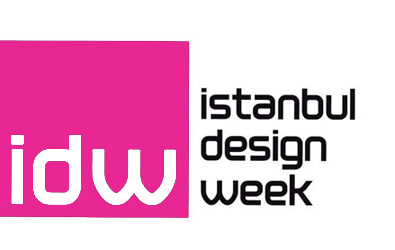 istanbul design week returned for its tenth edition with a new theme entitled 'connections'. istanbul is a huge metropolis that connects europe and asia, the black sea with the sea of marmara, and different cultures. with its first edition, design week turkey asserts itself as meeting-point where designers and industries can connect.from october 18th to 23rd 2016, more than 60 international designers, design studios, brands and institutions came together right in the city centre — taksim square. the programme also hosted exhibitions featuring the latest work of promising turkish designers, graffiti artist's themed installations in taksim square, as well as off-site events and kiosks where visitors could explore the city's creative scene. this year was also a first for local design, as turkish ministry of economy and turkish exporters assembly (TIM) inaugurates design week turkey. taking place in the lütfi kırdar ICEC, the first edition of the event brought together the industry and designers, featuring the fifth design turkey awards recognizing excellence in turkish product design in 13 categories, along with a full programme of design talks and exhibitions from around the world.
KEEP UP WITH OUR DAILY AND WEEKLY NEWSLETTERS
happening now! antoniolupi extends its expertise beyond the bathroom with the 'living' collection, a series of home furnishings that complement its esteemed collection of bathroom furniture and accessories.
a diverse digital database that acts as a valuable guide in gaining insight and information about a product directly from the manufacturer, and serves as a rich reference point in developing a project or scheme.
designboom will always be there for you
milan, new york, beijing, tokyo

,
since 1999