jonathan ward is the founder and owner of ICON 4×4, a speciality automative design company that reimagines and customizes classical cars into a modern context. ward has established a global presence in the industry, including being asked by current president of toyota motors, aiko toyoda, to construct the prototype that would become the 2007 toyota FJ cruiser.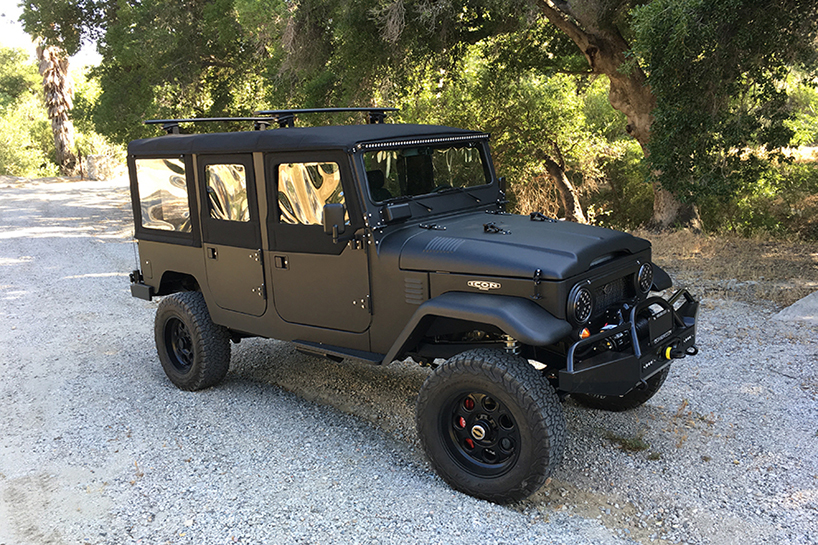 ICON's FJ44 model
ICON currently has three production vehicles from which the owner picks the colors and fabrics — the FJ (land cruiser), BR (bronco) and TR (1950s chevy pickup). in addition, there are two car series that are made on 'case-by-case' basis: the reformer, which revives the model via reconstruction, and the derelict, that transforms a timeless classic model and repurposes it for modern usage.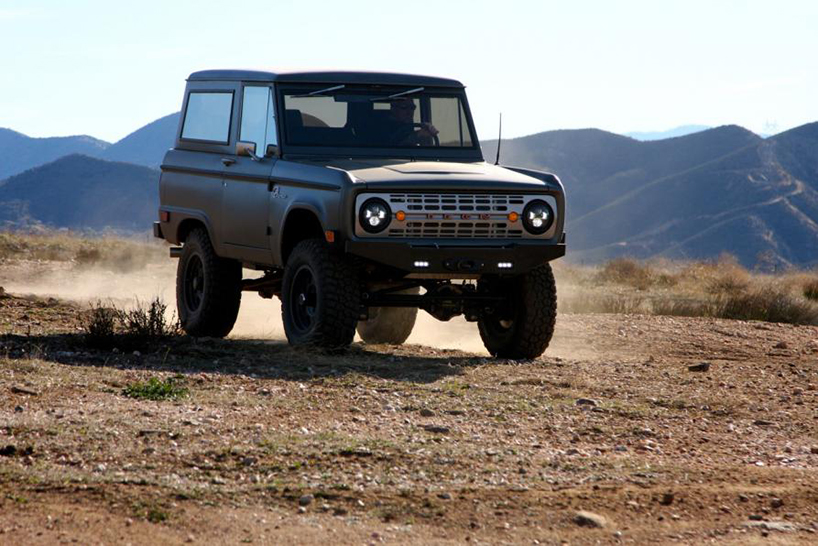 ICON's br (bronco) model
ward's general approach with ICON is to retain the design ethos of the automotive but outfit them with modern technology such as LED lighting, bluetooth/carplay, fuel-injected engines and other materials either specified or needed. his no-plastic mantra means ward will replace parts with custom pieces from pewter, stainless steel, aluminum, platinum or other materials. for the interior of the cars, ward uses fabrics that surpass the quality from typical automotive materials such as from outdoor furniture industries and aviation supply companies.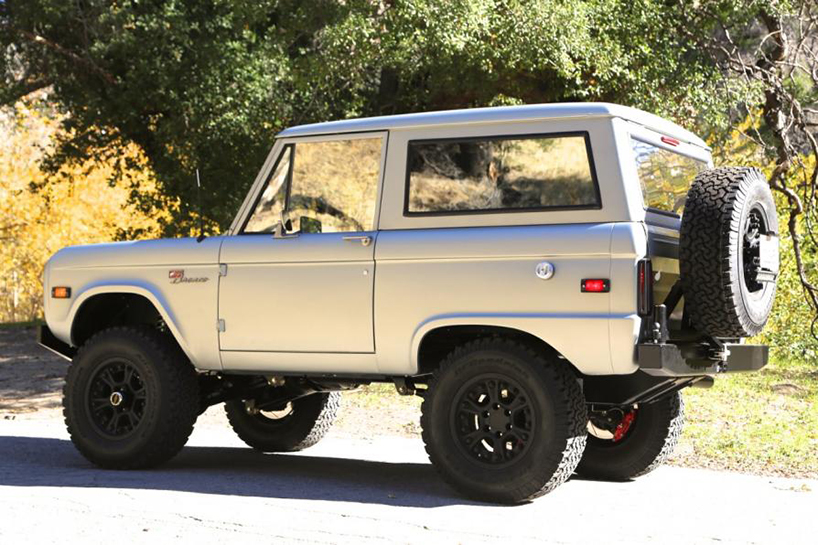 ICON's br model in silver
recently, ward opened a new chapter for ICON, with the design of the 'duesey' watch. equipped with a vintage jump hour display, it continues ICON's juxtaposition of vintage automotive design with the highest-quality modern engineering and luxury materials.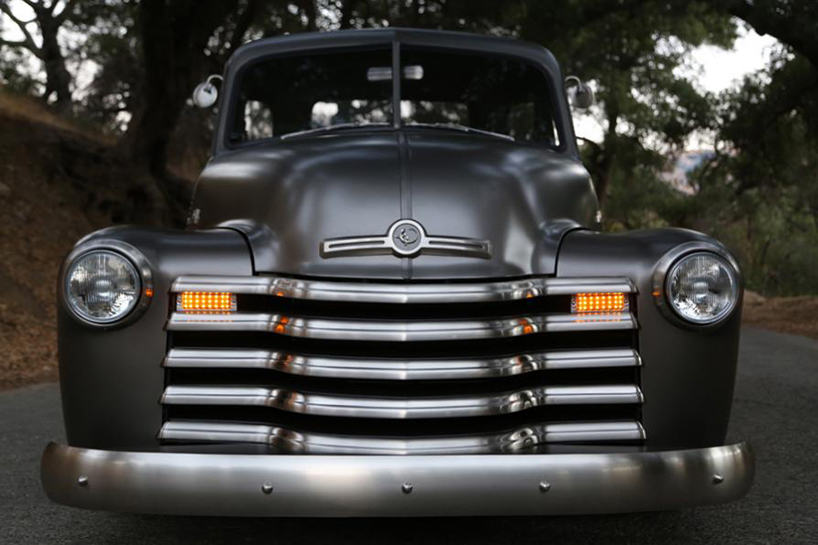 ICON's tr (chevy pickup) model
in an exclusive interview with ward, designboom was able to gain insight into an established automotive expert's creative process, methodology and the future of ICON:
designboom (DB): what originally got you into automotives and classics specifically?
jonathan ward (JW): always a geek for great design and the details that elevate design from good to great. as I had skills related to woodworking, sculpting, painting, leather craft, mechanics, machining and more, it was a perfect extroverted platform that combined all of my interests and more. where else could you combine all of these perspectives?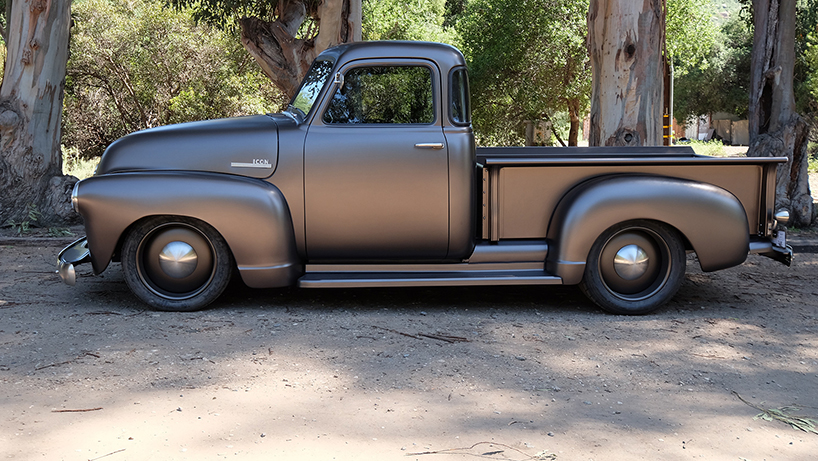 sideview of ICON's tr model
DB: in many ways, your cars are like works of art, fusing mechanical engineering with personal modifications. do you think you have a trademark style? how would you describe it?
JW: yes, I think we do. while we execute it in a myriad of ways, everything we do can be summed up as 'classic transportation design revisited in a modern context.' meaning, we seek to marry the design grace and quality of vintage designs with the functionality of modern vehicles. the art of doing so is a constant and ever-changing challenge, which we welcome.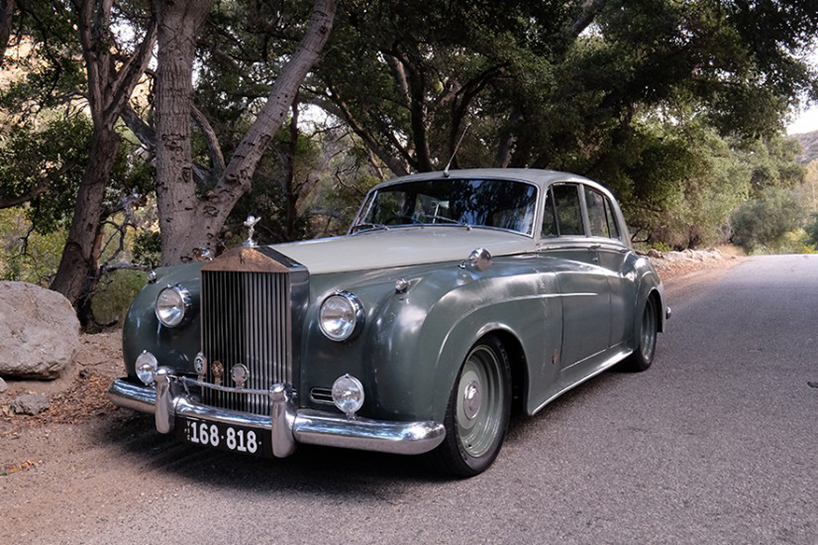 this 1958 roll's royce silver cloud was a past project and a member of ICON's derlict line
DB: you have built ICON on the principle of identifying a trend in the market for classic cars — not only rebuilding them, but also innovating and incorporating your own creativity.
JW: correct. in some cases we choose a vehicle based on our personal opinions, where there is no emerging trend, then hope to convince everyone that they are as cool as we think they are!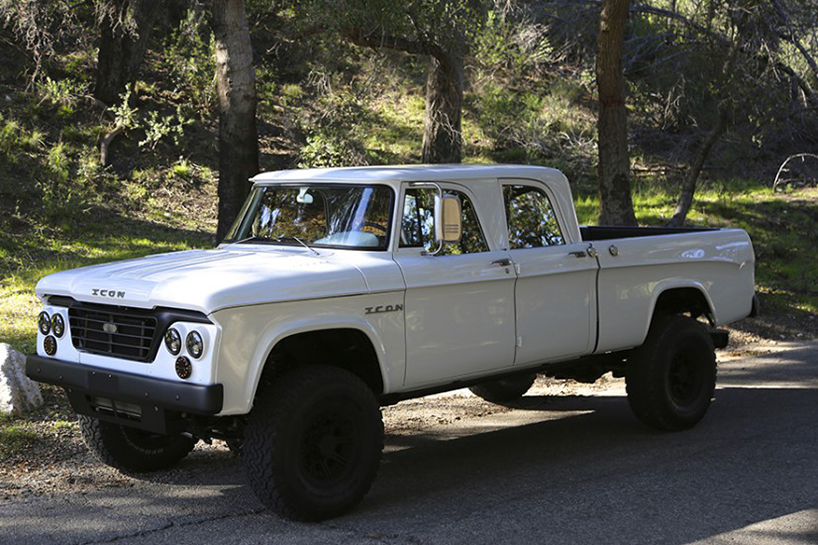 a past project ICON's reformer line, the 1965 D200 powerwagon
DB: with the rise of tesla and a growing electric vehicle market, do you think we could see a shift in the way we define classic cars?
JW: perhaps. we have been doing more and more EV-based projects. companies such as tesla have done the hard job of proving the viability. now, ICON is finding more and more customers who understand that, but still want a vehicle with more personality, more permanence. next big impact we anticipate: autonomous vehicles. we actually welcome that because we know it will create a larger demand for vehicles with which people can form a more visceral bond, more of a man-and-machine connection. that is where we shine!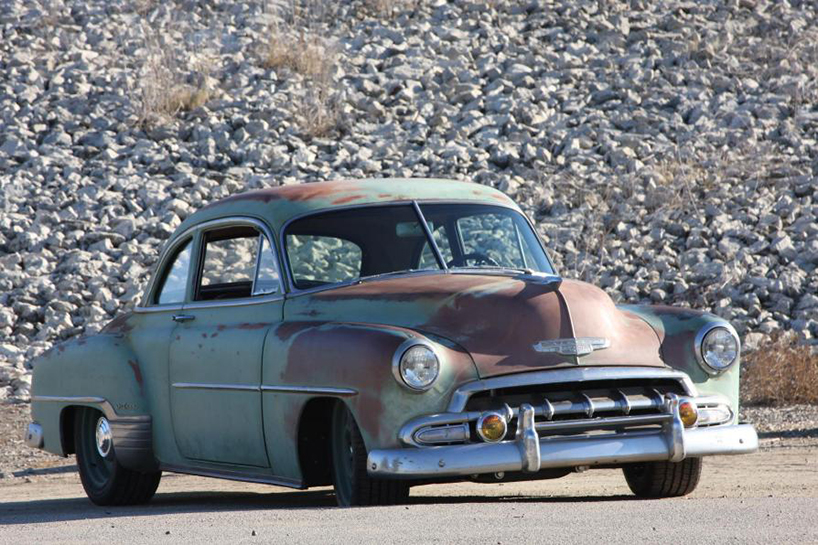 this 1952 chevy styleline coupe was a past project of the derlict line at ICON
DB: you describe being personally asked by mr. toyoda to design three cars, including the toyota FJ cruiser using the FJ40 design as inspiration. in what ways do you think your work with classic cars prompted recognition from a major contemporary car manufacturer?
JW: japanese business tradition is always about looking forward, not revisiting the past. they thought us americans were crazy to restore old toyotas. however, they were watching land rover and other brands be very successful by promoting their brand history. so, they did research and found us to be the oldest and most reputable of such service providers, and they thought we had our fingers on the pulse of such a community, and came to us to try and better connect with such.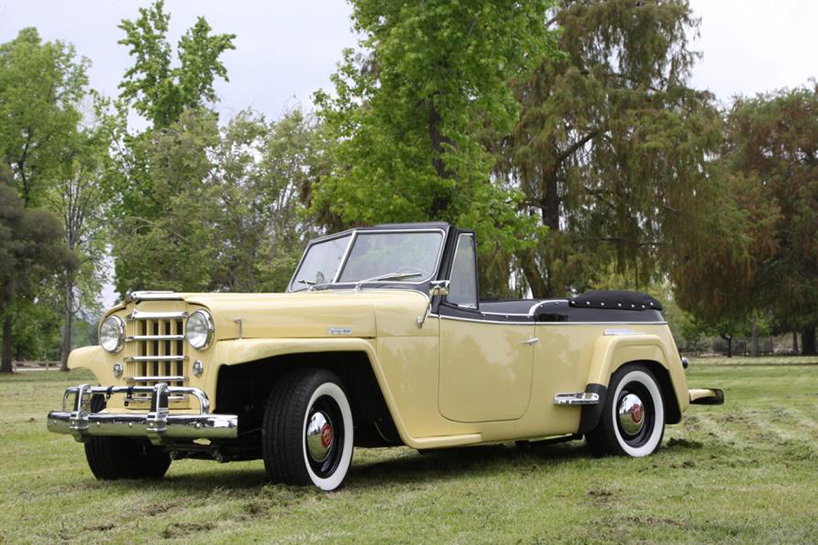 this 1950 willy jeepster was a past project of the reformer line at ICON
DB: what lessons from classic cars do you think we can use for the future innovation of car design?
JW: continuity of design. in the old days, car companies had a single design director responsible for a certain make and model, therefore it had a unique personality and perspective. nowadays, thanks to platform-sharing, wall street priorities, focus groups and the growing importance of the pencil-pushers over design mandates, this is gone. I often say that if you took 50 new sedans, painted them all black and covered up the (ever increasing in size…) badges and logos, the general public would have a really hard time even identifying each make. brands need to return to not being afraid to define a certain perspective or personality in their vehicle designs, vs. copying or following 'safe' previous successes. in my honest opinion…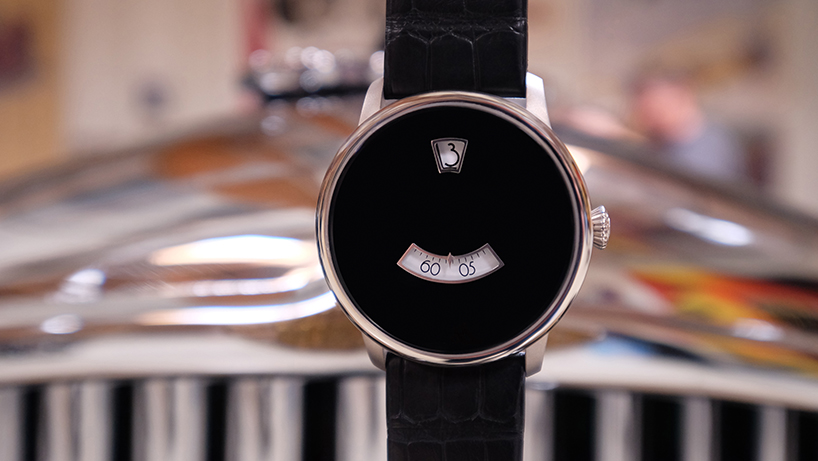 the duesey is the first watch to come from ICON
DB: with the release of the ICON duesey watch, we see a transition of your brand to generating a very modern and innovative take on watch design. can you walk us through the process of translating elements from cars into a watch?
JW: it is all the same. I am all about studying vintage design, and then infusing modern materials or functionality. also, the consumer groups are very intertwined, and the opportunities provided to me by the choices made by the big players…so these factors create opportunities for me and other independent designers and brands. my long-game intention with ICON is to continue applying our unique approach to a wider range of industrial design!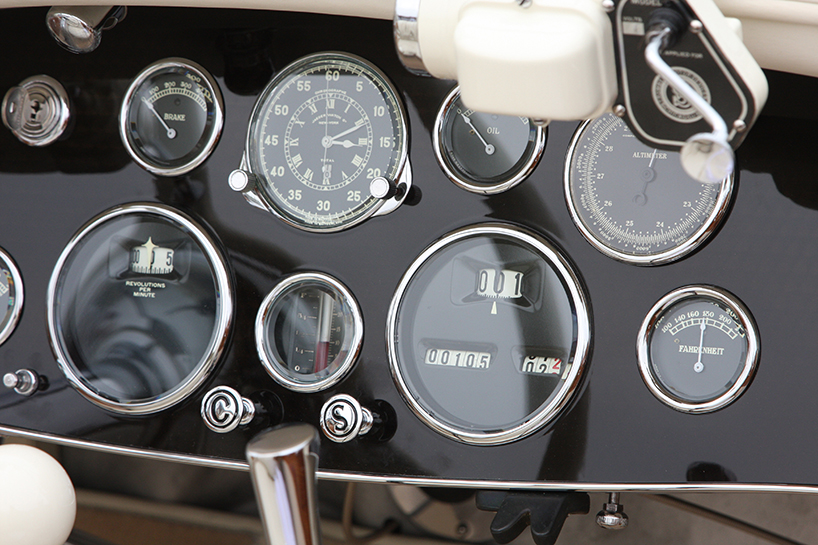 the duesey watch was inspired from the basic on the dashboard of a classic car
DB: what similarities did you find between designing/building a car versus a watch?
JW: cohesiveness is a consistent mandate for sure. continuity of all elements throughout, and all details considered. that remains an even priority. however, the scale of a watch project magnifies those issues. for example, I see so many watches with as many as 5 or 6 different typefaces used. one for the date wheel, another for hours, another for branding, yet another on case back… this drives me nuts. a design should be consistent! so we developed a consistent font throughout. I also appreciate that with watches, there are more rules and constraints. I welcome this, as it helps define boundaries. I am the sort of designer who functions best that way. many of my idol designers' worst work is stuff they did for themselves, with no client mandates. it is good to have rules. with watches, the key ones are legibility, math and ergonomics. if a beautiful watch makes it hard to simply tell what time it is…. fail. if a beautiful watch has a crown that digs into your arm, or you need to carry around a barbell in your other hand to remain upright… fail!
DB: going forward, will you be taking cues from cars to design more watches? which parts of a car do you think could creatively make that transition?
JW: count on it. I have plans to revisit transportation designs from from 1900s forward. not just vehicles either. with the ICON duesey, it was not just a gauge. elements on the watch were design-inspired by the radiator cap, attaching fender hardware, engine machining patterns and more. so it is the combination of minutiae that all come together in my head when developing. many aspects of my automotive designs have been inspired by the watch world as well!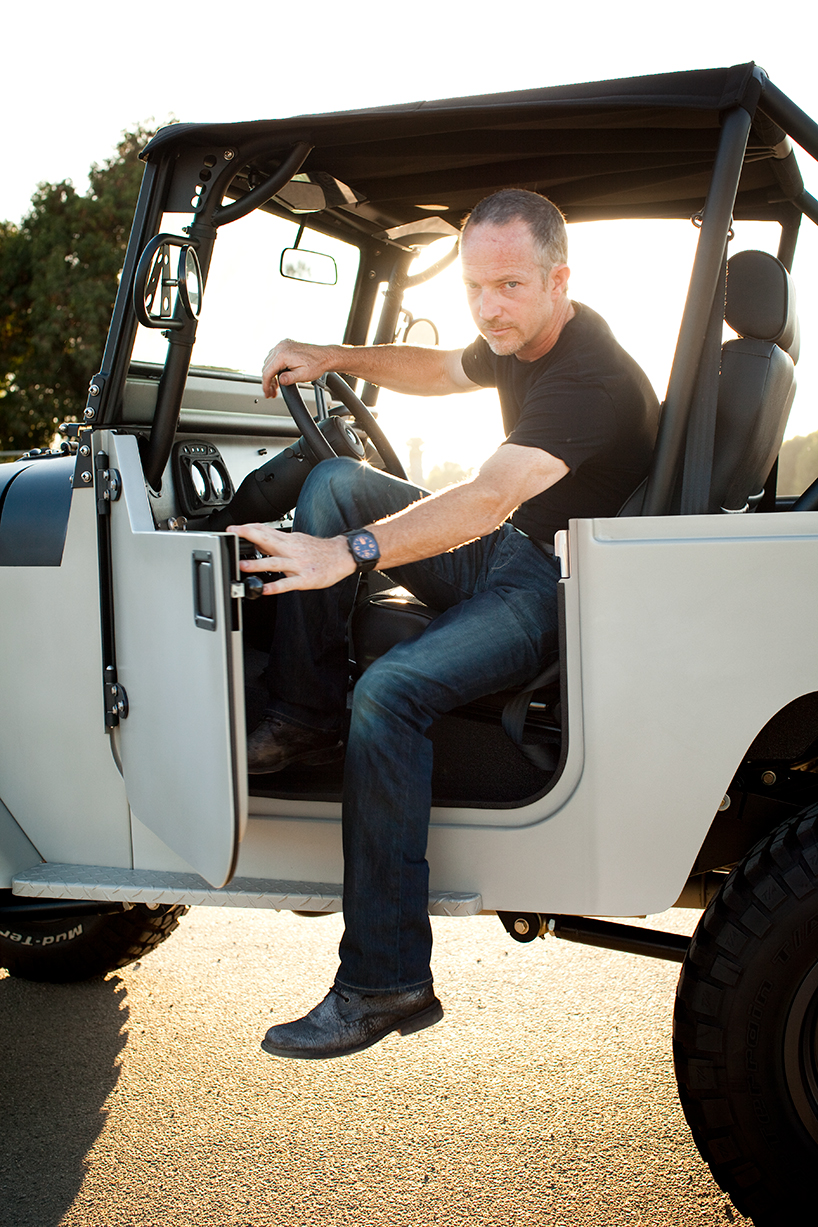 portrait of jonathan ward
oct 24, 2019
oct 24, 2019
aug 21, 2019
aug 21, 2019
jul 05, 2019
jul 05, 2019
may 21, 2019
may 21, 2019
apr 05, 2019
apr 05, 2019
mar 16, 2019
mar 16, 2019
jan 15, 2020
jan 15, 2020
jan 15, 2020
jan 15, 2020
jan 10, 2020
jan 10, 2020
a diverse digital database that acts as a valuable guide in gaining insight and information about a product directly from the manufacturer, and serves as a rich reference point in developing a project or scheme.