mar 14, 2014
IKEA PS 2014 collection caters to young urbanites on the move
IKEA PS 2014 collection targets young urbanites on the move
'wardrobe' by matali crasset
the IKEA PS 2014 collection has been designed to cater to young urbanites who live in smaller, compact spaces, or who are continuously on the move. in essence it is, '… a series of products that offer cutting-edge design that remains affordable,' says peter klinkert, project manager for the IKEA PS collections. with this in mind, the 50+ pieces that comprise the series, are not just core functional objects such as sofas or beds, but work to respond to how young people live, focussing particularly on modularity, movability and multifunctionality.

'wardrobe' by matali crasset
the way we live varies culturally and geographically, and in wanting to continue their mission of offering furniture that is globally relevant, the swedish furniture company enlisted a team of creatives from across the globe to work with their in-house designers to bring this vision to life in the IKEA PS 2014 collection.

'wall shelf with 11 knobs' by keiji ashizawa
the resulting works present consumers with a range of pieces for every room in the home, made from lightweight materials, accented by bright colors and patterns, and which are easy to transport such as: corner cabinets which take advantage of all nooks of your home; a side table that has a built-in magazine rack and light; a wardrobe with an external design that can be graphically personalized to fit your style; and a hanger bookshelf hybrid for multiple storage options, just to name a few.

keiji ashizawa's 'wall shelf with 11 knows' serves as a hanger and bookshelf
'the IKEA PS 2014 collection focuses on the young urban residents that have ever-fluctuating living situations, whether it's where they live or with whom they share a space,' said janice simonsen, design spokesperson, IKEA USA. 'this line brings flexibility to everyone by combining form, function, quality, sustainability and an accessible price point.'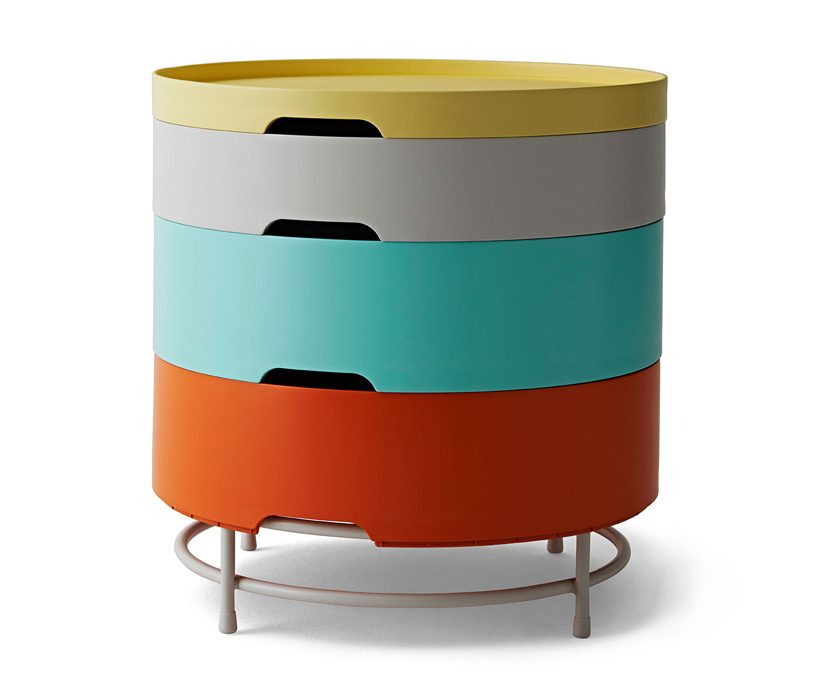 'storage table' by rich brilliant willing
the designers responsible for bringing together the IKEA PS 2014 collection are: tomás alonso, UK;
keiji ashizawa, japan; nicolas cortolezzis, sweden; matali crasset, france; anna efverlund, china; maja ganszyniec, poland; mathias hahn, UK; paweł jasiewicz, poland; jon karlsson, sweden; krystian kowalski, poland; margrethe odegaard, denmark; henrik preutz, sweden; theo richardson, charles brill, and alexander williams (rich brilliant willing), USA; stefan scholten and carole baijings (scholten & baijings), the netherlands; ebba strandmark, sweden; and david wahl, china.
see interviews of selected IKEA PS 2014 collection designers here.

'bench' by anna efverlund

anna efverlund's 'bench' sits well in a hallway or corridor entrance

'corner easy chair and set of three cushions' by ebba strandmark

IKEA PS 2014: furniture for homes in constant motion
video courtesy of IKEA USA
IKEA
(27 articles)
aug 03, 2017
aug 03, 2017
jul 11, 2017
jul 11, 2017
jun 22, 2017
jun 22, 2017