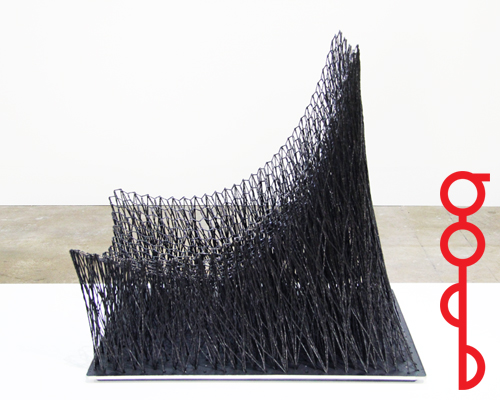 nov 03, 2015
il hoon roh weaves carbon fibre to give shape to the luno chair + rami bench
il hoon roh weaves carbon fibre to give shape to the luno chair + rami bench
image © designboom

'shin myeong' – 'hope renewed by design' in korean – is the thematic heart of the 2015 gwangju design biennale, which stands to present east asia as an emerging global cultural hub. to drive this point home, this year's edition brings forth a specially curated exhibition that looks at key creative developments in china, japan and korea. 'asian design hub' offers a look at how the world economy is shifting from west to east by highlighting objects that interpret and express the cultural traditions and design values of these three countries in a contemporary context. the show transmits the notion that design is something universal and easily understandable, and that people can feel empathy with the fact that good products can make our lives brighter as a result of combining long-established techniques with modern aesthetics and approaches.
among the projects on display are two works by il-hoon roh. the korean designer presents the 'luno' armchair and 'rami' bench from his larger 'rami' series which sees him employing carbon fibre as his chosen medium; to form sculptural and visually light furniture pieces.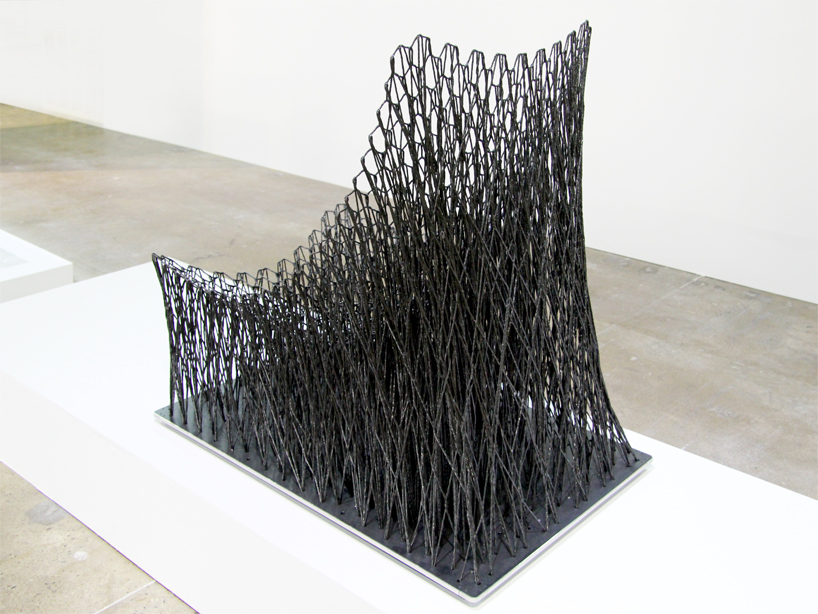 'luno' armchair
carbon fibre
W68cm x L108cm x H105cm
limited edition of 10
image © designboom

the 'luno' ('curve' in latin) armchair is a composition of carbon fibre string that is woven together by hand. after a number of experiments in which roh suspended threads at different positions, he finally allowed gravity to define the final form of 'luno', resulting in a design with a smooth and natural curvature. to materialize this bend, a hexagonal shape has been used on the surface, with carbon fibre strands intertwined to the metal base, where each strand finding its ideal resting position.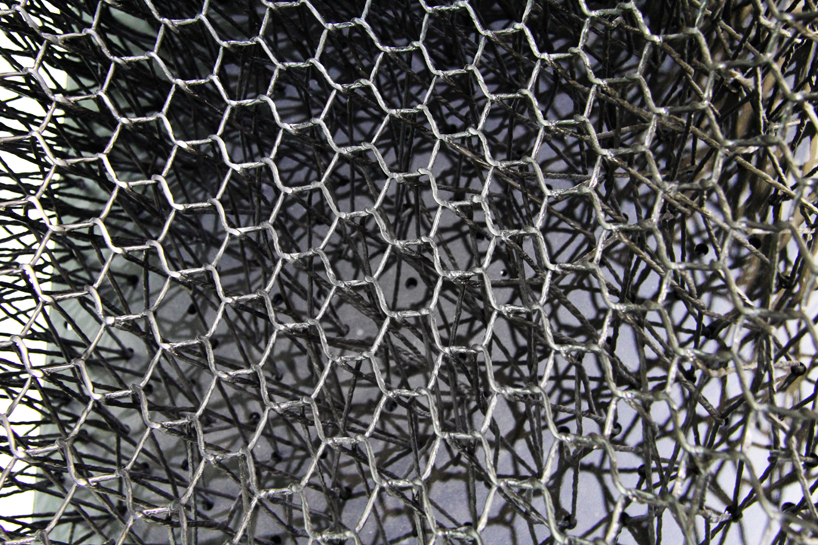 the carbon fibre strings are anchored into a metal base
image © designboom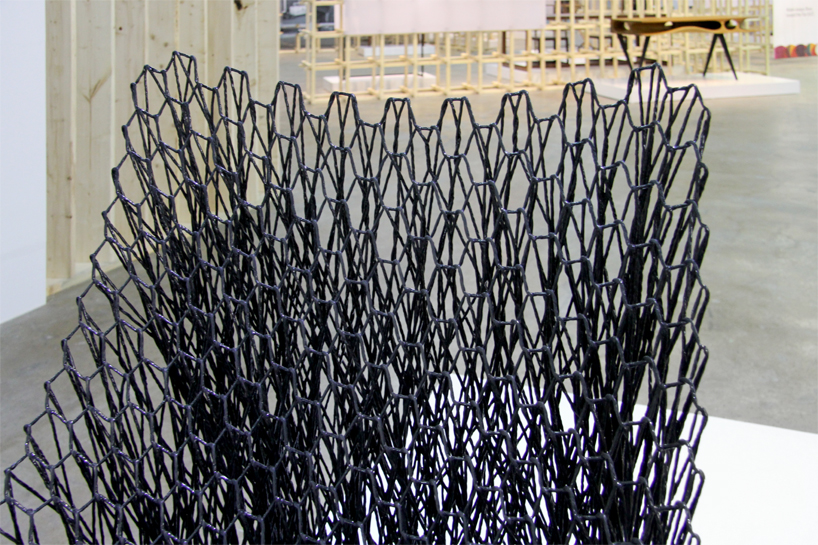 detail of the 'luno' armchair's hexagonal surface
image © designboom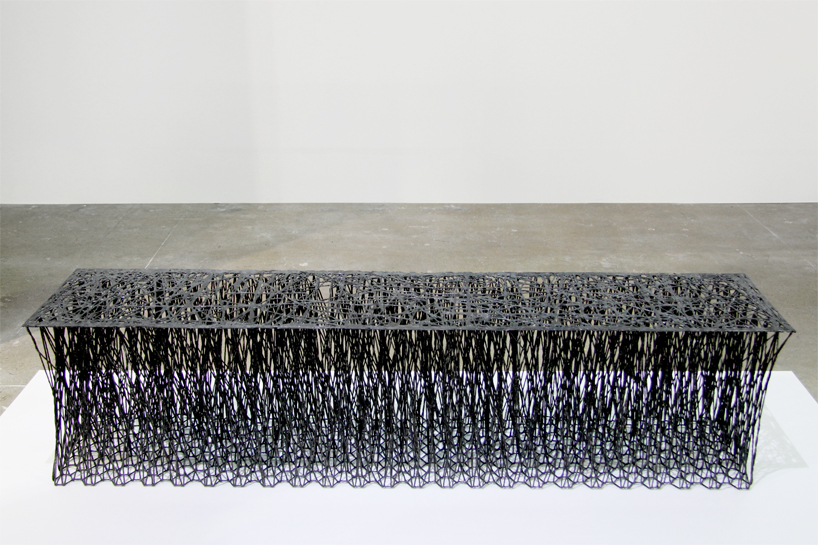 'rami' bench
carbon fibre
W37cm x L180cm x H45cm
image © designboom
the 'rami' ('tree branches' in latin) is a further exploration of roh's fascination of the rigidity and lightness of a bird skull. the seating object is realized through a string stretching technique developed by the designer in which he generates the correct geometries that respond to the principle 'form follows function'. approximately 1.2 kilometers (about one mile) of carbon fibre string are woven into a three-dimensional structure by hand. the resulting shape is not pre-set, but is a result of a natural process. with 'rami', roh demonstrates the full potential of his chosen medium through the creation of an object that is several times stronger than steel, yet weights less than 1kg and can be lifted with a finger. the entirety of roh's 'rami' series is highly customizable and can be manufactured into different types of furniture including a stool, console and side table, with varying metal surfaces.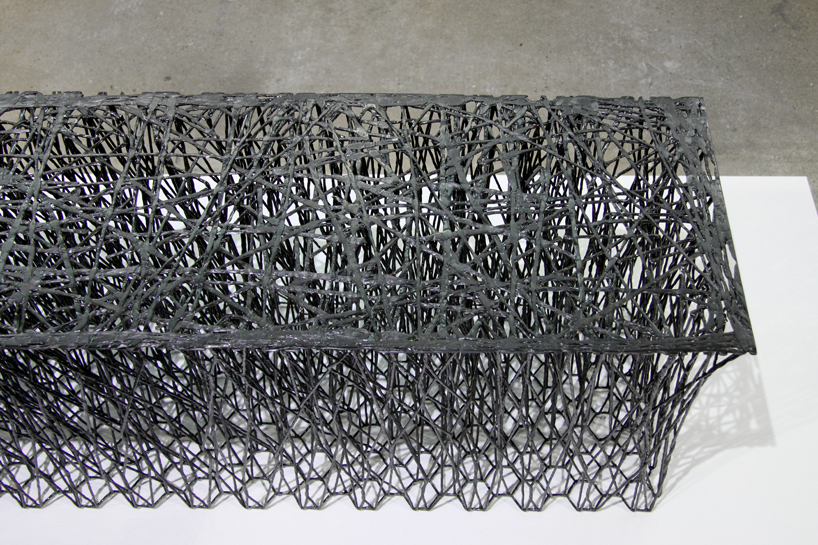 view of the carbon fibre structure that is several times stronger than steel, but weights less than 1kg
image © designboom
'asian design hub' is curated by professor yang dongjiang and professor liu tiejun of tsinghua university in china, professor hashimoto kazuyuki of tokyo university of the arts of japan, professor bong il-bum of kookmin university of korea, and professor wee han-lim of hyupsung university of korea and is on show at the gwangju design biennale until november 13th, 2015.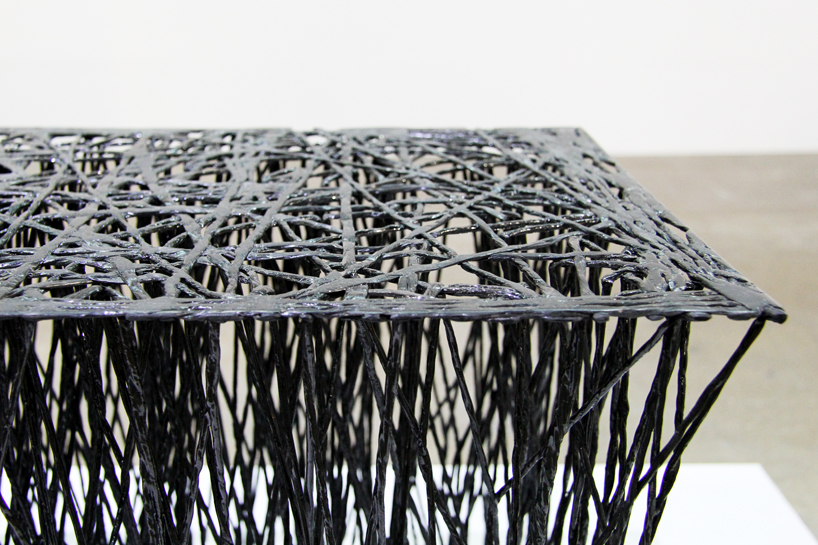 detail of the carbon fibre threads that form the support and structure of the 'rami' bench
image © designboom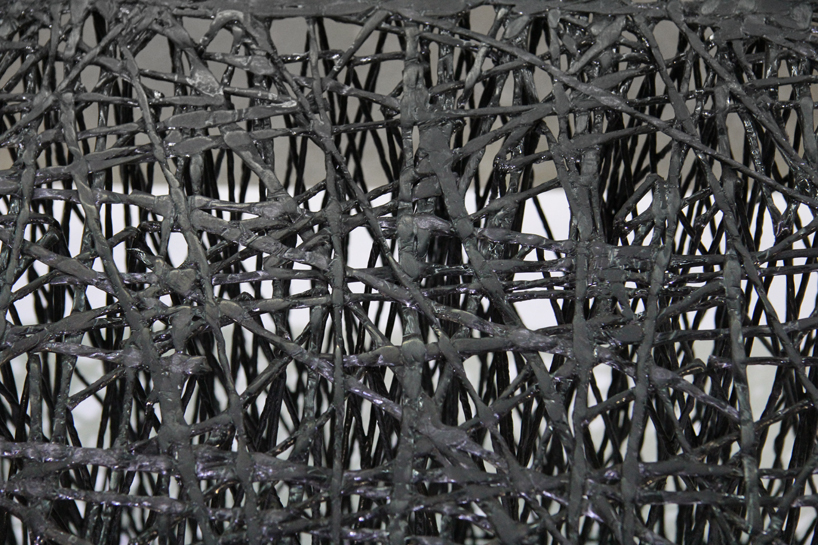 carbon fibre threads form an abstract surface
image © designboom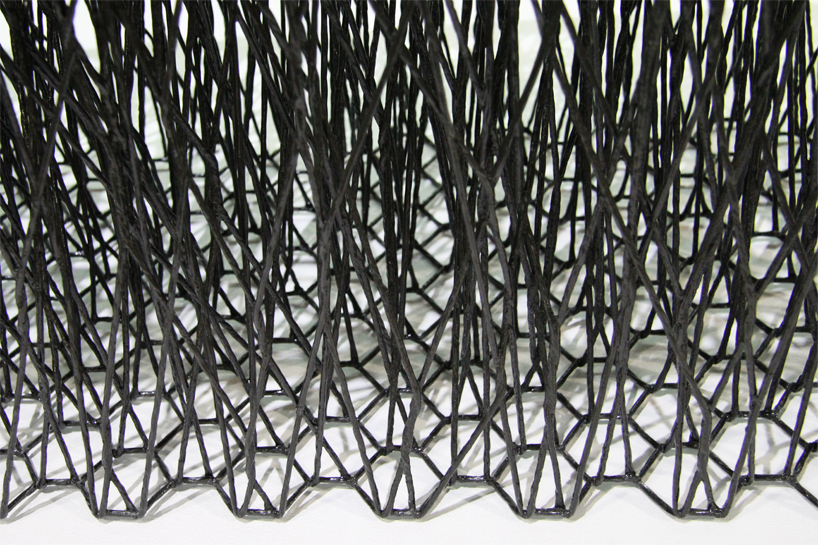 up close look at the hexagonal structure that forms the support of the bench
image © designboom

oct 22, 2015
oct 22, 2015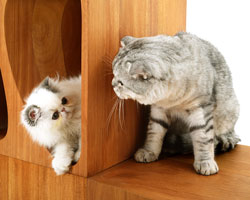 aug 14, 2015
aug 14, 2015
aug 14, 2015
aug 14, 2015
a diverse digital database that acts as a valuable guide in gaining insight and information about a product directly from the manufacturer, and serves as a rich reference point in developing a project or scheme.