UPDATE: following its presentation at imm cologne 2017, pedrali's new range is on show at the stockholm furniture fair 2017. 
imm cologne: italian furniture brand pedrali, brings welcoming warmth and versatile personality to home spaces with new designs at imm cologne 2017. the additions enable their furniture collection to transform spaces into both elegant and functional workplaces and relaxation areas. at their stand which was designed by milan-based studio calvi brambilla, the upholstered 'vic' armchair, 'dome' side chair, and the 'social plus' modular seating system are the key products on display.

pedrali's stand for imm cologne 2017 was designed by calvi brambilla

the 'vic' armchair was designed by patrick norguet and is showcased also at the stockholm furniture fair
created by french designer patrick norguet, the 'vic' is a comfortable and simply elegant armchair. with its back lifting up from the seat whilst remaining tied only at the ends, the resulting design appears open, light, and easy to handle. rising up to the seat, the legs are available in solid ash wood or steel tubes creating a great contrast with the leather or fabric body.

its opening at its back creates a light aesthetic design

the chair is available upholstered in leather or fabric
 
the 'dome' side chair was designed by the milan-based designer odo fioravanti
the 'dome' side chair by italian designer odo fioravanti, reflects the style of traditional bistrot chairs with its curved silhouette and generous shapes. referencing monumental domes, the piece is available with or without armrests, and in a wide range of colors including white, beige, yellow, red black, and anthracite gray. as well, there is an edition made with a perforated shell that appears more industrial.

the chair is also available in a perforated metal edition

it features a curvaceous design

the 'social plus' is a flexible and modular-built sofa
designed by patrick jouin, the 'social plus' is a modular system of deep and wide cushioned linear and corner seating. the light design floats on a thin steel frame and die-casted aluminum legs, available in either a powder coated or polished finish, that are only positioned at the ends of the support. the extraordinary comfy sofa which adapts to fit into any space, is upholstered in fabric or leather.

the elegant system was designed by patrick jouin

'social plus' is a modular system of deep and wide cushioned linear and corner seating
feb 25, 2017
feb 25, 2017
feb 04, 2017
feb 04, 2017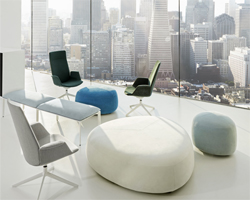 jan 30, 2017
jan 30, 2017
feb 07, 2017
feb 07, 2017
jan 17, 2017
jan 17, 2017
may 04, 2016
may 04, 2016
mar 12, 2017
mar 12, 2017
jul 31, 2011
jul 31, 2011
nov 02, 2010
nov 02, 2010
apr 10, 2016
apr 10, 2016
dec 03, 2015
dec 03, 2015
nov 13, 2012
nov 13, 2012
sep 22, 2016
sep 22, 2016
apr 28, 2016
apr 28, 2016
may 13, 2014
may 13, 2014
feb 23, 2017
feb 23, 2017
feb 18, 2017
feb 18, 2017
feb 09, 2017
feb 09, 2017