stellar works, the first global contemporary furniture design brand from asia, marks their debut at an IMM cologne fair with a display dedicated to and depicting their shanghai-based creativity, craftsmanship and manufacturing. as part of this notable occasion, new furniture pieces are being presented by yabu pushelberg, SPACE copenhagen and neri&hu, their creative directors.
at the event of IMM cologne 2018, designboom interviewed yuichiro hori, CEO of stellar works, who expands upon their principles of asian sensibilities, timeless craft and especially, made in shanghai.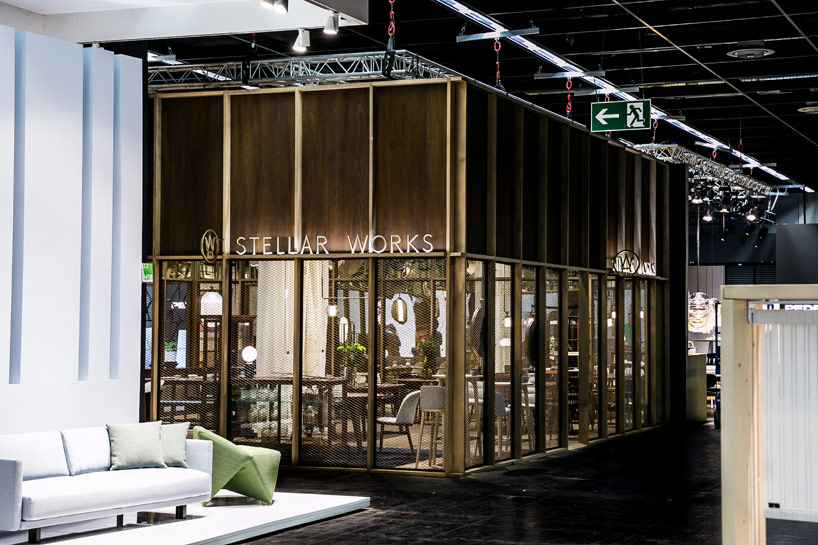 the stand exhibits stellar works' modern manufacturing and craftsmanship ability
image credit taran wilkhu
as stellar works' first time on show at an IMM cologne fair, they are marking the celebration with a global debut of a new range in collaboration with neri&hu. taking the name 'bund', the collection references the namesake district of shanghai, the city of residence for the architect and designer duo. the area, which features an abundance of art deco architecture, is a lasting symbol of the city's past, present and future, combining elements from its industrial origins and colonial history. as such, it intertwines soft, sculpted structures of wood with rich fabric forms. the shapes, totalling an armchair, dining chair, ottoman and two bar stool options, not only pay homage to the architectural style, but significantly offers excelling support and comfort.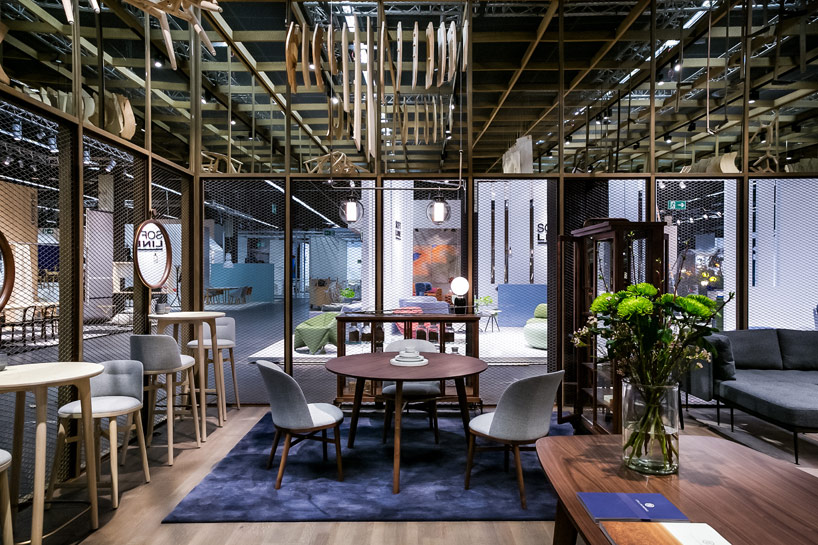 raw materials, ranging from luxurious timbers to metals, hang above the modern setting below
image credit taran wilkhu
the creative direction of neri&hu continues with the expansion of the elegant yet industrial appearing 'utility' collection, which was first showcased at milan design week 2016. on this occasion however, the sofa has been re-imagined with a more refined silhouette and structure, where the side shelves have been removed and the legs have become much more discrete. as an example of the brand's philosophy of constantly revisiting and refining designs, the new 'utility' sofa fits further within the range of versatile pieces and combines comfort with practicality in a mix of old-world and luxurious materials.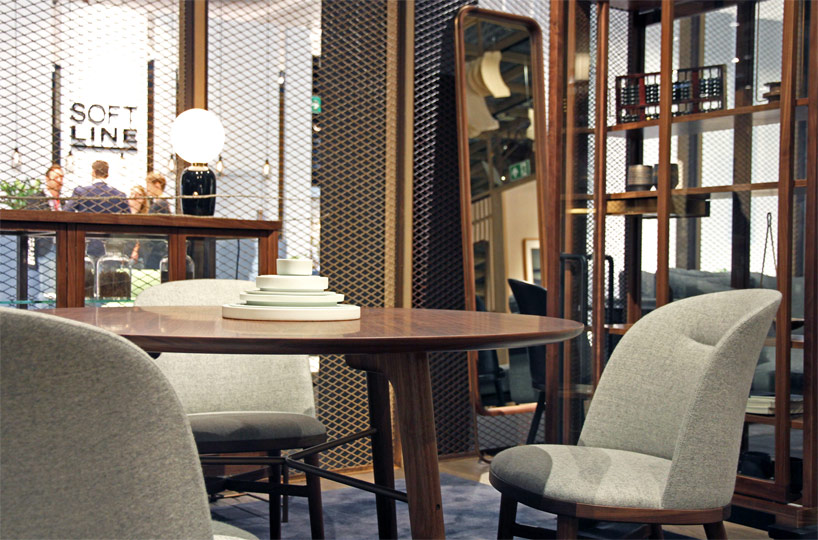 the dining chairs showcase the collection's art deco influences
image © designboom
their stand at IMM cologne 2018 also exhibits a new addition to the 'blink' collection by yabu pushelberg, which was first presented in 2015. showcasing the brand's motifs to modernize chinese craftsmanship, the design distinguishes two new tables; the first with a stone top, the other with a wooden one. the former option adds even further distinction and personality to the range as its stone top features unique natural patterns. expressing a distilled modernist quality, the pieces are compact in profile and scale, while being light, playful and sculptural in shape.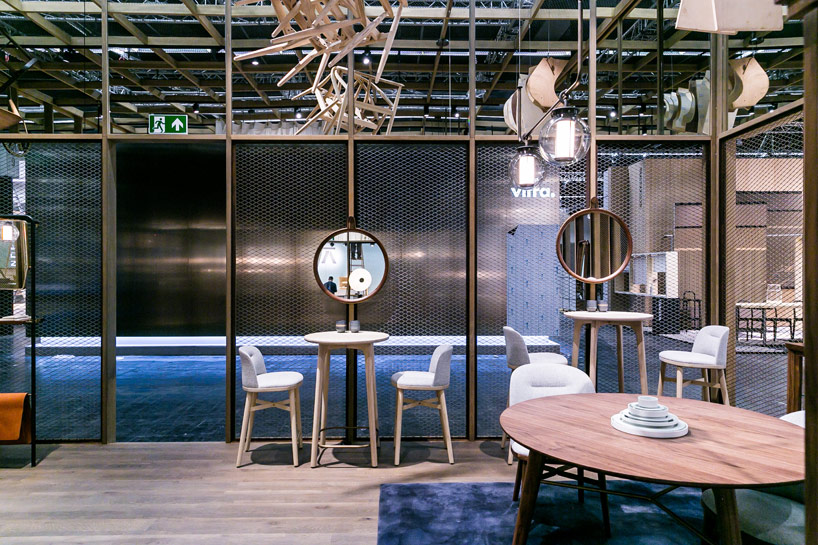 the 'bund' bar chairs are offered in two sizes
image credit taran wilkhu
after exploring their exhibition at IMM cologne 2018, we interviewed yuichiro hori, CEO of stellar works, to find out more about the brand he established in 2012, as well as their latest designs.
designboom (DB): firstly, what are the key philosophies and design motifs that stellar works stands for?
yuichiro hori (YH): our brand stands for a mix of refinement and industrial production so it is very important that we are continuously positioned at the cross roads between these definitions. nowadays, there are a lot of modern factories and machines, but on the opposite side, the traditions of crafting are being lost. with our brand, we are really trying to preserve the magic touch that happens when working with your hands, which is a quality that can always be seen in our collections. they have their industrial elements paired with refinement that, when mixed together, creates magical moments. this all stems from the founding of our company which is based on both japanese and french philosophies.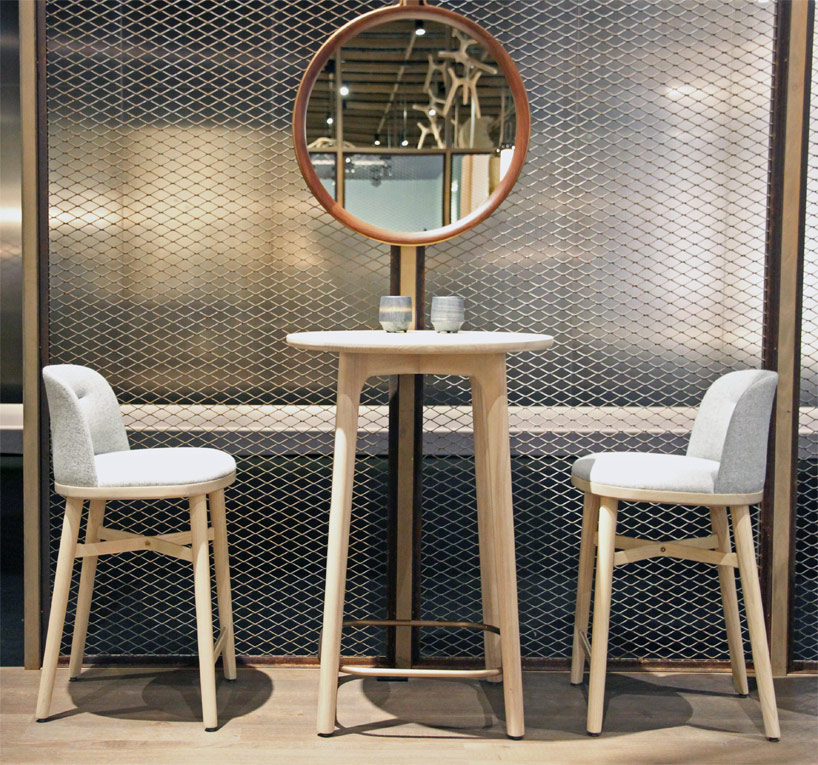 the 'bund' chairs are available in both light and dark timbers
image © designboom
YH continued… furthermore, asian sensibilities is one of the key words and concepts for us. we have a factory in france but, due to the limited production time and lack of young workers, it actually produces less and less using handcraft. however, one of the reason for us being based in shanghai is that there are so many young people in the city, some with over 10 years of experience working with wood when they are only aged 25. it is truly amazing when seeing this quality. in spite of this, their lack of education means that we have to educate, while they learn quickly.
our handmade detailing, which includes lots of asian elements, show how we really represent the continent and want to create the first truly international brand from asia. we never coin european brands, as you can see with our stand at IMM cologne 2018. the design and approach is much different to anyone else.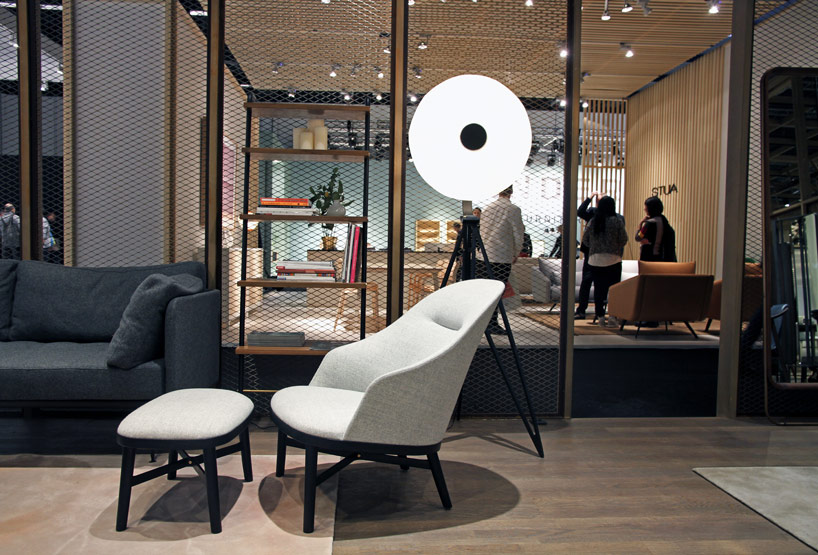 the 'bund' collection intertwines soft structures with rich fabric
image © designboom
DB: what is the significance of stellar works' debut at the IMM cologne fair and how is brand so unique when compared to others?
YH: the market is here and people expect and recognize that our brand is at the show, even through we are only five years old – we are a really fast growing company. our know-how comes from france, our influences from shanghai, and our efficient production from japan. the history of shanghai showcases so many different cultures. it has a real mix of british, french, american, russian, japanese culture mixing. that is why our company is very global; it is as international as the city we are based in.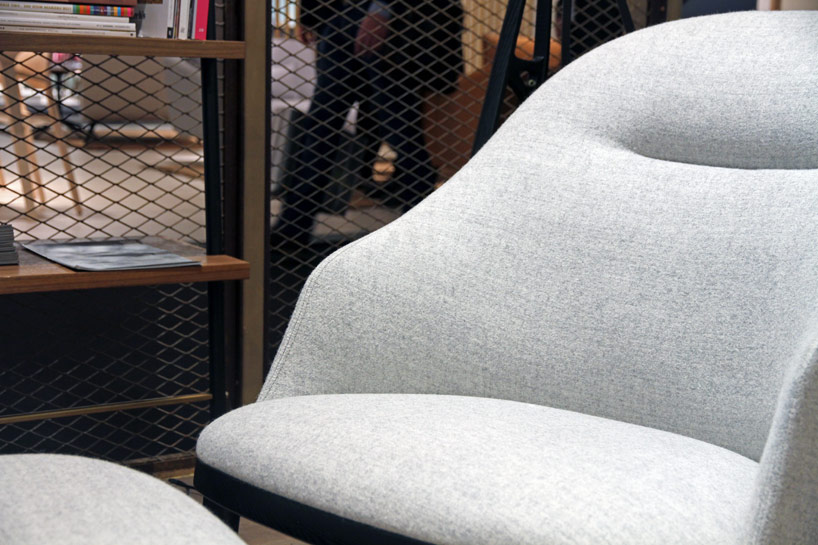 the chair's inclination is formed from a continuous compound curve
image © designboom
DB: how do the designs of neri&hu's 'bund' collection reflect a modern interpretation of the history of shanghai?
YH: the designs reflect shanghai's art deco style in its shapes, but the real reason that we call it the 'bund' collection is because of the project's origins in the namesake waterfront district of the city. for jean-georges restaurant, which is positioned along the bund strip, they wanted us to develop a chair specifically for their space. this invitation was the opportunity and the birth for a new collection and it really built from there. the restaurant's chair that was a first edition, whereas we developed a new and further refined one afterwards. because of this geographical reason, neri&hu wanted to follow the area's art deco influences.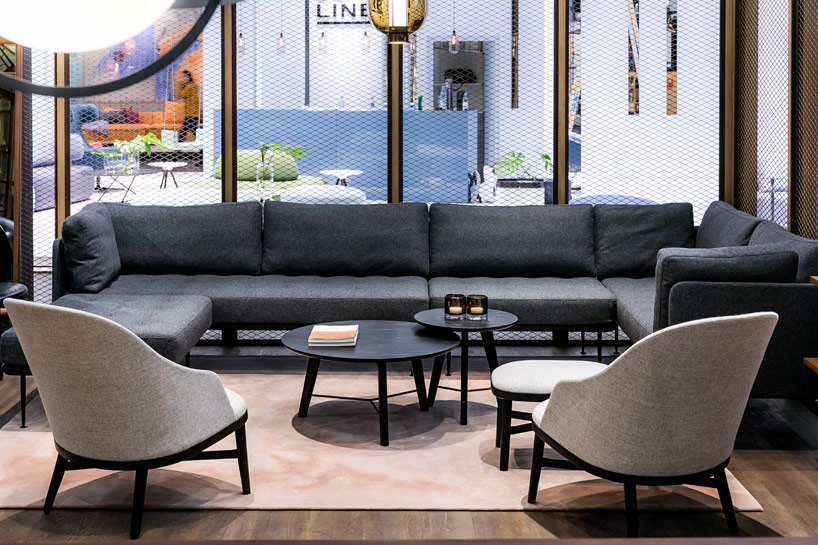 the versatile sofa merges luxurious materials with an industrial style
image credit taran wilkhu
DB: considering this project, does the company design for commercial ventures or mainly more for residential customers?
YH: both really, especially for the 'bund' collection, as we need to offer the flexibility to have our products used in both settings. this line is very useful for residential but similarly for contract purposes. as such, when sitting or dining in the chairs, the way in which it was designed really helps support and comfort your back.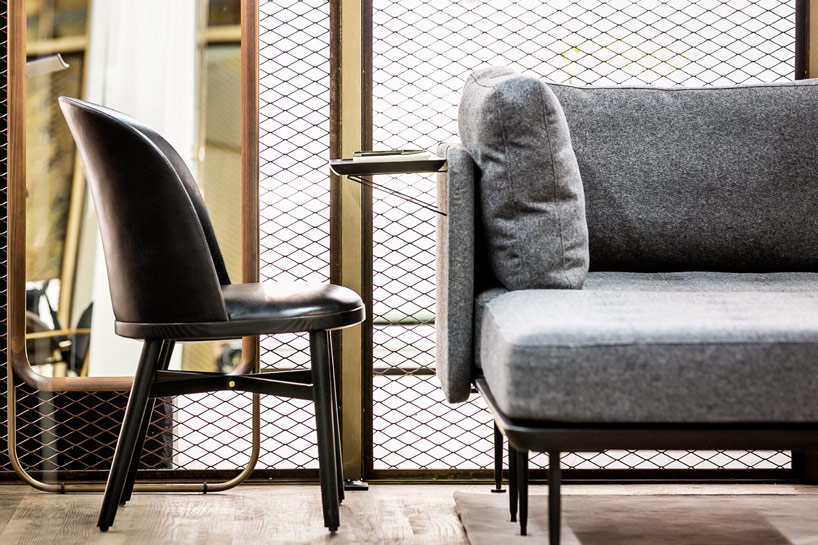 close ups of the 'bund' dining chair and 'utility' sofa
image credit taran wilkhu
DB: how does the 'bund' collection extend stellar works' portfolio of furniture?
YH: the collection highlights another key motif for our brand: old and new. we are inspired by midcentury designs, as well as traditional wood work, so we gain lots of influences from old day shanghai. however, on our design side, each piece has detailing elements and hand crafted manufacturing that innovates the old. the similarities between neri&hu and our brand is that we follow the traditional craftsmanship but are always looking for new ways to innovate within that. when we are looking at our designs, we are sourcing what inspires us from the history of shanghai and how we use the innovation of design to create an internally new product that is modern for today and yet still grounded in these aspects.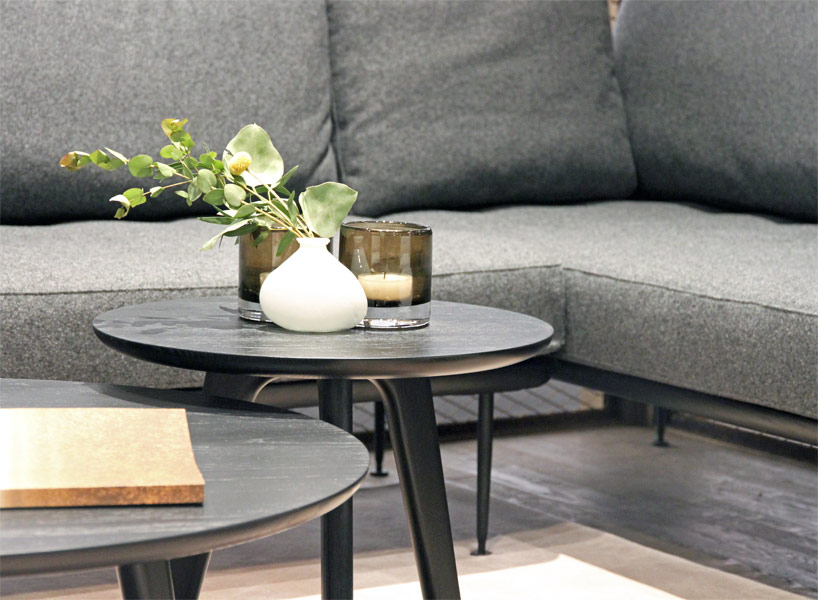 the structure of the 'utility' sofa has been revised to be more discrete
image © designboom
DB: the showcased work at your stand continues the strong relationships the brand has with neri&hu, among other designers. How important is it for the brand to collaborate with shanghai-based creatives?
YH: our work with neri&hu is why we are truly proud to say 'stellar works: everything made in shanghai'. we offer all in-house production, which is why we are showing so much raw materials at our IMM cologne stand because we are manufacturers. that is another one of our biggest differences to other brands.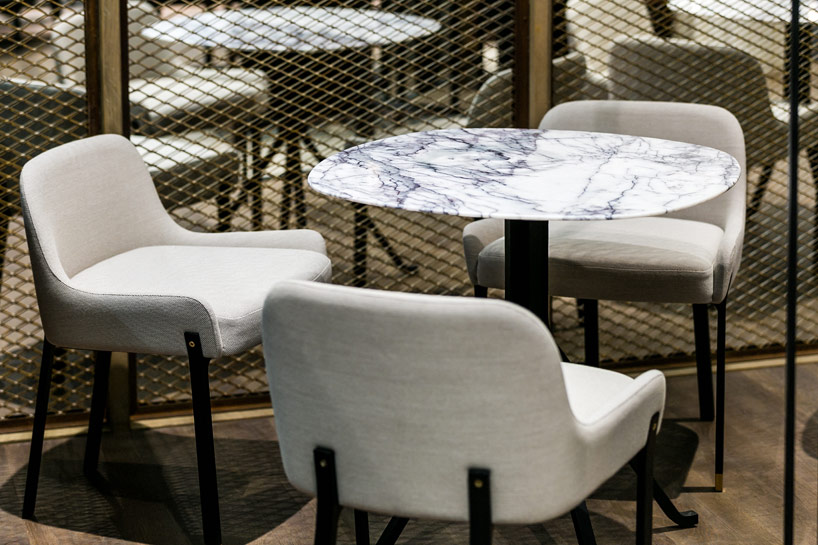 the cafe tables are light and sculptural in shape
image credit taran wilkhu
DB: when deciding upon designers to collaborate with, what characteristics are stellar works looking for?
YH: we are looking for designers globally. we are also not looking for designers with a name. we do not consider how famous they are, but instead consider how their designs must be suitable to our brand DNA. we need to pick the right designers who understand our philosophies, especially our asian necessities.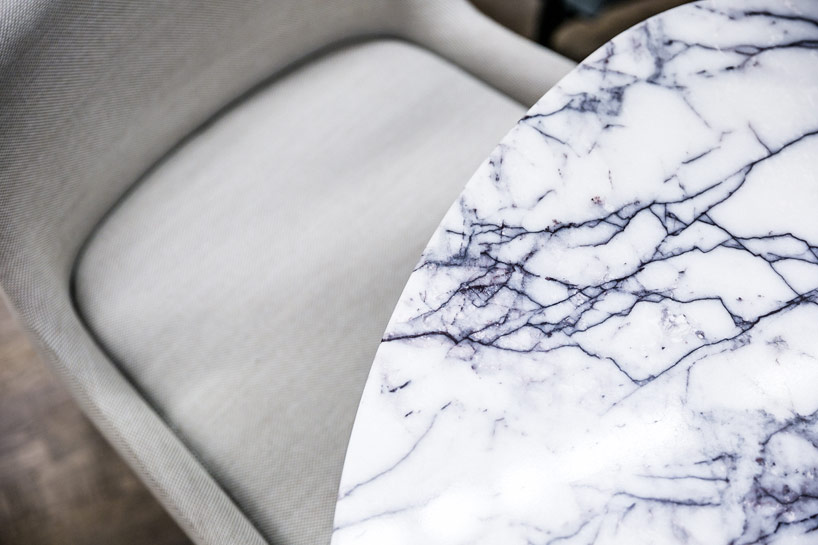 the stone top of the 'blink' cafe table details unique patterns
image credit taran wilkhu
DB: as a great example of introducing more materials to the brand, the BLINK collection has been added to. Are these new pieces intended to showcase new material options alone or themes much larger than this?
YH: it uses a very unique and special piece of stone from china. however, as a brand, we are constantly introducing materials that are new to our collections. for example, with the rice paper lamp, the material is from kyoto, japan, whereas its structure is from a reinterpretation of a japanese umbrella. it is another example of our innovation of the old and our approach to every product. we asked the traditional craftsman to make something completely new using the skills he had.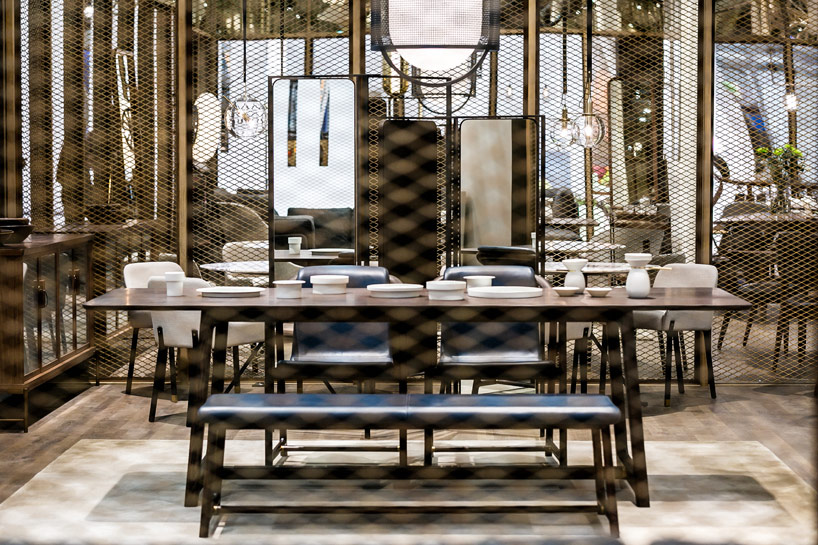 SPACE copenhagen's rugs accessorize the furniture collections
image credit taran wilkhu
DB: likewise, the 'ming' chair was further expanded at london design festival 2017 with the indigo edition. will these new collections be continued in a similar process in the future?
YH: yes, definitely. with the 'ming indigo' edition, it is a traditional chinese method but at the moment, china's manufacturing is more about hardware parts and mass-production. no one creates and communicates so nobody really considers and uses design, which is more like a software part. our designing creates from software to hardware, where we can integrate asian traditions with communicative production. ours approach is different to the stigma of china as mass-production and cheapness. we want to be the innovator and the first company that creates a brand influenced from china. it is a fresh start for shanghai and its modern influences. our brand is very unexpected and so we are helping to question of what china, specifically shanghai, is really about and breaking down these perceptions.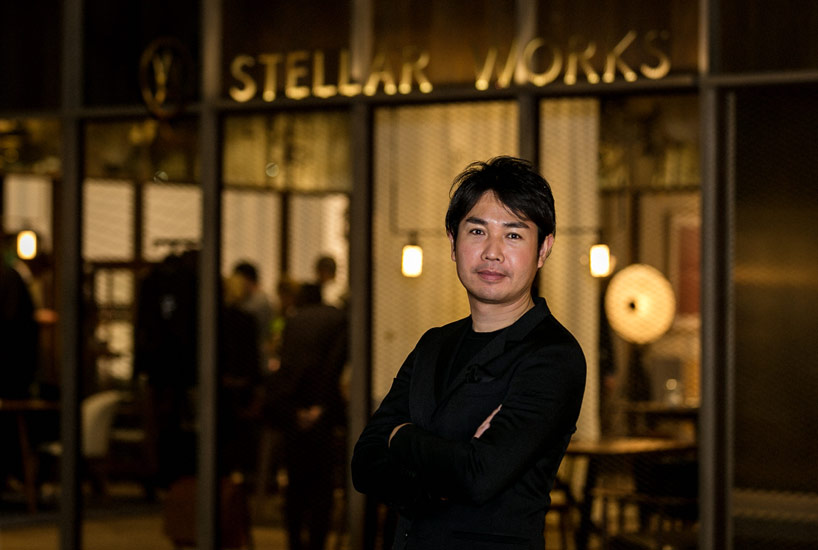 portrait of yuichiro hori, CEO of stellar works
DB: how important are these global design fairs to stellar works and when can we look forward to their next debuts?
YH: one of our biggest topics right now is that we are exploring accessories a lot more. we have our beautiful furniture but we found that we needed something to compliment it. first of all, we had our 'arita' ceramics designed by neri&hu, but here for the first time, we are actually showing our rugs by space copenhagen. creating compliments will be one of the big elements that we are working on for the near future. we are really trying to make a complete collection. of course, our furniture for the future is top secret right now, but things will soon be introduced. the next place that you will see us is at salone del mobile 2018 in the tortona district. our area there is three times bigger than last year's – it will be a very special concept by neri&hu.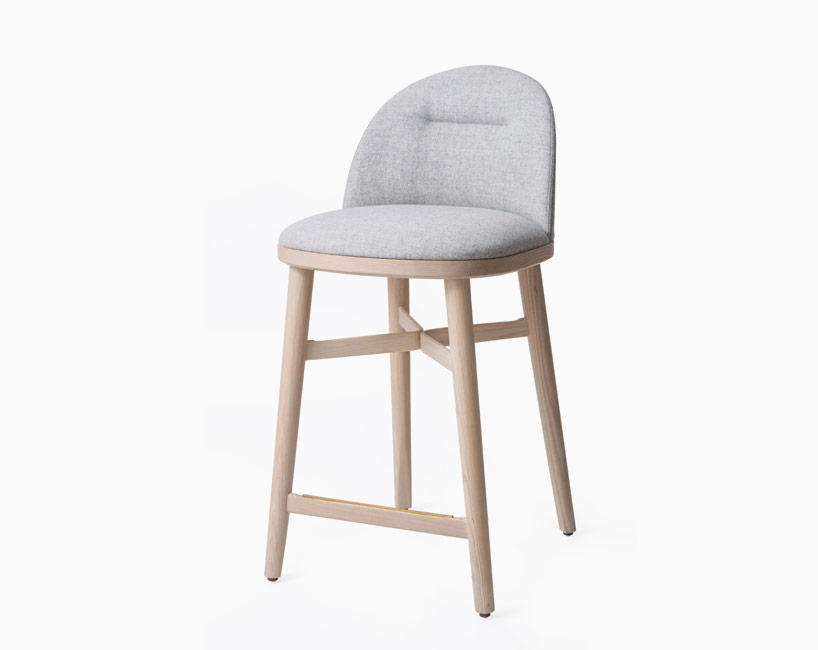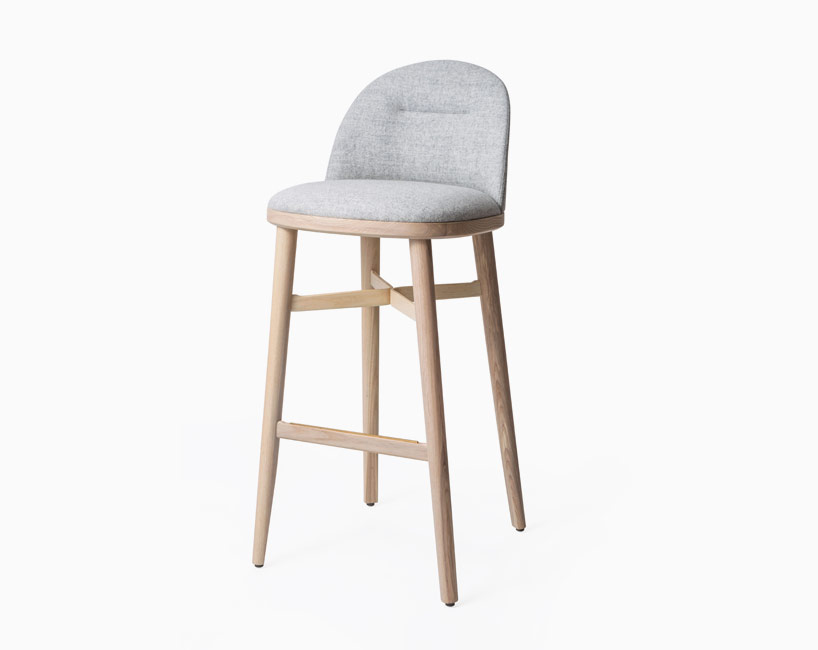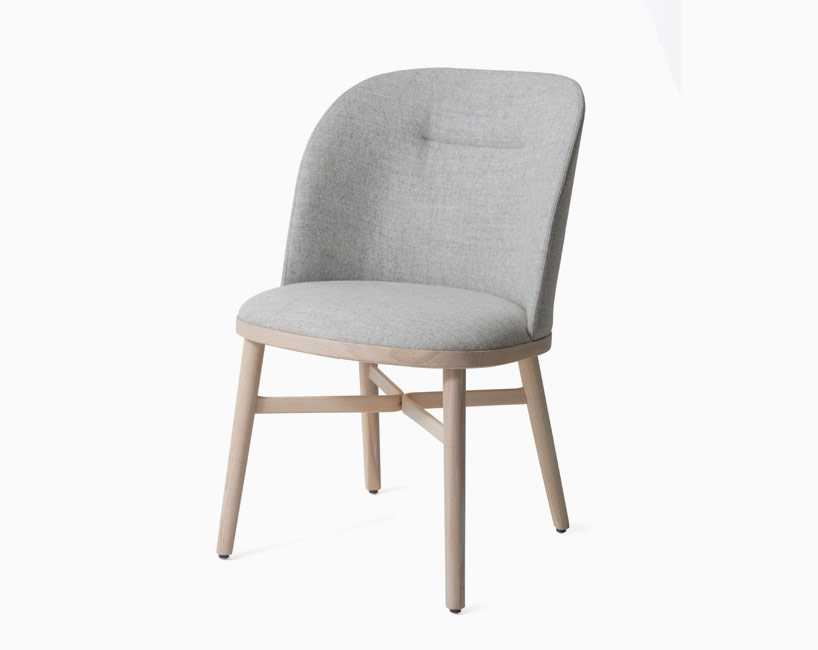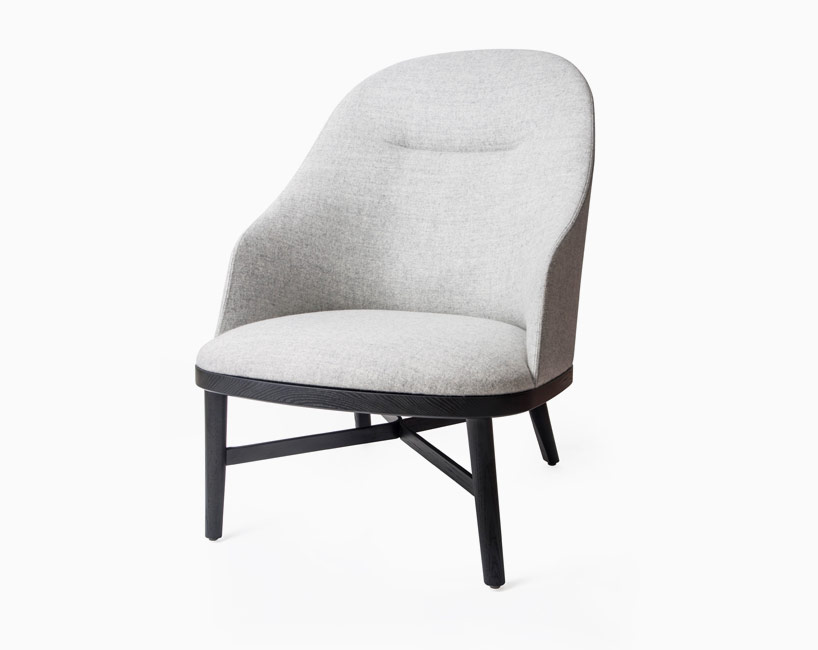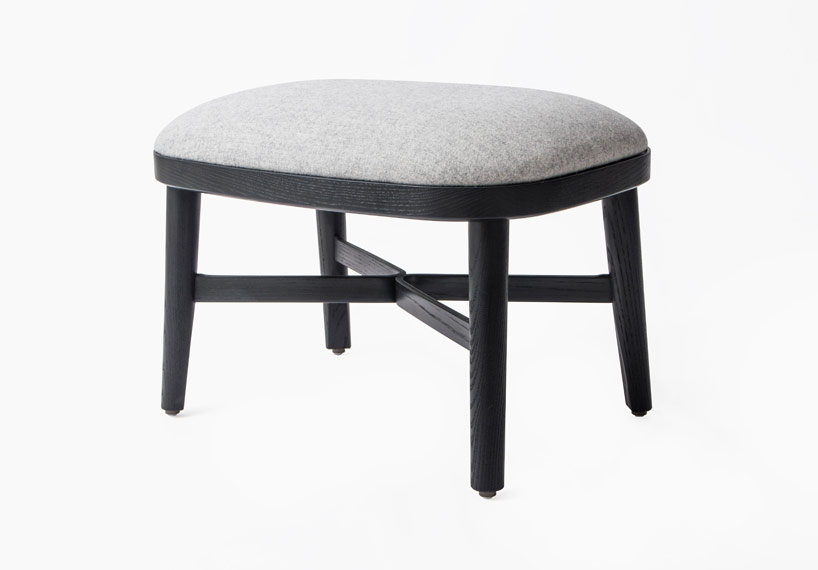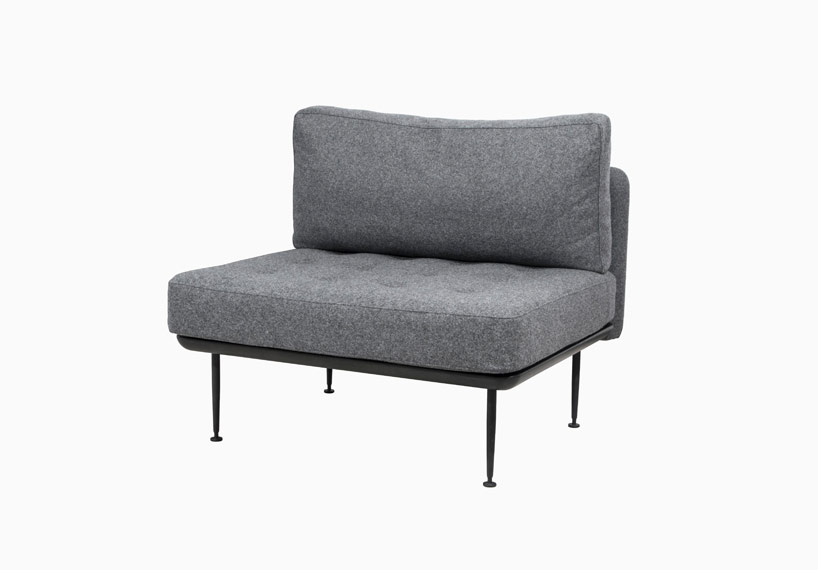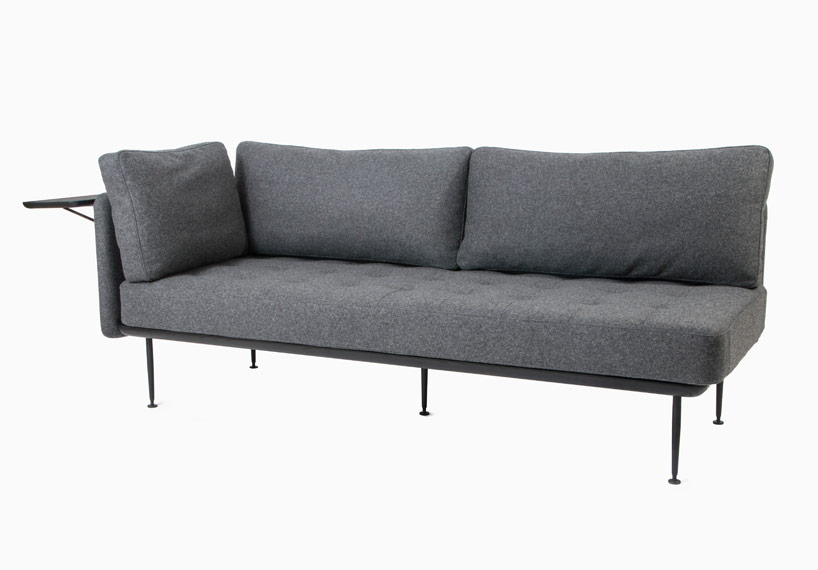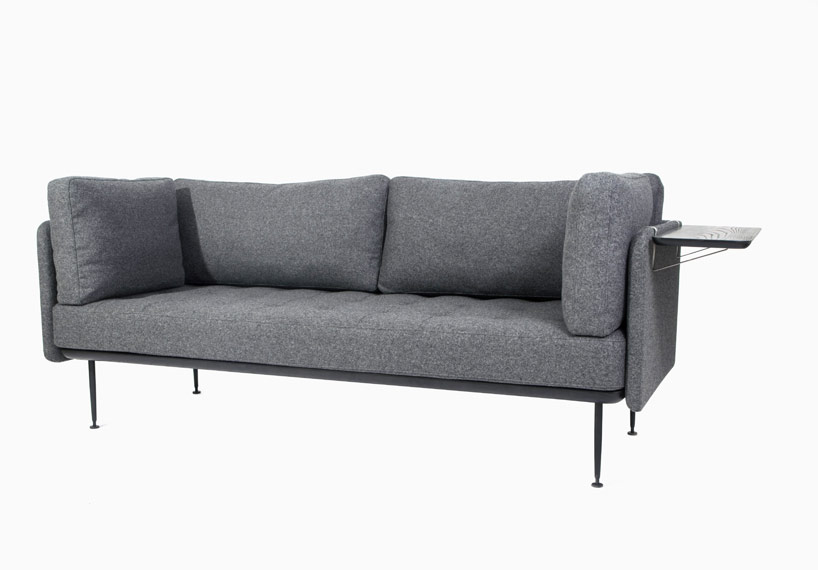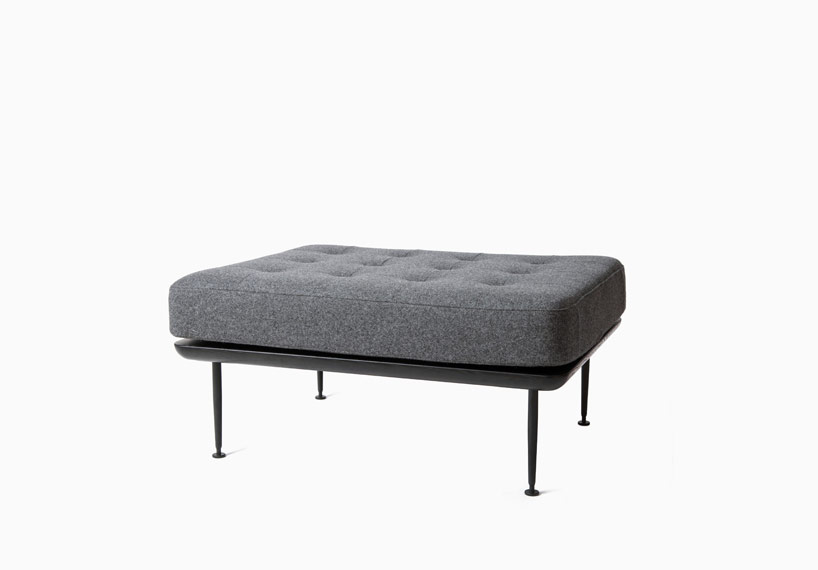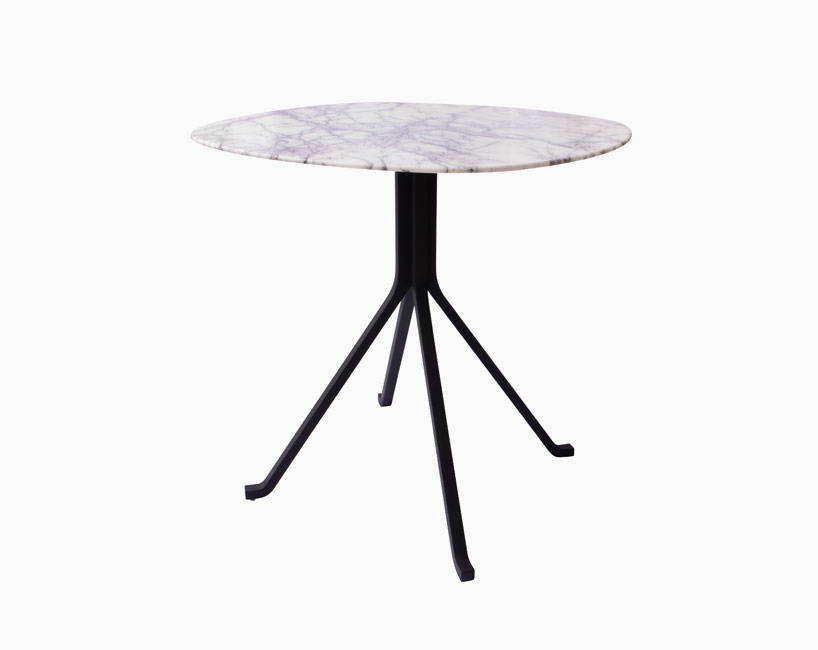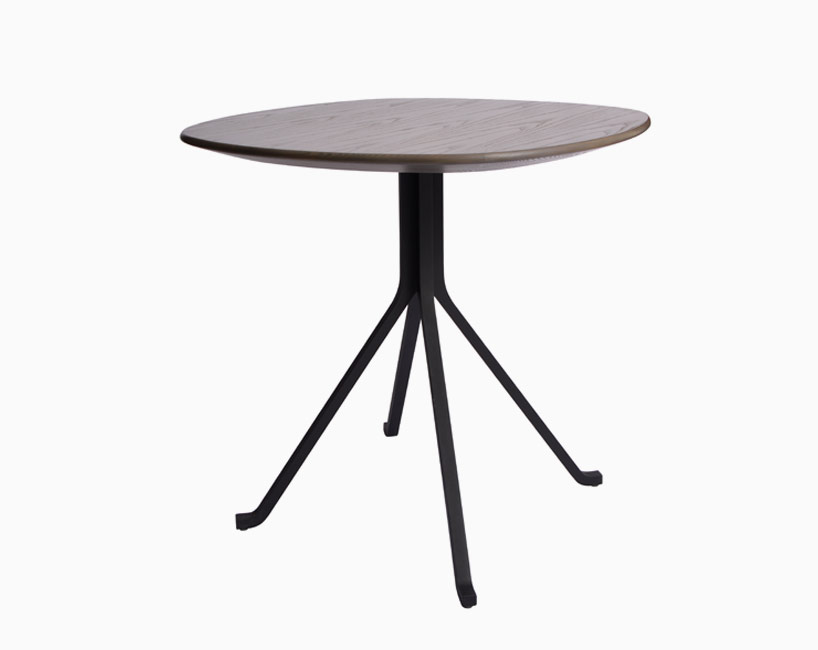 KEEP UP WITH OUR DAILY AND WEEKLY NEWSLETTERS
a diverse digital database that acts as a valuable guide in gaining insight and information about a product directly from the manufacturer, and serves as a rich reference point in developing a project or scheme.
designboom will always be there for you
milan, new york, beijing, tokyo

,
since 1999