the INDEX design award 2011 exhibition in copenhagen, denmark image © designboom
one of the first events of copenhagen design week 2011, designboom was present at the ceremony announcing the winners of the INDEX award 2011 which was held inside the copenhagen opera house, a building designed by architects henning larsen for the city. the biennial prize, first awarded in 2005, aims to generate more 'design to improve life' rather than merely design engaged with aesthetic concerns, enabling a higher quality of life for individuals worldwide. financed by the state of denmark and awarding this year a total of approximately 800,000 euros, the award is the world's largest for design.
each of the five winners represents one of the INDEX: award categories – body, home, work, play and community – that together span the spectrum of human activity and are relevant and understandable to people all over the world.
criteria for the award are the proven impact of a project, the attention to form and design, and the suitability of the design's context: does it fit into the lives and environment where it is meant to function? a sixth award, the 'people's choice' prize, is given to the design that obtained the greatest number of votes in a public online voting round.
the INDEX: award exhibition is currently on display at kvæsthusmolen in copenhagen, showcasing the work of 60 finalists from 27 countries, which were selected from 966 submissions this year. a contrast to the transparent exhibition pieces of years past, the display structures were designed by US-born, venice-based architect greg lynn and danish-born, new york-based architect and film directro christian ditlev bruun. each of the 12-foot black shapes is constructed modularly from flat sheets, with golden shadowboxes displaying the shortlisted designs. solar-powered LEDs provide light to the structures by night.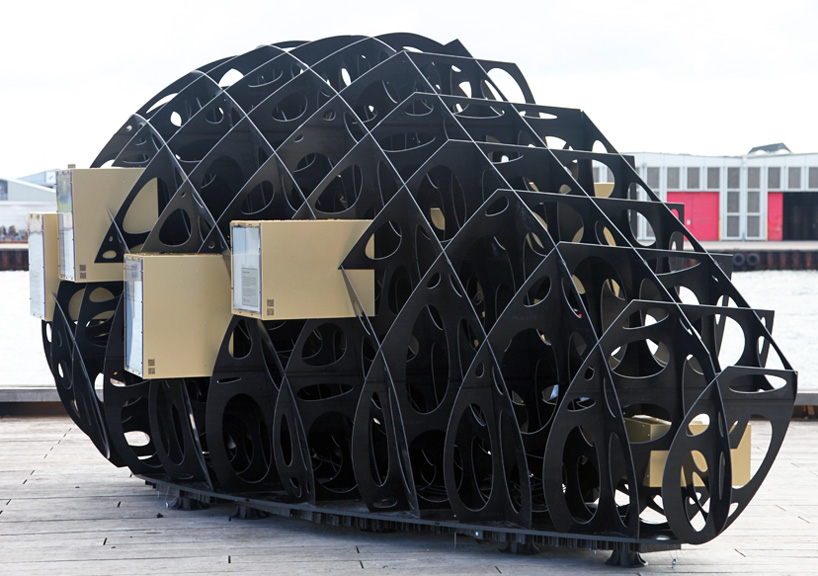 full view of one of the exhibition pieces, each of which features shadowboxes of the shortlisted designs image © designboom

the 'see better to learn better' glasses
'body' category 'see better to learn better' by verbien, in collaboration with yves behar (USA), josh morenstein, pichaya puttorngul, isabelle olsson, matthew swinton, matthew malone, and jenny olson (all USA)
'see better to learn better' is a free eyeglasses program by verbien in partnership with the mexican government and augen optics. 11% of mexican children cannot see well enough to read the blackboard at school, but the eyeglasses made available to them tended to be modified adult glasses that were not only expensive but also did not fit properly.
the project team designed a customizable, two-part frame that enables children to select their own colour preference (of seven) for both top and bottom, in addition to choosing one of five frame shapes in three different sizes. the designers chose a durable plastic to make the glasses virtually indestructible, while maintaining a total production cost for both eye examinations and the eyewear of under 10 USD per child (currently paid for by the mexican government as education investment). representatives go to mexican schools and perform eye examinations, offering students a flip book that lets them see the design options and create their own pair of eyeglasses, to be distributed to them just a week later. in this way the children also take ownership of the glasses.
designer josh morenstein explains, 'there's no reason that design for any sort of economic status can't be of the highest caliber.' the team plans in 2012 to create and distribute 250,000 custom eyeglasses to mexican children through the 'see better to learn better' program.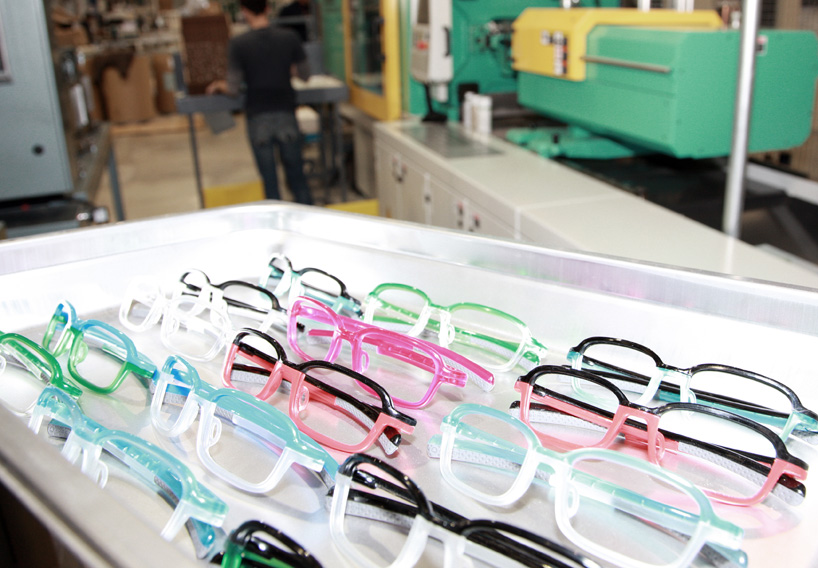 view of the spectrum of colors available, at the production facility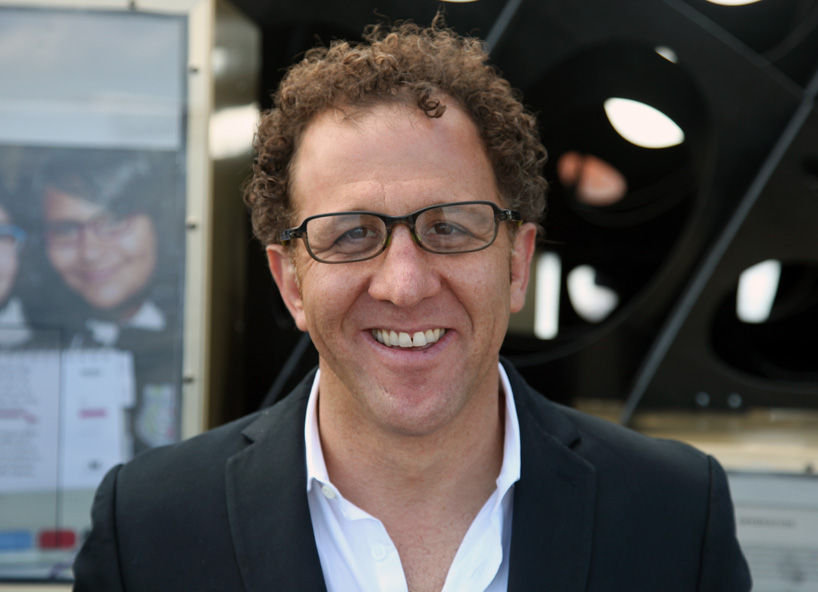 project designer josh morenstein of fuseproject models a pair of the children's glasses image © designboom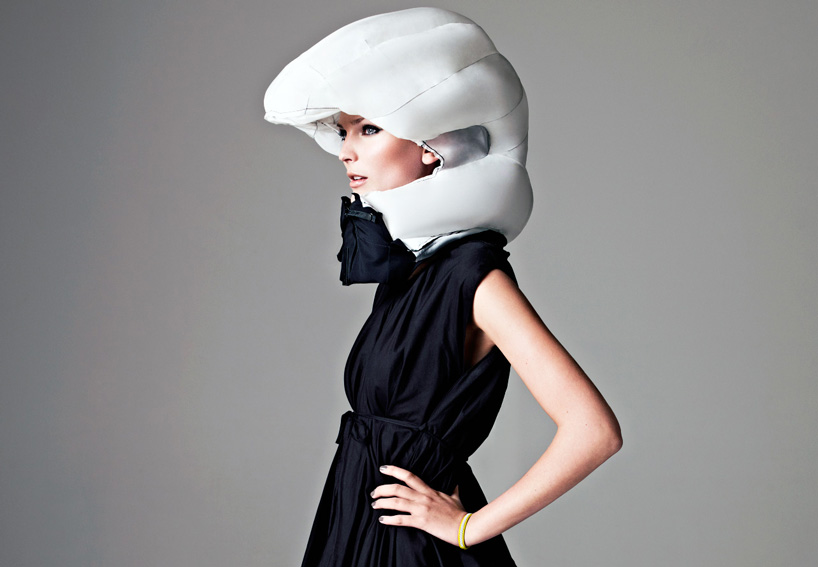 hövding' by anna haupt and terese alstin (sweden)
'play' category hövding' by anna haupt and terese alstin (sweden)
'hövding' is a bicycle helmet disguised as a collar, containing sensors that activate it only in the event of an accident. the product began as haupt and alstin's masters thesis in response to a new law that addressed the low rates of bicycle helmet use. about traditional helmets the designers reflect: 'it says everything about the product that people aren't prepared to pay twenty euros to save their life', a result that is largely, they discovered, because of aesthetic concerns.
the collar features better shock absorbance that standard helmets. its battery lasts about three weeks and is charged via USB. read more about 'hövding' via designboom's previous coverage.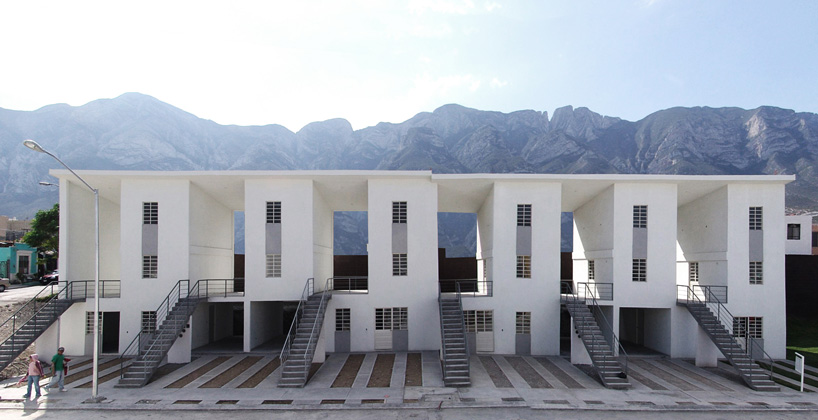 'elemental monterrey' – the completed structure in monterrey, mexico
'home' category 'elemental monterrey' by elemental, alejandro aravena, fernando garcía-huidobro and gonzalo arteaga
reframing the concept of social housing, the elemental team constructed a group of seventy homes in monterrey, mexico, that are designed to let their owners expand and customize their living spaces over time.
cities offer a potential better quality of life for citizens, and current data suggests that one million persons each week move to an urban center. social and even middle-class housing, however, is conventionally located on the peripheries of cities, offering very small living spaces. the design team thought of the problem as 'building half of a good house' rather than building a full, poor-quality house, and thus has created a basic structure on which inhabitants can expand over time. in this way, and in contrast to typical social housing, the structure becomes an investment whose value grows over time, 'becom[ing] an economic tool to help people escape poverty'.
read more about 'elemental monterrey' via designboom's previous coverage of the project's construction.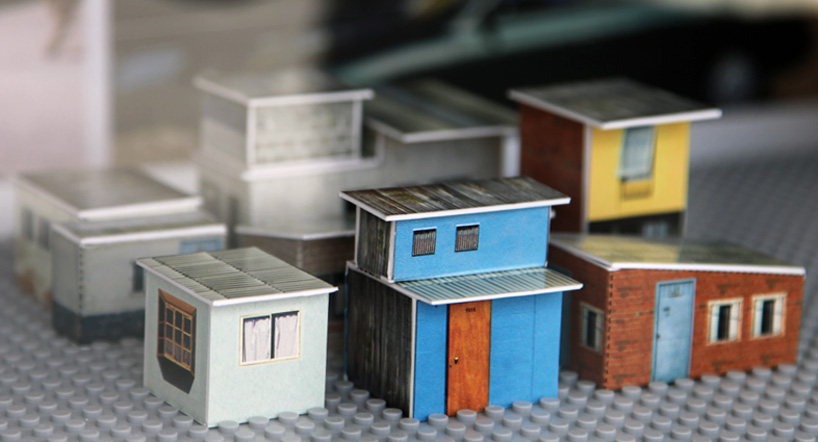 design maquet image © designboom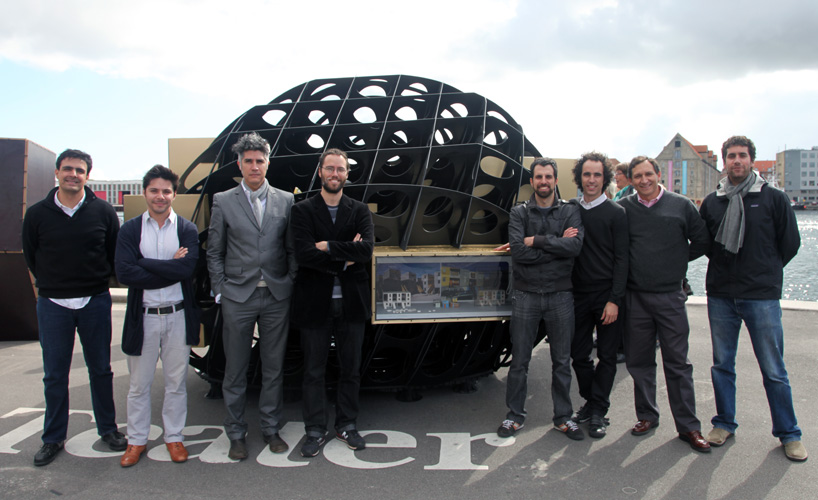 the project team in front of their display at the INDEX award exhibition image © designboom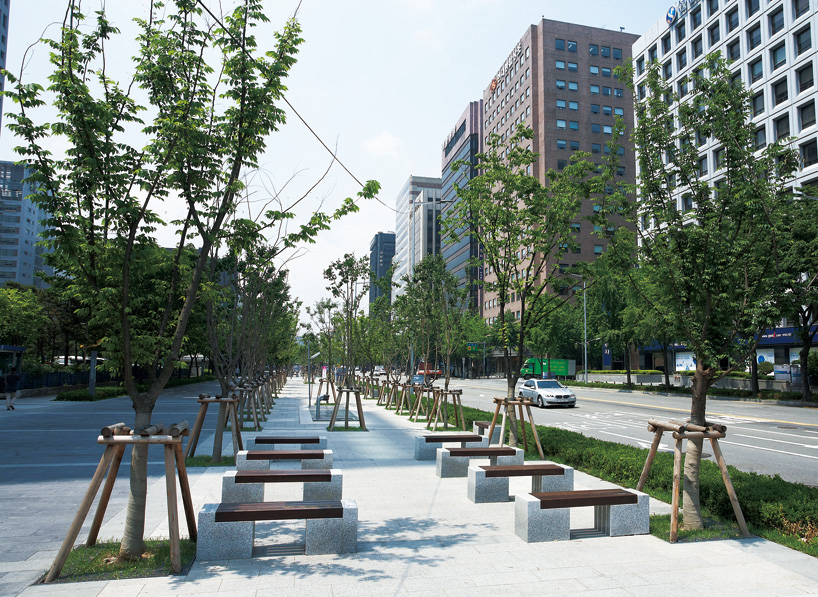 the 'gwanghwamnu square project'
'community' category 'design seoul' by seoul metropolitan government team (korea)
'design seoul' is a series of design strategies and urban projects that seeks to 'design caringly for citizens' in a people-oriented way. the korean war left the city nearly destroyed, and rapid rebuilding in the 1960s and '70s was completed in haste and with regard only to the most basic practicalities of infrastructure. 'design seoul' aims to convert the 'hard city' into a 'soft' one, safer and healthier for both its inhabitants and the environment.
across a range of public works projects, 'design seoul' maintains a series of guidelines, alongside five basic principles of design: that it be airy, integrated, preserving, collaborative, and sustainable.
projects to date include the 'dasan call center', through which telephoning a single number connects callers to city consultants ready to assist with any questions in korean or english; the 'gwanghwamun square project' that transformed part of a 16-lane road that lacked a walkway into a public downtown pedestrian space; and the 'hangang renaissance project' that revitalized the city's riverwalk.
another set of projects focuses exclusively on making the city safer and more accessible for women. with the INDEX award prize money, the metropolitan design team plans to help fund a monument at the city of the new city board building.
TED talk where kiran bir sethi describes and depicts the 'design for change' concept she developed first at riverside school in india
'work' category 'design for change' by kiran bir sethi and pranay desai (india), in collaboration with jim ratcliffe and sandy speicher (USA)
an open-source education program, 'design for change' seeks to empower children to recognize social problems and invent their own solutions to them. beginning in india in 2010, the program is utilized by over 300,000 schools in over 35 countries, expected next year to impact an estimated 25 million children.
whether brazilian children who organized a cleanup of their local beach when no officials arrived to do so or indian schoolboys who built a door out of coconut leaves for the bathroom of their female classmates upon realizing that this was why many girls were staying home from school, the program focuses on identifying specific, local problems, and engineering solutions.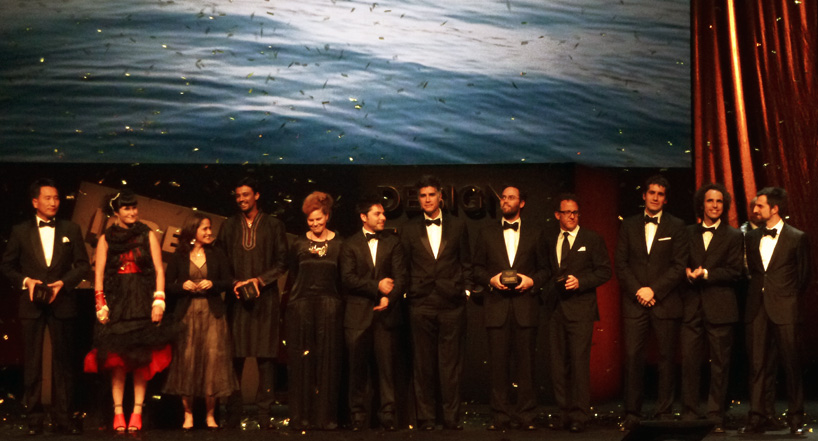 the 2011 award winners stand together at the close of the ceremony image © designboom
people's choice online vote 'embrace infant warmer' by linus liang and jane chen (USA) and naganand murty and rahul panicker (india)
this year's 'people's choice' award, determined from a public online vote, goes to 'embrace infant warmer', an electricity-less alternative to incubators for premature babies, preventing a major cause of infant death in rural and third world regions.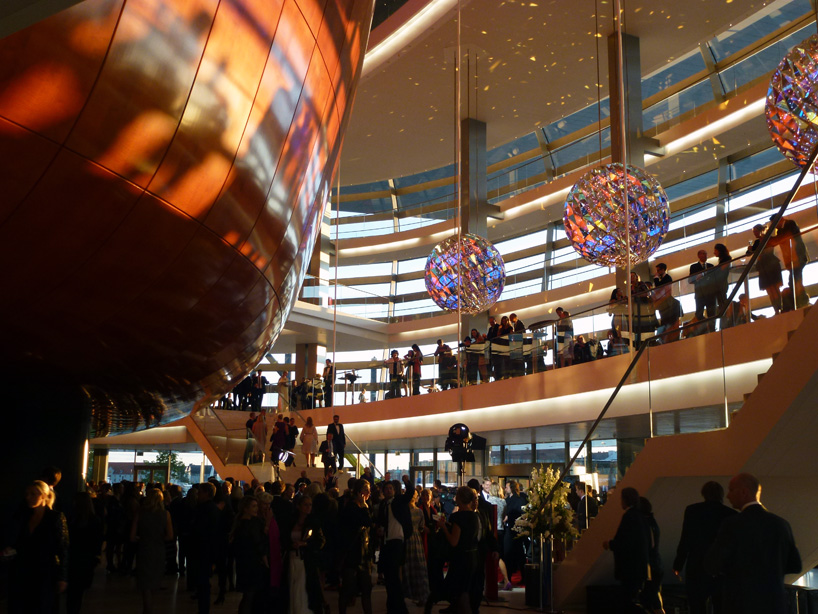 at the awards ceremony at the copenhagen opera house, prior to the start of the event image © designboom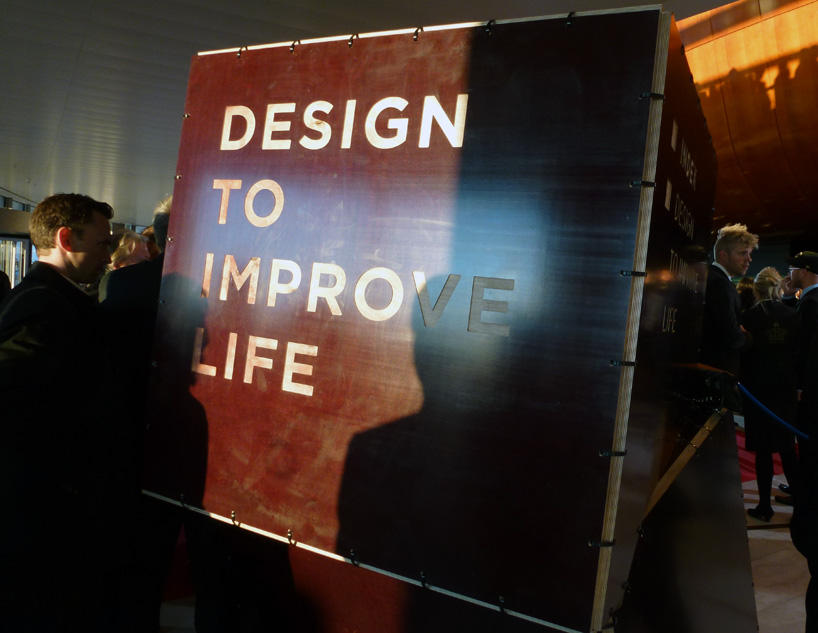 at the entrance image © designboom
jenny filippetti
I designboom
sep 02, 2011
a diverse digital database that acts as a valuable guide in gaining insight and information about a product directly from the manufacturer, and serves as a rich reference point in developing a project or scheme.
designboom will always be there for you
milan, new york, beijing, tokyo

,
since 1999