new york has always been a city of bright lights, both literally and metaphorically. the metropolis has long been the nucleus of a network of lighting design stars and leading industry figures, drawn to its active and electrifying identity. while clusters of designers have occupied pockets of the city for decades, an ever-expanding fleet of leading luminaries have quietly been shaping a lighting design hub in brooklyn's booming industry city. the waterfront campus hosts a colossal yet close-knit creative community, conscious of its enviable waterfront locale and attractive onsite amenities — but most of all, IC's powerful position as a burgeoning design district for the international and local alike.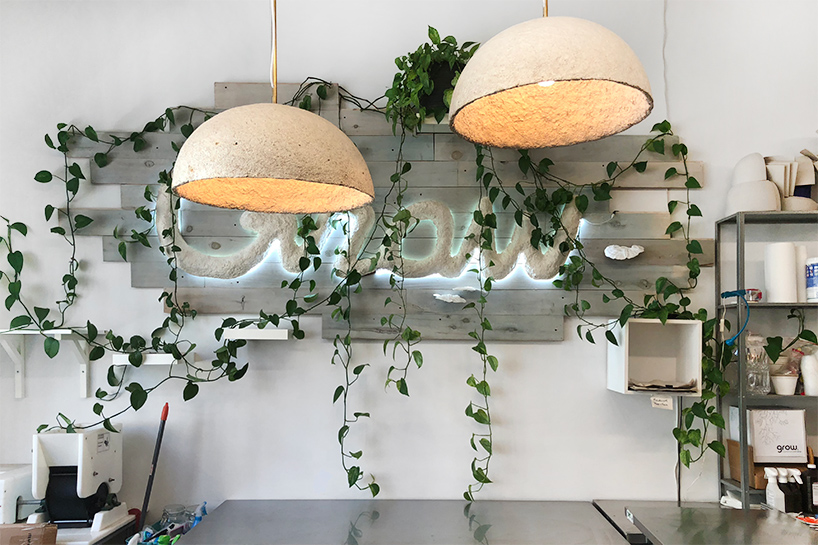 the luminous studio of danielle trofe design in industry city
image © designboom
industry city's thriving lighting design scene is shaped by a brilliant group of global and local studios ranging in scale, style, materiality, and manufacturing capability. rising independent talents are adapting their sunlit spaces into sizable sites of innovation and meticulous making, while industry heavy hitters are operating full-scale manufacturing and assembly activities on site. IC has quickly become a beacon for lighting designers to convene, create and collaborate.
designboom took a behind-the-scenes look at three — of the many — lighting design studios at industry city, whose businesses have helped define the IC design district and, in turn, have been shaped by it too. we spoke with danielle trofe, of the eponymous danielle trofe design; shant madjarian, founder of juniper; and jason miller, founder of roll & hill, about their studios, their work, and how they see IC as an essential destination for both the lighting design scene and the creative community at large.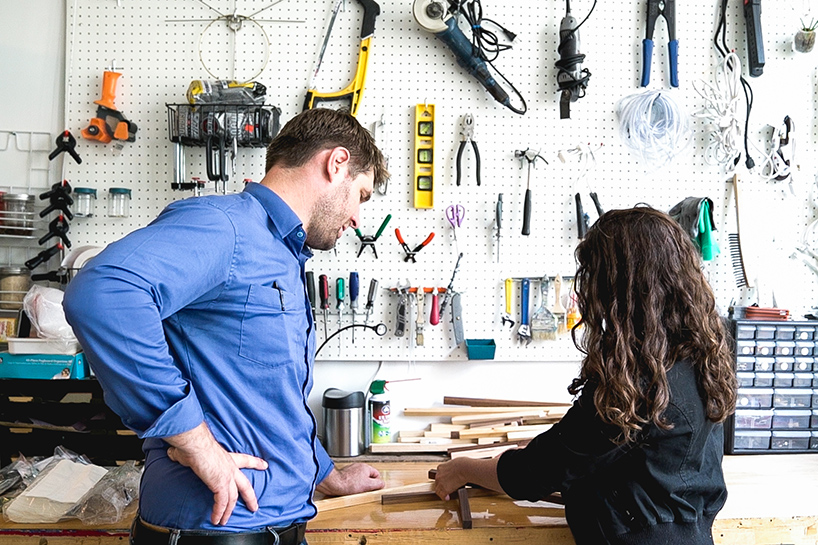 trofe's practice was one of the first in the world to bring fully-biofabricated lighting to the market
over the past seven years, danielle trofe design has become widely known for its focus on sustainability, and its fusion of science, technology and design. the studio — which has evolved to encompass a biodesign brand, flow & chaos — champions a departure from conventional materials, disrupting the lighting design industry at its core. trofe was one of the first designers in the world to bring fully-biofabricated lighting to the market with her 'mushlume' collection, where lampshades are grown, not manufactured. mycelium — the root structure of mushrooms — is combined with agricultural waste, like corn stalks and seed husks, to create a completely natural, sustainable and biodegradable product.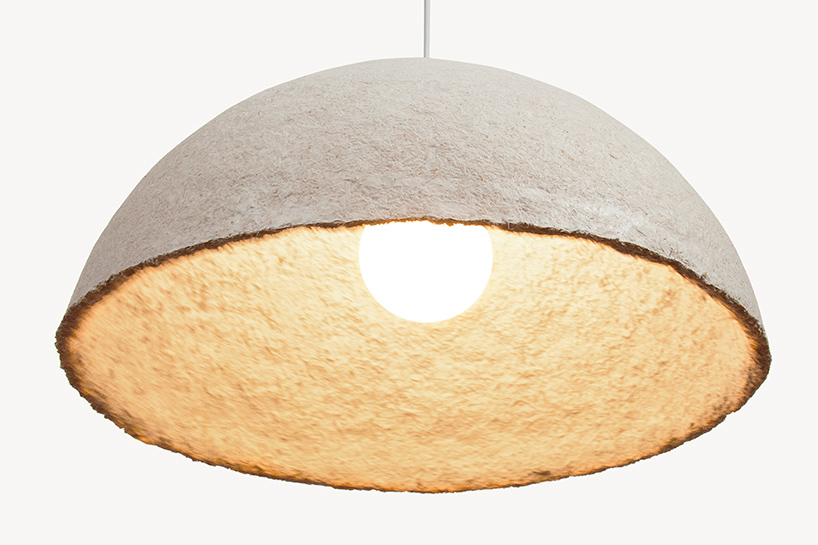 the 'mush-lume hemi pendant' is grown, not manufactured, from mushrooms
trofe's studio in industry city is a luminous wunderkammer of plants, molds, and organic materials. the workspace is an epicenter of experimentation and innovation, where trofe generates ideas, tests concepts, and carefully crafts her latest creations. trofe sees her IC studio not only as an intimate space of individual expression, but also part of a larger environment that nourishes creative forces in the industry.
'I enjoy the interconnectivity of the community and the professional nature of the work that goes on behind the iconic walls of windows that overlook such a historic part of brooklyn,' she says. 'there are some true trailblazers hard at work in industry city, yet the atmosphere remains relaxed and maintains its neighborhood feel. I've lived just north of sunset park for over eight years now, so maintaining a relationship with the local community while having access to ride my bike to work everyday is quite fortunate and keeps me feeling akin to an ever-growing and changing city and industry.'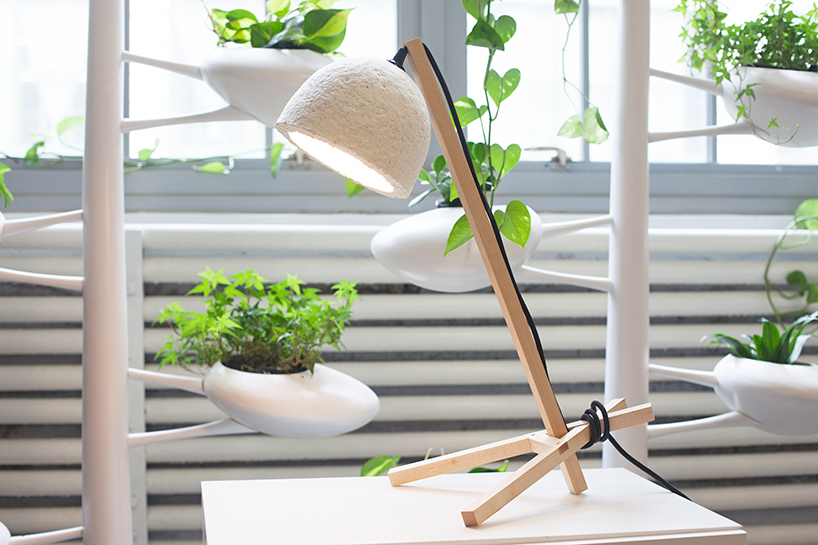 the grow-it-yourself lamp combines the art of making with the power of nature
trofe cites the industry city leadership and key members as essential in fostering crucial connections within the community of lighting designers based at IC. 'wanteddesign, who also has a storefront at IC, has been a cornerstone in facilitating this interactivity in attracting and connecting designers with manufacturers, and promoting products to consumers and industry,' trofe continues. 'their annual event during NYCxDESIGN that runs alongside industry city studios, garners tens of thousands of design enthusiasts from around the world to explore what brooklyn design has to offer.'
video of trofe's 'grow-it-yourself' lamp
'these crossroads of events and participants that gather at industry city has created opportunities that only a personable interface can facilitate, like our work for the 1hotel brooklyn bridge,' adds trofe. 'we worked in collaboration with 1hotels and IC to host a month-long public exhibit featuring a live production of over a hundred lampshades grown from mushroom mycelium. meaningful collaborations like these — that engage people from many different disciplines and reach a broader audience rather than just facilitate a sale — are what empower local businesses and communities with deeper connections and a greater eco-conscious awareness.'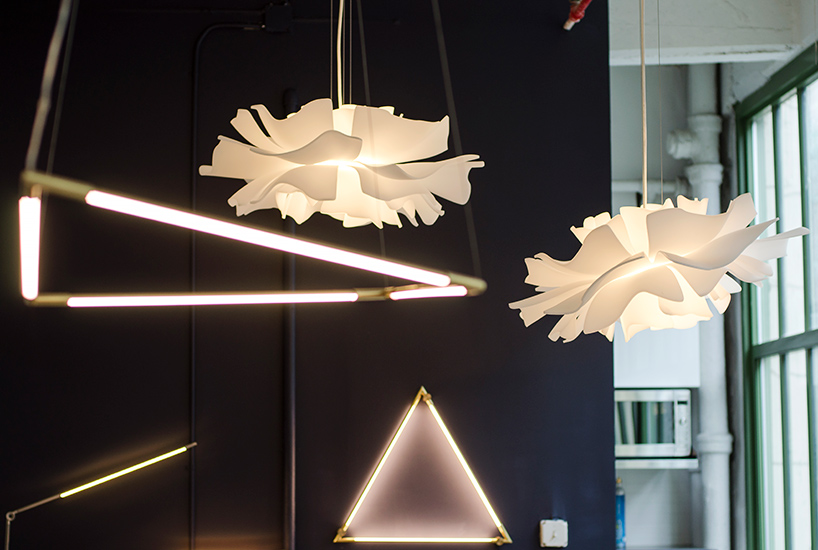 juniper's industry city studio is a fully-integrated design and manufacturing space
across the street, the industry city studio of juniper is an expansive arena of constantly moving parts. a fully-integrated design and manufacturing studio, the site is the origin of the conception and production of upscale architectural lighting for homes, offices, and hospitality spaces worldwide. inside, craftsmen carefully assemble a multitude of meticulously-organized elements to form juniper icons, like the 'axis' series, the portable 'M lamp', and the hand-formed 'love me not'. what started as a small team on a mission to bring a fresh perspective on lighting technology to an industry poised for change, would quickly become one of the early pioneers of the burgeoning brooklyn contemporary lighting scene.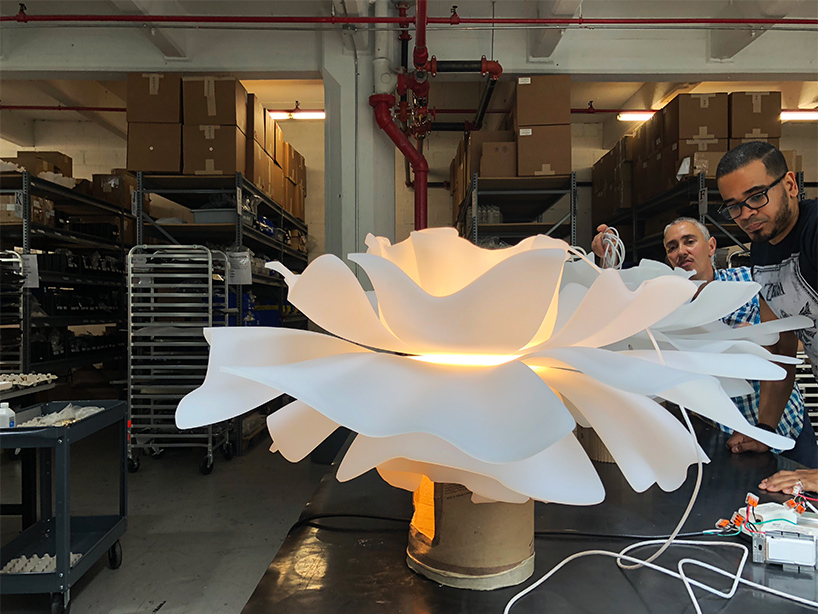 the juniper team at work on the hand-formed 'love me not' lamp, designed by pascale girardin
image © designboom
'somehow, probably by coincidence at first, IC became a hub for the high-end lighting design sector,' juniper's founder shant madjarian tells us about the evolution of the area. 'there were only a couple of us at first, but over the past four years, there are at least a half-dozen lighting companies doing some serious work at IC. the IC management team has been looking for ways to showcase this incredible cluster. juniper is in full support of bringing these businesses together in some way to show the creative depth and business success of these companies. there is definitely an underlying momentum for lighting at IC.'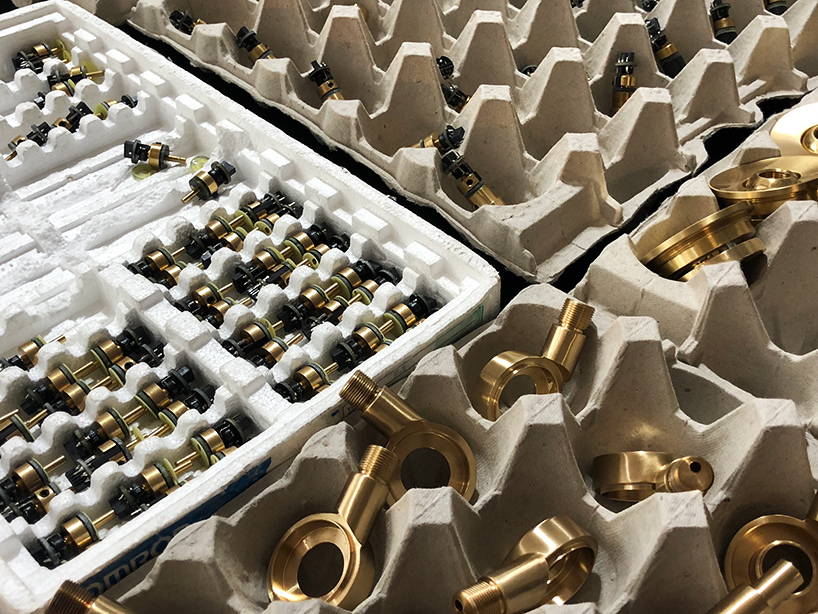 craftsmen carefully assemble a multitude of meticulously-organized elements
image © designboom
the transformation of IC has hugely helped the cluster of IC lighting designers thrive. 'industry city is no longer recognizable from four years ago when we first established there,' madjarian continues. 'thanks to many initiatives put forth by a visionary management team, IC has become a hub for creative businesses, and a sought after place to work. primarily it has gone from individual work spaces to a true campus with many opportunities to collaborate with other designers and showcase your work.'
from a personal perspective, madjarian clearly feels at home in IC. 'we have made a nice space for ourselves, so we feel good coming to work every day. at a very simple level, the spaces are very will lit. each unit is surrounded by windows, and that makes a huge difference for the creative spirit and sense of motivation.'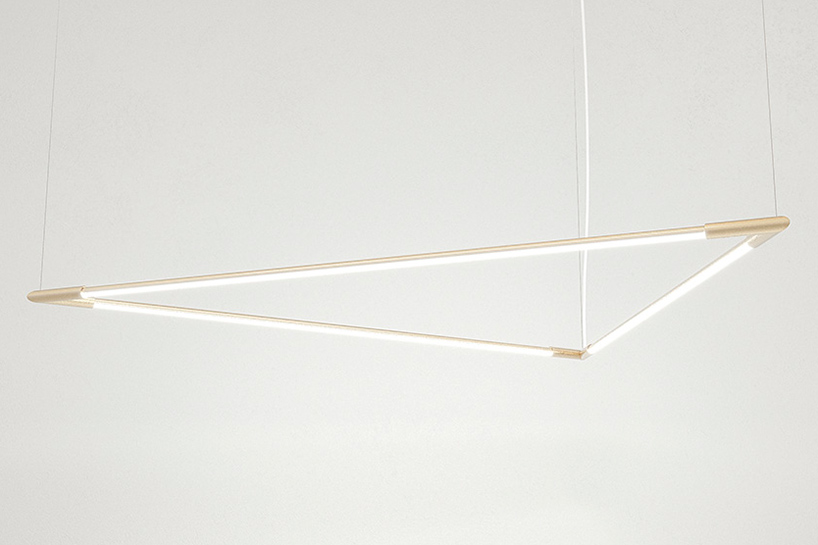 the 'thin primaries triangle' lamp brings an equilateral triangle to life
in the next building over, the headquarters of roll & hill is also abuzz with activity. the expansive studio hosts offices for its creative team, a manufacturing facility, assembly lab, and shipping space. founded in 2010 by jason miller, roll & hill collaborates with more than 15 independent designers to create a collection of distinctive lighting fixtures, which draw from a rich material palette of brass, bronze, leather, wood, hand-knotted rope and mouth-blown glass. the studio's dedication to on-demand production allows each piece to be completely customized to a suit a client's needs, and can be tailored to any scale or scenario. envisioned by the likes of philippe malouin, lindsey adelman, fort standard, rich brilliant willing, and many more, these made-to-order pieces help distinguish the roll & hill brand across the world.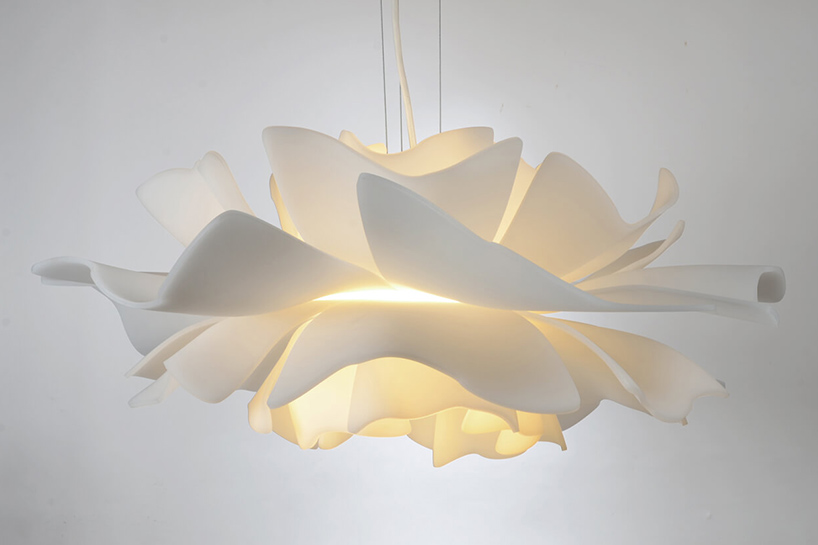 the 'love me not' pendant is crafted from five layers of acrylic with a porcelain-like matte finish
a company of this scale requires not only a large space, but an adaptable one as well. accessibility and views were some of industry city's standout features that drew the team to the area. 'we moved to IC because we needed an accessible industrial building,' miller told us. 'I also wanted to have a view of the water — IC was the perfect place. the whole IC community has changed dramatically in the last 5-6 years. it has gone from a building that served our needs, to a community which we enjoy being part of. when we first moved here, the only food options were deli's and pizza places. having a good diverse selection in the food hall is also a huge improvement.'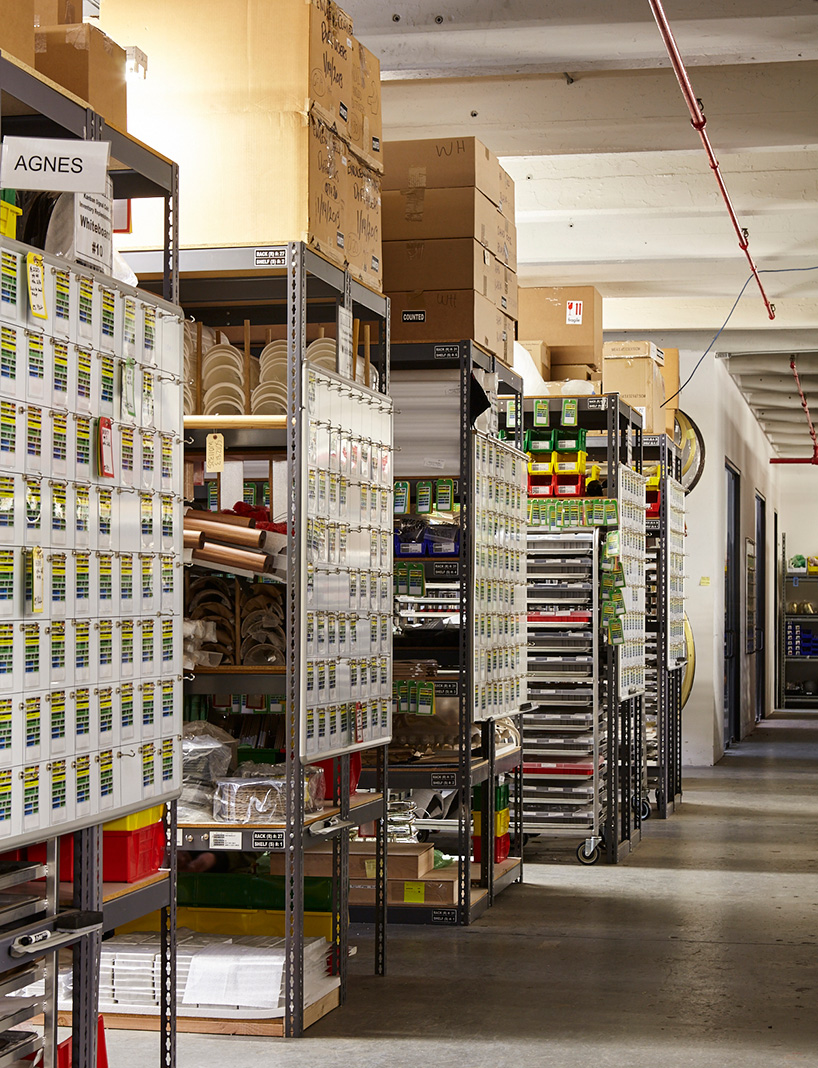 components of each fixture are carefully color-coded and painstakingly sorted
at roll & hill's IC studio, components of each fixture are carefully color-coded and painstakingly sorted before they're prepared on trays and assembled by hand — one lamp at a time — by a fleet of dedicated craftspeople. the current studio is the company's second within industry city, having recently moved from a smaller space. roll & hill required nearly two times as much workspace as they previously had, doubling their capacity and incorporating a roster of new jobs and working opportunities along the way. the brand first opened in industry city with a staff of 15 – 20 people — now, it comprises a network of 65 employees working across varying disciplines, and are still growing.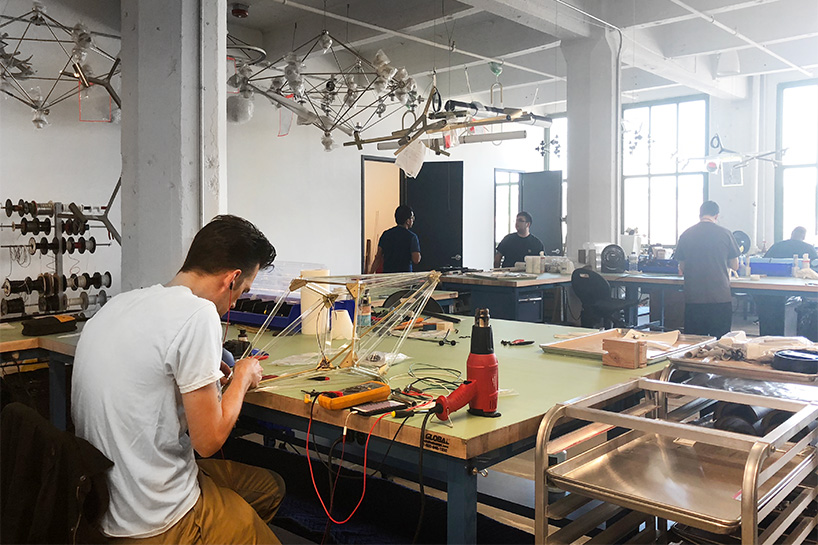 the expansive studio hosts offices for the creative team, a manufacturing facility, assembly lab, and shipping space
image © designboom
at IC, you can find hundreds of creative people teeming with ideas, cross-collaborating with fellow tenants, and engaging in a vast variety of design-related disciplines across campus. from young and emerging talents to established and internationally-recognized names, IC's wide range of workspaces and sunlit studios suit everyone's needs, making it the ideal destination for the lighting design industry at large to proudly call home. at industry city, the future is bright.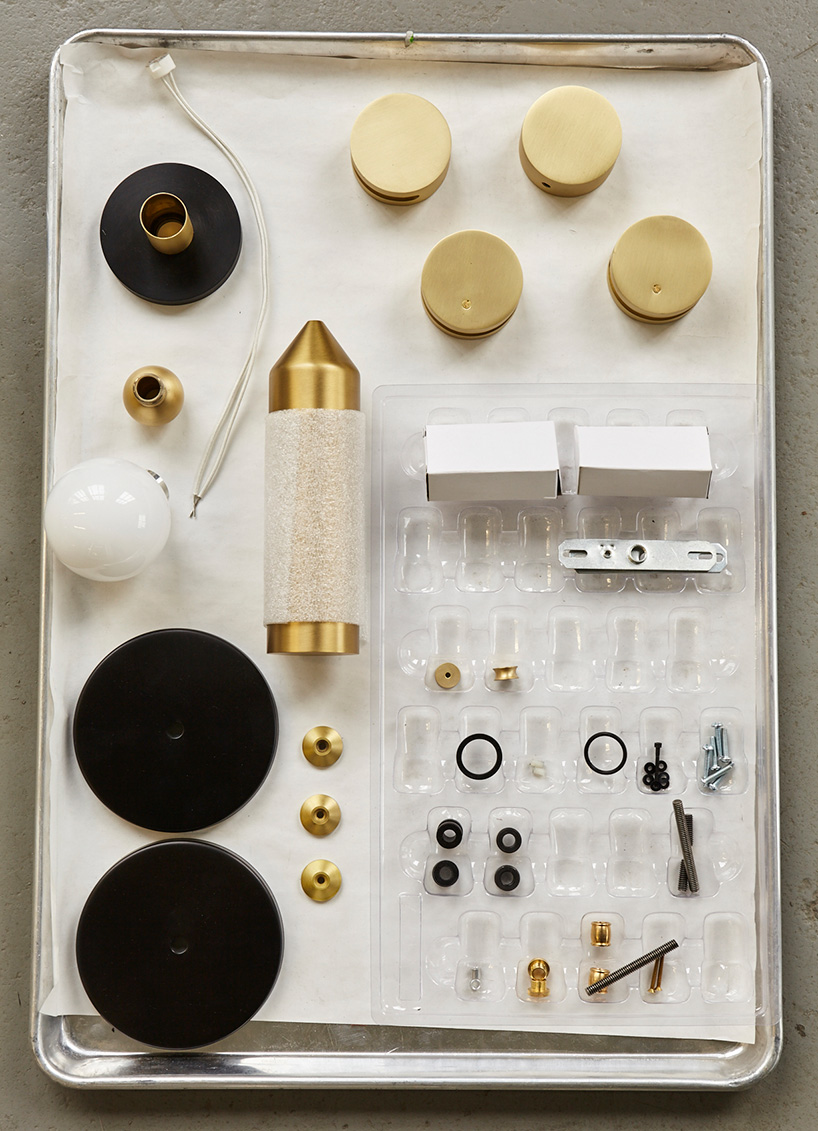 lighting elements are organized on trays before they are hand-assembled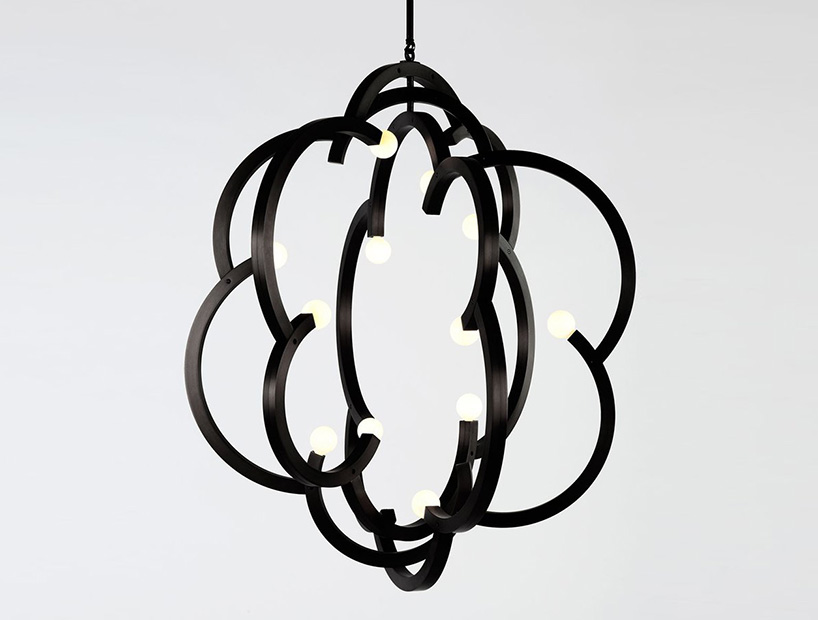 'blow pendant' by lindsey adelman is inspired by traditional french wine barrel candelabras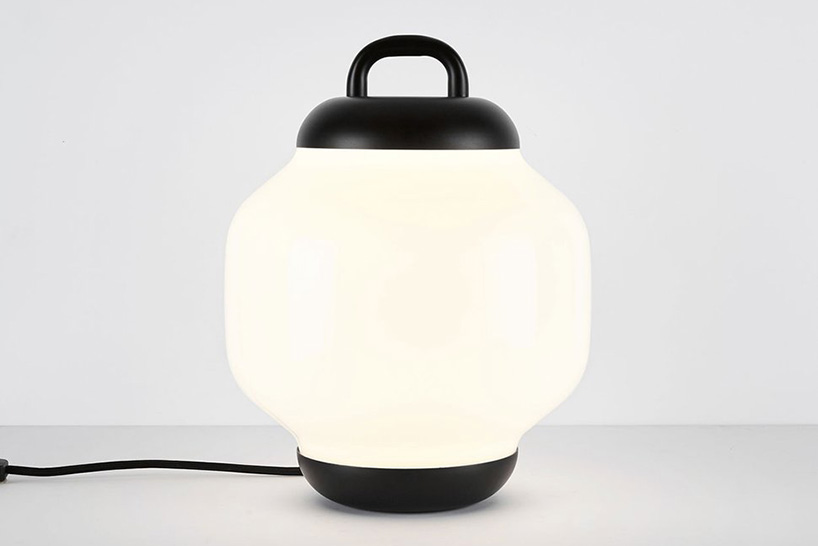 'esper table lamp' by visibility takes inspiration from lanterns typically found outside sushi restaurants in japan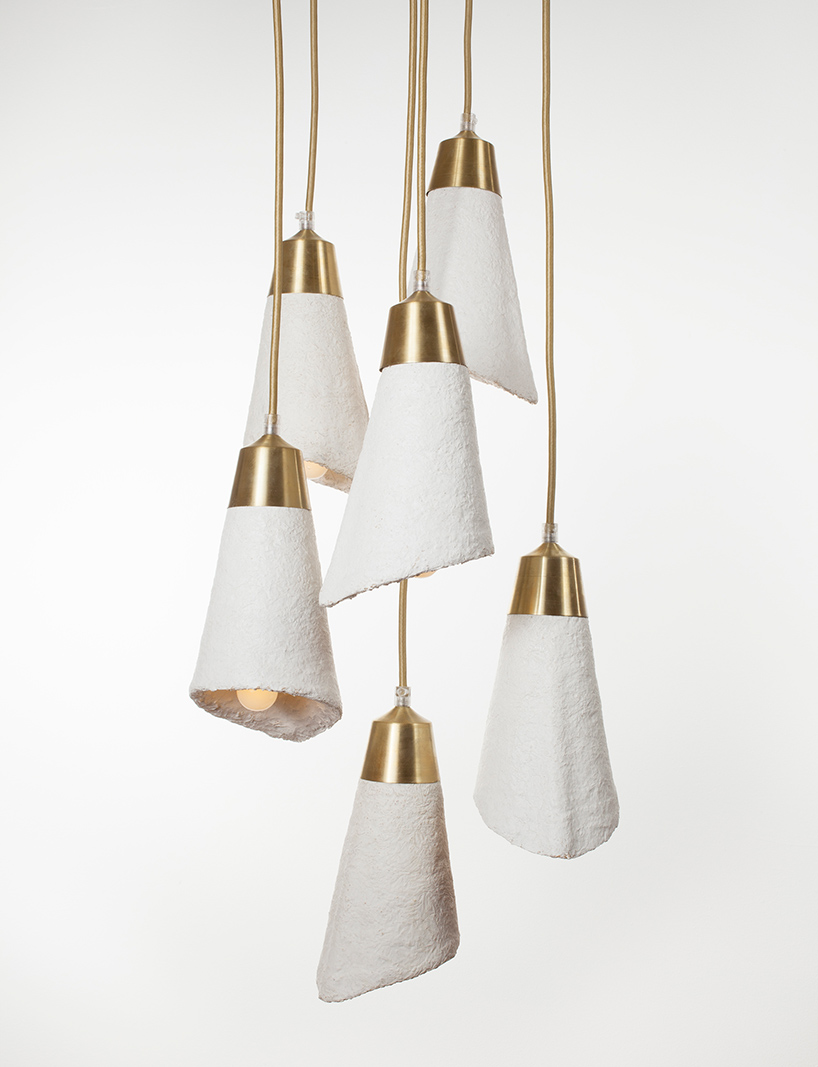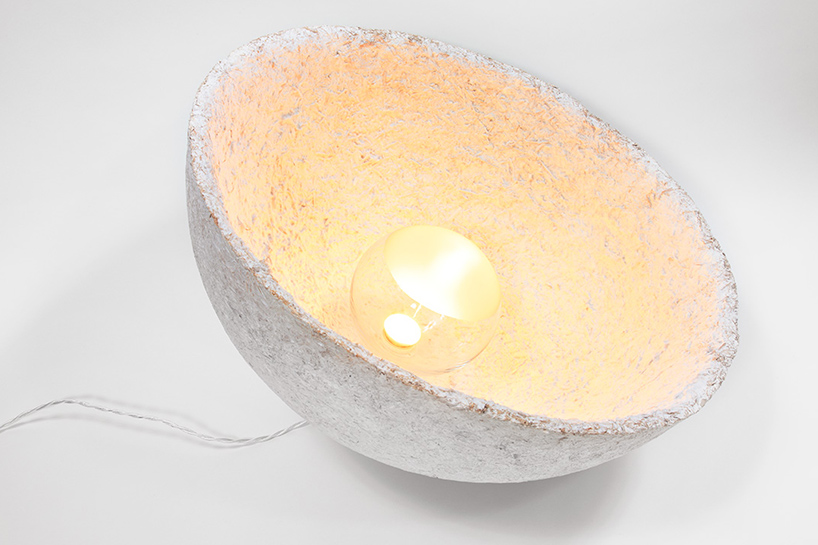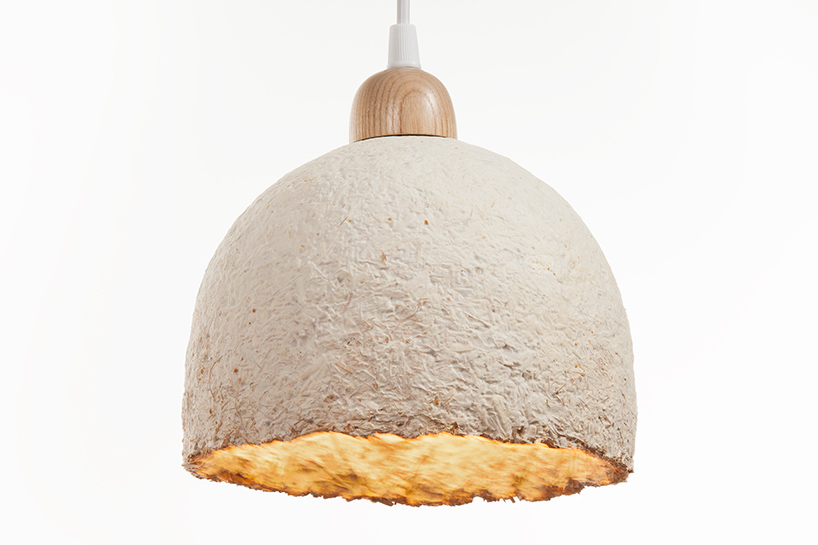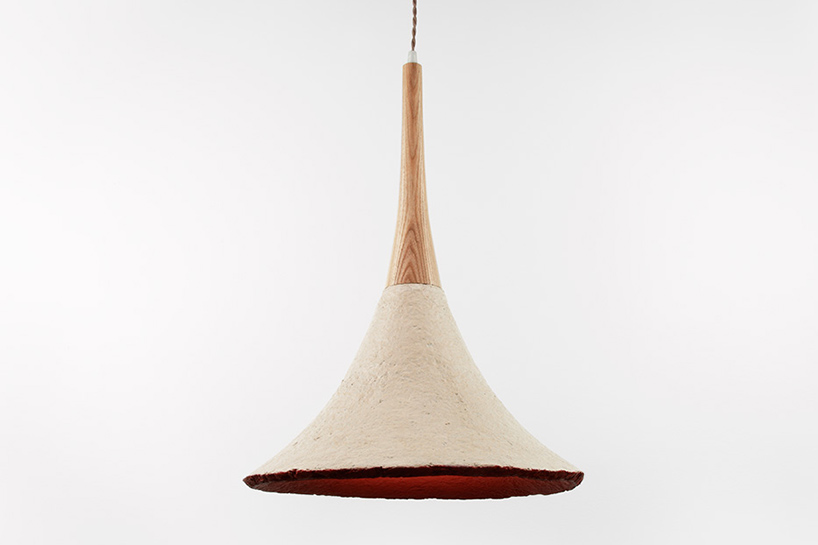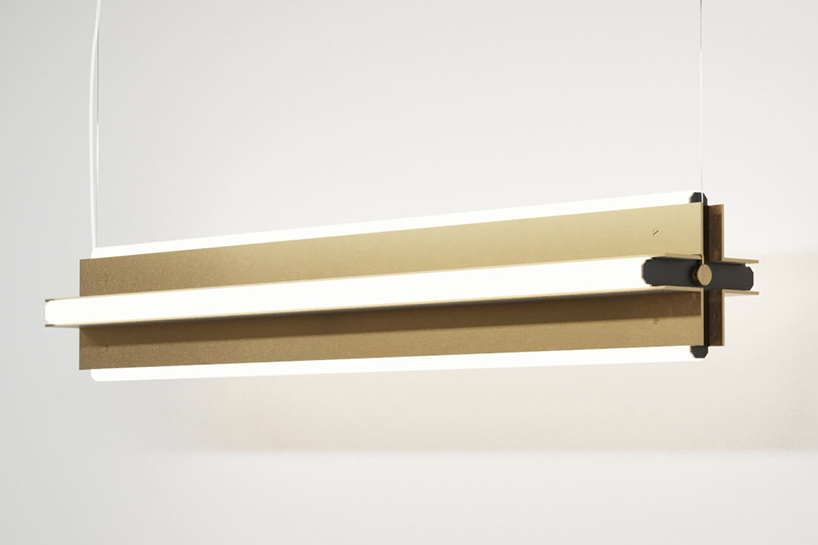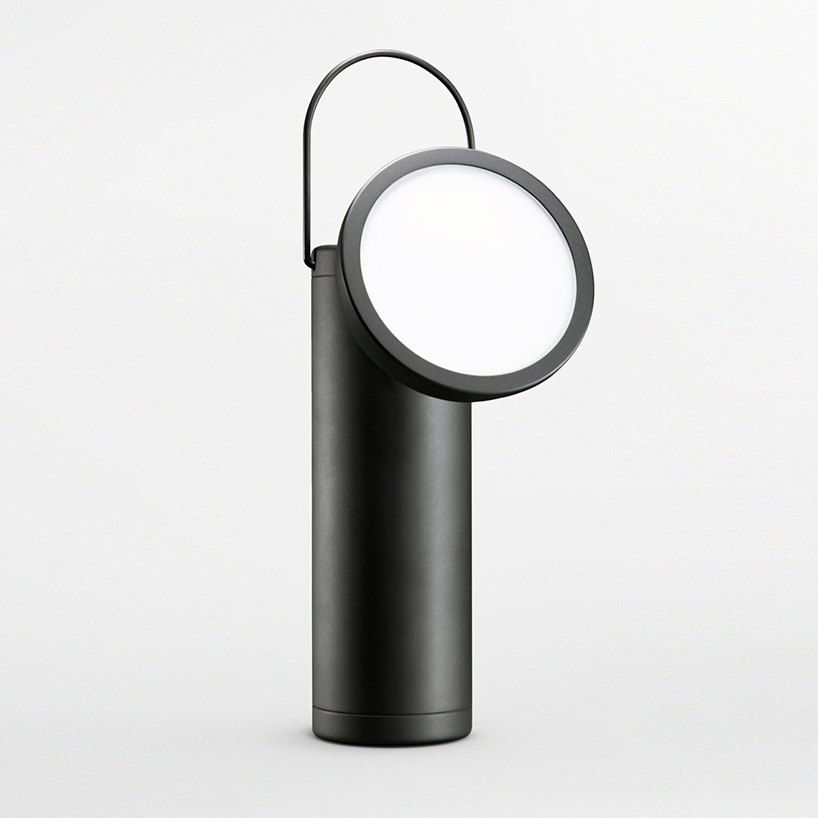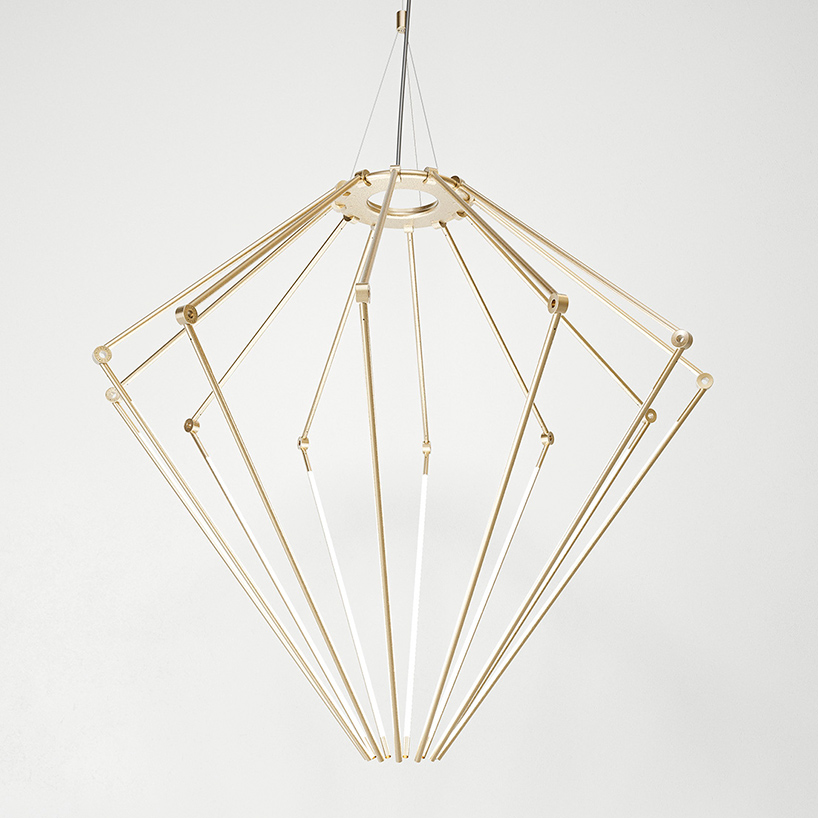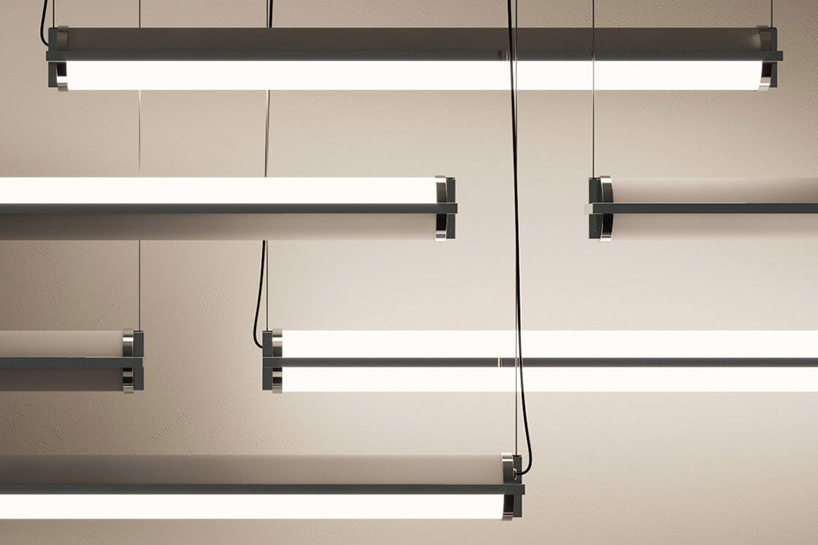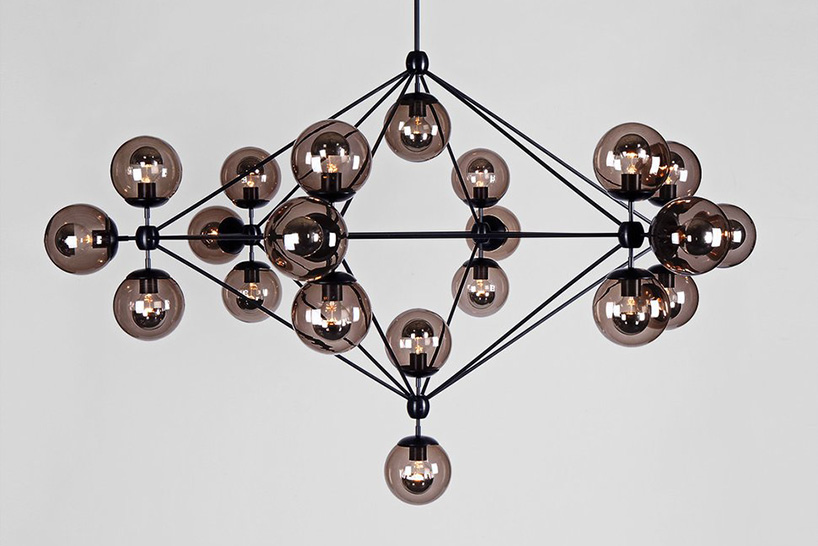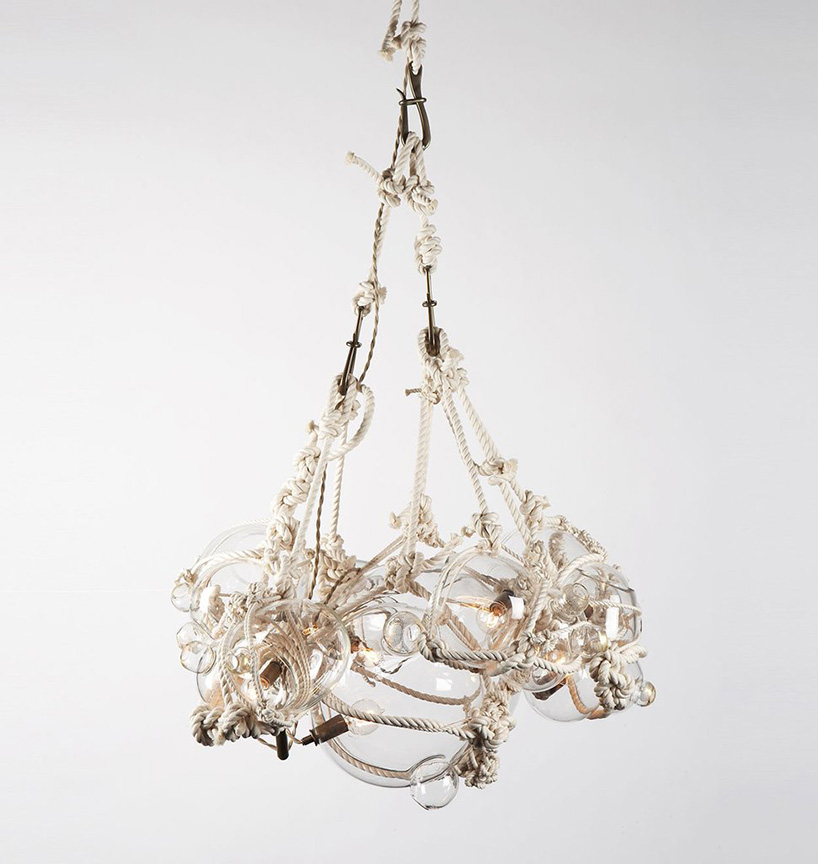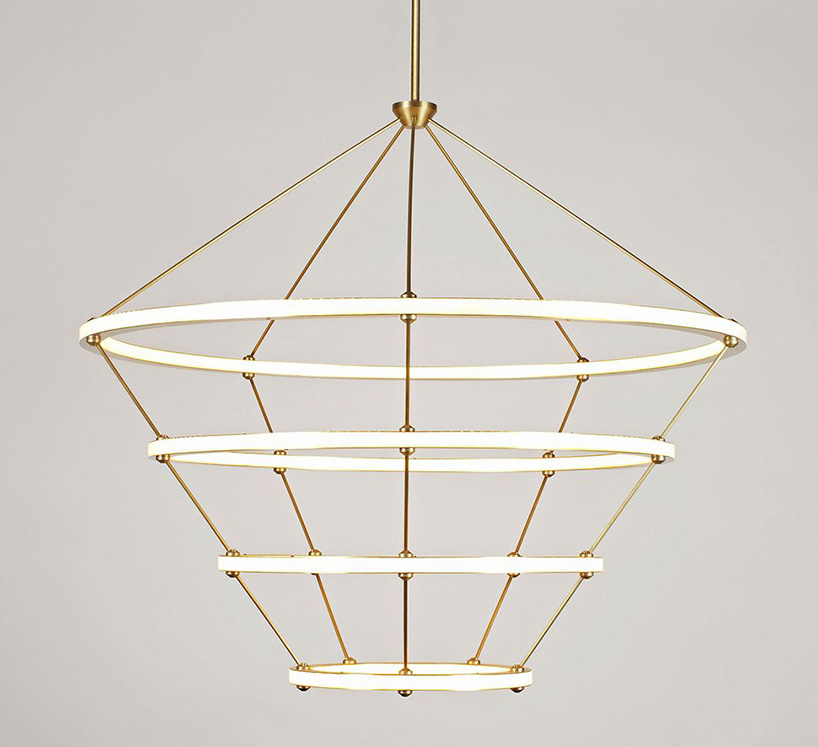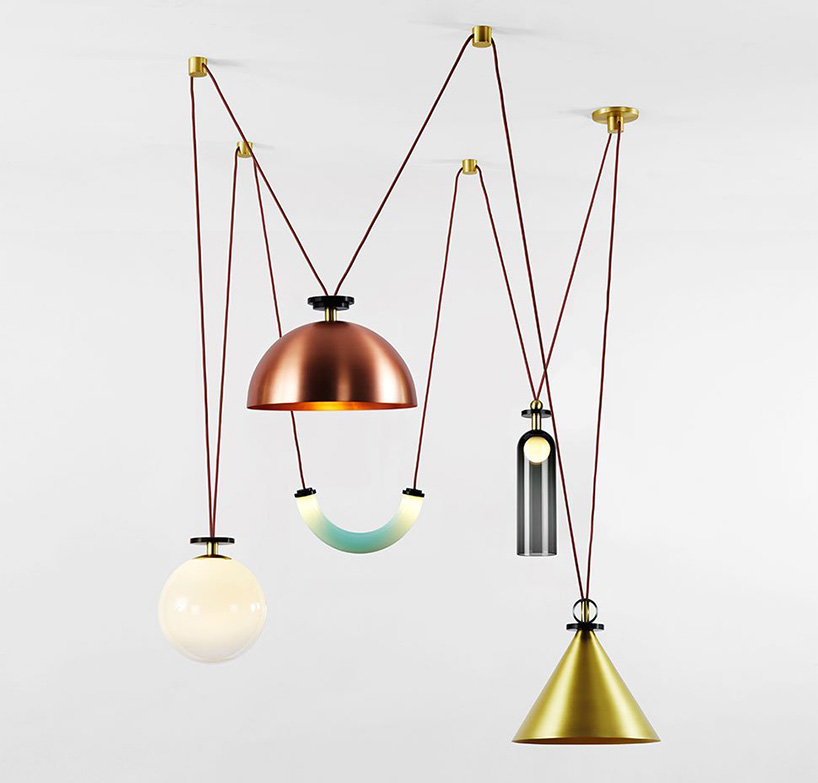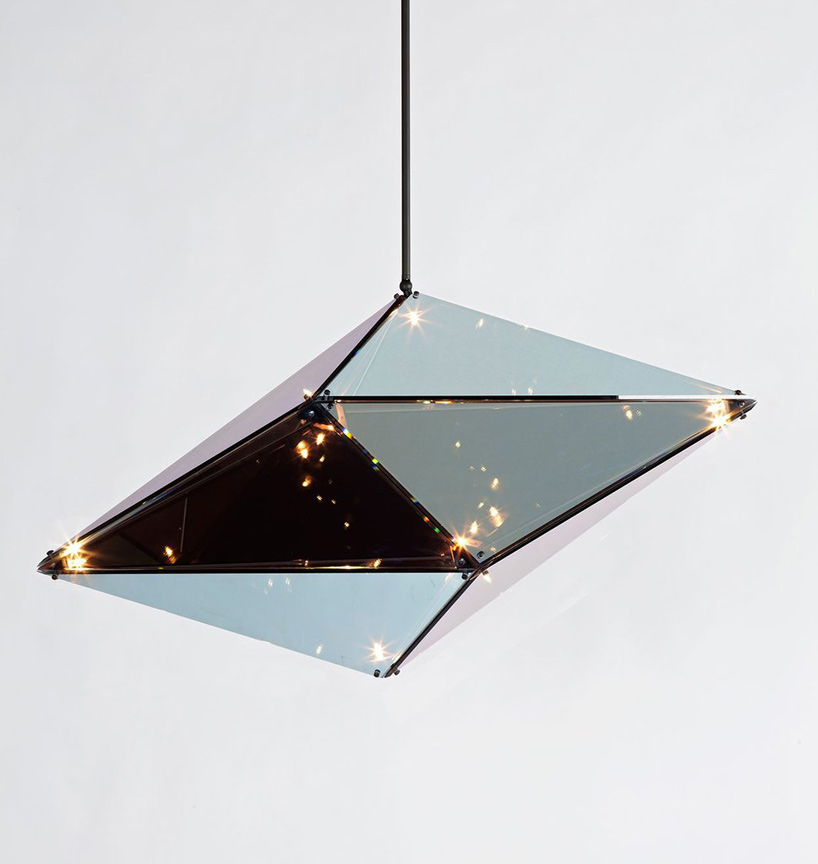 nina azzarello
I designboom
jul 09, 2018
a diverse digital database that acts as a valuable guide in gaining insight and information about a product directly from the manufacturer, and serves as a rich reference point in developing a project or scheme.
designboom will always be there for you
milan, new york, beijing, tokyo

,
since 1999