jan 14, 2011
inga sempé: ruché beds + side tables for ligne roset
inga sempé: ruché beds + side tables for ligne roset all images courtesy of inga sempé
continuing the development of her 'ruché' collection for ligne roset, french designer inga sempé has now developed beds and side tables to add to the line-up. the beds feature the same 'boutis' stiching or padding – a quilting technique originating in the south of france –  made by a cross hatching of interrupted seams. a large quilted form covers the bed's wooden frame and then drapes over the headboard to complete the piece. they come in high and low bed version.
3/4 profile view
front view
'ruché' low bed
front 3 / 4 view
front view
side view
model and sketch of the 'ruché' bed
front view
bed bench pocket leather, steel tube, plywood 39 x 160 x 36cm
the tables and benches for the collection utilize leather that wraps around the table's base to form storage pockets below.
side table pocket leather, steel tube, plywood 39 x 120 x 36cm
side table model scale 1/5
bedside table pocket leather, steel tube, plywood 45cm Ø 40cm
bedside table model scale 1/5  and sketches
feb 11, 2011
feb 11, 2011
feb 07, 2011
feb 07, 2011
jan 30, 2011
jan 30, 2011
jul 04, 2017
jul 04, 2017
feb 08, 2016
feb 08, 2016
jan 17, 2016
jan 17, 2016
feb 01, 2017
feb 01, 2017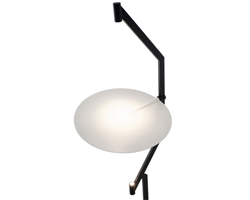 apr 27, 2016
apr 27, 2016
jan 16, 2016
jan 16, 2016
may 31, 2012
may 31, 2012
feb 12, 2011
feb 12, 2011
feb 03, 2011
feb 03, 2011