ingo maurer interview: starting his self-named company in 1966, ingo maurer has established himself as one of the world's leading and most prolific lighting designers and manufacturers. working with an uncompromising philosophy, him and his team who are based in munich, germany, have produced an extensive collection of beautiful yet unconventional designs. his diverse range explores breath-taking bespoke pieces, one-off lighting installations, and also decorative high-end luminaires. 
with his most renowned work on display such as the 'bulb', 'lucellino' and 'campari light', ingo maurer celebrated his company's 50th anniversary with a special exhibition at the forza project showroom in london, during the london design festival 2016. tying into this momentous occasion, ingo followed up the celebrations by opening his first and greatly anticipated showroom in brazil, located in the alameda gabriel monteiro da silva street of sao paulo. focusing on his special anniversary and the opening of his new showroom, designboom spoke with the german designer, delving into his design history, his love of brazilian culture, and what projects to look out for in 2017.

'ricchi poveri – fly'
all images courtesy of ingo maurer gmbh (main image: andres otero © ingo maurer gmbh)
designboom (DB): you are celebrating a hugely significant working anniversary this year, what does 50 years of existence mean to you?
ingo maurer (IM): looking back: work, work, work – fun, sometimes plenty of fun – meeting interesting people – being active around the world – and still being active. I feel blessed.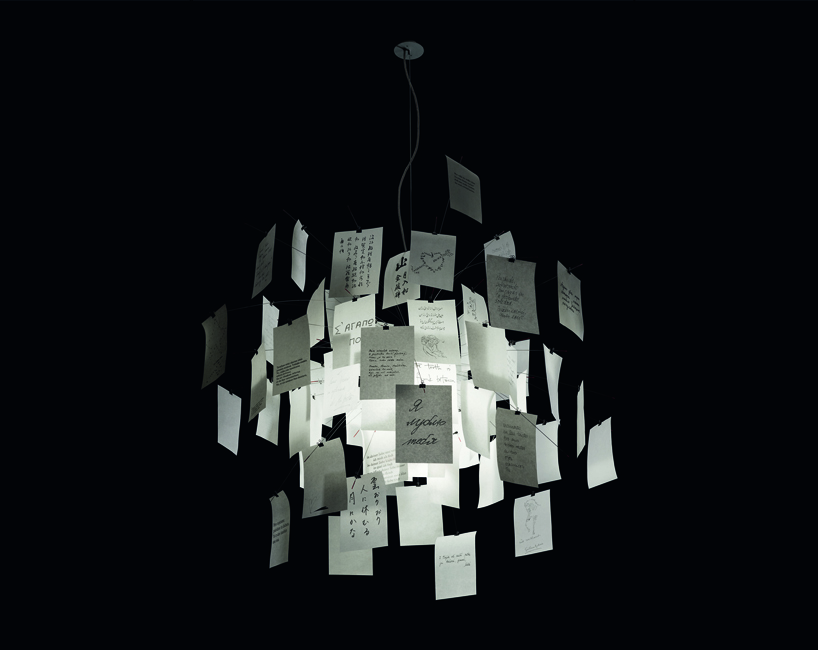 'zettel'z'
DB: how do you ensure that your lighting designs keep up with technological developments and the latest innovations?
IM: that's easy to answer: by staying curious and meeting and discussing with technical inventors, people from all over the world. often they are engineers, who have found an amazing new way of powering LEDs.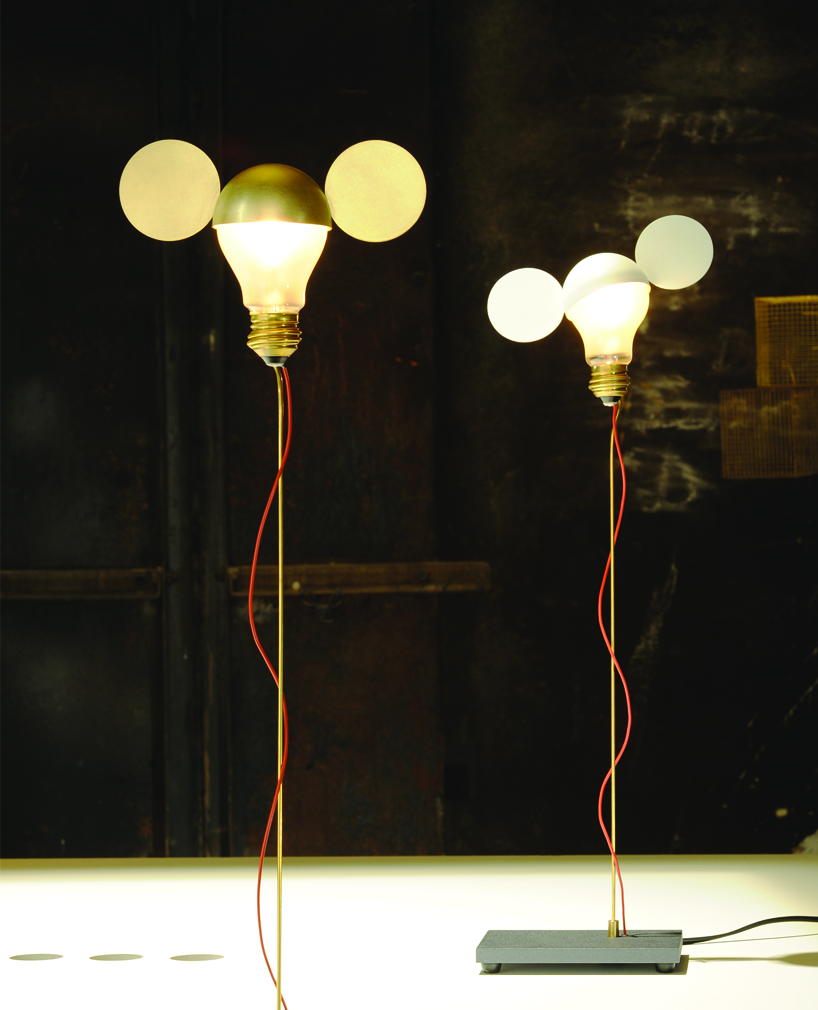 'ricchi poveri – toto'
DB: with such provocative designs, can you describe the initial stages of projects and how they lead to the designing elements of a product?
IM: I don't consider our designs as provocative. it is a feeling that I try to realise instead. it comes by itself, and that's one of the reasons why we are different from other lighting producers. we do not research what is trendy, or will become trendy, there is no marketing plan behind it.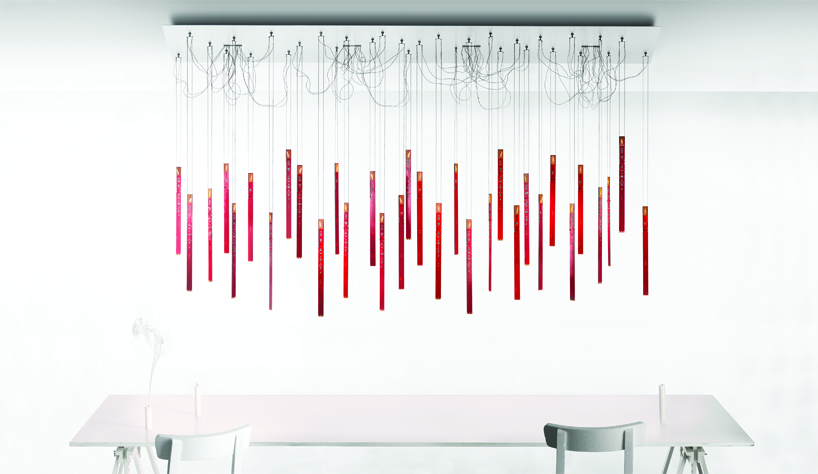 'flying flames'
DB: you just opened a new showroom in sao paulo. how does the new ingo maurer showroom in sao paulo present your work in a unique light, especially when compared to your other showrooms?
IM: we are extremely happy with the new showroom in sao paulo called estúdio brasil ingo maurer. we have a very good partner there – FAS iluminação – which has invested a lot of love, time and money in our work, merging architecture with nature and light.
in my opinion, it is probably the most extraordinary lighting showroom in the world. from the space in front of the two-story building, recessed lines of light guide you inside the showroom through a tunnel. this spatial configuration and way of moving through the space makes you enter a completely different 'world'. inside the showroom, we used daylight and the effect of a water basin as a ceiling. plants in the courtyard at the back create an intriguing play of light and shadow. that's the framing for the objects and designs at estúdio brasil ingo maurer.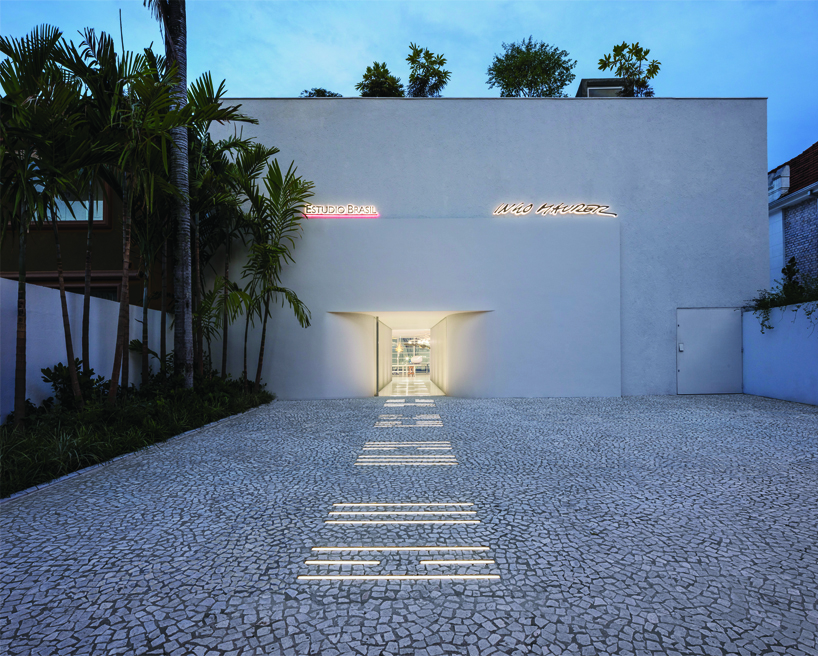 recessed lines of light guide guests inside the showroom
andres otero © ingo maurer gmbh
DB: how have you been able to reference the nature of brazil in the special version of the 'porca miseria', and what was the reasoning behind this creation?
IM: I like to have fun. I don't like to repeat myself. for the 'porca miseria brasil', I used a material that is in fact a plastic toy, which I have used often in the past. I added a couple of tall miniature plastic palm trees, to reference the landscaping at the estúdio brasil. I've always been very fascinated by nature and by the shapes it creates. brazil has meant a lot to me for a long time, and it is the love and passion for this country that led me to this idea. brazil is very seductive. the tension between conservative and open-minded design or taste is so evident. sao paulo has a very slick side as well.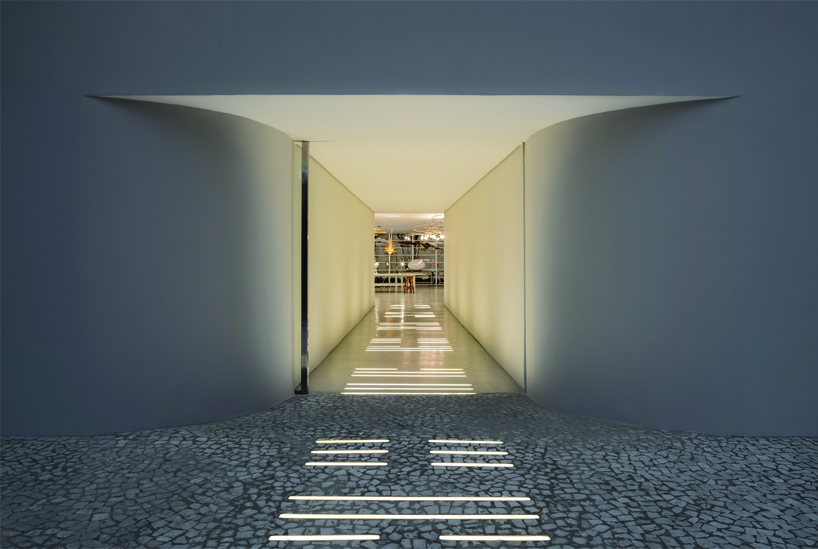 the large open space of showroom is through the illuminated tunnel
andres otero © ingo maurer gmbh
DB: can you talk more about the location of the new store, and specifically why you chose to be on the alameda gabriel monteiro da silva street?
IM: the location was chosen by our partner FAS iluminação, led by two courageous women, yara rodrigues rosa and arystela rosa paz, with whom we have worked for almost 20 years.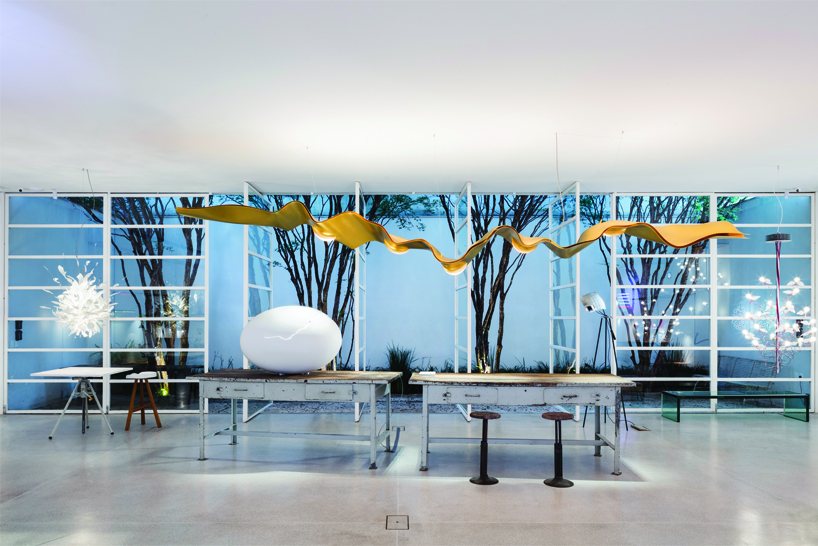 the showroom features a vast collection of his designs, even a special 'porca miseria brasil' piece
andres otero © ingo maurer gmbh
DB: what were some of challenges in designing the showroom space, and what was the importance of presenting your design work in one spacious hall?
IM: doesn't it feel good and liberating to be in one big open space? we worked closely with FAS iluminação and rizoma arquitetura to design a space that creates architecture through lighting. estúdio brasil ingo maurer is in an area without any high rise buildings, but a lot of greenery. in front of the building, there is a lot of open space. we designed all the internal lighting of the showroom as well as the façade. the façade frames the entrance door, which is set back from the curved wall with no hard corners, leading visitors inside through the door. in fact, the two buildings used to be separate and where both are now connected, we created a big open interior space with a high ceiling partially made out of glass. a staircase leads up to a roof terrace. the glazed area has the aesthetic of a roof top pool from an aerial point of view and a water feature ceiling from within the showroom, reflecting the water on the walls. when you stand in the middle of the showroom and you look up it feels like being inside a swimming pool, it's a wonderful experience and the light the water creates is very immersive.

the space utilizes greenery and glass
andres otero © ingo maurer gmbh
DB: finally, are there any new ingo maurer projects or future design collaborations to look out for?
IM: certainly, there will be more ingo maurer products. come meet us in milano in april. let us surprise you. plus, there are two large lighting and interior planning projects under way, one in georgia, one in south korea. very exciting.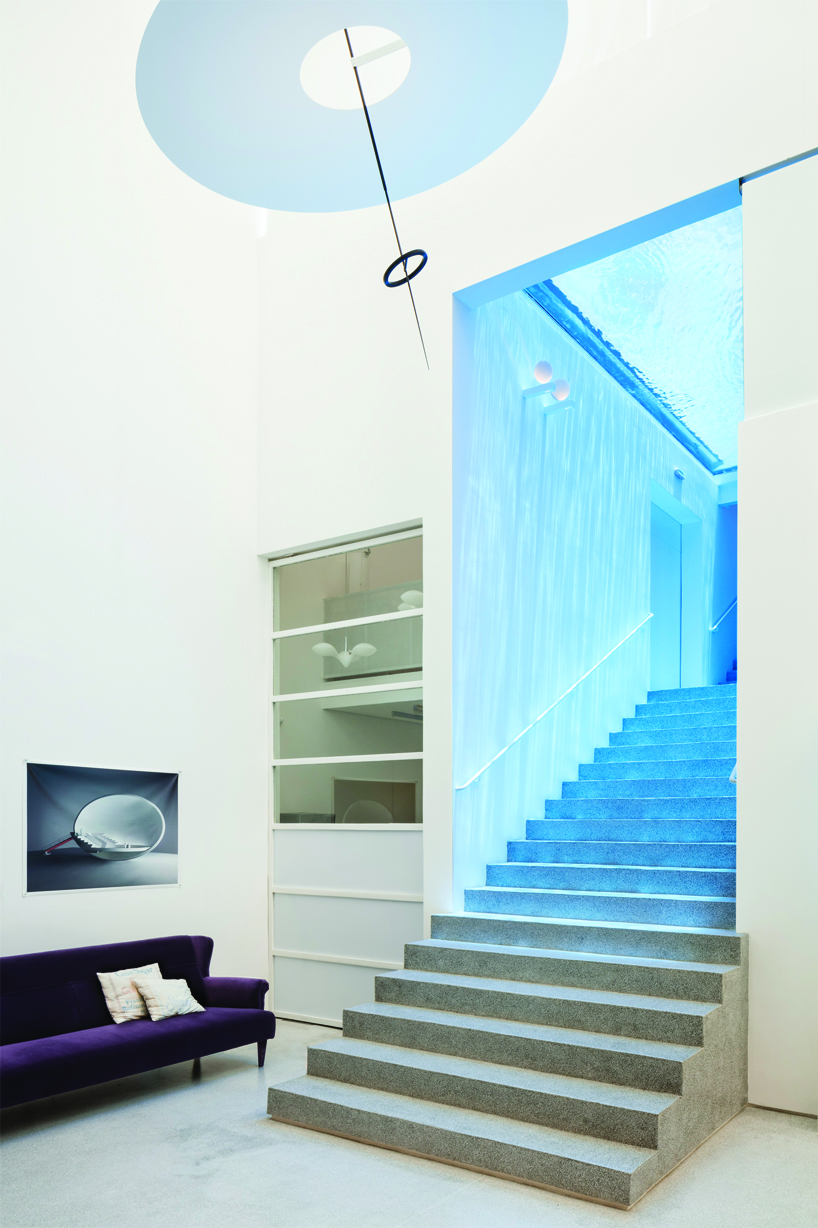 daylight and the effect of a water basin was used as a ceiling
andres otero © ingo maurer gmbh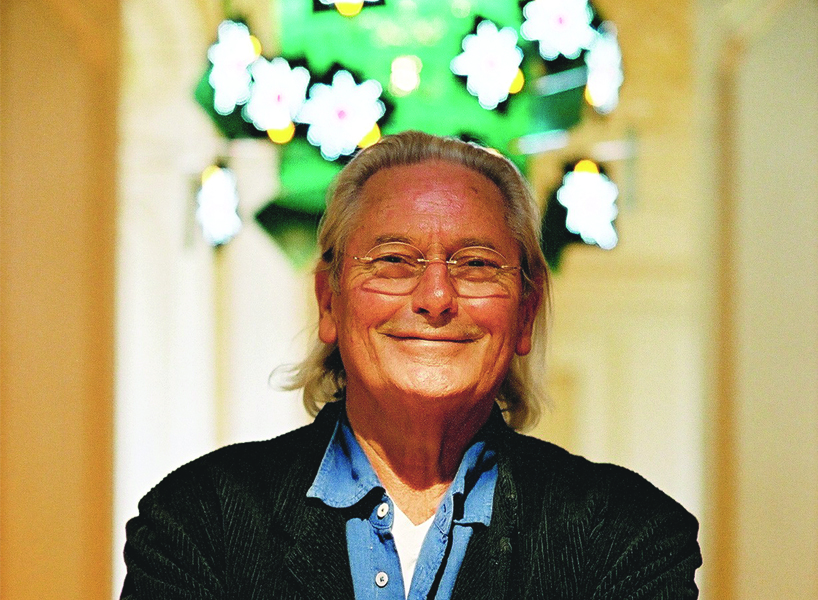 portrait of ingo maurer
jun 18, 2016
jun 18, 2016
may 11, 2016
may 11, 2016
jan 17, 2016
jan 17, 2016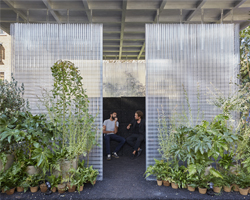 oct 13, 2016
oct 13, 2016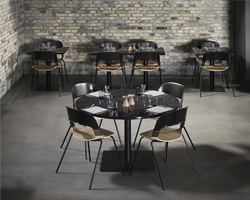 oct 03, 2016
oct 03, 2016
sep 26, 2016
sep 26, 2016
jul 26, 2017
jul 26, 2017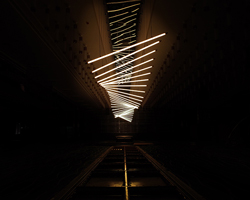 jul 09, 2017
jul 09, 2017
jun 27, 2017
jun 27, 2017