jun 18, 2016
ingo maurer translates ron arad's spyre sculpture as a functional luminaire
ingo maurer translates ron arad's spyre sculpture as a functional luminaire
ingo maurer has announced the launch of 'spyre', a limited edition lamp designed by ron arad. the concept for the luminaire is derived from a larger sculpture, which arad conceived for the annenberg courtyard as part of the royal academy of arts' summer exhibition 2016. the original 'spyre' sculpture is a 16 meter-tall structure, made from weathering steel that conceals its internal mechanisms. each segment moves at different speeds, ensuring that the installation's unpredictable postures are never repeated. a camera is positioned at the tip of the structure, relaying live footage to a screen on the façade of the royal academy.

the lamp is made of five segments that can be rotated and adjusted
possessing the same kinetic elements as arad's original design, ingo maurer's lamp is made of five segments that can be rotated and adjusted to direct luminance. the light is fitted with LED technology and an integrated on/off sensor. the lamp is produced as a limited edition of 50 pieces, and is now available to purchase at the royal academy shop. 'spyre' is also displayed at london's ben brown fine arts gallery, as part of a new exhibition running from june 22 – september 15, 2016.

light can be directed at a variety of angles
'I am honored to have been approached by my good friend ron arad to translate his iconic design for spyre into a functional object,' says ingo maurer. 'indeed it was a challenge figuring out the technical solutions, but we were very inspired by his unique luminaire design. working with ron's concept, we applied magnetic connections between the five joints to retain movement and versatility in shape'.

the limited edition piece is fitted with LED technology
'in the process of developing the spyre we made some scale models in the studio using magnets in the joints,' adds ron arad. 'we soon realized the concept would make great desk lights. I immediately thought of ingo and knew his expertise and experience with light would be able to realize this vision.'

the design is influenced by 16 meter-tall sculpture designed by ron arad

the lamp is produced as a limited edition of 50 pieces
Save
Save
Save
Save
Save
Save
Save
Save
Save
aug 26, 2017
aug 26, 2017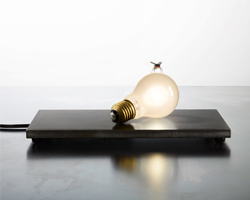 dec 26, 2016
dec 26, 2016
may 11, 2016
may 11, 2016
jan 17, 2016
jan 17, 2016
aug 19, 2015
aug 19, 2015
apr 20, 2013
apr 20, 2013
oct 24, 2017
oct 24, 2017
sep 26, 2016
sep 26, 2016
jun 07, 2016
jun 07, 2016