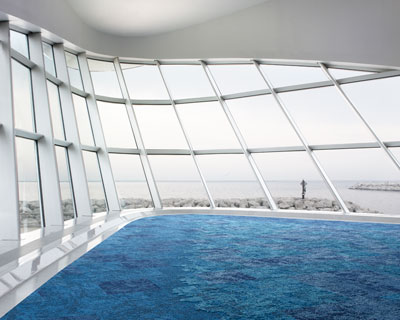 sep 12, 2013
INTERFACE Net Effect carpet tile collection reflects beauty in sustainability
INTERFACE's Net Effect carpet tile collection reflects beauty in sustainability
INTERFACE is a global leader in the development and production of carpet tiles with a focus on sustainability–one of the first companies to commit to eliminate its negative impact on the environment by 2020. their mission zero® philosophy influences every aspect of their business model, driving them to push the boundaries of production and manufacturing in order to reach this goal, of which they have more than half way reached to date.

the ocean has fueled INTERFACE's latest collection, 'Net Effect'
video courtesy of INTERFACE
INTERFACE's newest carpet collection 'Net Effect', continues to address issues of environmental and social responsibility. the line of flooring was born out of net-works, an innovative and global business and green partnership between INTERFACE and conservation charity, the zoological society of london (ZSL). the net-works organization was launched in the danajon bank area of the philippines in 2012 to address two distinct issues: the first relating to the growing environmental problem of discarded fishing nets in some of the world's poorest coastal communities; and second, to assist in solving the matter of finding a viable waste stream for post-consumer nylon recycling. INTERFACE saw the net-works initiative as an opportunity to design a new way of sourcing fishing nets for aquafil–one of its major suppliers who have refined the technology of recycling nylon waste into new carpet fibers–as well developing an inclusive business model that would benefit vulnerable coastal areas.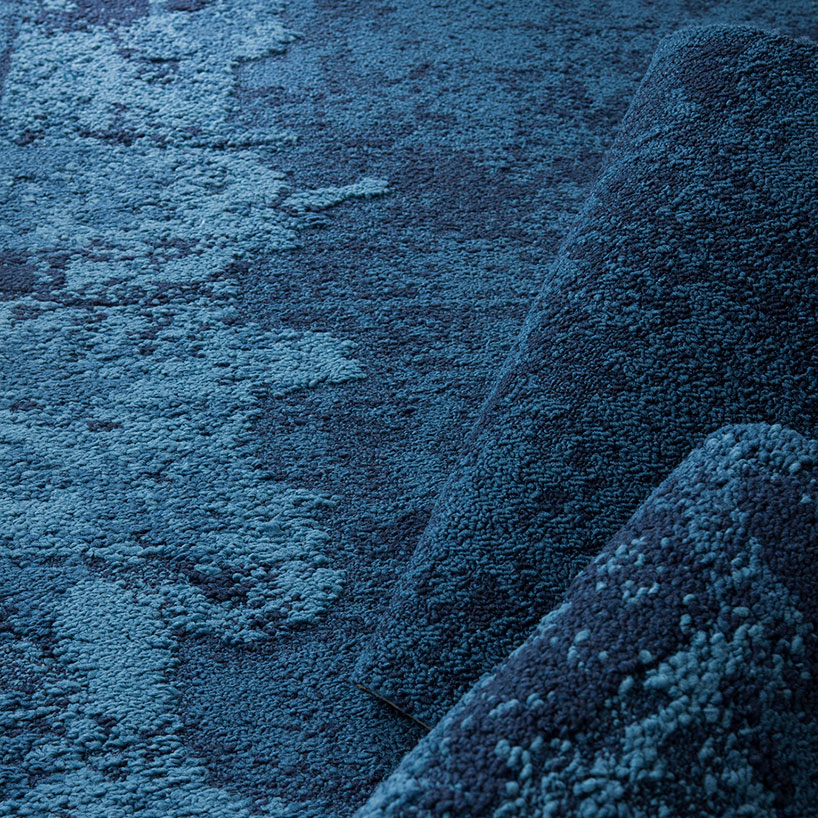 the surface texture of the flooring has been realized to convey subtle references to the ocean
'Net Effect' came into fruition when INTERFACE got word that david oakey (an exclusive designer for the company), was working together with oceanographer sylvia earle on a collection–the thematic similarities and approaches just saw everything fall into place. the 'Net Effect' flooring product expresses a subtle visual reminder of our earth's bodies of water on its surface through color and textural weave. 'aesthetically, we wanted 'Net Effect' to capture the positivity of the net-works partnership and the beauty of the waters it's so closely tied to,' said oakey. 'this collection connects people with the emotions and memories associated with the beach, but their enjoyment is its most superficial benefit. what's beneath the surface—including the product's ties to the good work net-works is doing—is what makes it extraordinary,' he continues.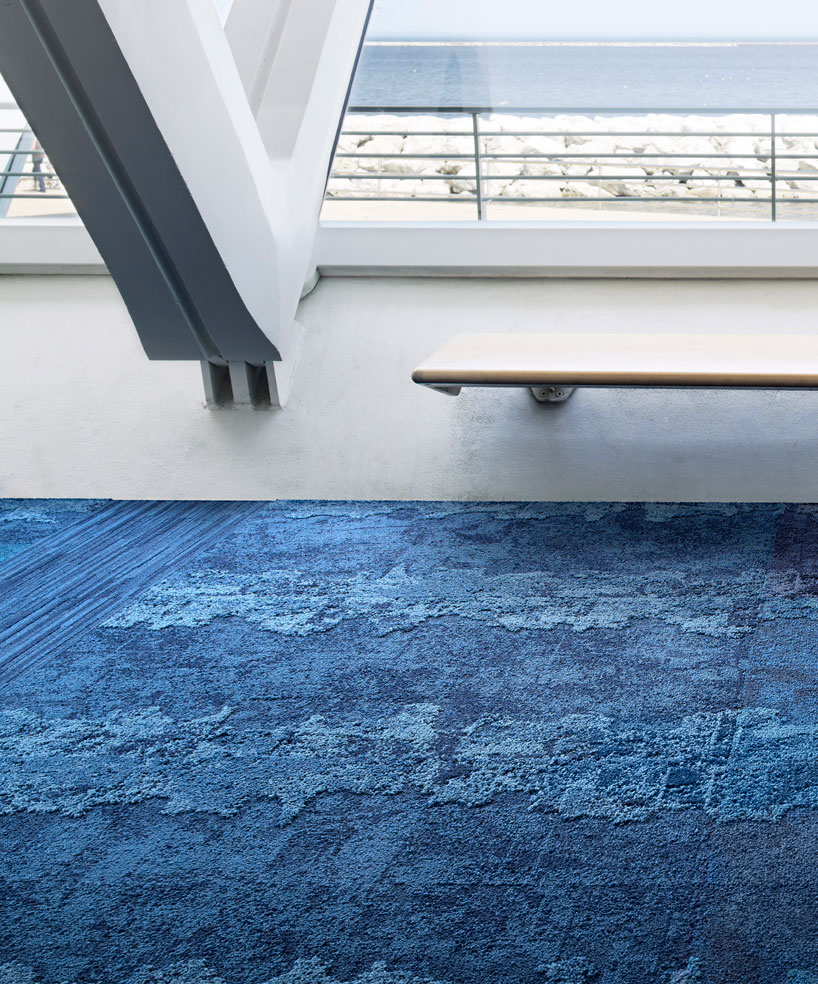 the blue palette of 'Net Effect' tiles are named after the atlantic and pacific ocean, and north sea
the aesthetic presence and physical composition of 'Net Effect' make reference to the ocean, both literally and figuratively. the modular carpet tiles employ end-of-life fishing nets collected from the industry's supply chain which comprises some of the world's cleanest and most abundant stock of post consumer nylon. the salvaged raw material is then sent to aquafil to be mixed with other nylon waste, including INTERFACE's own carpet fluff, and ultimately processed into 100% recycled nylon yarn, reusing the otherwise discarded polymers into new products; thus bringing INTERFACE closer to its mission zero® goal. by developing a local reclamation program for collecting the trawls from various seaside towns, net-works is improving the livelihood of local residents–giving fisherman extra income through the purchase of the discarded mesh–and offering long-term solutions to poverty for the inhabitants of the area.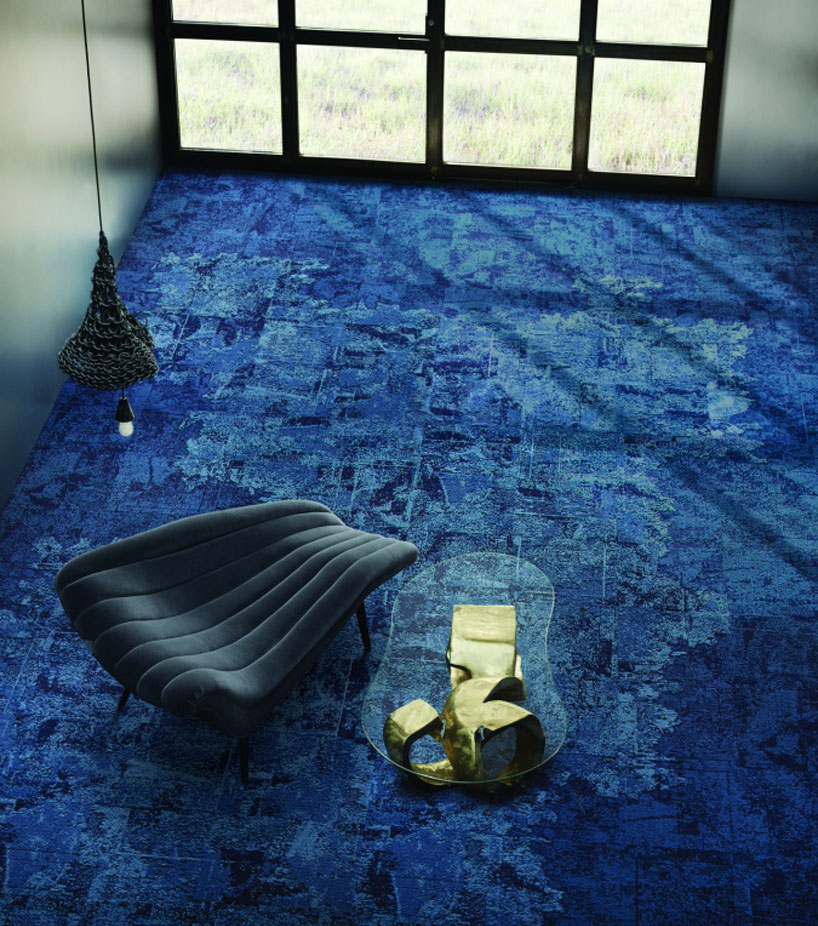 top view of 'Net Effect' arrangement, referencing the blues and turquoise hues of the earth's bodies of water
there six different modular carpet tiles are available.
three 50 cm square tiles: one manufactured in a neutral ground, a 'transition' tile and another that has textural accents (conceived to evoke the appearance of sea foam washing up onto the shore); can be combined in an endless possibility of design schemes that include borders, continuous transitions and inset area rugs. these can be paired with a plank option (25 cm x 1 m)–modeled to express the streamlined fluidity of water, and the expanding and contracting rhythms of the tides–that conveys a more rigid, linear motif. all of the styles share a color palette of two blues–drawing from the deep sapphire and navy tones found at the depths of the ocean, to the aquas and teals found closer to the surface where sunlight reflects off the water–and six neutrals which recall the sand along the seabed floor, and the sun-and-salt-bleached drift wood and stones scattered along the shore.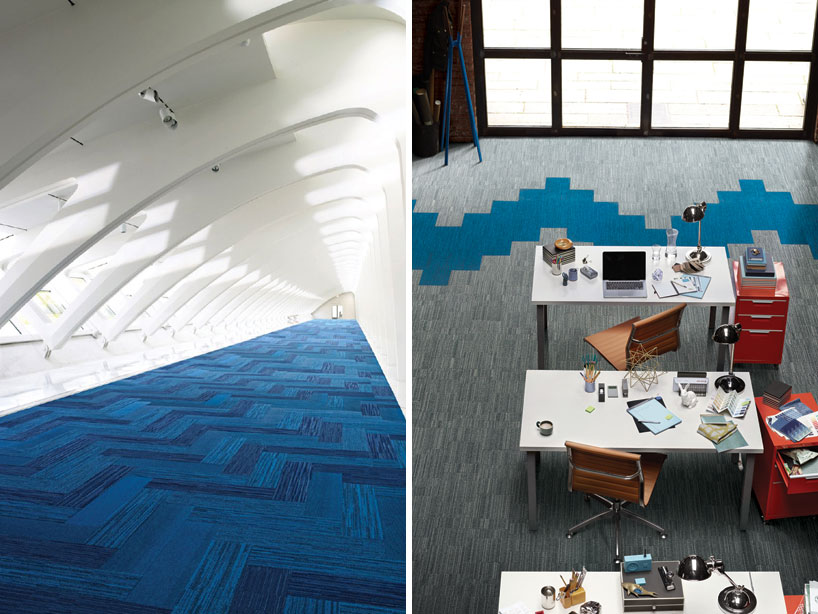 the plank option expresses a more rigid, linear motif
the 'Net Effect' collection has been developed with a purpose. while addressing the world's declining environmental state by working together with initiatives to maintain an ecological, social and economic balance to make a positive change, INTERFACE continues to provide leading products which give consumers smart design options, to enhance their lives and the world around them. their vision is to work with ZSL and aquafil to elaborate on this sourcing programme on a more global level, so that eventually INTERFACE reaches its objective of having a closed-loop manufacturing system.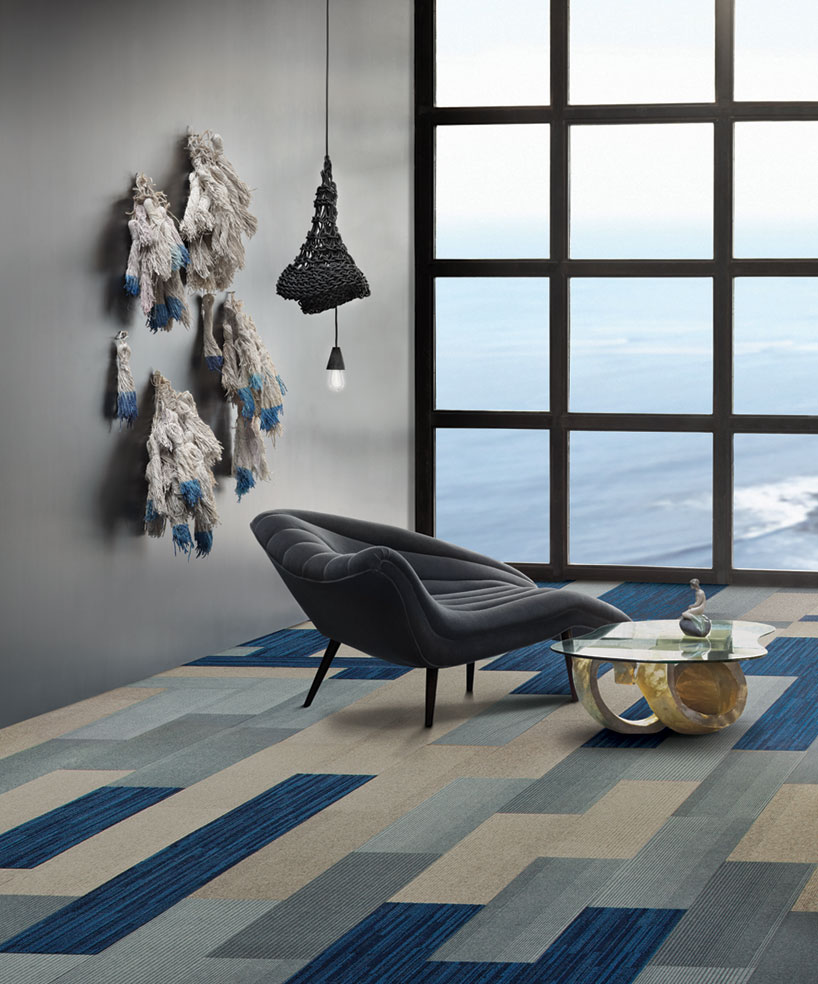 installation view of 'Net Effect'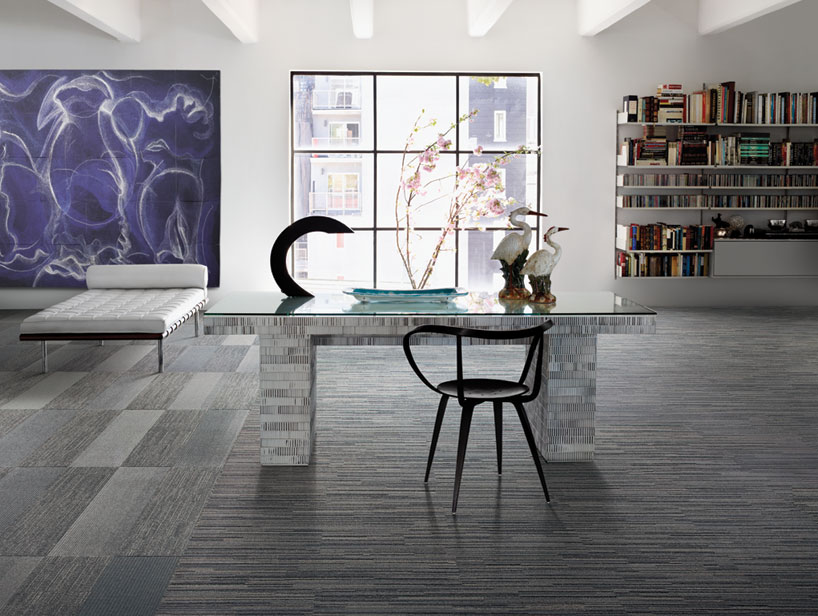 'Net Effect' caspian sea plank tiles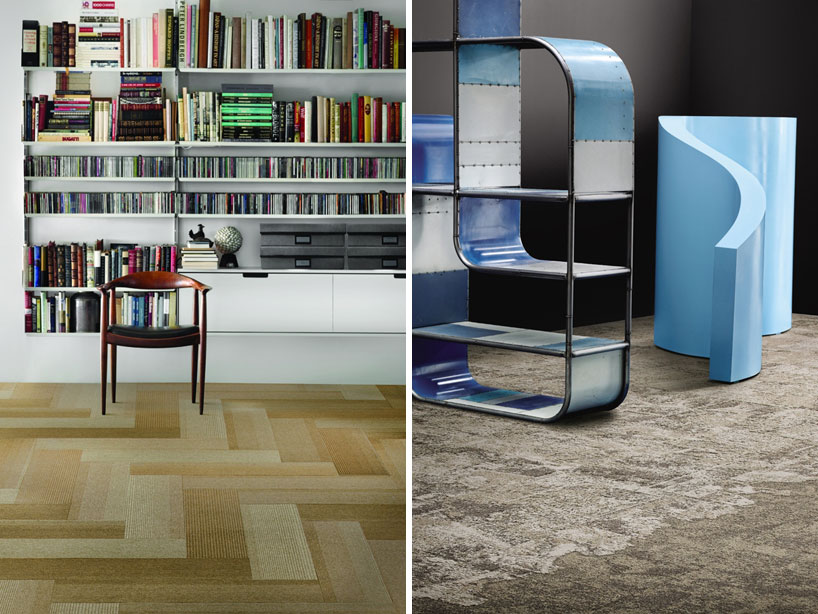 'Net Effect' neutral palette of driftwood and sand motifs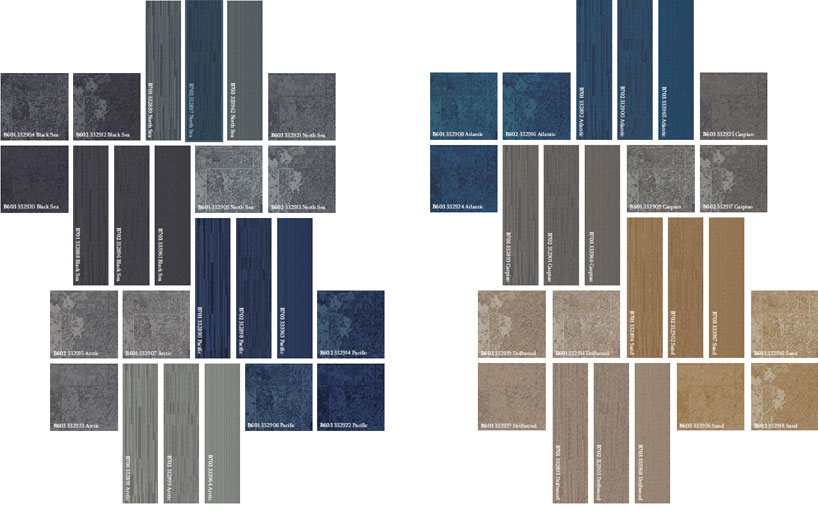 'Net Effect' tile options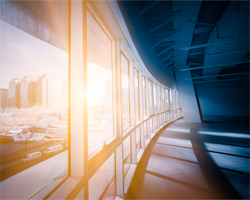 dec 11, 2014
dec 11, 2014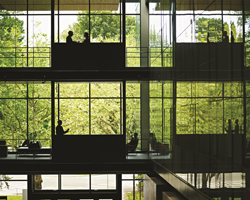 nov 26, 2014
nov 26, 2014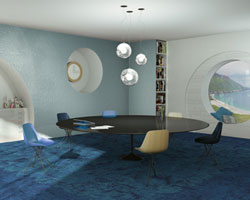 oct 04, 2013
oct 04, 2013
a diverse digital database that acts as a valuable guide in gaining insight and information about a product directly from the manufacturer, and serves as a rich reference point in developing a project or scheme.