interview with designer toan nguyen
portrait © designboom
parisian born industrial designer toan nguyen started his career with antonio citterio, where he took over the firm's head of design and co-signed more than forty products over the course of ten years for AXOR-hansgrohe, B&B italia, flos, iittala, kartell, technogym and VITRA, to name a few, before deciding to venture out on his own. he established his own studio in 2008 in milan, and can be described as a hedonistic purist, fascinated by mass production as much as he is by bespoke pieces. his location see his creative practice strongly influenced by the traditional values of the italian furniture industry, combined with his penchant for rigorous gestures and eye for detail. nguyen applies his design philosophy to a diverse range of product sectors which include 'INO' – an extensive sanitary ware collection for LAUFEN; 'MU' – a family of outdoor furniture sofas for dedon; and, 'algorithm' – an architecturally complex lighting system conceived from mathematics for VIBIA, to name a few.
designboom met toan nguyen in his milan studio where we discussed what in particular influences his work, what he feels is his studio's strongest asset, and what advice he has for young creatives entering the field.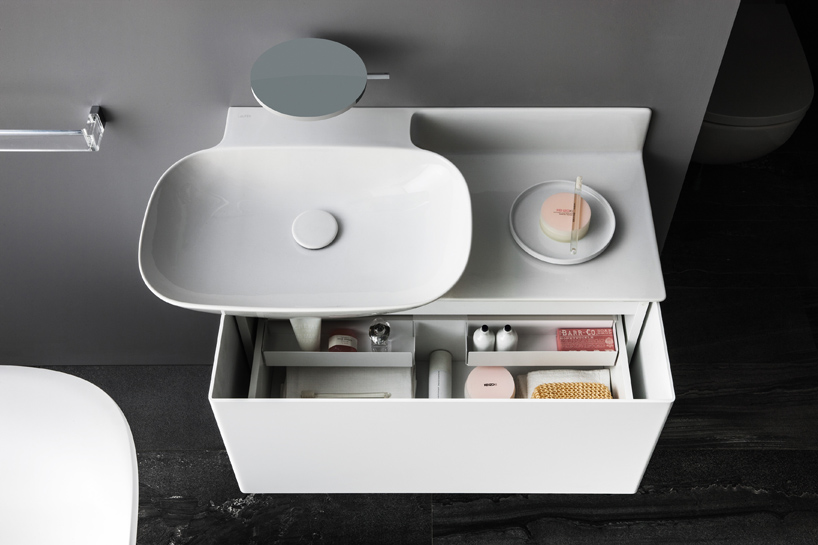 'INO' sanitary ware for LAUFEN
see more about this project on designboom here
designboom: what originally interested you in wanting to become a designer?
toan nguyen: everything started from the period when I was a child, and of course thanks to my parents and their differences in character. my father was an engineer, very rational; and my mother was exactly the opposite — even if she is french, and in france you are supposed to be very rational. design has allowed me to take a little bit from each of my parents. I also used to draw a lot when I was a kid, and I made this kind of mistake because I didn't know how to say it properly — I would say, 'I want to be a dessineur', but the correct word for was supposed to be 'dessinateur'. so, I think that maybe that was a sign because at the end I became a designer. so I invented a name, and at the end it was the name of the job I am doing everyday.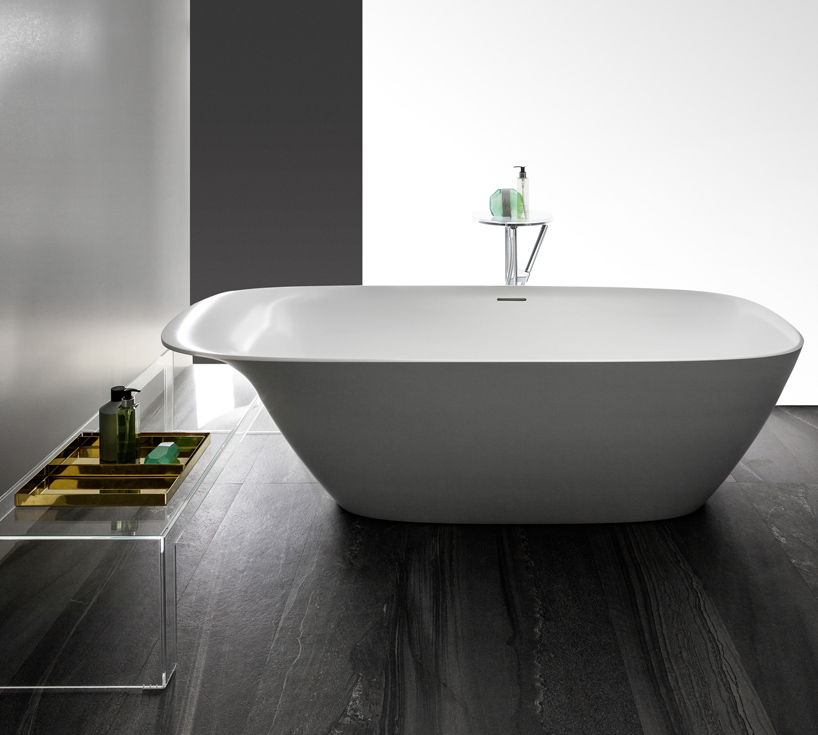 'INO' sanitary ware for LAUFEN
DB: what particular aspects of your background and upbringing have influenced your design approach?
TN: I think everything from your roots has an important influence. my roots are coming from two countries because my father was from vietnam, but moved to france, so I grew up with this asian culture in france. after I moved to italy I tried to get everything I could from the experience, from the know how, what I could take from this country. but, I always feel that I am not really italian and so I try to look at things from an external point of view, and this is very important for me. obviously school is very important. I attended the ENSCI-les ateliers in paris and it was a fantastic opportunity to experiment and explore a lot of worlds through the course work, which was very complex. you can do very different things if you've studied design. so… it's a question of choice at the end, of location of the place you are, and for sure a little bit of chance. you have to be in the right place at the right time.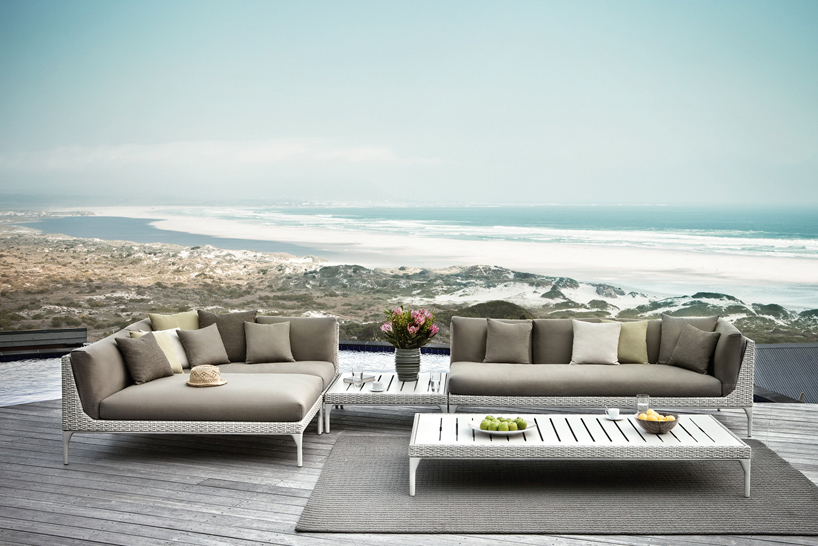 'MU' outdoor furniture collection for dedon
DB: what would you say is your studio's strongest asset?
TN: the strongest asset of the office is probably its a human scale. there are different assets, so if I can answer with more than one asset… it's a human scale, regarding the attention we put in each project — we try to go as deep as possible, to not be superficial, and not to create repeats of design styles. we try to do something that would be interesting for our clients, but which would also be interesting for us, because at the end, it is always the same thing for me –I feel my collaboration with a company is like a partnership. it's not a client, it's a partner. we are all in the same boat trying to find a good reason to put new products on the market, and we try to go as deep as possible in the detail; not only because I am a control freak, but I feel it's the best way to avoid any superficiality. this is the way we approach the projects. sometimes it's a cost of time and energy, and probably much more than other design offices, but it's very difficult for me to approach a project and dedicate just the minimum amount of time needed. I think there is a need to invest time, a lot of work, a need of attention; and that's what we try to put into the products we do.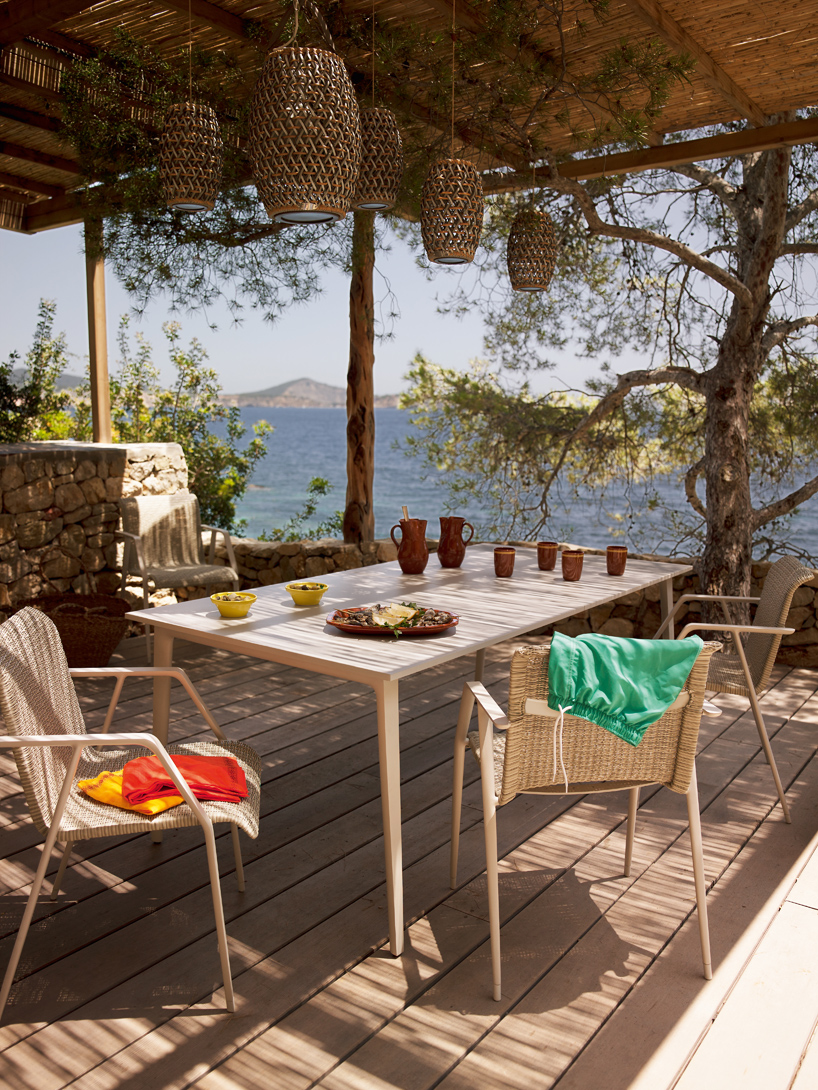 'WA' for dedon
DB: you work across a range of sectors — from office furniture for teknion, to sanitary ware for LAUFEN. what production techniques and materials have you particularly enjoyed working with, and are there any you would like to further explore in your practice?
TN: what I enjoy most is to change materials with each project. in this field we're working in, we have the opportunity to work in different sectors, on various type of products, diverse markets, and countries. so, it opens up to a lot of different things, but we try all the time to also become specialists of each single field instead of just touching a little bit of each one… and this is what I'm personally good at. if we're working with ceramics, we try to go as deep as possible and educate ourselves with knowledge of ceramics, both the material and the process; because in my opinion it's the only way to push the limit to the maximum. I mean there are so many products out there, that we always have to find an approach that gives a good reason to work on a new project, to develop something and to put it on the market; because it's not anymore a question of need, it's a question of what is the intention behind new products, because new doesn't necessarily mean better. it's not a question of life, or surviving… very often its a question of market. with this point, I think we always have to put forth these questions while developing a new product.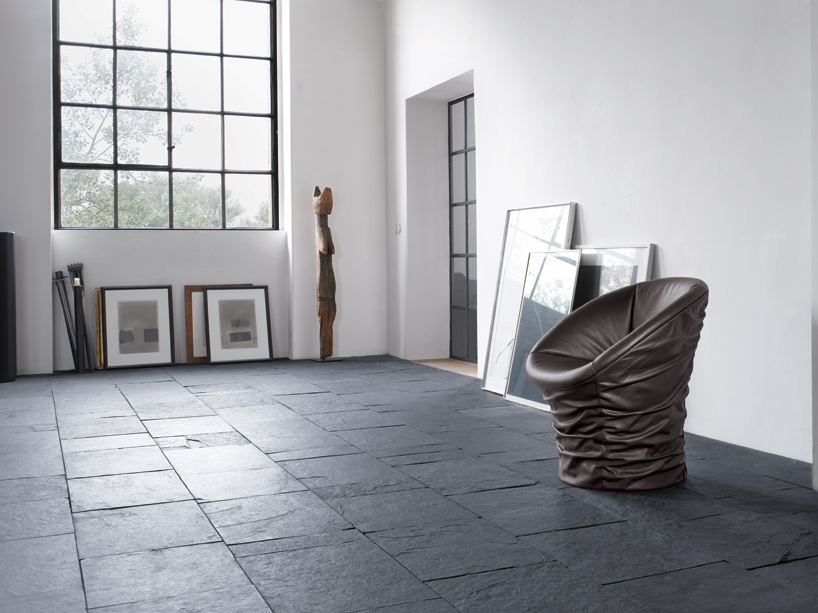 'bellows chair' for walter knoll
DB: with LAUFEN for example, did they present you with the saphirkeramik material and then you had free reign to decide you wanted to do? or did they specifically want a washbasin?
TN: ya, the starting point with LAUFEN was very open because they decided to share their saphirkeramik developments with me from the beginning. so, we started with a very nice discussion at a very good restaurant in milan, and it was not clear from their side whether they wanted develop a concept product to show the potential of the material, or if they wanted to conceive a real product for the market… bit by bit, we understood that the potential was huge, and could be rendered into a real product. at the end, together with konstantin grcic, we did some products not just to illustrate the material's capabilities. the product in my mind from the beginning was a product for the final user, along with trying to find out where to use the potential of the saphirkeramik material.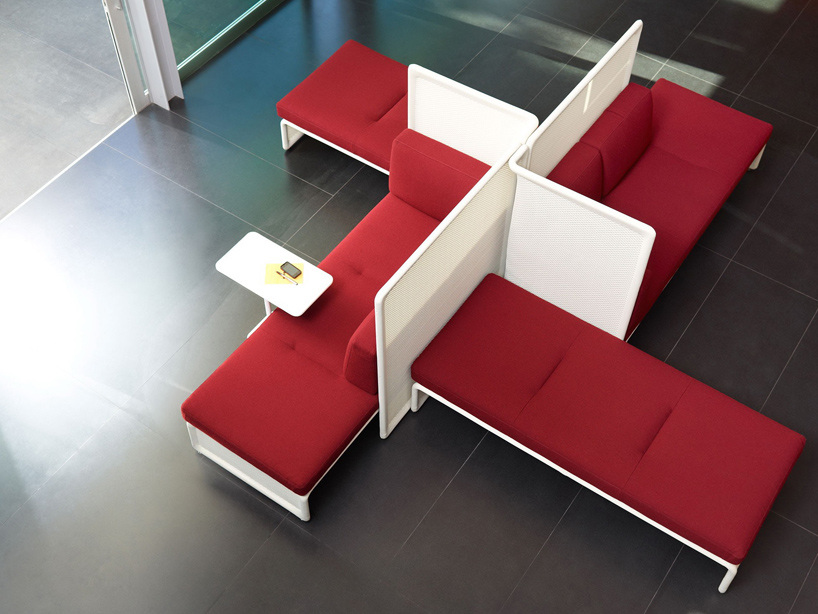 'lagunitas' for coalesse
DB: how and to what extent are other creative fields influencing your work?
TN: design I think for me, is influenced by everything — from cinema to architecture to the artwork, as well as travelling. I am travelling all the time, and I have a professional desire to see everything with another eye. if I go to dinner, I might notice some details on an object on the table. everything I see, I try to absorb not only because I want to use it for my work, but everything has an influence. for me what has the most impact is seeing people living now, to see the people reacting with object and things. I'm not so much a theoretical man, not so much on excel, or charts… what I like is to see the real life. the same when I visit a city. people want to bring me everywhere by car, but my way of discovering a city is walking because this is the only way to be very close to the ground, and very close to the people to see what's happening.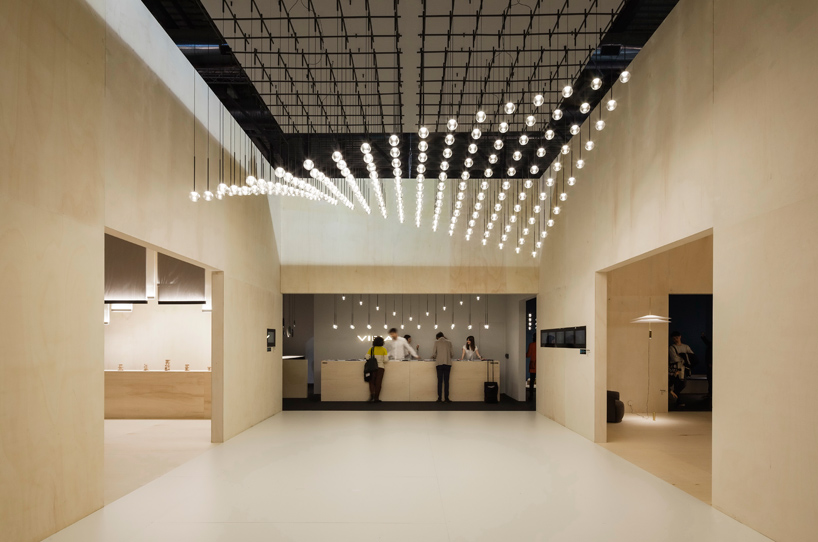 'algorithm' for VIBIA
image courtesy of VIBIA
see more about this project on designboom here
DB: are there any particular designers or architects in contemporary times that you are particularly fond of?
TN: there are so many that it would be very difficult to give some names. in the design world I would say konstantin grcic, because we worked together on the LAUFEN collection. then there are the bouroullec brothers who are also very interesting for many reasons because they really have a clear direction. they really build on their research and go forward with their ideas… I am very influenced by design of the 50s — from danish to american; and obviously my culture so, french design from the thirties until after the war, and into the seventies. honestly, there are so many people in design and architecture that it is difficult for me to name specifics. some people I am fond of because I worked with them. for example, antonio citterio here in italy. he had an influence on my work. I think it's important to take a lot of small things from everywhere. I don't see this as a continuity of another person, but just what could offer in terms of a particular direction. I think the consistency of research that people are all doing, they're not doing to make something nice for someone else. they do it because they believe in it, and I think the people I am most interested by are the people who follow a very clear line, which doesn't mean an aesthetic line, but a clear line in terms of approach. sometimes, it's with less compromise which means it's not easy because there is so much pressure from the market, from companies, by many things, by trends, but everybody, everything tends to influence what you are doing to an extent. some people have the freedom to do whatever they want; and then at the same time there are those that are not doing things for themselves, but because there is a reason to do it. these are the people I am looking at more.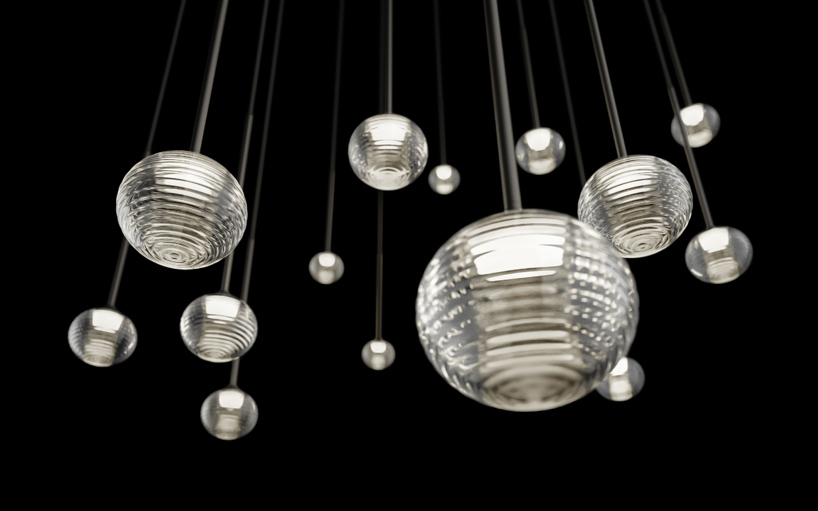 'algorithm' by toan nguyen is an expression of the mathematical poetry of nature
image courtesy of VIBIA
DB: what particular project has given you the most satisfaction?
TN: well, I consider all the projects, in a way like children. it's all coming out from the development of the office and I try to, we always try to, put enough attention on each one. obviously there are some projects where the innovation side makes it very interesting from the beginning. for example, the saphirkeramik for LAUFEN was a very exciting project, because it was an intriguing before I even started working on the project. the material which came from LAUFEN was so innovative that it gave to us an incredible tool to work with. after, the job was to translate the expectations of this material for other applications.
in the USA, with coalesse, size was of particular focus. the level of investment, the level of engineering behind my 'lagunitas' design for coalesse saw the project result in a huge collection. this was interesting because it was something for the contract market and I could develop a lot of different solutions, without limitation on the number of pieces I had to make. 'lagunitas' is a modular collection of seating and screens, and it opens up to a lot architecture and interior projects. so this is one of the two.
just to give some examples: with walter knoll, one of my first clients, it was also very exciting because it felt like I was at the right moment with the right people and we did the right project. with dedon, I worked with outdoor furniture. 'mu' which is probably one of dedon's best sellers of dedon, came out of this idea of hot to really develop the outdoor sofa, because the ones already on the market were not really sofas. they weren't as comfortable as a home sofa. so, there was a period in finding something that would work for the outdoors, that would also incorporate new materials and fabrics, variable density foam. I think we also reached the goal of making an outdoor sofa as comfortable as an indoor one, with the lightness of indoor one, so it's not only a communication project, it's a real product. you can do something that is not destined to be communicated with advertising, with PR… but we really touched the market and received feedback from the user. this is also very interesting, and gives a lot of satisfaction.
with walter knoll, one of my first clients, it was also very exciting because it felt like I was at the right moment with the right people and we did the right project. every time there is satisfaction… I get real satisfaction when I see the design go the market or produced let's say, because it means it's a result of a collaboration. sometimes it's a fight to find a way, to make the right choice, sometimes not, but all these product are the result of a story. they have their own story – could be short, could be very long – and at the end it's always nice. so like children – different stories. you like them all, but maybe some have more problems with than others.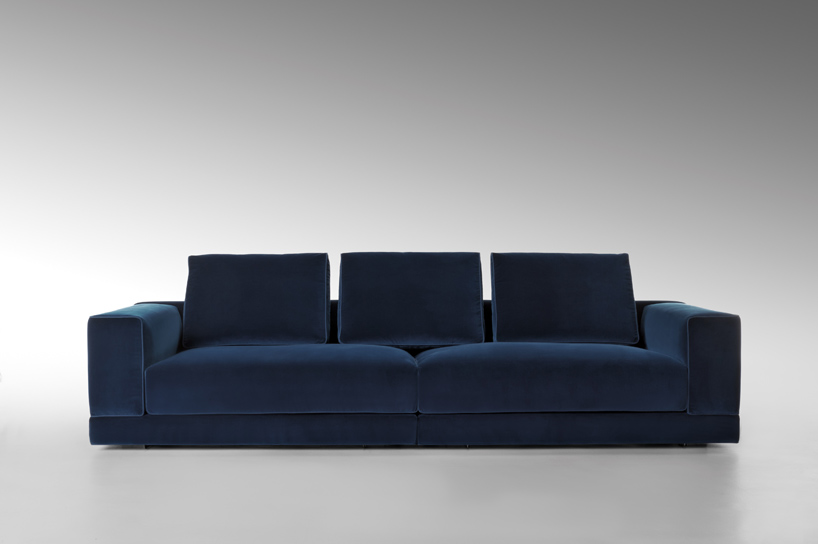 'sloane' sofa for FENDI casa
DB: if you're able to tell us about some of the projects that you are currently working?
TN: I have one rule which is not to talk about the projects we are developing. so, what I could say is my approach to design and collaboration is in the continuity. so we tend to work, keep working with all our clients and partners with new challenges, other projects. at the moment we have new clients and some continuity with other ones, but I prefer, until I can touch them, not to mention them.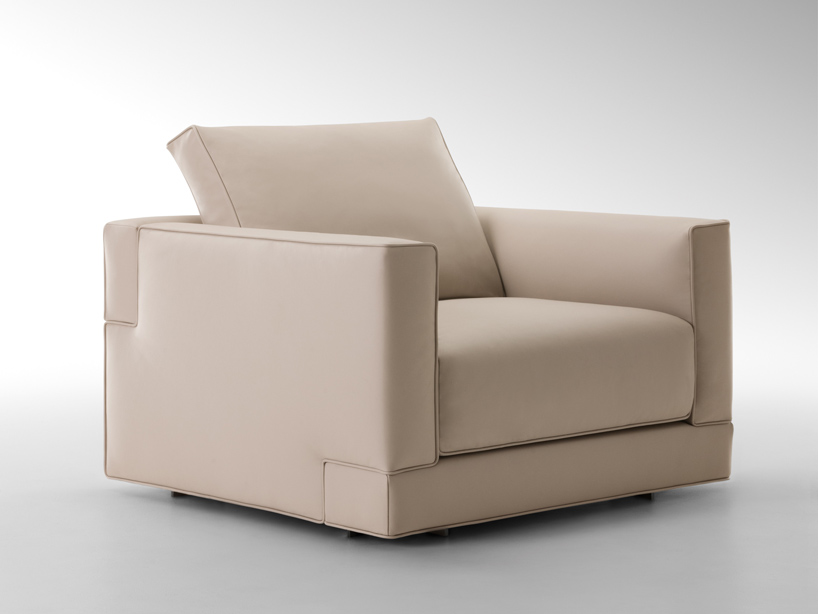 'sloane' arm chair for FENDI casa
DB: do you have any advice to give to designers who are just starting out and establishing themselves?
TN: advice for the young generation… to have a lot of courage and to be very open. at least for my work I think design is a coordination of many different fields. you have to be able to talk to technical people, you have to be able to talk to more commercial ones. you have to understand different languages, not in terms of location but technical language, commercial language. so they have to probably, like in every field, work a lot, probably more than before because there are so many designers on the market, graduating from schools every year and unfortunately there are very few people really doing design. so you can learn design, but end up doing something else. so, if you truly believe that the thing you are studying is the thing you want to do, its probably more of a challenge than before because there are many other young designers and there is maybe less to do. well, maybe not so much less to do, but maybe the situation is not good everywhere and so it's not easy. I think if you can do what you want to do, like what I'm doing because I wanted to do since I was very young, after a while it's not work anymore. so it's not that I'm going to work anymore. I mean it's my work, but it's also my hobby, so it's a mix.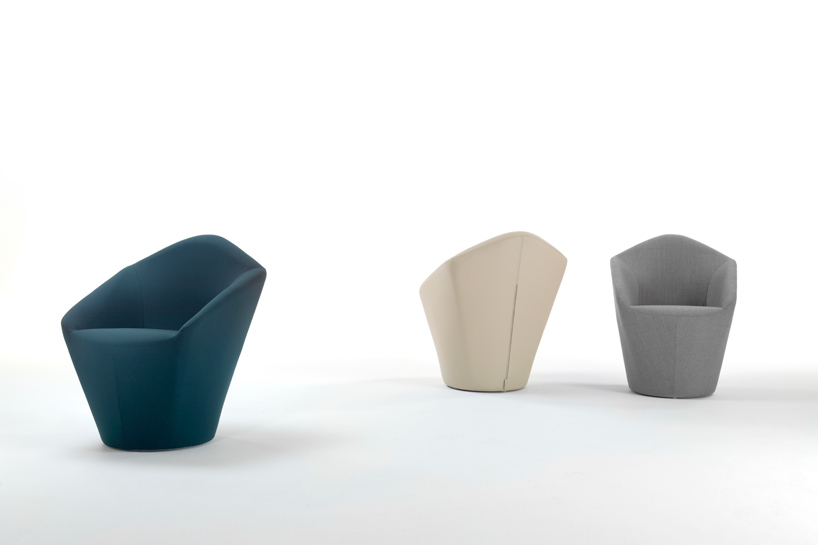 'penta' chair for VICCARBE
DB: is there a particular motto that you live by?
TN: I think it's because I have young kids that I say this, but it's to be fresh, to be positive and everyday will maybe give you some nice surprises — new things to do, new challenges. my motto is not to do the same thing everyday. a new day, a new project, something different… so this is what makes me wake up in the morning.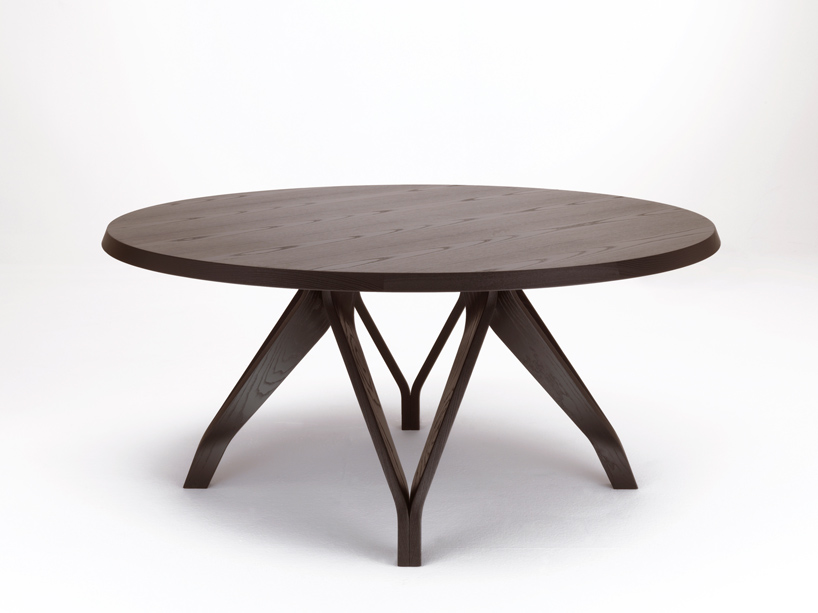 'WOW' table for LEMA
KEEP UP WITH OUR DAILY AND WEEKLY NEWSLETTERS
a diverse digital database that acts as a valuable guide in gaining insight and information about a product directly from the manufacturer, and serves as a rich reference point in developing a project or scheme.
designboom will always be there for you
milan, new york, beijing, tokyo

,
since 1999