Hermès at milan design week 2023
For Milan Design Week 2023, Hermès harmonizes colors and furniture with iron rods and concrete. The ensemble inquires about the power of the fundamental through a series of furniture and home collection. Displayed at La Pelota in via Palermo 10 from April 19th to 22nd, the visitors are guided through a meandering journey in an exhibition of rugs, chairs, and lamps enclosed in iron rods while softened by the polished look of concrete.
In an interview with designboom, artistic directors of Hermès Maison Charlotte Macaux Perelman and Alexis Fabry let us in on the idea behind the presentation. Perelman says that the show's idea centers on harmony. 'It springs up to your eyes,' Perelman tells designboom. 'What we want to concentrate upon is the harmony of color. Alexis and I are the guarantors of this particular concept because each object is to be seen separately and, at the same time, mixed up together. They have to go hand in hand color-wise.'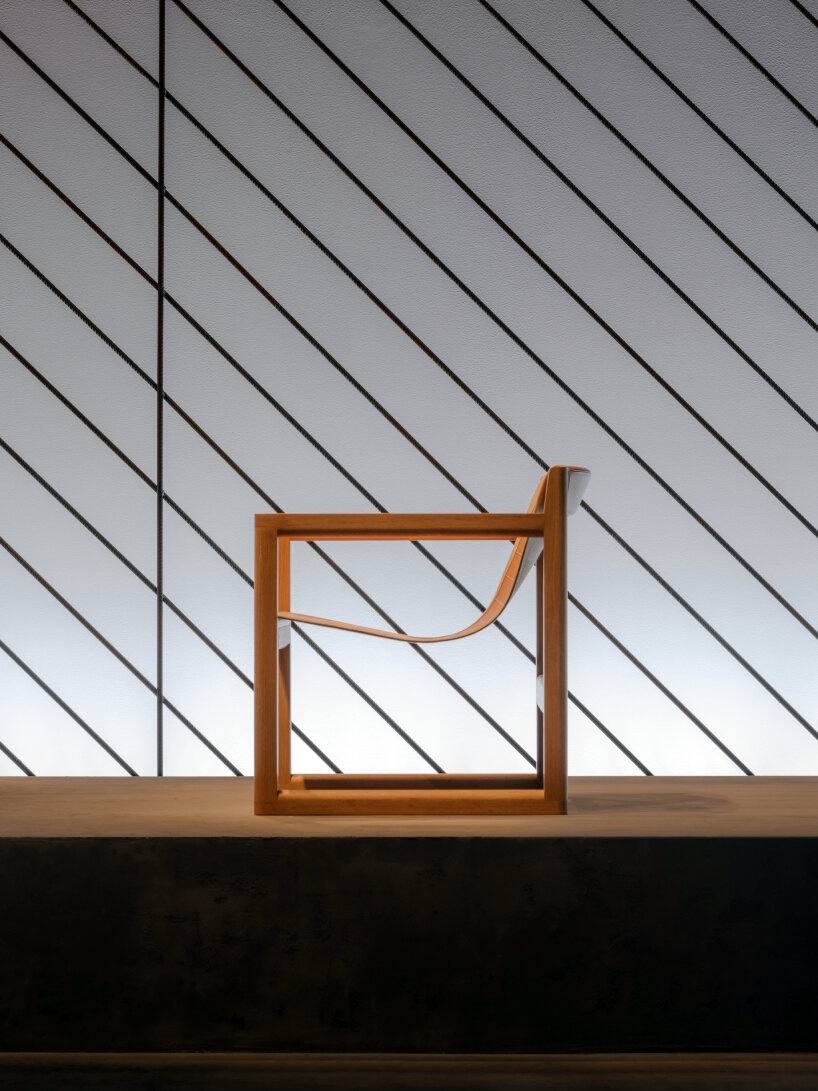 image © Maxime-Verret, courtesy of Hermès | video © designboom
'everything is a continuum'
Fabry adds that there are two key ideas they took into consideration for the direction of the exhibition. 'The first one is that everything is a continuum, like a soft thread. For the first time this year, we have tried to create a space where all the objects can talk to each other and talk to the space as well. And I believe that looking at it, one can visually perceive it,' says Fabry.
'The second idea, which is what Charlotte did, is devising this particular structure, the box that has to converse with the objects inside. Having stripped out everything around the building, we kept the metal skeleton and the rods. The idea is that we have retained the structure and the backbone, and this is something that is typical of the will that we wanted to express this year.'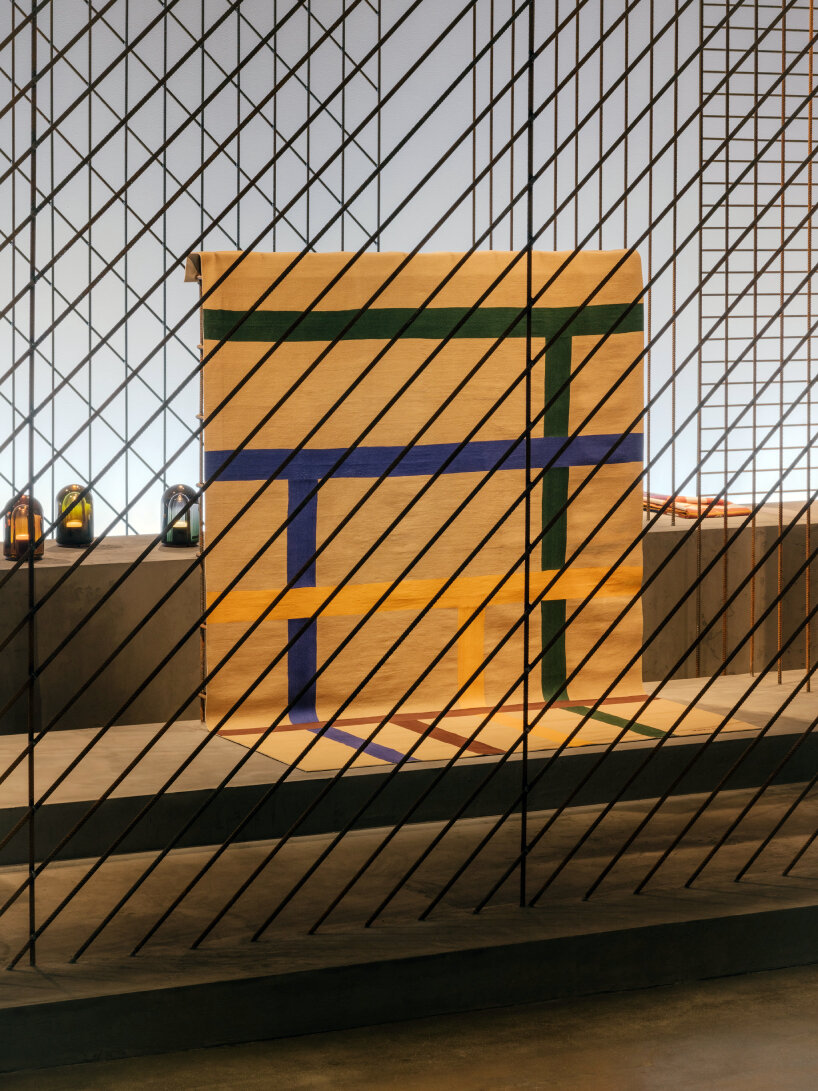 image © Maxime-Verret
Studio Hermès taps and collaborates with designers Cecilie Manz, Pierre Charpin, Harri Koskinen, Jasper Morrison, Jochen Gerner, Tristan Bonnemain, and Fanette Mellier to unfurl the narrative that springs from the power of the fundamental. Hermès treats the iron rods surrounding the space as patterns that structure and generate forms. The mesh of poles converses with the visitors, urging them to peek through the grids and teasing them to reach through the barriers to touch, or at least graze, on the coveted items on display.
'Since the objects are so colorful, I wanted to be able to give the idea of richness and volume in our objects as well as to contour them with an architectural idea. I believe in the relationship between what is empty and what is full, with what is full being the object and the emptiness being the structure around them. And that's what I craved, a transparent structure that could focus on the objects as well,' Perelman shares with designboom.
'I had fun using these rods, which are usually hidden by concrete in real construction. I wanted to show the materiality of iron and, particularly, rust, which is also a sign of the time. It was a question of exposing something that is usually hidden,' Perelman continues. 'For instance, our chair here has many details which cannot be seen but are as important as the object outside itself. We have springs in the chair that you can't see, and I believe that was particularly important to convey.'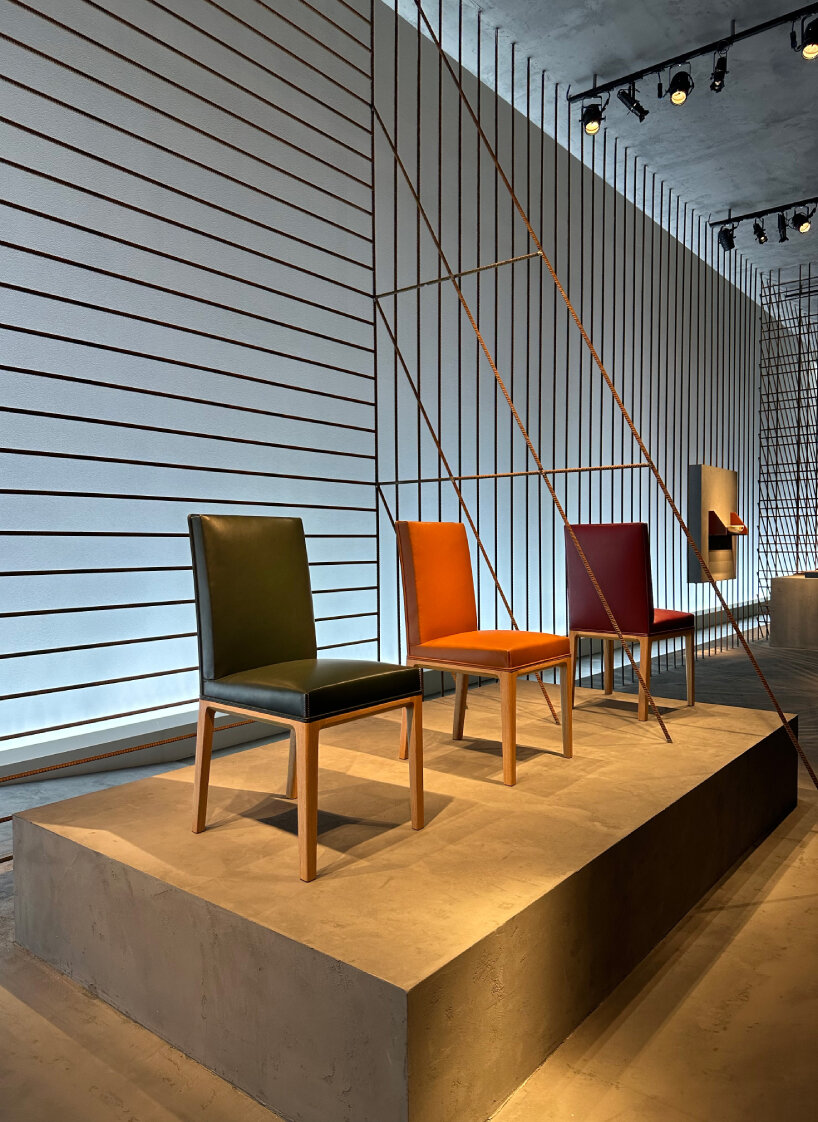 image © designboom
asserting strength through subtraction
For the Maison, strength, an element of the foundation, is asserted through subtraction. Carpets cascade from the poles, showcasing the simplicity of their geometric design and earthy hues. Chairs eliminate excessive features to make way for subdued eloquence in functionality. Lamps glow in tinted globes, projecting accumulated water that becomes repressed and held. The recent homeware series of the Maison has become a platform for Hermès to express its definition of multifaceted beauty.
'We choose the people we work with based upon aesthetics,' says Perelman. 'It comes first followed by the various ideas that we may develop. We tend to have the same view when we collaborate together – it is a team effort. When it comes to our relationship with external designers, so to say, people who do not work in-house, we want to understand each other as much as possible. For instance, there is a peculiarity when it comes to this designer who works with us, Cecilie Manz.
We wanted to have a Scandinavian armchair where leather could be structural. We decided to work with her because she understood immediately what we required and the idea that we had about it. She is a designer who works in association, putting together different materials, and that's what we asked her to do. Sometimes, we let the designer work without a specific brief, but each object and case is different.'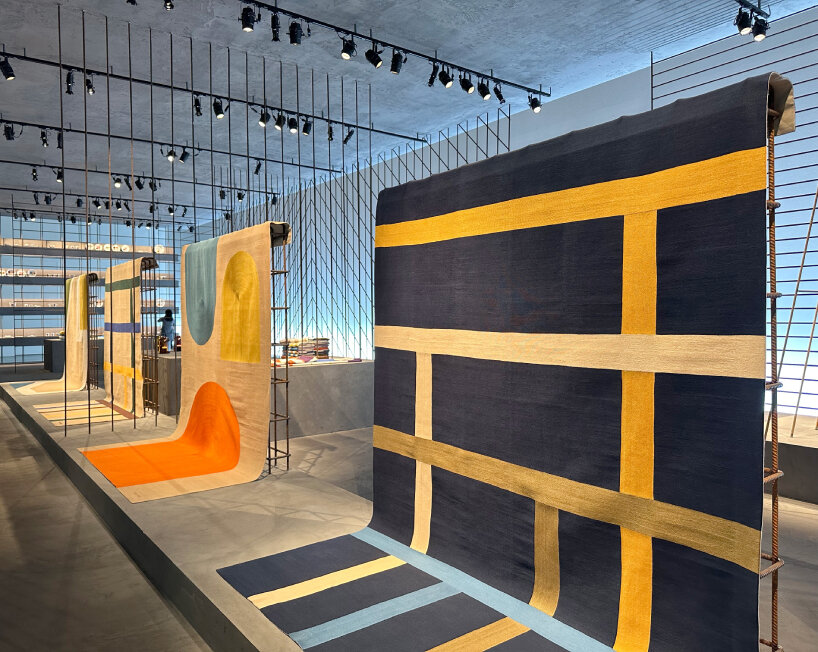 image © designboom
power of fundamental and harmony of colors
Hermès weaves archaism, vigor, and minimalism into tangible forms of furniture. It locks in the designers' and its own creations within the geometric framework composed of iron rods and concrete to allude to an interplay between what is radical and powerful. The virtuoso within the artisans comes forth as their know-how gives life to abstract elements.
Harri Koskinen has blown glass to explore its materiality and comes up with the minimalist forms of Souffle d'Hermès lamps. The seating designs put textiles in the limelight through Contour d'Hermès sofa, blending well with Jasper Morrison's sheather-leather chair and Cecilie Manz's Ancelle d'Hermès armchair in solid wood.
Graphic lines and shapes converge with emblematic, and at times vibrant, colors in Pierre Charpin's rugs, hand-embroidered to identify the precise placement of a cotton cord embedded into a linen base. Such undulating color splashes lend their presence in Jochen Gerner's Saut Hermès Porcelain tableware as his fresh, spontaneous illustrations drawn freehand in felt tip pen decorate each piece.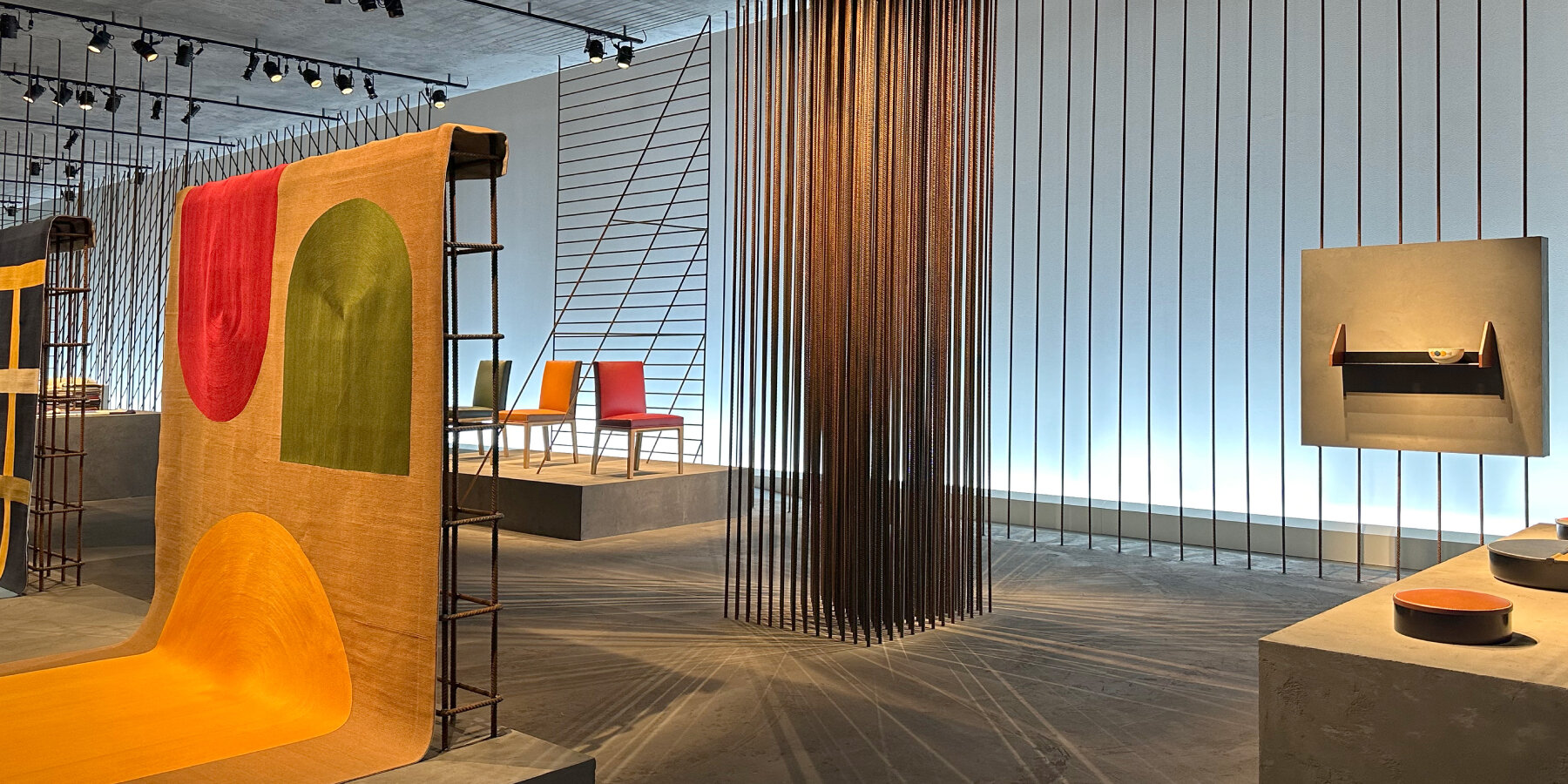 'We can see textiles are structurally rigorous. They're freer with the colors, but there is rigor in terms of their structure, and that's exactly what we like,' Fabry tells designboom. 'We start from the weft, and all the textiles being displayed here in this collection prove exactly this point because the design and pattern come afterwards. They come based upon their very own structure, their backbone. It's not a question of adding on a decoration.
The decoration is part of the know-how, and it, therefore, becomes bonded and melded into the design (in the case of the rugs, for instance). It's also the embroidery that you have to bear in mind and take into consideration. In the case of tableware, you have know-how terms of the design in the way that they actually worked in and out while the embroidery technique forms part of it. Therefore, our textiles are possibly more exuberant when it comes to colors. They're taking us back to the essential backbone of know-how.'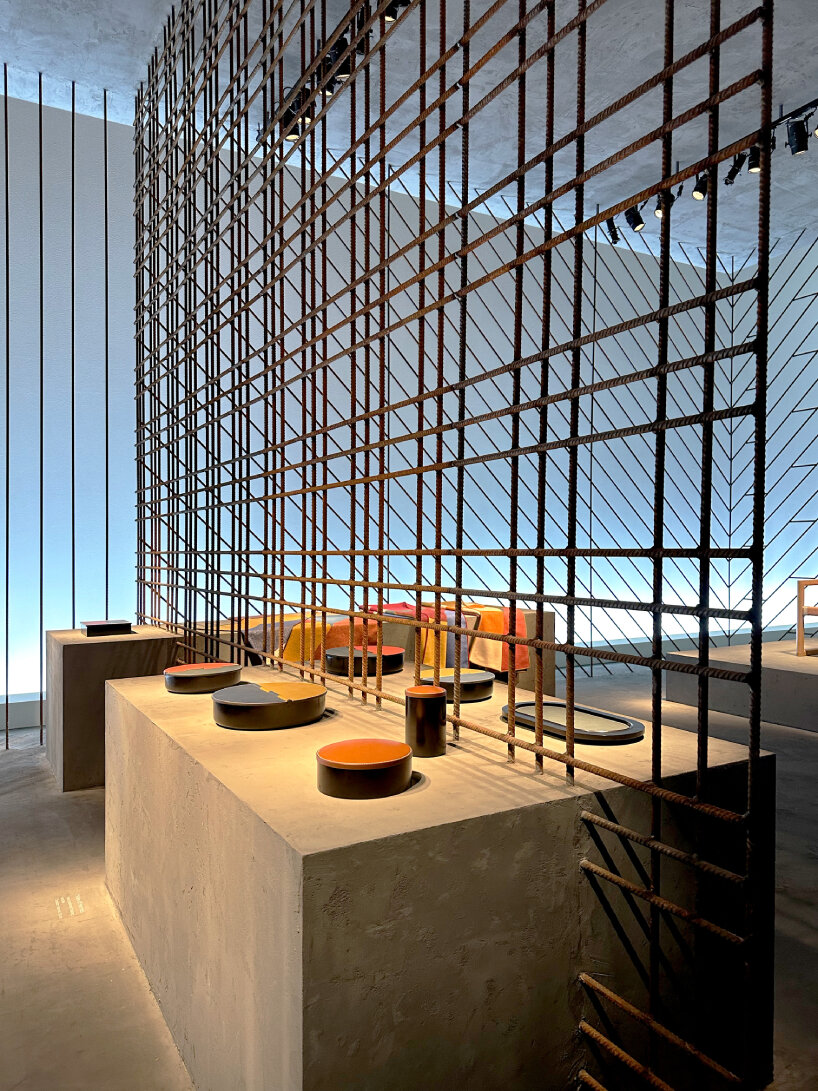 image © designboom
The process of a team collaboration
When designboom asks Fabry and Perelman about their ways of collaboration, Fabry likens the process to a usual scenario that goes down inside a restaurant's kitchen. 'You have people – craftsmen even – working on making the food presentable. We work as a team. We have a person who's in charge of taking care of our tableware, and another person who's in charge of the object, textiles, or pieces of furniture. It all starts with an idea then we adjust accordingly until we have a result that is satisfactory to all.'
Perelman says that Hermès has given a great deal of importance to the collaboration with the craftsmen for this year's series of homeware. 'In the case of our bronze objects, we wouldn't have been able to have such beautiful outcomes had we not turned to a Japanese master, who was in a position of being able to work out the material exactly in the way that we needed it,' Perelman shares with designboom. 'His interpretation of the object comes almost as a surprise to us. With this, we try to give our own add-ons to a certain object, but it is important for some objects to have the specific expertise and skill of a certain artisan to fully enliven them.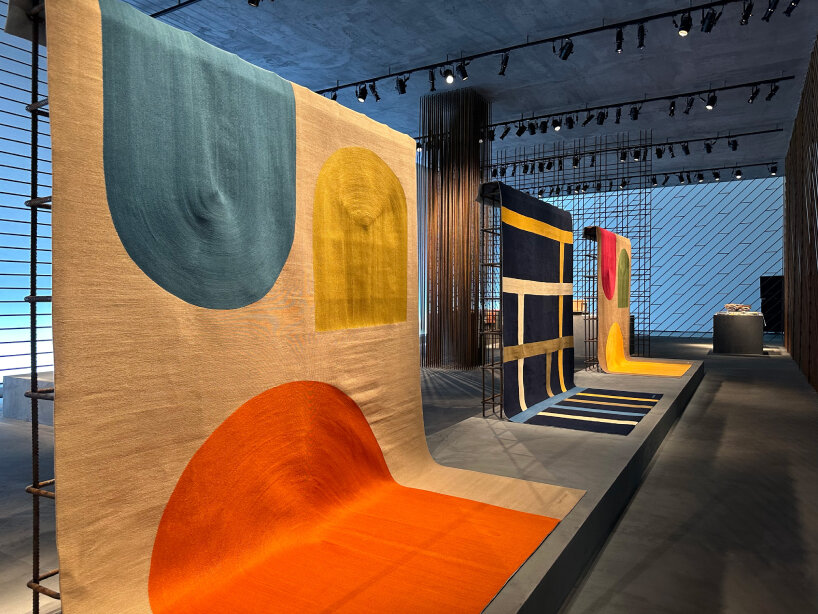 image © designboom
organic materials and muted colors come together
Colors seem to remarkable sign the bodies of work that Hermès eyes for in this year's Milan Design Week, as underscored by Tristan Bonnemain and Fanette Mellier hand-spun, hand-dyed cashmere plaids, imprinted with a spectrum of palettes and shape. Perelman tells designboom that the richness of Hermès lies in the power of colors, making reference to the Maison's silk products and leather objects.
'We always ask ourselves this question: What kind of a place do we have within the framework of our work? Giving a dramatic impact is part of our duty,' says Perelman. 'We care about things looking right. It's a mixture between know-how and design. It's true that design is part of the know-how but we believe that pattern within design is also important. It's not a battle between the two ends; it's rather a happy marriage. When we are getting to this happy marriage, we're getting to a balance. When the balance has been reached, then hopefully it's what we think is right.'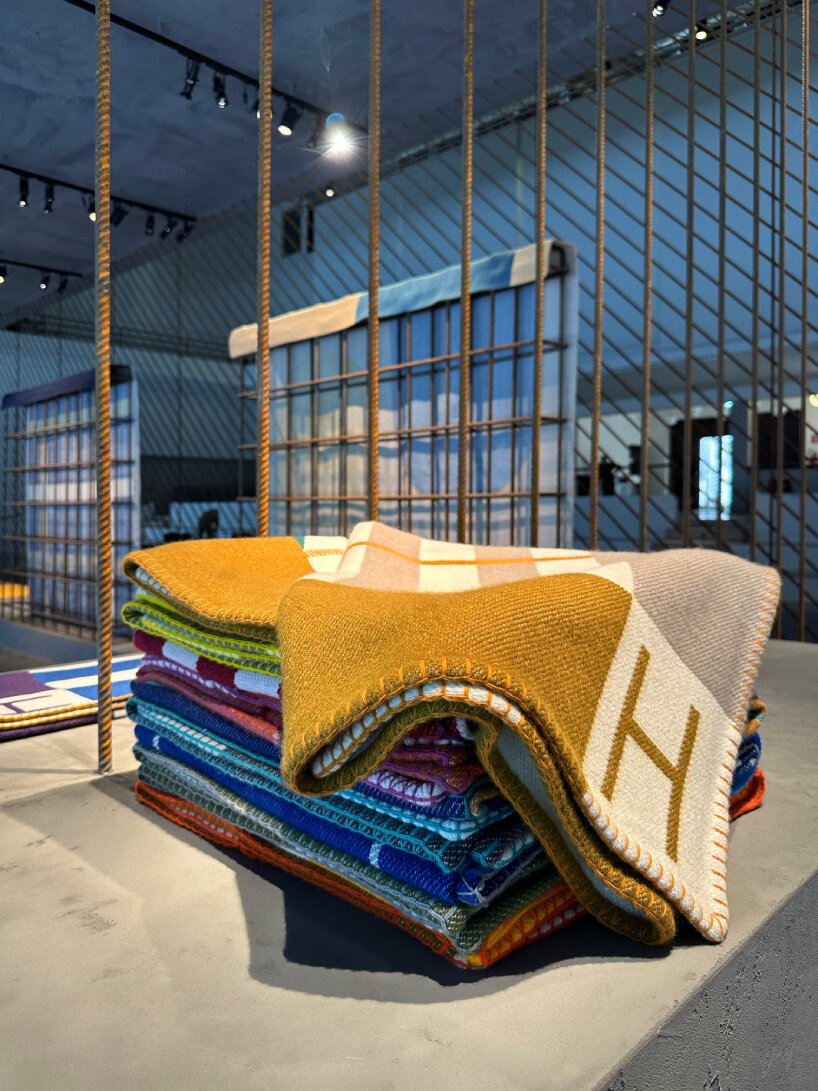 image © designboom
Touching upon the longevity of the materials employed, Fabry says that Hermès focuses on the long-term life of its objects and creations. 'Being endless is something that we want to aspire to. It took us four years to develop our bronze boxes, for instance. We're not obsessed with being pressed by time. We rather hope to create objects that last over time.' With this, Perelman offers that 'when it comes to quality of materials, we know what to do and how to do it. When it comes to the styles then time will tell.'
Throughout the exhibition, bronze, glass, wood, and leather coalesce with organic materials and muted colors, all expressing figures that are namesake to the Maison's heritage and flair. 'When we worked with designer Thomas Alonso from Spain, we asked him: what is for you an object by Hermes? He gave us exactly the right definition,' Fabry shares with designboom. 'He said that: a Hermes object is something that is right, that is well done. This is actually our ultimate ambition as well: a Hermes object is something that is well done.'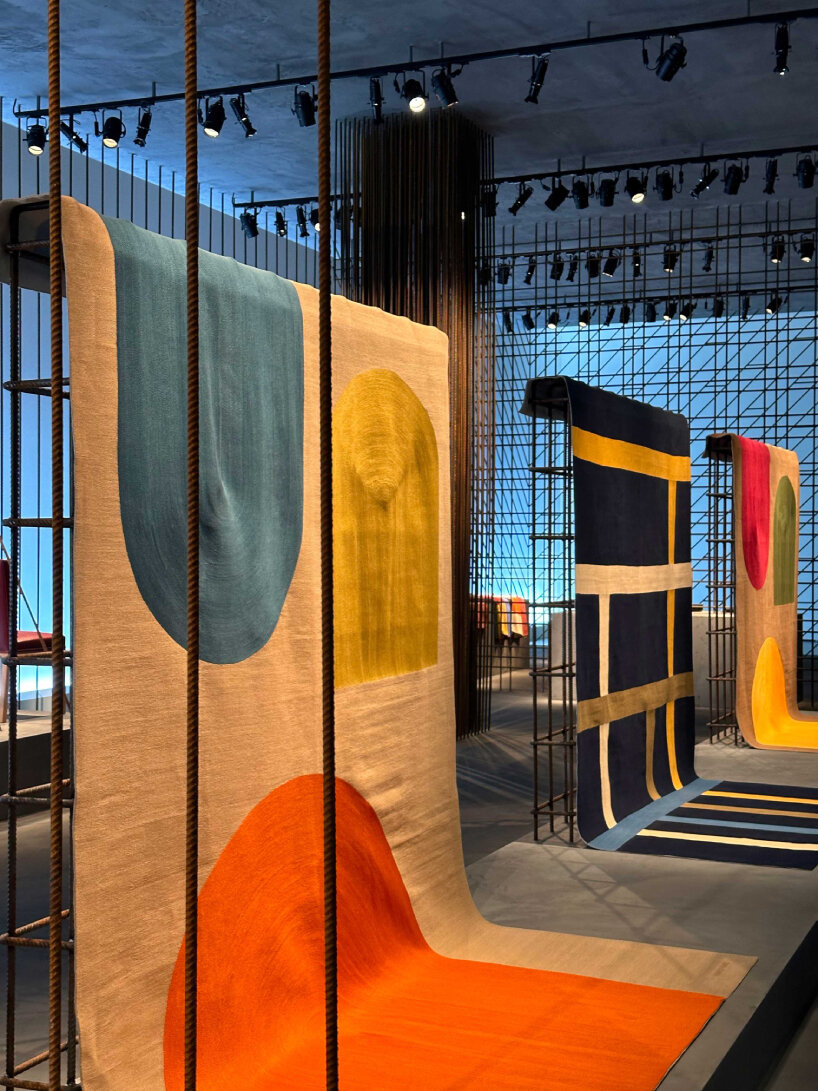 image © designboom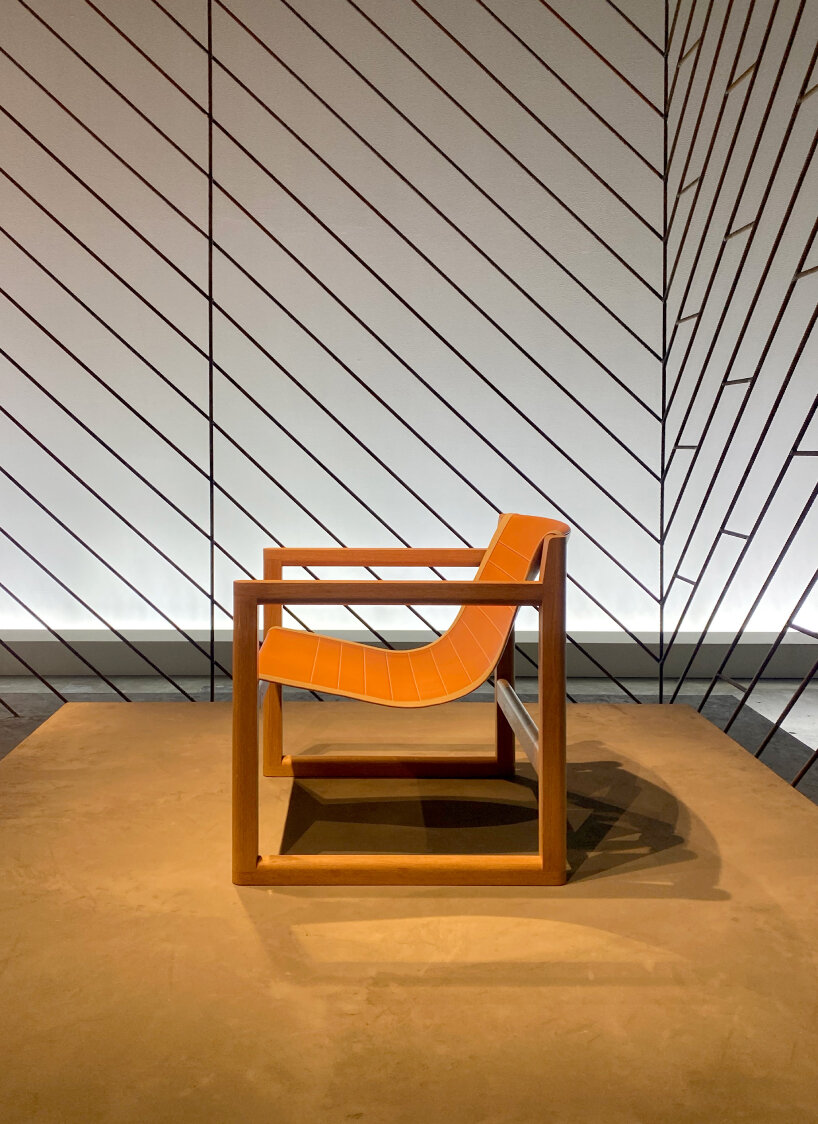 image © designboom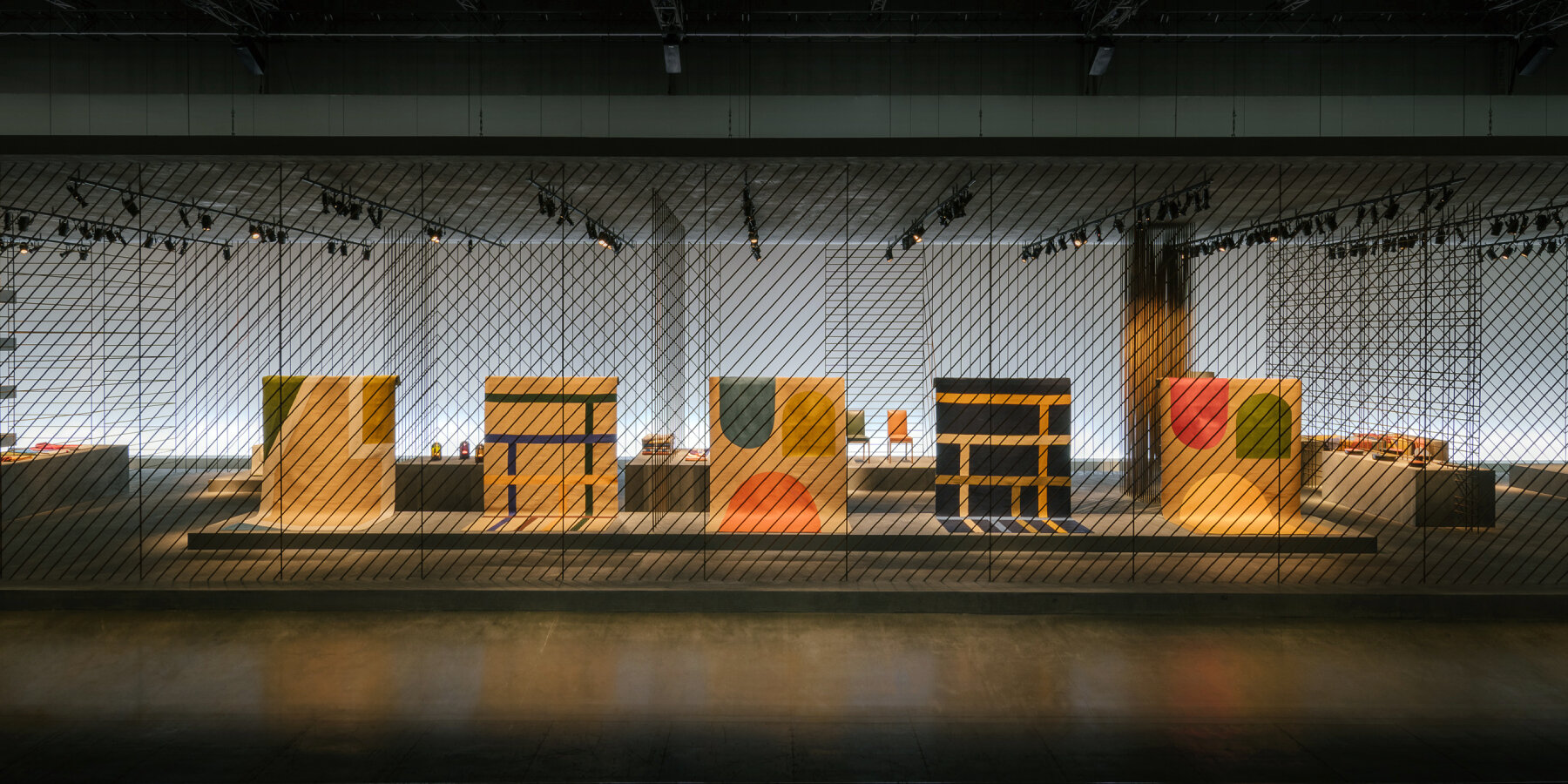 project info:
name: New Home Collections
maison: Hermès
designers: Cecilie Manz, Pierre Charpin, Harri Koskinen, Jasper Morrison, Jochen Gerner, Tristan Bonnemain, Fanette Mellier
event: Milan Design Week 2023
location: La Pelota in via Palermo 10, Milan
dates: April 19th to 22nd, 2023
matthew burgos | designboom
apr 19, 2023
KEEP UP WITH OUR DAILY AND WEEKLY NEWSLETTERS
a diverse digital database that acts as a valuable guide in gaining insight and information about a product directly from the manufacturer, and serves as a rich reference point in developing a project or scheme.
designboom will always be there for you
milan, new york, beijing, tokyo

,
since 1999