interview with Hi-Res!! founders alexandra jugovic & florian schmitt
Hi-Res! is an award winning design consultancy, operating on the simple principle that work should be fun for the result to be good. it was founded in 1999 by alexandra jugovic and florian schmitt after they moved to london from their native germany. they told designboom more about their story so far…
designboom: how did you both meet and what made you want to start a studio together?
alexandra jugovic: we met as students at hochschule für gestaltung in offenbach, germany. after graduating we continued working together in a film production company called 'in-motion' in frankfurt. florian worked on 3D and motion graphics, and I was an art director at the company's own record label. we considered the company as our living room and spent most of our time there. we felt it was an amazing playground where we had the chance to experiment with the first motion control camera in continental europe at the time, had flame and flint at our disposal as well as a 3D department. we worked on creative concepts for music videos, show titles and TV pilots.
florian schmitt: after 3 years of working there we decided to move to london to try something new. I was a full time musician, and we never really imagined having a proper company. we were really clear about not wanting to work for other people again, and turned down all permanent jobs that were offered to us – a silly thing to do when you live in an expensive city such as london, but it just felt right. after freelancing for a while, we starting working under the Hi-Res!! moniker, and soon we were getting more and more jobs and began to employ people, and before you know it, you do run a company…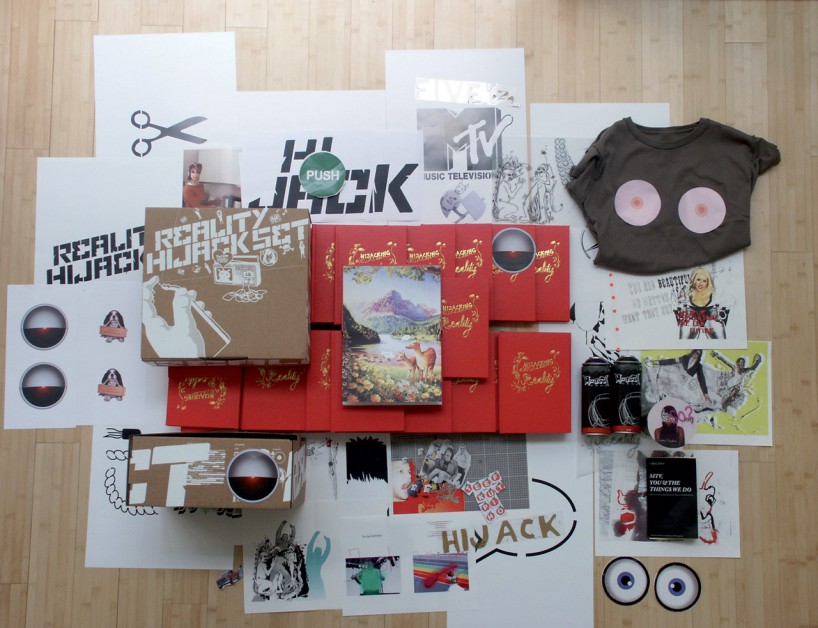 MTV hijack – MTV's international division approached us with this brief for all global channels. we had a feeling the results could either be amazing or catastrophically mediocre – but not much in between. based on the idea that this particular styleguide should be inspirational, rather than dictating, it came in the form of a scrapbook, built around the concept that MTV's reality is a hijacked version of our reality – one where streets are for dancing, cribs are huge and cristal is the preferred form of sustenance.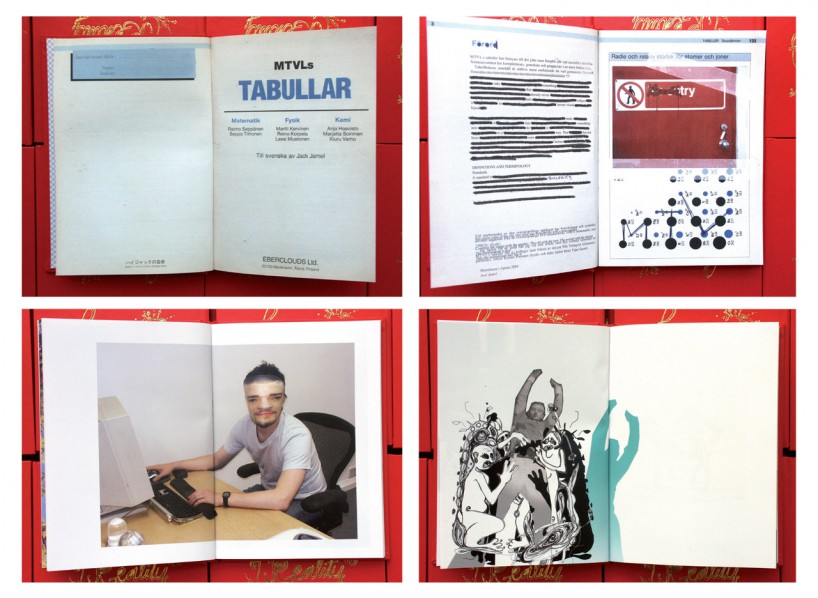 MTV hijack came in a box 'reality hijack set' which had stickers, stencils, spray cans, screen printed t-shirts, a scrapbook and the interactive style guide. this kit enabled creatives across all MTV departments to create their unique and authentic version whether based in india, the UK, germany or the USA.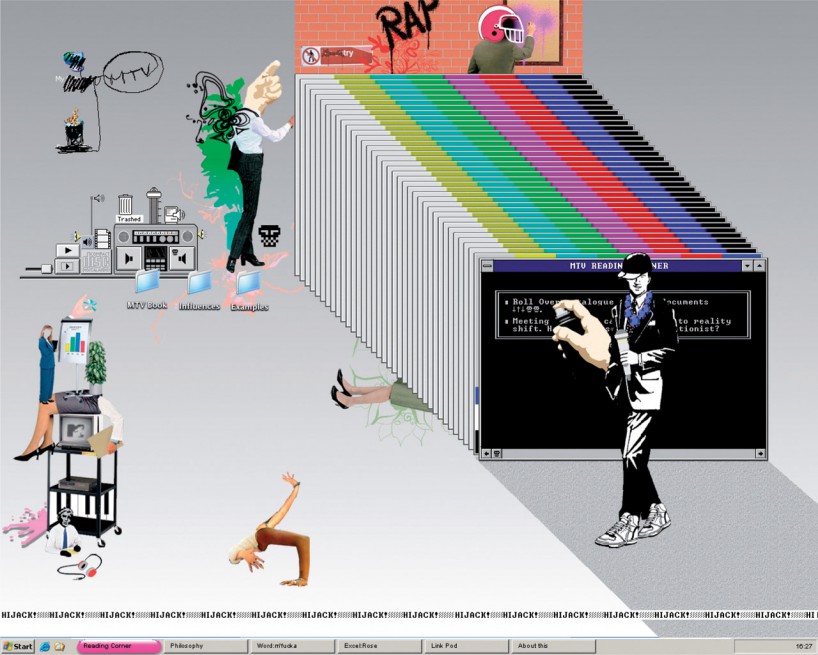 MTV hijack
DB: how do your skills compliment or contrast with each other and how do you share the workload?
AJ: my background is in fine art and graphic design. florian's is in product design, music and film. while Hi-Res! was a two person company, both of us did everything from picking up the phone, meeting clients, designing, developing and coding websites, speaking at conferences. generally we discussed and worked on concepts together, then we both did initial designs from which we then worked. on motion graphics projects, florian was working on the animation or 3D whilst we shared the roles of art or creative director. over time, florian has become the 'face' of Hi-Res!, speaking at conferences a lot and working with most of our clients directly. I enjoy working within our team in the studio in london. things have drastically changed since we started employing people, especially in the last years as digital has become an entirely different beast. for many years now it's not been just a two man show, and we owe the success of our projects to all the talented and lovely people who compliment / contrast us at Hi-Res! in fact, this month 2014 is Hi-Res!'s 15th anniversary. to think that the two of us run a studio and built what is Hi-Res! today makes me smile; we're incredibly proud.
FS: we've known and worked with each other for over twenty years now, so we have an unspoken and implicit understanding of how we approach projects. we have different strengths and aim to combine them where we can. while we still work together a lot, we also have learnt to divide projects based on our strengths and passions. there isn't a day where we don't seek each others advice, but as alexandra said, this is no longer just about us, but about working as a larger team. the main thing we pride ourselves on now is our success in assembling an amazing team of like-minded individuals who inspire and challenge us. it really is what keeps us excited about coming to the studio every day.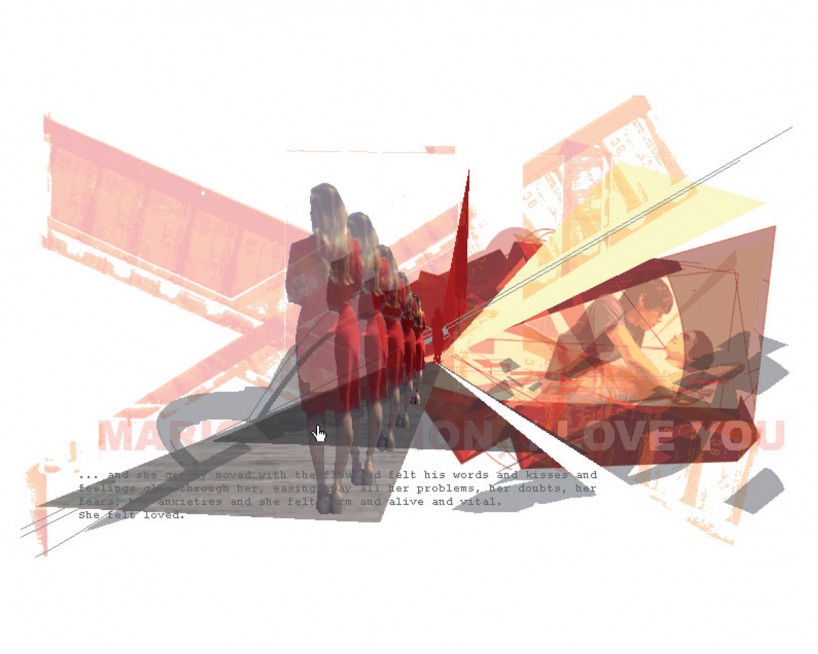 requiem for a dream – decaying website for darren aronofsky's film, this was alexandra and florian's first commercial website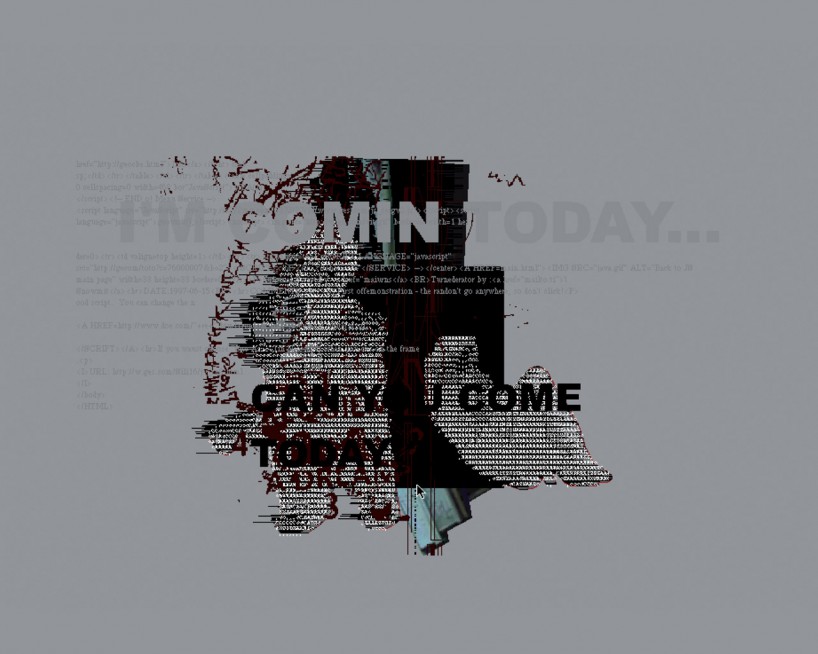 requiem for a dream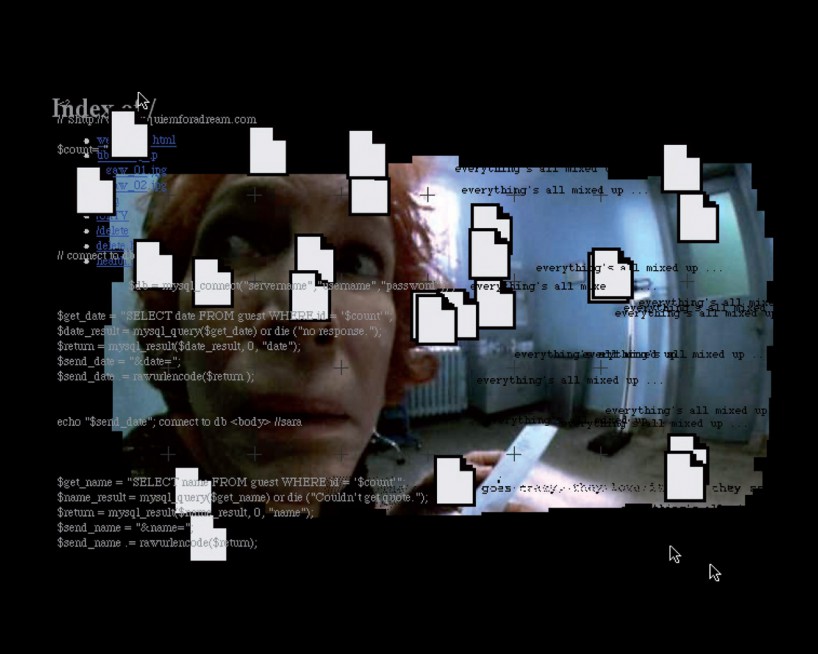 requiem for a dream
DB: which project has had the biggest impact on your studio in terms of its development?
AJ: our first self-initiated interactive project, soulbath.com gained a lot of attention, especially in the USA, and led to our first commercial online experience – the site for darren aronofsky's film 'requiem for a dream'. we watched the film like we have never watched a film before, and we have yet to see it a second time. requiemforadream.com is by far the most emotional and difficult project we have done to date, and our biggest fear was that we wouldn't do the film justice. it set the tone for everything we have done since and still serves as a reference point, although our work has changed quite a lot since then.
FS: I would agree, although it was only the trigger for many exciting and important projects since. it also established a way of thinking and working – we really had no idea what we were doing at the time. we didn't really know much about digital media, but we knew what we wanted to achieve. I truly believe that not knowing can be an amazing catalyst for finding new ways of doing things. it's instilled the idea that you need to approach each new project like a novice, forgetting everything you have learned. it's hard and entirely counter intuitive, but it can work wonders.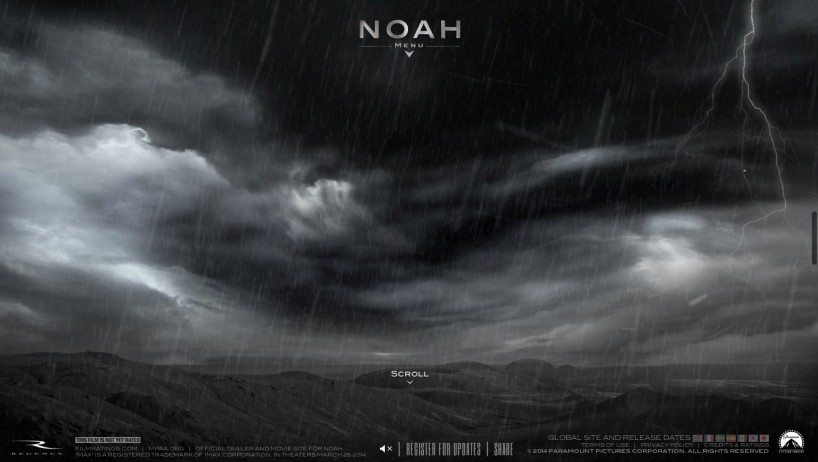 noah campaign – collaborating with darren aronofsky since 2000 on films such as requiem for a dream, the fountain, the wrestler, and black swan, we were excited to be asked to create the digital campaign for his new movie noah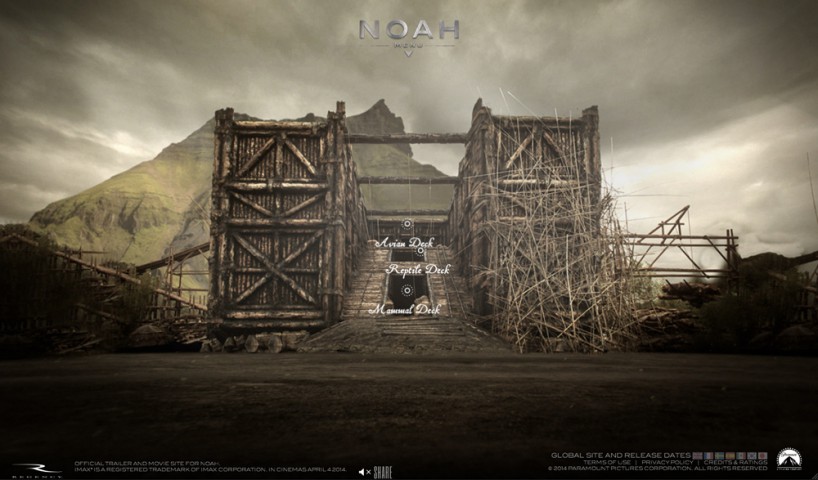 the campaign follows a 3 chapter narrative including teasers, interactive experiences and an enhanced main site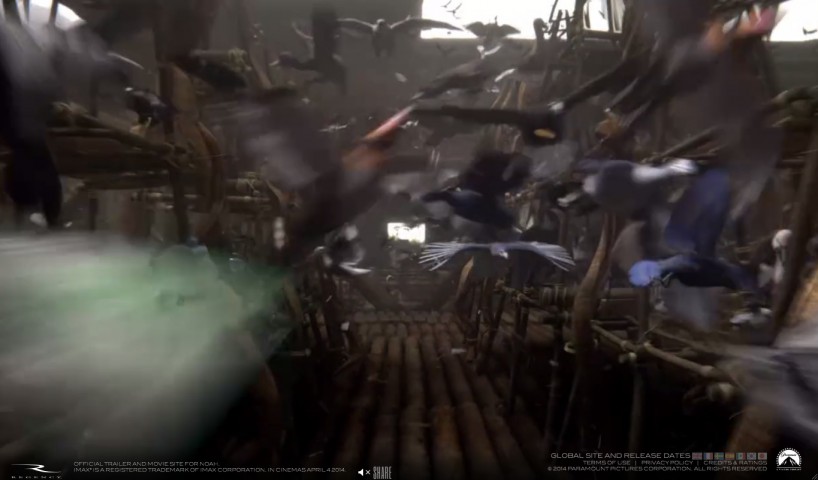 all the experiences are designed to work across desktop, tablet and mobile devices, such that even the ambitious and graphics-intensive ark experience can be accessed and experienced fully from the palm of your hand
DB: is there something you have yet to explore, that you are eager to try for the first time?
AJ: maybe because it's our 15th anniversary this month that I feel more nostalgic. I would love to revisit where Hi-Res! comes from, go back to our core as storytellers, and again create experiences in this new digital landscape. people's perception is different than it was only a few years ago. this changes constantly, but a good story will always be a good story. storytelling has come a long way from sitting around a campfire thousand of years ago to the digital experiences we have now. to explore this further is still my main interest. I am also very interested in sustainability, and I am still looking to combine my professional experience in digital and design with my personal passion with eastern philosophies, martial arts and yoga.
FS: there are so many things we have yet to do, and every day new things add to it. I have a real passion for technology and leveraging and presenting it in a way that people who use it forget about it. as alexandra said, it's all about creating a compelling narrative, something memorable, something that touches you on some level. personally, I think writing and music are two passions to which I would love to be able to dedicate more time. in another life I would have definitely chosen sculpture as my main focus. well, maybe it's not too late!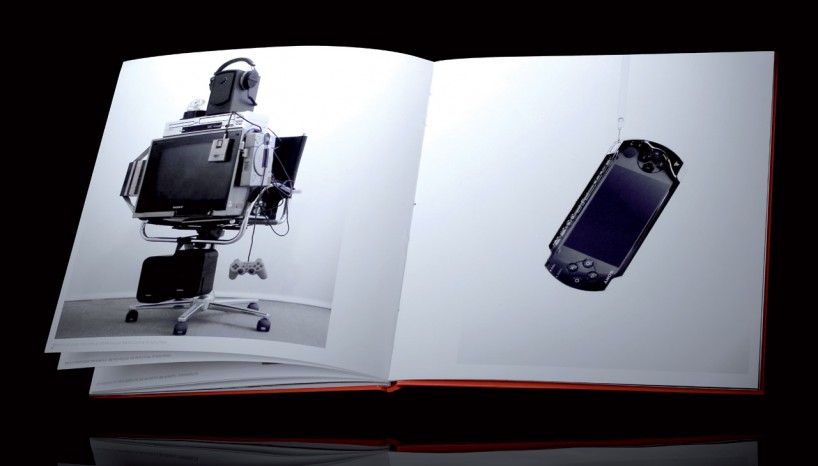 PSP identity – for the launch of their portable games console, playstation wanted a guide that would help unite the creative across the european markets, but would leave each country enough freedom to respond to the local culture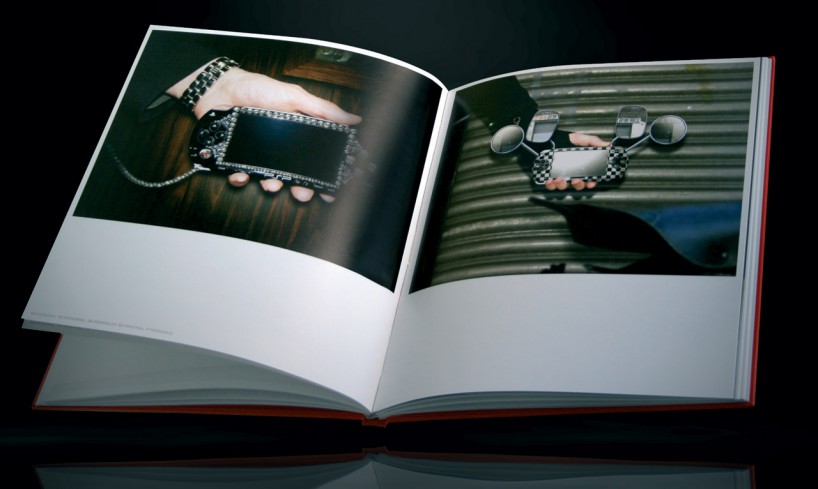 the guide
similarly to MTV hijack, we created a book, which explored the world of PSP and walked the fine (and unwalkable) line between advertising and inspiration, which was given to all creatives working on the brand. we also created the brand signature and brand guidelines for the launch.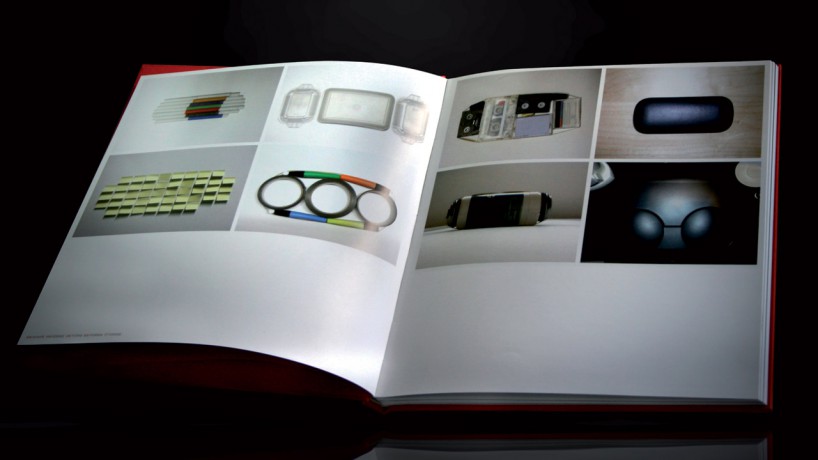 PSP identity
DB: do you enjoy working with a very specific brief or having a lot of freedom?
AJ: sometimes getting a clear brief is useful, as there is a lot of room for problem solving and creation in limitation. but having a lot of freedom is also great, as it allows us to explore and challenge ourselves as much as we can. with clients who trust us and are brave enough to step out of the box, we have created some of our best projects. one example is our project 'the lost experience'. for years, we had tried to convince our clients to do what is now labelled 'transmedia storytelling'. back in 2005 we had created an experience called lost untold for the UK's channel 4 who were airing the first season of 'lost'. it was very successful, and after seeing it, ABC and the producers of 'lost' approached channel 4 and us to help them create something that would serve as a bridging narrative between seasons two and three in the US, and as promotion during the airing of season two in the UK (and australia).
FS: I enjoy the limitations of a good brief. it focuses the mind, allows you to really get into the problem-solving process. freedom is a nice idea, but I am always acutely aware that we are working for our clients, and have a mission to shape their brand – ideally in the most unexpected and amazing way possible – but there's always a brief, even if it's not explicit.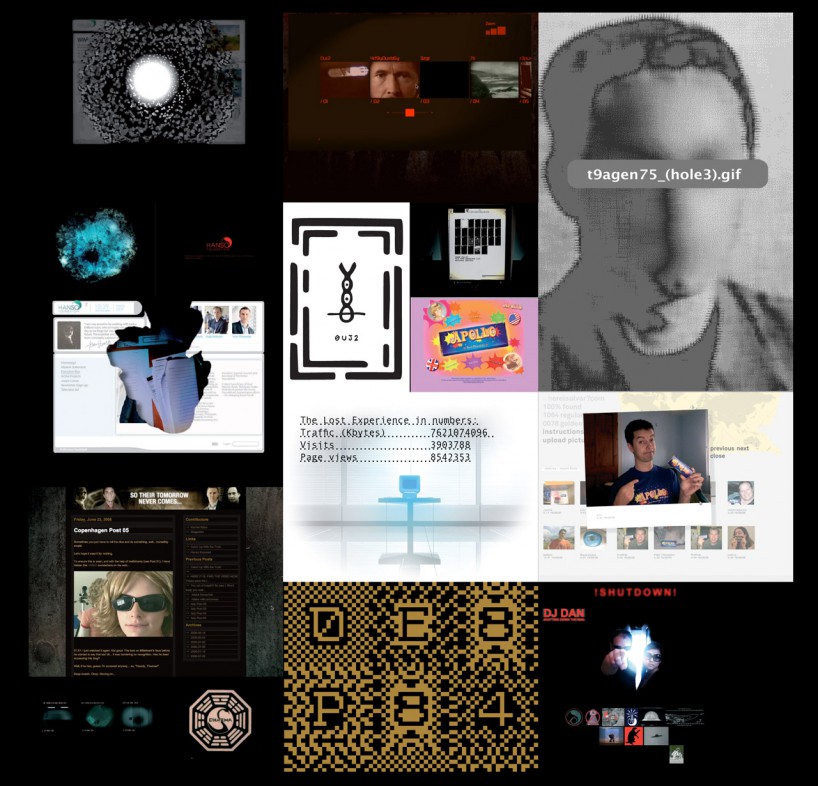 the lost experience – for years, we had tried to convince our clients to do what is now labelled 'transmedia storytelling'. back in 2005 we created an experience called 'lost untold' for UK's channel 4 for the first season of 'lost'. it was very successful, and after seeing it, ABC and the producers of 'lost' approached channel 4 and us to help them create something that would serve as a bridging narrative between seasons 2 and 3 in the USA, and as promotion during the airing of season 2 in the UK (and australia).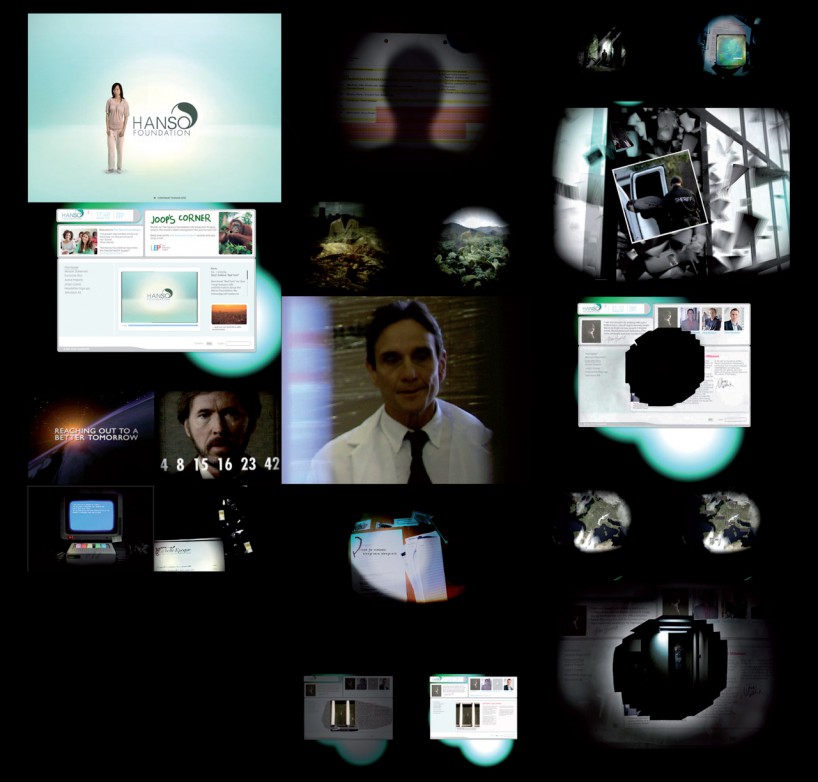 we ended up creating a 6 chapter arg over the next 7 months, working closely with the writers and producers of the show. mind you, 7 months is a long time to hold anyone's attention, but it allowed us to tell a complex narrative across on- and offline and create a place to keep the die hard fans entertained
DB: what interesting developments do you think will have a significant impact on user experiences?
FS: on a meta level, I am really interested in the overall experience of an interaction. this is never entirely digital, as there's always the body in between the technology and the brain. on one hand, I want to make the technology disappear and touch the brain on a purely cerebral and emotional level. but being a product designer, the haptic level is just as important. I am quite keen on micro interactions, as made popular by dan saffer. the little details, which elevate a good experience to a playful and satisfying one – one you want to come back to not only based on content, but also on interaction itself.
DB: what is the most important aspect of interactive design for you, and how do you try to achieve it?
FS: my biggest aim has always been to make people forget they are sat in front of a screen the same way you don't imagine yourself sitting in front of a printed piece of paper when reading a book. I want to achieve immersion in the work, something that is compelling enough for you to lose yourself in a moment. I also don't believe in just marveling at technological achievements – for me it's a hollow victory. only when the technology enables real emotional engagement – the same way magic does – is it of real interest to me. rare as hen's teeth, but won't keep us from trying.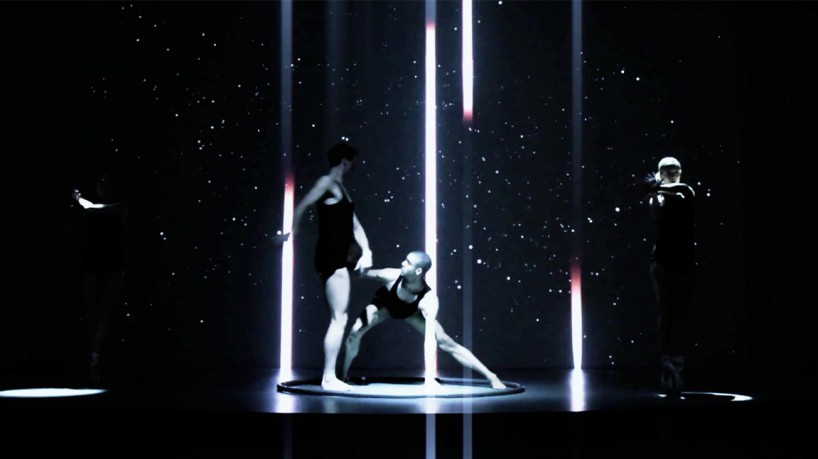 beijing ballet – for the launch of their 'range rover evoque' which was designed in conjunction with victoria beckham, land rover organised a very special party in beijing, which hosted a series of events, one of these being a ballet performance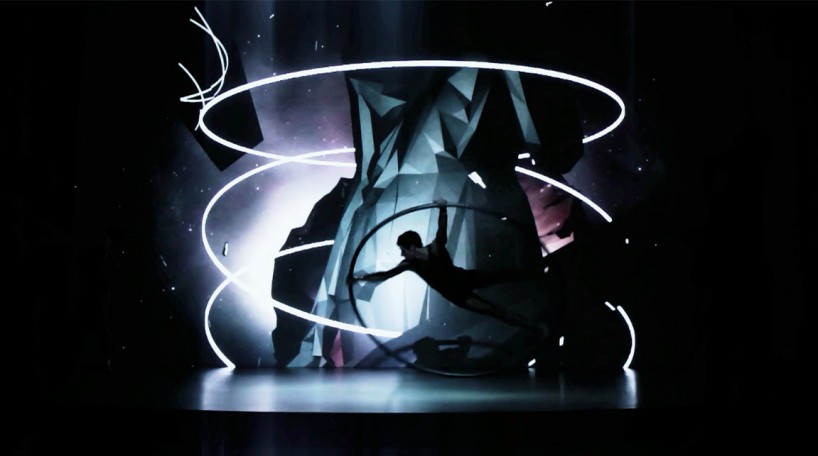 we were asked to design and perform a digital element to compliment the ballet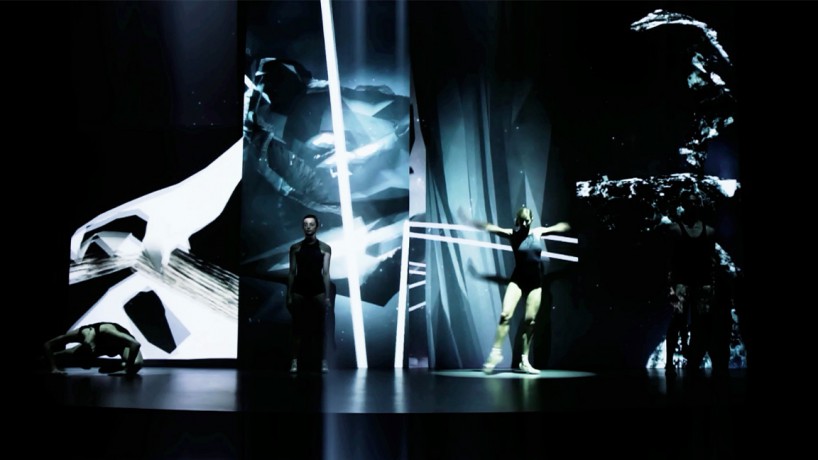 Hi-Res! teamed up with our sister company nanika to realize this project
DB: how do you keep your ideas fresh?
AJ: I try to keep an open mind and eye. I find a lot of inspiration outside of digital, and like to work with new materials and or technologies. our passion and our job is to make the ephemeral visible. what starts as an idea in the mind of many becomes a reality through conversation, collaboration and creation. conversations about the ideas are arguably the key part; they're also the most intangible. so what if we could make it tangible the same way: thoughts shared by email which you can touch? with our latest little self-initiated project we explored 3D printing, and sculpted (entirely coded) the thoughts shared with us into a unique sculptures.
FS: it's a good question and a hard one to answer. obviously, feeding your mind is a must, but it's not just about going to art shows. it really is about using your mind constantly. I don't watch a lot of TV, and I do my best to interrogate my surroundings – my way to work in the morning, my interactions with others, the hidden narrative of the world which surrounds us. there's always another level to it, which won't present itself unless you look for it. the easiest way to see it is by walking through a familiar street, but focusing your view up. looking at the second, third and fourth level of buildings, imagining what might be behind those windows, opening your mind to the entirety of the world around you. we are all too quick to accept only what's in our field of view. once you look beyond it, both literally and metaphorically, new ideas are quick to arise.
DB: besides your work and the arts – what are you both passionate about?
AJ: martial arts, yoga, meditate and play the piano – all this keeps me balanced.
FS: not sure these count as passions, but a perfect day for me has to include a run, many cups of jasmine green tea, half an hour of meditation, a good glass of red wine, playing the piano and listening to BBC3's late junction while curled up on my sofa. I think if I had to name one passion it would be making music.
DB: what do you know now that you wish you knew when you were a 18?
AJ: it would have been good to know about buddhism and eastern philosophies. also the practice of yoga and martial arts was something I always wanted to do but only started much later. I believe in the zen proverb: 'when the student is ready, the teacher will appear'. I knew what I had to know at any given time in my life and acted upon it including all the mistakes I made and risks I took, this is how I became who I am today. we can only ever work with what is given at the current moment, and this is how we will grow into the person we aught to be.
FS: I really believe it's good to be stupid and fearless. if I had known at 18 what I know now, I would never be where I am now. youth is a beautiful thing, and while I wouldn't want to go back, I equally wouldn't want to change a single thing.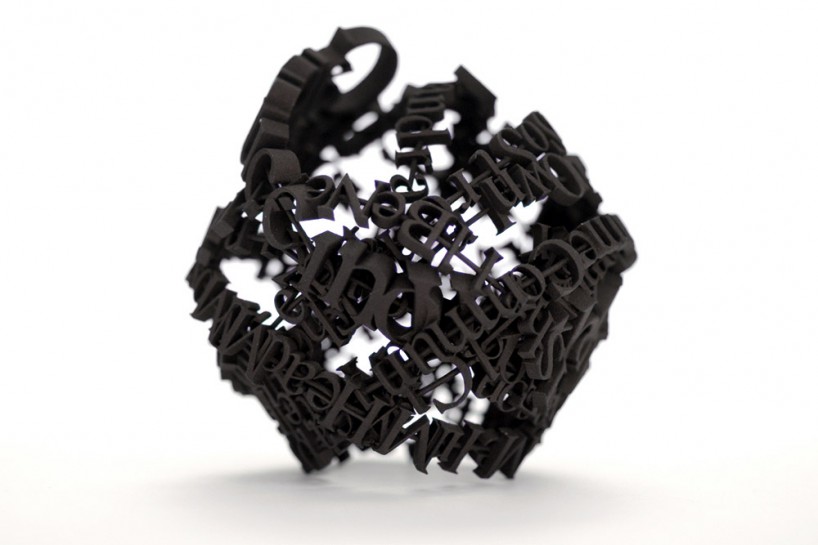 touch it, read it, keep it – 3D sculpture
DB: do you have any superstitious beliefs or self imposed 'rules' that you live or work by?
AJ: 'happiness is when what you think, what you say, and what you do are in harmony' – gandhi
FS: not sure how I feel about rules, but my attitude is to always 'embrace the unknown' – if you know what you are doing, you risk doing only what you know. in addition to that I have a few other guides, some of which I borrowed from people who were much smarter than me – for example:
keep good company
explain it to a child
believe in the magic of the mundane
show your work to your mum and dad
smile more
believe that ideas can come from anywhere, and anyone
respect the people you work with and the ones you work for
if you're not having fun, change it
DB: what do you hope to do in 2014 that you have never done before?
AJ: creatively: to write a short story and then create a short film of it. other: to convert the house to create more space with an artist studio in the garden. to learn scuba diving.
FS: I don't really like to set myself yearly goals – I no longer believe in the tyranny of the gregorian calendar. I think amazing things happen when you allow them to happen, not when december has passed and january presents you with a blank sheet. so if nothing entirely new happens in 2014, I won't be disappointed. having said that, I approach every new project with the same passion and excitement as our first one. I always want to create something entirely new and always encourage others to question any trend that might have become the norm. if this will actually result in something I have never done before, only time can tell. it might not be until 2016, but I can happily wait.
a diverse digital database that acts as a valuable guide in gaining insight and information about a product directly from the manufacturer, and serves as a rich reference point in developing a project or scheme.
designboom will always be there for you
milan, new york, beijing, tokyo

,
since 1999