interview with jessica walsh, partner at sagmeister & walsh
all images courtesy of sagmeister & walsh
jessica walsh is a designer, art director, teacher and partner at the new york city based design firm sagmeister & walsh. her awarding winning portfolio includes an international roster of identities, campaigns and commercials, websites, apps, films, books and objects, for clients ranging from a mango juice brand in india to the jewish museum in new york city. supplementing her work with stefan sagmeister, who we interviewed in 2012 on designboom here, are personal projects, each which play an important role in walsh's own life and craft. her '40 days of dating' project — an editorial and web-based work documenting the results of experimentally dating her friend timothy goodman — drew a cult following of millions, appealing to people's most intimate curiosities and sensibilities through photography, typography and original artistry.
we spoke with walsh about the evolution of her career, the biggest influences on her work and her current fascinations and creative preoccupations.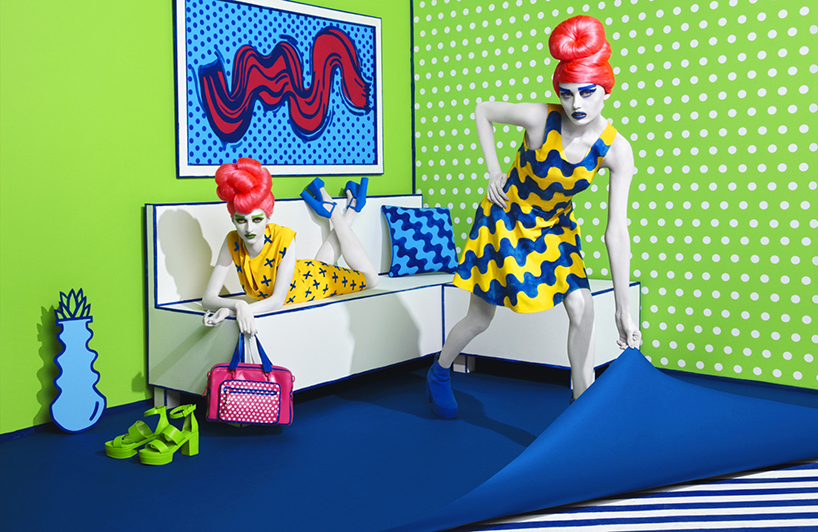 art direction and design for the fall/winter 2015 campaign of aizone, a department store in the middle east
see more about the project on designboom here
designboom: can you remember the first image or images you saw that made you think about working visual communication
jessica walsh: hello kitty!
DB: how did your interest in graphic design evolve and eventually come to be your profession?
JW: when I was twelve, I download cracked versions of all kinds of graphic, 3D software, and flash. I had already taught myself how to code websites and I became interested in how to make my websites look great beyond what code could accomplish. I did freelance web work for individuals and small businesses in high school for a few years. at one point I had the idea to create an html help site that offered free graphic templates for other kids. the site was popular financially from advertising revenue and this gave me confidence that I could turn my passion into a profession. I went to the rhode island school of design. my first year there I was forced to do all kinds of fine art classes working with my hands: painting, woodworking, sculpture, and drawing. I was only accustomed to designing with the computer so this came as a major shock to me. at first I hated it, however I quickly realized the potential to merge analogue work with digital to make it more interesting. that has had a huge influence on my work ever since.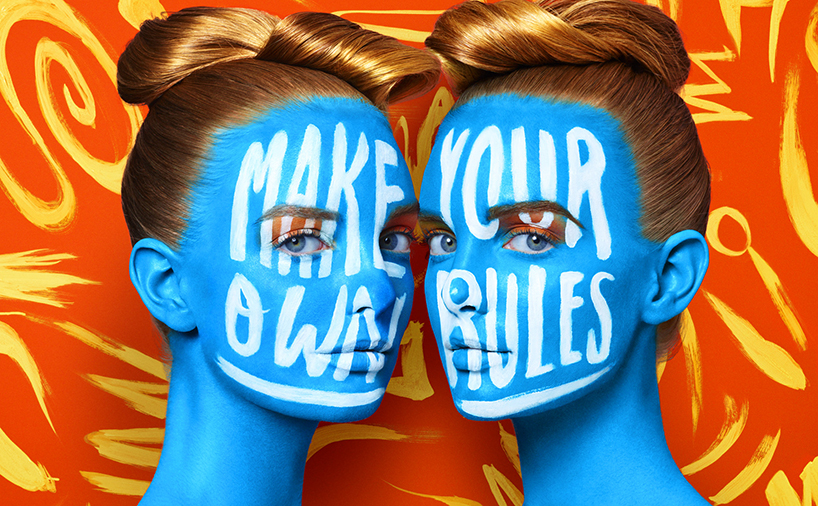 concepts, art direction and design campaign for aizone, referring to the vibrant nature of the brand
DB: who or what has been the biggest single influence on your way of thinking?
JW: my mom was an entrepreneur and having a strong female influence from a young age had a big impact on me. my mom taught me that things don't necessarily come easy in life. it's not just about being smart or talented, the key is persistence and hard work.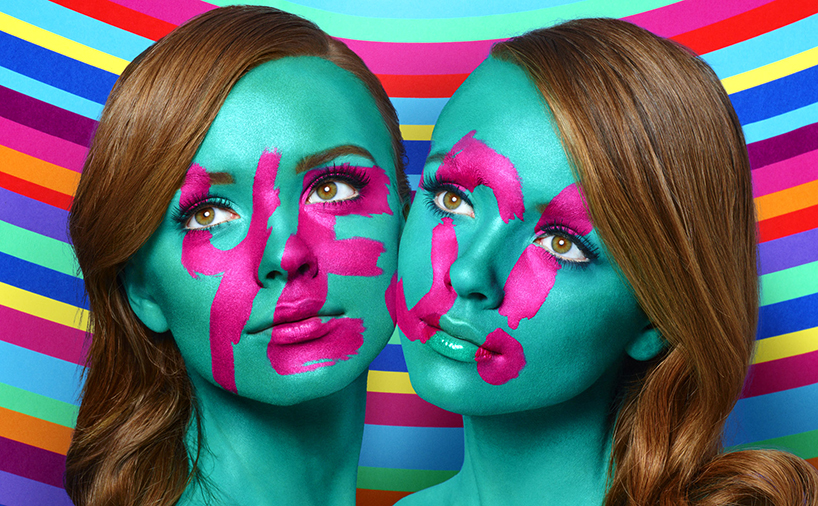 continued concepts, art direction and design campaign for aizone department store
DB: how does working in a team compare to working solo for you? how did you adjust to joining a studio and how is work shared/ split between the team?
JW: when stefan and I started working together, there was not a team like we have now. it was often just myself and him and an intern, maybe one additional designer. we've evolved these past years into doing larger scope projects where we handle all aspects of a rebrand: from print, TVC, web, photography and apps. while we've always agreed we want to stay small as it gives us many advantages, we realized we needed to grow a little bit to maintain quality and still take on these larger jobs. we're now 10 full time designers and with this size we can handle almost anything that comes our way.
I prefer working on a team versus solo, I think a collaborative effort between creatives with different kinds of skills yields more interesting results then one person could do alone. when we get a new brief at our studio we'll open up the conceptual phase to a few people on the team and then compare ideas and brainstorm together. most often the overall creative direction and concepts do come from stefan or I, however occasionally if a designer or an intern has a stronger idea than us, we'll go with it! it's all about collaborating together to achieve the smartest and most beautiful work that functions for our client goals.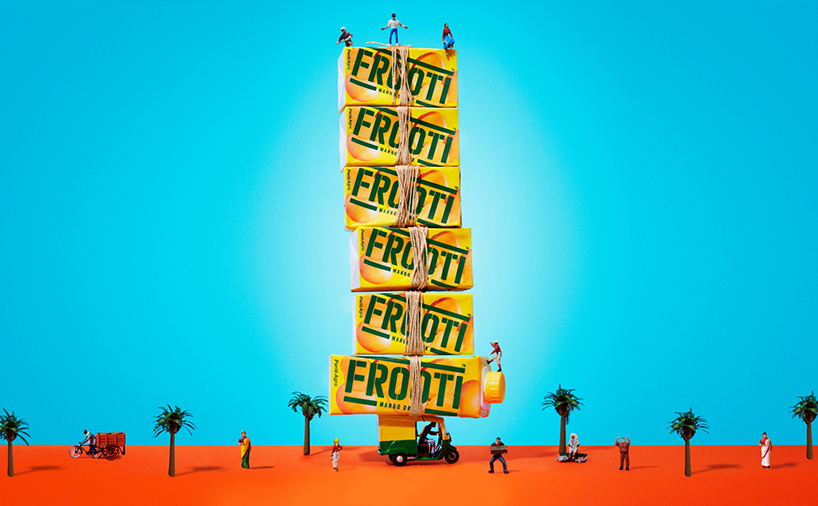 sagmeister & walsh designed a visual language,for frooti, one of india's oldest mango juice brands
see more about the project on designboom here
DB: what would you say is your strongest skills and how have you honed that skills over the years?
JW: I would say brand identities. I love conceptualizing how a mark and visual language we create can work holistically across multiple mediums: print, digital, and television. it's an accumulation of many things I love doing: coming up with conceptual ideas, creative and art direction, design, project management and client management. I am good at listening to a client's goals and restrictions (budget, timeline, etc) and coming up with solutions that function within those parameters. I've also always been good at project management and having a sense of how long things take, and keeping things on schedule. I would say over the years my process has become much more efficient and faster as I have more and more varying experiences and inspirations.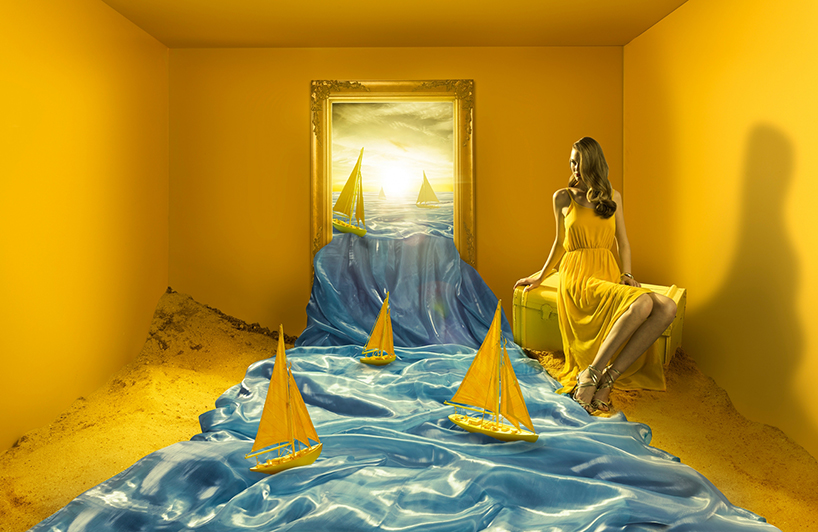 campaign for the aishti foundation highlighting the intersection of fashion and art and its location by the sea side
DB: what are your thoughts on specialization vs generalization?
JW: I think both strategies can work depending on how you position yourself and what your medium is. I see specialists doing really well when working in a very unique medium or when they have a specific style or twist on their craft. when you become an expert at something very few people do, there will likely be a market for it, even for bizarre things. I've found successful creatives specializing in things I once thought obscure: body painting, light painting, chalk board typography, bubble artistry, balloon artistry, the list goes on. it's more difficult to make yourself marketable when you specialize in something that numerous people are good at. do you know how many talented letterers and designers and photographers there are now? these are just too many people good at those crafts now. which is why I think the 'generalization' route can also work, if you can wear many hats and prove capable beyond just creative skills thats very desirable. I'm always looking to hire designers that have additional talents beyond design: whether its illustration, animation or 3D work, photography, writing skills, or conceptual skills.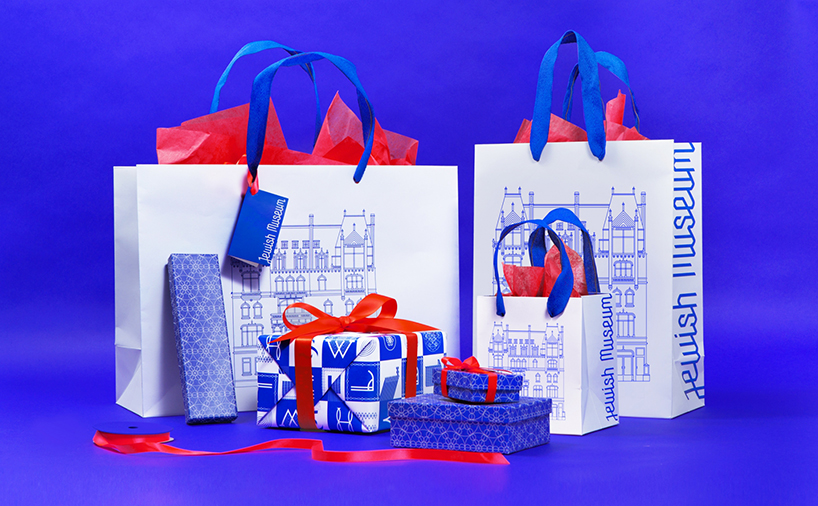 branding, bags and boxes for the jewish museum in new york city
DB: how do you think online design resources (blogs, tutorials, forums etc.) have influenced the graphic design being produced today?
JW: affordable easy access to software and tutorials have allowed many more people the opportunity to become a designer and/or express their creativity, which is fantastic! even for non-designers, there are many good tools and apps that allow you to create a website, or to make their photos look better. some professionals have negative views on the democratization of design, and hate tools like squarespace that offer services like this out of fear it will take away jobs from professional designers. I don't see it that way – I think these tools are great for individuals and small businesses who in the past were not able to afford design and ended up trying to make their logo in microsoft word. these tools make work that previously look really shitty look a bit nicer, that's all. there will always be a market for real creative work that requires smart problem solving to create custom solutions, computers can't compete with our brains (yet). its also obvious that formally our work as professionals is much better because of all this easy access from software and online resources. with expedited learning curves and production processes across the board for design, animation, 3D, processing, and other skills; it's allowing us to push the quality and styles of work we create. I think it's all exciting and can't wait to embrace how the industry continues to evolve as creative tools and technology continues to innovate.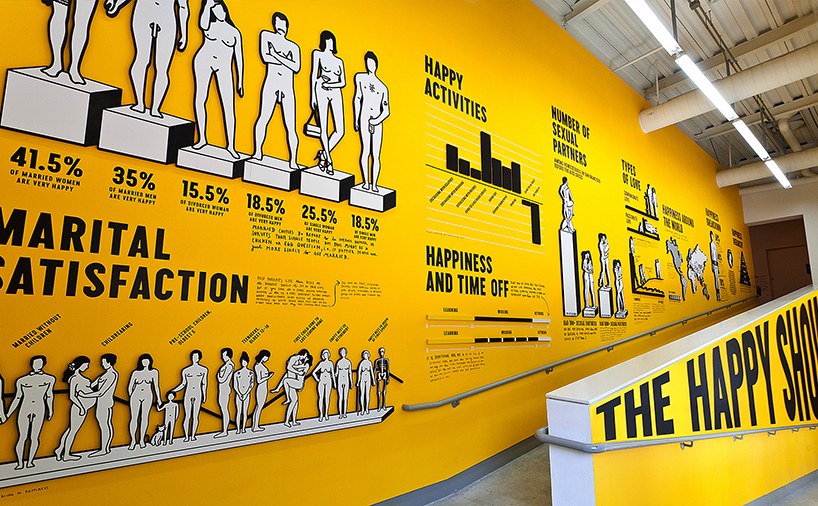 the happy show at the institute of contemporary art offers the experience of walking into stefan sagmeister's mind
read more about the project on designboom here
DB: what are you currently fascinated by and how is it feeding into your work?
JW: I'm interested in generative / interactive processing languages and how we can utilize them in our branding work. its a great tool that allows us to bring brand languages alive: whether its reacting to motion or interaction, or morph in physical / digital spaces in beautifully complex ways. it can add playfulness, personalities, or stories into the work we do. you'll be seeing more projects from us in this direction moving forward.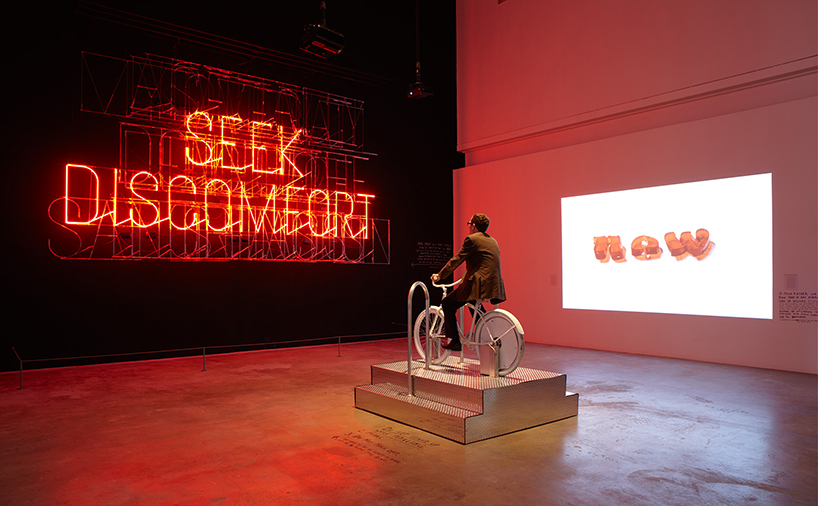 participatory installation illuminates at the happy show in philadelphia
DB: do you have any superstitious beliefs, rules or rituals that you live by?
JW: I believe in honesty and transparency. I am a very straightforward person, not only in my personal life but also with clients or our designers. I don't sugar coat things and tend to believe life would be a lot easier if everyone would just say it as it is.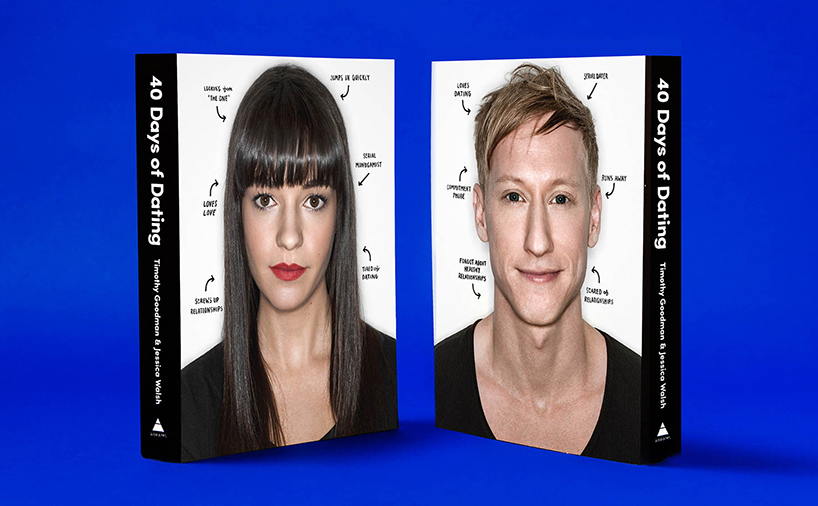 40 days of dating: jessica walsh and timothy goodman try dating and record the results in an editorial publication
DB: what's the best piece of advice you have heard and repeat to others?
JW: fake it till you make it. how I interpreted this early on in my career is that if someone asked me to do something I didn't know how to do, and I wanted to do it, I'd just say yes and than figure it out later. it's really not that difficult to accomplish any task if you use common sense, persistence, and know how to be resourceful.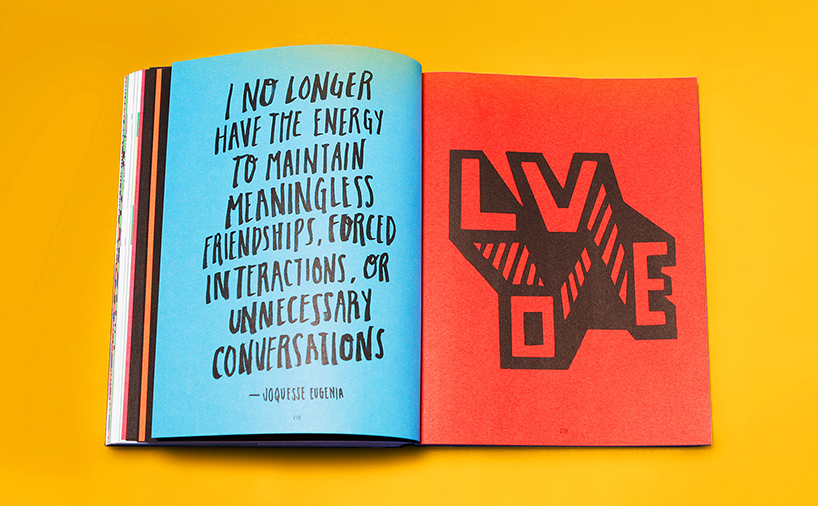 a spread from '40 days of dating', a book which includes questionnaires, photographs, videos, texts, and artworks
DB: what do you know now that you wish you knew when you were 21?
JW: doing great work is not enough. when I was younger, I didn't used to appreciate the amount of energy that goes into finding / getting the right clients and selling your ideas through to clients.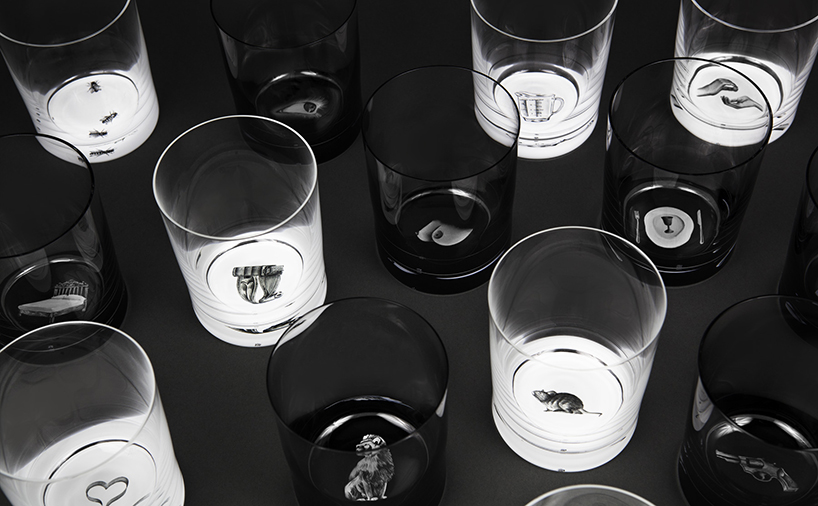 illustrations of the seven deadly sins and the seven heavenly virtues for lobmeyr on the bottom of glasses
read more about the project on designboom here
DB: what's your personal motto?
JW: perfection is boring. this goes for both life and our design work.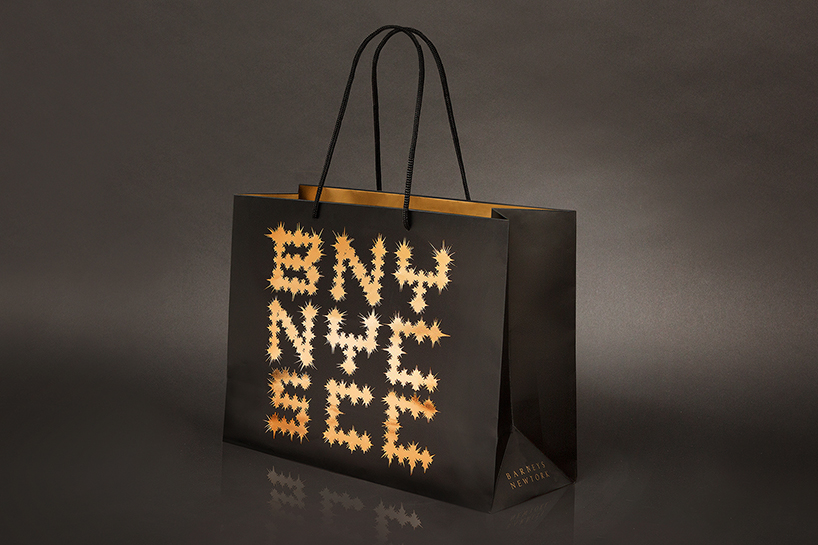 graphic illustration for jay z's 'a new york holiday' luxury line at barneys
nina azzarello
I designboom
jan 07, 2016
a diverse digital database that acts as a valuable guide in gaining insight and information about a product directly from the manufacturer, and serves as a rich reference point in developing a project or scheme.
designboom will always be there for you
milan, new york, beijing, tokyo

,
since 1999