interview with airbnb co-founder joe gebbia
image © designboom
in august of 2008, two roommates sat in their san francisco apartment brainstorming ways to make rent. joe gebbia and brian chesky, former rhode island school of design classmates hoping to come up with the next big thing, had a sudden, and brilliant, idea: they would rent out a bed (actually, an air mattress) in their house, and host guests from anywhere in the world who needed accommodation in the busy, northern california city. an annual flock of design conference attendees left hotels in the area at maximum capacity, opening up the possibility for gebbia and chesky to invite vacationers into their home for a fair price.
their scheme quickly expanded, their minds brimming with ideas — they could cook breakfast for their temporary visitors, offer them a ride to or from the airport, and open up their community of personal hotspots and must-sees in the city that only locals might know. little could the pair have foreseen that their humble, entrepreneurial beginnings would spawn airbnb — the world's leading online accommodation platform with a community of millions, a multi-billion dollar brand, and the #1 place to work in 2016.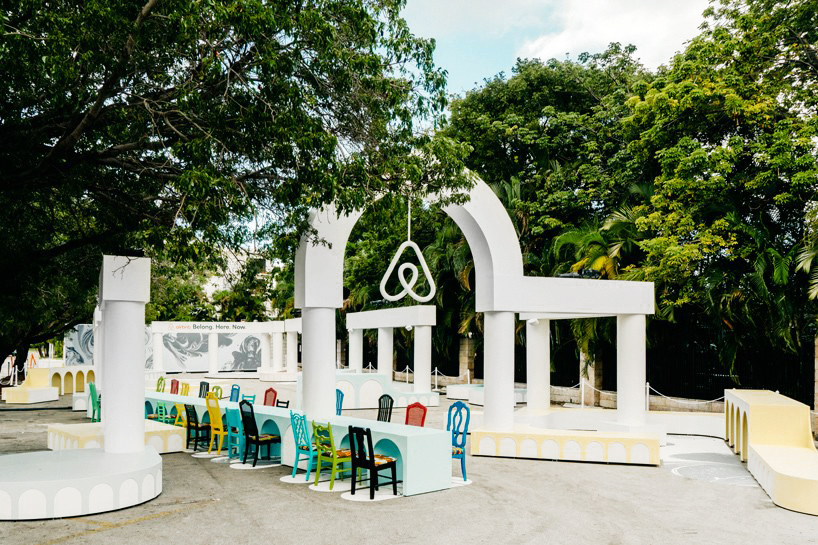 'belong. here. now.' is an interactive installation presented at design miami/ (read more on designboom here)
image courtesy of airbnb
now, airbnb has more than 2,000,000 listings worldwide. it has become a trusted community marketplace for people to list, discover, and rent unique accommodations around the world — whether it be a flat in london for a night, a castle in scotland for a week, or a villa in tuscany for a month. airbnb connects people to unique travel experiences, at any price point, in more than 34,000 cities and 190 countries.
additionally, the founding partners' attention to, and love for, design pushes the company to collaborate with creatives around the globe, bringing emerging talent to international art and design fairs, events and exhibitions. at this year's design miami/, we met joe gebbia at the site of airbnb's interactive installation 'belong. here. now.' gebbia told us about the artists airbnb brought to the event, the company's overall creative culture, and plans for the brand's ever-expanding future.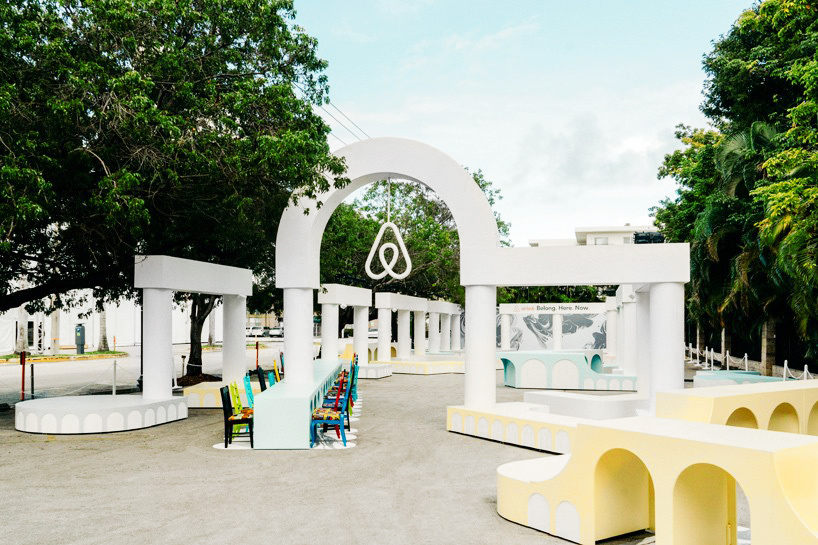 the platform hosts ephemeral and unexpected moments for visitors to design miami/
image courtesy of airbnb
designboom: tell us about the installation airbnb is presenting for design miami/ 2015. why is it important for airbnb to bring engaging spaces like these to design events?
joe gebbia: we're here in the sometimes sunny, sometimes cloudy, miami at the design miami/ fair, and right now we're standing in the middle of airbnb's intallation called 'belong.here.now'. we've invited creatives from all across the world, mainly emerging creatives and artists, to come to miami and present their work, and to have a presence here at design miami/. the intention of this is really to create a platform for emerging designers from around the globe, and we went about it in a new a exciting way.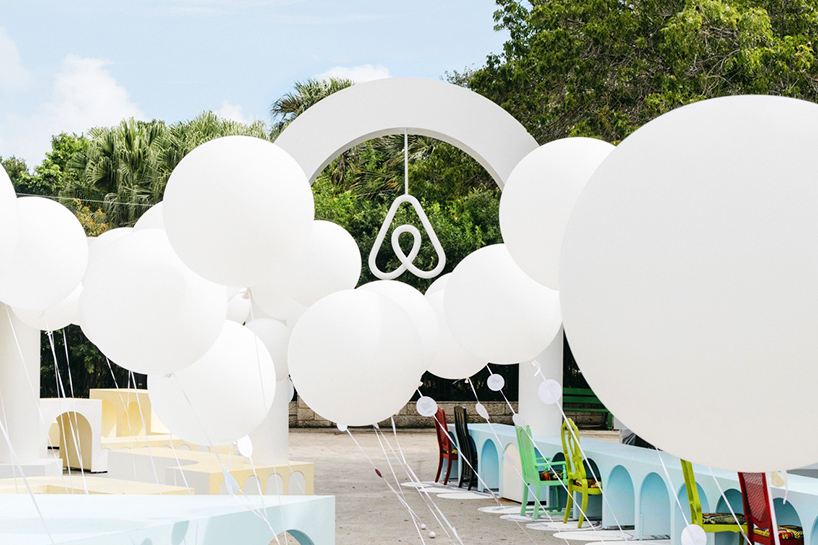 artist red hong yi installed '100 meaningful things' at the belong. here. now. space
image courtesy of airbnb

(continued) we actually went into the airbnb community of hosts and guests itself, and we put out a call for entires for ideas. we received a few hundred responses that come back in, and out of those creatives from around the world, we selected ten. they come from as far as malaysa to chile, london and even brooklyn. they range across disciplines from food, to art, to performance and music, to robots that paint portraits for the future.


airbnb co-founder joe gebbia talks to artist red hong yi about her installation for belong. here. now.

DB: what was the experience like working with these emerging creatives? was it a close collaboration?

JG: well, design and creativity is in the DNA of airbnb. my co-founder and I graduated from the rhode island school of design and I believe that the company is a true reflection of the founders and what their interests are. so at airbnb, we have a beautiful mix of art and science given the unique composition of the founders — design and computer science.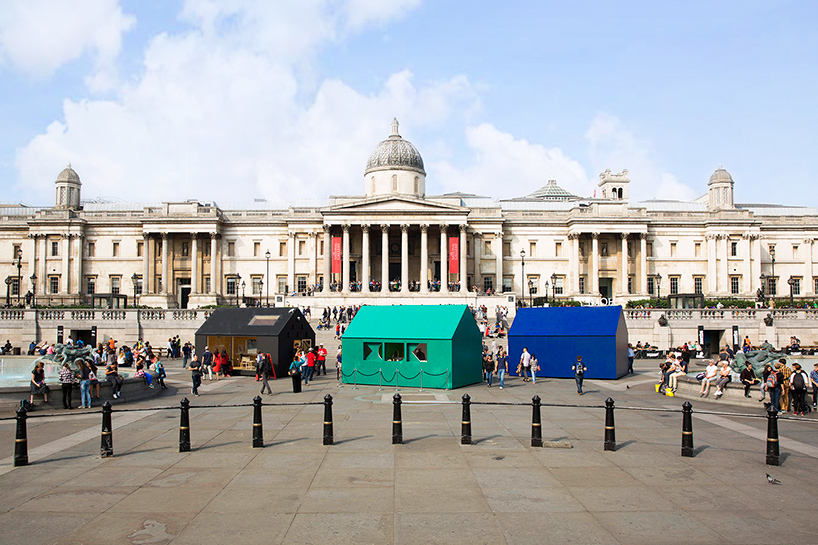 airbnb's 'a place called home' installation was presented during the london design festival 2014
(read more on designboom here)
DB: how important is design culture at airbnb? how has it evolved from since the company's inception?
JG: I think design culture has been one of the key parts of airbnb's growth and global expansion. there have been existing websites before where a person could go and rent rooms, but I think one of the things that really differentiated us was that we designed a more intuitive visitors interface to reach those groups that are seeking accommodations.
we lowered the bar for entry for people to try a new way to travel, and we made it easier for people to book rooms and stay at places around the world. but I really think it was because of design that people felt more comfortable to say 'well, I think I'll try this new way of accommodation, I'll stay with someone I haven't met yet.' design was the tool for us to communicate the levels of trust people need to make that decision.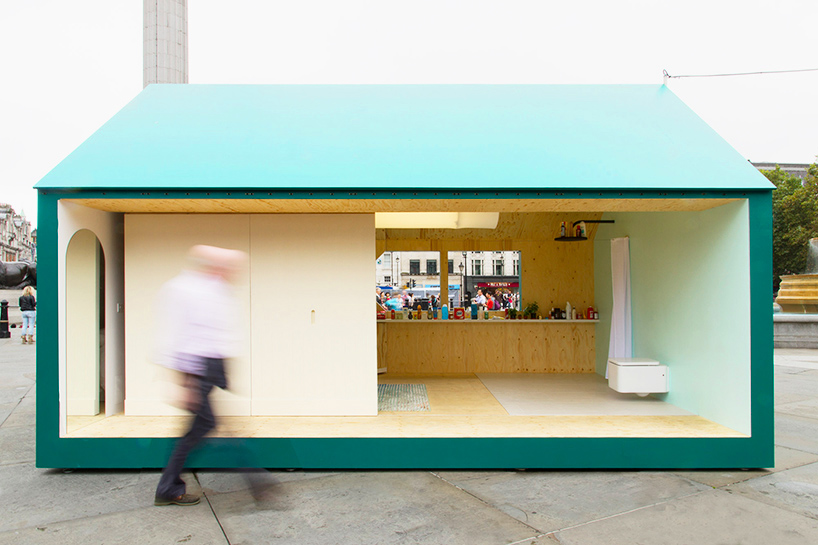 the interpretation by raw edges shows how a flexible setting with movable exterior panels offers freedom at home
image courtesy of raw edges
DB: in the world that tends to be dominated by big businesses, companies like airbnb, uber and kickstarter have created space for newcomers, small studios and individual business people. how does airbnb give confidence to those people?
JG: at airbnb, we feel like we have a responsibility to be the stewards for a community of hosts and guests around the world. there has now been 60 million people that have stayed with us worldwide and there's hosts in 191 countries and over 2 million homes listed on airbnb. so we feel a great deal of responsibility to be the right stewards to our global community.
in many ways, the reason we're here in miami is to be the stewards of a global group of artists and creatives. with airbnb, we created the platform for guests globally, and now we're here at design miami/ to make that same platform for emerging creatives and help amplify their voices so that they can be heard and be a part of it.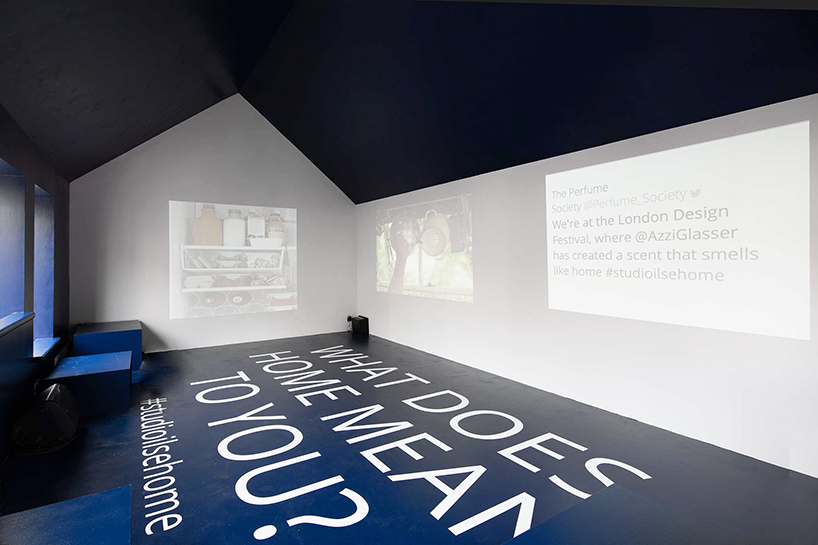 for its participation in 'a place called home', london-based studioilse wanted to engage visitors on a sensual level
image courtesy of studioilse
DB: how has your personal life changed since we met you at the designboom mart before founding airbnb?
JG: designboom has had a very special place in my role as a designer since graduating. you could say I got my start growing with designboom with one of my very first products. and so, what's changed since then? being able to see how design can affect and change millions and millions of people. the way that you can put an idea into the world, and it can have an impact on people's lives in parts of the world you never could have dreamed of…

airbnb's fully functioning floating house sets sail along the river thames (read more on designboom here)
image © mikael buck / airbnb
(continued ) we have hosts in cuba now that see an incredible benefit of having airbnb in their lives. the average income for people in cuba is about $40 a month, whereas the average income through airbnb is about $250. so for people there, making a few months worth of income with just a few reservations of hosting guests in your home is really incredible. what's changed is that I can really see the power of design as it cascades around the world and the way it touches people's lives in almost every country.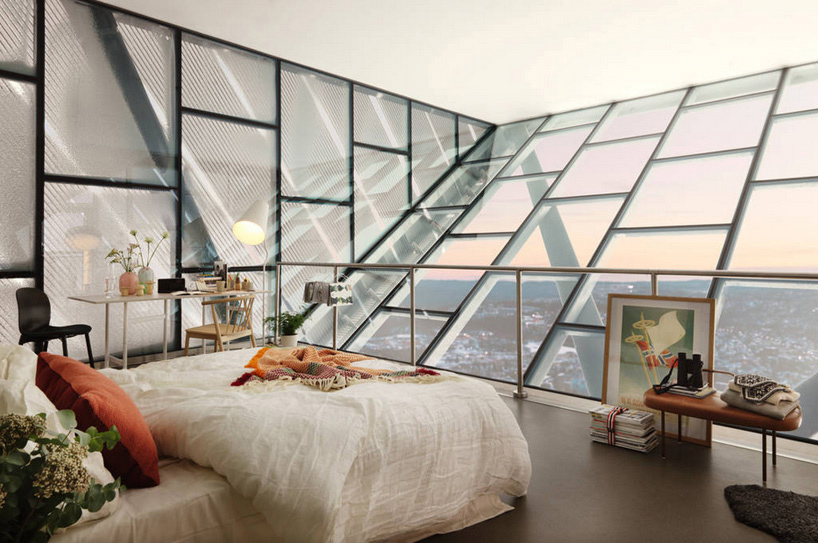 airbnb converts JDS-designed holmenkollen ski jump into a penthouse (read more on designboom here)
image courtesy of airbnb
DB: what has surprised you about the success of the company? did you always expect airbnb to become what it has today?
JG: airbnb has been a total dream come true. it has exceeded our wildest expectations. its just so enjoyable to see that the effort that goes into crafting good design and caring for all the details was worth it. it is worth it, to put in all that effort, to do what designers are responsible for doing, to be the best designers in the world they possibly can, and it doesn't matter if that's a product, it doesn't matter if its a service, an app, a website, an installation, a chair — that's our job as designers, to put the best design and best aesthetic out in the world that we possibly can.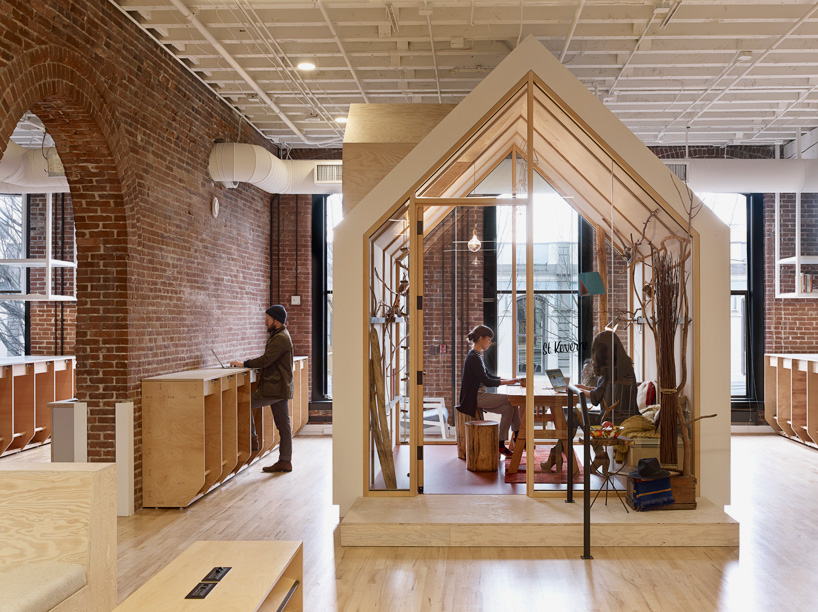 airbnb's portland office offers a diverse range of working environments (read more on designboom here)
image © jeremy bittermann
DB: what are the future plans for airbnb? any ideas to collaborate with other companies, creative events…?
JG: well, we're here at design miami/ with this installation belong.here.now and its really just a continuation of the thread we've been on. at london design festival last september, we hosted four studies in trafalgar square who put their best foot forward around the idea of what 'home' meant to them. and that was us supporting two up-and-coming studios and two established studios. then, this past april at salone del mobile in milan, we partnered with fabrica, the design school, to help promote their emerging talent and next class of creatives.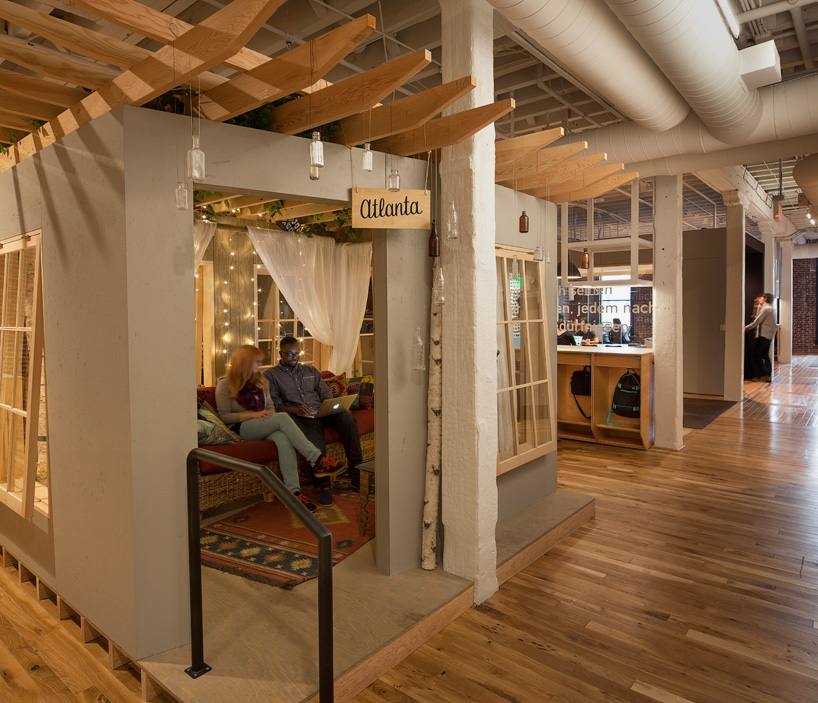 instead of personal desks, a range of working environments have been developed
image © jeremy bittermann
(continued) with them, we did an installation at the palazzo crespi around the moment of 'hospitality' in relationship to the home. given the international presence of fabrica, and the beauty of the palazzo, the event really created a one-of-a-kind showcase for the students' work. we had about 400 journalists come to see the students' creations so that was really about amplifying the voices of those up-and-coming designers and creatives. the thread continues here in miami — we have 10 designers from around the world who will be using this agora installation to share their voice and amplify their creativity for the whole audience that is is town this week.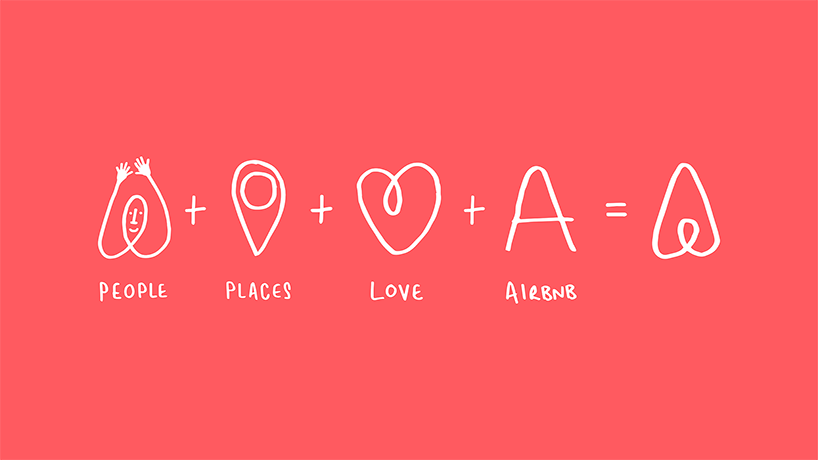 in july of 2014, airbnb unveiled a new branding system for the company (read more on designboom here)


airbnb: the story of how a problem turned into an opportunity to host people around the world
video courtesy of airbnb
nina azzarello
I designboom
dec 11, 2015
KEEP UP WITH OUR DAILY AND WEEKLY NEWSLETTERS
a diverse digital database that acts as a valuable guide in gaining insight and information about a product directly from the manufacturer, and serves as a rich reference point in developing a project or scheme.
designboom will always be there for you
milan, new york, beijing, tokyo

,
since 1999