lapalma, a furniture brand based near padua in north east italy, has been manufacturing for the residential and contract markets for over 40 years. started back in the 1980s by brothers dario and romano marcato, the success of the company has been the result of a lot of hard work with equally as much passion. their products are renowned for their use of pure materials like metal and timber, to form timeless designs with clean, fluid lines and surfaces. their good design mixed with a strong aesthetic appeal and personality, has led to their furniture being commonplace across the globe, residing in hotels, shops, museums, and airports. their most well-known pieces include the 'LEM' stool, the 'COX' chair, and the 'PASS' chair among many more designs.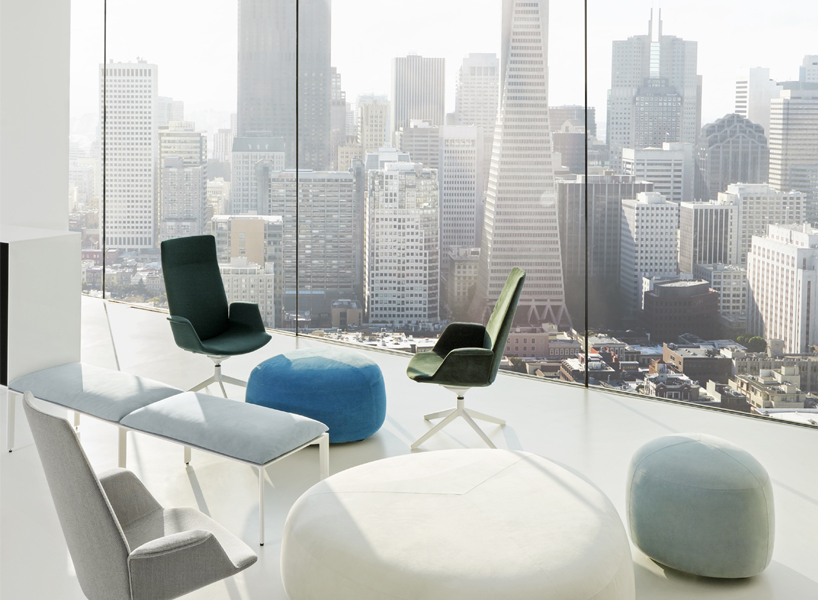 the 'KIPU' ottomans dot around the 'UNO' chairs
all images courtesy of lapalma (unless stated otherwise)
2013 marked a significant year for lapalma as they appointed francesco rota, an italian interior and product designer, as their art director. although bringing in a new direction with many key focuses, francesco has ensured that the brand has stayed true to its identity, continuing to produce elegant, up-to-date designs. as part of this modified brand philosophy, the furniture further emphasizes craftsmanship, its italian nature, and style that appeals to the senses. these changes have introduced new fabrics, padding, leathers, and color palettes, and have developed variations on the product lines, resulting in an even more diverse portfolio. this is mainly showcased in the contract market but is becoming ever-present in the light office segment, as shown at the 2016 orgatec fair, and the home and outdoor sectors. taking a look at their latest innovation in the home environment, designboom visited lapalma's stand at the imm cologne 2017, where they presented their image of the lounge theme.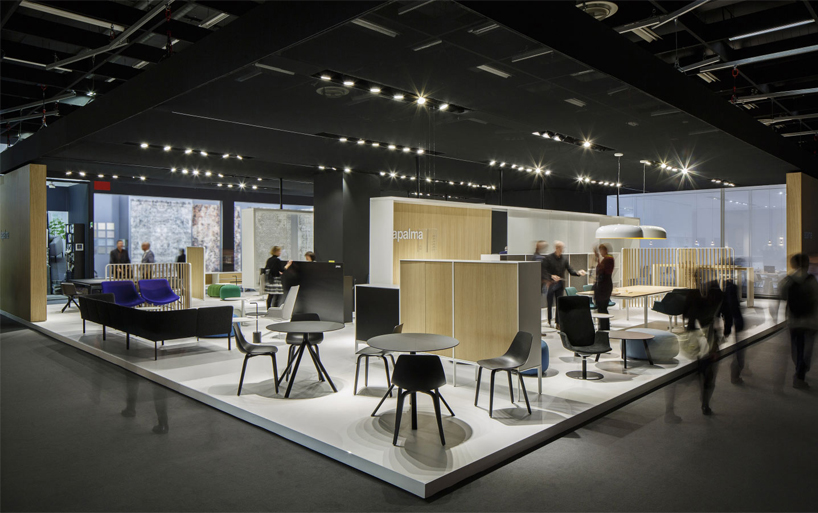 lapalma's stand at the imm cologne 2017 is divided into seven different zones
displaying minimalist elegance with excellent manufacturing technique, the furniture brand's imm cologne exhibit revels around the theme of 'home. the new warmth of lapalma'. as spaces are becoming more collective in terms of designated use, they are requiring solutions that facilitate a comforting, intimate environment where people can gather in a homely spirit. lapalma's stand with its seven different areas, showcases this and presents 'crossover' products that fit within any contemporary interior. offering flexibility through modular means, the 'ADD' system – first released in 2014 – has been improved to feature 'ADD-T' tables and 'ADD-S' storage units. modularity is taken a step further with the 'UNO' seating system which starts with a single shell and then, thanks to different seat-backs, upholstery and finishing, creates a personal piece of furniture. furthermore, the 'SCREEN' partitions which help to divide up the stand, offers privacy yet openness with its multiple wooden tube design.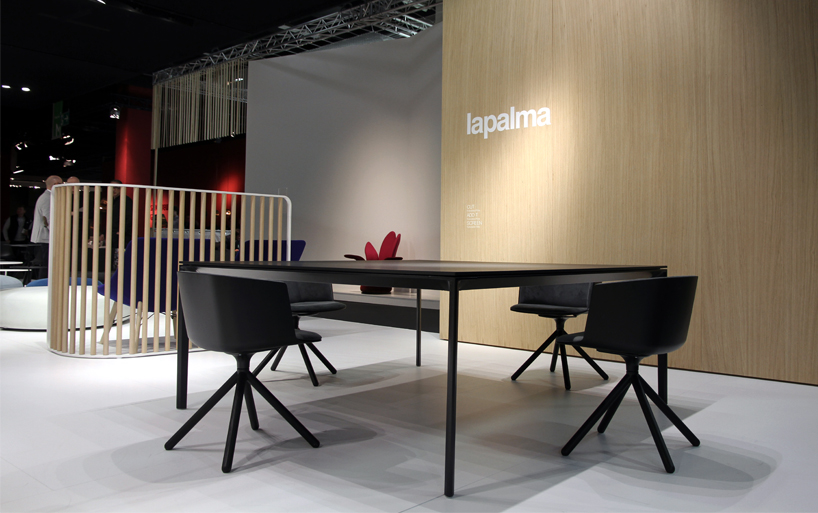 the 'ADD-T' table features die-cast aluminum legs
image © designboom
to gain further insight into this prestigious furniture brand, its heritage, its products, its craftsmanship, and its new design direction, we sat down with lapalma's CEO dario marcato, and art director francesco rota, at the imm cologne 2017.
designboom (DB): can you explain the design behind lapalma's stand at imm cologne, and why the space is divided into separate areas?
francesco rota (FR): basically it is divided into seven different areas in total. historically, lapalma, especially since 2000 when they presented the 'LEM' stool, has focused on a new direction on contracting. since then, they have been very strong and highly recognized as stool producers. in fact, most of their turnover is based on stools so accommodating high seating and high tables is one of the most important aspects for the company. when I met dario marcato in 2012, I started as the art director of the company and I proposed to enlarge the production to tackle 75cm tall tables and also pieces within the lower, lounge area. this was to highlight the different areas and directions that the brand is progressing towards. instead of putting all these products together which would be kind of chaotic, the creation of little zones explain the items much more clearly, and so this is what we have done here at the imm cologne. being clear is one of our key points. I personally try and use this everywhere in my work but it is also a fundamental aspect of the company; to be clean, crisp and clear. we do not want to mislead our customers and clients, or give them strange messages from our brand. we want to make our customers absolutely clear on what we are doing and what the brand stands for. the seven areas reference the 'home' topic of the imm cologne fair; lounge spaces including sofas, stools, low tables, lounge chairs, dining tables, and cabinets. in order to create a very strong brand identity, you need a complete interpretation of the contract and of the home. you cannot just design one section of the home, but then again, we cannot just move into kitchens or bathroom design.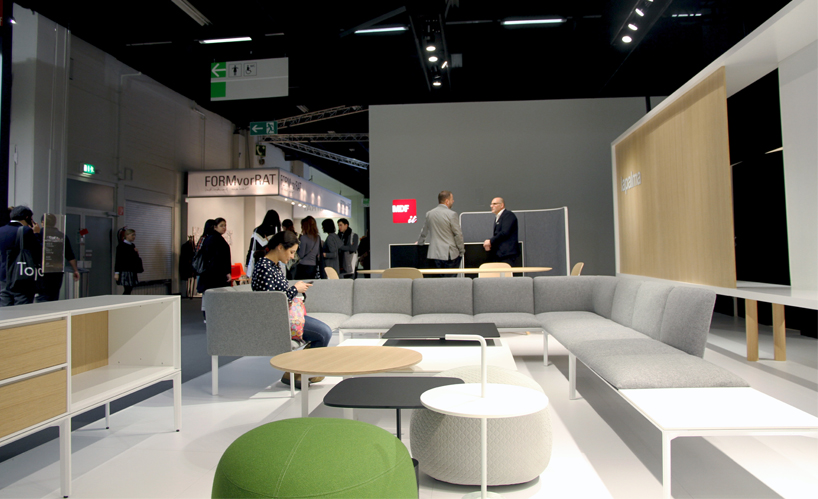 following the home theme of the fair, the brand showcases their new warmth
image © designboom
DB: lapalma's stand at the imm cologne is called 'home. the new warmth of lapalma.' what are the ideas behind this aim, and why was this theme chosen?
FR: 'the new warmth of lapalma' first of all relates to how lapalma presents itself at a fair (imm cologne) that focuses on the home interiors, but that is not all. when I started as art director for lapalma, the brand used basically steel and wood. in my perception it was a kind of black and white company, whereas I wanted to enhance the "italianity" of the brand – because we are an italian company, we are based in padova, the name lapalma itself sounds italian. thus I chose to introduce new materials. after exploring softness, colours and textiles, this new warmth references the return of the wood as it is the true soul of lapalma. now it is the right time to bring this back and show it again. lapalma has evolved while remaining true to itself.
DB: how did you decide that it was the right time to reintroduce the wood?
FR: we don't want to deny what lapalma did in the past. we have a rich history that we are proud of. we still have metal, although it is now painted, so we did not want to completely forget about wood. this is a very important part for interior furniture. as well, we are looking at the light office, and how the walls of typical offices and work spaces are changing and slowly becoming part of the domestic area. the two spaces are more intertwined or contaminated depending on how you perceive work! it is for us to offer more home-like finishes. people want to work in a more comfortable way. we have doubled up on the light office collection as on one hand, we have more classic designs and on the other hand, we have extremely modern products. the meeting area is not just a table, it can also be a bench system with a backrest where employees sit around comfortably on upholstery and exchange ideas. it then has accessories like small tables and tablet supports so that people can basically have a meeting in a more modern, comfortable, and different way than to that of a traditional office.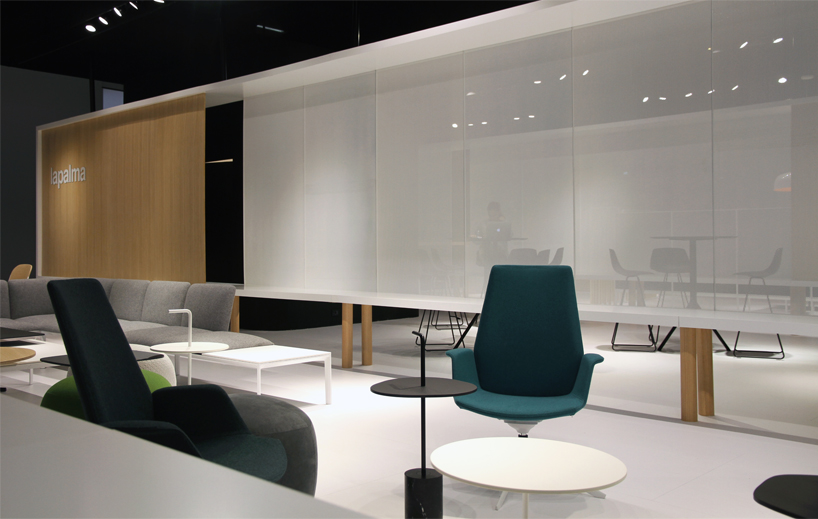 flexibility, personality and 'italianity' are key focuses for their furniture
image © designboom
DB: with francesco joining the company in 2012, he has brought a lot of change in terms of direction. how important was it to get his influence in the brand, and is he taking you in a direction that you were aspiring or hoping for?
dario marcato (DM): we were waiting for francesco for three years! it is my feeling that as art director of lapalma, you have to know the proper design and identity of the brand. I did not know francesco personally, I didn't know whether he was nice or not, but I did know that he was the right man for us. we discussed the amount and then we arranged the marriage. I like francesco, I like the way his mind works, and his design philosophy has a wow factor. that is exactly what we wanted and he has delivered it for lapalma ever since. everyday, francesco brings another new and different idea or concept to us. he pushes us quite a lot.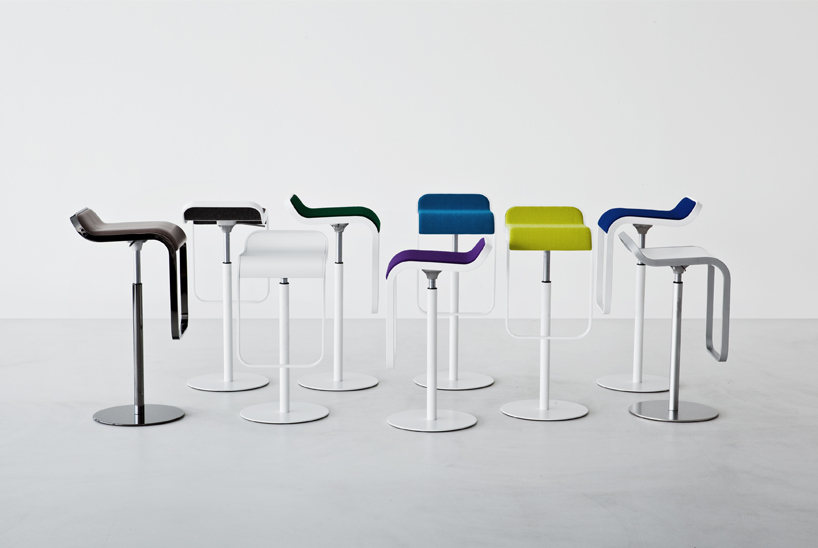 the 'LEM' stool is a significant design for the brand
DB: does francesco ever bring ideas to you which are not possible or are not in a direction that you agree with?
DM: even his most adventurous ideas do not scare us because those kinds of concepts and that way of thinking is exactly what we wanted from him. it is very easy and interesting to work with someone with a mind like francesco's. the whole aim was to enlarge the philosophy and direction of lapalma so we explored many different ideas to achieve this.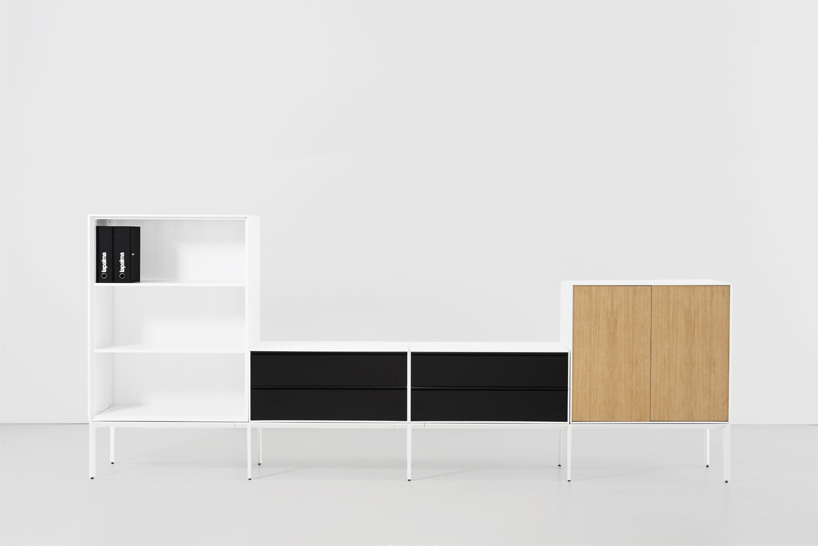 the 'ADD-S' storage system is available with three different heights and in many different materials
DB: lapalma's furniture display qualities of cleanness, lightness and clarity. is this a key philosophy for your style of design, francesco, or have you adapted it to fit with the brand?
FR: I am a very curious person and I am very passionate about almost everything. I love to go to japan and take a lot of influences from there. I like old cars and old architecture but at the same time, I always look at what is next, what the future for design will look like. I am divided by two opposite ways of thinking; super modernism and past designs. the latter is because I think that traditions are very important, and in the past, a lot of things have been made beautifully in their own sense, whether that is being well produced, durable, or with good aesthetics. there are a lot of values in past designs. as I am so interested in many different things; culture, art, architecture, I also like many different expressions. there are some designers who are very one dimensional. they use the same approach for everything so when they work for certain companies, the company's work becomes a little bit like the designer or in certain cases, they become completely like the designer. I studied at an american university, the art center college of design in pasedena that has a campus in switzerland, where they taught me to be like a consultant to my clients. I am not the artist, I am their consultant, making informed decisions for them. personally I adapt to the different companies. I offer the best that I can offer, the best of my professionalism whilst respecting what the brand stands for. I have designed for paola lenti since 1997, paola lenti is not the complete opposite to lapalma, you can find some similarities, but they are very different. I always try to understand what the identity of the brand is and then work on pushing this even further. with lapalma I go in one direction and with paola lenti I go in the other. I do not like to do the same thing for more than one company. if I did that then the brands would just look like my identity.
when I arrived at lapalma, I started to plan the strategies to push them forwards in the right direction. I really investigated what lapalma was at that moment four years ago, and I tried to understand all their values and then express them even more so. their soul is richer, more expressive, and more communicative. as well there is a better coherence between all the products. there are lapalma products which were created by different designers but fit so perfectly together that you would think they were thought by the same person and made as a proper set. the work here is not my identity or the identity of any other designer, it is that of lapalma. this is very important as it shows why the brand is different to any other furniture manufacturer. it is strongly, firmly, and clearly lapalma's identity. it has always been there but we are working on making it more clear, more expressive, more communicative, and more italian.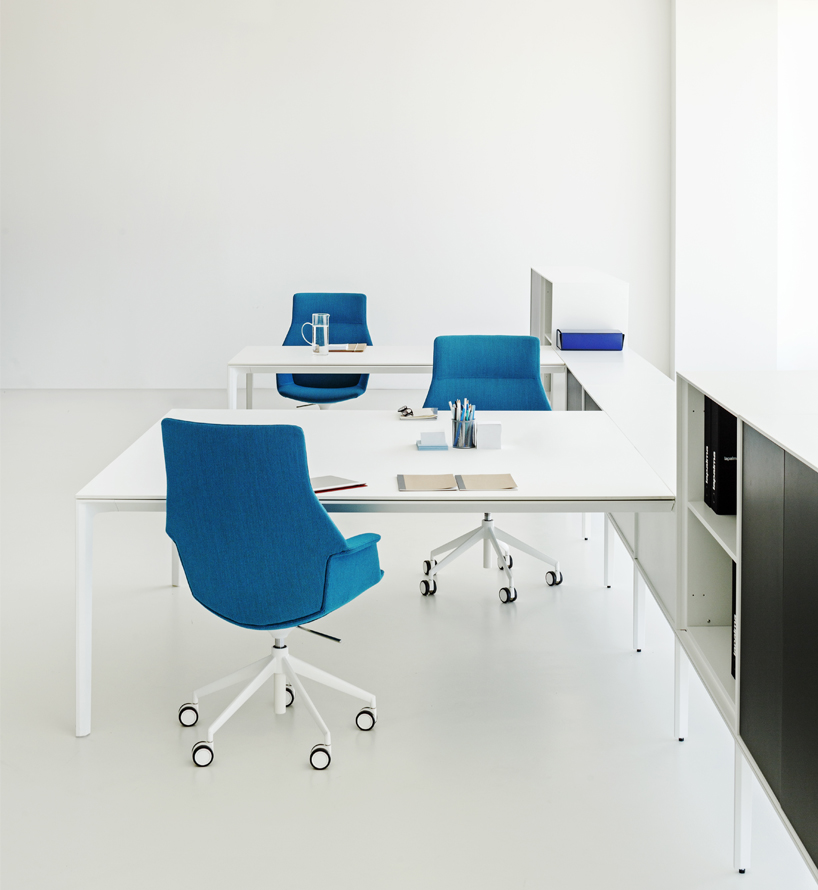 the 'ADD' system offers the complete modular collection
DB: with a new focus and direction for the brand, how important is to present lapalma's furniture at fairs such as the imm cologne 2017?
DM: maybe imm cologne isn't the perfect fair for lapalma but in some ways it really is. more than ever lapalma is contract and project orientated. at the same time, the german market is very strong and has been so since the brand first started. we have been suppliers for many projects and clients, including lufthansa, AUDI, and porsche. the german market is so important for us. at the imm cologne fair, most visitors are looking for residential furniture so maybe they will not find the right 'cosy' atmosphere. in spite of this, they will find the brand, they will see our name, and this has been the case for over 35 years now. we have been one of longest and oldest customers for the imm. one way or the other we had to be here, to showcase our new work and to reinforce our brand.

with two different heights, the 'ADD-T' is suitable for working or relaxing environments
DB: could you talk about some of the new products that lapalma are showing at the fair?
FR: UNO project was born around the idea of industrial customization. there is a very strong trend at the moment that looks at bespoke furniture, but only craftsmanship companies can achieve it. we produce in an industrial way because we want to achieve quality and because we want to have durability. when you invest in a die cast, you can design the pieces much better and thus give the products more personality. together with this, you can add the latest trend which looks at the competitive price. if you produce industrially, you can reduce the price in a very interesting way.
going around this argument of reinforcing the brand, we are also using industrial methods that allow us to produce products that can be flexible in two ways. for instance, the 'ADD' system is produced with two different die-cast legs. one is a corner leg and the other is a 'T' leg that joins two frames. these have the same profiles and can also be used as the legs of some of our tables, where its length can be cut to different heights. we deliver products that are special and are of a definite measurement. we can create the type of dimensions that the clients desires. this flexibility comes from an industrial company but appears as if it has come from a craftsman company instead. it is not such a revolutionary process as it is in the nature of our products to be flexible. the 'fork' table was made with cast aluminium parts which act as the connector where the two legs start. the profile can be changed to be made shorter or taller in order to offer tables with different heights. this flexibility is extremely important and is one of the new topics of lapalma's identity. our products can adapt but yet still maintain the level of quality, the interesting price, and the old characteristics renowned for the brand. it is a quite interesting topic that not many companies work on apart from us. in this manner, the 'UNO' chair system is very easy: two different seats combine with five seatbacks. thanks to all of these possible combinations the customer can choose, according to its needs, among a lot of seating types: operative, executive, for meeting or lounge areas, for living rooms. furthermore, the chair comes with several varieties of bases; ones on wheels for the office, the desk and four forked bases for the lounge, and wooden legs for more domestic spaces. we are also creating even more options in the future. clients can make choices depending on price, where it goes, comfort, according to whatever they prefer. by doing this, we offer a comprehensive pricing list which also shows the color options as well.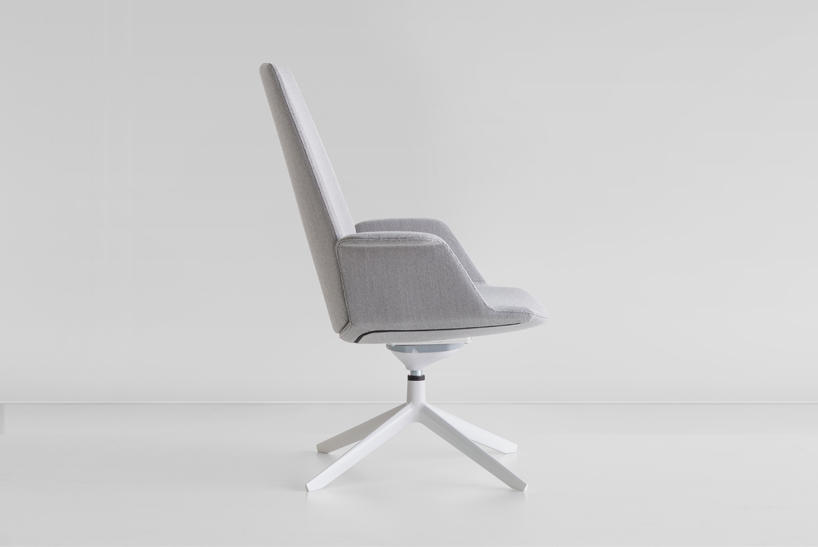 the versatile 'UNO' chair can furnish any contemporary interior including both offices and lounges
DB: do you make your products specifically for each contract or are they readily available for purchasing individually?
FR: we have a warehouse where we store the seats, the second type of seats, the armrests, the backrests and the bases. then the order comes in and it can tell you what the client wants; 'three chairs like this…', 'five chairs like this…' or '100 chairs like this…'. the numbers are usually in the hundreds each time. the parts are then assembled and delivered to the client. one very interesting characteristic of lapalma is that they deliver very quickly. usually companies ask for a minimum of eight weeks, whereas we deliver within a minimum of four to eight weeks. obviously special pieces are different and can take much longer. if it is according to program then it is pretty quick.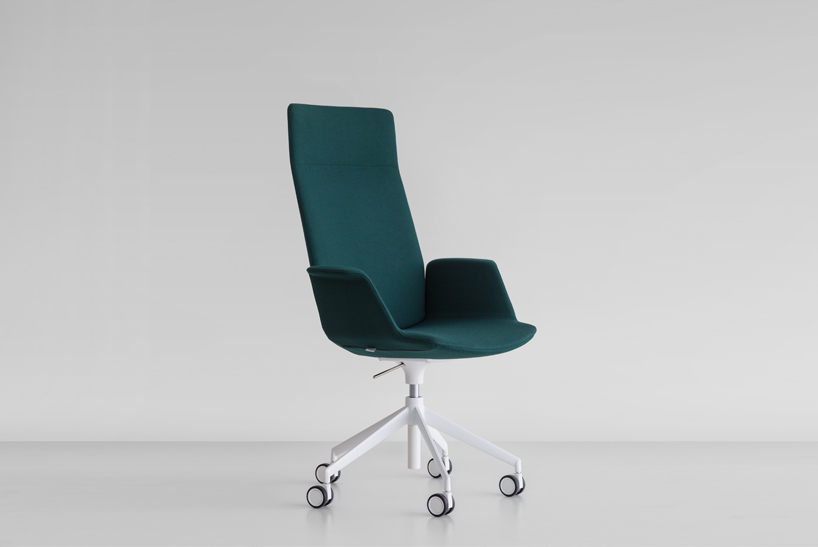 the chair is available with four different seat-backs
DB: you must have large factories and warehouses to be able to manufacture, store and assemble these large orders.
DM: basically everything is concentrated in one facility in padova, italy. we do have some out-sourced parts for products, but we can say that we buy raw metal and we start from laser-cutting and bending. these parts are totally internally manufactured. we have our own wood working department, and since last august, we have had our own internal upholstery department. slowly but surely we will be able to say that we can produce almost 100% of our furniture. what is out-sourced is matte-chroming, lacquering, vanishing, die-casting aluminium, and aluminium profiles as they are bought and then cut. our factory visits are a big part of the company, where we invite architects and interior designers to our facilities for training lessons. with agencies and dealers, we organise one day meetings at lapalma to show clients who we are, what we can do, and how we can make these products. this is an enormous benefit to us as well as architects, interior designers and decision makers. after visiting our studios, the clients feel more relaxed and secure because they know exactly how our products are made. it is a big advantage as it is no longer a question about selling products. there are thousands of chairs and stools in the market but the important thing is to show how they are made to high quality and for longevity. you can only show people this by inviting them to see it. it is a different approach for the company as it is less commercial and is more technical. technology is extremely important nowadays, especially for these types of products.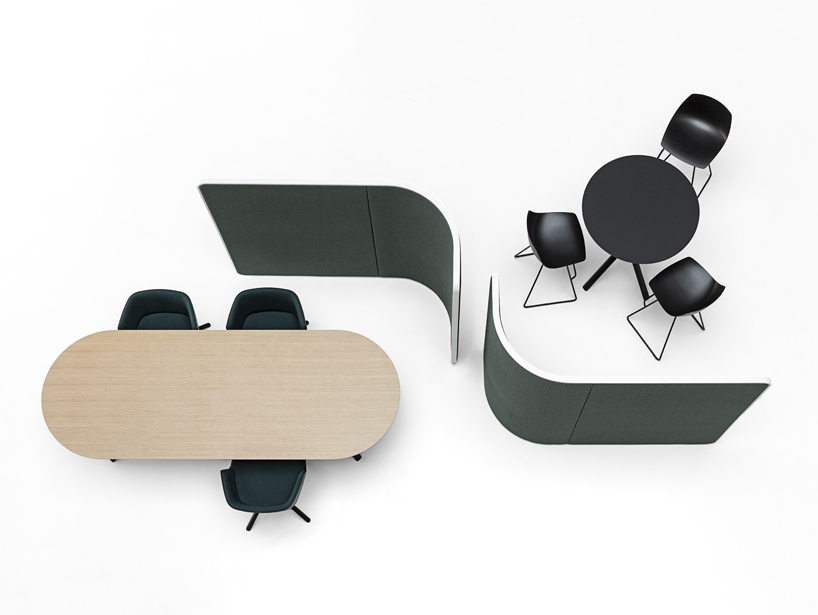 the 'SCREEN' partitions are available as wood tubes or upholstered fabric
DB: acoustics seem to be a key focus for furniture dividers at present. what were the reasons for lapalma's 'SCREENS' to be so different from this trend?
FR: this project is very interesting. I was looking at room/space dividers without acoustic characteristics because it is quite boring as everyone is doing it. I don't like to follow the others and would much rather write a trend myself or at least try and do so! a piece that I made for some of my first fair presentations for lapalma, was very successful and used metal tubes to separate spaces. I wanted something that would divide the areas in order to better explain products, but I didn't want it to be a wall. I wanted people to be able to see through it still. the tubes ensured that the space was still open. the interesting thing is that while we were talking about room dividers, they asked me what I thought we should do. I said, 'don't worry, I will give you a solution'.
DM: some clients actually asked to buy the tubes for their shop so we decided to make a product out of it.
FR: first of all we made the free-standing piece. it is an L-shape and can be used to create little rooms in all sorts of configurations. with the 'SCREENS', you can attach one piece of furniture to the other with magnets. we then made a fabric one and also made another one with a perforated metal sheet as when you create intimate areas, they should still be transparent. it makes the space separated but it does not close it off or isolate the area. I do not like this idea in the office to create capsules. I think it works but I don't like it. we should enhance the large open spaces which are in today's architecture. its beneficial; you can share it and can create more intimate spaces if you wished.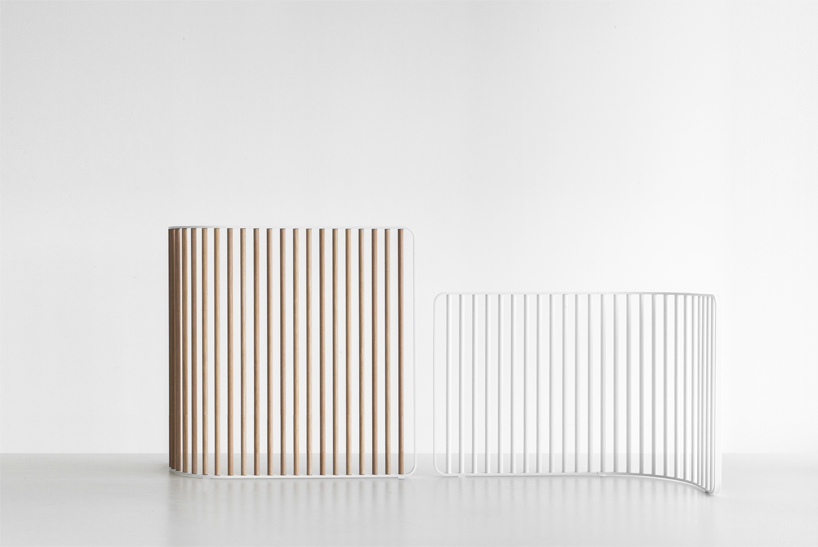 the 'SCREENS' define separate areas and gives them a sense of privacy
DB: finally, what can we expect to see from lapalma at the milan design week 2017?
FR: we have a general catalogue with all our products in but I choose themes for us to focus on. first of all we have satisfied the lounge theme where we designed upholstered lounge pieces. after that, we have the light office that we presented at the orgatec 2016 fair which was more of a preview rather than the whole collection. we will make the full catalogue of the office in april for the salone del mobile, milano. it will include a height adjustable table and stool which will really complete the office set. stools are a topic that is embedded in the DNA of lapalma. they are an evolution from the 'lem' stool which is still a big turnover for us. however, we do want to investigate and explore more freedom within this field. the stools that we consider could be gimmicky, serious or strange, we could do almost anything as long as it does not go against the identity of the brand. one stool will be portable so people can carry it like an umbrella. the other one, instead of being straight, will be inclined for people to lean against, rather than sit on. around next year, 2018, we will focus on the outdoor theme, but will stay away from sunbeds and loungers. as well, we will also design for cafeterias, dining areas, and restaurant hotels. these are the two main themes but I believe that we will also add a theme of economics so entry level products soon.
DM: I'm afraid of all the news for salone and their deadlines!
FR: I forgot to mention, on top of all this, we are also going to re-design a spaceship!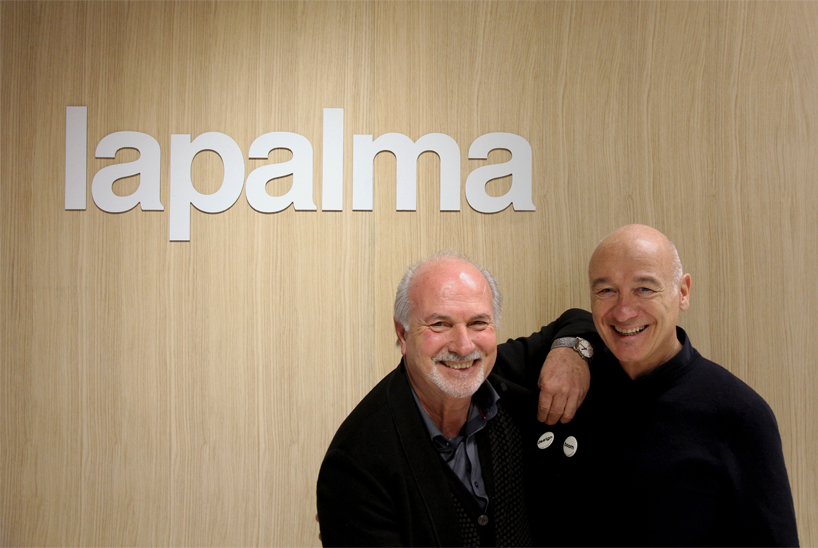 lapalma's CEO dario marcato (left) and art director francesco rota (right)
image © designboom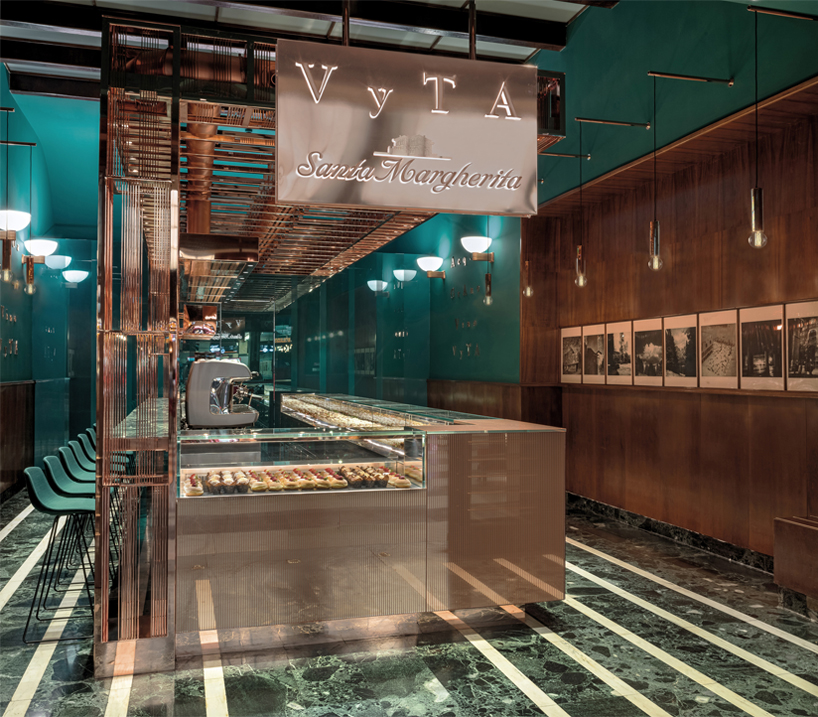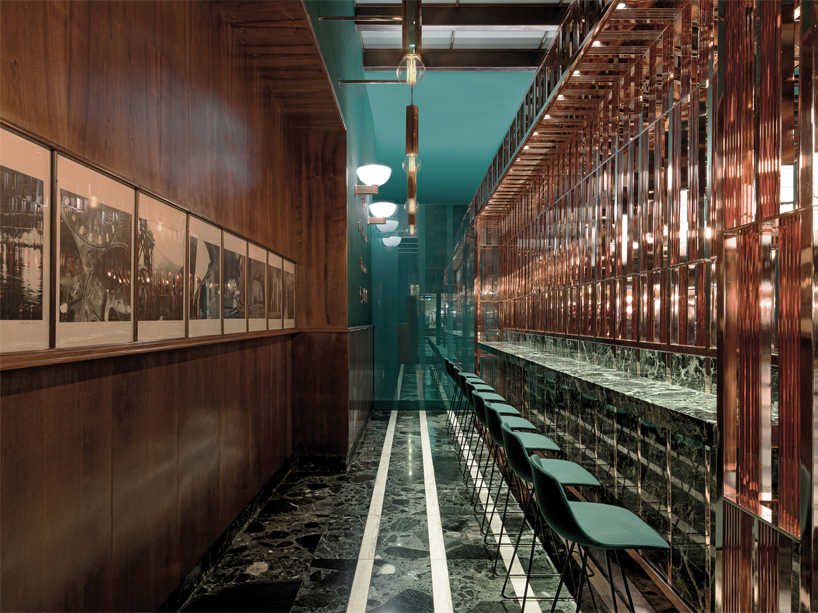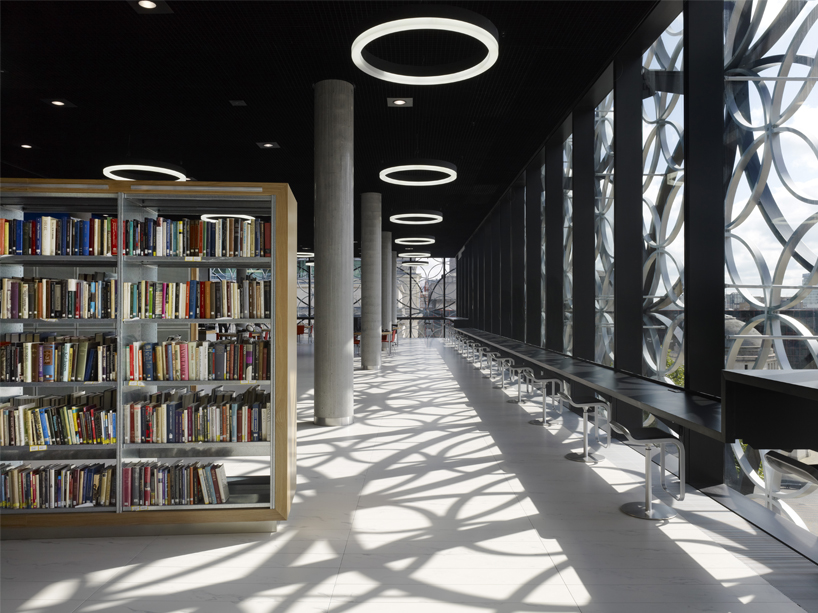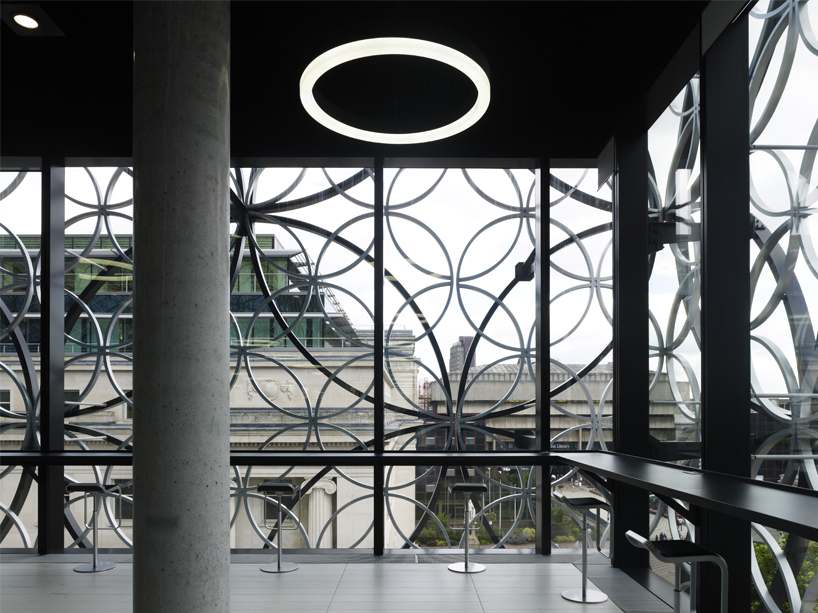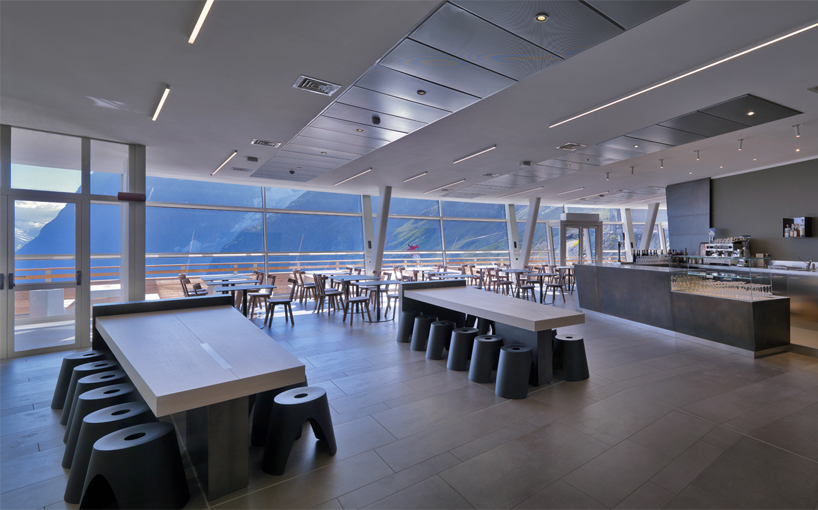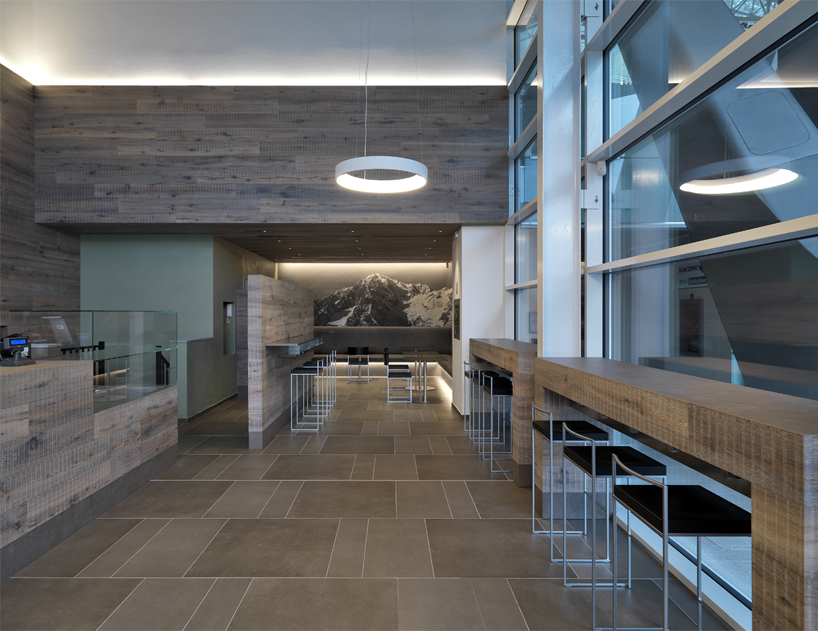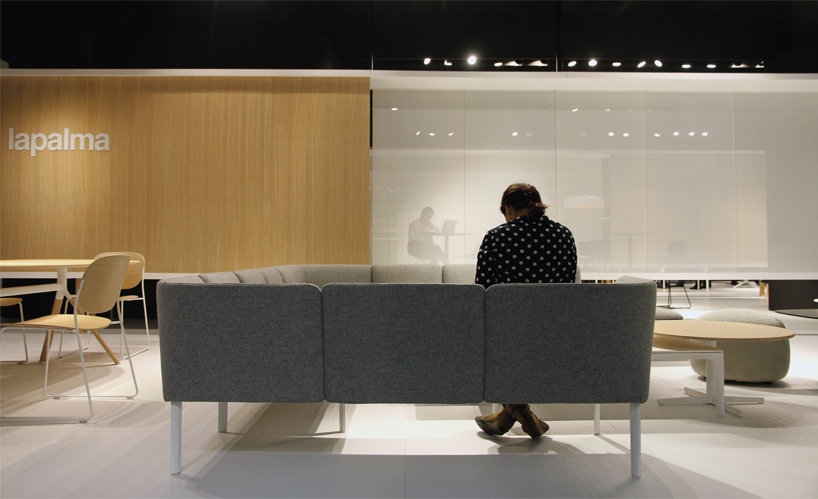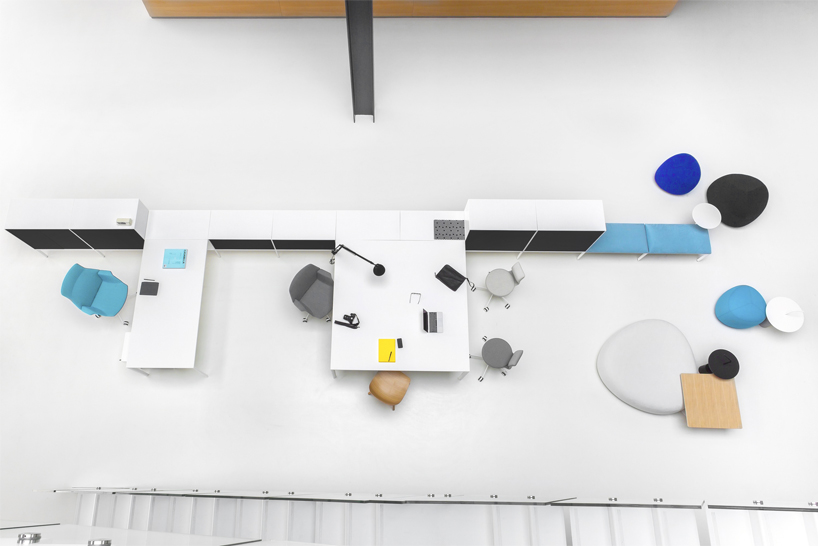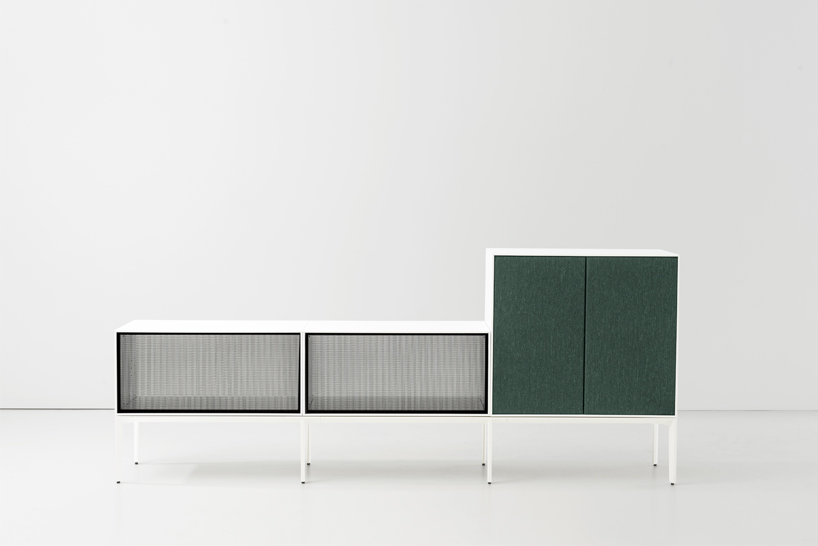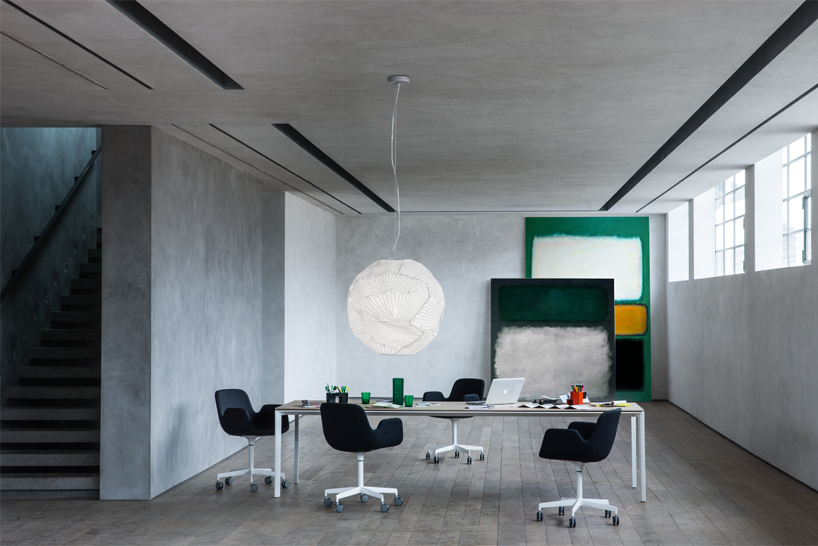 KEEP UP WITH OUR DAILY AND WEEKLY NEWSLETTERS
a diverse digital database that acts as a valuable guide in gaining insight and information about a product directly from the manufacturer, and serves as a rich reference point in developing a project or scheme.
designboom will always be there for you
milan, new york, beijing, tokyo

,
since 1999