masamichi toyama, smiles co, ltd. president and founder
portrait © designboom
all images courtesy of smiles (unless otherwise specified)
five years after the publication of the designboom article on 'pass the baton' concept store, we finally met masamichi toyama, president of smiles co, ltd. in tokyo. he is the founder of unique retail environments, 'soup stock tokyo', 'pass the baton' , '100 spoons' and 'giraffe tie' — each as diverse and distinctive as his personality and style. mr. toyama, renowned for his competence in business, is also an artist who holds exhibitions both in japan and abroad. he is a passionate man with an unpretentious personality and air of sophistication.
designboom: as a serial entrepreneur, who or what has been the biggest influence on your work?
masamichi toyama: I grew up in aoyama in the 60's (born in 1962 in tokyo). it hosted the tokyo olympics back in those days. it was beautiful, but then there was japan's period of rapid economic growth which while achieving a production that was very economical, had a quality that wasvery low. I wanted to revive the good times.
DB: overall, what is your biggest strength and how have you developed that skill over time?
MT: I don't have a specific strength, but I think I am good at curating and producing talent. maybe I am good in creating different business concepts, such as 'individuality x feasibility of business', 'fast food x individual life', 'recycle x fashion', 'business x art', and so on. in all my endeavours, there is a good balance of both things: creativity and that what I want to do … and business. doing business is taking a risk.
I believe everyone feels uneasy when starting something new. what is important is that you do something meaningful for your company or for society, or something inevitable for you. this is the point you should never mistake. if you start something simply for profit, you will never make it through. nothing is ever smooth at the beginning. I always say 'business and delusion' (laughs).
obviously, working freelance or becoming an entrepreneur may involve difficulties that never apply to a company employee, and I know some people think that you should separate your enjoyment and your job. I feel that if you can create a business that combines 'individuality and corporate power', in other words, passion and sensibility of an individual with social credibility and a wide corporation network, it should be interesting and successful. I have written columns for about 20 years and I take great care with 'words' — corporate visions, thoughts, messages… I always compare a company or brand to a person. obviously content is important, but nuance and sense are too.
DB: having worked in the fast food sector with kentucky fried chicken, what made you want to become a 'health food' entrepreneur?


MT: after graduating from keio university in 1985, I started a 'traditional business career' at mitsubishi corporation – more precisely in the city development department – to develop sizable plots of land into viable residential and commercial neighbourhoods. while I still collaborated with mitsubishi, I started working on a new business model that would challenge the perception of japanese fast-food culture — KFC japan. I always had doubts for fast-food businesses and wondered: 'why does it have to be like this?'.
I decided that my job should not be coming up with new ideas for fried chicken, but to come up with an interesting idea that was new. my grandfather and father were both businessman too, but all of my other relatives had jobs related to the arts. I wanted a job in retail which involves our senses (just like art), where I could applied my very own senses.
also, in those days my daughter had a serious… atopic problem… and I wanted to provide natural foods to her and the masses. on one occasion, I imagined a scene that a woman was relaxing by drinking a soup. and from this vision, I felt I could create an important thing, but it was not a good time to start a new business. so, I came up with this notion of 'low investment, high sensibility' and 'a day with a soup'…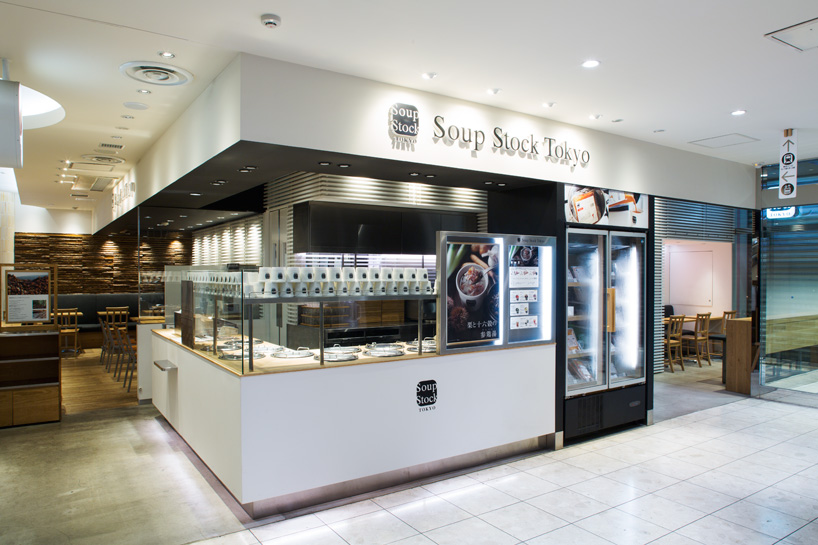 soup stock tokyo atre yotsuya store
DB: how did you create the concept for soup stock tokyo, which has established a new food culture?
MT: I started to develop that concept and structure the soup idea to propose it to the world. I worked on a business proposal for over three months to elaborate on that vision. a logo, the menu, and the interior context were created, because before that, the only word that I had written to describe the business was the word 'empathy'. I invited others to collaborate with me to develop certain soups that would emphasize the 'making soup' identity — healthy, real 'soups', but not ramen (because this would be a different story). from slow-simmering to drawing out flavors through saute – layers upon layers of labor are needed to reach this end. 'quality' may sound kind of like an antithesis to fast-food restaurants, but soup stock is operating like a fast food chain for soups, curries and congees, as well as a wide array of original seasonal offerings. we are very selective about the ingredients. we seek out seasonal ingredients sourced from bountiful japanese farms and craft our soup from them at their peak. our subcontract factory responsible for producing our soup base understands our commitment. some people may think that the price is too high for a fast-food restaurant, but considering the ingredients we use and the efforts we put in, our pricing is right on target.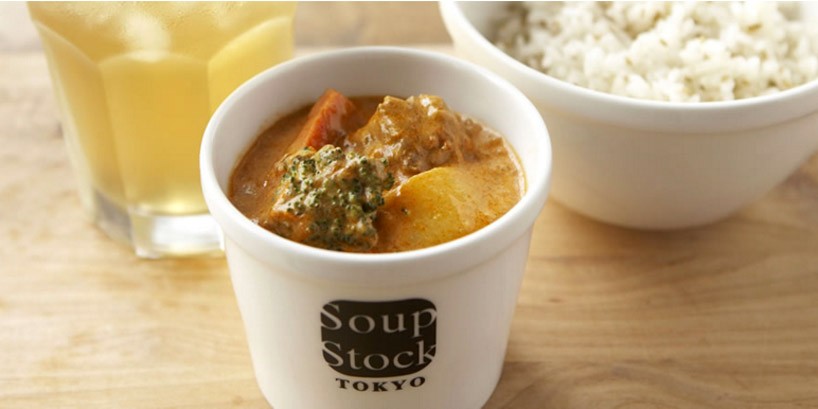 soup stock tokyo packaging and soup
DB: which were the possible and necessary developments needed to build the business?
MT: in 1997, I finally presented mitsubishi with that business proposal for a chain of soup kitchens in cozy, stylish environments offering a healthy array of high quality, additive-free soups. I was lucky because the president of KFC at the time, okawara san, was an aggressive person and was positive about taking on new challenges. soup stock was born in tokyo in 1999. many people liked it immediately and through that kind of sympathy the business grew quickly.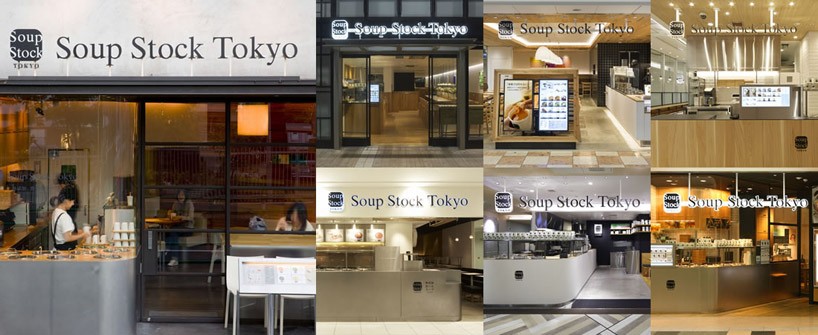 DB: you are art director of this chain. tell us more about your design choices, please.
MT: soup is a colourful food so we purposely made the interiors of the stores as black and white as possible, to give a nice contrast to the product. we've also kept our logo monotone in favor of the natural color scheme of the soup and ingredients. you will find the interior design of our restaurant to be functional and elegant. we strived for a simple, yet comfortable space (a portion of our interiors are made with wood imported from japan). the quality and simplicity of soup stock's environments have become familiar to people of all ages, not just city-dwellers — from babies to the most senior of citizens — in many forms; from quick served in fast-food restaurants to the frozen soup specialty shops. today, there are over 70 restaurants only in japan. many of which are located on the compounds of train stations or in the restaurant malls of office buildings
DB: smiles? what a strange name for a company?
MT: at first, it started as a new business of an affiliated company of KFC. when my loan term ended, the business was transferred to mitsubishi. I made an investment to establish 'smiles co., ltd.' as the first example of entrepreneurship within mitsubishi, of which I became president and a minority shareholder. I was 38 years old. by 2008, I had acquired full ownership of smiles.
I understood that I couldn't achieve anything alone, and today, smiles has finally grown to be a corporation with employees, working as a team. smiles is a company with a lot of opportunity for young people. immediately after joining the company, you will be assigned to one of the restaurants, and within two years, you will be responsible for the restaurant as a store manager.
an outlet is where you can learn management in a compact way, because all kinds of things (people, goods, money and information) change rapidly on a daily basis. in a large company, there are hardly any opportunities for young employees to experience management. by experiencing management, I want young staff to develop a strong passion of wanting to do something new. this becomes the power to help grow our business. our corporate philosophy which is to 'expand values of life', is about the 'five senses of smiles': low investment, high sensibility, honesty, workmanship, independence and praise. I think concepts and philosophy are very important for a business organization.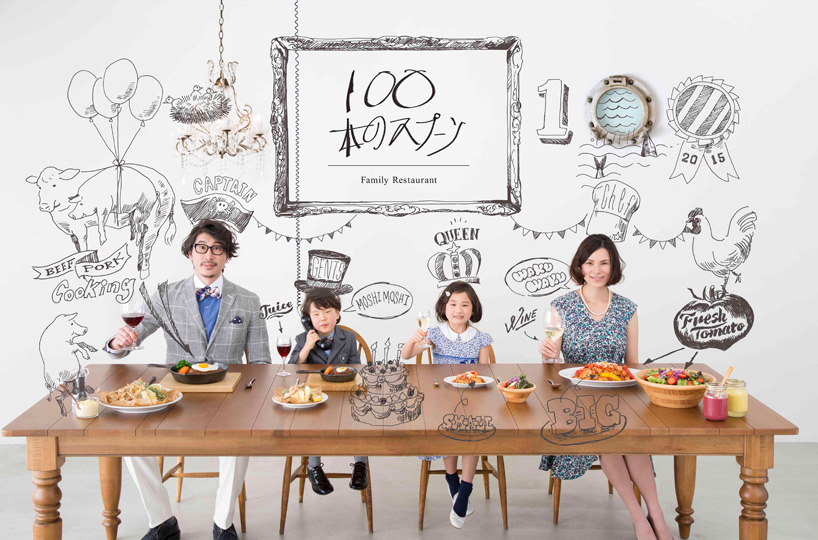 '100 spoons'
in july 2012, 'one hundred spoons' – soup stock tokyo's new type of family restaurant – opened at the kobe-sanda premium outlet in kobe. '100 spoons' is a restaurant for family with a concept 'children hanker for adults and adults remember child's mind'. it offers an exciting menu, service and atmosphere for children and adults.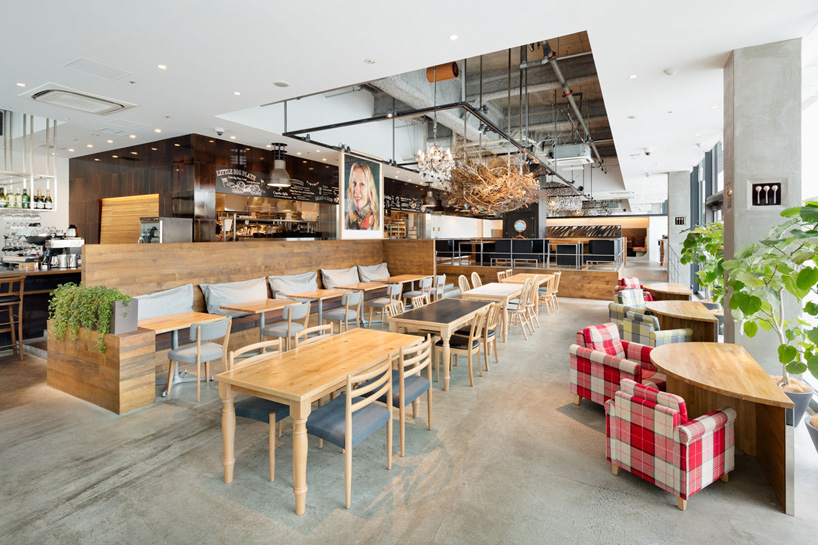 100 spoons futakotamagawa
image © takumi ota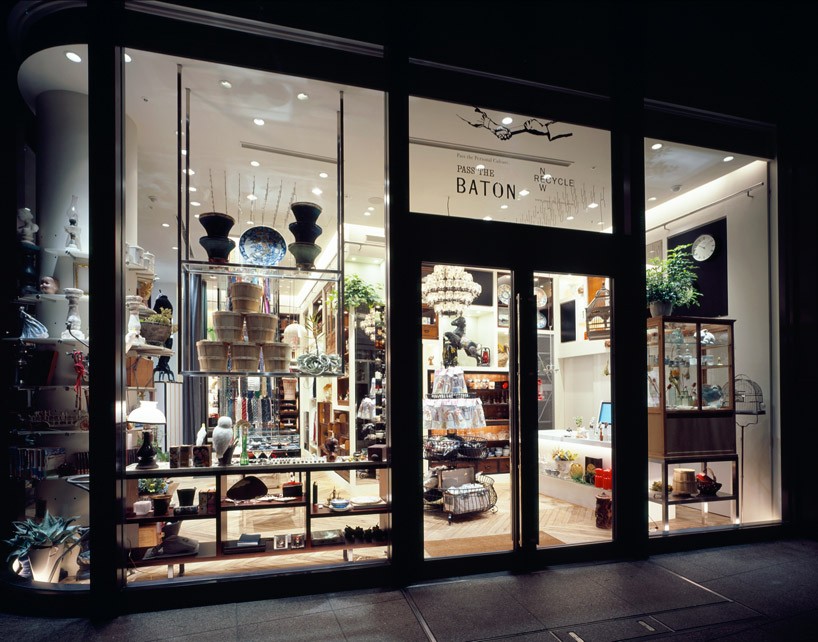 pass the baton store in marunouchi
image © kozo takayama
DB: healthy food, participation, fun and … mottainai feelings?
MT: mottainai is the sense of regret that occurs when the value of a product or resource is not properly utilized and wasted. generally speaking, I have doubts about a business which produces new mass products and has stocks and so on… and after the collapse of the lehman brothers empire, I have been interested mainly in recycling. the bubble economy collapsed, and everything just stopped suddenly. rather than one more store for the consumption of new products, I decided to open a retail and cultural space as an opportunity for people to participate in their community through selling vintage, used, recycled and repurposed goods. buying a cheap thing at a flea market, or a painting which values 3 million dollars, are both acts of 'recycling'. recycling is all about the circulation of the items—making the cycle of the items. very economic, or very expensive – I noticed that in japan there wasn't really an in-between.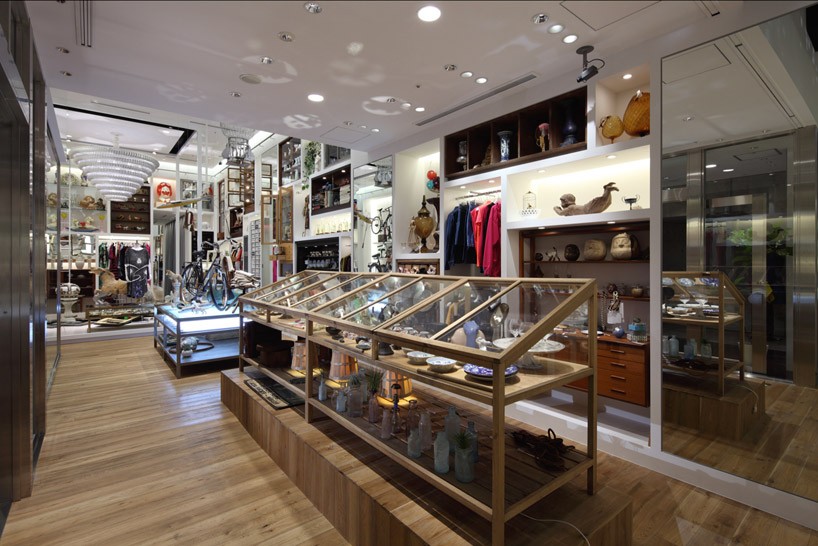 pass the baton store in omotesando
image © kozo takayama
DB: could you please elaborate on the concept behind 'pass the baton'?
MT: it is the same thing as soup stock tokyo – it's non-exclusive. pass the baton is a movement not at all common in japan. basically it's a vintage shop, or better 'personal culture marketplace'. 'age, nationality – unknown' were the first words I had in mind to describe this initiative. a second-hand shop is kind of like a place for everything – rubbish and treasures, with tolerance all piled up in one place. it is usually unorganized, which leads to the image of it being unfashionable. when it comes to a vintage shop, there's a buyer who chooses and judges which items are good enough for the shop or not. I intended to go between the notion of a second-hand shop and a vintage shop. the customer who brings in the items himself plays the role of curator, indeed pass the baton's items for sale are accompanied by a brief profile of the seller plus a short anecdote about the item. sellers receive 50% of the proceeds from the sale of their items, and they can then choose to donate all or part of their proceeds to a charity platform established by the store chain.
when you actually visit the shops, you will see that it's more like a european antique store. conventional second-hand shops won't evaluate the story each person had with the items. this informational aspect is important, because it adds a personal dimension to each piece by passing on the history of an item along with the culture of its seller. it is like treasure hunting, or traveling around the world. sometimes we have customers who purchase an item and write a message back to the seller. what is new about pass the baton is that it is a place that lets people act on passing on the baton of culture, not just passing on items.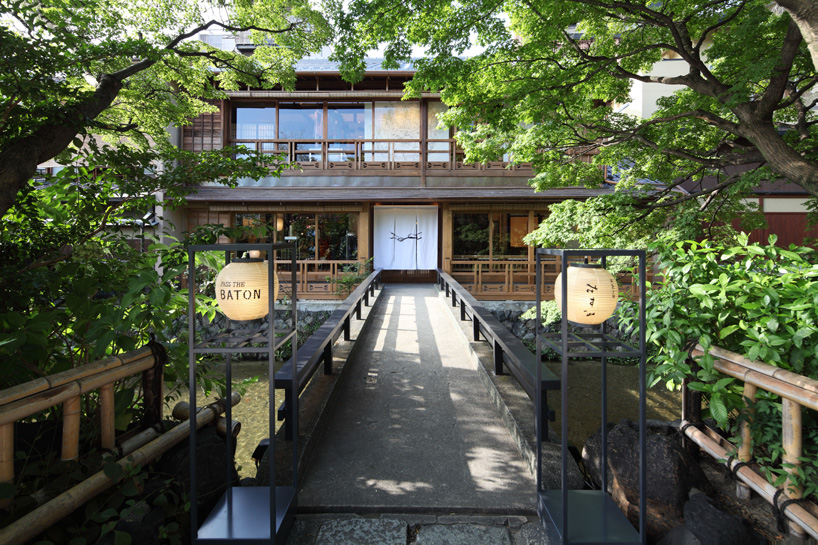 pass the baton kyoto gion store
image © kozo takayama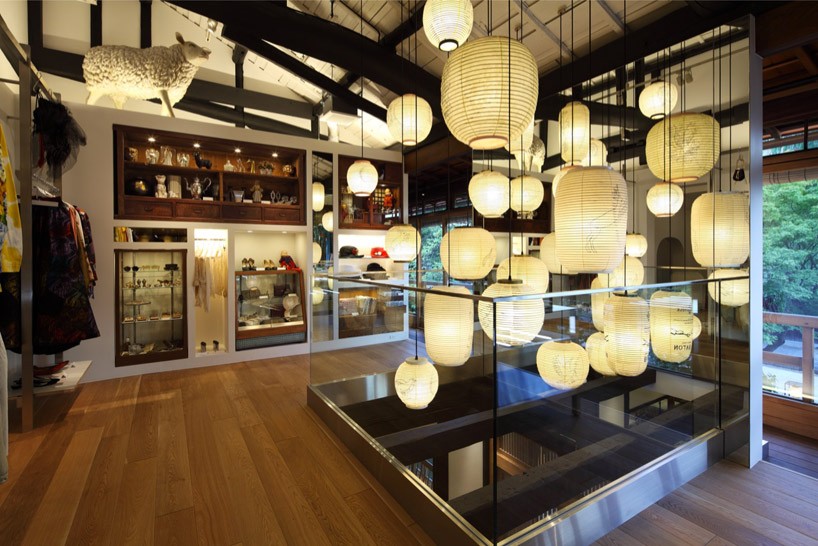 interior of the pass the baton kyoto store
image © kozo takayama
the first location for pass the baton opened in marunouchi, tokyo in 2009, and a year later, another, larger store opened in the omotesando hills complex. there's literally everything: a wide range of fashion and accessories, furniture, and homewares. it is visited by a younger clientele and hosts special exhibitions. the gallery, enclosed by glass walls, allows visitors to become in a way, sort of voyeurs, by letting them peek into the closets of collectors, celebrities, artists or brands. in 2014 we opened pass the baton in kyoto. the pass the baton stores have been designed by masamichi katayama of wonderwall.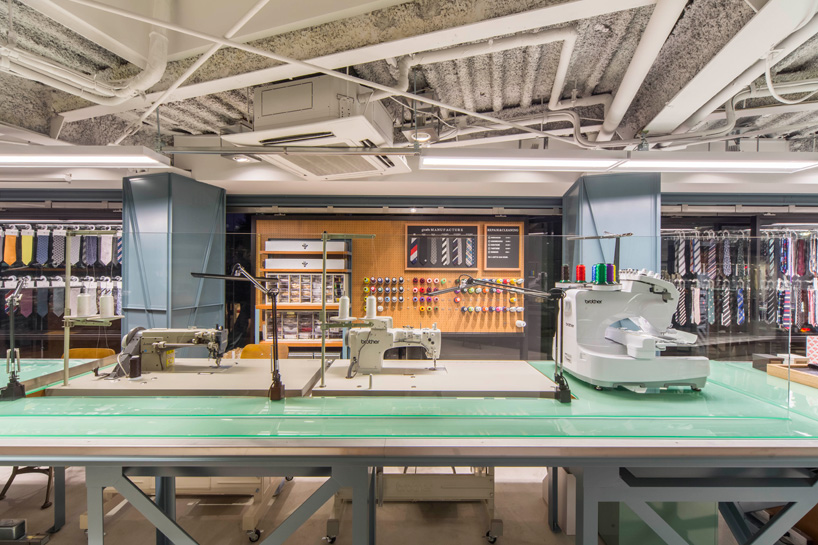 giraffe 'work to shop' sendagaya
next, I launched the necktie business 'giraffe', born out of my dissatisfaction when I was a company employee. similar to me, many so-called 'salarymen' go for drinks after work and complain. I felt that it was a shame. I want them to feel more confident about themselves. 'if you ever get choked, you should be the one doing the choking'! the giraffe has a long neck and its head is high above the ground. if each one of us has a high perspective, like the giraffe, the world will be a better place. 'giraffe' is a necktie brand heading for the cutest necktie store in the world and 'made in japan' here means it is designed, planned, and produced in japan.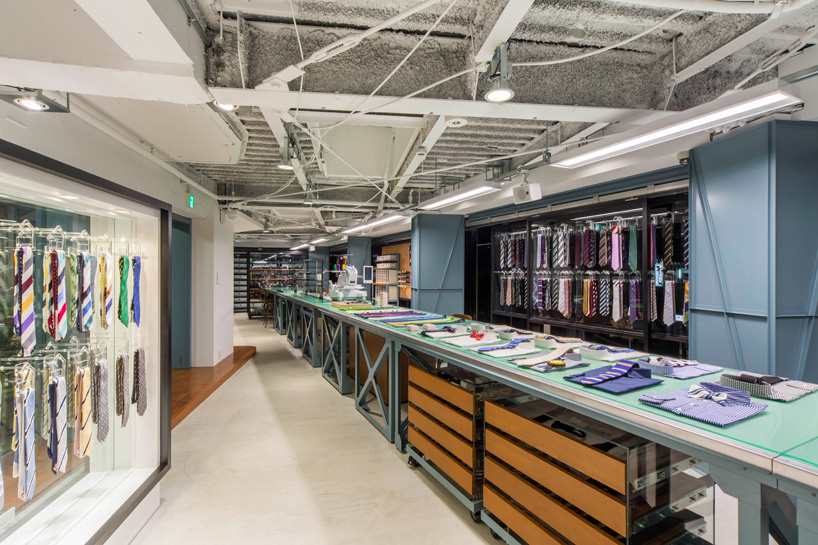 giraffe 'work to shop' sendagaya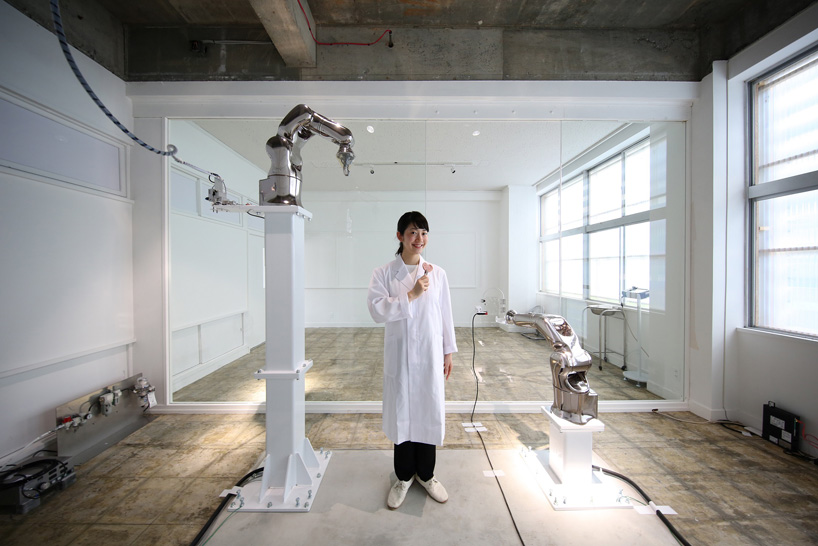 echigotsumari art triennale
'shooting your heart rice soup of niigata 300 yen'
image © gentaro ishizuka
DB: your most recent artwork?
MT: this art project is composed of three contexts: 1.food, 2.technology, 3.hospitality. the food is soup and the robotic technology is of denso. hospitality (in japanese word 'omotenashi').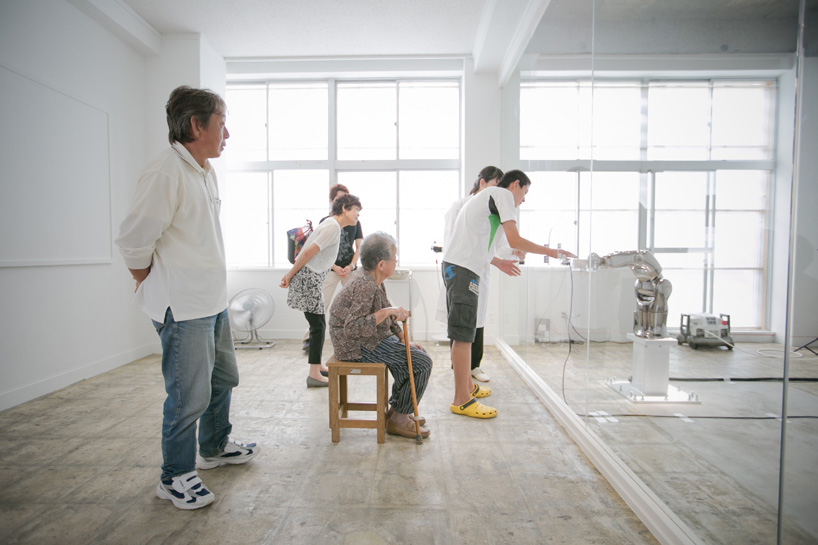 echigotsumari art triennale
'shooting your heart rice soup of niigata 300 yen'
image © gentaro ishizuka
DB: what is new?
MT: a bookstore with a single book, that is what recently captured my interest. the concept was created by a bookstore clerk named yoshiyuki morioka, who worked in secondhand books for years. he attended an event by takram design engineering firm, which offered visitors a chance to pitch an idea to me as an investor, as long as the pitch could fit on a single page. morioka wrote: 'regeneration of a bookseller atom – a bookstore with a single book.' I bought his idea for this new concept store (and takram serves as branding director and did the visual image). the new establishment in ginza is owned by yoshiyuki morioka of morioka shoten. it exhibits a single book at any one time, for only six days. every evening, however, the store transforms itself into a salon, hosting an event where readers can discuss the book, or connect with its author.
… and I have founded 'daikanyama rotary club' (I am its chairman). 'daikanyama rotary club' unites artists, designers, architects, musicians, and creators in general. I see its members every week. I am always looking forward to seeing them. the 20th century was the time of economy and 21st century will be the time of culture.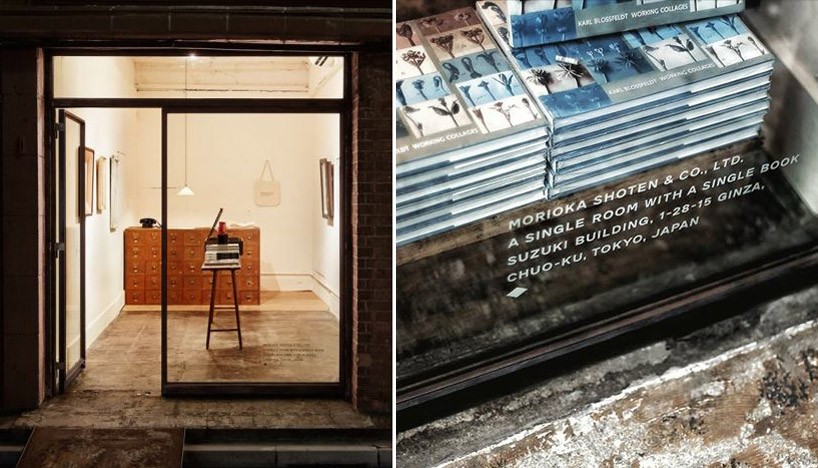 a single room with a single book
image © miyuki kaneko
DB: what is your personal motto?
MT: my business! do not blame environments, politics, economy, your boss… what I can do, I should do. it's 'my business' in any situation.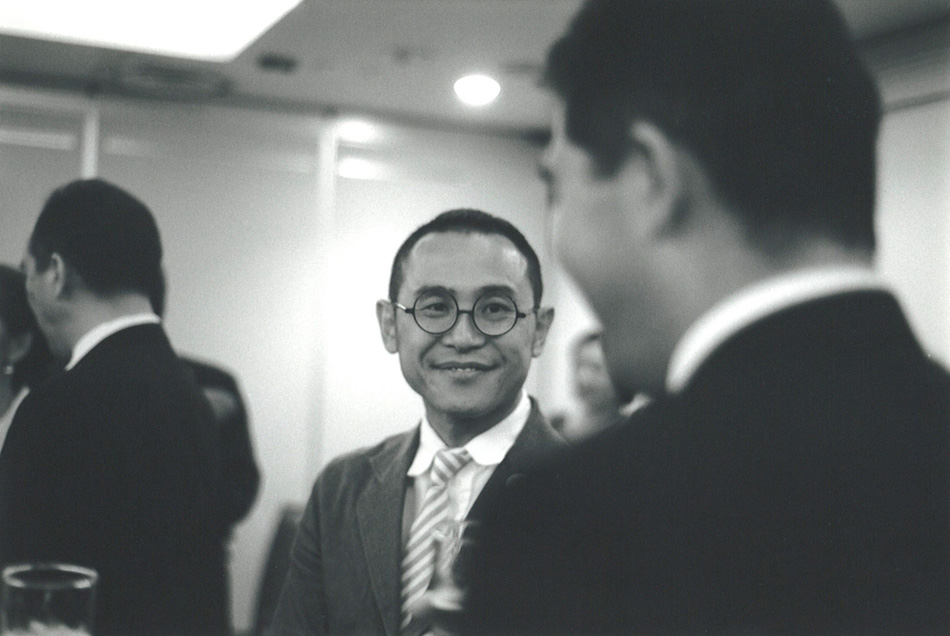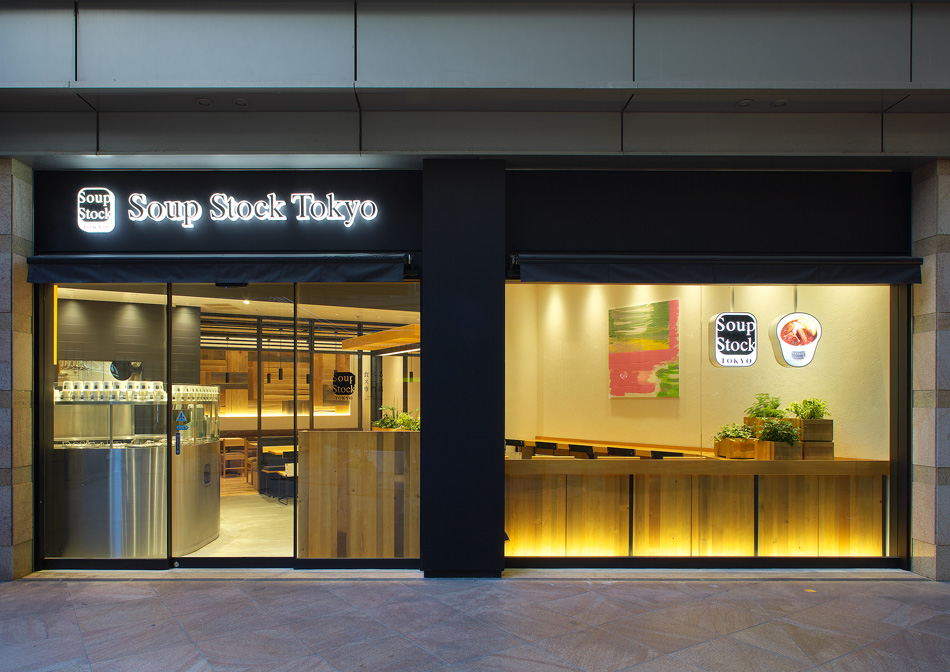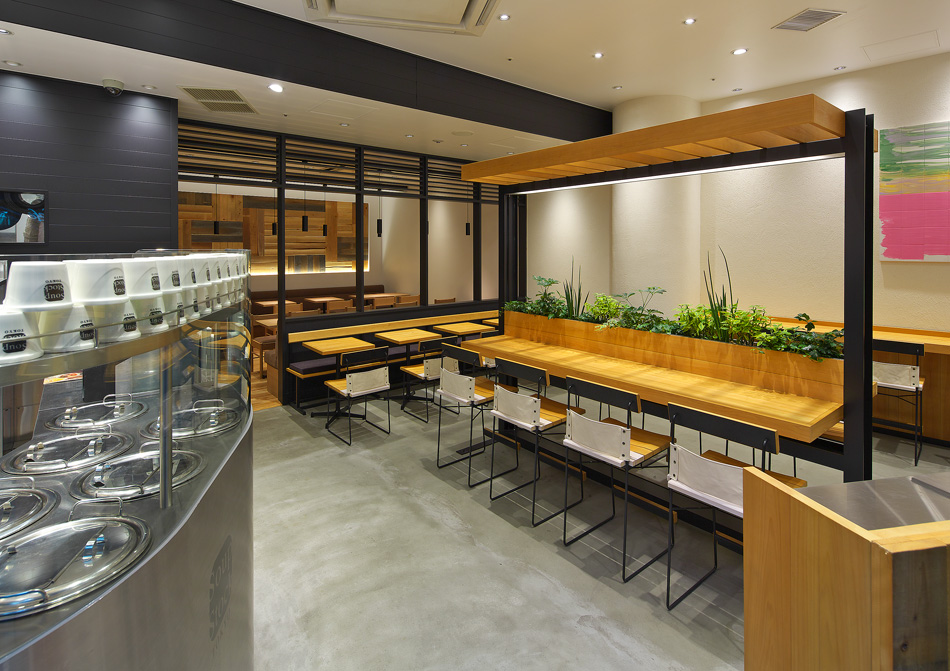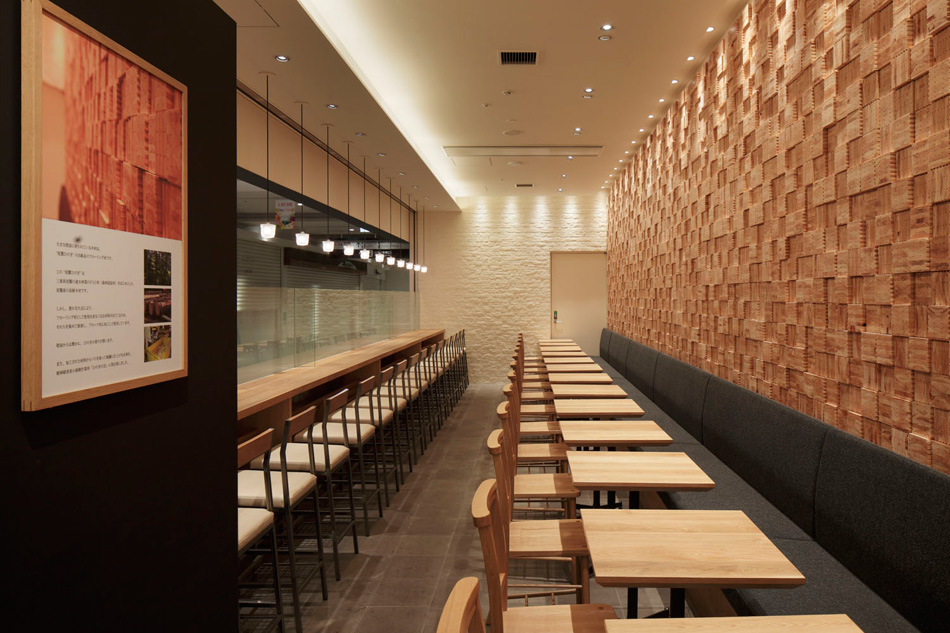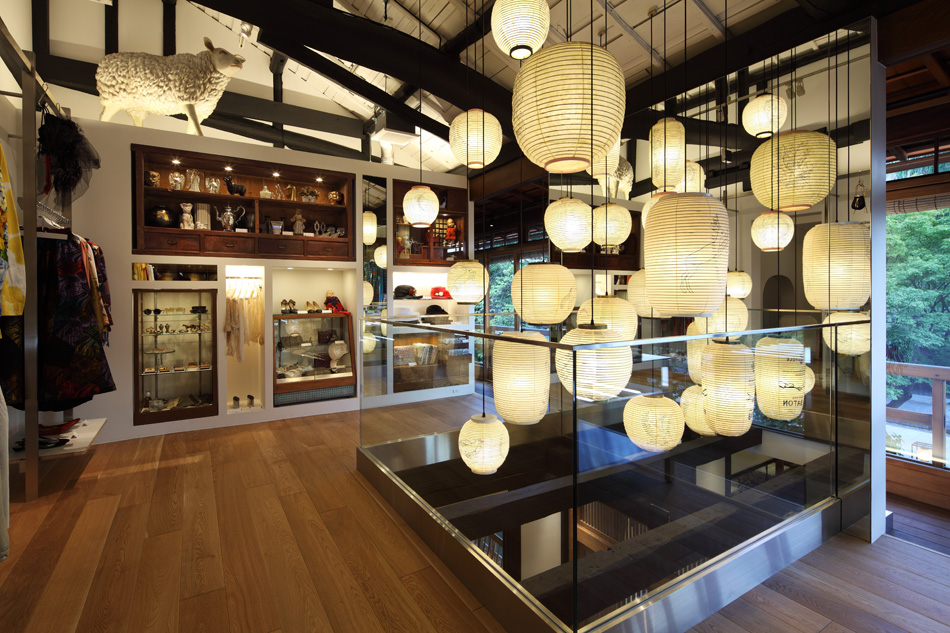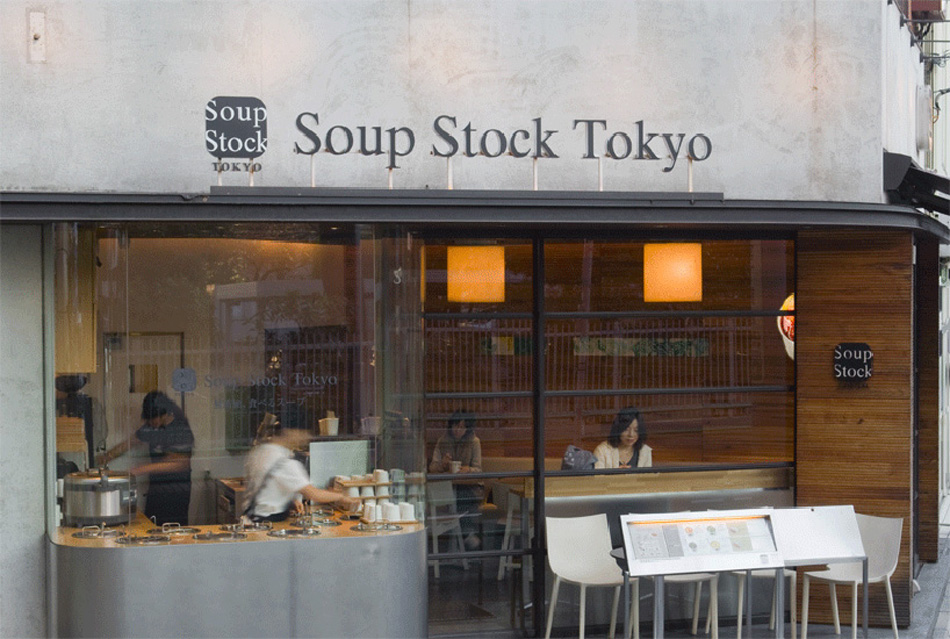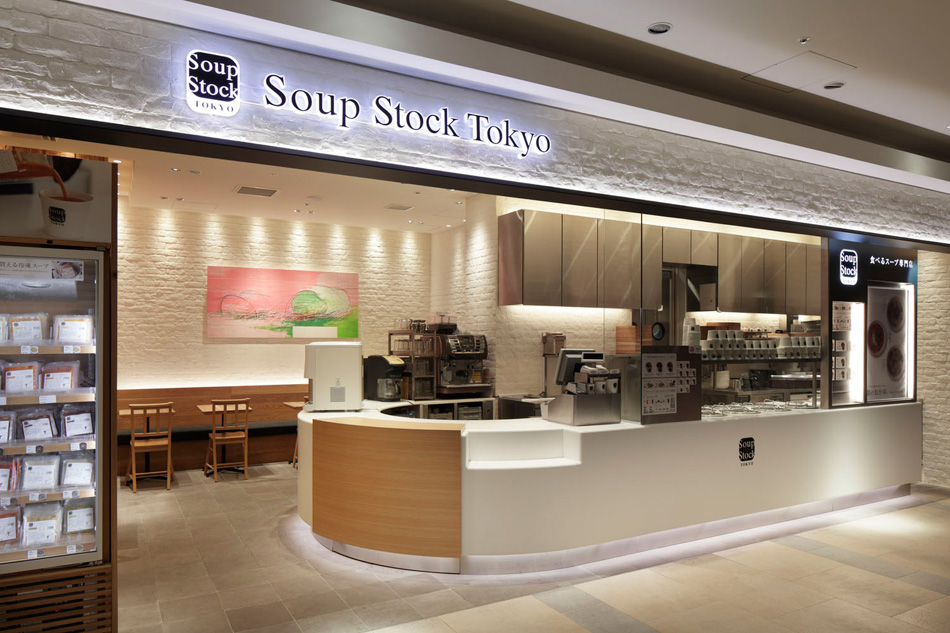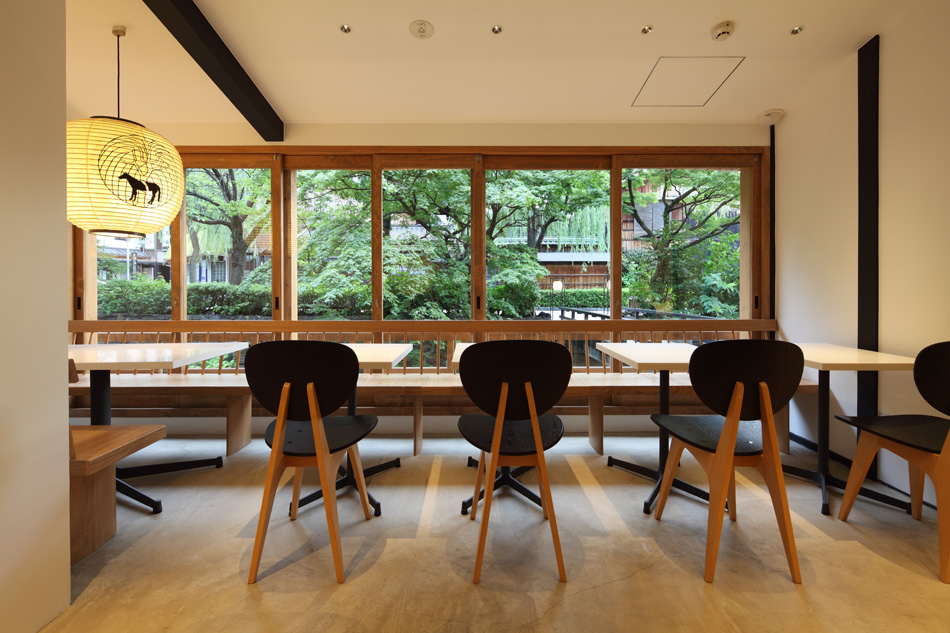 shuhei senda
I designboom
dec 16, 2015
KEEP UP WITH OUR DAILY AND WEEKLY NEWSLETTERS
a diverse digital database that acts as a valuable guide in gaining insight and information about a product directly from the manufacturer, and serves as a rich reference point in developing a project or scheme.
designboom will always be there for you
milan, new york, beijing, tokyo

,
since 1999