interview with nicolai czumaj-bront, design lead – europe at HAWORTH
all images courtesy of nicolai czumaj-bront / HAWORTH

HAWORTH-designboom editorial collaboration:
interview with nicolai czumaj-bront, design lead – europe at HAWORTH

designboom partners with leading office furniture company HAWORTH on an editorial series that investigates the future of the contemporary office environment and new ways of working. our alliance brings forth insights into the workplace and how it has evolved from something more static, into an active and modular condition.
in this sixth feature, we interview nicolai czumaj-bront, a senior designer at HAWORTH who has been working at the company's industrial design studio in holland, michigan, USA since 2005. he recently relocated to HAWORTH europe, where he is based in berlin, to embark on a three year assignment to establish the conceptual direction and development of the brand's european product solutions. designboom speaks with czumaj-bront about his work with HAWORTH, how his design approach to workplace solutions has evolved as a result of technological progressions, and the major differences between office furniture requirements in the US compared, to europe.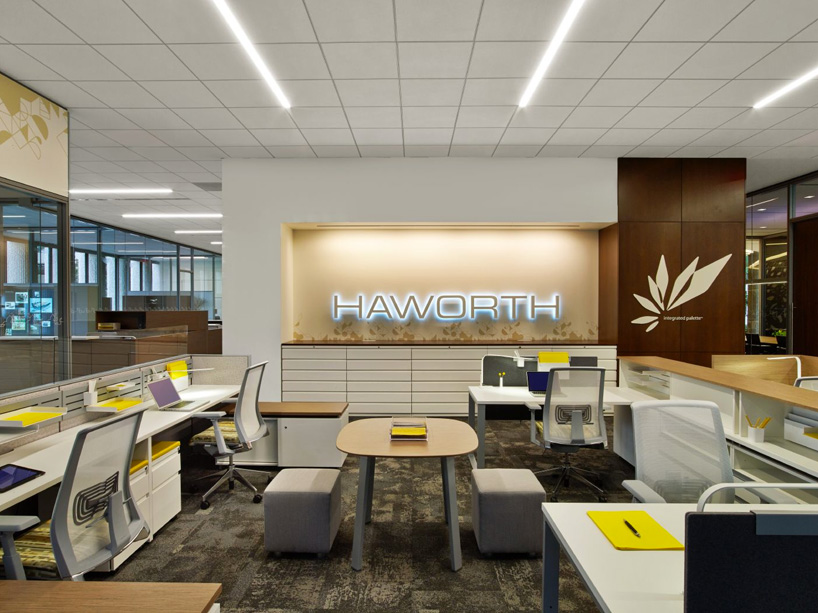 'very task chair' in HAWORTH's houston showroom
designboom: what originally drove you to study industrial design?
nicolai czumaj-bront: I was studying psychology and philosophy at kent state university at the time, and while it was very interesting, I craved for a more creative and physical or tangible outlet. my mother, who is a graphic designer and artist, mentioned that she would have liked to have studied industrial design when she was in school. I checked it out at the university of illinois at urbana-champaign and was immediately sold that this was what I wanted to do. for me, studying industrial design represented a way or the study of how to turn abstract ideas and concepts into tangible and usable solutions that could improve our environment and experience. perhaps it was my interest in psychology, but the idea of translating something from abstract to understood, and from spoken to physical absolutely, fascinated me.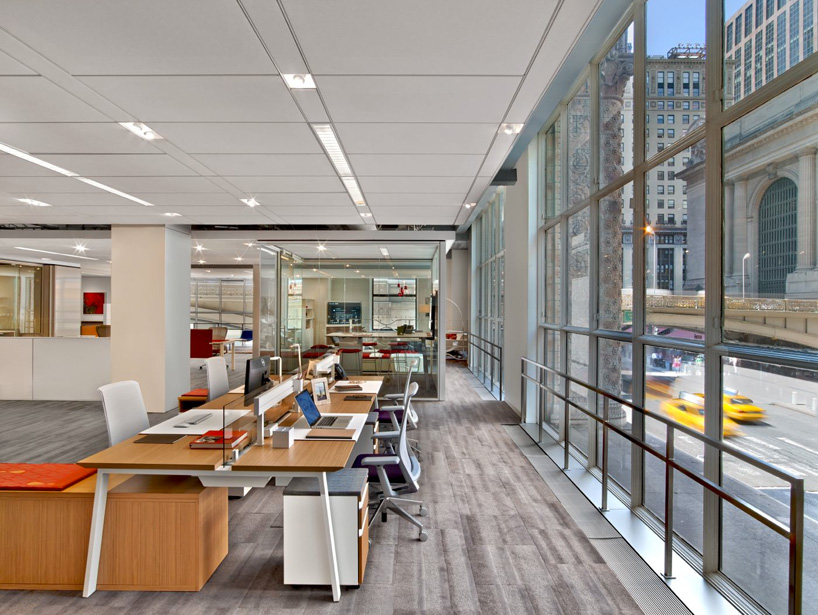 'very task chair' in HAWORTH's new york city showroom
DB: what particular aspects of your background and upbringing have shaped your design principles and philosophies?
NCB: my mother is a graphic designer and artist and my father is an engineer, so I was fortunate to grow up in an environment of creators. one of my grandfathers was a carpenter and master model maker, and the other was a farmer who also built his own home and created handmade furniture — I still have a stool from him with my birthday and name marked on it. I also remember my grandmothers were always sewing, knitting, or crocheting something. so, being around creative people and the creative process was a very familiar place for me. outside of my family environment my years of studying psychology and philosophy had a huge impact on my design principles and philosophies later on. through my studies I became interested and influenced by ideas within the zen and taoism practices, specifically around the ideas of mindfulness and balance, and how that plays into the objects and experiences around us. this interest combined with my studies in psychology has created a foundation for my design philosophy which is less fixed on a specific idea or style, but rather more fluid and evolving.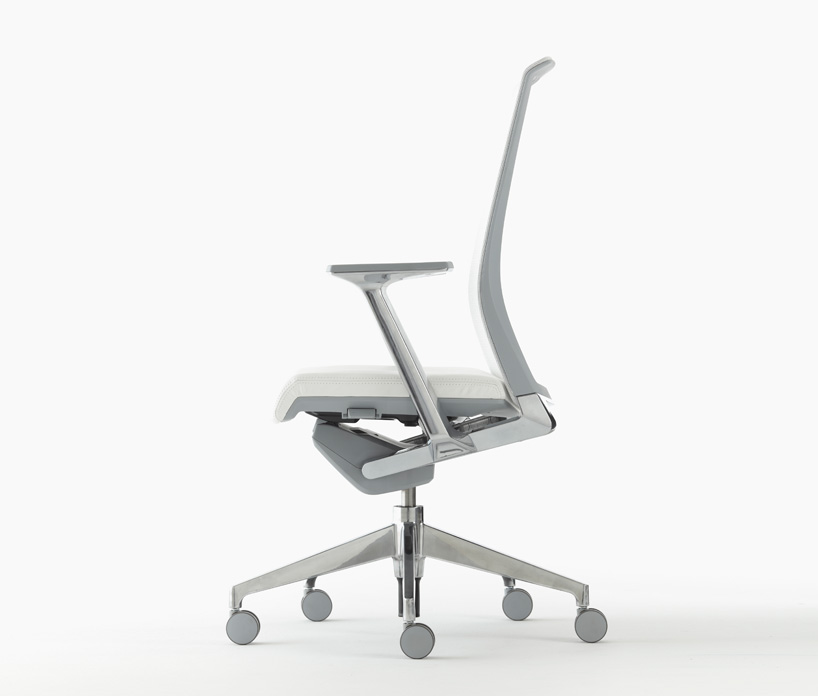 HAWORTH 'very task chair' designed by nicolai czumaj-bront with michael welsh
DB: how has your role as a product designer for HAWORTH evolved since your beginnings at the company almost 10 years ago?
NCB: I was very lucky to be 'thrown into the mix' right away when I joined HAWORTH in 2005. when I started, I never had the feeling of being a junior designer. my first project was a global table program called 'planes', and my second was the global seating family 'very'. in both cases, I worked alongside the US and european design leads, but throughout the programs I was being asked to help drive the design vision and direction. for the amount of work we produce we have a fairly small studio in the US, which means a lot of responsibility, but also a lot of freedom. after only a couple years into my career with HAWORTH, the company approached me to produce my 'resonate' storage, a piece I designed in school. HAWORTH wanted to produce it for the HAWORTH collection. so early on I bounced around a few different programs, but eventually ended up focussing on seating. I have been fortunate that almost every year since I started designing at HAWORTH, I have had product shown at NEOCON and later produced, which as a young designer was great from the standpoint of seeing something you worked on, become a reality and be used in the real world. the bigger lesson though was in the responsibility that I was given, that what I was designing would not only be seen and critiqued by tens of thousands of people, but would also be used by that many more around the world. within the past few years my role has evolved into balancing the assigned design projects that I am committed to, to working on and exploring alternative or future concepts for HAWORTH — the 'tilt' stool and more recent 'harbor work lounge' being results of this exploration.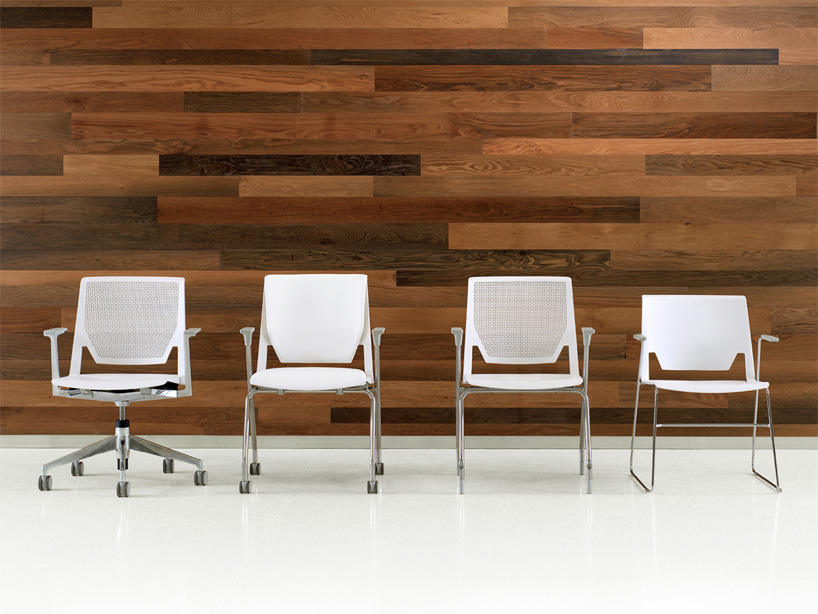 DB: how much of this change been a result of technological advancements? and with this, how has the role of office furniture progressed?
NCB: that is a whole book in itself right there! of course much of the change seen and felt in the office environment is technology driven, because it is work driven as well; how we work, where we work, and what kind of work we can get done, etc. though I feel that now we are starting to have the 'right' or 'proper' technology available to us, the days of the CRT's and 'big technology' happened and they did the job they needed to do, at that time. battery life is finally long enough to allow you to work away from your desk or not be tethered to a 'place' for extended periods of time. it was technology that brought the worker to it, and required us to manage it, like a pet. they were simply temporary solutions to a better future, part of the process. it is not as we are seeing today which is bringing technology to where the user wants to be. as a result the solutions for and in the office environment were great, but in many ways we were trying to work with technology that, looking back, was not appropriate or ergonomic. in response office solutions were trying to find ways to hide the technology, make the technology more comfortable, ergonomic, and usable within the office environment. so today the progress being made around this return to technological freedom is a return to focus more around the user within the context of who they are and the type of work they do. we have the opportunity today to be truly mobile, work in various spaces with various people, and share data in many different ways. while technology is still here and needs to be addressed, it has become much less of a burden as it once was. this is why the progress and solutions you are seeing in office furniture and environments today are becoming more various, adaptable, and hopefully more user and task focused.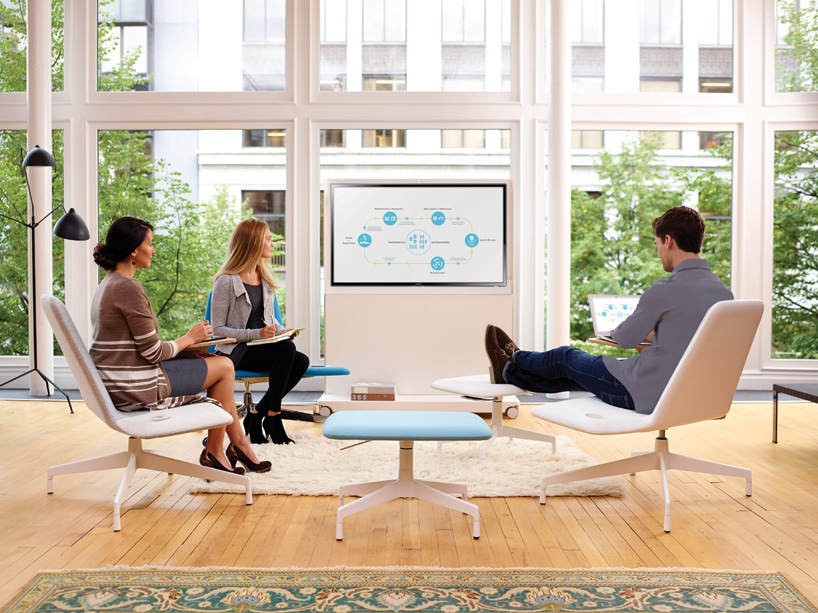 'harbor work lounge'
DB: you've recently made the move from HAWORTH's west michigan office in america to HAWORTH europe, where you are based in berlin, to establish the conceptual direction and evolution of new european product solutions. what are some of the major differences you see in the requirements of office furniture in these two markets?
NCB: generally speaking, in europe the cultures from country to country are more diverse than the shift in the US that you might see from north to south, or east to west. this diversity currently creates a need for a more varied portfolio, in terms of form, function, performance, and even the colors and finishes. whereas in the US there is certainly diversity, but the variants are not as far apart. the other big difference is that the market is overall much more competitive in europe because you have larger companies that can compete on a more global or european level, but then within each country you have very strong companies that are very competitive at only a local level.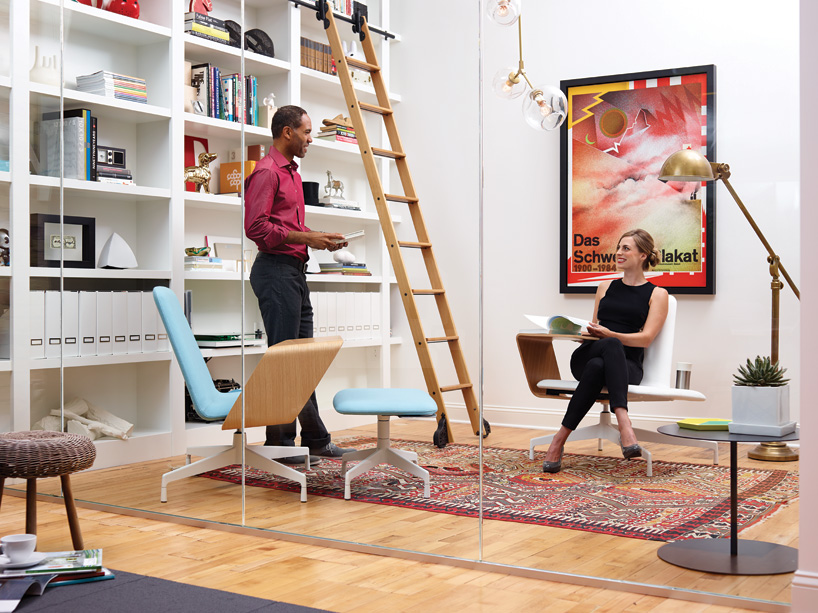 DB: how do you find the specific ergonomics of furniture have altered over the past years?
NCB: in regards to the way that we work, for a while it was understood and accepted that the user would be at their desk for many hours working. it became necessary to try and create the 'ultimate' working environment or position for the user, a position or environment that could be worked in comfortably for hours and hours. this might be obtained through a singular product or with a family of products. of course sitting or being in the same position for too many hours is not healthy. today, due to shifts in technology and advancements in research and increased knowledge around ergonomics, there is still a strong focus on highly ergonomic task chairs, but also a greater focus on variety and change; changing your position and changing your location. this change and variety is not only good for your body, but also for your mind. we have seen research that suggests that certain postures are not only more conducive to certain types of work, but more importantly are conducive to certain types of thinking and can help put you into the proper mindset.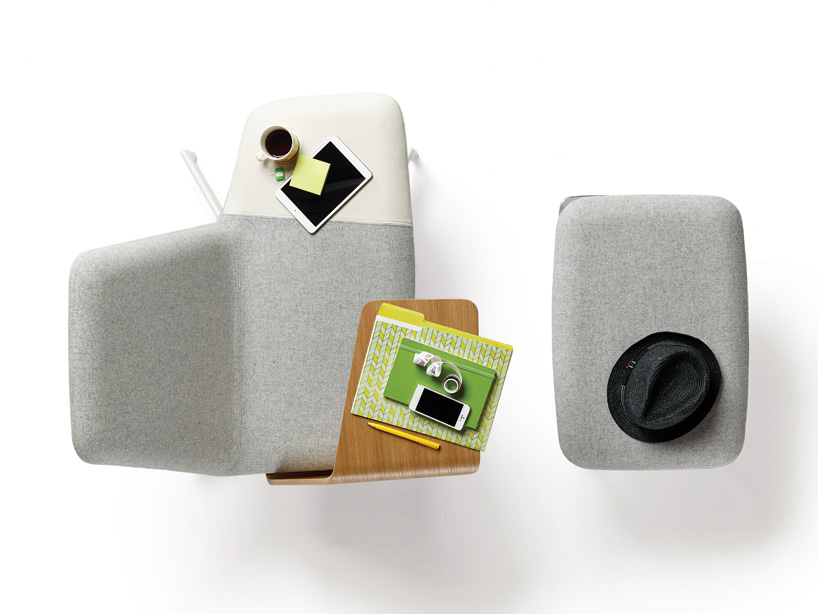 top view of the 'harbor work lounge' and its generous seating and work surface area
DB: of the product developments you have worked on with HAWORTH, which one would you consider having been the most forward thinking in terms of how the solution answered to new ways of working?
NCB: I would have to say the 'harbor work lounge'. while it has roots in some timeless ideas, it is a sort of 'love letter' to support the worker of today and is a reflection of the new ways of working and the new office landscape. today, we can work everywhere and anywhere, inside and outside the office. we bring and use a variety of tools to do our work, and that work can change throughout the day. rather than a chair, I envisioned 'harbor work lounge' as more of a hybrid space — a hybrid between task and lounge and a space for you and your tools. it is a solution that adapts to various types of spaces and adapts to various types of workers.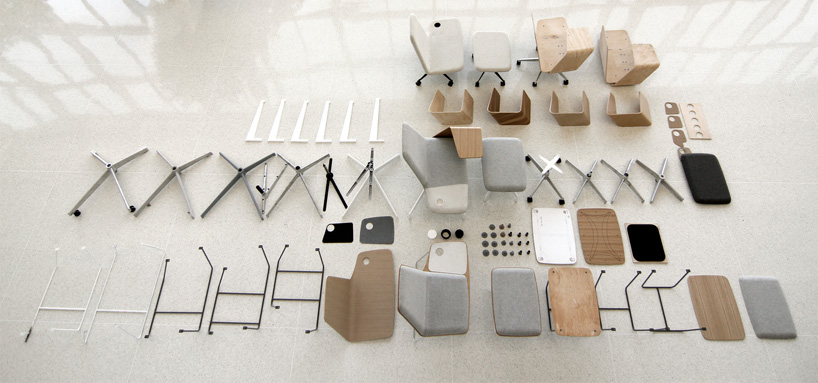 individual components of the 'harbor work lounge'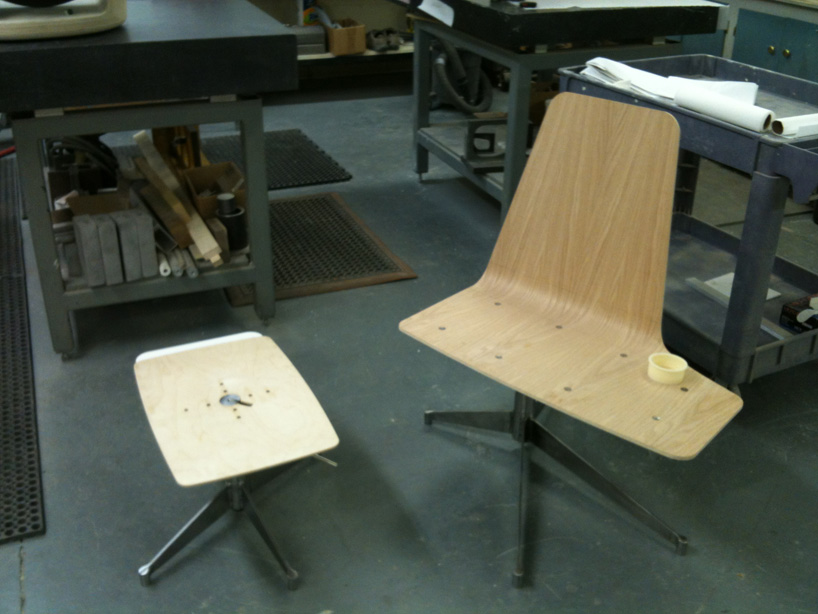 'harbor work lounge' prototype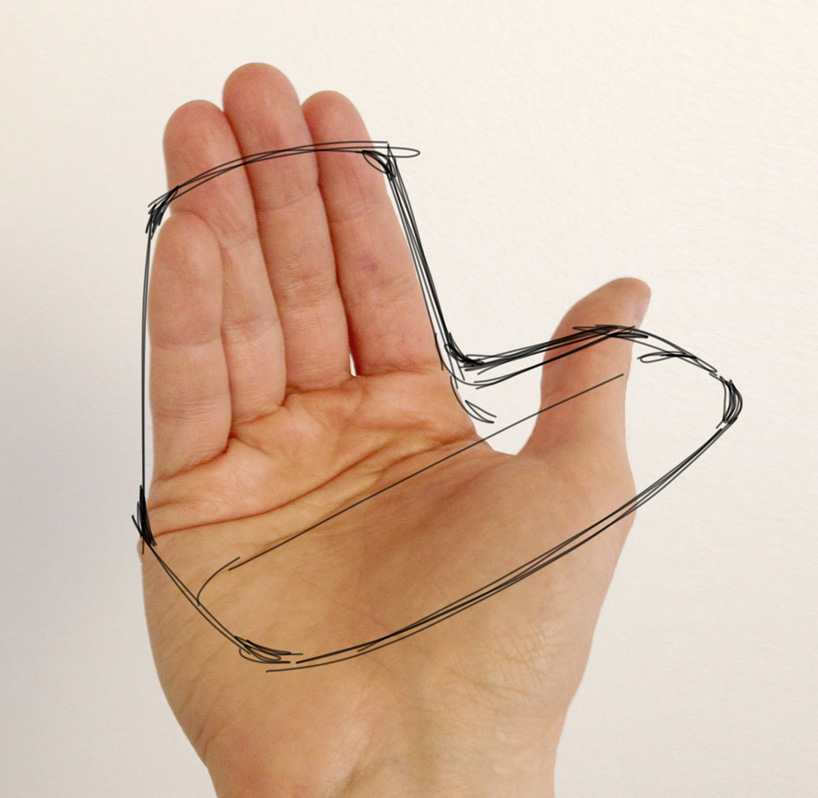 concept hand sketch indicating the birth of the 'harbor work lounge' form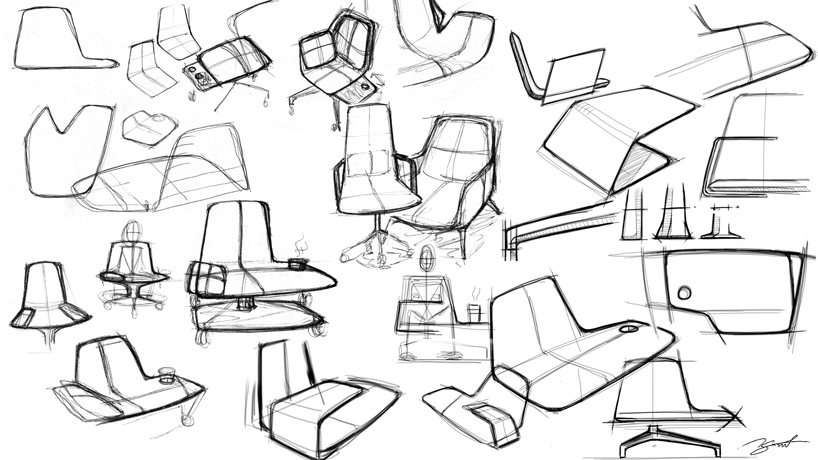 sketches
DB: how have you as a designer responded to the evolution of the communal office space? is organizational culture still strongly considered in HAWORTH's product developments?
NCB: my personal perspective on design has always been around the idea of environments and the balance of product and space. I quite often give the example of designing a chair with the context of that single chair in mind, versus designing a chair in which 20 – 50 chairs along with other products exist in the same space. the evolution of the communal office space is one that must be considered in this holistic way today and even more so going forward if we want to create products and atmospheres that are thoughtful, meaningful, and effective. HAWORTH continues to increase its knowledge and develop around the concepts of the organizational cultures. for over the past five years, HAWORTH has been working and collaborating with the royal college of art and TOCA to gain a greater and different perspective on not only the office environment, but more so all the other spaces and places around us; and understanding how they relate to the future landscape.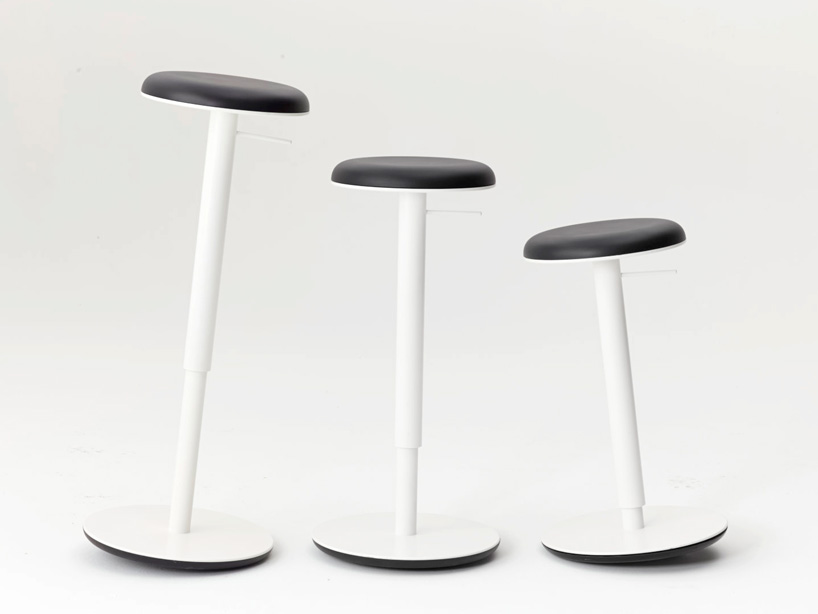 'tilt stool'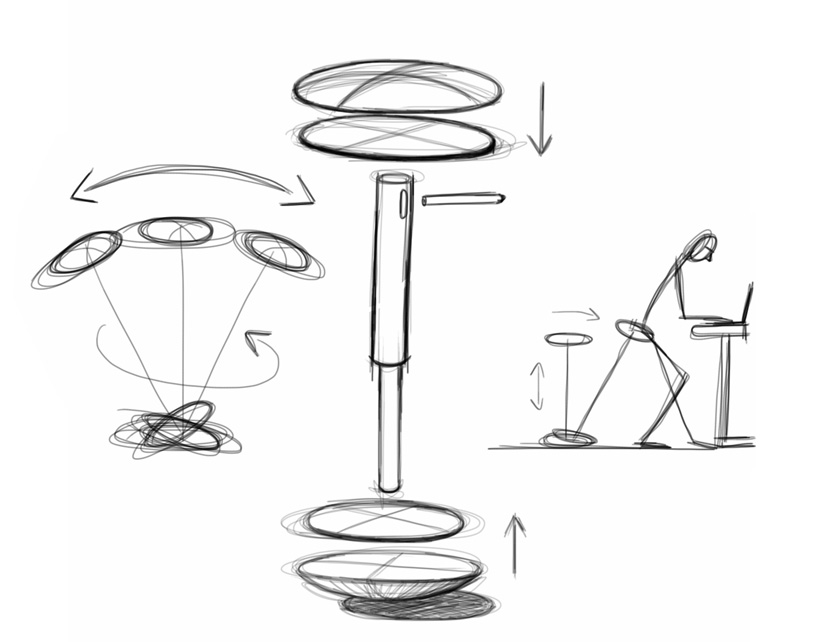 'tilt' stool concept sketch
DB: can you perhaps outline and describe your own work habits on a day-to-day basis?
NCB: for one, my recent move and position requires a lot of travel. I am typically only in berlin for half the week. the rest of the week I am mostly traveling within germany to the other facilities, or sometimes in france and italy as well. I have already had the experience of being in 3 countries in one day, and not knowing which language I need to 'try' and speak… ha! so every day is a little bit different and I don't like to try and force too much of a rhythm, some days are very random and others are extremely focused. on a day-to-day basis I always make sure that I take time to work or think about something new, either on something that might be coming or a project that is not anybody's list. I love photography so with the traveling I do make sure to take in whatever catches my eye. finally, I always make sure to take a moment each day to just sit back and think… trains are good for that.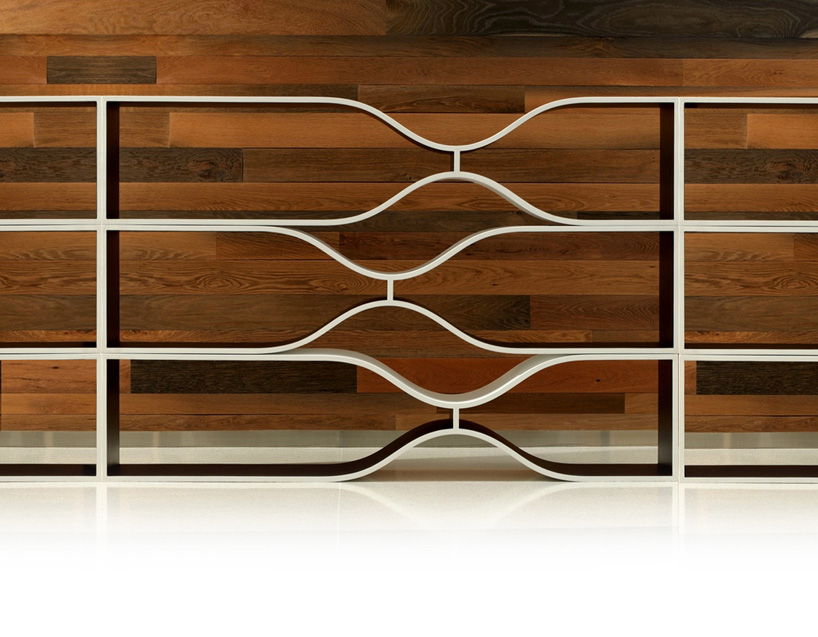 'resonate' shelving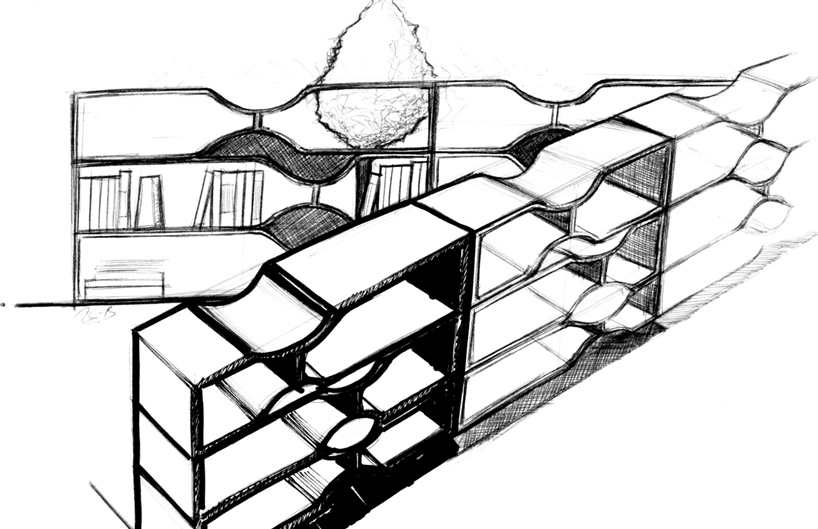 'resonate' concept sketch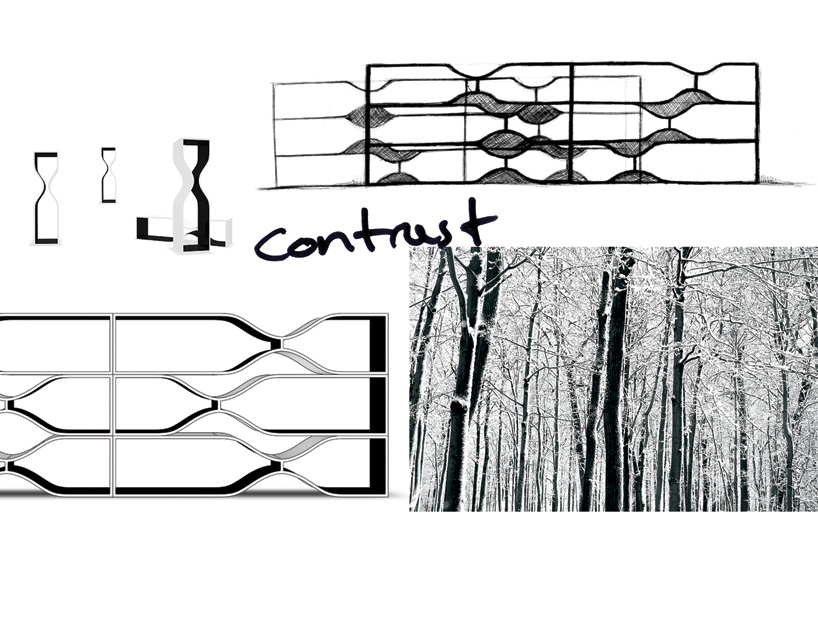 the shelving was a result of czumaj-bront's studies, which HAWORTH wanted to include in its collection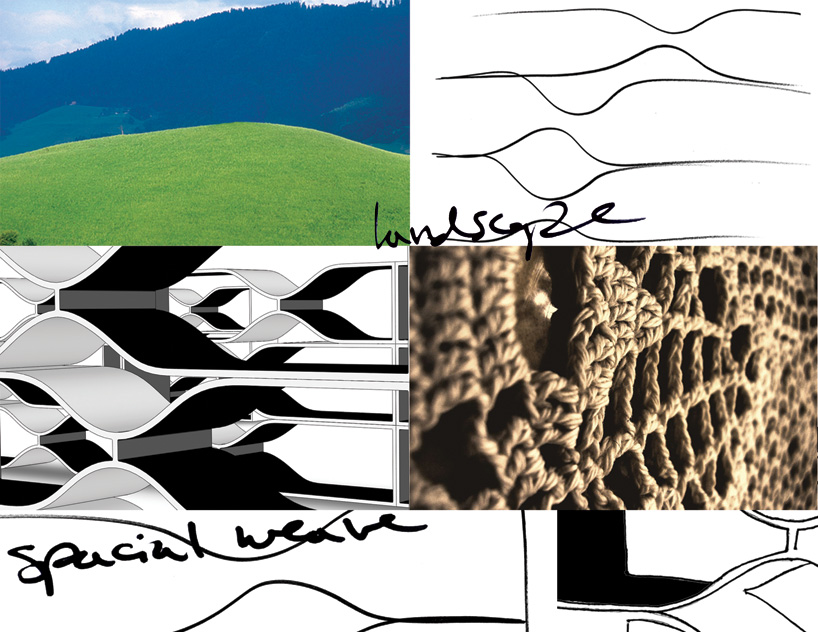 mood board for 'resonate' shelving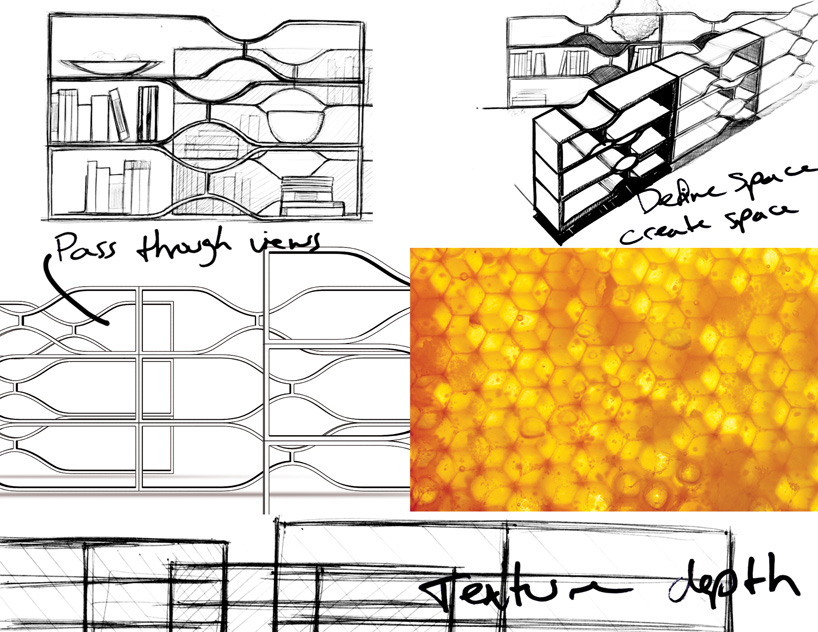 DB: in your opinion, what is the future of the workplace?
NCB: I think we will continue to see an increase in alternative spaces and environments, along with more immersive technology. technology which is connected to more analog methods of communicating will become even more important as the tools and methods of creating become more varied and personal. there is becoming less and less of a reason for the majority of workers to go to a traditional workplace, so places that offer variety and flexibility will become more important to not only workers and employers but also to cities and neighborhoods. we are becoming more able to work where we 'want' to be and less tethered to where we 'should' be. just as technology is going where people want to be, so too is work.
Save
Save
Save
Save
Save
Save
Save
a diverse digital database that acts as a valuable guide in gaining insight and information about a product directly from the manufacturer, and serves as a rich reference point in developing a project or scheme.
designboom will always be there for you
milan, new york, beijing, tokyo

,
since 1999