jul 01, 2016
interview with paola navone, the queen of color + art director of ABET LAMINATI
interview with paola navone, the queen of color + art director of ABET LAMINATI 
ABET LAMINATI was founded at the end of the the 1950s, and today is one of the world's leading manufacturers of decorative laminates. the italian company is known for its endless number of products and surfaces that express different characteristics, aesthetic peculiarities and functions, reinforcing the relationship between design and culture. over the course of its existence, ABET LAMINATI has worked with some of most renowned designers, including: konstantin grcic, giulio iacchetti, enzo mari, alessandro mendini, ettore sottsass to name a few, each of these collaborations contributing to the development of the company's contemporary design direction.

serigrafia 'broccato' by paola navone for ABET LAMINATI
over the years, ABET LAMINATI has continued to push the world of laminates, researching new motifs and textures that arouse curiosity, awaken emotions and bring forth inspiration, thus projecting the identity that laminates are not static and can always be different—always in continuous evolution. with more than 50 years of history, ABET LAMINATI continues to invest resources in technology and creativity, working on product image expanding its collection to offer original designs to the market.
designboom spoke with ABET LAMINATI's art director paola navone about the company's research into color and pattern, how technology has transformed the industry, and where she see's ABET LAMINATI heading into the future.


serigrafia 'ivy' by paola navone for ABET LAMINATI
designboom: you've been collaborating with ABET LAMINATI for more than 30 years.
how did you come to work with the company?
paola navone: by chance! I participated in a contest whose brief was to imagine a pattern for a new laminate. since then, I have designed fifty! I unexpectedly started working for ABET LAMINATI, and have never stopped enjoying my collaboration with the company.

serigrafia 'fiore pop' by paola navone for ABET LAMINATI
DB: what has been the biggest lesson you have learned during your time with ABET LAMINATI?
PN: my collaboration with ABET LAMINATI – which over time has become creative complicity – has been, and still is a beautiful adventure. I have learned all about its material, and can experience its infinite potential, working both on its decorative appearance, as well as its technical material composition. I enjoy 'merging' laminate with other worlds and feelings, trying to transform the product into something different each time.

serigrafia 'neige' by paola navone for ABET LAMINATI
DB: how has the research on patterns, textures and color trends evolved over the years? and how have advancements in technology changed the product development process?
PN: the real transformation has been the shift from serigraphic print to digital print. this has made it possible to transfer any image, design, pattern etc., directly onto a laminate surface, creating an incredible creative palette. it has also been a real revolution in terms of production costs. before, a company working in industrial production to make a new product had to invest a lot of money, and it was more difficult to have customized products. now a designer can say 'this is what I want', and the company can realize it easily.

'polaris' is ABET LAMINATI's newest innovative surface
DB: could you share some insights into the direction that ABET LAMINATI is moving in?
PN: ABET LAMINATI is moving towards a more sophisticated product line-up, both in terms technical characteristics and aesthetic appeal. 'polaris', the latest release from ABET LAMINATI, is an amazing material. it looks like a normal laminate, but is stronger, resistant, fire retardant, anti-bacterial, and is soft to the touch… we presented the material during milan design week 2016. long tables made from 'polaris' were set up , and food was ironically served on the laminate board with no dishes. at the end of your course… voilà, the tabletop was changed as if it were your plate, and a new tabletop arrived with the next course.
ABET LAMINATI's 'polaris' is a revolutionary, high-performance laminate that was realized in response to the requests of curious and demanding designers constantly in search of innovative materials. the intriguing combination of a durable / velvety finish makes 'polaris' a surface with a futuristic appeal, perfect for ultra-contemporary projects—delighting the senses with a pleasing and unique effect. the 'polaris' range is comprised of ten colors, with its extreme opacity highlighted by five cold tones—from intense black to ice white; and five warm shades of sand, pearl and soft-grey that gradually blend and darken. thus, 'polaris' offers different aspects of opacity and resistance.

'polaris' comes in five warm shades of sand, pearl and soft-grey; and five cold tones—from intense black to ice white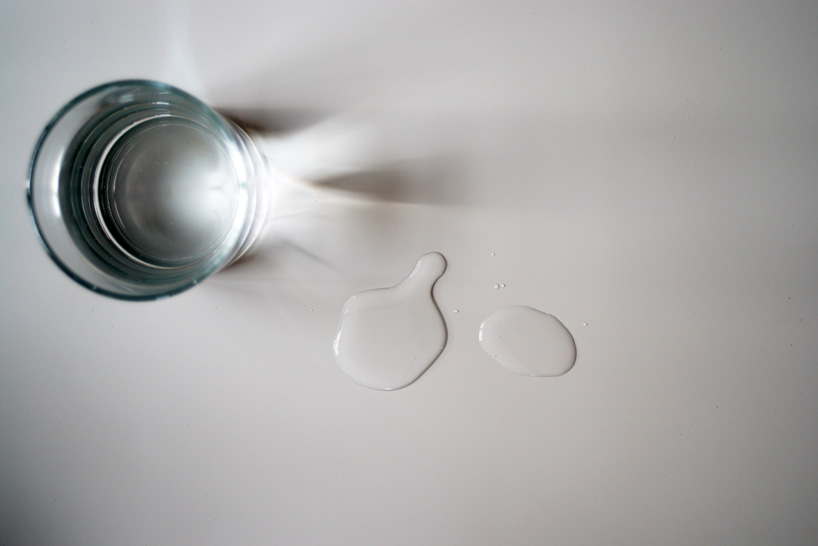 'polaris' is resistant, fire retardant, anti-bacterial, and is soft to the touch

'dinner on stage' at the teatro dell'arte within the triennale di milano hosted by paola navone and ABET LAMINATI
during milan design week, ABET LAMINATI hosted a theatrical dinner at the teatro dell'arte within the triennale di milano. conceived by paola navone, the event was meant to create a moment of conviviality to highlight the unique qualities of ABET LAMINATI's new laminate surface 'polaris'. on the special occasion, the teatro dell'arte became a stage in which to promote this encounter between two important realities represent the best of italian production in the fields of technology, food and drink.  

rather than use plates, each course was served directly onto the ABET LAMINATI 'polaris' tabletops
created by chefs pierpaolo livorno and giuseppe barbero, the menu was served directly onto tables made from 'polaris' especially for the night's event—showcasing that the heat and scratch-resistant, anti-fingerprint laminate is ideal for culinary use. each course was place onto the surface of the table, and between them, waiters delicately lifted the tops from their supporting structure and transported them behind the scenes before arriving with a new top in which the following course was served, with three rotations in total.
ABET LAMINATI – 'dinner on stage' curated by paola navone
video courtesy of abet laminati S.p.A.

each course was served directly onto the table top made from ABET LAMINATI's 'polaris' laminate
image © designboom
Save
Save
Save
Save
Save
Save
Save
Save
Save
Save
Save
Save
jul 27, 2016
jul 27, 2016
jul 05, 2016
jul 05, 2016
jul 02, 2016
jul 02, 2016
jun 26, 2016
jun 26, 2016
jun 21, 2016
jun 21, 2016
jun 11, 2016
jun 11, 2016
jan 19, 2016
jan 19, 2016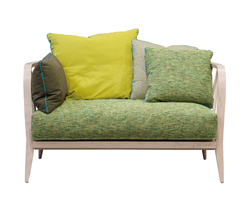 jan 24, 2015
jan 24, 2015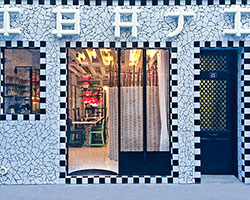 dec 14, 2014
dec 14, 2014