christian louboutin photographed by mathieu cesar
all images courtesy of christian louboutin
shoe designer christian louboutin was born in paris in 1963. he discovered his passion for designing footwear after a trip to the museum of african art as a child, where he saw a sign showing a woman's sharp-heeled shoe, crossed out with a vivid red line. the message was simple – it was an indication that high-heeled shoes were not permitted there. the fine delicacy of the heel did not leave him.
as a young man he was fascinated by parisian music halls and theaters, and began designing shoes for dancers. in 1980 he undertook an apprenticeship at cabaret folies bergère. after two years, he moved on to work at charles jourdan, where he designed footwear for established fashion labels such as yves saint laurent and chanel.
after leaving the industry for a short time to work as landscape gardener, he eventually returned to the world of pumps in 1992, when he co-founded christian louboutin with two close friends. his heeled designs and exquisite boutique located in the galerie véro-dodat in paris became famous around the world in no time. thus, christian louboutin steadily grown into a world-wide brand, with over 40 shops around the globe and more than 850,000 shoes produced each year.
—
designboom met with christian louboutin at the 2014 financial times business of luxury summit in mexico city, where he told us about his influences, design process and superstitious beliefs.
designboom: what is the best moment of the day?
christian louboutin: it's either the very beginning or the very end.
DB: what kind of music are you listening to at the moment?
CL: a great mix of bollywood songs that includes hits from the 1960s through to the 90s.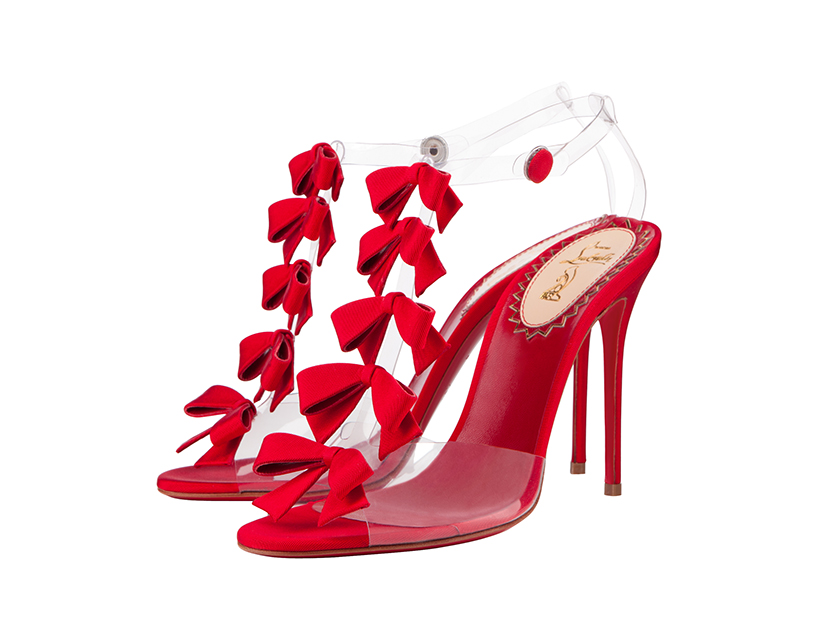 bow bow
image © christian louboutin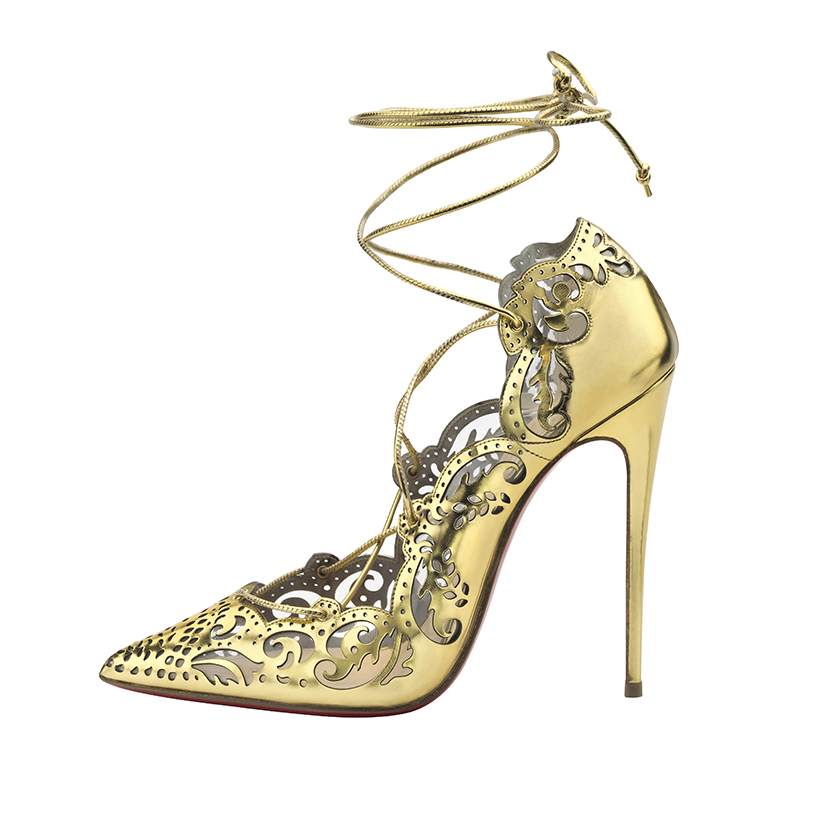 impera specchio
image © christian louboutin
DB: what books do you currently have on your bedside table?
CL: I'm reading 'anthologie des apparitions' by the fantastic french writer simon liberati. after reading the first page I was completely captivated by the book, and I'm just hoping its this good for its entirety. it's very important to me that a book or a film impresses me from the very start.
DB: where do yo get your news?
CL: courrier international – it provides a world-wide view on current affairs each week and their coverage feels impartial.
DB: do you ever read fashion or design magazines?
CL: to be truly honest, not so often. I have a bit of a weakness for the american 'vanity fair', but my bible is 'gardens illustrated', which I look through every month – it's a very, very good magazine.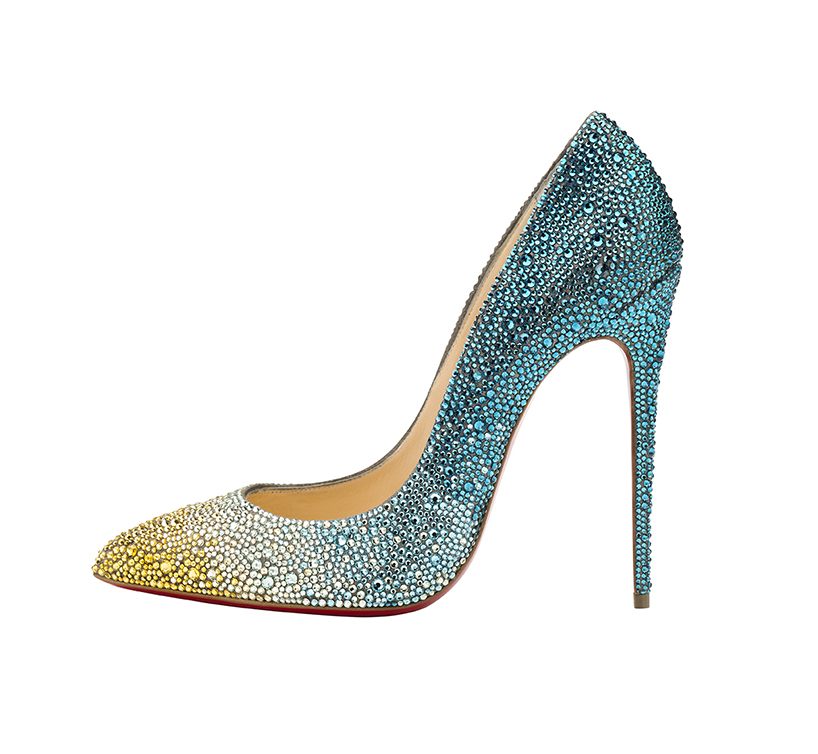 pigalle follies
image © christian louboutin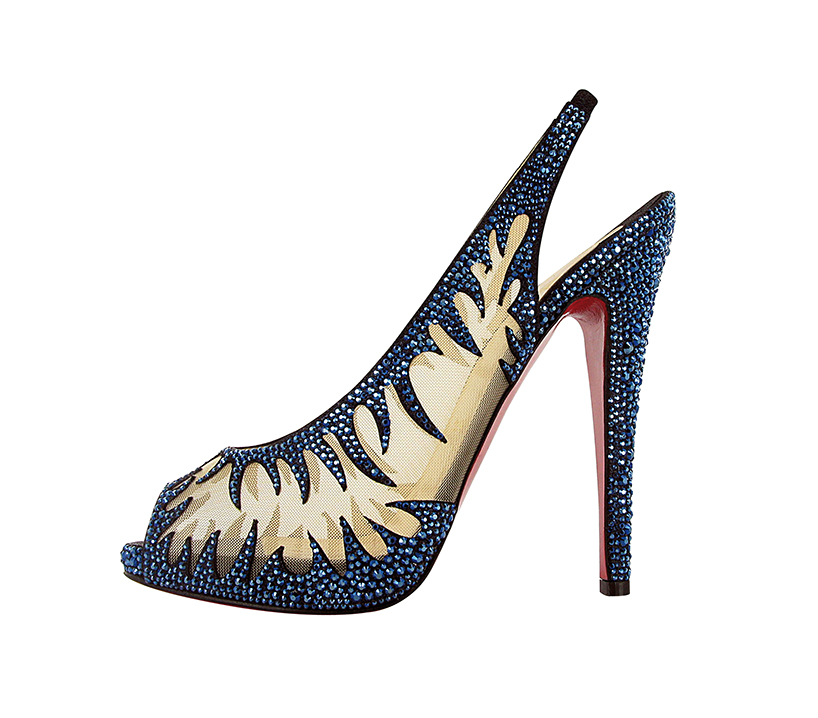 maralena
image © christian louboutin
DB: you obviously notice how women dress, do you have a preference?
CL: context is everything. I prefer girls to wear dresses because I like how they influence a woman's body language. I also love skirts. one of my favorite pieces of clothing is the pencil skirt because it obliges the wearer to have a pretty attitude. I like anything that shows a woman's legs because I love to see her skin and how she walks.
DB: is there any type of clothing that you avoid wearing?
CL: anything baggy – that's never been my thing. I cringe at the thought of something that I did as a teenager and that many people still do today, which is to wear laced-up shoes without socks. I have to admit another thing, I hate ankle socks, I have a big issue with them!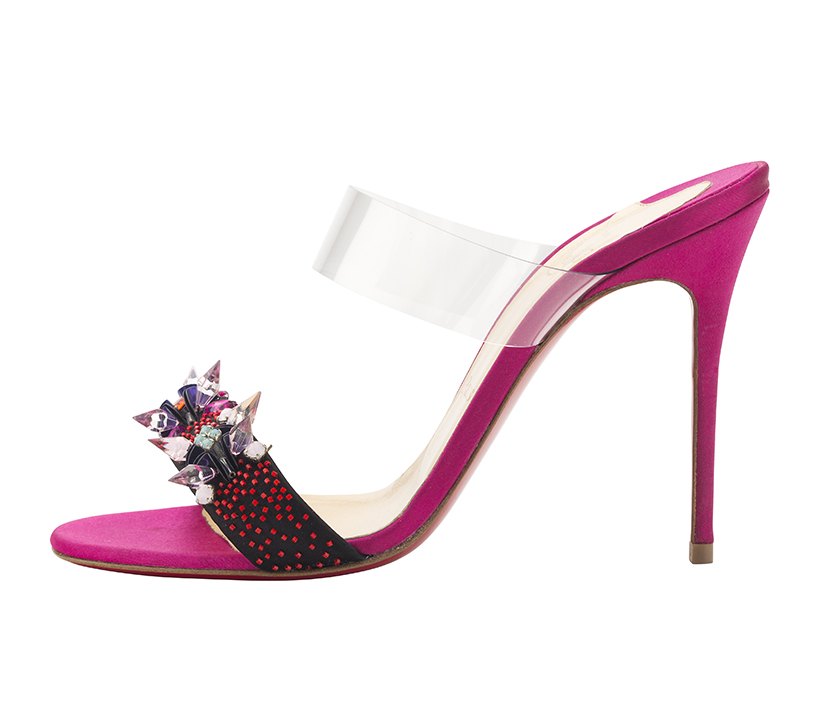 speleola
image © christian louboutin
DB: how would you describe your style?
CL: flirty.
DB: how has your work evolved over the years?
CL: I've always been very detail orientated, but I have gone from embellishment to nudity – from designing for a woman that likes to be dressed to designing for a woman that likes to be undressed.

kimpa
image © christian louboutin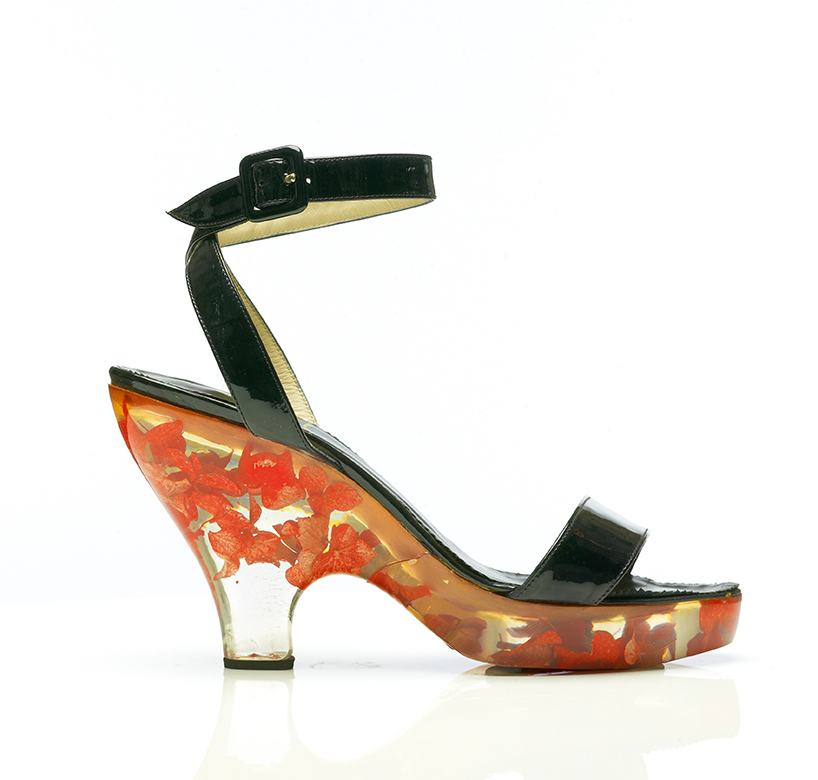 clovis
image © christian louboutin
DB: of all the shoes that you've designed, which has given you the most satisfaction?
CL: rather than the final product, it's often the process that gives me the most joy. there is a shoe that I designed called 'clovis' of which we only produced 36 pairs.
the shoe and the idea behind it is very beautiful; a friend who was being romanced by a man who was writing her lots of love letters. I took some of those letters and some rose petals and embalmed them inside a transparent sole so that she was quite literally floating on love.
the shoe was very challenging to make. over time most of them broke, but I loved that shoe and the process of making it.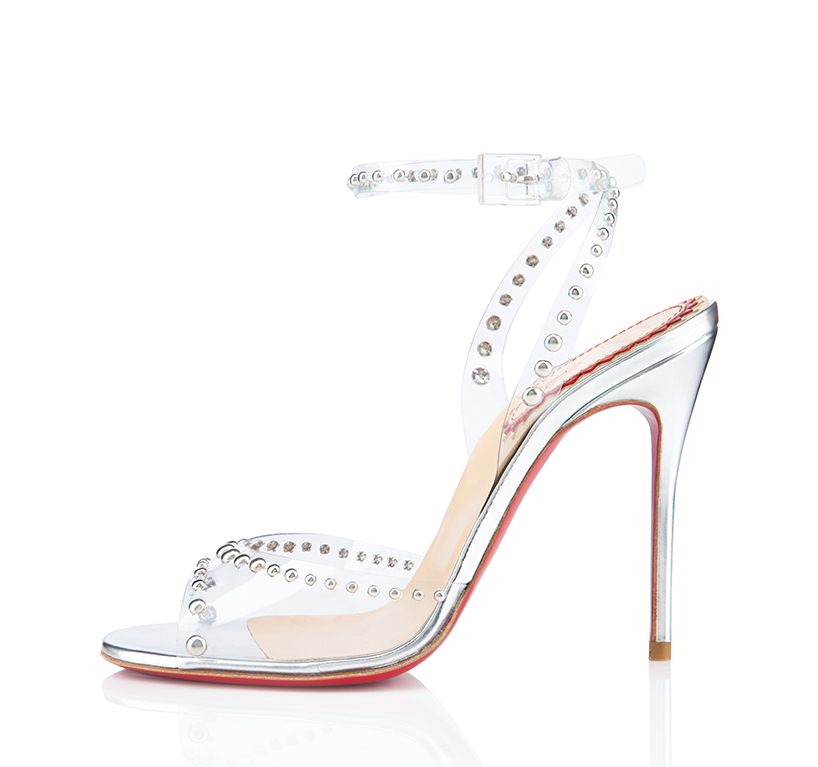 l'icone a clous
image © christian louboutin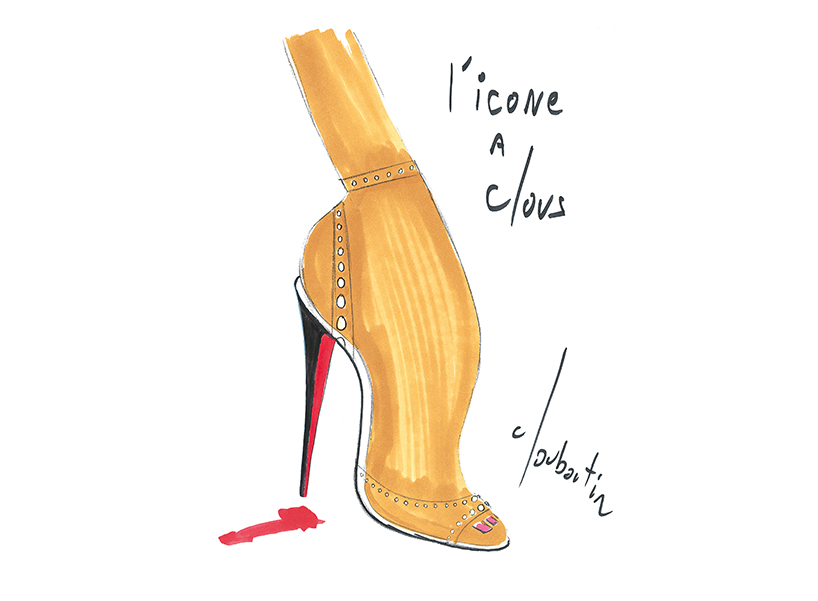 l'icone a clous drawing
image © christian louboutin
DB: what criteria do you use when designing new shoes?
CL: really good shoes have to seduce both men and women.
I'm mixing two lines of thought really: me as a designer for women and then me as a man. at the start of the design process it's the designer for women that comes to the forefront – sketching and revising the silhouette. then the man comes into the picture – and I look at the shoe from a very masculine point of view. then there is a conflict between the two sides of me. sometimes the man wins, and sometimes the designer wins.
the designer side of me has many ideas on how the shoes or woman should look, but the man is thinking 'would I want to see my girl in those shoes?'.
in addition to that I'm always taking into consideration how the shoe will look on the foot, its relation to the ankle and the leg – that's very important. I often see shoes that seem interesting or nice until a woman puts them on. then a lot of shoes look very clunky, and nobody likes to see that.

neuron drawing
image © christian louboutin
DB: what fascinates you right now and how is it feeding into your work?
CL: I love archeology and exploring ideas or themes from the past more so than the present or future because in a way you are writing your own future – it's a virtual point of view that comes from within. the past is nice because you can digest it and analyze it. at the moment I'm obsessed with oscar niemeyer, the hopi katsina dolls that I've started collecting, and the zuñi tribe.
DB: do you talk about your work with other designers – outside of your office?
CL: I have friends who are designers, but we seem to naturally avoid talking about work when we are together. designing is always on the mind of a designer, and as I was saying it's a sort of digestive process, so I usually keep it to myself unless I'm collaborating with someone because explaining all the things that are going on in your head can be quite exhausting, especially in the early stages of a project.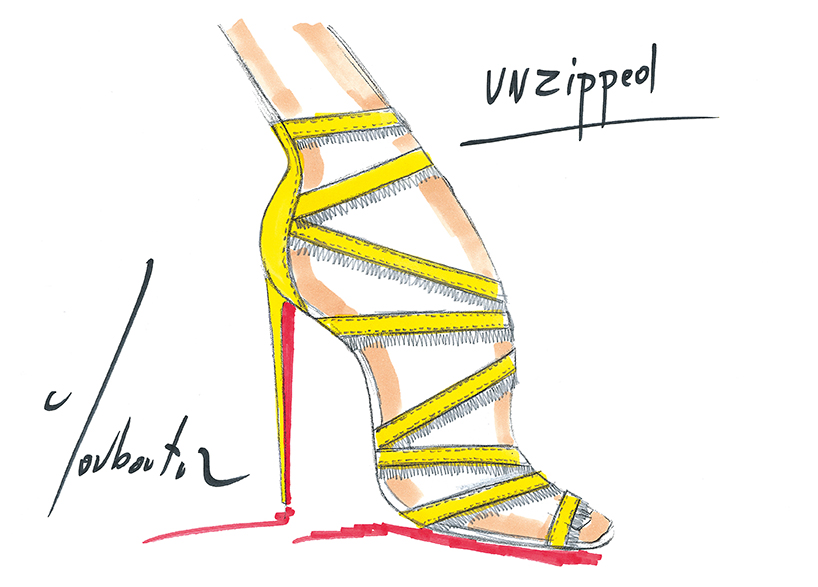 unzipped drawing
image © christian louboutin
DB: where do you work on your projects?
CL: I always start with a sketch, and I sketch anywhere but at my office in paris because when I'm there I get caught up in other things. I need to be isolated and able to concentrate without distraction when I'm drawing. I may go a few days without drawing, but it's not a problem because when I sit down and begin the ideas flow naturally. one sketch leads to another and then another until the design is ready.
DB: … so you draw quite often?
CL: yes, but I don't draw anything apart from shoes. I enjoy revising the sketches and refining the form – trying to get each design 'perfect' in terms of form.
as I was growing up I trained myself to become sensitive to form. I really studied architecture and objects and paid a lot of attention to lines. it's very important because beauty is all about form; proportions and the relationships between one line and another. it is really a big achievement if you can understand form, and I am obsessive compulsive about it!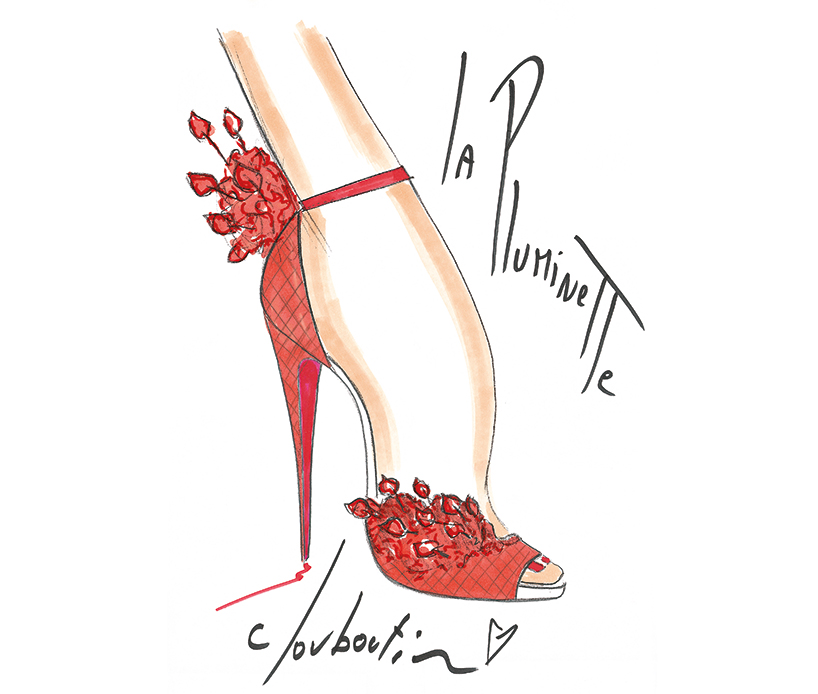 pluminette drawing
image © christian louboutin
DB: are there any materials that you would like to explore further?
CL: perhaps carbon fiber, because you can achieve a very delicate but strong heel with it. it's light, and I like that you can design a shoe with a lot of emptiness using carbon. that said, I don't like how most women walk in carbon heels, they tend to walk a little bit like camels in them, which is not very nice. I've also been trying to work with portuguese ceramics, but it's not a very easy material to use for shoes because it's heavy and also fragile.
DB: how do you decide on colors for your shoes?
CL: color alone doesn't mean very much to me. it's always a question of how color is applied. there's always another dimension which is crucial to how it looks.
if we are talking about black in the studio I need to know if it is black leather, black patent, black satin, black stone, black metal – matte metal or shiny metal, and so on – black alone doesn't tell me anything. If we take another color, green for example, some of the natural greens you find in leaves can look amazing, but those greens are difficult, sometimes impossible to reproduce in other materials. I love green velvet, and pistachio green satin, but I absolutely hate green kid leather or green tile.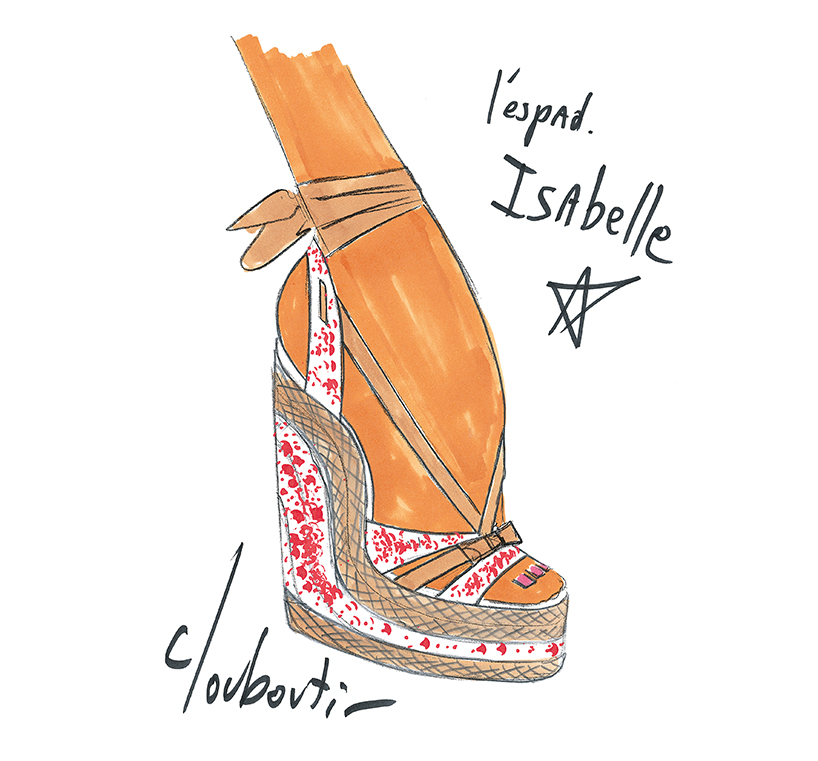 l'espade isabelle
image © christian louboutin
DB: do you have any superstitious beliefs or self imposed rules by which you live?
CL: I believe that there are some things we can control and other things we cannot.
I have a strong attachment to my first office in paris and I will never move from that space. as a result of this we are spread across many buildings in paris rather than all being in one place, but I really don't mind. it could be seen as sentimental or superstitious; either way I feel happiest there.
as we are in mexico, I'm also reminded of something else. I never like to have skulls close to me because they represent death. I have designed shoes with skulls on them, and a friend screamed when she saw them. she told me never to associate myself with elements related to death, and that's stuck with me – now I'm always wary of skulls.
DB: what's your personal motto?
CL: be completely true to yourself and you'll be happy.
a diverse digital database that acts as a valuable guide in gaining insight and information about a product directly from the manufacturer, and serves as a rich reference point in developing a project or scheme.
designboom will always be there for you
milan, new york, beijing, tokyo

,
since 1999