interview with timothy fagan, industrial design manager at bombardier business aviation
portrait © designboom
timothy fagan has worked as a designer at bombardier for over 15 years – today he is an industrial design manager in their business aviation arm. his responsibilities involve; designing and developing new products, working on the interior finishes and materials and consulting with clients on their specific aircraft needs. during EBACE 2015 designboom spoke to tim about his work and bombardier's latest luxury jet, the global 7000.
designboom: what originally made you want to become a designer?
timothy fagan: as a kid I was always drawing and playing with lego – though I never really built what was on the package! a family friend was a workshop technician at carlton university's school of industrial design and it was through him that I became aware of design as a profession. I went on to study industrial design at carlton and have never looked back. after graduating I started working at bombardier and I've been here ever since.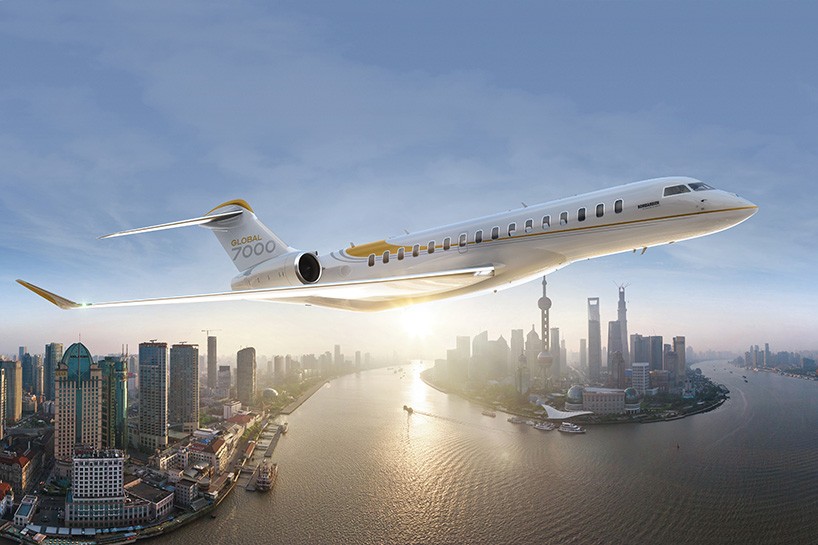 the global 7000
image © bombardier business aircraft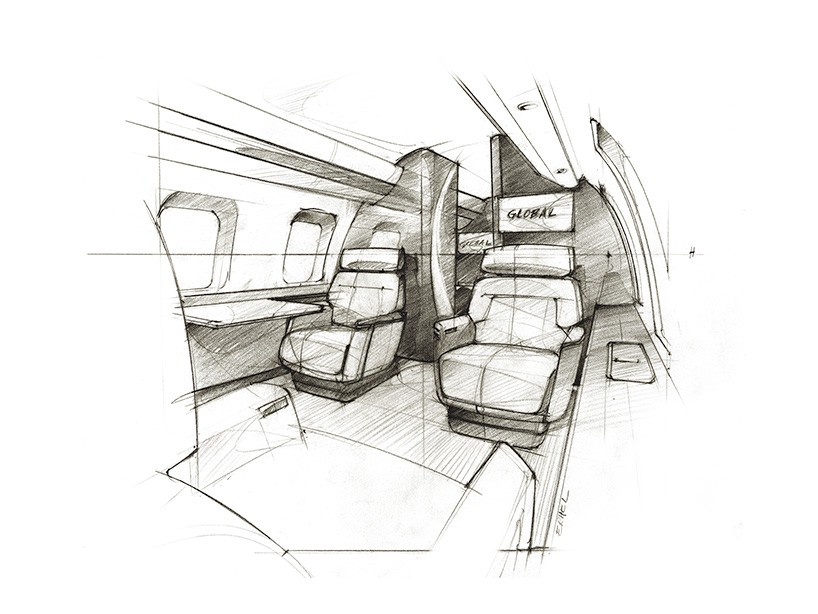 global 7000 – sketch of the seating area
image © bombardier business aircraft
DB: how have your responsibilities at bombardier changed over the years?
TF: at first I was working in toronto, on commercial aircraft, developing interiors for planes like the dash 8400, which is now called the Q400. I was the lone industrial designer in a team of engineers. it was my job to work between the engineers and the clients to develop the interiors of those planes. from fixtures through to material finishes – so it was a good all round experience that got me familiar with the aviation industry very quickly.
after four years in toronto I moved to montreal, where initially I worked with clients, consulting with them on how to complete the interiors of privately owned aircraft. after a couple of years doing that I switched over into a role focused more on product development, research and industrial design – that included redesigning flight decks, improving ergonomics and finishes.
today, I work as part of a dedicated design team at bombardier business aviation that's made up of over 20 people. I work on new product development, interior design and client consultation.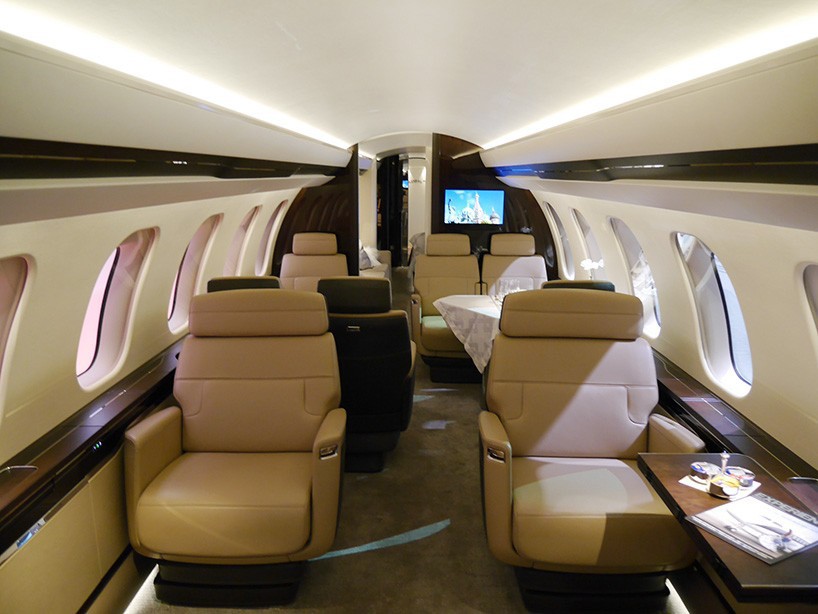 front section of the plane with seating and tables
image © designboom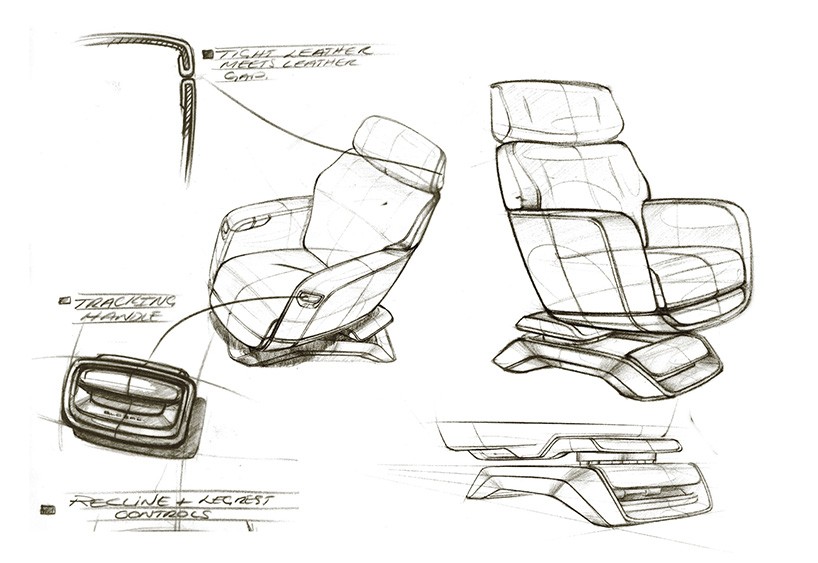 global 7000 – sketch of the newly developed bombardier seats
image © bombardier business aircraft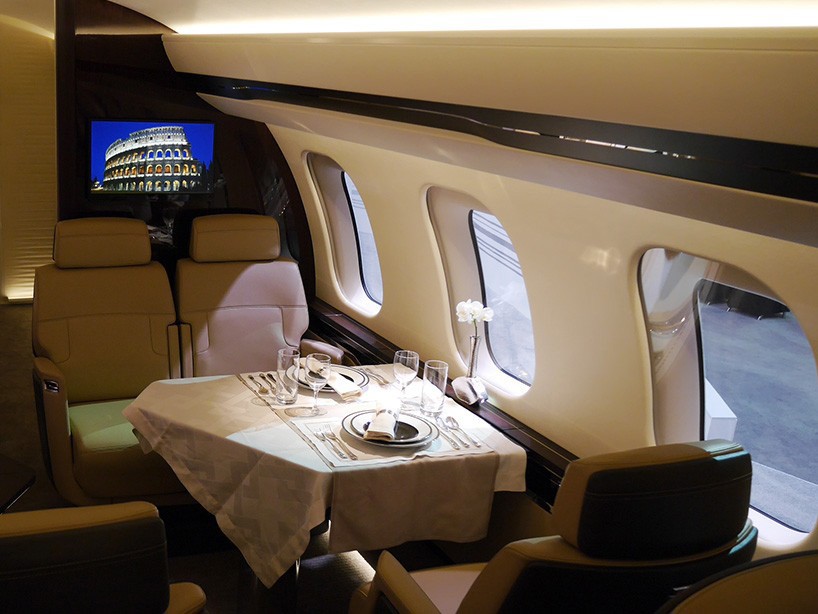 set table inside the front section of the plane
image © designboom
DB: please explain the key steps in designing a new private jet such as the global 7000?
TF: well, it's a very long process, so I'll try to keep it short!
the design team is briefed by our marketing team on what the market needs and that really defines a lot of things, such as how many people it needs to carry and the flight range. then our engineering team will tell us what technology exists to support those needs in the market.
the design team really pick the brief apart in order to understand how to solve all the requirements and also think about what other opportunities there are. in the case of the global 7000 modularity was our biggest concept. by designing the plane's sections as modules that paired up with the window spacing we were able to create an interior 'canvas' of four sections that allow for literally thousands of different interior configurations.
when the overall 'architecture' of the plane is designed then we go into functionality and usability issues. positioning of furniture, mechanisms that help optimize the use of the space, materials that help us save weight. luxury finishes and fixtures that will give the plane the level of sophistication that's expected of it. all these are designed, mocked-up, tried-out and sent for approval to the relevant aviation authorities.
once everything gets the green light production and marketing can begin. in our case – engineering and manufacturing takes place in toronto. the basic plane with no interior, known as the 'green aircraft' is then flown to montreal where all the interior is completed. sales and marketing is headed up from there.
by the time the first global 7000 is flown it will have been almost ten 10 years since we began work on it. once purchased it takes around 2-3 years to complete an order depending on the interior design.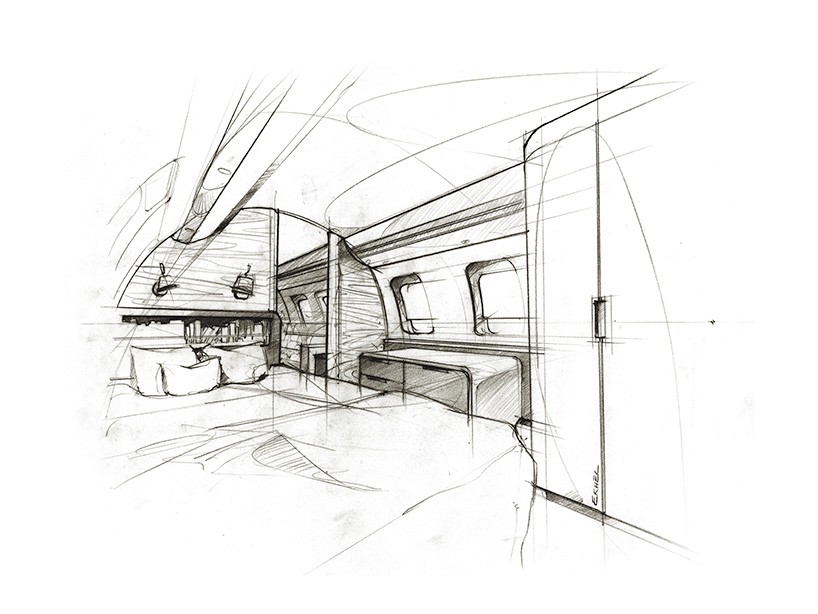 global 7000 – sketch of the bedroom section
image © bombardier business aircraft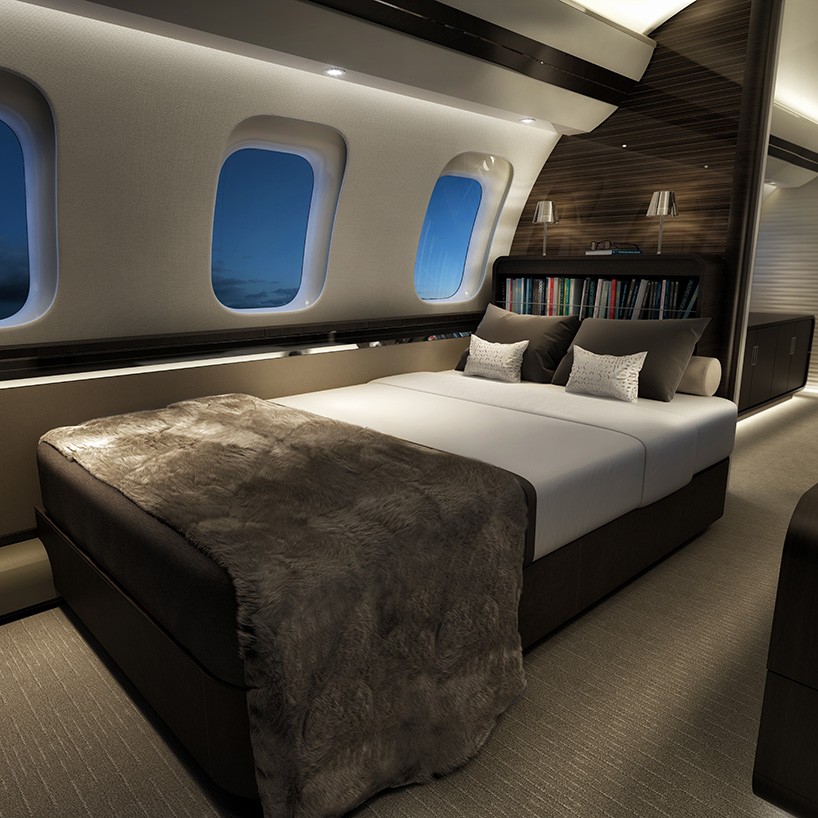 bedroom section
image © bombardier business aircraft
DB: what are some of the most innovative features of the global 7000?
TF: it can accommodate between 10-19 people depending on how the interior is configured and it's capable of flying 7,300 nautical miles – for example, you could fly from london to singapore non-stop.
we increased the windows by 80% compared to the global 6000 and the windows and interior are perfectly in synch so that there's plenty of light in each section of the plane – each seat always is paired up with a window.
we'll offer hard flooring, such as stone and wood floors in areas where they make sense. there's a new seat design that we think offers the most comfort on the market – it's been developed over several years and really cradles your body regardless of the inclination you set it at. also, the global 7000 will also offer a standing shower, which is a first for an aircraft of this size.
the modular sections of the plane mean that the client can create any number of luxury interiors – from business environments to entertainment rooms to bedrooms and everything in between.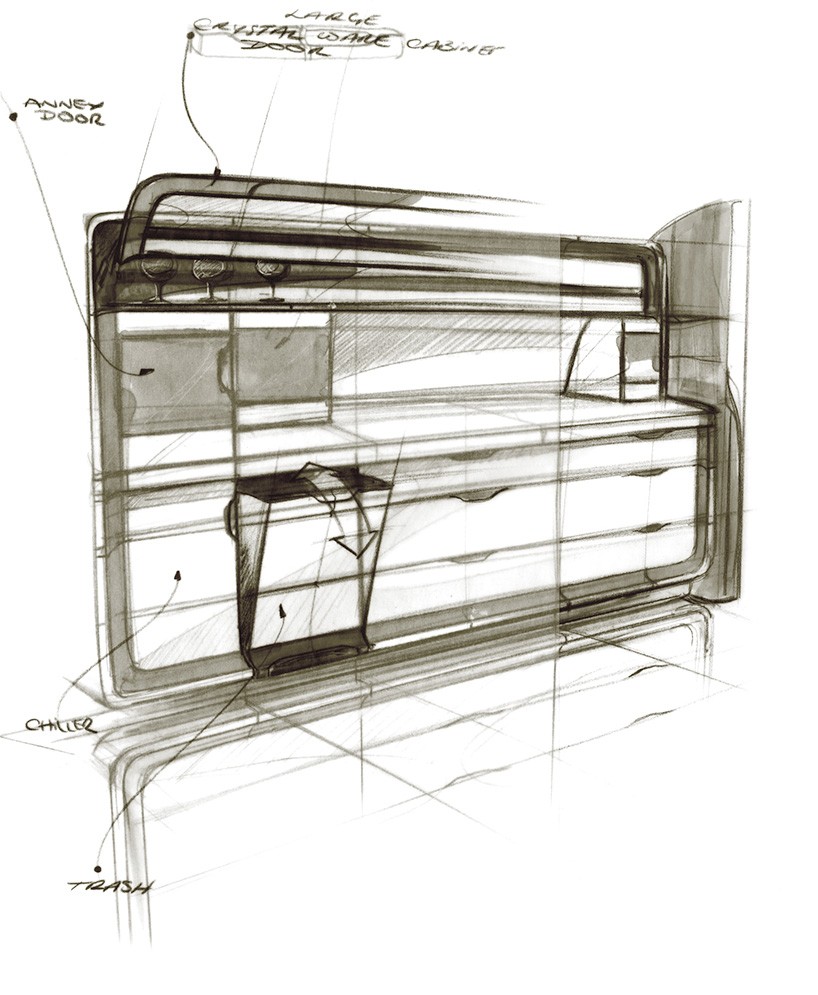 global 7000 – sketch of the galley / kitchen area
image © bombardier business aircraft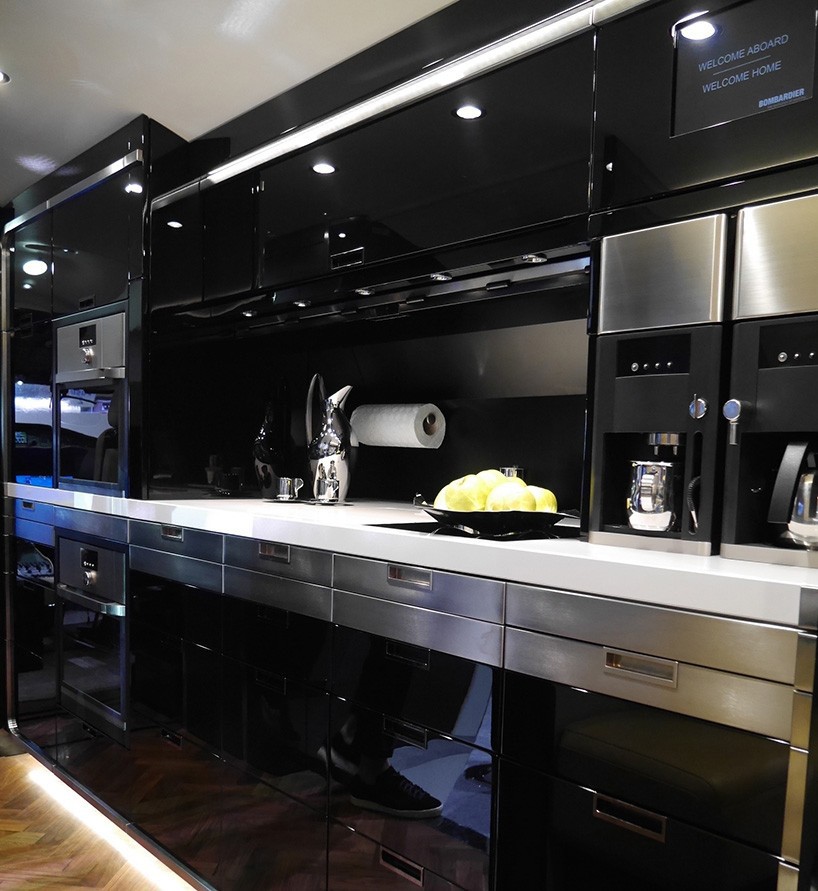 galley / kitchen facilities
image © designboom
DB: given that you offer so many levels of customization to your clients, how do you set limits on styles and finishes to ensure a cohesive and elegant end product?
TF: well, we have to cater to many tastes but since these aircraft are generally long term investments most people opt towards somewhat timeless design choices.
when we curate the design options that we offer we talk about 4 main design families: classic luxury, art-deco inspired, mid-century modernist, and contemporary. these describe the forms and finishes of the furniture. we try to offer design that falls outside of trends – even if one or the other can be more in fashion at any one moment, none of them are too far leaning so that the planes don't age badly.
if a client wants something truly radical and outside the box then we'll get behind them and create something highly original for them but those cases are not so common – most people work with us and appreciate our input on the interior design.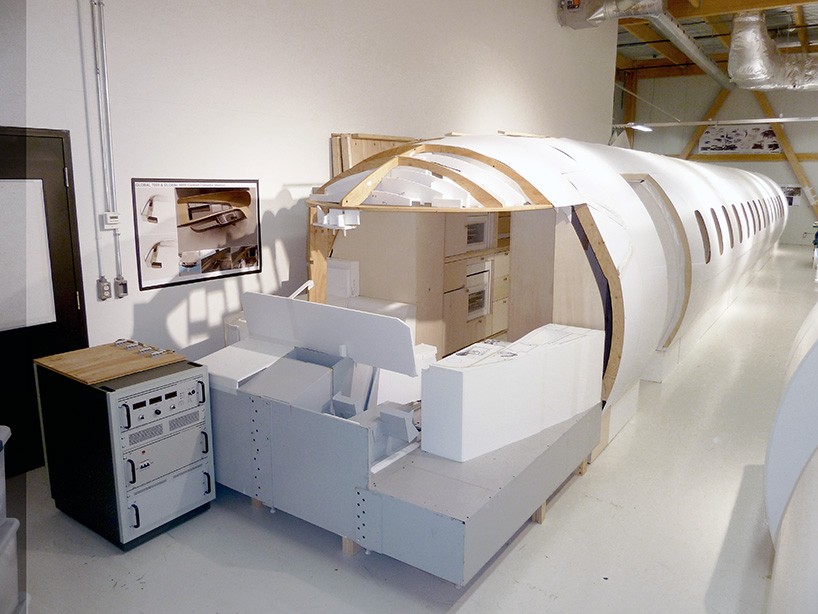 full scale mock-up of the global 7000
image © bombardier business aircraft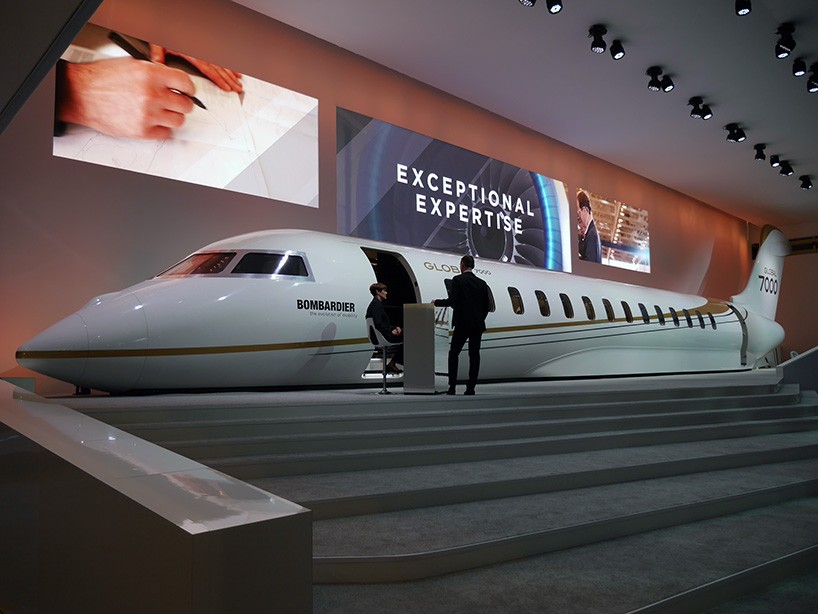 full scale static of the global 7000 on show at EBACE 2015
image © designboom
DB: luxury brands tend to be quite conservative in terms of aesthetics, how do you go about innovating without alienating your audience?
TF: most luxury brands are built on heritage and it's important to remember people are coming to you because of that – they are offering you their custom based on the fact you have a proven product so you have to keep that in mind whenever you are developing new products.
on the other hand it doesn't mean that there's no room for improvement or innovation – things can always be better and it's our job to arrive at those solutions before the client or the competition does.
in the case of the global 7000 we surveyed all of our clients who owned global 5000s and 6000s and categorized them based on the style and functions we found on-board. this helped us gauge what new features and finishes people wanted in a plane like the 7000.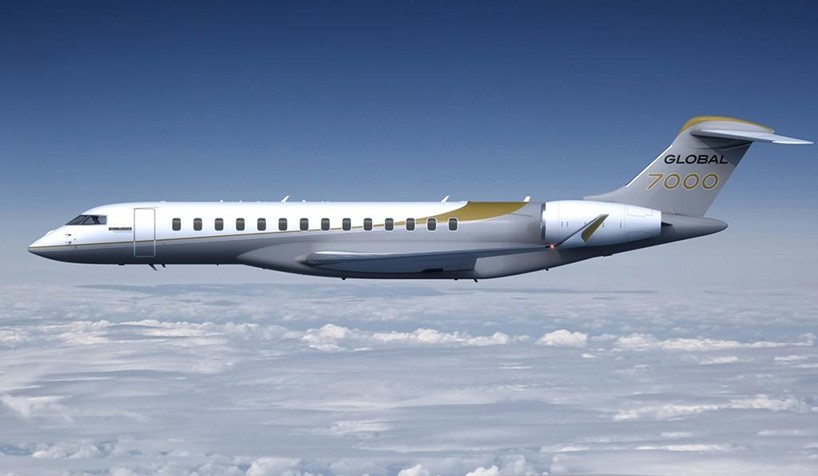 the bombardier global 7000
image © bombardier business aircraft
DB: how do you keep your ideas fresh?
TF: we are inspired by excellence in all industries. depending on the part of the aircraft, we look to different worlds; the flight deck redesign I mentioned was inspired by luxury cars, the galley in the global 7000 is inspired by high-end kitchens, the lounge and bedroom area by luxury homes and hotels. we do a lot of research into related sectors; yachts, interior design, furniture and see what's on the market – can we match it? can we do better? we try to imagine every type of demand our clients will have and make sure they are catered for.
DB: what are you fascinated by at the moment and how is it influencing your work?
TF: lighting and what it can do to a space. for example LED lighting is something that I feel hasn't been exploited enough in our industry. its cool, lightweight and you can create very specific lighting scenarios with it.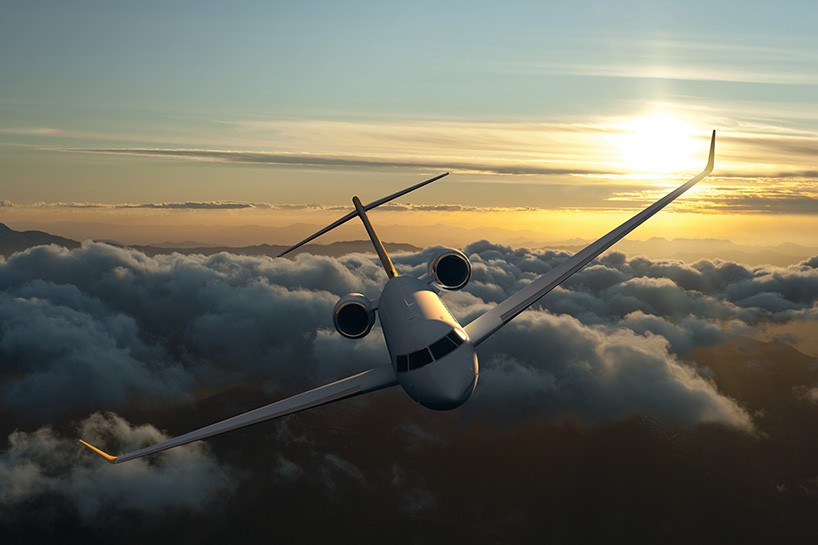 front view of the global 7000
image © bombardier business aircraft
DB: what's the next challenge for you and your design team?
TF: comfort – we always want to offer greater comfort. that's something we've gone to town on with the 7000. we want every detail to be a delight for our passengers.
DB: what is the best piece of advice you have been given and would repeat to others?
TF: a term we use a lot at bombardier is 'user experience' – it's the most important thing for us in everything that we do. always empathize with the user and pay attention to the details – details make the difference.
a diverse digital database that acts as a valuable guide in gaining insight and information about a product directly from the manufacturer, and serves as a rich reference point in developing a project or scheme.
designboom will always be there for you
milan, new york, beijing, tokyo

,
since 1999