every year, the biennale interieur kortrijk acknowledges a creative working in the discipline of design who has made a substantial contribution to the field. this year, however, it was a straightforward choice: architect and designer vincent van duysen's name was at the top of the list for the member's of the jury. with work ranging from architecture to interiors to products, he has developed his own style often described as minimalist although he rather prefers the term 'art of living'.
designboom visited vincent van duysen at his work display at the biennale interieur where he discussed his work, his relationship with italy, his love for photography and what is for him a perfect interior.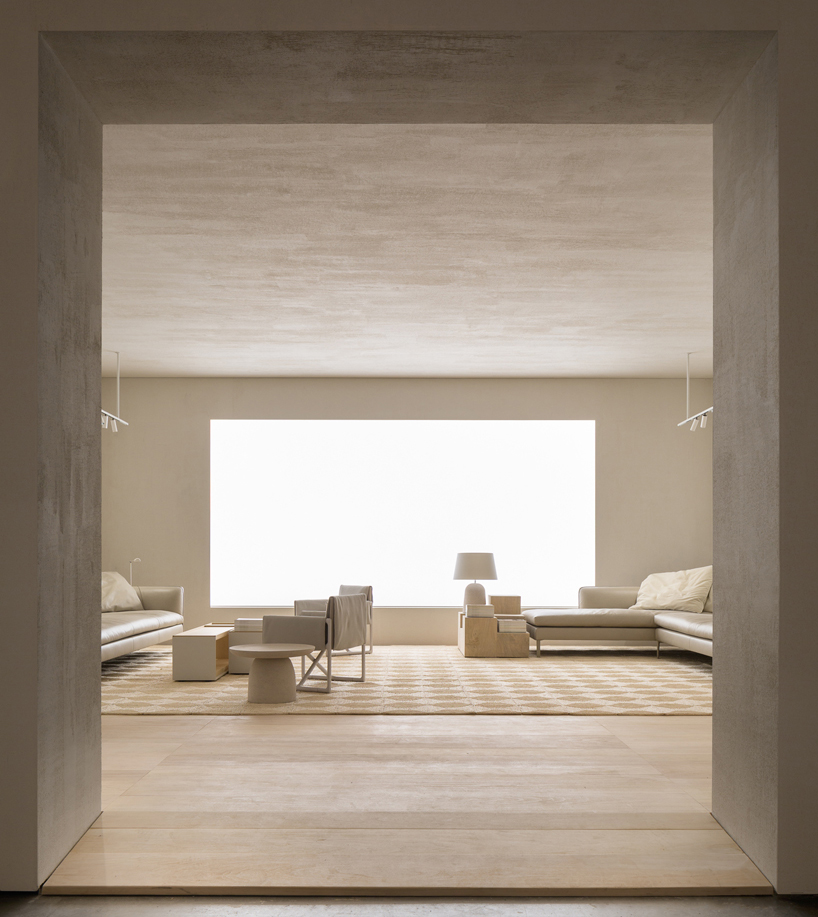 (above and main image) © frederik vercruysse
designboom: your work, although minimalist, feels warm and poetic. is it adding emotion something that you aim for?
vincent van duysen: definitely, I am a very sensual and emotional person. I think minimalism is not the word, I would rather say essentialism — something that is pure and about eliminating. I think it's about going to the essence and just adding layers of beautiful materials, textures, and colors but in a very quiet, serene and calming way. this is my aim and this is what I want to transmit not only in my architectural projects but also in my product design and mostly in my interiors. And it's kind of a consistent vision that I've had since the beginning of my career and I'm very persistent because it is still like what we see here, a mood and the way I perceive architecture and interiors for the past 25 years.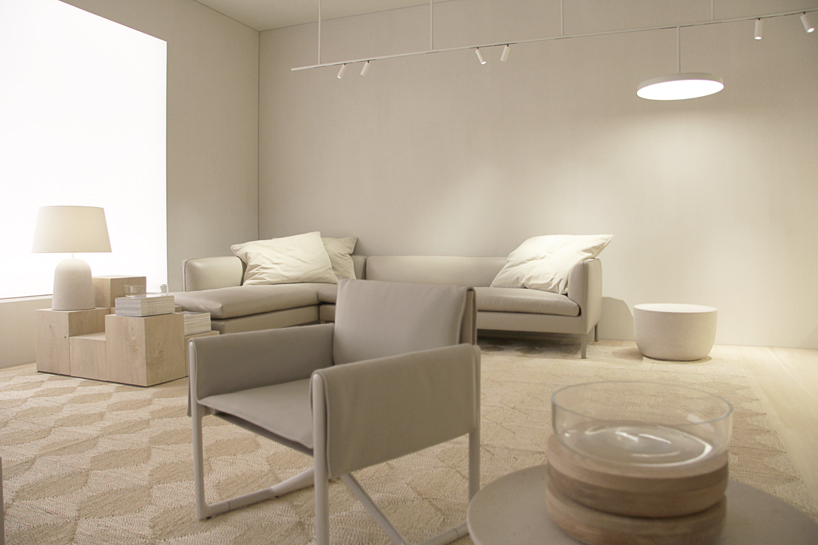 image © designboom
DB: what is for you the perfect interior?
VVD: in terms of my interiors, it's something that you can read here in this room (at biennale interieur in kortrijk). I think we are all living super hectic lives, we're very stressed, and then we're all dominated by technology and social media. everything is going too fast and I think it's good to bring in some slowness in life. slowness that makes you feel more conscious of what we are, of what we are doing and how we want to live. and I think for me the idea of an interior is a room where you disconnect from this kind of outside world where everything is absorbent and when you really can feel serene and contemplative. I create ambiances and spaces that breathe and give you energy and oxygen and that at the same time calm you down. I aim for those that energize and inspire you but that also give you peace and rest.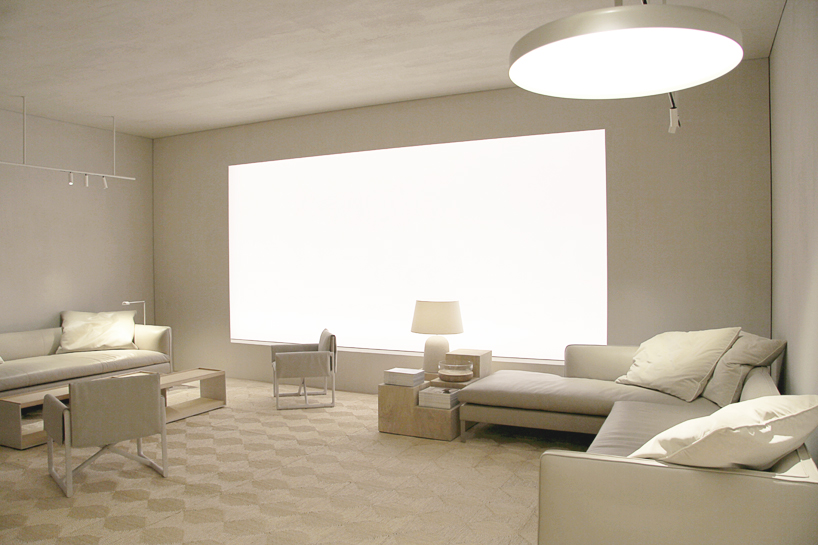 image © designboom
DB: your work is mostly interiors and residential but lately, we have seen large-scale projects…
VVD: we do, we are working on a hotel project right now and I have been having many requests to do large scale projects lately. we have tackled some big projects in saudi arabia already. I've been approached multiple times by real estate developers from new york to do some housing large-scale projects. let's say the biggest ones I've done are both located in antwerp — my hometown. one is a youth hostel in the center of the city and it comprises 180 rooms; and the other are service flats for elderly people. it's very nice to be able to create architectural realizations that are dedicated to the people of the city where I live.
on the other hand, it's true that we are doing a lot of residential work, not only in belgium but also in paris, new york, LA, beirut, and others. but we also have projects that are not residential. for example — besides the hotel — we are working on some shops like la rinascente in rome where we're doing the façades, the atrium, and two floors. also, I do projects that are related to fashion; last year I finished alexander wang's flagship store in london. we are also doing some competitions right now which include large-scale projects as well.
DB: this year you were appointed creative director of the italian company molteni & c…
VVD: molteni is a very important passage in my career. it has really been my moment and working for and being the creative director of such an iconic brand — as a non-italian — is very challenging. but I also feel very honored and very proud to design and direct creatively a company that has so much heritage and so much knowledge and so much passion and dedication, which are all adjectives that also belong to my world as well. it has been one of the highlights of my career and also one of the highlights of this year.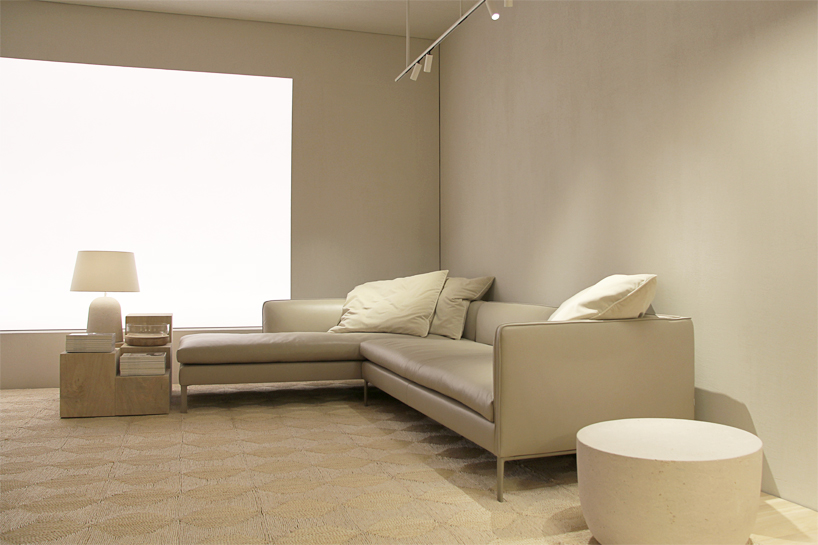 image © designboom
DB: you have a history of working with italian companies, tell us a little more about this relationship.
VVD: well, I would say something like 'italians do it better', but the thing is that there is something — the design aesthetic, the culture for beauty and the view of life in general. whether it's food or architecture or interiors, they have had this forever, it's in their past — italian culture is something that is unique and very special. I have been in contact with italians since I finished my studies when I worked for ettore sottsass in the late 80's, in the boom of postmodernism. I was in this kind of bubble where milan was in its highest peak so this was very special for me and then to collaborate and work for them made the connection even stronger.
here in beligum we have our own design aesthetics, and I think mine, in particular, is very complementary with the ones of italians, especially from the north. and I think that's what makes this kind of fusion very unique and very special. it's kind of an belgian-italian way of dealing with design. on the other hand, it also deals with the art of living in general. in my work I pay a lot of attention to the art of living; and the italians, they are the ones that know how to live and I think I subconsciously inherited it from them.
in the past, italy has had vico magistretti, castiglioni, meda, carpa; they were architects that tackled architecture until the smallest detail, the interior. and then derived the interior into an object. I am one of the few belgians — maybe the only one — that perceives architecture in that broader multidisciplinary context. and that is something that I really like and that connects me with the italian culture.
DB: what have you been working on lately?
VVD: I just got back from japan where I launched the VVD home for molteni, which was really an amazing challenge and adventure and was very well received. we will also open molteni's showroom in giussano, italy, where you can read the new concept for the home by vincent van duysen for molteni. it's one of the highlights of my career and also because when I started it I always had a strong link and affinity to the italian culture. by now I am almost half italian and I'm living half and half between antwerp and milan. so it's really very special for me.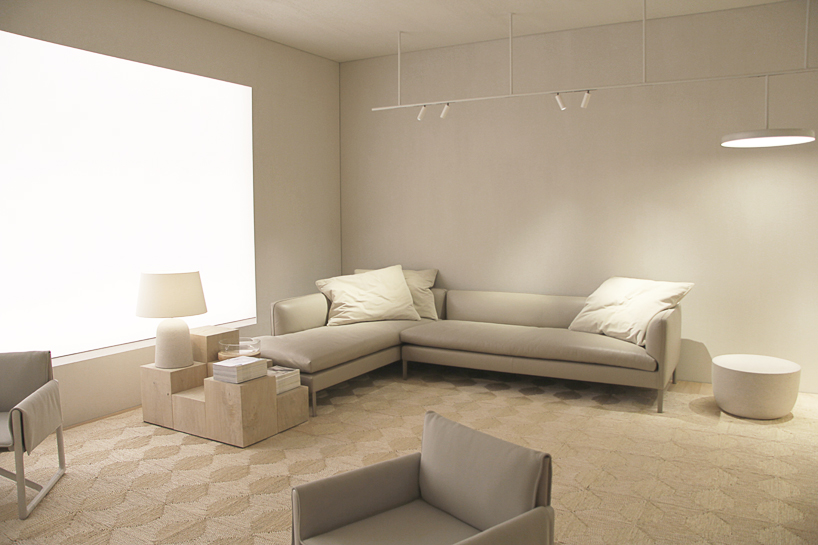 image © designboom
DB: what do you think is the role of the designer in today's society?
VVD: I am a person that thinks and works very intuitively. I'm an architect but I'm not a mathematical architect. my work comes from the belly and I believe in the integrity of design. I don't believe in design that is too forced, where you have to force yourself to do things differently as they are. everything has been there, for me it's about respecting the essence and the beauty of what furniture pieces are and maybe review them a little bit in terms of details, proportions, and use. but never forgetting the essence of what it's all about. I'm not a revolutionary designer and I will never be one. but I have sufficient creativity to surprise people and to make them feel comfortable and happy with what I design.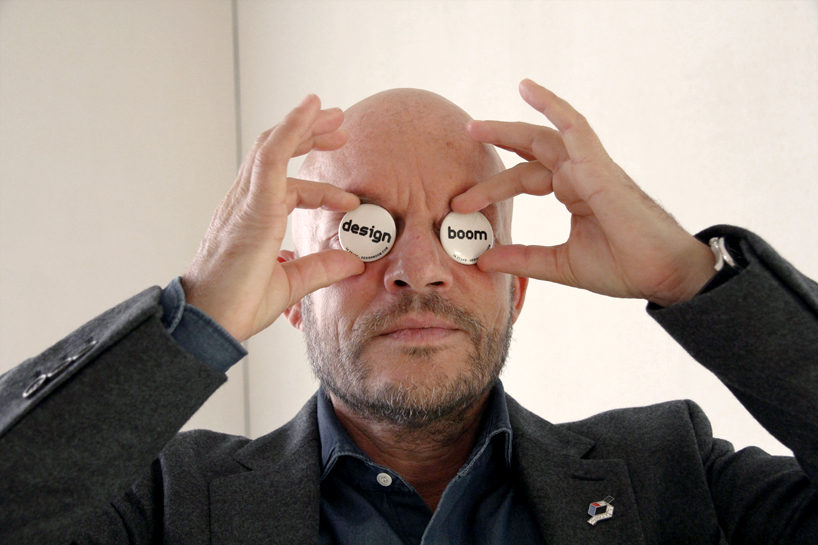 vincent van duysen portrait
image © designboom
designboom: your instagram feed showcases beautiful images, do you have a passion for photography?
VVD: I definitely have — if I wasn't an architect, I would've been a photographer for sure. I'm an observer — with both my eyes and heart — and I capture the emotions and bring them into pictures in such a way that each image can be reached and read, understanding what's behind.
juliana neira
I designboom
oct 21, 2016
a diverse digital database that acts as a valuable guide in gaining insight and information about a product directly from the manufacturer, and serves as a rich reference point in developing a project or scheme.
designboom will always be there for you
milan, new york, beijing, tokyo

,
since 1999